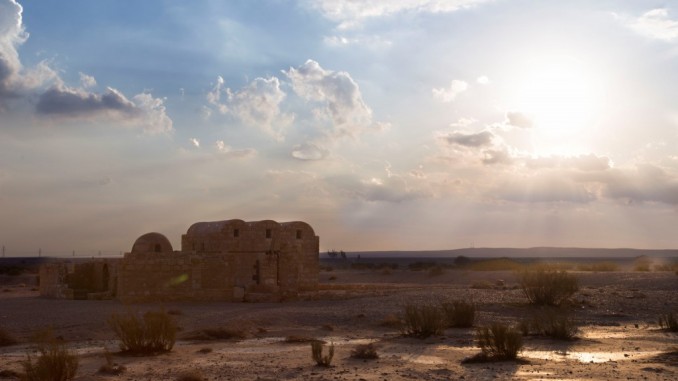 Jordan is a great country for a road trip and this is exactly what I did with the family. We were stationed in Amman for 5 days of which one day we did a road trip to the eastern desert castles driving the desert castle loop. To get a good impression of the various styles of castles you need to visit at least 3 of them which is easily to do in a 5-6 hour trip. I take you back to the roots of Islamic civilization by visiting 3 of the Jordan desert castles.
Qasr Kharana, a Jordan desert castle
We started at the end of the morning with our drive towards the east of Jordan. A bad choice as it seemed later, as we learned the hard way, the castles closed at 4 PM during. The first top was at the Qasr Kharana. This castle was built in the early 8th century during the Umayyad period and is one of the oldest remains of Islamic architecture. The building was built like a castle but probably did not function as one. It has a large courtyard in the middle with several dozens of rooms located on two levels. When you arrive over the highway you see it from a distance as there is nothing else around it but sand. The visitor's center was deserted and when we wrote in the guestbook we could see only a dozen or so people visited in the past week. It seems that tourism has a hard time due to the situation in the neighbouring countries. It is a great castle to explore and learn about the history, culture and architecture. It is in good shape due to the restoration. To explore the site in full it will take you probably not more than an hour. After a small talk while drinking some tea with the guard / ticket officer we continued to our next destination.
TIP! Keep in mind the castles close around 4-5PM depending on the season. Better start early!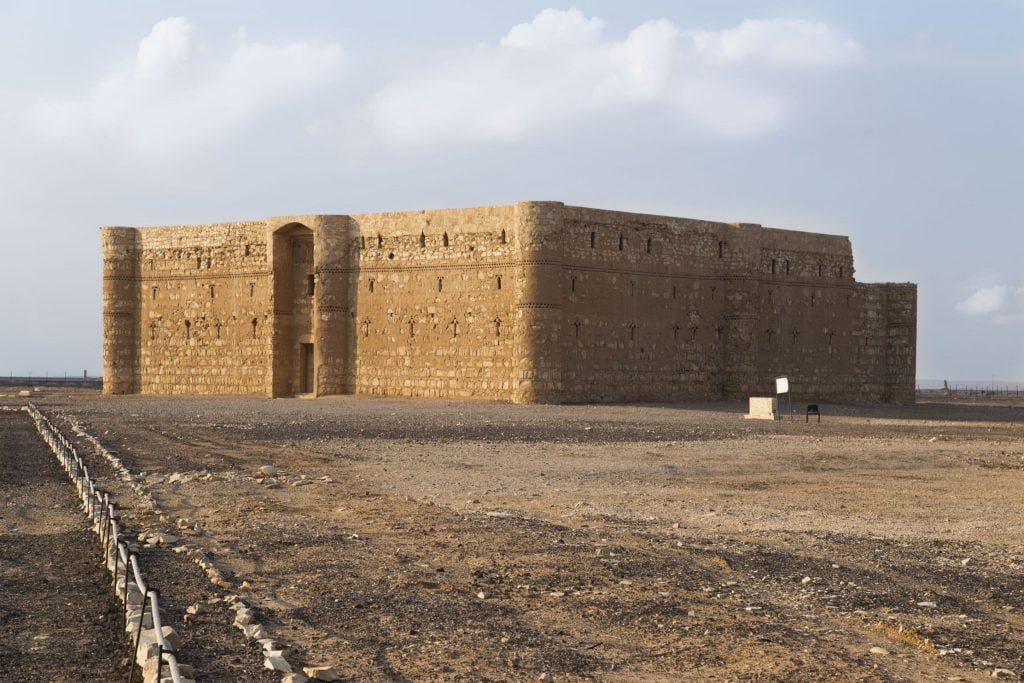 Qasr Amra, a UNESCO World Heritage site
Our next stop was the Qasr Amra UNESCO World Heritage Site. It is located just 20 kilometers from Qasr Kharana and we arrived there and it looked closed. After checkin out the tourist office we found a guard / ticket officer. We were given a key(!!) to open the castle and check it out ourselves. We arrived just before closure time of 4PM. The castle is long gone at this site but the royal building still stands. It is not big, and you can see it in just 5 minutes. It's because of the frescos it will take you an hour! Around the building various remains were found of the castle, walls, wells and other structures. Everything was located on a large stretch of land and the remains date back to the 8th century.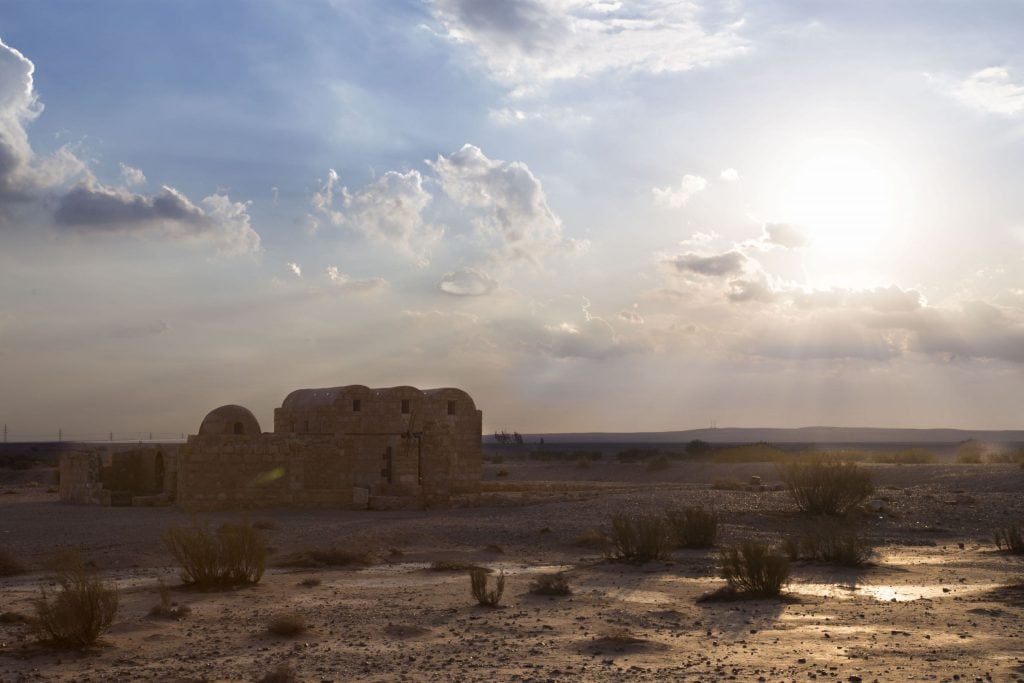 Once you enter the triple-vaulted building you will not believe your eyes. The whole interior is painted with beautiful frescos representing various scenes which are one of the finest examples of Islamic art. You will find frescos of various animals, naked women and people having dinner and drinks. The main hall is the biggest and from there you can access various other rooms including baths. In the baths you also find paintings as they were believed to revive the body. The whole interior is magnificent and I recommend everyone to at least visit this place when you are in Amman, Jordan! It is a beautiful Jordan desert castle.
TIP! Keep in mind the various ways of writing the names when looking the castles up on the map.
Other notable Jordan desert castles
Our next stop on the Jordan desert castle loop would be the Qasr al-Azraq which is built from black basalt rock. It is located on the highway towards Iraq and was built in the 13th century, a bit newer as the others we visited. Unfortunately when we arrived the last visitors were just departing and the castle was closed. We walked a bit around it and went back to Amman after. We learned it's better to start early and finish early than to start late and not be able to see all, at least in Jordan. Some other castles worth seeing if you have the time are Qasr al-Hallabat, Azraq Oasis, Qasr al-Mushatta and Qastal. They are more of the same and not as good so I recommend the 3 Jordan desert castles mentioned in this post.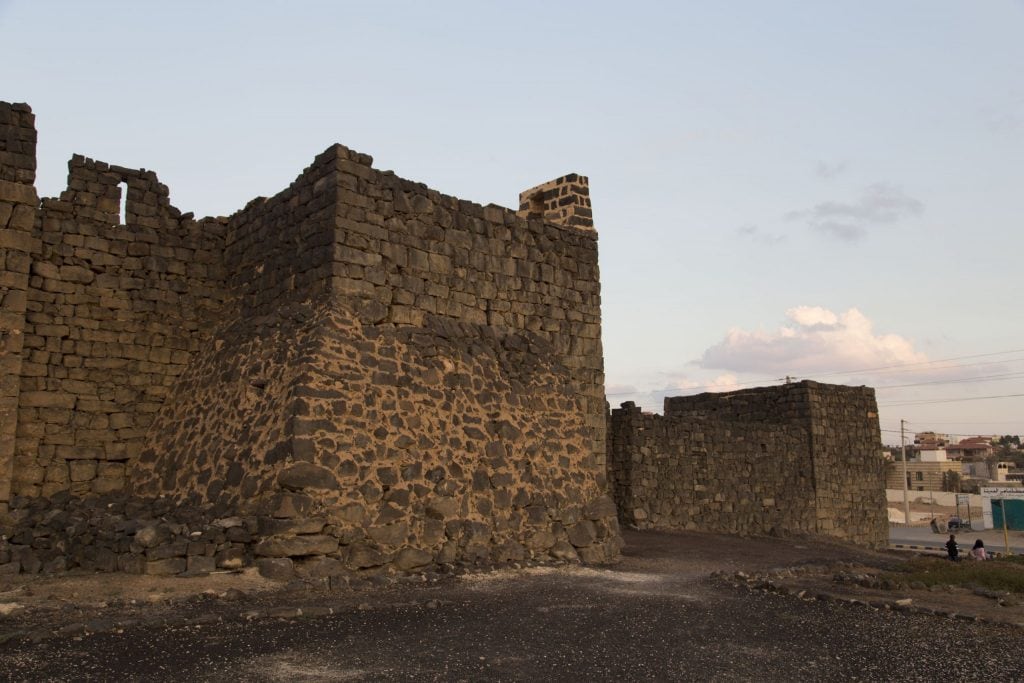 When we drove back to Amman we passed along the recently build camp for Syrian refugees reminding us of the current situation in the area. On one of the other days on which I will write later we passed as close as a kilometer or two along the Syrian border but in Jordan it's perfectly safe. We did hit into big traffic jams on the way back in Amman but during the desert drive we could enjoy great scenery and sunset. A day well spent, the next day we would go up north to the various Roman ruins in Jordan.
Stay tuned for more stories and subscribe to the newsletter or follow CTB on social media (Facebook, Twitter, Instagram including Instagram stories; on all social media you can find CTB @christravelblog) to get updated information.
Did you visit Qasr Amra too or do you have questions? Please leave a comment at the bottom of the page. Love to hear from you!
Further reading
Sometimes it's impossible to cover every single place of interest, activities, food, and others that might be relevant. In the below list you find a list of relevant links with further information about Qasr Amra which I have carefully curated. These will help plan your trip even better.
Gallery Jordan desert castle
Click an image for a full screen gallery of more photos taken during this trip. If you like to use any photo for commercial, private or editorial use please contact first for permission and/or pricing.