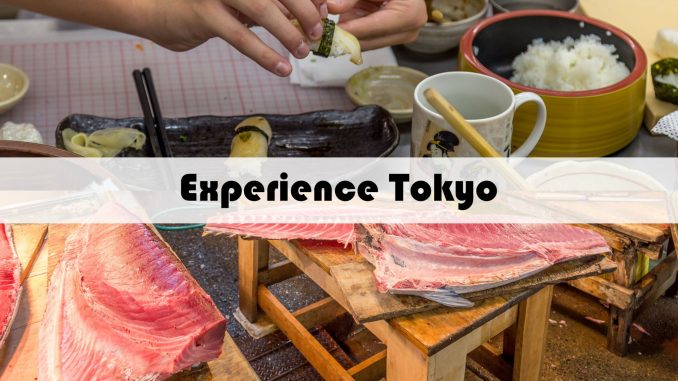 It was the third time I visited Tokyo and this time my family joined for our Christmas and New Year holidays. My son had already visited Tokyo one time before but for the others it was the first time to visit Tokyo or Japan in general. As we would visit lots of culture later in the Kansai area we decided to do things in Tokyo I didn't do during my previous visits. One thing I always wanted to do was a sushi workshop in combination with a visit to the Tsukiji fish market. It's very interesting to see the fish market and a sushi workshop at the Tokyo Sushi Academy is a must do in Japan; learn it from the masters. I'll try to learn you too!
Tsukiji fish market – the do's and don't
The Tsukiji fish market is best reached by taking the Tokyo metro to station Tsukiji. I didn't visit the Tuna auction for which you must be there at least at 5AM in the morning and entrance is based on first come first served. The wholesale market (inner market) can only be entered from 9-10:00 AM onwards and the sellers aren't that fond of all the tourist strolling around. If you walk around the wholesale market don't be surprised by some sellers looking at you irritated. Make sure you don't disturb their work as you wouldn't want anyone disturbing your work. There are however also plenty of very friendly sellers who also allow you to make photos.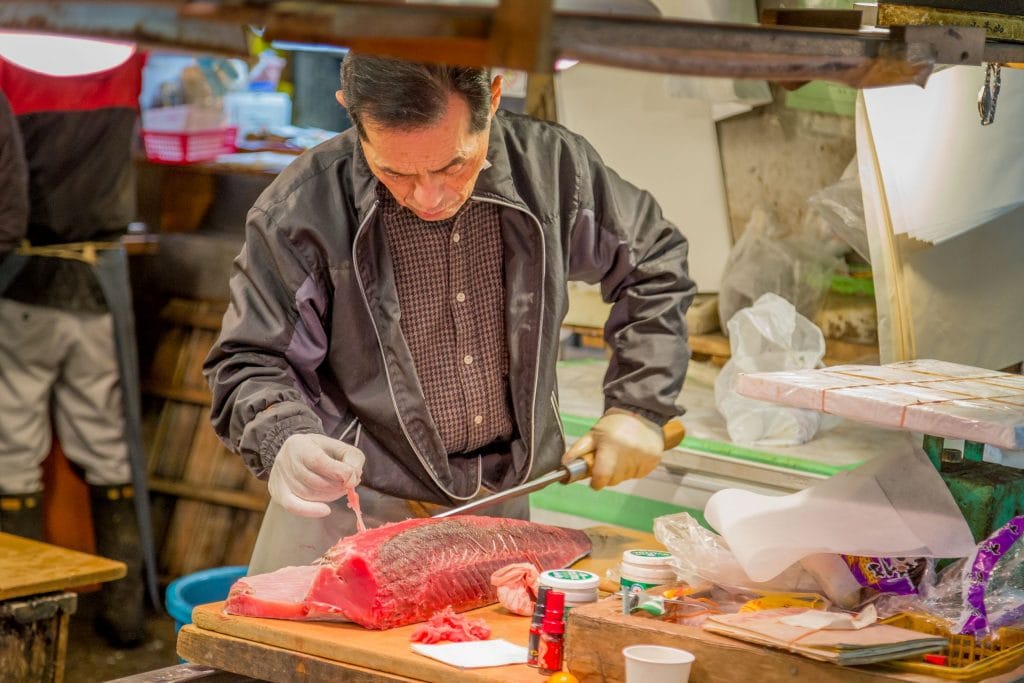 I arrived at 10:00 at the Tsukiji fish market when there was still some action going on but many stands were already packing. I was most impressed by the huge tunas which were carefully filleted. Huge chunks of dark red tuna meat were treated with utmost precision before being packed in ice and shipped to restaurants throughout Tokyo and beyond. I had once a filleting course in the Netherlands but how the pro's here do it is at a totally different level. The various stands sell also a lot of other fish like salmon, eel, maceral, huge octopuses and much more. I didn't see that much small animals like shells, sea cucumbers and such like I did on the fish market in Sanya (China) a year ago. It could be I simply visited to late in the morning or missed something. I walked around for an hour after which I continued to the outer market.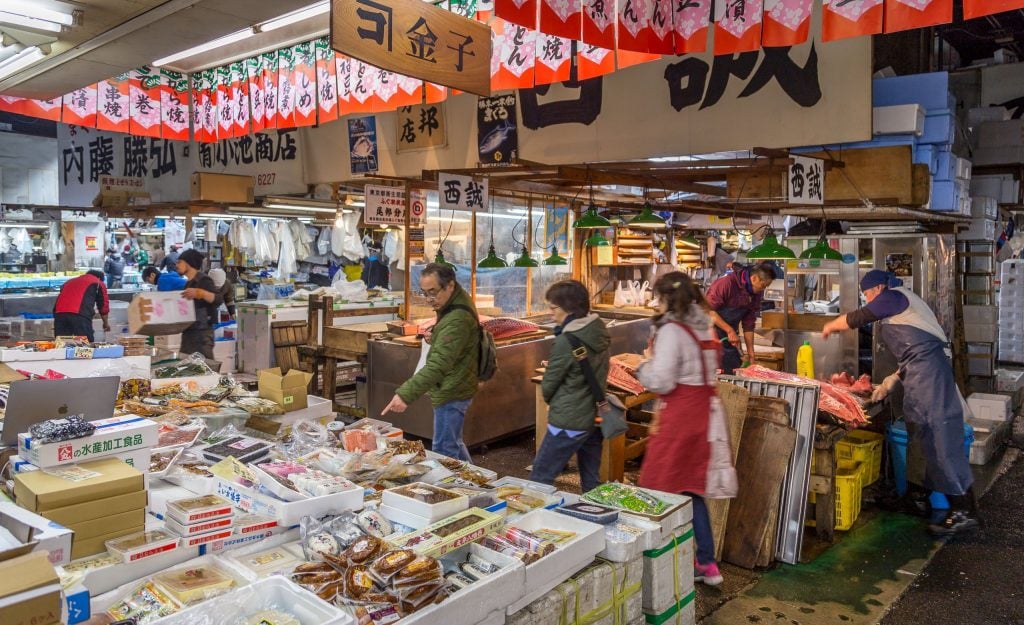 Tsukiji fish market – history
History of the Tsukiji fish market dates to the Edo period when it was known as the Nihonbashi market. After the food shortage and rice riots in the second decade of the 20th century the market was transformed due to government laws. The current building of the Tsukiji fish market was completed in 1935 after the devastating earthquake that destroyed most of Tokyo a decade earlier. It's a building that forms a quarter circle which makes supply by train and truck easy. The construction is an open steel construction allowing the hundreds of fish wholesalers to have their own stand. Currently there are plans to move the Tsukiji fish market to a new location but this has been postponed several times. Make sure to visit the Tsukiji fish market before it moves as probably it will lose much of its charm then.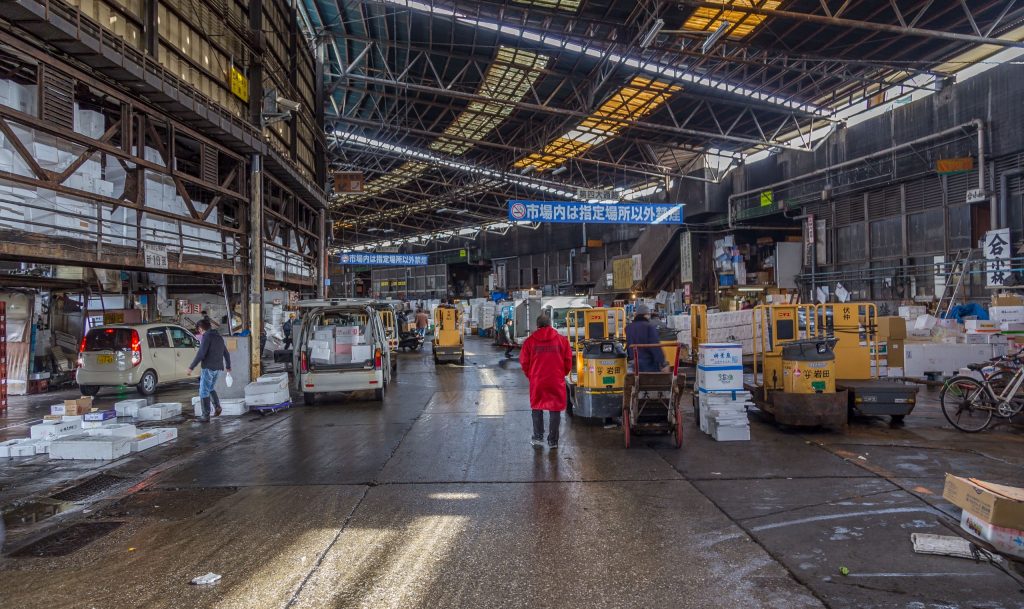 Sushi workshop in Tokyo
A sushi workshop is a must do in Tokyo and the best place to do that is at the TSA or Tokyo Sushi Academy. Their classroom is located just next to the Tsukiji fish market which makes it a perfect combination with a visit to the market. Furthermore, this is the area sushi was invented over 200 years ago. As a tourist, I recommend to book the 90-minute introduction course but there are courses to become a pro as well.
I visited with my family (kids of 11 and 14) and I can guarantee it's a great activity with kids too. The welcome was warm with fresh Japanese tea and after washing our hands and putting on the apron we started our sushi workshop. I will try to explain you how to make sushi but if you really want to learn you should learn it yourself from the pros at the Tokyo Sushi Academy.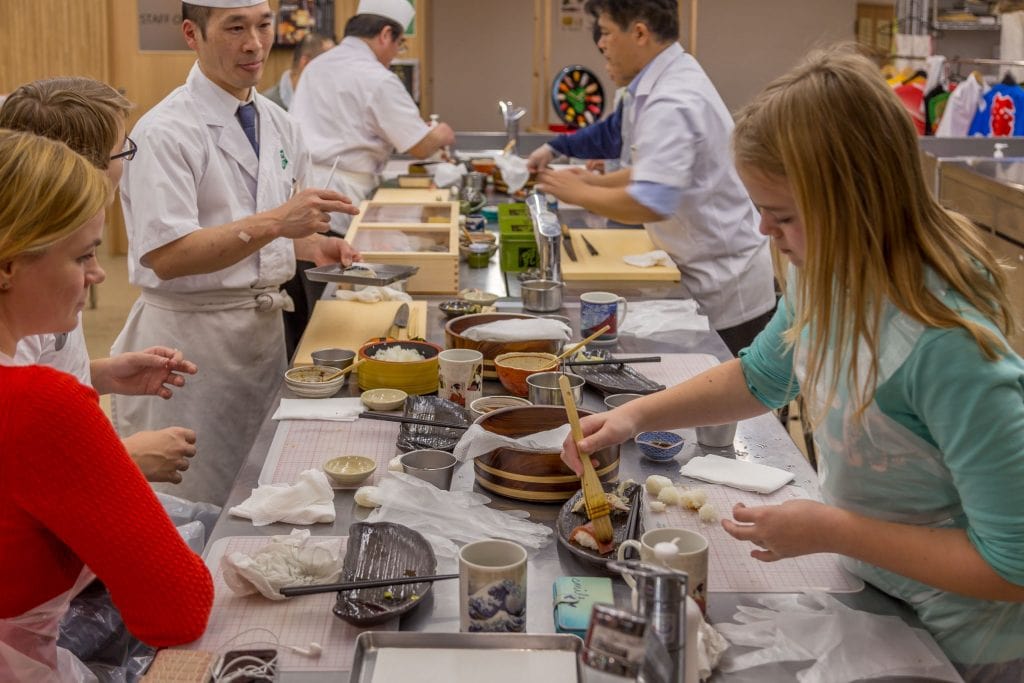 Let's start! After a short introduction by the chef of the Tokyo Sushi Academy the sushi workshop started. I'll show you how to make Nigirizushi which is hand pressed rice topped with fish or other ingredients. First, you must press the rice seven times. How? That's the secret and the Tokyo Sushi Academy is the place to learn it but in short: take about 12 grams of rice. Make a rectangular. Press from two sides. Put it in your left hand and press it on top. Then turn press turn press and add wasabi and topping and press one more time. You then have a perfect Nigirizushi at least if you have done it right!
During the sushi workshop, you also learn how to make the Nigirizushi perfect with small toppings and various soya sauces. My favorites were the tuna, salmon eggs and the mackerel. In the photo below you can see the process and result. I had a great time and for my kids it was a lifetime experience; I highly recommend to go to the Tokyo Sushi Academy if you're in Tokyo. It's a must do in the top 5 list for sure!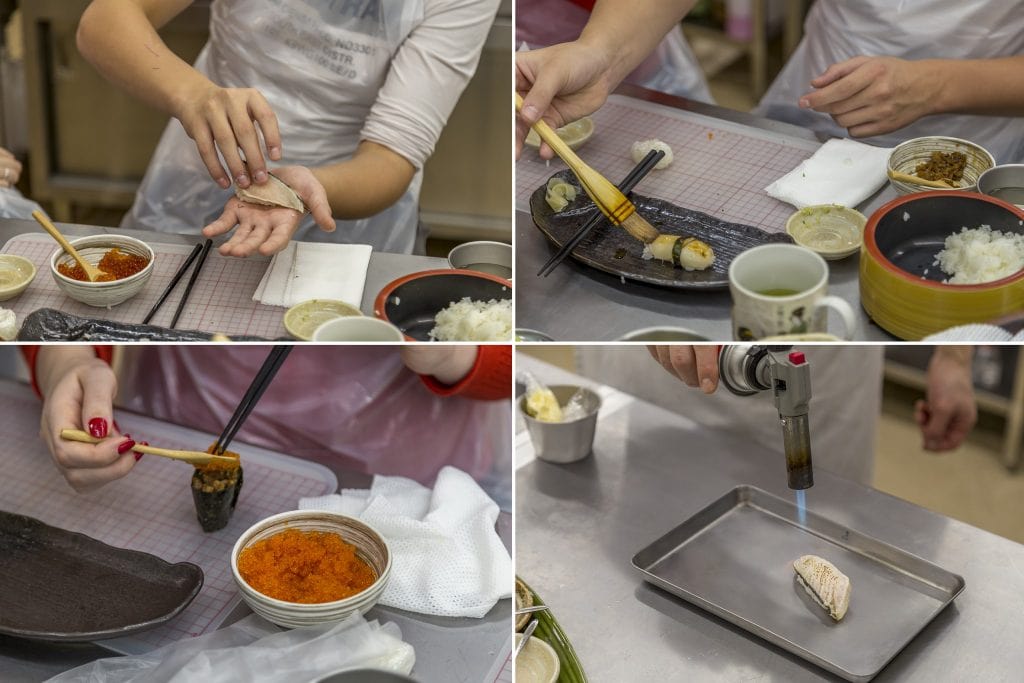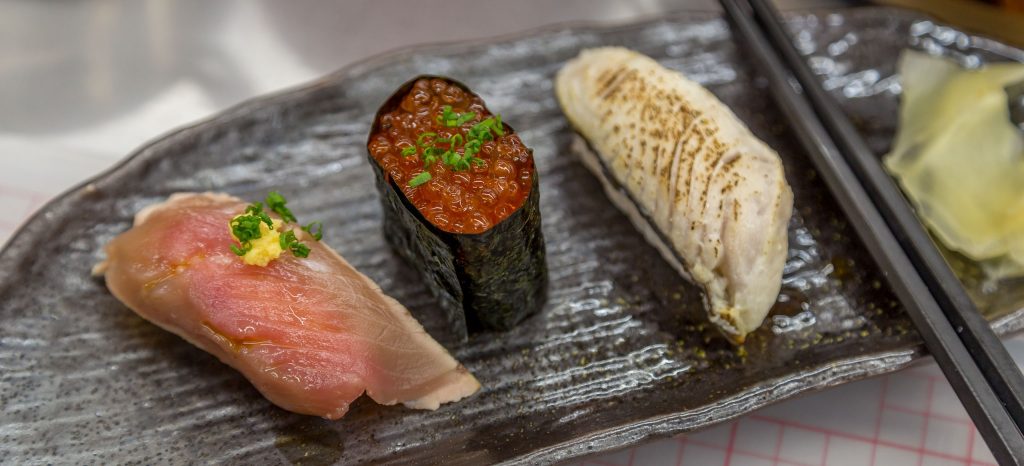 Outer Tsukiji fish market
The outer fish market is outside the main gates of the wholesale market and basically is a block with small corridors and countless shops selling fish to the consumer. Between these shops there are many small restaurants that serve fresh fish they bought earlier on the wholesale Tsukiji fish market. It's a perfect place to have lunch after a visit to the fish market but as I had a sushi workshop planned at 1PM I didn't eat anything. During the sushi workshop, I would be able to eat as much as I wanted. It's how ever an experience by just walking through the outer Tsukiji fish market.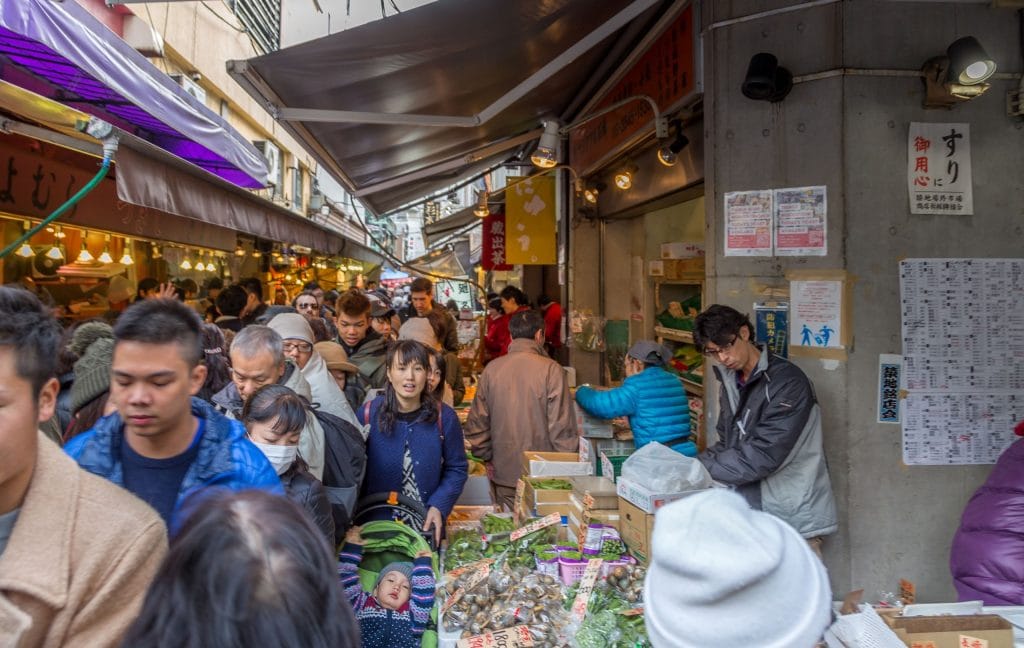 Both the Tsukiji fish market and the sushi workshop at the Tokyo Sushi Academy are a must-do in Tokyo. You'll experience a part of Tokyo which is unique to Tokyo and you won't find in anywhere in the world. I recommend to visit the Tsukiji fish market first to see from where the fish comes you'll later use in the sushi workshop. The Tsukiji fish market is the birth place of sushi and at the Tokyo Sushi Academy you'll learn how to make it from a pro. I had lots of fun and so did my family plus it's something different as visiting the temples in Tokyo but both date back to the Edo era. Do check my 2 weeks in Japan itinerary to find out what other places I visited.
Stay tuned for more stories and subscribe to the newsletter or follow CTB on social media (Facebook, Twitter, Instagram including Instagram stories; on all social media you can find CTB @christravelblog) to get updated information.
Did you visit Tokyo too or do you have questions? Please leave a comment at the bottom of the page. Love to hear from you!
Gallery Tsukiji fish market
Click an image for a full screen gallery of more photos taken during this trip. If you like to use any photo for commercial, private or editorial use please contact first for permission and/or pricing.