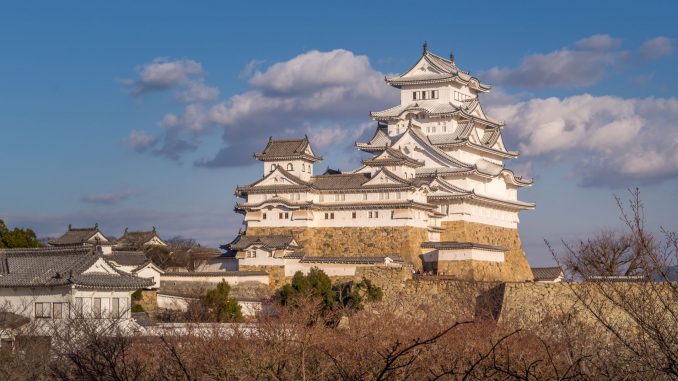 Himeji Castle is Japans largest castle and one of the three most important ones. An Himeji Castle day trip is a must do if you're in Osaka, Kobe or Kyoto. With almost a million visitors a year it's wise going early morning and not, as I did, on a holiday when it's too crowded inside. Himeji Castle was for sure one of the highlights of my recent 14-day Japan itinerary. It's a unique building (see panorama below) which I visited as a day trip from Kobe. Join me on a Himeji Castle day trip tour!

Himeji Castle day trip
Himeji Castle can be reached by Shinkansen high speed train from Kyoto (about an hour) or Osaka (about half an hour). If you have a Japan Rail Pass this is the best option as you don't pay any additional fee. I didn't have a Japan Rail Pass so I took the JR Special Rapid Trains and used the Kansai Area JR Pass. This ride takes 90 minutes from Kyoto or 60 minutes from Osaka. The visit to Himeji Castle itself is about 4 hours and you must arrive in the morning to get tickets as they might sell out for the day. Plan accordingly!
It's possible to do a Himeji Castle day trip from Tokyo, but it will be a long day. It's a 4-hour Shinkansen high speed train ride, 4-5 hours exploring the castle and again 4 hours back to Tokyo. If you really want to, it's posibble! Once you arrive at Himeji train station it's just a 1 kilometer walk along the main boulevard to the castle. If you exit the train station you will see the castle at a distance towering above the city! You can't miss it.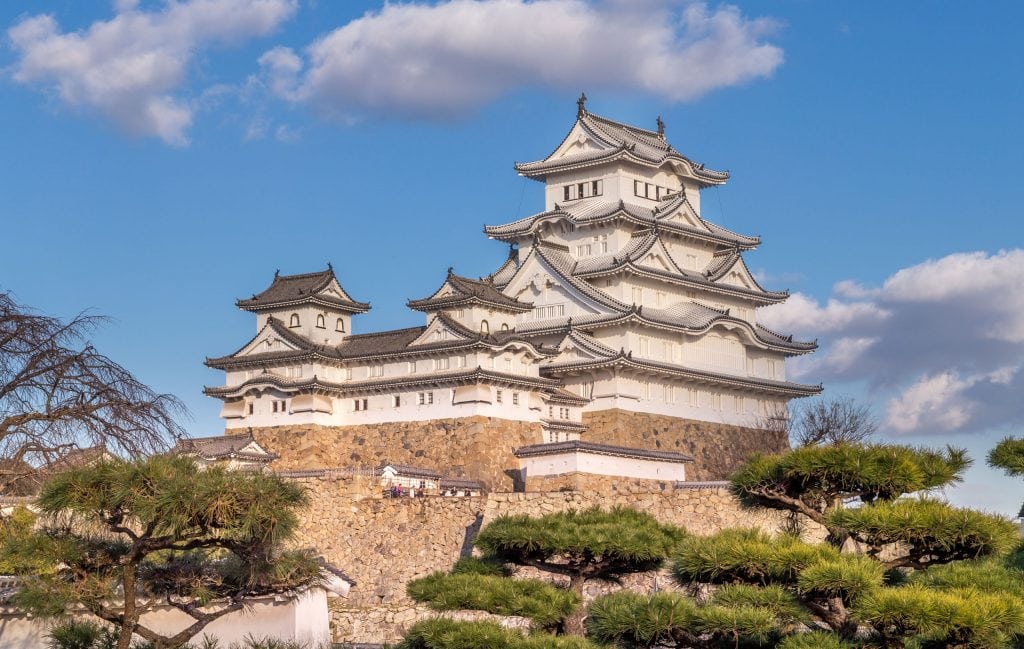 Himeji Castle visit
Before visiting the castle lets do a small history lesson and get to know more about Himeji Castle.
Historical background
History of Himeji Castle dates to 1333 when the first fort was built on the top of Himeyama hill. This first small fort didn't last long, and a new castle called Himeyama Castle was constructed in 1346. Two centuries later Himeji Castle replaced Himeyama Castle. In the late 16th and early 17th century Himeji Castle was extended and remodeled into its current shape. Himeji city was bombed heavily during World War II, but Himeji Castle surprisingly survived without much damage. It was declared a UNESCO World Heritage Site in 1993 and renovated heavily in 2015.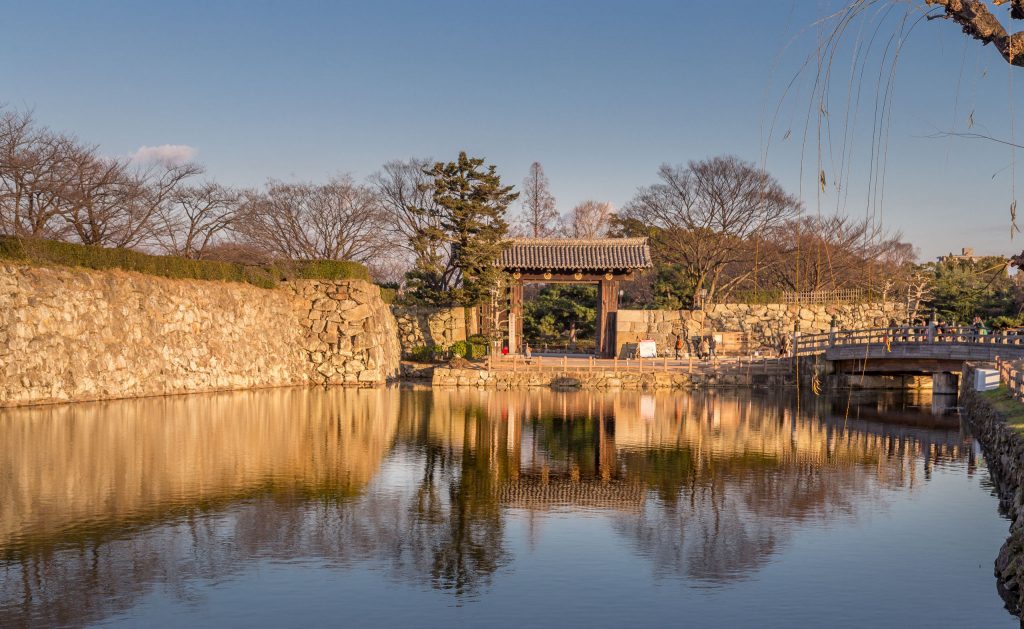 Layout of the grounds
Himeji Castle grounds are roughly 900 meters by 1700 meters and there is a network of 83 connected buildings on these grounds. The main keep at the center is 46.4 meters tall and constructed around two pillars containing six floors. There are 3 smaller keeps around the main keep. Other buildings include walls, gates, turrets, and corridors.
Defence system
Himeji Castle had an advanced defense system for its time. The defense system included loopholes to shoot from and stone drop windows to drop stones and oil from on attackers. The complex originally had 3 moats to keep attackers out of which parts of the inner two remain. A maze of paths, passage ways and corridors made it difficult for attackers to find their way to the main keep. In case of attack there were rice storages, salt storages, fresh water wells and other supplies within the premises of Himeji Castle. It for sure was a difficult place to conquer!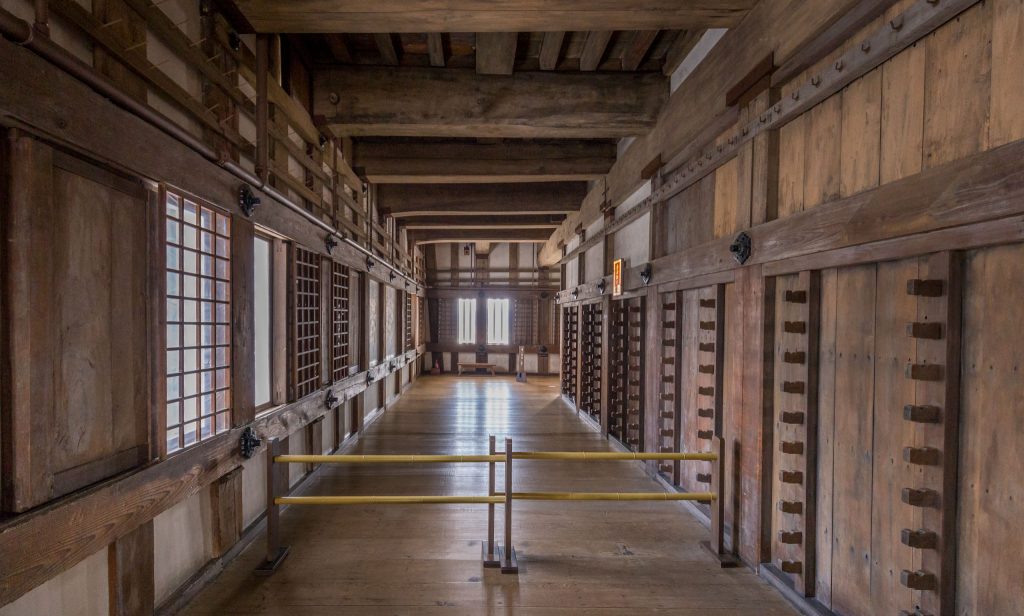 Himeji Castle tour
It's best to enter the Himeji Castle grounds through the Otemon Gate. The main square is just behind it from where it's possible to photograph the full castle including some surrounding structures (see panorama above). Tickets can be bought at the ticket counter on the left but keep in mind they can be timed tickets. It's advised to first buy the tickets and get those selfies in front of the castle after.
Main keep
After entering make your way to the main keep of the castle first. You'll pass some corridors until you arrive at the main keeps foundations. Here you can see a fenced stone which is called the Old Widow's Stone. When Himeji Castle was constructed there was a lack of stones and an old woman gave her millstone to help constructing the castle. Many others followed by donating stones and speeding the construction process.
The main keep is quite empty but do make the climb up the six floors. You'll see many loopholes, massive doors, and the internal wooden construction. Once at the top you have a magnificent view over Himeji. Now descent and walk around the gardens of Himeji Castle to take some awesome photos. A visit takes about 4 hours if you take your time.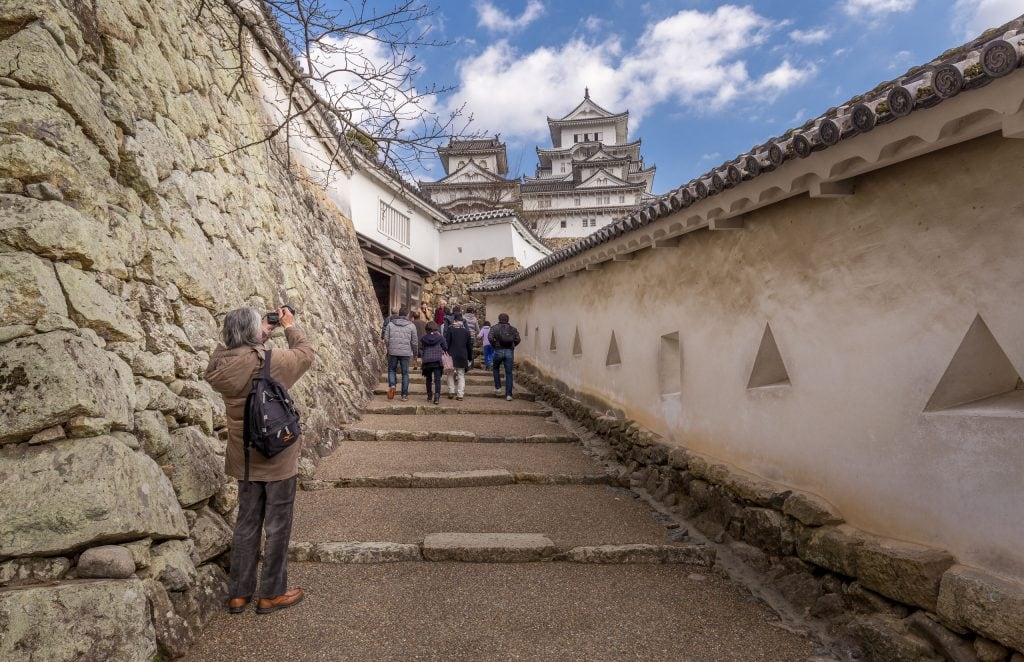 Kokoen Gardens & Himeji Zoo
If you have time I suggest going to the Kokoen Gardens just next to the castle too. This garden is a beautiful example of a Japanese garden. In winter however, it's of course less interesting but still worth to go. With kids the Himeji Zoo can be an option too.
I had a great time visiting Himeji Castle. The trip I made as a day trip from Kobe as I was staying there to explore the city. If you are coming from Osaka I recommends staying at the Intercontinental Osaka. Make sure to check my 14-day Japan itinerary to see what to do more in the Kansai Region (Kobe, Osaka, Kyoto) and Tokyo. Japan is one of my favorite countries and I hope to return soon to see more of the country.
Stay tuned for more stories and subscribe to the newsletter or follow CTB on social media (Facebook, Twitter, Instagram including Instagram stories; on all social media you can find CTB @christravelblog) to get updated information.
Did you visit Himeji Castle too or do you have questions? Please leave a comment at the bottom of the page. Love to hear from you!
Gallery Himeji Castle
Click an image for a full screen gallery of more photos taken during this trip. If you like to use any photo for commercial, private or editorial use please contact first for permission and/or pricing.