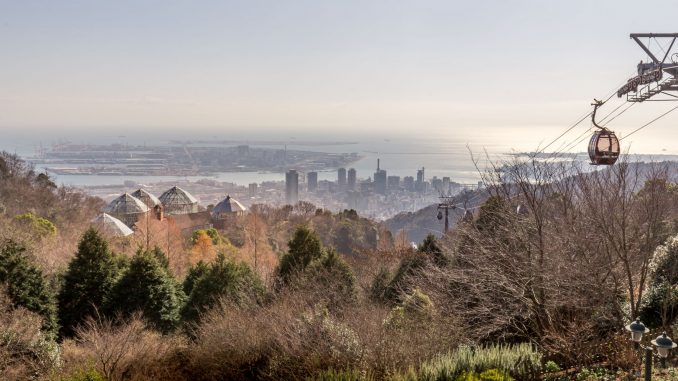 Kobe is worldwide known for its Kobe steaks and as a meat lover I simply had to include a Kobe day trip on my Japan itinerary. Kobe isn't a city with that many places of interest but there is enough to fill a day. The Nunobiki Herb Garden located at the top of Mount Rokko is well worth a visit, even in winter. Kitano is a lovely neighborhood with European style buildings. Another place not to miss is Kobe Port and of course downtown Kobe for Chinatown and the Ikura Shrine. There are many places for Kobe beef steak but the best I'll recommend at the end of this 1-day trip to Kobe trip report. It's delicious.
Kobe day trip: Nunobiki Herb Garden
The Nunobiki Herb Garden is the first stop of this Kobe day trip. It can be reached by the Nunobiki Herb Garden ropeway which departs from JR Shin-Kobe Station. Getting there from Osaka takes just 30 minutes and from Kyoto it will take you 90 minutes. Go early morning so that you arrive there around 08:30 to start this 1-day trip to Kobe. The ropeway will take you up Mount Rokko in approximate 15 minutes. On a clear day you have a beautiful view over Kobe and some waterfalls below.
Nunobiki Herb Garden is one of Japan's finest botanical gardens featuring over 200 varieties of herbs. At the top there is an exhibition about perfumes, medical and other products made from the herbs. There are also a restaurant and gift shops in case you want to pickup some herbs. From the top I recommend walking down towards the greenhouse. As it was winter there were not many herbs growing of course but, in the greenhouse, there were beautiful flowers and exotic plants flowering. Near the greenhouse is the middle station of the ropeway which I recommend taking down. The complete visit, in winter, takes around 90 minutes.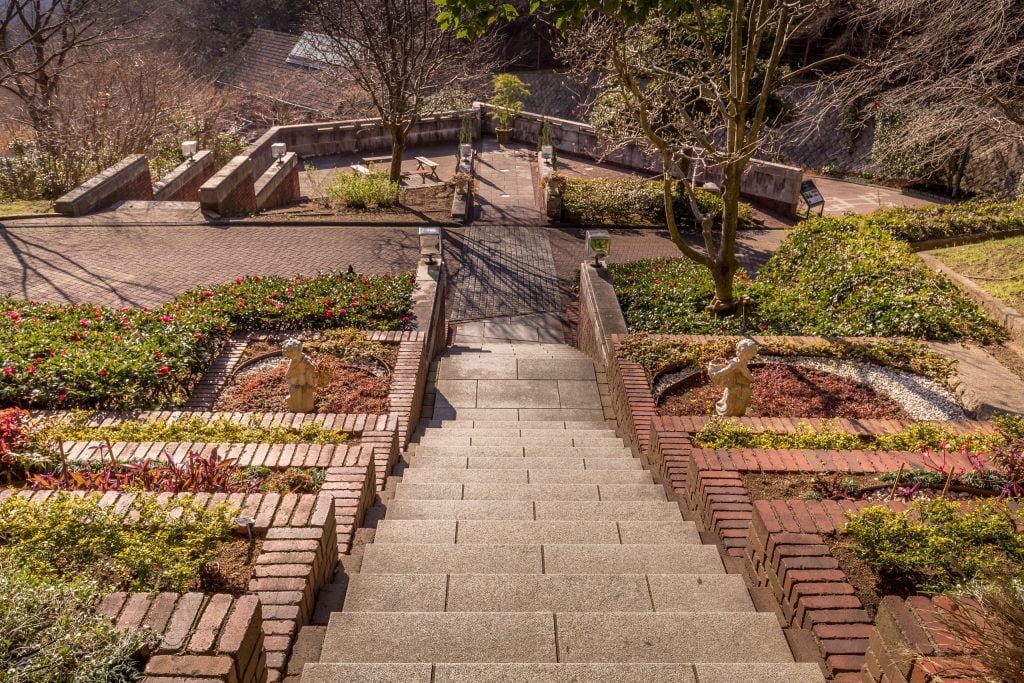 Kobe day trip: Kitano
Kitano is a historical district in Kobe and the major tourist attraction of the city. It's just a short walk from the ropeway station. The area is famous for its well preserved late 19th and early 20th century European style houses. Some were the homes of wealthy businessmen others home to embassies. These houses are called ijinkan in Japanese. Today many are open to tourists and a few still serve their residencial purpose.
I visited Kobe on 31th December which is a Japanese holiday and many museums are closed. In Kitano too but several houses where open. I visited the Former Thomas Residence or Weathercock House named after the weathercock on the roof. It was the house of a German merchant. I also visited the Former Sharp House which belonged to a US consul. Both houses still have all the old furniture in place and show how the wealthy lived in Kobe over a century ago. There are around 8 other houses which can be visited but you'll probably have to skip Kobe Port if you want to see them all.
I do recommend walking up the stairs to Kitano Temmangu Shrine to have a beautiful view. It's probably lunch time now which I recommend having in one of the restaurants in Kitano.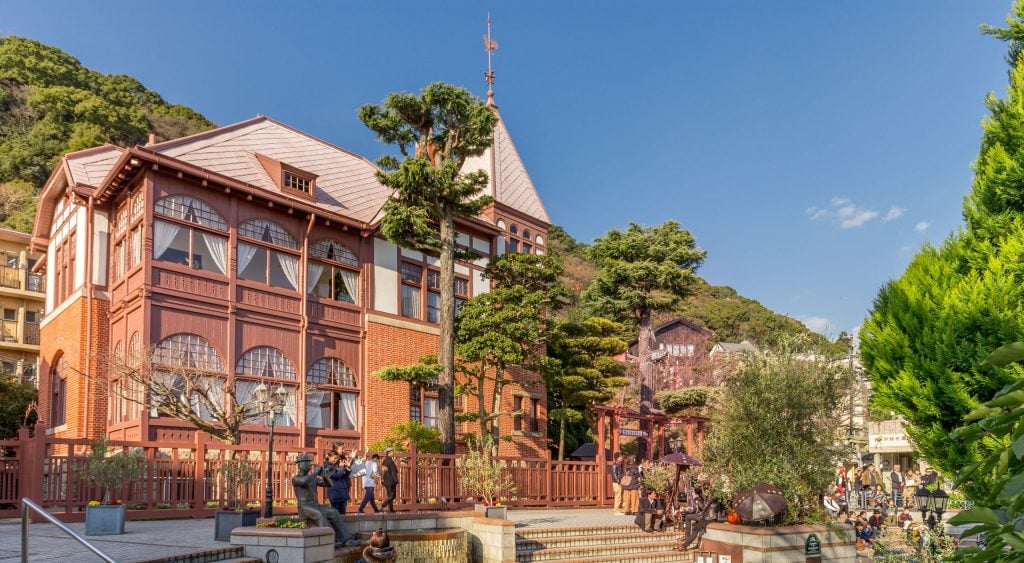 Kobe day trip: Kobe Port
To save time I recommend taking the subway or a taxi to Kobe port. Or, if you spend more time in Kitano and skipped Kobe Port walk to Ikuta shrine. In Kobe Port you can visit Kawasaki World which exhibits the history of the Kawasaki Heavy Industries Group. It's fun with kids too. The Kobe Port Tower (108-meter-high) is worth visiting for beautiful views over Kobe, but if you visited the herb garden you already had beautiful views. After exploring the harbor area start walking to the Ikuta Shrine in downtown Kobe.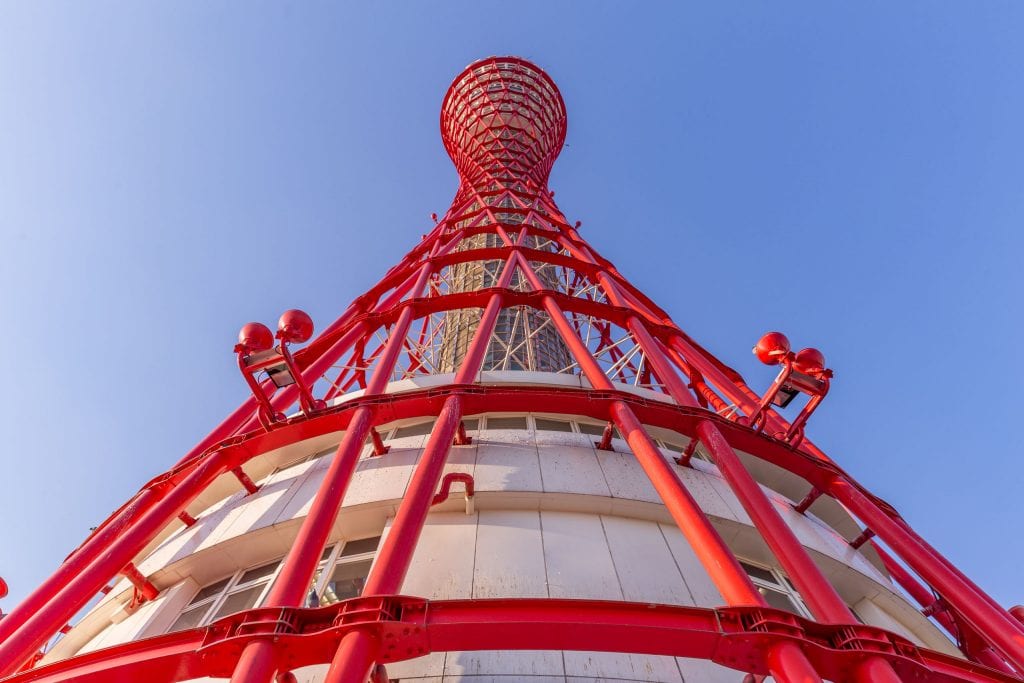 Kobe day trip: Ikuta shrine & Chinatown
The Ikuta Shrine is one of the oldest Shinto shrines in Japan and a must see on a 1-day trip to Kobe. Visiting on 31th December however is probably not the best day of the year as you can literary walk on the people. I had no other choice and it was actually fun to see it get crowded. The Ikuta Shrine dates to the 3rd century and enshrines the Wakahirume spirit. Various battles took place in the forests around the shrine but today these forests are the modern city of Kobe. The shrine isn't huge and if it's not crowded a visit should take around 45 minutes.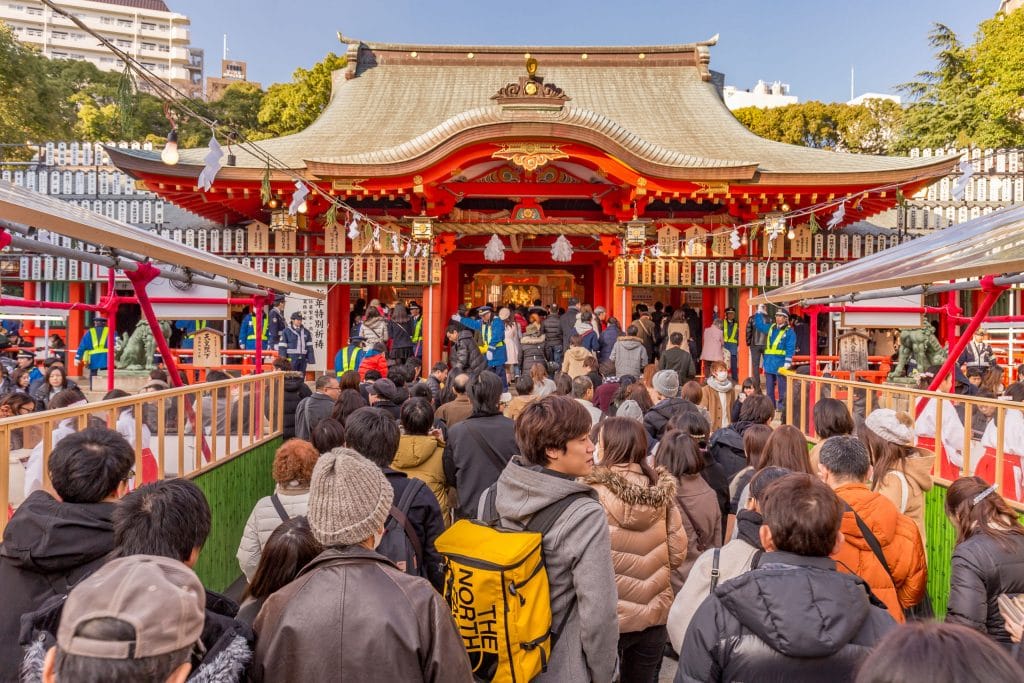 Chinatown is a great place to walk through and not far from the Ikuta Shrine. You should have a bit of time left before it's time for dinner. If Chinatown is not your thing you can also go to Ikuta Road which is a major shopping street. Fill the remainder of the day as you prefer.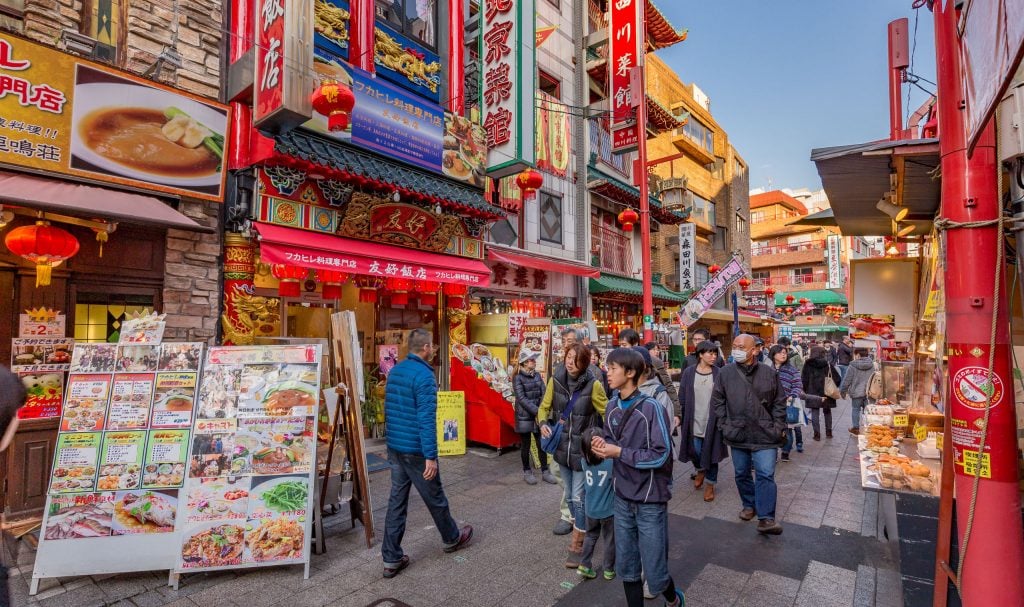 Where to eat Kobe steak
Kobe beef is heaven for meat lovers. It's meat from the Tajima strain of Japanese Black cattle and raised in Hyogo Prefecture. Kobe beef is only Kobe beef if the cattle is raised as per the rules of the Kobe Beef Marketing and Distribution Promotion Association. Kobe beef can be prepared in several ways. I recommend either sashimi Kobe beef or teppanyaki Kobe beef. This will make sure you taste the tenderness and the fatty marbled texture.
So, where to get the best Kobe beef? I recommend going to Ishida Kobe Beef Steak. Choose the most expensive option as that's the best you can get. Kobe beef doesn't come cheap but is well worth it. The restaurant has a few locations which are all the same quality. Just make a reservation upfront as they are the best and are booked well in advance.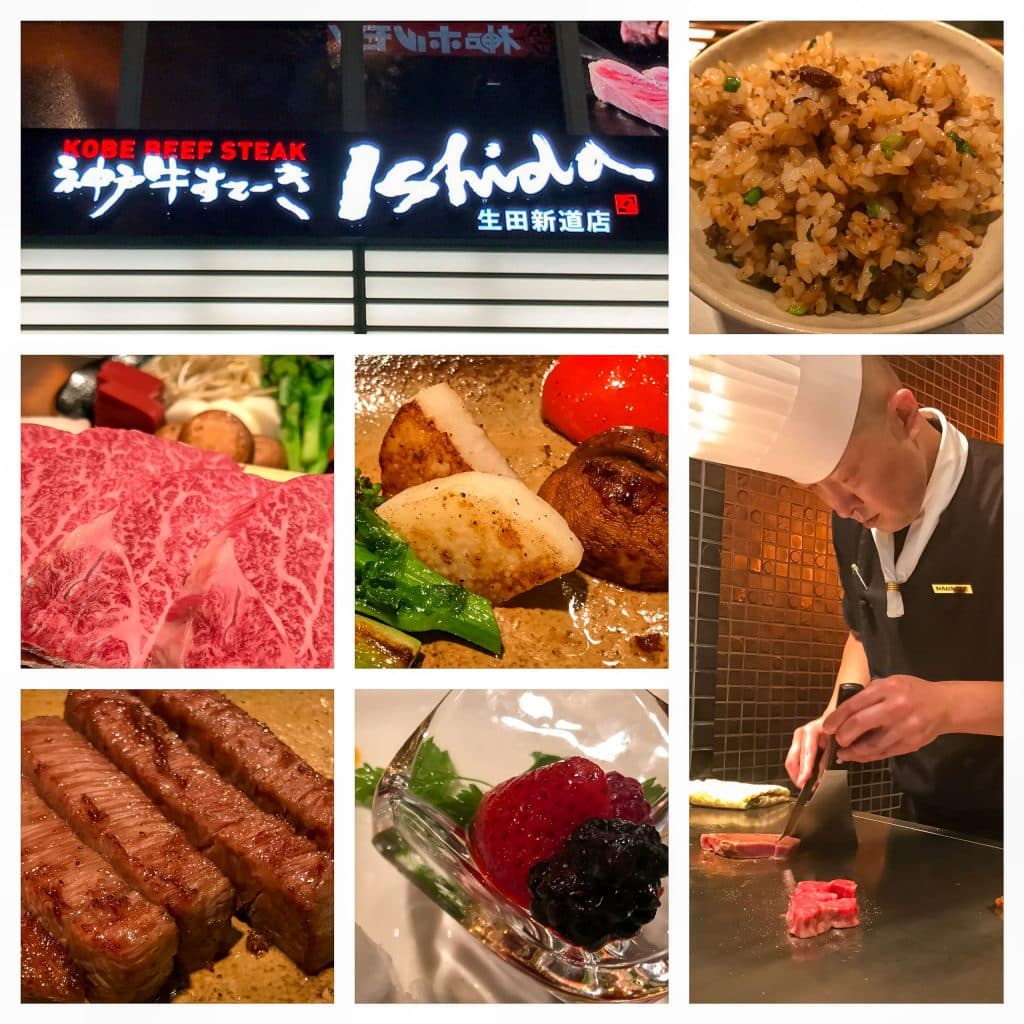 I mainly added this Kobe day trip to have Kobe beef steak for dinner. I enjoyed visiting the herb garden, Kitano, and the other places too. This 1-day trip to Kobe I highly recommend adding to a Japan itinerary if it includes the Kansai region. Best visited from Osaka but doable from Kyoto as well.
The Kobe beef is something I would go back to Kobe for. One day I'll visit Japan again and I will make sure I'll either fly in or out from Osaka to make it to Kobe again. Make sure to check my 2-week Japan itinerary for more inspiration including a Himeji castle day trip. There is a lot to do in the Kansai region.
Stay tuned for more stories and subscribe to the newsletter or follow CTB on social media (Facebook, Twitter, Instagram including Instagram stories; on all social media you can find CTB @christravelblog) to get updated information.
Did you visit Kobe too or do you have questions? Please leave a comment at the bottom of the page. Love to hear from you!
Gallery day trip to Kobe
Click an image for a full screen gallery of more photos taken during this trip. If you like to use any photo for commercial, private or editorial use please contact first for permission and/or pricing.