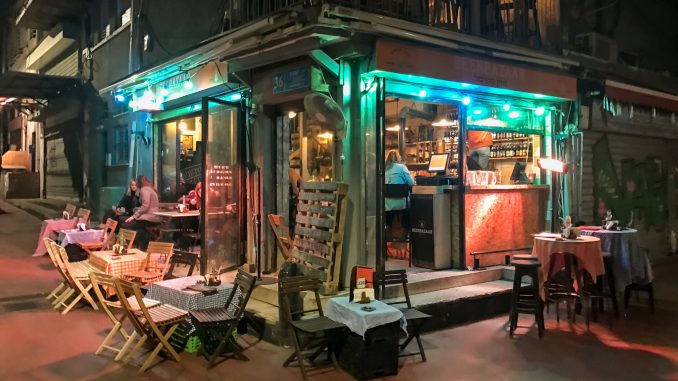 I love craft beer and when I travel I get to try quite some beers from around the world. Israel I visited with my daughter and we went to Haifa, Jerusalem, and Tel Aviv where we visited lots of historical places. I'll cover those later in separate articles but check out the 10 day itinerary too. In the evening, I had time to go out to sample the local craft beer of Israel. In this article, I share with you which bars I went to; it's not a complete list but they will keep you drinking for some time! Now enjoy some Israeli craft beer with me; cheers!
Tel Aviv Craft Beer – Beer Bazaar
Beer Bazaar Tel Aviv is located in Shuk ha Carmel Market area (Rambam St. 1) and was within 5 minutes walking distance of my hotel. It's a small bar but carries a huge selection of local craft beer. I think Beer Bazaar in Tel Aviv is my personal favorite in Israel. Their taps serve their own brews and a selection of other breweries. The location is great as it's within the Shuk ha Carmel market and these small alleys are full of people during the day. In the evening, it gets more quiet but it's still the place to go to have a craft beer. They do serve tasters and you can take bottles with you but keep in mind you can only buy bottles for take away before 11PM in Israel. I bought to many bottles to take home; my luggage had overweight. I was carrying home about 40 bottles of Israeli craft beer.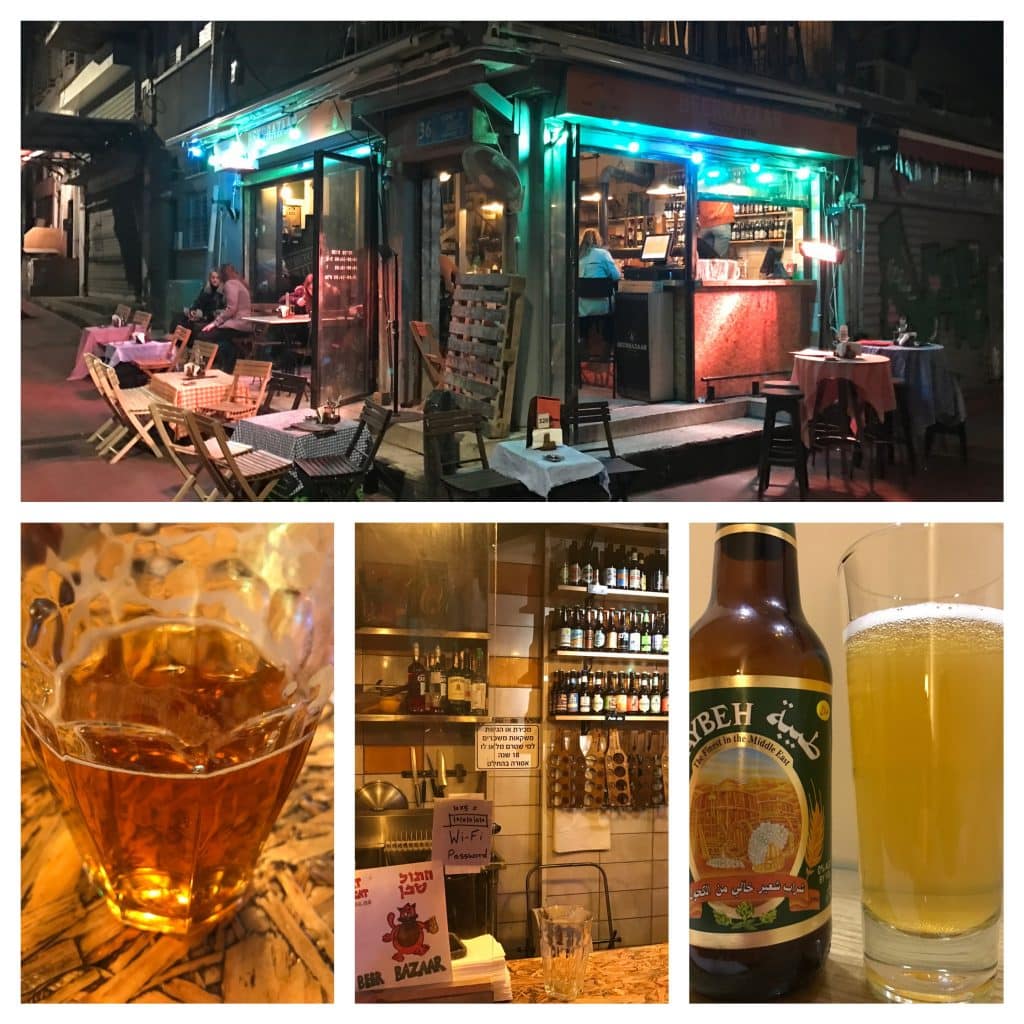 Tel Aviv Craft Beer – Dancing Camel
The Dancing Camel taproom (Ha Ta'asiya Str. 12) is located a bit outside of the center of Tel Aviv but is easily reached by a 10-minute taxi ride. At the time of my visit they had eight taps each serving one of their delicious craft brews. I arrived quite early as I just wanted to taste their own brews so it was empty but by the time I left a small crowd was already present. They have also live music during some of the evenings in the brewing room. Their taster set is affordable and comes with all the brews on tap. I didn't taste their food but what I could see others had it was standard bar food. The Dancing Camel is a place to check out if you are in Israel, especially Tel Aviv, as they have good craft beer.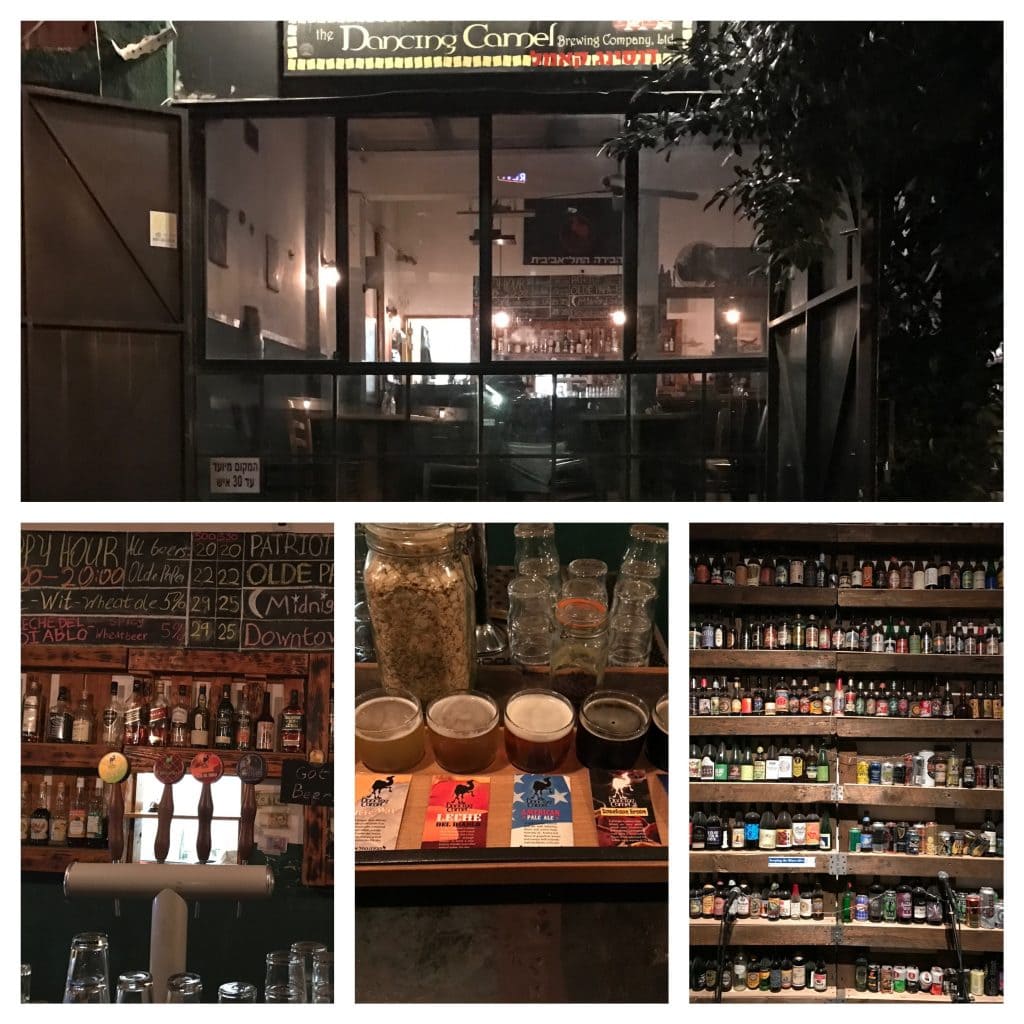 Haifa Craft Beer – LiBira
LiBira is a local brewery from Haifa and is located in the upcoming trendy neighborhood (Ha-Namal St. 26) close to the harbor and university in the lower city. They have five of their own craft beers on tap which all are worth a try. The brewery and bar are in a simple building where you can see the basic construction. This makes it also a cozy place in a way. They serve also delicious dishes to share which go well with the beer. I had a great time with friends from Israel there!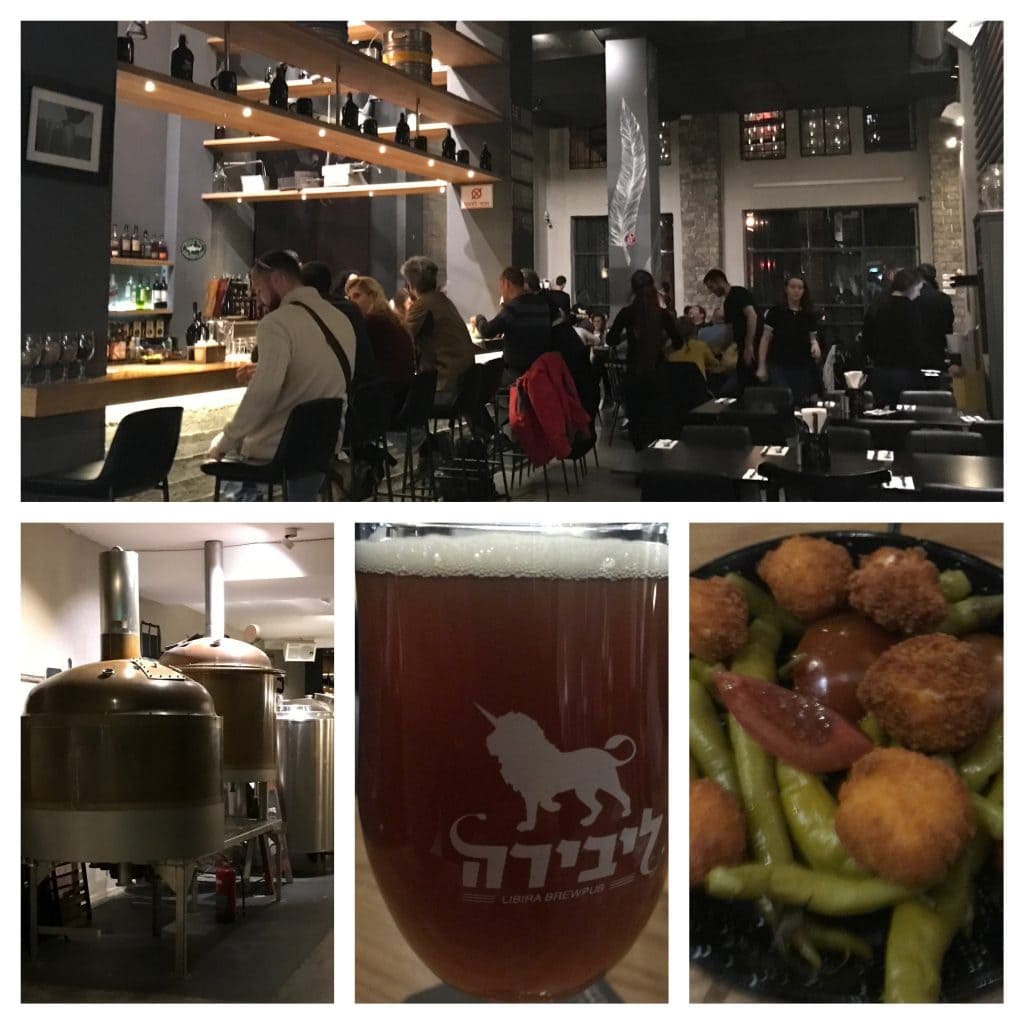 Jerusalem Craft Beer – Beer Bazaar
The Beer Bazaar in Jerusalem (Etz Hayyim St 3) is located within a market place (Machane Yehuda Market) like the one in Tel Aviv. I went there late evening after Shabbat and the bar quickly filled up. They serve their own five brews on tap and another five from other breweries. They have also a large bottle selection of craft beer from around Israel but keep in mind if you want to take them home you must buy them before 11 o'clock by law. After Shabbat, the Beer Bazaar Jerusalem fills quick but a visit during the day is also worth it as the Machane Yehuda Market is then in full operation. Beer Bazaar Jerusalem was my first encounter with Israeli craft beer.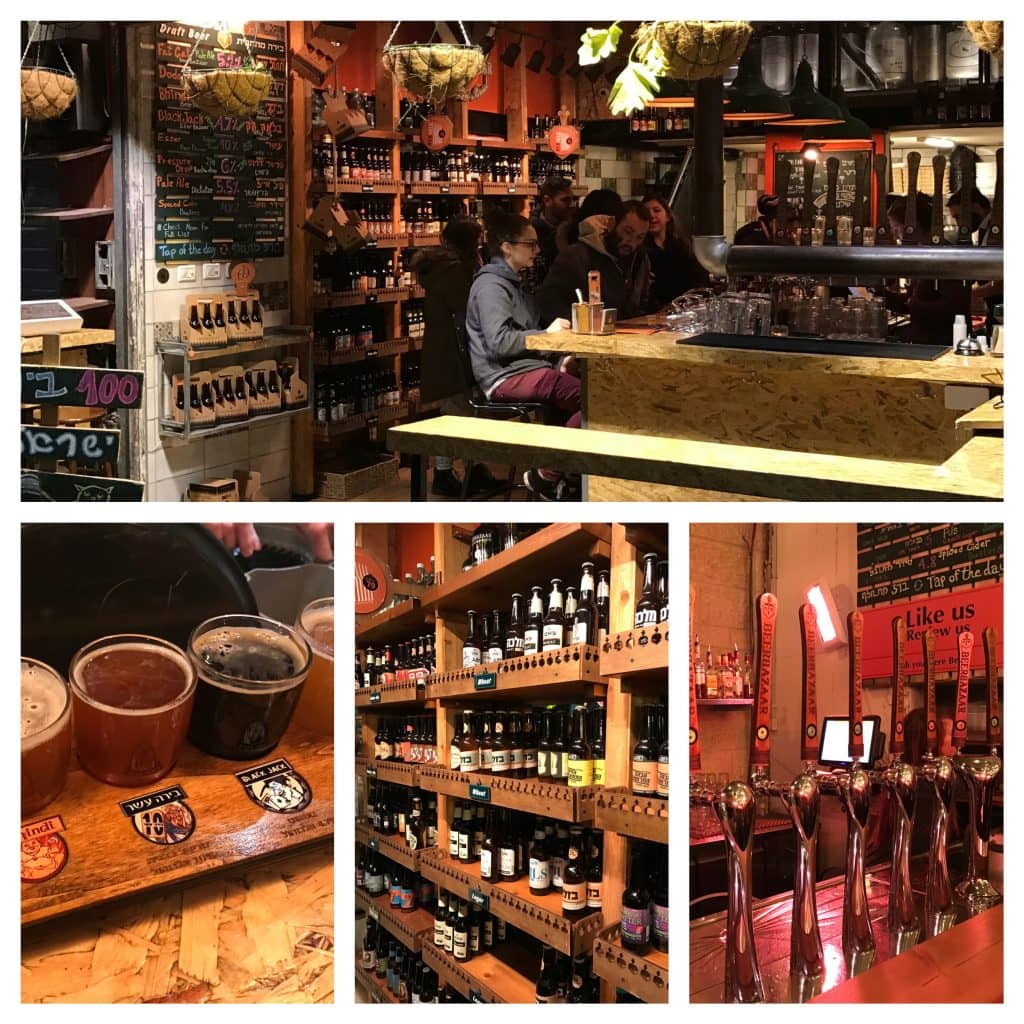 Jerusalem Craft Beer – Hamisameach
The Hamisameach Liquor Store is located just in front of the Machane Yehuda Market at Agrippas Road and is a great place to pick up bottles of beer in Jerusalem. They have a huge selection of various craft beer breweries from Israel including one from Palestine. Worth to go if you want to buy bottles.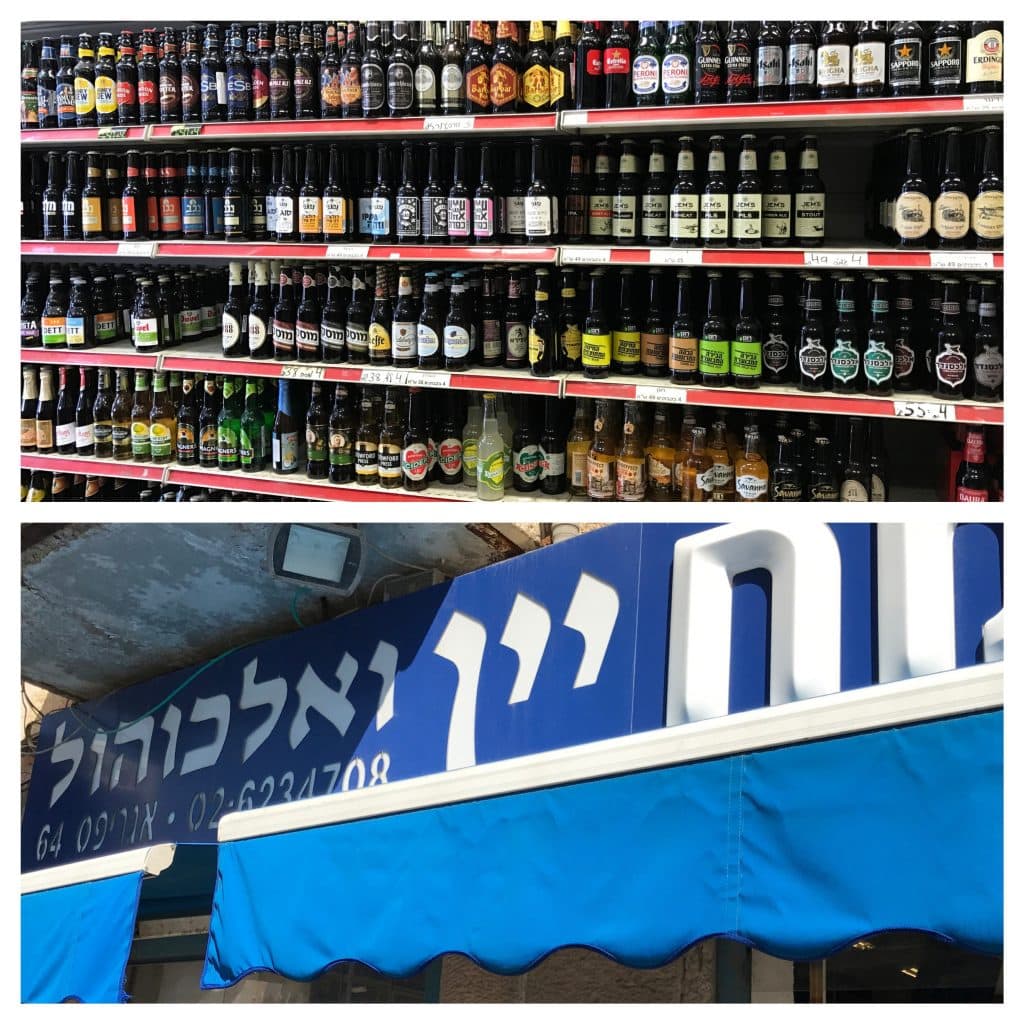 Jerusalem Craft Beer – Glen Whiskey Bar
Glen Whiskey Bar (Shlomtsiyon Hamalka 18) has 18 (!) taps of which about half are Israeli craft beers and two of them are their own brews. As the name says they have also a huge selection of whiskey. It's a small bar with mainly bar seating and some tables upstairs. I loved their posters in the restroom (sorry ladies; but I'm sure something is in your restroom too). I had two taster flights here with beers I didn't taste before. Glen Whiskey Bar is a great place to have craft beer in Jerusalem. I must say that it's a bit of a dark bar with loud music.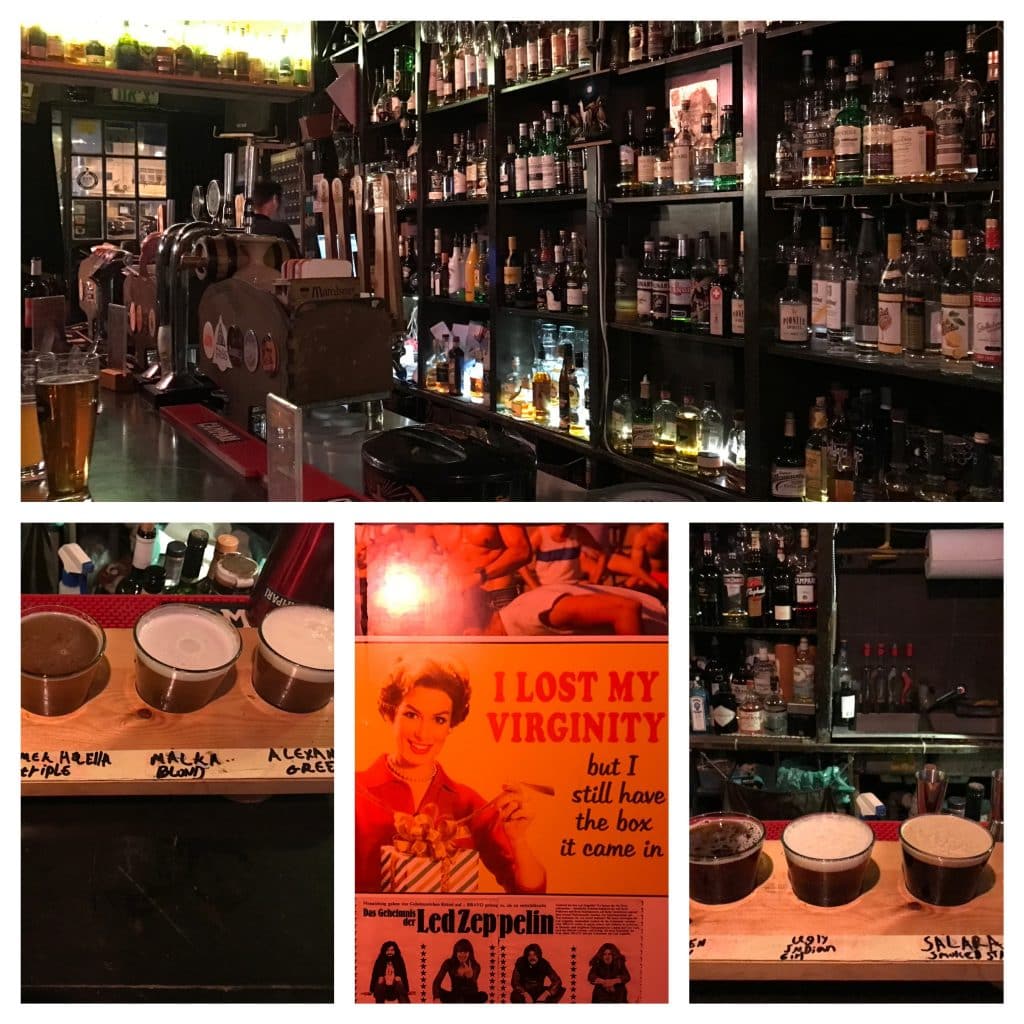 Jerusalem Craft Beer – Bardak Pizza Bar & Beer
Bardak (38 Keren Hayesod) isn't really a beer bar but more like a pizzeria which also serves a large selection of craft beer from around Israel. I went with my daughter (she didn't join any of the other bars) as she wanted to have pizza anyway. Their pizzas are delicious! Just keep in mind it's kosher so no meat & other things mixed as traditional pizzas. The selection of craft beer is large with bottles and 6 on tap. Unfortunately, some advertised bottles where sold out as were two taps. I hope this was just when I visited as for the food and beer I can highly recommend Bardak Pizza Bar & Beer in Jerusalem if you're looking for a pizzaria.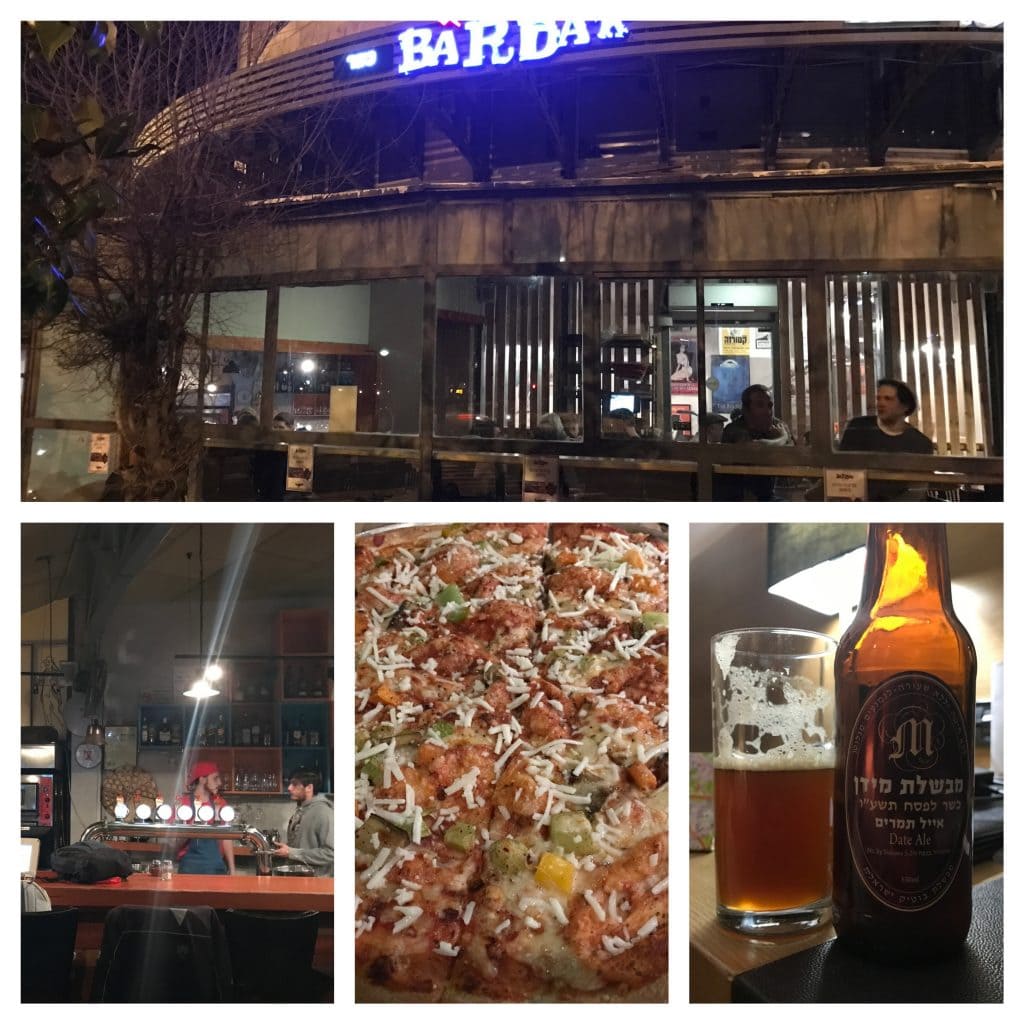 I was honestly surprised by the amount of craft beer brewed in Israel. They are a bit of a hit or miss as quality is from bad to really good. Including the beers I took home, I tasted over 100 craft beers from Israel in Haifa, Tel Aviv, and Jerusalem. Don't worry; many were just tasters! I'm not going into the specific beers themselves as tastes also vary per person but the bars above for sure are the best places to go taste them. Enjoy tasting craft beer in Israel but also check out my 10-days Israel itinerary which covers my full trip.
Stay tuned for more stories and subscribe to the newsletter or follow CTB on social media (Facebook, Twitter, Instagram including Instagram stories; on all social media you can find CTB @christravelblog) to get updated information.
Did you visit Israel too or do you have questions? Please leave a comment at the bottom of the page. Love to hear from you!