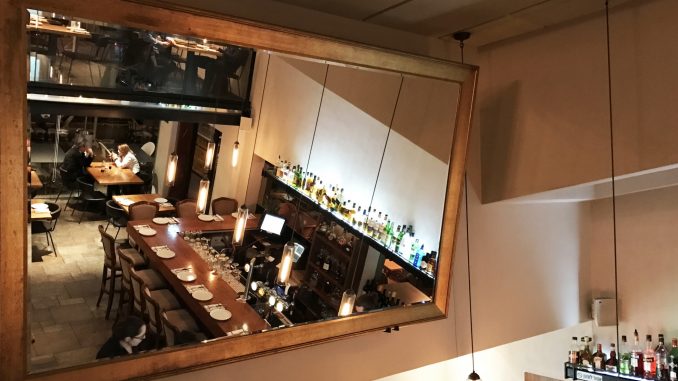 Recently I did a 10-day Israel road trip with my daughter. Although she's just 11 she likes fine dining as I do. Of course, a burger and a pizza were on the menu too but also a 10-course menu she can enjoy. I already covered the places to have good craft beer in Israel before where my daughter didn't join those of course. Now it's time to share the restaurants we had dinner at in Tel Aviv, Jerusalem, Haifa and on our day trip to Acre. I do not cover the Japanese restaurant Japanika in Haifa as it was terrible and tasteless. It's not often that I pick a terrible place but even with experience mistakes happen. Now, enjoy the best restaurant hotspots in Israel!
Tel Aviv restaurant: Shila by Sharon Cohen
Shila (Ben Yehuda 182 / +972 3-522-1224) is a restaurant I suggest going to in Tel Aviv if you must pick just one! Shila is founded by Sharon Cohan together with his wife Adi and are in business over 10 years now. Shila has a modern décor and has several rooms but I preferred to sit at the open bar with my daughter. They call themselves the restaurant with the hottest bar or the bar with the best food. I fully agree! The steak tartar starter (me) and the octopus salad (daughter) were simply delicious. As a main my daughter had the beef tenderloin and I had an alternating beef steak. Juicy and delicious! Add oysters as an appetizer and risotto in between and I'm sure you'll be dining a long evening. A place I hope to return when I'm back in Tel Aviv!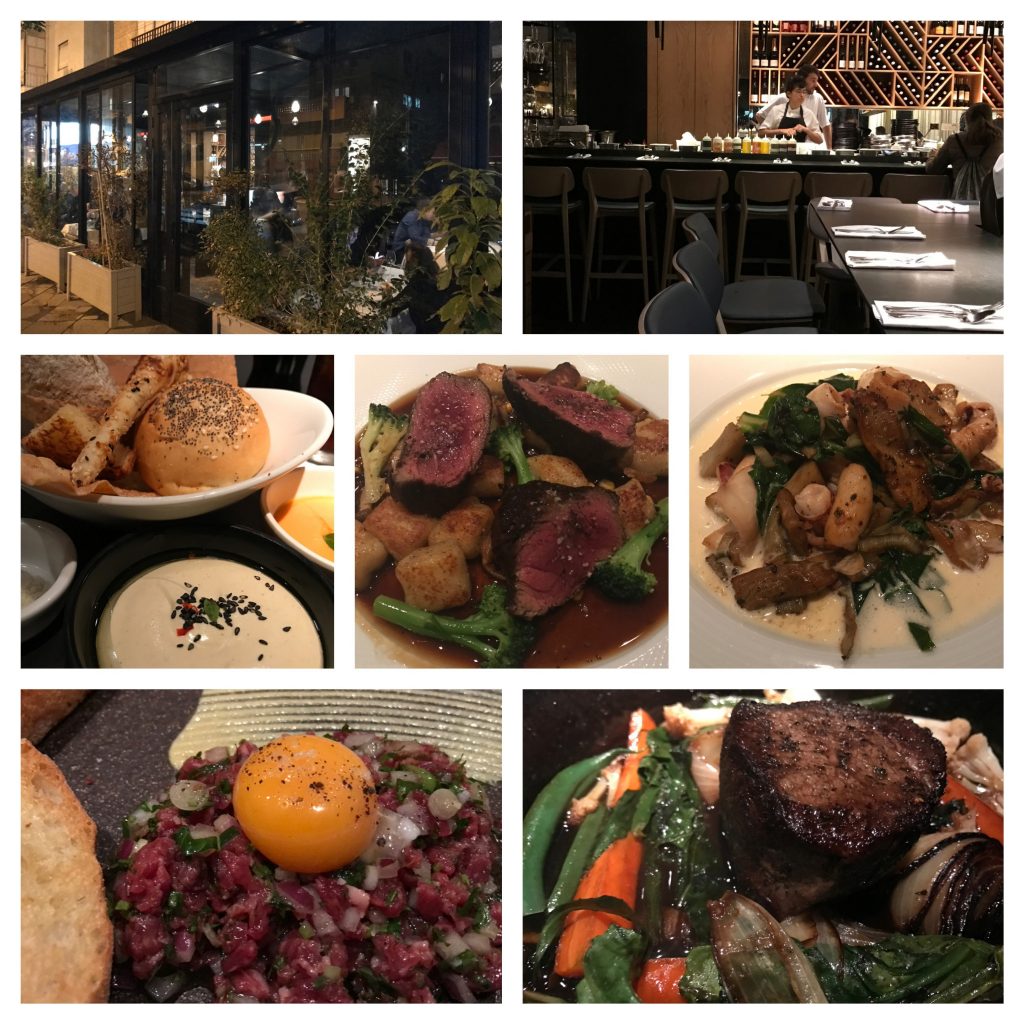 Tel Aviv restaurant: America Burgers
The best burger in Tel Aviv you'll get at America Burgers (Allenby 112 / +972 3-528-0281). A place that gets filled quick as their burgers are so popular. I ordered also my daughters favorite: a cheese burger. Medium rare. The meat at America Burgers is so juicy and topped with delicious cheese. Together with some fries and a coke I was stuffed. A place for a quick bite and simply the best burger in Tel Aviv. It was the last evening in Israel, the 10-day road trip in Israel ended, so my daughter went to bed and I tried one more last craft beer bar in Tel Aviv.

Haifa restaurant: Chang Ba Asian food
Thai food in Israel? Yes sure, and it's good at Chang Ba (HaNamal 23 / +972 4-672-2891). In Israel you'll find of course traditional local food but also restaurants from all round the world. Chang Ba is located near LiBira where I had craft beer with friends. The next day we decided to have Thai food at Chang Ba and it was delicious. Locals always know where to go! My daughter loved the mussels; she's a huge fan. The harbor area is near the university and in the evening a great place in Haifa to go out with friends. Make sure to stop by Chang Ba if you like Thai food!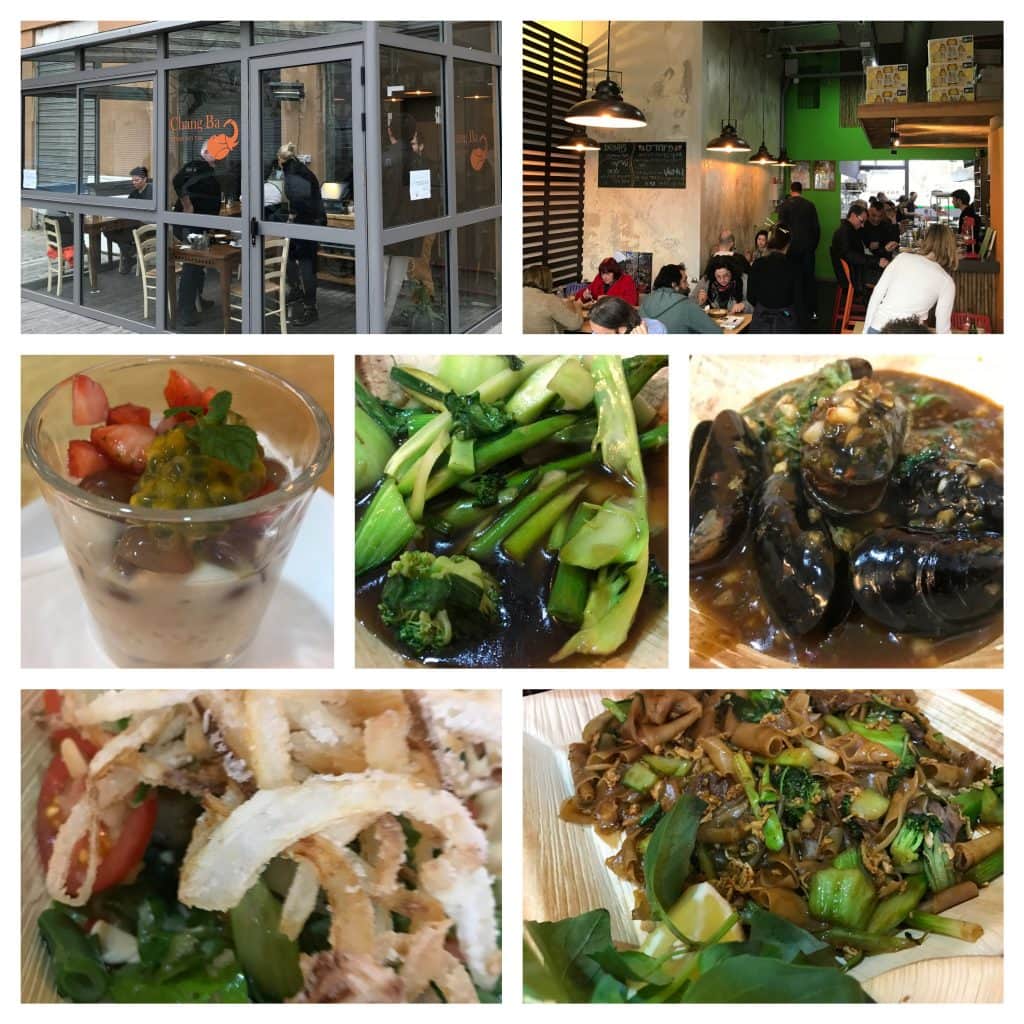 Haifa restaurant: Sinta Bar
If you are following me on Instagram stories, you'll probably know that I love a good steak. The best one in Haifa you'll find at Sinta Bar (Sderot Moriya 127 / +972 4-834-1170). Sinta Bar has two stories and a modern decor. It fills up quick so best to make a reservation. I enjoyed my table upstairs with a view on the bar. If you go for the chicken Caesar salad as a starter remember that it's huge. My daughter couldn't finish it. The steak tartar is fresh and very delicious. Their New York steak goes in various sizes and is juicy and delicious if cooked medium rare. Ask the waiters for a good wine to pair with the steak; they are knowledgeable. A restaurant I can recommend everyone going to.
Haifa restaurant: Elkheir Druze Cuisine
I love to try local food when I travel, so I looked for a good restaurant in Haifa to taste local Druze cuisine. Elkheir Druze Cuisine (139 HaNassi Blvd / +972 4-850-0090) is a place I can recommend going to as the food was delicious and fresh. Elkheir gets his ingredients from local produce and makes sure it's always fresh. All recipes are passed to him by his grandmother. I can only say she did a good job as the dishes are so delicious. Ask the staff for the favorites and I'm sure you'll have a great dinner. The décor looks simple, but trust me that doesn't say anything about the food. If you want local Druze cuisine go to Elkheir for a great and affordable meal.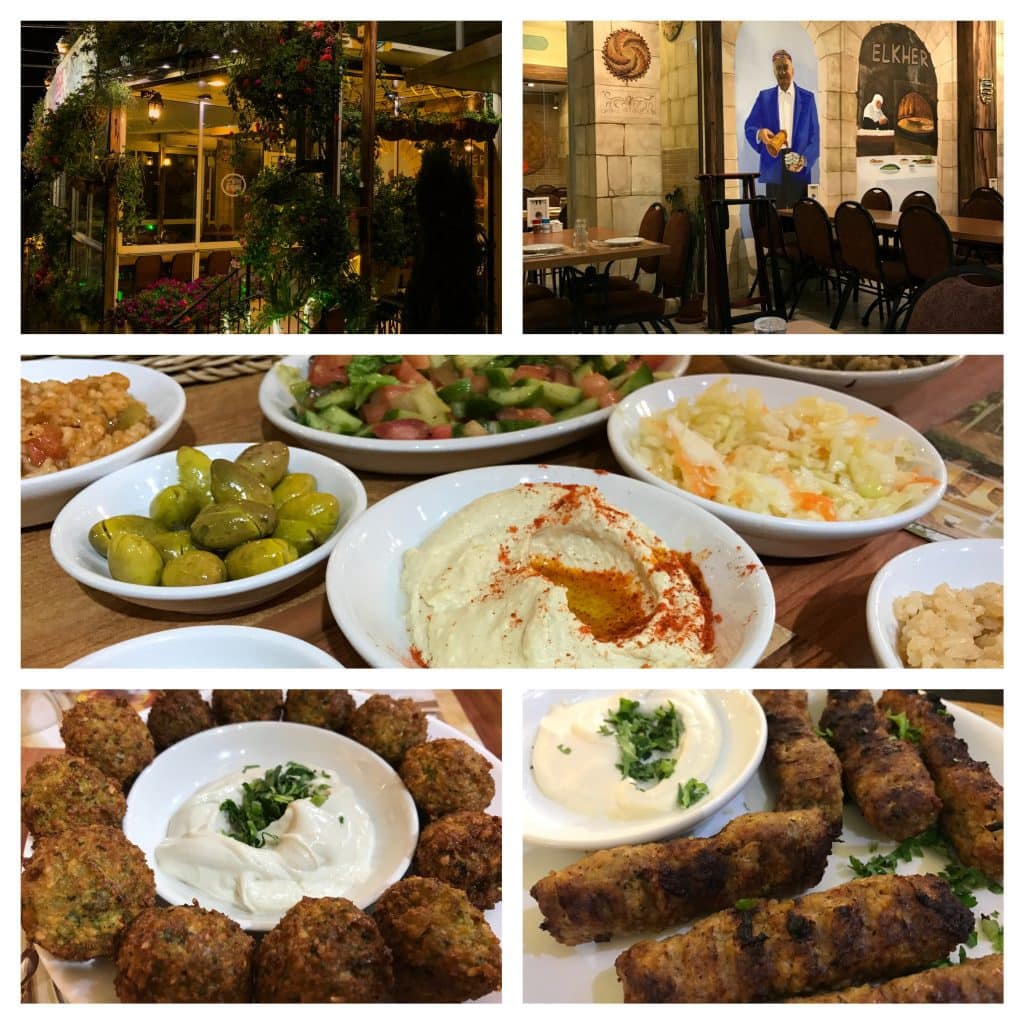 Acre restaurant: Uri Buri seafood
I did a day trip to Acre from Haifa and had lunch at Uri Buri (11 Hagana / +972 4-955-2212). Let me start by saying that you must make a reservation as it's the best place in Acre and fills up quick. Uri Buri is a legendary chef in Acre and after having their taster menu I fully agree it's the best. The seafood is so fresh and prepared in an away I didn't have before. You can also set your own menu but just make sure you get the salmon sashimi as it's amazing. I had just lunch but would love to return for a (larger) dinner. The price isn't cheap, but you'll pay for the quality and it's worth it. I highly recommend Uri Buri in Acre if you're in this lovely UNESCO World Heritage city.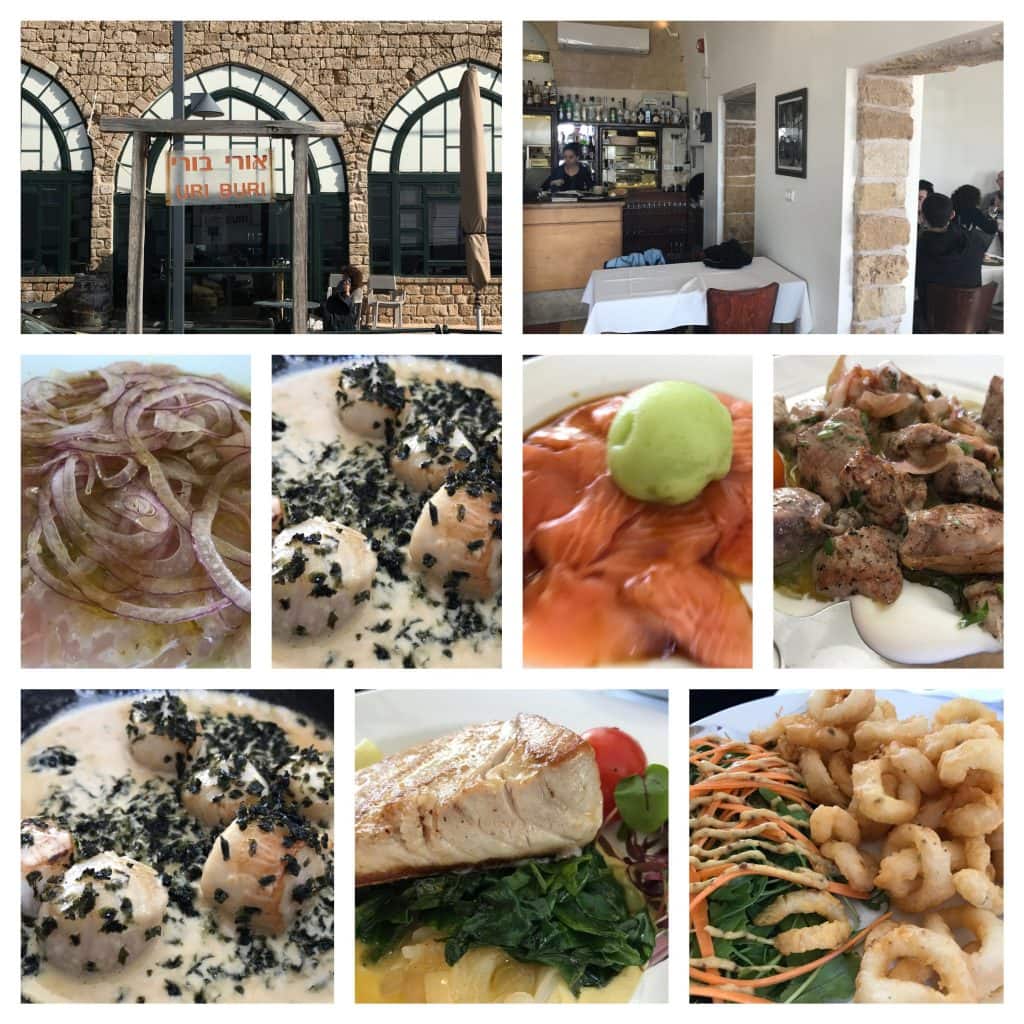 Jerusalem restaurant: Bardak Pizza Bar
If you travel with kids you can't avoid at some point getting a pizza for dinner. Bardak Pizza Bar & Beer (38 keren hayesod st / +972 1599-599779) serves the best in Jerusalem AND they serve craft beer in Jerusalem. A choice easily made: A pizza for my daughter and a craft beer for me. The pizzas are huge and kosher which means not all ingredients you might usually put together on a pizza are a go. Don't let this stop you going to have a good pizza at Bardak. Their pizzas are great and the fact that they serve craft beer is a huge plus. A place I recommend going to with kids or friends.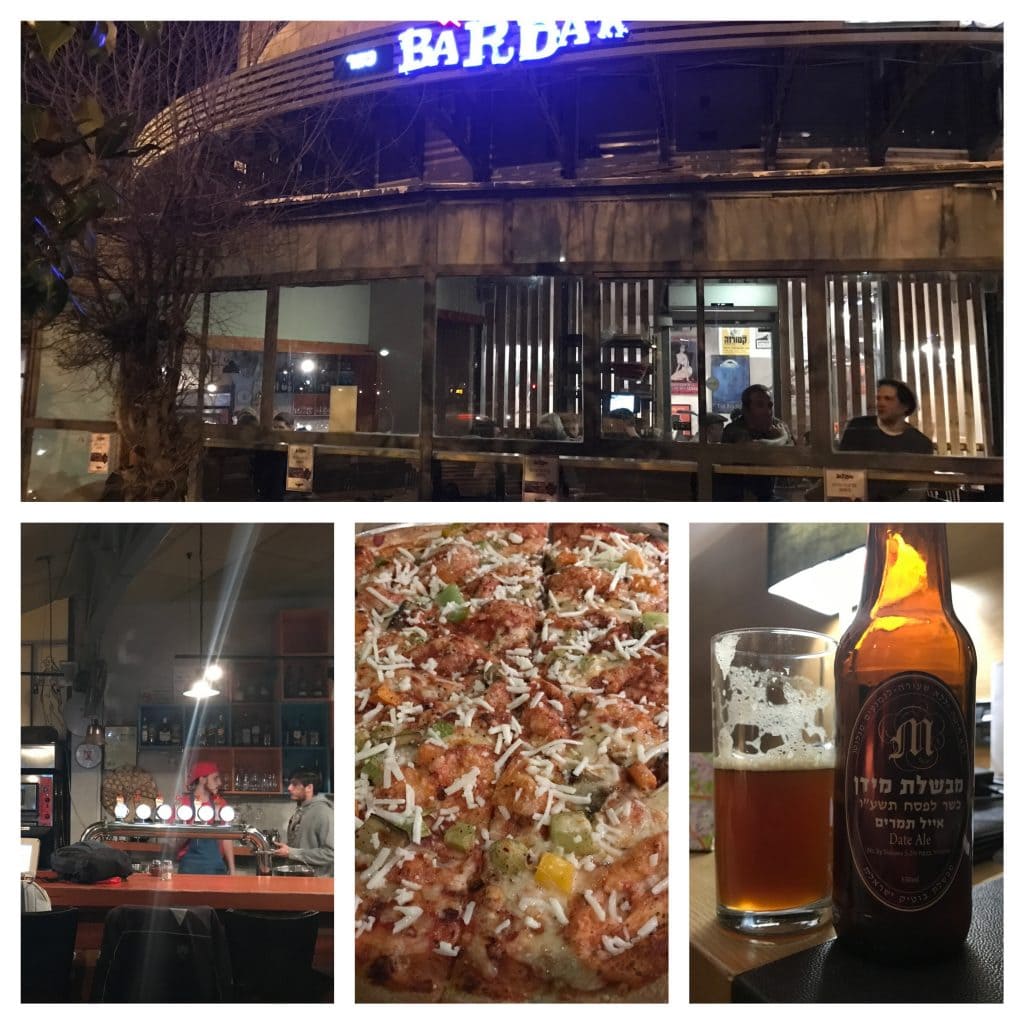 Jerusalem restaurant: The Eucalyptus
The Eucalyptus (Felt alley (between Hativat Yerushalayim 14 and Dror Eliel st.) / +972 2-624-4331) in Jerusalem is a great place to taste local food. The restaurant is located just outside of the old city walls which makes it a great place to end the day after exploring Jerusalem's old town. Interesting about the local cuisine is that it's all inspired on recipes and ingredients from the bible. You'll taste the food how it tasted centuries ago. Highly recommend is the wild mallow as a starter followed by a stew slow cooked neck of lamb. You can also go, like my daughter, a bit more futuristic and take salmon sashimi and a good steak. The Eucalyptus is for sure amongst my favorite restaurants in Israel and I highly recommend going if you're in Jerusalem.
I hope this Israel restaurant guide helps you decide where to eat in Tel Aviv, Haifa, Jerusalem, and Acre. It's a mix of different type restaurants, tastes and varies in price range. Each one I can highly recommend but the final choice is up to you. Do you want a burger or pizza? Or a multi course high quality gastronomical experience? I'm sure you'll enjoy it all. Make sure to check my Israel craft beer guide as well if you get thirsty in the evening. If you want to know how to make a 10-day road trip through Israel, then check out my itinerary. Israel is a great country and the food is delicious.
Stay tuned for more stories and subscribe to the newsletter or follow CTB on social media (Facebook, Twitter, Instagram including Instagram stories; on all social media you can find CTB @christravelblog) to get updated information.
Did you visit Israel too or do you have questions? Please leave a comment at the bottom of the page. Love to hear from you!