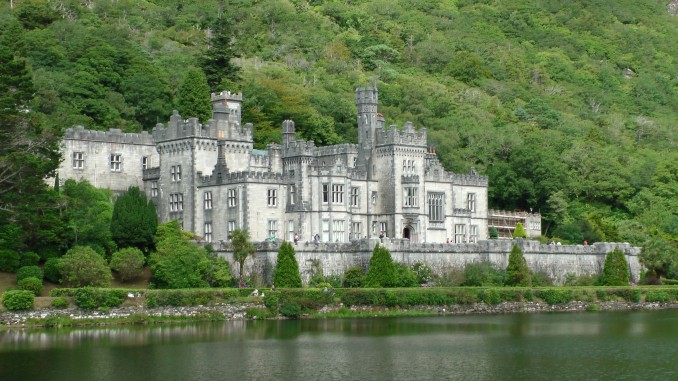 Roadtrip through Ireland. On purpose we did not visit Dublin so that later we do a city trip to Dublin. These 4.5 days driving through Ireland are enough to see all major sights and explore them; we like to see really all and in a good planned way. As said before excluding Dublin and also no Northern (western) Ireland sights.
UNESCO World Heritage Sites visited: Brú na Bóinne (see all UNESCO sites here)
Day 1 – Arrival to Ireland
Arrival from Amsterdam by AerLingus early evening. Picked up our rental car; get used to the left driving quickly and went quickly to our bed in the Radisson Blue hotel as next morning we had to get up early for a long drive. Luckily it seemed later in the trip we had great weather all along!
Day 2 – First day of our road trip
Departure from Dublin airport hotel early morning. First stop Glendalough; a beautiful 6th century settlement including a great tower, mosaic remains and monastic remains; we spend an hour or so to explore the sight. After we continued our drive through foggy hills & roads; great panoramic views along the way. Passing St. Mary's church we arrived at Kilkenny castle. After we continued our journey to Rock of Cashel to spend over an hour exploring this great site. We ended at Cahir castle which was unfortunately already closed at that time; after a nice coffee on a terrace we went to our hotel for the night.
Day 3 – Ring of Kerry
Today we drove the famous Ring of Kerry. Lots of beautiful nature; we drove it counter clockwise. The only thing we did not do is take the ferry to Skellig Michael. Various spots along the route, including Staigue Fort, Church Island and others. We ended our trip at the Killarny National Park where you find also Muckross House, Gardens and Farms. There also are Muckros Friary and Ross Castle. We ended back to our hotel in Galway.
Day 4 – Western Ireland
Today some more driving enjoying nature. Stopped at two must see attractions: Athenry Castle & Priory and then to Connemara National Park where is the Kylemore Abbey; a Benedictine Abbey. The nuns came here in 1920 after WWI when their abbey in Belgium was destroyed restoring here the original abbey in full glory. After we returned to our hotel in Galway – a relaxing day.
Day 5 – Galway to Dublin, or not?
The plan was today to return to Dublin hotel to go next day to Newgrange & Knowth but this would result in double driving and we added a last minute sight – we decided to cancel the hotel in Dublin (airport) and re-book our hotel in Trim. It made sense as otherwise next day we had to drive back some hour to get to Newgrange & Knowth again. We started the day in the settlement of Clonmacnoise; dated back to 6th century. A huge site with several churches, towers, cathedral and many crosses; we spend here almost two hours! Next stop: the Hills of the Witch, also called Loughcrew Cairns. A group of Neolithic passages dating back 3000BC. After this we drove to the Hill of Tara which is famous for the seat of the High Kings of Ireland but has been in use since the late stone-age. We ended our trip today in the close by Anglo-Normal castle in Trim; a massive construction. After a long day we went to bed early after a great dinner in Trim.
Day 6 – Newgrange & Knowth, and departure back home
One of the top attractions in Ireland this Neolithic monuments. Get there early morning to get tickets for a timeslot; no admission without tours! We did both of the places which differ from each other. We spend the morning here and after we got back to the airport to catch our flight back home.
Stay tuned for more stories and subscribe to the newsletter or follow CTB on social media (Facebook, Twitter, Instagram including Instagram stories; on all social media you can find CTB @christravelblog) to get updated information.
Did you visit Ireland too or do you have questions? Please leave a comment at the bottom of the page. Love to hear from you!
Further reading
Sometimes it's impossible to cover every single place of interest, activities, food, and others that might be relevant. In the below list you find a list of relevant links with further information about Ireland which I have carefully curated. These will help plan your trip even better.