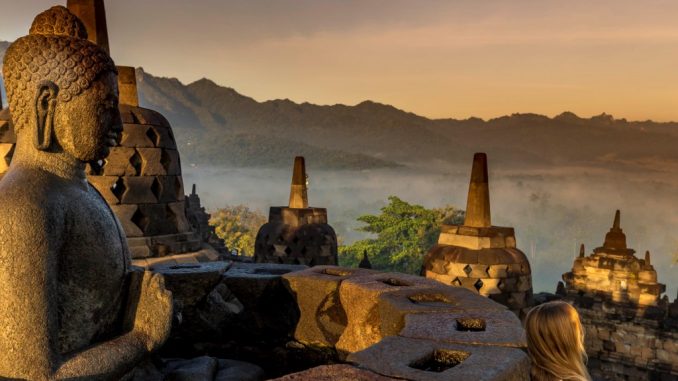 Indonesia is a huge country consisting of over 18000 islands and 2 or 3 weeks are not enough to explore all. In this Indonesia itinerary I take you to the capital Jakarta and from there across Java and finally by plane to Bali. It's a trip packed with day tours but leaves enough time to relax at the hotel pool too. The trip I have done with my daughter (10 years) was 2.5 weeks but I'll give options to reduce it to 2 weeks or extend to 3 weeks. This Indonesia itinerary is your guideline. One must see place I skipped which is the Bromo volcano which would have made the trip 3 weeks. I did that because eventually I'll be visiting Semarang or Surabaya for business and I'll do a short trip there at that time. Join me on this wonderful Indonesian adventure!
Planning a wonderful Indonesia trip
This wonderful Indonesia itinerary is quite straightforward and is easy to plan. I do prefer to be flexible and normally book everything separate with hotels on refundable rates in case I need to change something. It wasn't the first destination of my annual trip with one of the kids; this year my daughter joined me. I started with 3 days in Phuket and continued to Kuala Lumpur for 2 days and finally arrived in Jakarta. No jetlag anymore! If you have to come from far you might need to add an additional day before and after the itinerary. Plan accordingly and if you have a stopover and a huge time difference an additional night at the stopover point might reduce the jetlag.
There are a few things to plan ahead:
Hotels at the various places and the arrival flight to Jakarta and departure from Bali.
Private transport between Jakarta and Bandung to make a stop at the Bogor botanical gardens. This should cost not more as approximate 120 USD and although more expensive as train, cheaper as flying.
The flight from Yogyakarta to Bali must be booked in advance to avoid sky high ticket prices.
The day trip from Bali to Ijen is best planned through a tour operator as you'll need transport to harbor, ferry ticket, again transport to hotel, transport to the volcano, guide to hike up and then back to the harbor and back to Bali. Tour operators can arrange this pretty cheap and will make it much more efficient.
Everything else can be arranged on the spot!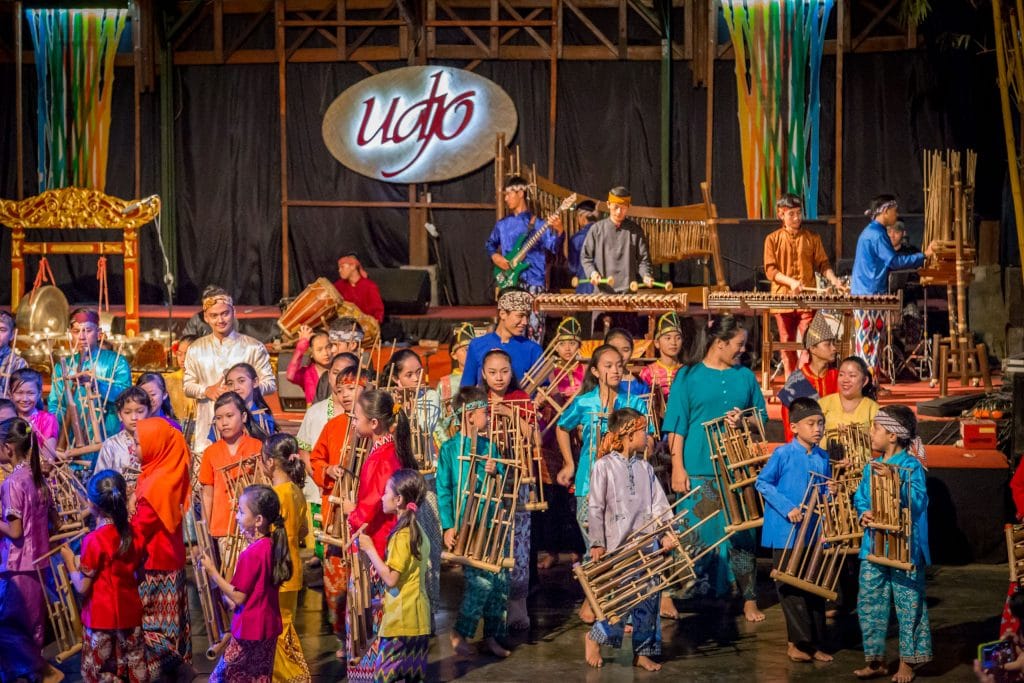 Indonesia itinerary day 1 & 2: Jakarta
I arrived early morning in Jakarta for the start of my Indonesia itinerary on a direct flight from Kuala Lumpur. I used the first day to explore the area around Lapangan Merdeka which is a huge square in the middle of Jakarta. Make sure to go up the National Monument for some magnificent views. From the square it's a short walk to the Istiqal Mosque and the Jakarta Cathedral. You'll pass the presidential palace and several government buildings on the way. Late afternoon I had some time left to have a quick look at the National Museum of Indonesia but if you don't have the time left it's better to visit the next day. In the evening I met with Vera, owner of Jakarta Walking Tours to do a Jakarta food tour by night. Something I recommend everyone to do!
The second day was of particular interest as I visited old Batavia. This was once part of the Netherlands, my home country. The Jakarta History Museum is a must visit as is the doll museum. I wandered around this historical old town in the morning after which I walked toward the harbor to see the traditional fishing boats. Around 3PM my daughter wanted to go swimming in the pool of the Intercontinental Jakarta Hotel, a great place to stay.
ALTERNATIVE PLANNING: If your Indonesia itinerary makes you arrive in the evening you could visit all places of interest the next day. You might need to take a taxi at some points to safe time. This way it's possible to plan an additional beach day on Bali for example.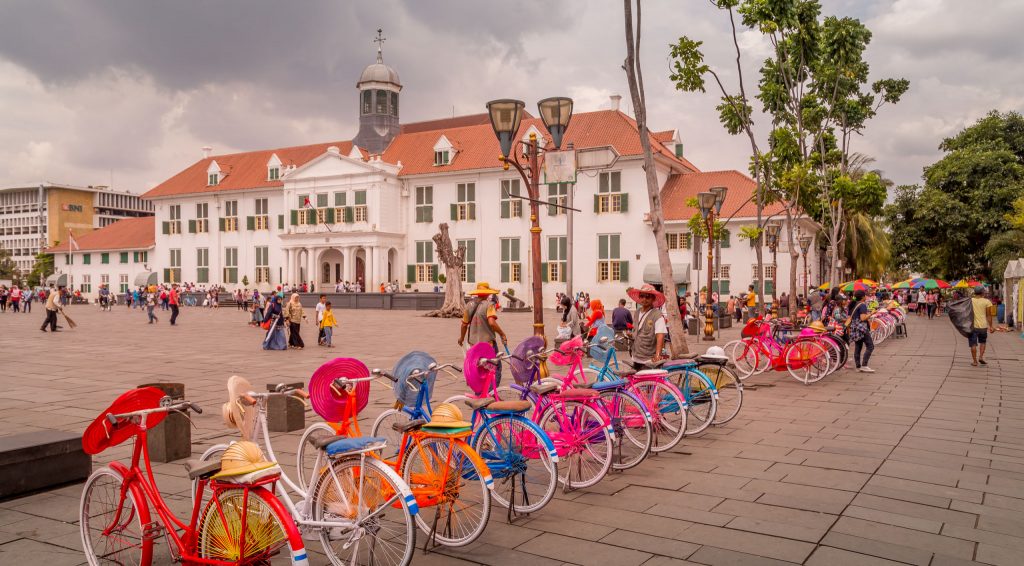 Indonesia itinerary day 3: Jakarta to Bandung
The Bogor Botanical Gardens are one of the better botanical gardens in the world. Maybe the Singapore Botanic & Orchid Gardens are better? These gardens are located about 60 kilometers south of Jakarta and easily visited as a day trip or on the way to Bandung as I did. It depends on the complete Indonesia itinerary what is best to do. I also wanted to visit the Pancuk Pass with its tea plantations, but this didn't work out. The road is one way to the pass in the morning and one way back after lunch. I left Jakarta at 9AM which would be fine one a regular day but not on a Sunday as the road was closed already when I arrived. The gardens are beautiful with many tropical plants, butterflies, and places to pick nick and relax. A private taxi shouldn't cost more as 120 USD and this is for sure the best way to travel this day. I arrived late afternoon at the Intercontinental Bandung Hotel where I recommend everyone to stay.
Read more travel inspiration for the Bogor Botanical Gardens in the following day trip report:
INDONESIA – The Bogor Botanical Gardens as a stop between Jakarta and Bandung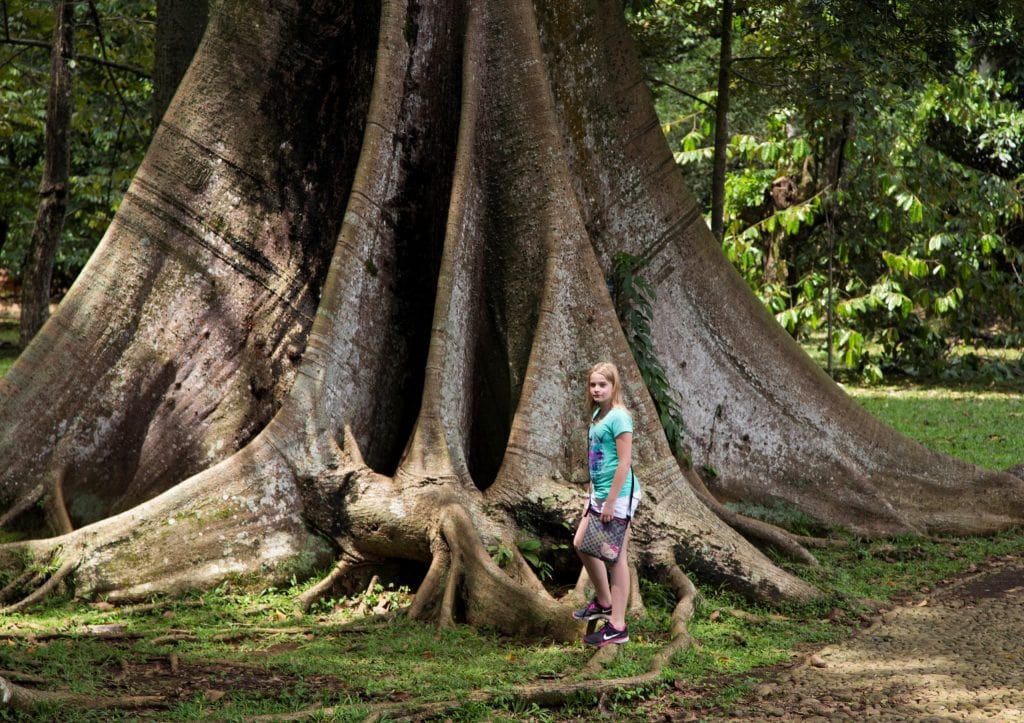 Indonesia itinerary day 4: Kawah Putih day trip
Bandung is also called the Paris of Java and is a very pleasant city to visit. It has a nice climate, beautiful colonial architecture, and lots of interesting nature around it. I stayed at the Intercontinental Bandung Hotel which has magnificent views over Bandung. One must do day trip from Bandung is to go south to Kawah Putih (White Crater). It is a 3-hour drive to Kawah Putih but the scenery is wonderful so time passes quick. Kawah Putih crater looks like from another world with it's white greenish water, burned trees and surrealistic formations.
Around lunch time I continued to Situ Patenggang which is a large lake with restaurants and some outdoor activities. In the afternoon I finished the day with a hike to Kawah Rengganis which is a hot spring a few kilometers down the road. It was another 3-hour drive back to the hotel but first I stopped for Saung Angklung Udjo. A musical performance. A long day trip from Bandung but one I can recommend everyone to include it on a Indonesia itinerary.
Read more Kawah Putih travel inspiration in the following day trip report:
INDONESIA – Alien landscapes at Kawah Putih / White Crater as a day trip from Bandung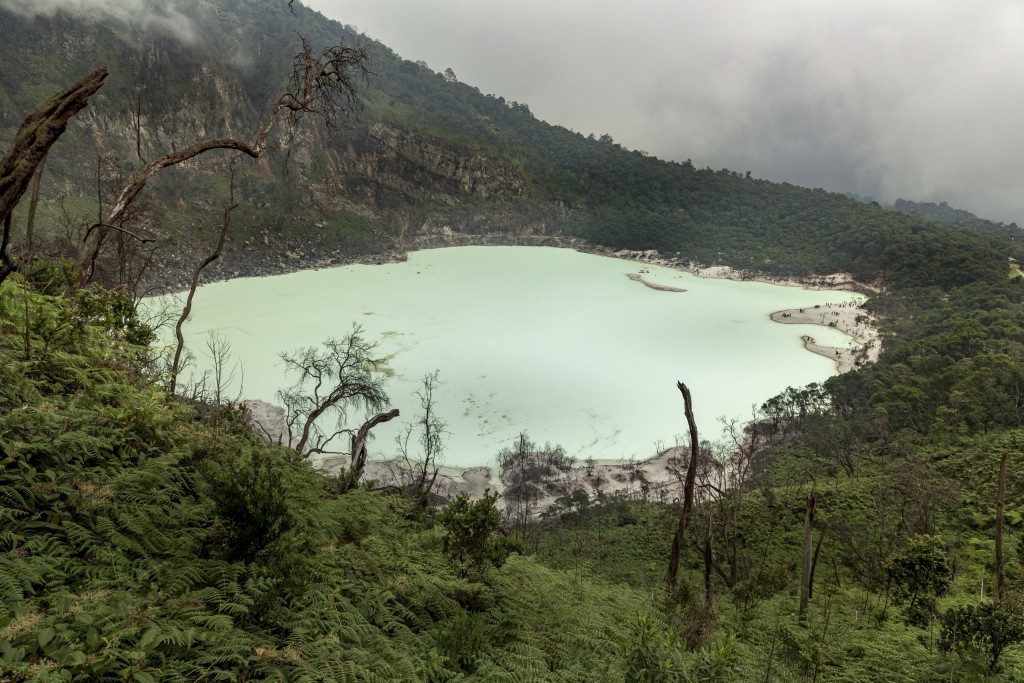 Indonesia itinerary day 5: Tangkuban Perahu & Tea Plantation
North of Bandung there is another wonderful volcano crater called Tangkuban Perahu. It's also a must visit place around Bandung together with the Perkebunan Nusantara VIII tea plantation. They are not far apart. I suggest again going by private transport as it's simply the most efficient way to get there. Start at the crater and then go for lunch and a hot spring bat at Sari Ater Hotel & Resort. After lunch I recommend going to the tea plantation and if you have time stop by the Curug Cimahi waterfall before dinner time. Kampung Daun is a great place to have dinner as it's very local and has a beautiful garden setting. It was late before I arrived back at the Intercontinental Bandung, but I still had time for a spa treatment!
Read more Bandung travel inspiration in the following day trip report:
INDONESIA – Bandung day trip: Tangkuban Perahu volcano crater tour, tea plantation & more
SHORTEN YOUR TRIP: If you cannot do both the south and north day trips from Bandung I recommend only going to Kawah Putih but do skip my other suggestions of that day. Visit a tea plantation south of Bandung as its one of the better tea areas of Indonesia. It will shorten this Indonesia itinerary by a day.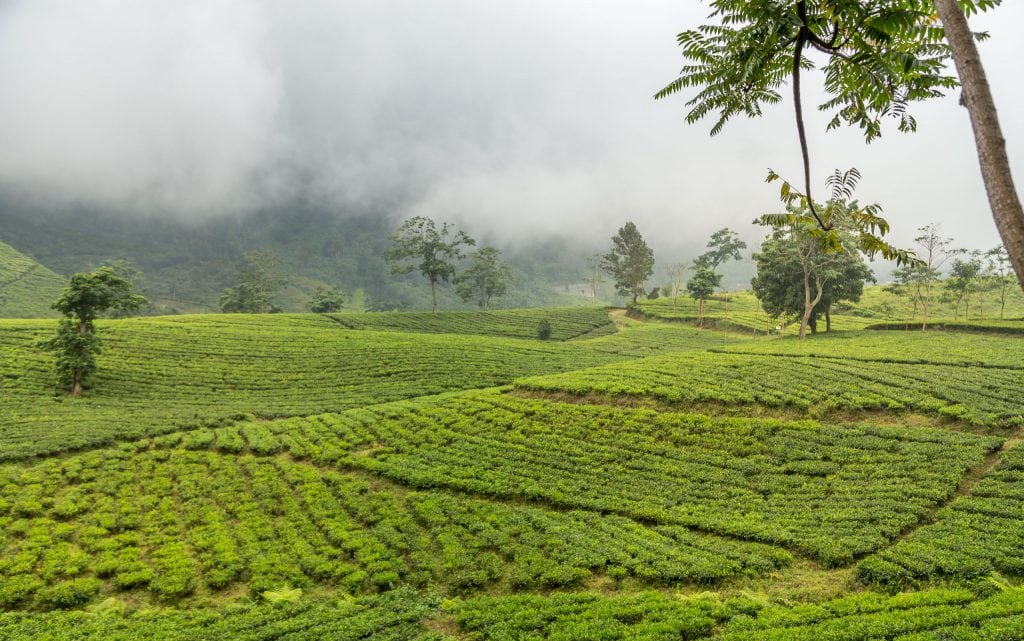 Indonesia itinerary day 6: Bandung city trip
Bandung is also called the Paris of Java and it sure is a beautiful city with lots of old colonial buildings. I recommend starting early so that you'll have time to catch the afternoon flight to Yogyakarta. Buildings of interest include: Villa Isola, Gedung Merdeka (visit the inside too!), Savoy and Grand Hotel, Gedung Sate and if you can get in the West & East halls of the institute of technology. All those buildings are fine examples of art-deco style and many designed by architect Schoemaker. Some buildings can be entered and if they look closed just ask if you can enter! Make sure you're ready to go to the airport around 2:30PM to catch the 4:30PM flight to Yogyakarta and not to mess up your Indonesia itinerary.
Read more travel inspiration for Bandung in the following day trip report:
INDONESIA – Bandung city tour: Must-see colonial places & Angklung concert
EXTEND YOUR TRIP: You could easily add a night in Bandung and explore more of the city. It's a very pleasant city. Fly next day in the morning to Yogyakarta and maybe see already the Prambanan. If you don't want to see all outlying temples around the Prambanan you can remove day 10. In that case and this Indonesia itinerary won't be longer.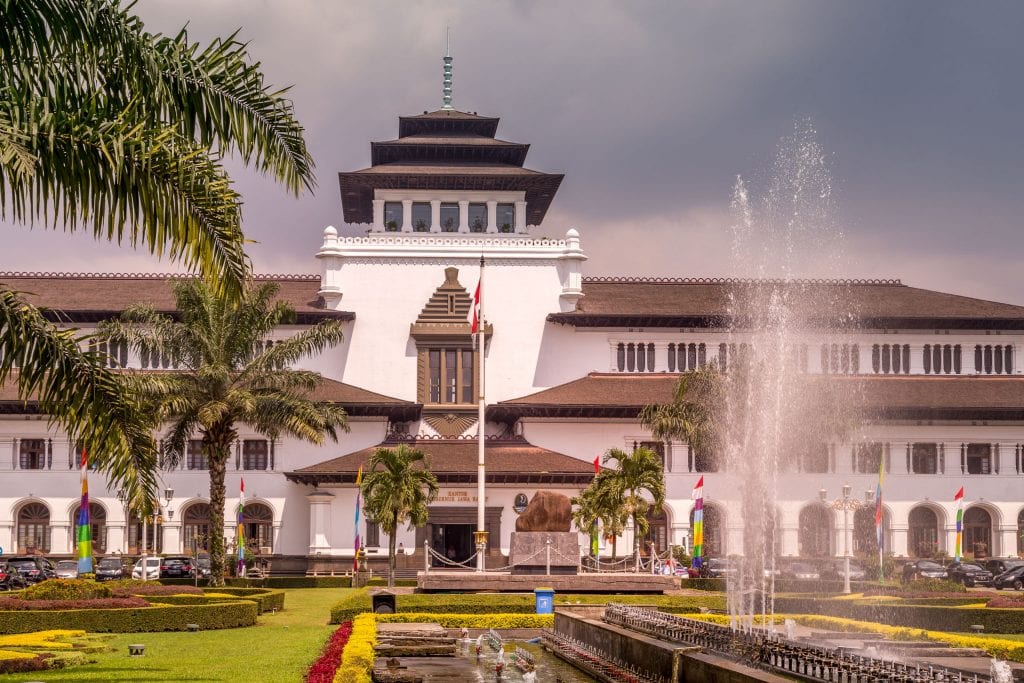 Indonesia itinerary day 7: Borobudur sunrise
The Borobudur temple is THE place in Indonesia to go for a sunrise tour. No Indonesia itinerary is complete without a visit to the Borobudur. It's beyond imagination so wonderful but do yourself a favor and stay at Villa Borobudur just a 5-minute drive away. You don't want to go all the way in the morning from Yogyakarta. They offer authentic luxury inspired by Indonesian hospitality. In the morning the private chef made a light breakfast before the private guide joined my daughter and I for the Borobudur sunrise tour. It's amazing! After the tour I returned at Villa Borobudur for a short nap, fun in the private plunge pool and a good lunch. The other half of the day I explored a few minor temples around the Borobudur and went to a pottery factory with my daughter. It was an amazing day which I finished with a spa treatment for 2 with my daughter.
Read more Borobudur travel inspiration in the following day trip report:
INDONESIA – Magical sunrise at the Borobudur temple & a tour in the area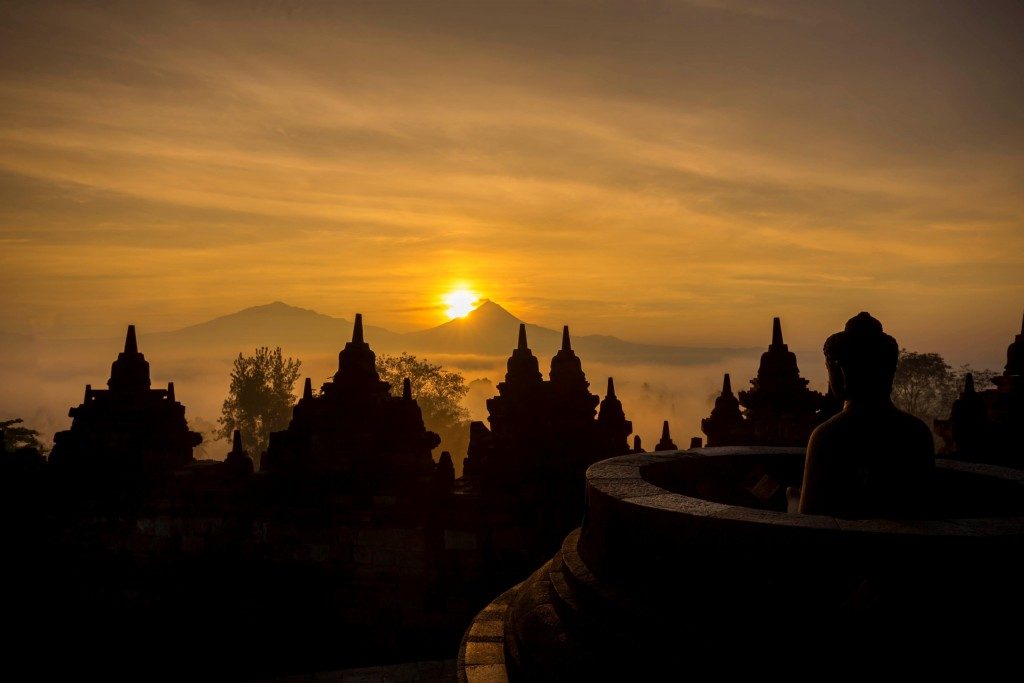 Indonesia itinerary day 8: Dieng Plateau day trip
The Dieng Plateau is a highland in central Java and best reached from Yogyakarta or even better from the Borobudur area (it saves at least an hour). That's why I planned it on day 8 of this Indonesia itinerary. Hinduist temples are scattered around the plateau of which several are beautiful examples. They are amongst the oldest in Indonesia. There are also several (active) volcano sites worth stopping by. The drive from Villa Borobudur to the Dieng Plateau goes over winding roads with beautiful views. It takes about 2 hours. Go at 7-8AM and you should be back around 7PM if all goes well.
Read more travel inspiration in the following day trip report:
INDONESIA – Tired of Yogyakarta? Make a day trip to the Dieng Plateau!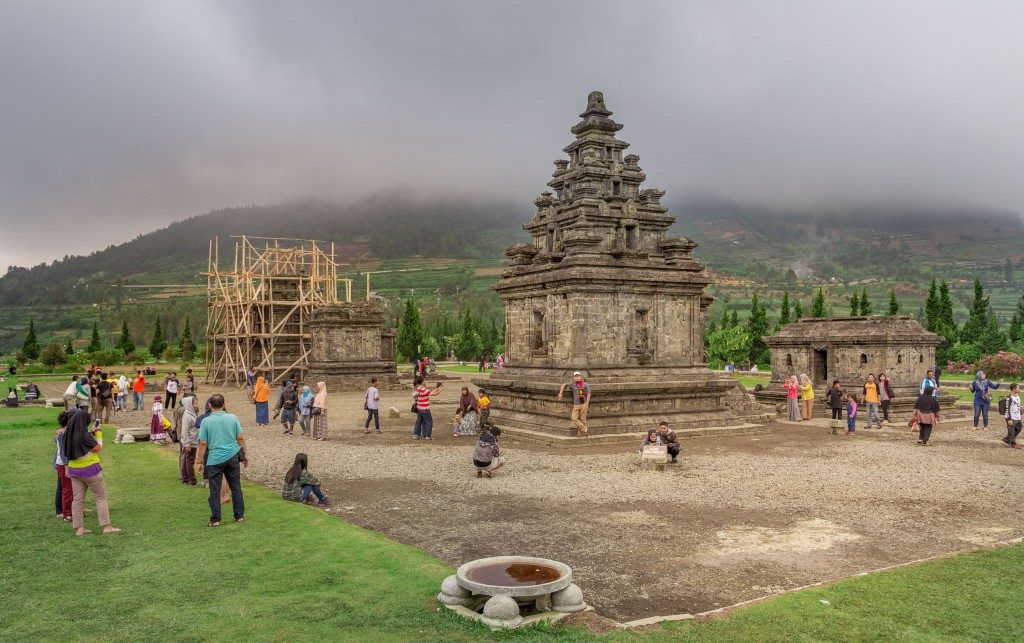 Indonesia itinerary day 9: Ceto & Sukuh Temple and the Sangiran Early Man
It was time to say Villa Borobudur good bye; it sure is a magical place worth visiting on its own. I decided to visit the Ceto & Sukuh Temples on the way to Yogyakarta. They are not really on the way but best done this way as it saved an hour driving and there is a lot of driving in this Indonesia itinerary. I also wanted to visit the UNESCO World Heritage Site of the Sangiran Early Man site, but this was closed the Monday I wanted to visit. Both temples are worth a visit but keep in mind it's a long day from 7AM to 9-10PM evening. My private driver knew a good place to have dinner: porcupine sate! I never had that before and it was very delicious. In Yogyakarta I stayed in a hotel downtown so that the next days would be efficient.
Read more travel inspiration in the following day trip report:
INDONESIA – Ceto & Sukuh Temple and the Sangiran Early Man site from Yogyakarta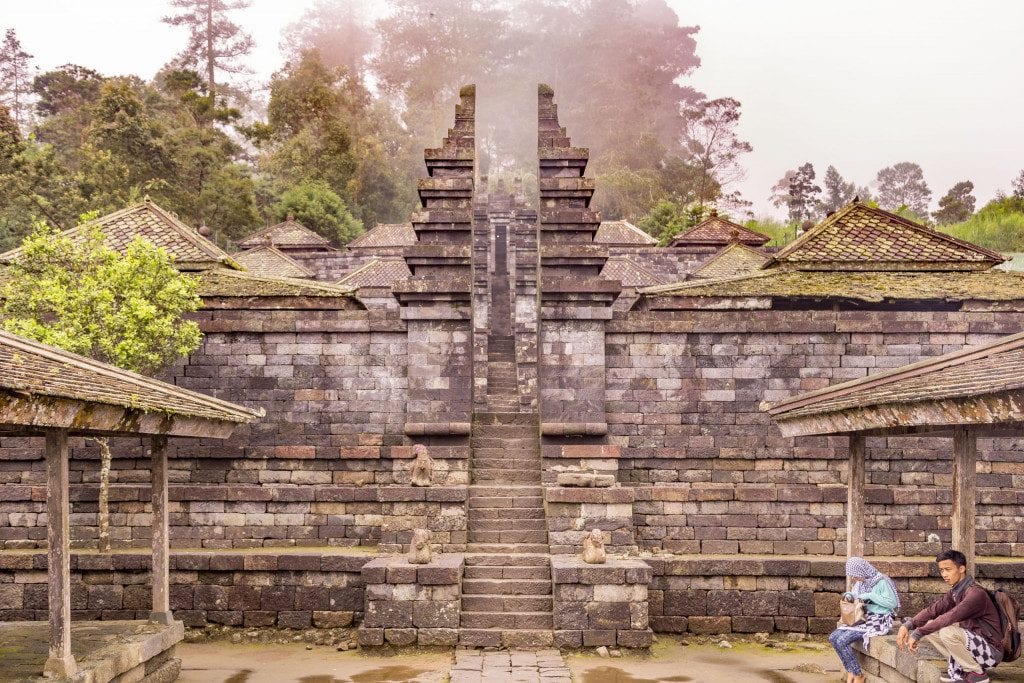 Indonesia itinerary day 10: Prambanan
The Prambanan is a huge temple complex near Yogyakarta in central Java. They are a UNESCO World Heritage Site and a must-see in Indonesia. Unlike the Borobudur which is a Buddhist complex the Prambanan are Hindu temples. The Prambanan archeological park is the main place of interest with huge temples and those that are best preserved. There are however many more outlying temples between rice fields, on hill tops and within villages. I visited many of them as I planned a full day to explore them in this Indonesia itinerary. If you only go to the Prambanan temple, you'll finish in half a day but seeing the outlying ones will take up a full day. Some are not more as some stones, but many are beautiful examples of Hindu temple architecture. I do recommend hiring a car (with driver) to get from one place to another to save time.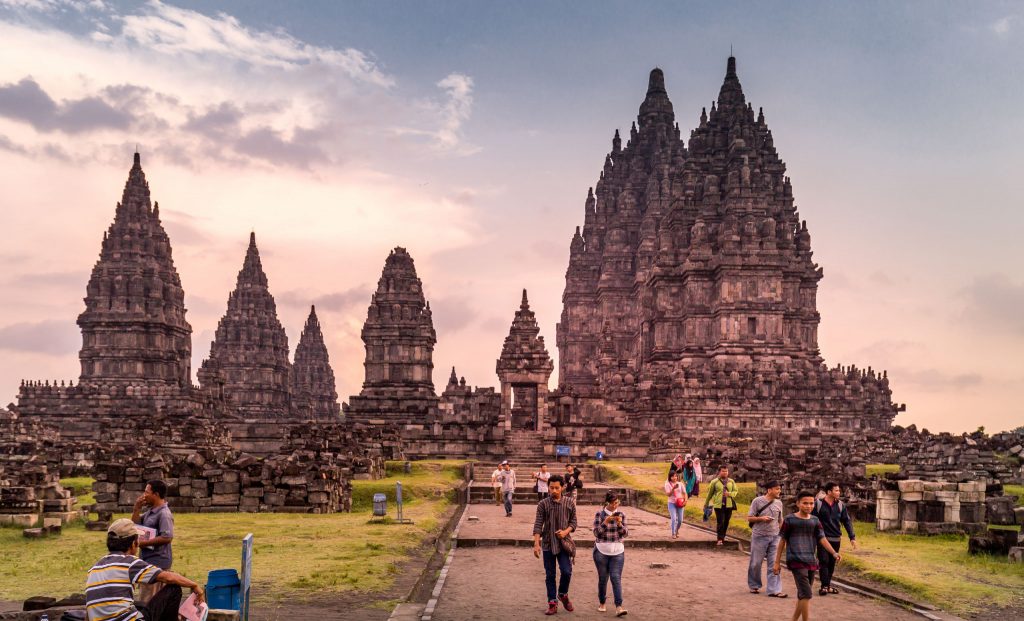 Indonesia itinerary day 11: Yogyakarta
I recommend spending a day in the Kraton Complex (Sri Sultan's palace) of Yogyakarta. The palace is a beautiful place where you'll learn about the Sultan's monarchy. The main court and the residence are most important, but I recommend also going to the nearby Taman Sari or water castle. Other places of interest include the mosque, colonial church, and silver workshops. A day is easily filled in Yogyakarta and it depends on your interest what you want to go see. The Kraton Complex however is a must-see! After dinner at 8PM my flight left for Bali.
ALTERNATE ROUTE: To extend this Indonesia itinerary a few days I recommend going overland to the Ijen volcano and not fly to Bali. As I explained I haven't done that as I will return one day for business to see these places. Just make sure you visit the Bromo volcano and Malang which are the most important places of interest. From Ijen (see my day trip visit below) you can take a ferry to Bali.
Indonesia itinerary day 12: Bali day trip
I first two nights in Bali of this Indonesia itinerary I stayed at the Chedi Club Ubud which is a luxury resort surrounded by rice fields. A place I highly recommend. From there it's also easy to do the Bali day trip to 7 places if interest if you have just a day. Start the day early and drive to the Batur Volcano & Lake with the Supreme Water Temple of Pura Ulun Danu Bator on its rim. Make sure to go coffee tasting at Cantik Agriculture Luwak Coffee; it's special! The Tirta Empul Temple, Gunung Kawi Temple, Tegallalang rice terraces and Elephant Cave Goa Gajah are also all worth a visit. Bali is completely different as Java but as beautiful for sure. I must admit that in the tourist area's it's quite hectic but if you're out into the countryside it's very nice and relaxing. Make sure to start the day at 8AM to be back at the hotel around 4-5PM for some pampering at the spa.
Read more Bali travel inspiration in the following day trip report:
INDONESIA – Bali day trip: 7 must see places if you have just a day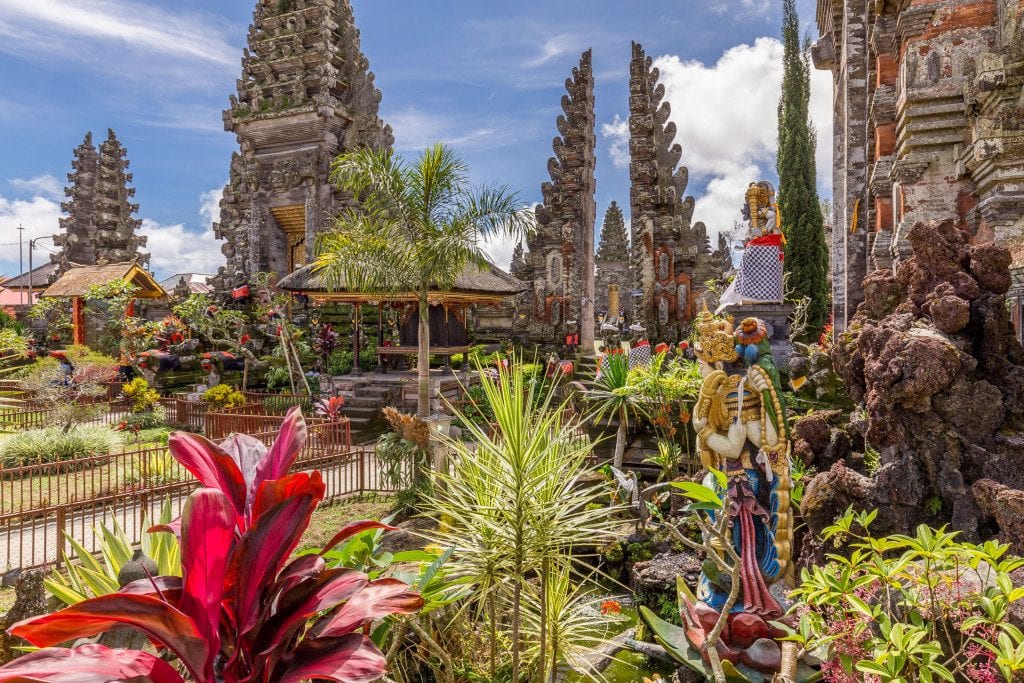 Indonesia itinerary day 13 & 14: Ijen volcano
The Ijen volcano is located on the most eastern tip of Java and best reached from Bali if you're not going to the Bromo volcano. The volcano is famous for its blue fires and sulfur miners. I simply had to include this in my Indonesia itinerary. Hiking the Ijen volcano is done at night, starting at about 1-2AM. After spending the morning at the pool I left the Chedi Club Ubud at about 1PM for a 2-hour drive to the ferry. It's a short ferry ride and another hour drive to a hotel near the Ijen volcano. Book something simple as you'll only sleep a few hours there.
My daughter and I were picked up at midnight for an hour drive to the Ijen volcano. It was drizzling, cold and windy. This is NOT a good time to hike this toxic volcano. The hike up takes 2 or 3 hours and if you're unlucky as I was you can only see a bit of the blue fires. The wind was blowing the wrong way (happens a few days a year) and thus the hike was in the sulfur damps which wasn't fun at all. It was dangerous, and I almost died. Read my Ijen day trip report to find out what happened. The hike down was easier, and I was back at the hotel before 9AM for breakfast and a shower. I didn't go back to sleep but took a late morning ferry to Bali so that I arrived around 2PM at the Hard Rock Hotel Bali. My daughter thanked me as she enjoyed the pool there the rest of the day.
Read more travel inspiration in the following day trip report:
INDONESIA – Hiking the active & toxic Ijen volcano with its sulfur miners and blue fire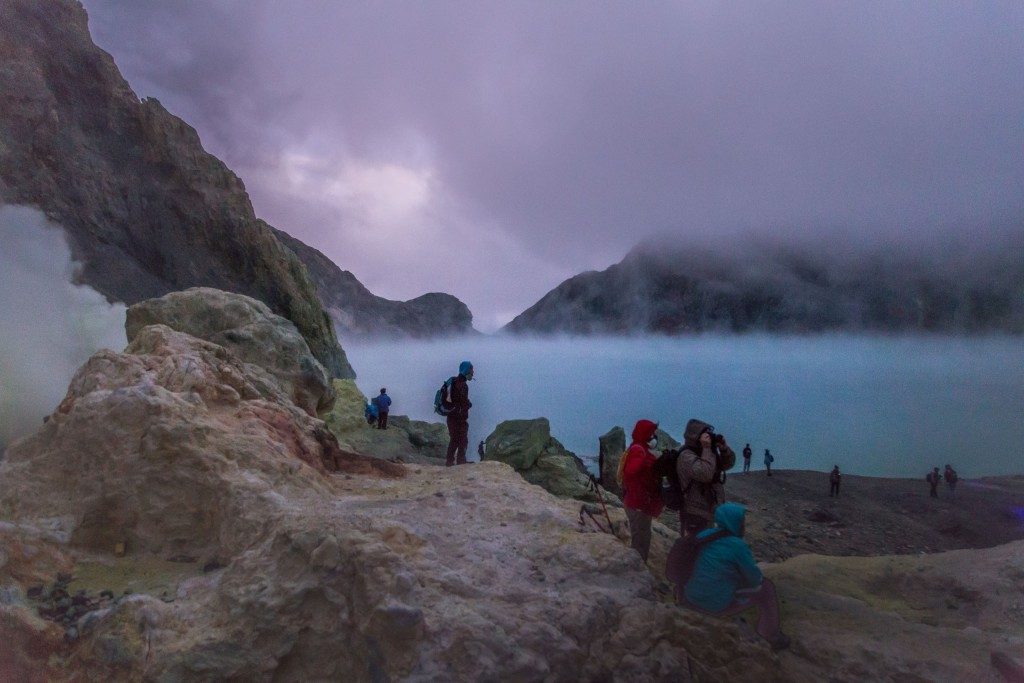 Indonesia itinerary day 15: relax & departure
My flight back home was only in the evening, so I still had a full day in Bali left. I decided to not explore more temples and just relax with my daughter at the Hard Rock Hotel Bali pools. I'll be back some day as Bali is also a great place to start a trip to some other islands of Indonesia. Now I hope to visit Papua New Guinea first, which I hope to do in 2018.
I had lots of fun with my daughter this trip. We saw a lot together, relaxed a lot and had long talks. It's a great way to bond better and going with just one of the kids makes this also easier. It was the first long trip I did just with my daughter, the second would be a USA West Coast road trip of 2 weeks. What's next? I don't know yet but for sure something will come up eventually. I hope this Indonesia itinerary helps you plan your trip in Indonesia. It's a wonderful country!
Stay tuned for more stories and subscribe to the newsletter or follow CTB on social media (Facebook, Twitter, Instagram including Instagram stories; on all social media you can find CTB @christravelblog) to get updated information.
Did you visit Indonesia too or do you have questions? Please leave a comment at the bottom of the page. Love to hear from you!