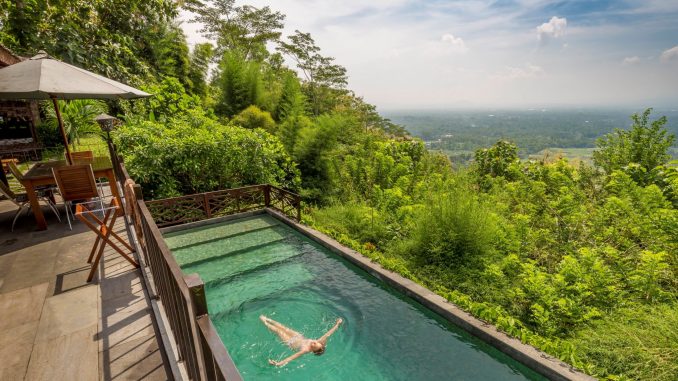 Each year in May I go with one of my kids on a three to four-week trip. The other one stays with my wife at home. This year it was my daughters turn. We started in Thailand and made a three-day stopover in Malaysia. We then continued for two full weeks to Indonesia. The Borobudur area was high on our list with its centuries of history. We stayed at Villa Borobudur, member of Small Luxury Hotels of the World. Best described as a private luxury retreat where everything will be taken care of for you. It overlooks the Borobudur temple and the Merapi volcano. It's a unique place and we didn't want to leave. Let me share with you how much we enjoyed our stay, but let's start with a video to give you a good impression.
A stay at Villa Borobudur is a luxury fairy tale
It was already after dinner time when I arrived with my daughter at Villa Borobudur. A four-hour flight delay at Bandung airport was the cause. The driver of our private transport had been waiting all the time and was very friendly; even after the fact he just had to wait four hours. It took about 90 minutes to get to Villa Borobudur from the airport in Yogyakarta. Even though it was late evening the private butler, chef and other staff of the villa were waiting to prepare a three course dinner. Each villa comes with its own kitchen and staff who will prepare traditional Indonesian meals tailored for your taste. If that isn't luxury! I stayed in the Villa Diponegoro which is named after a prince and I can tell you something royal was going on there recently too. More on that later. It would be an early morning the next day so I went to bed direct after dinner.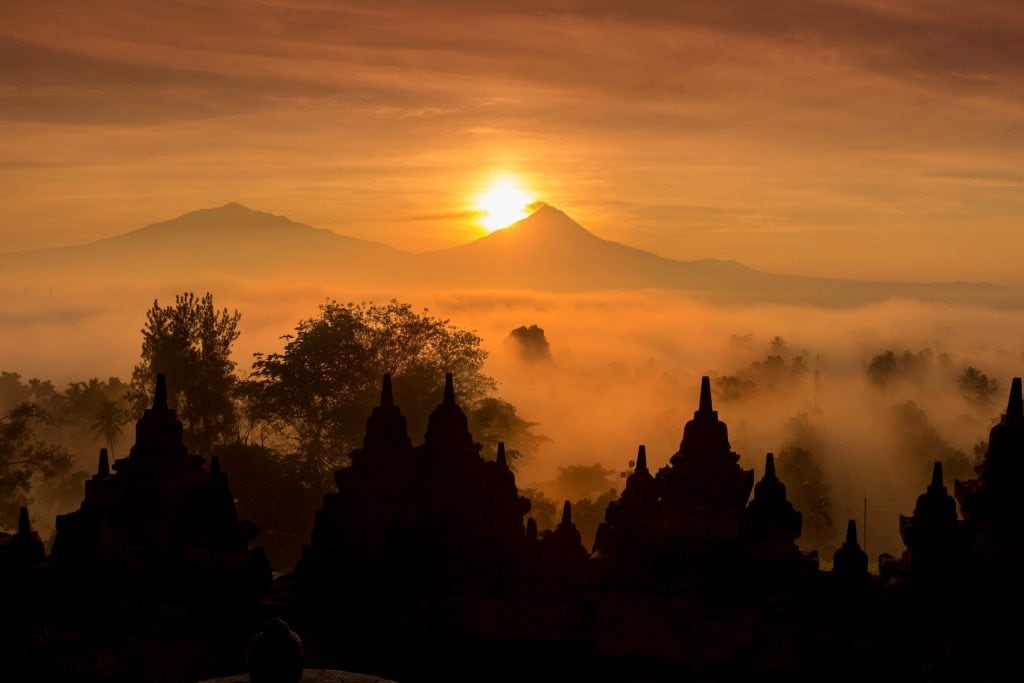 It was at 04:00 in the morning when the staff knocked on the door as a wakeup call for the Borobudur sunrise tour (read my full report including history on the Borobudur sunrise and area). Fresh muffins and donuts were served at the villa together with a freshly brewed strong double espresso. I'm not a morning person: I need caffeine. My daughter got dressed but went back to bed to get up just a minute before our departure to the Borobudur. It's just a 10 minute drive and after a small security check at the VIP entrance I was up the Borobudur with our guide at 05:00. How comfortable is that from bed to the top of the Borobudur in just an hour? The Borobudur sunrise tour is a must-do tour. It was one of the best sunrises I have ever seen and the place is simply magical.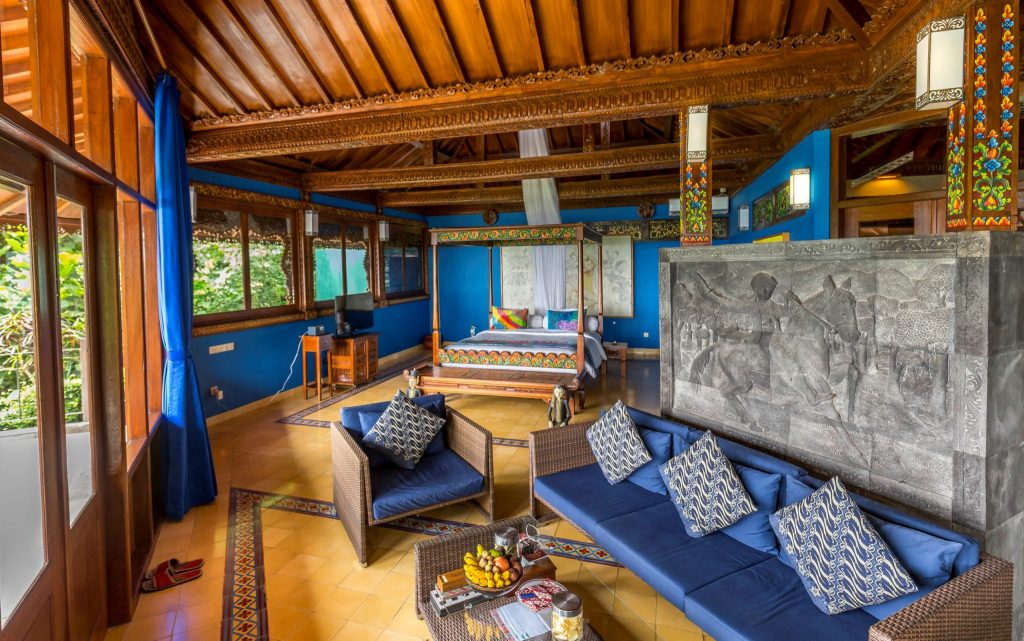 After the sunrise we had a private tour around the Borobudur before heading back to our temporarily home at Villa Borobudur. I wanted to lie down for an hour before breakfast but I was too anxious to check out my photos of the Borobudur sunrise. They were stunning if I may say so myself (see the full collection). It was time to explore the villa as I arrived in the dark and departed in the dark I didn't have a good impression yet. Villa Borobudur is situated on a hill-side with lush jungle around it. Villa Diponegoro, like the other 9 rooms/villa's, is built as a joglo. A joglo is a traditional Javanese style house constructed of teak wood. Originally it was open I was told, but now closed with glass to have cool air conditioning inside.
There is a large king-size bed which I loved. I'm tall, as are many people from the Netherlands, so a large bed is a must. The owners are Dutch too, so they know. Above the bed is the typical ceiling of a joglo that goes up like a tower. The ceiling is decorated with beautiful hand carved teak wood made in the local communities. Next to the master bed are a large sitting area and a dining table. There is a traditional Javanese day bed on the other side of the room which was prepared for my daughter. She loved to sleep there. En suite is a large room with minibar, sinks with separate shower area and toilet. The mini-bar is stocked with the items requested in the survey the staff had sent by e-mail before arriving. It's complimentary as is for example the laundry.
All walls are decorated with local pieces of art like paintings and batik. Also a huge, way to huge, walk-in closet which I could never fill even if I would have taken all my clothes. Maybe the Danish royal family could fill it; they also stayed at the villa. It's a huge villa with enough room for a family of four. Now let's have a look outside.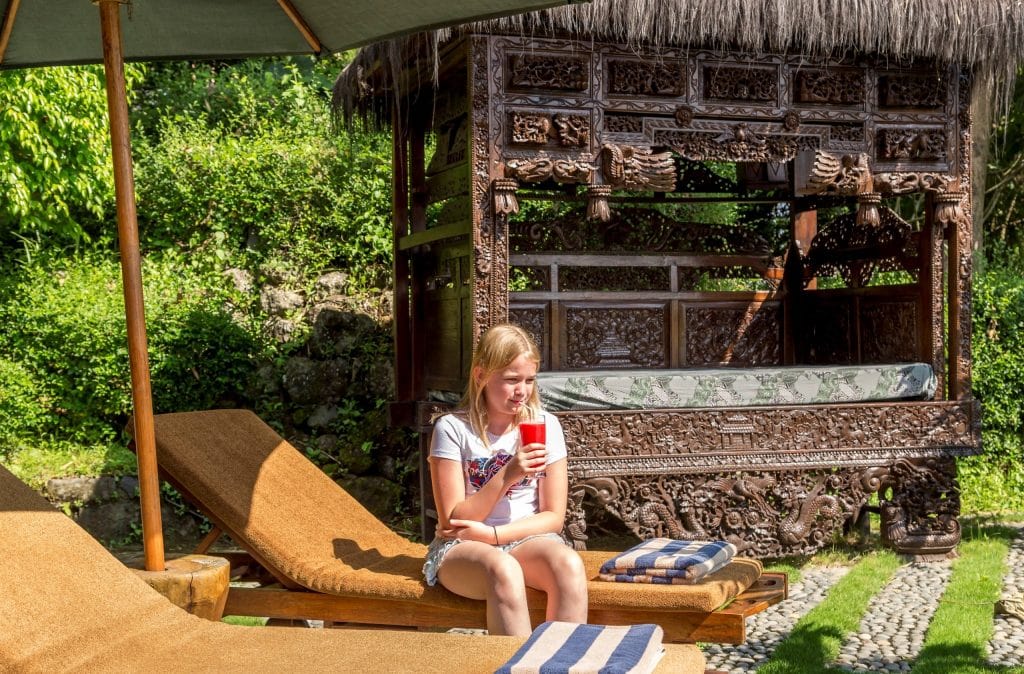 The villa has a large sun terrace with sunbeds and another Javanese day bed to relax. A large outdoor table with large parasol is situated above the infinity pool and gives a beautiful view on the Borobudur and Merapi Volcano. It's the perfect spot to have a cold beer in the evening to cool down from the heat. The staff is on stand-by 24 hours to bring a cool beer or anything else that is required. I love that kind of luxury especially if it's still personal like at Villa Borobudur. The private infinity pool is large with one side going over 2 meters deep. I love that and the fact to be able to dive!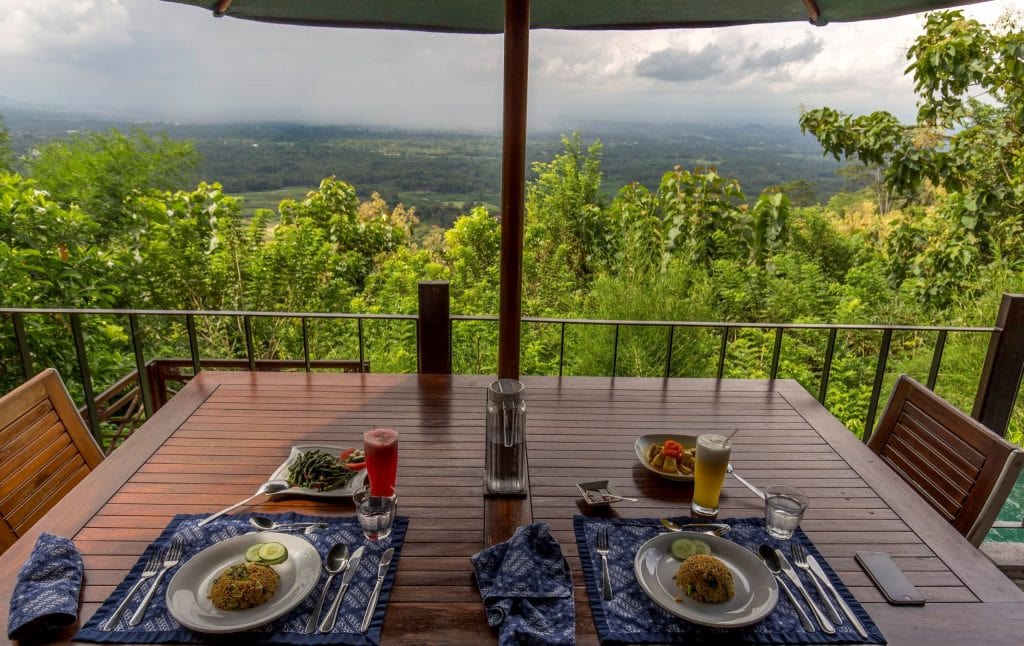 Breakfast was served at the villa by the staff at the time I wanted to have breakfast. They are friendly and really know what they do. I went for a short swim in the private infinity pool from where I just stared towards the valley for a minute or ten. Work goes on so I then did a bit of work that was running behind while my daughter was still enjoying the pool. I must say that work didn't go as fast as it normally goes. I enjoyed the view too much. Actually, I advise you to not bring any work with you. Just enjoy the tranquility. The time flew and it was already time for the three course lunch. Their meal system works perfectly; each time you finish a meal you select what you want for the next. Like this they have time to carefully prepare it so that the taste is authentic and with sustainability in mind, there is much less food to throw away.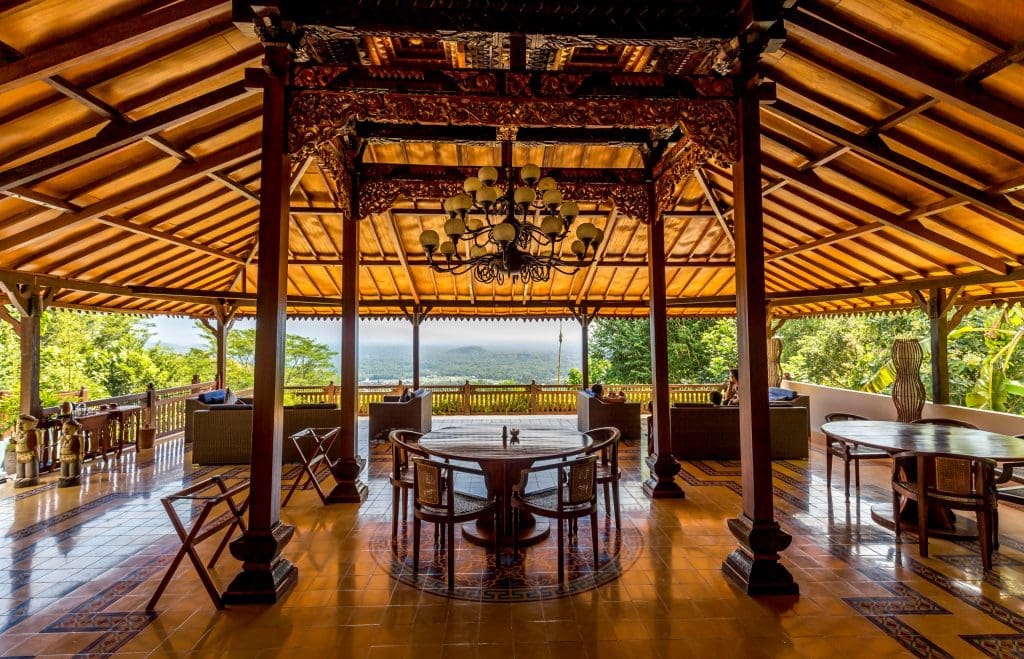 After lunch my daughter wanted to do a horse carriage tour and go to the pottery making. The staff of Villa Borobudur can literary arrange anything your heart desires. Their offer on tours ranges from cooking classes to painting workshops, from a Borobudur sunrise tour to long day trips. I did for example the Dieng Plateau day trip the second day. My experience of that tour I will share in another article later. I haven't counted the amount of tours on offer but even if you would stay two weeks you won't be able to do them all. Just leave all the planning in the hands of the staff; they know how to make it perfect for you. The day went by really quick. Too quick actually and it was already time for a three course dinner. This time the rice was served in a cone-shaped pile which is the way to serve for important guests and during celebrations. All guests are important at Villa Borobudur and the service is over the top. My compliments.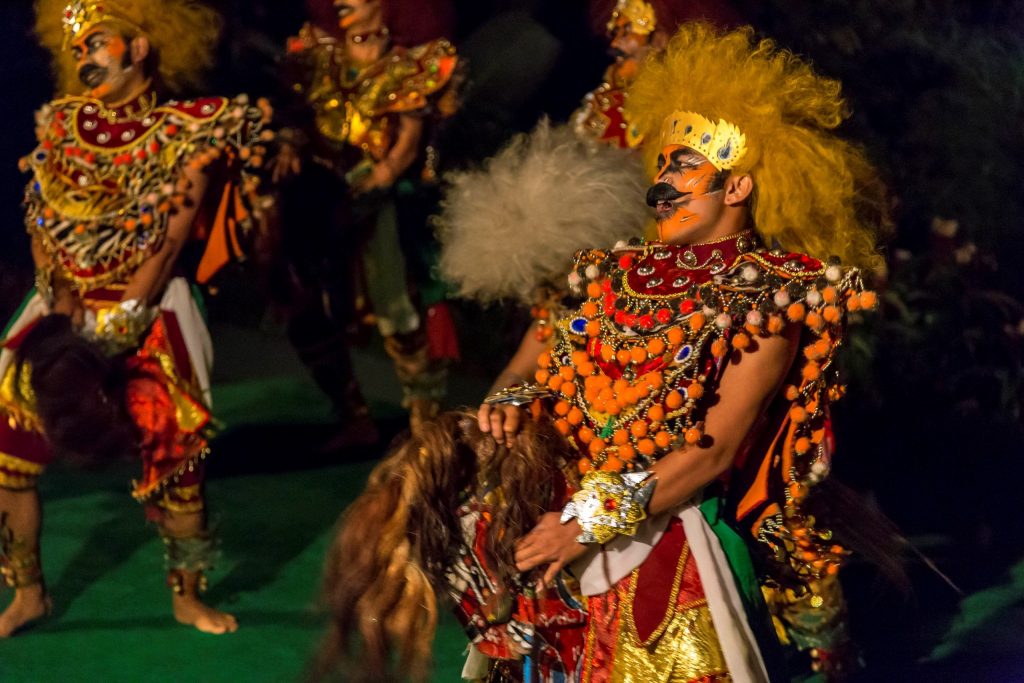 As said the next day I would do a day tour to the Dieng Plateau. When I returned it was already time for dinner. Dinner, as the other meals, are of very high quality. The local dishes are made from local produce, some are grown on the grounds of Villa Borobudur. They even have their own fish. Everything is served in the privacy of your own villa. Actually, it's possible to arrange a meal anywhere you want; at a river, at sunrise looking at the Borobudur temple. Just ask the staff, they will arrange whatever is possible. A funny story I was told: if you are looking for some unhealthy chips make sure you don't grasp by accident some healthy veggie chips for unpleasant taste surprises 😉 In the evening a Javanese dance performance took place at the common living area of the retreat. After the performances it was time to light up sky lanterns for good luck and fortune. My daughter loved the performance and the sky lanterns. I think she launched three or four of them.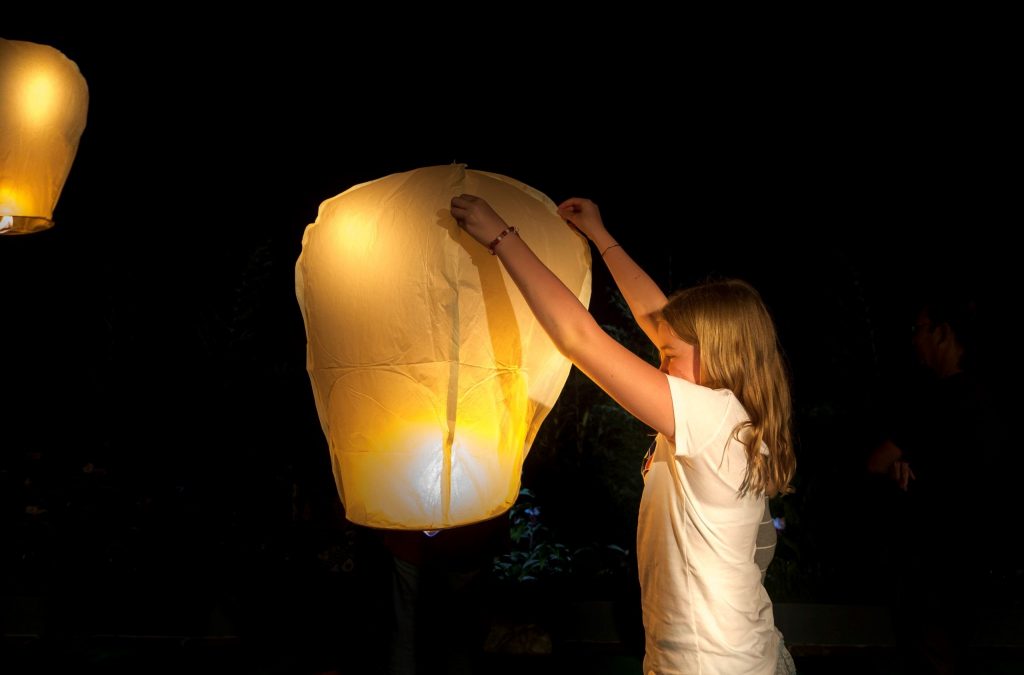 The last night passed quickly and I had a very good rest in the comfortable bed. This last day was a day to just relax. My daughter wanted to swim at the main pool so we went to the common area. Every guest can use this pool but it mainly serves one villa that has five individual rooms. In the two joglos there are various pieces of art which are worth looking at. Everything is made locally and in the shop of Villa Borobudur you can buy local art to support local people. The owners promised the local people when they bought the land a few years back that they would support the local economy as much as possible. By staying at Villa Borobudur you therefore also support the local community! I walked around the complex a bit to see their locally grown ingredients for the meals, a (higher) view point with benches and some of the other villas. The roads of the complex are very steep. If you are not up to walking the steep slope in the heat you can call the staff of your villa and they will pick you up with the car. The layout is simply beautiful.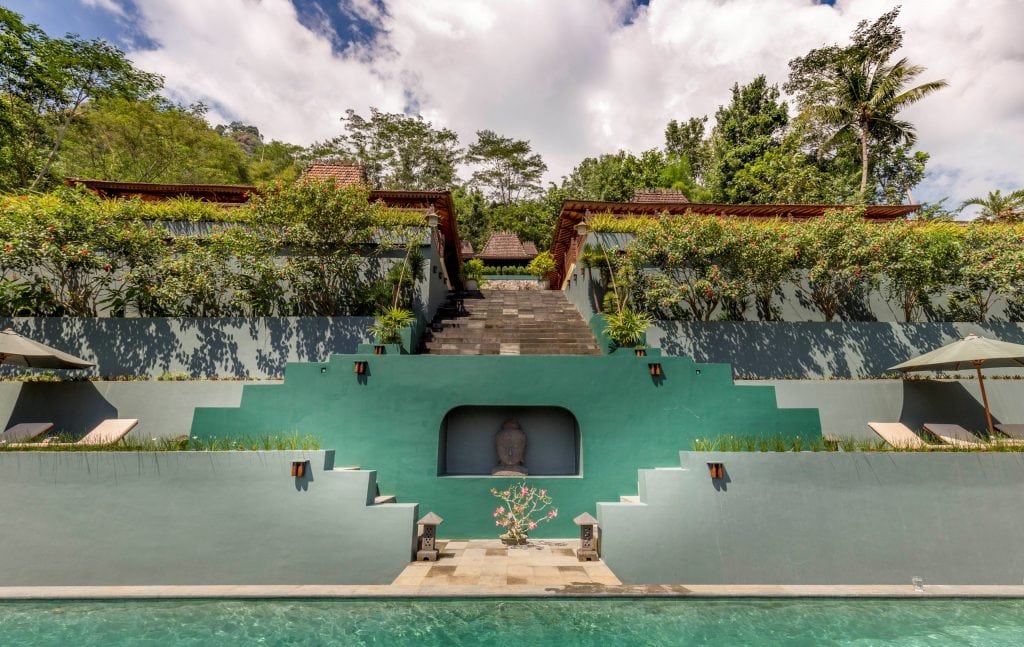 After my daughter got tired we went back to our villa and enjoyed some time together. I had a big surprise for her. A duo massage. In secret I arranged with the staff that there would come two masseuses who would pamper us for an hour. It was one of her wishes and I think this was the perfect place to do this. Good quality time. Villa Borobudur offers all kinds of therapies in the privacy of your own villa. We called the staff for a fresh juice and some small snacks before we packed our stuff. I would have loved to stay longer as there is so much more to do in the area but all things come to an end eventually. After saying goodbye to the friendly staff with a big smile we were transferred back to Yogyakarta to continue to our next destination on Bali.
Conclusion
If you are looking to experience authentic Java in a luxury way then I highly recommend staying at Villa Borobudur. It offers outstanding service tailored for you. Your own staff makes sure your stay will be a memorable one. The chef of your private villa will prepare for you authentic Indonesian dishes with the best local ingredients. Just simply delicious. Did I mention the views and the infinity pools? They, together with the beautiful designed joglos will make your stay unforgettable. If you want to go explore local culture then talk to the staff. They will select with you, from the dozens of tours on offer, the best to suit your needs. There is so much to do you will never get bored. I loved staying at Villa Borobudur. It's simply amazing luxury in a magical place where I was really taken care off. My daughter enjoyed it as much as I did and I hope to return with my full family in the future.
If you would like to know what you can do in and around the Borobudur temple then see one of these options: Borobudur at sunrise, other day trips close to Yogyakarta and check my wonderful 2 – 3 week Indonesia itinerary. I will add more destination information over time.
Stay tuned for more stories and subscribe to the newsletter or follow CTB on social media (Facebook, Twitter, Instagram including Instagram stories; on all social media you can find CTB @christravelblog) to get updated information.
For more hotel information and booking options please visit the website of Villa Borobudur.
Website: http://www.slh.com/villaborobudur
Facebook: https://www.facebook.com/villaborobudur/
Gallery of Villa Borobudur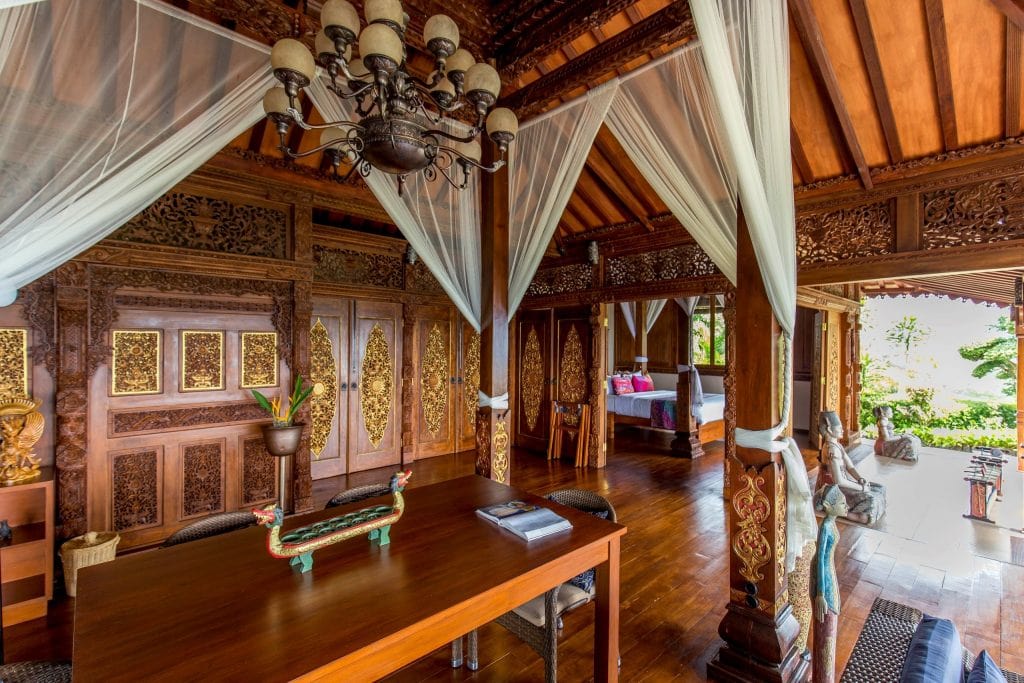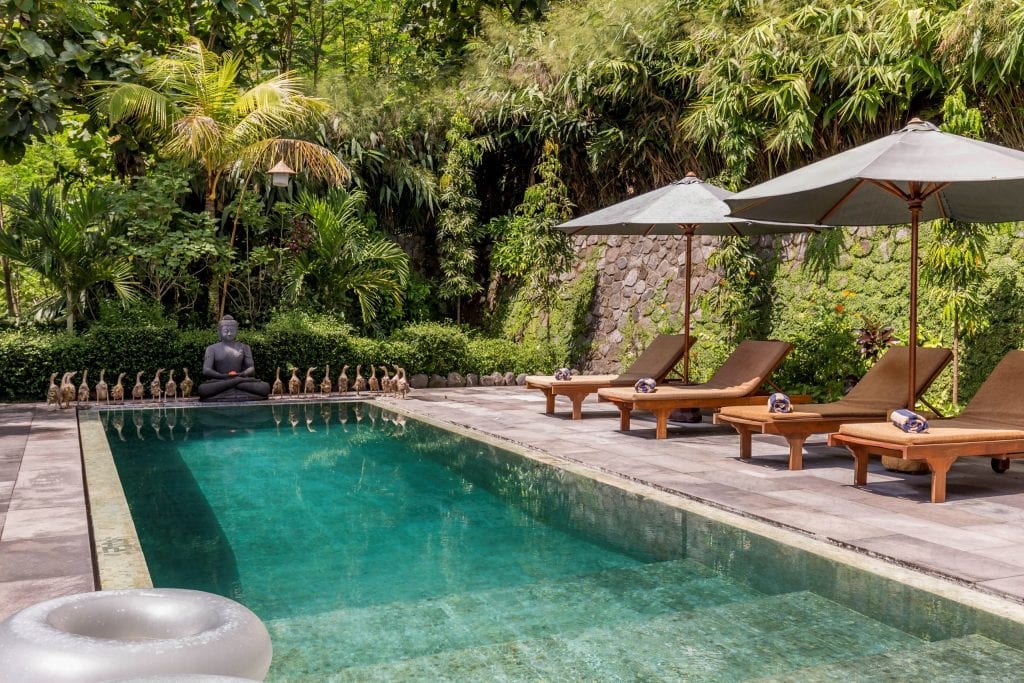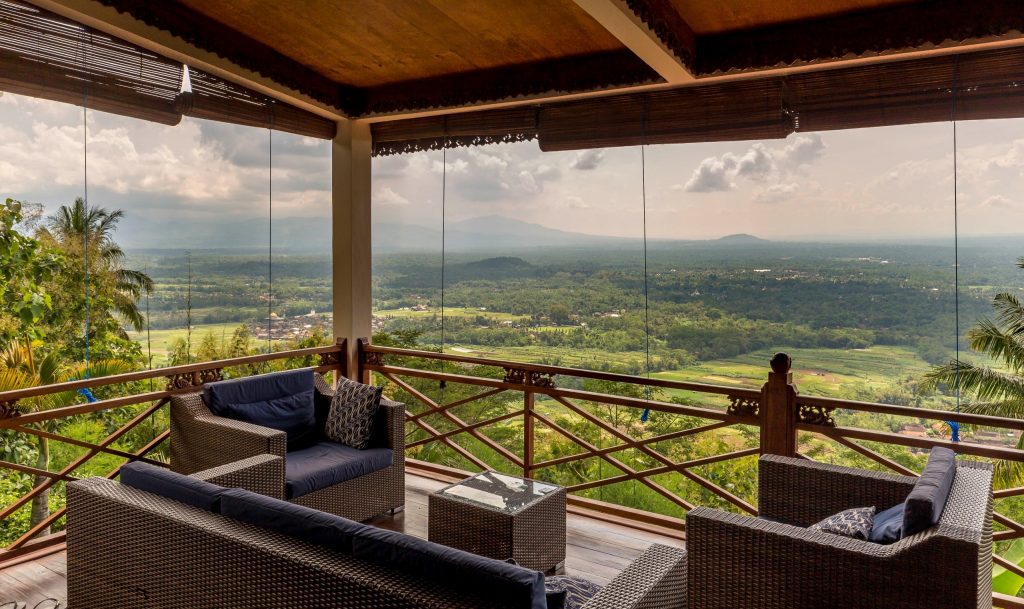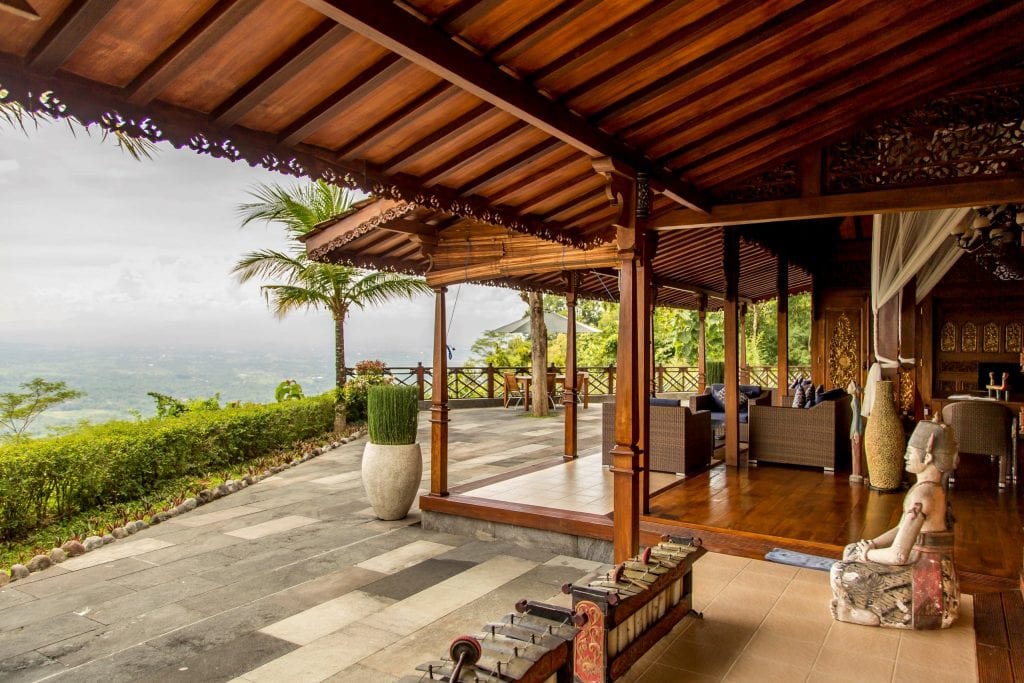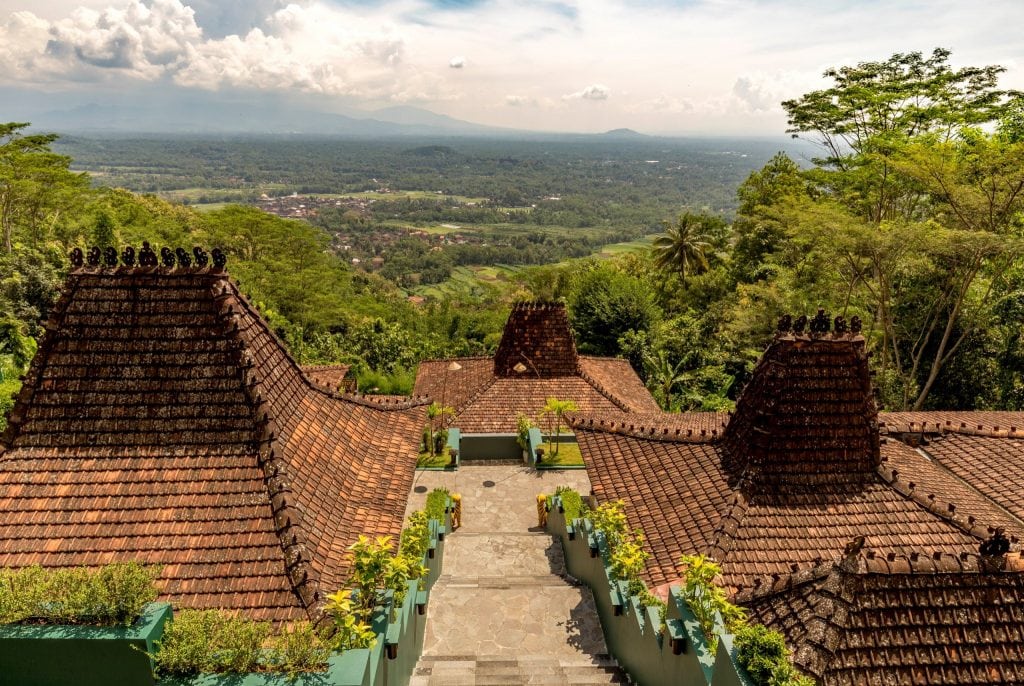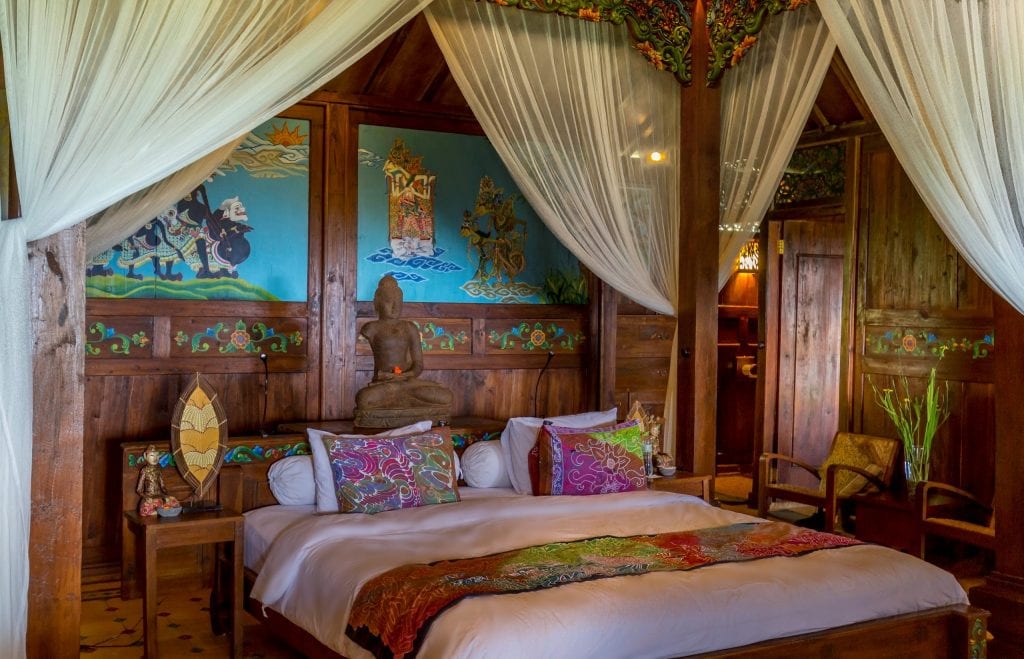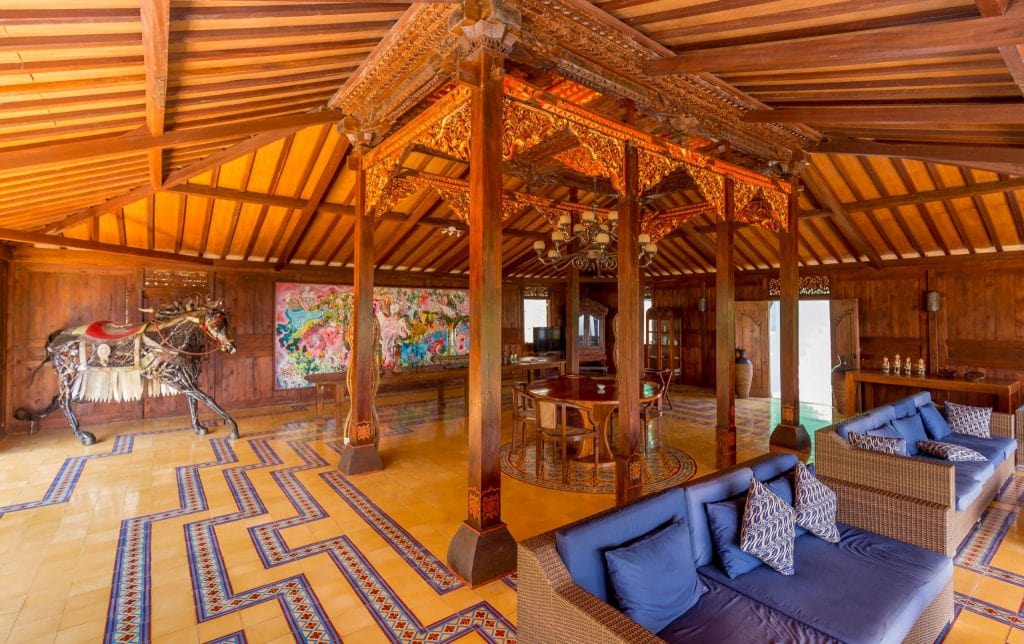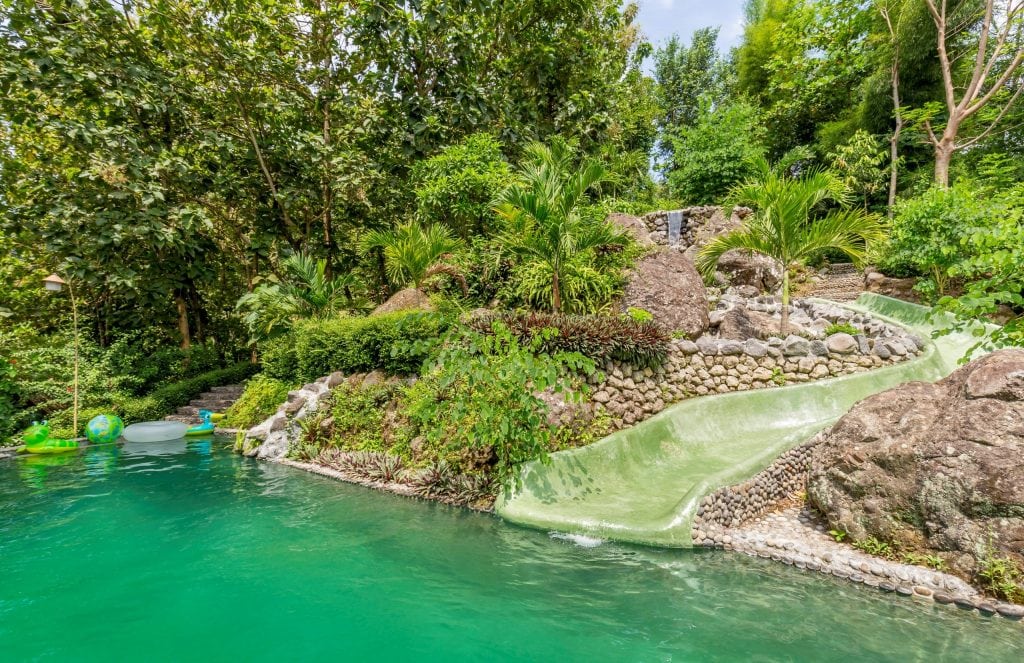 ** All opinions are based on a genuine stay, flight or experience. I'm not affiliated with the hotel, airline or tour operator but I might be (partially) sponsored – or paid. **