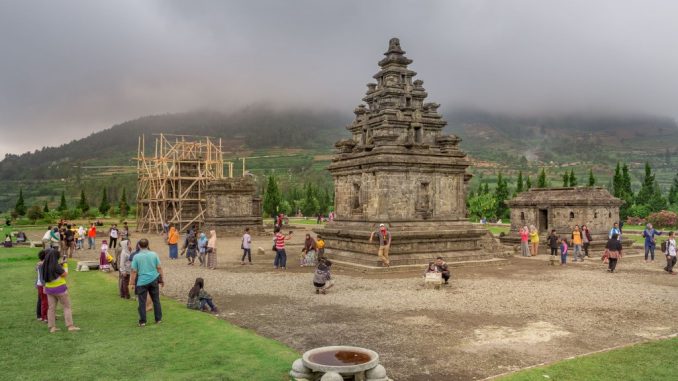 The Dieng Plateau is a highland in central Java, Indonesia. At an altitude of over 2000 meters it's a great escape from the hot lowlands around Yogyakarta. I stayed, with my daughter, at the Villa Borobudur just next to the Borobudur Temple. This is an ultimate luxury hotel with private villa's and pools. I started the day trip to the Dieng Plateau around 8AM as it's quite a long drive and I arrived back around dinner time. It was one of the longest days of my wonderful Indonesia itinerary. Join me on this day trip to century old Hinduist temples, calderas, toxic lakes and volcano's.
Dieng Plateau: Hinduist temples
The Dieng Plateau was once scattered with hundreds of temples built by Javanese Hindus. Its name is derived from the word Di Hyang which means "Abode of the Gods". These temples were first constructed in the 7-8th century when Hinduism arrived to Indonesia from India.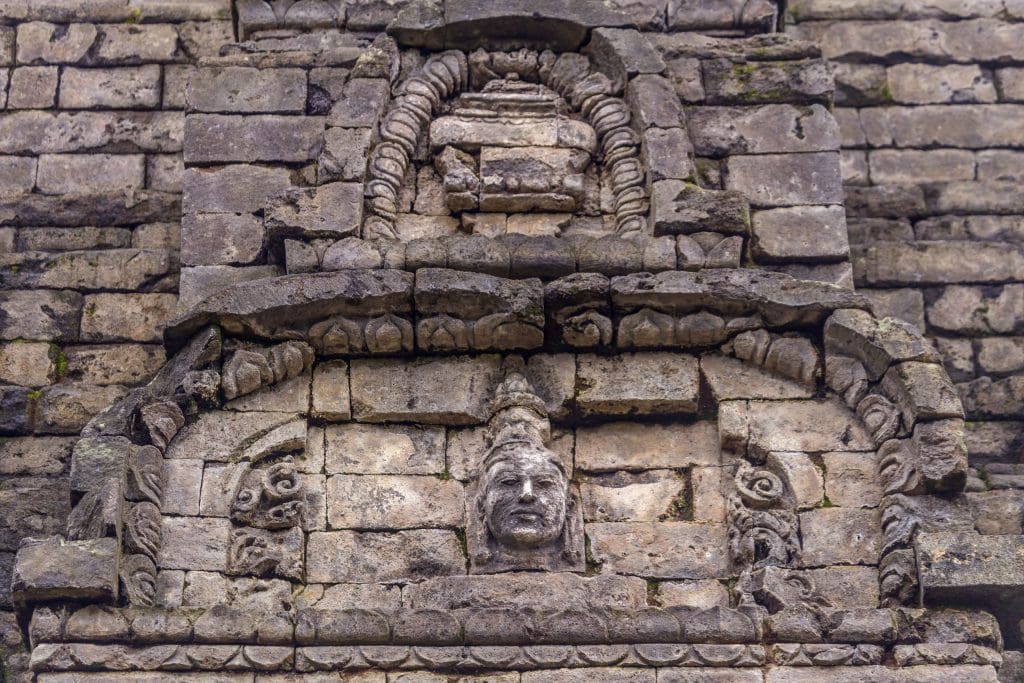 I didn't visit yet the Prambanan temple near Yogyakarta. Once I visited the next day I could compare them. The temples at the Dieng Plateau are much smaller and have less decoration. The temples are grouped in small groups of buildings. Each building is a kind of small chapel dedicated to the god Shiva. Compared to other temple complexes which are normally in the form of a mandala those at the Dieng Plateau are a bit random and each chapel looks different. Over time the temples got abandoned, probably due to the increasing volcanic activity in the area. For centuries, they were forgotten.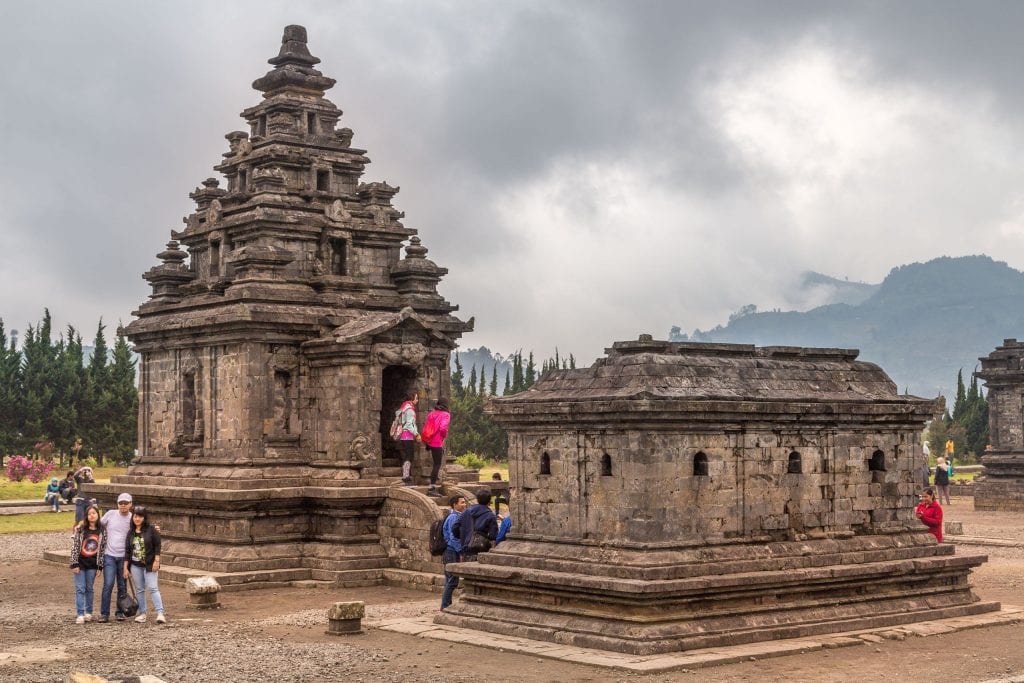 I arrived in central Java after a two-hour drive through winding country side roads. It's a beautiful drive to the Dieng Plateau through small villages and lush green jungle. As it's a highland it tends to be a lot cooler (10-20 degrees) and in winter it's rainy and foggy. When I visited, it was also rainy and foggy which didn't make it the most enjoyable day trip of this Indonesian trip.
Early 19th century the temple complexes got rediscovered by the British and today you can visit a group of temples and two or three single chapels as that's all that remains. I started my visit by visiting the Arjuna Group which is the main group. From there I walked to the museum which is worth a visit as it has several beautiful statues on display. Just opposite the road is the Gatotkaca Temple which is the single remaining chapel of that group. If you drive to the Sikidang Crater you will pass the Bima temple which is the tallest of all temples. It's a single structure and a bit different as the others. There is no entrance fee and as all statues are removed you'll finish within 10 minutes your visit.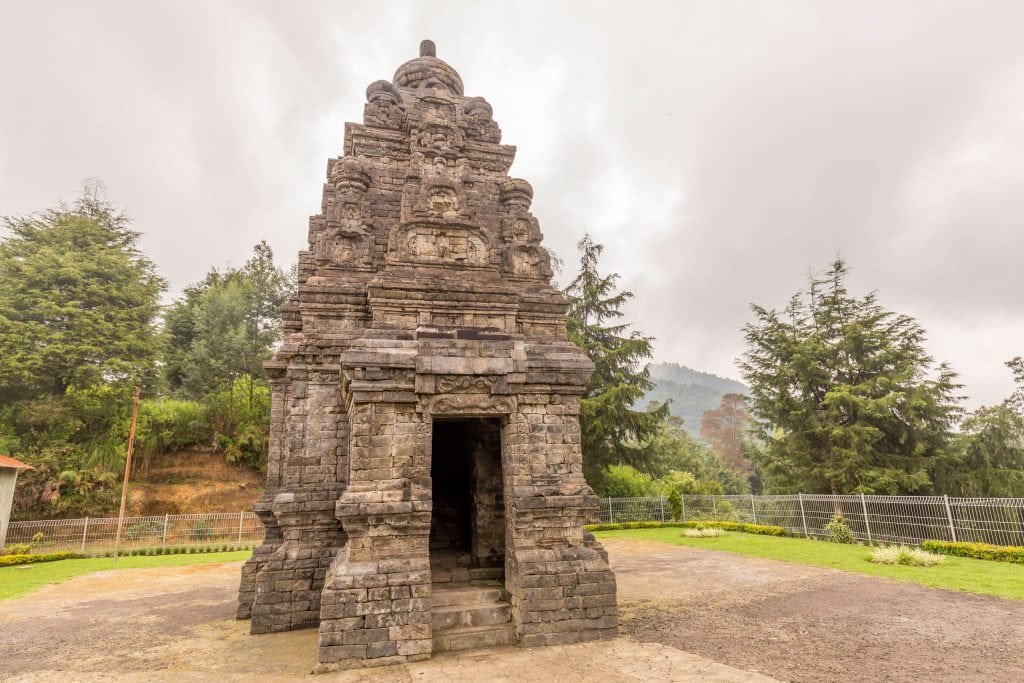 Dieng Plateau: Sikidang crater
The Sikidang Crater is not your regular crater. It's an area on the slope of a mountain covered in mud giving it a fifty shades of grey look. Keep in mind that the area can be dangerous at times and watch your step if you go off the path. The ground might look solid but it could be you step into a covered vent or a pool of mud.
The main attraction is the largest crater filled with mud and venting steam mixed with hydrogen sulfide. It smells there! It's not like the dangerous hike at the Ijen Volcano where I almost got killed. There are some other activities on the grounds too like motor cross and a lot of food stalls. It's cheap to visit as the price is included in the Arjuna Temple ticket, but you probably will finish in 45 minutes as it's not a huge place.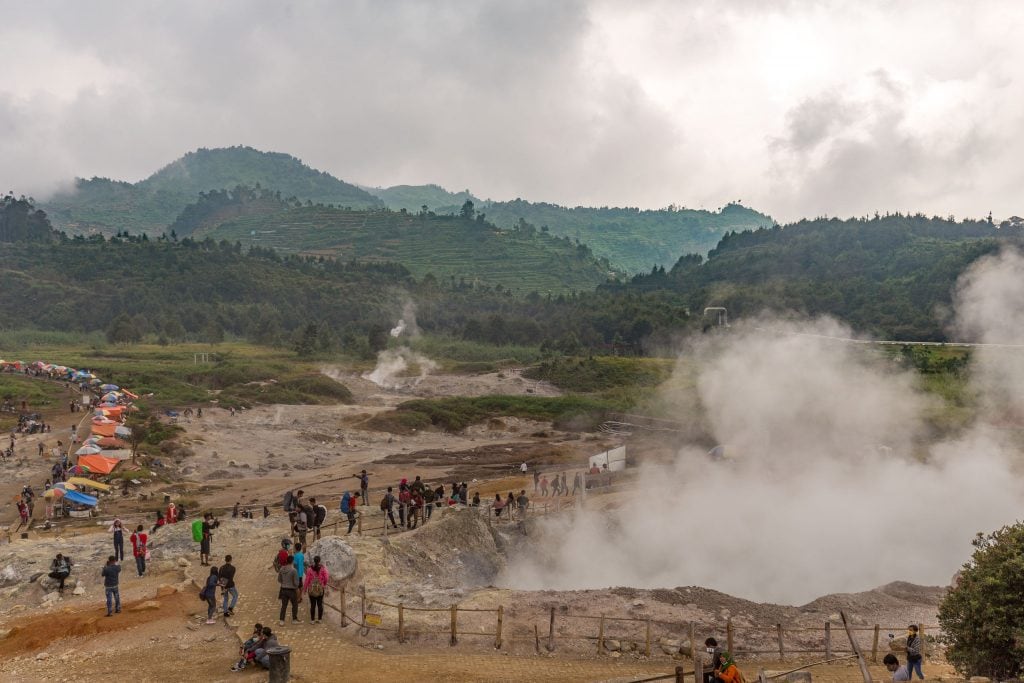 Dieng Plateau: Colorful crater lake
There are two colorful lakes, or Telaga Warna in Indonesian, on the Dieng Plateau. They are part of the Dieng Volcanic Complex and a must see on the Dient Plateau. Their colors range from green to blue and are best viewed from the top view-point. The access to the top is also cheaper if you negotiate. You might see several vents around and in the lakes venting hot air. It's a beautiful view but due to the rain and mist I didn't stay that long and returned quickly to the car after I reached the top.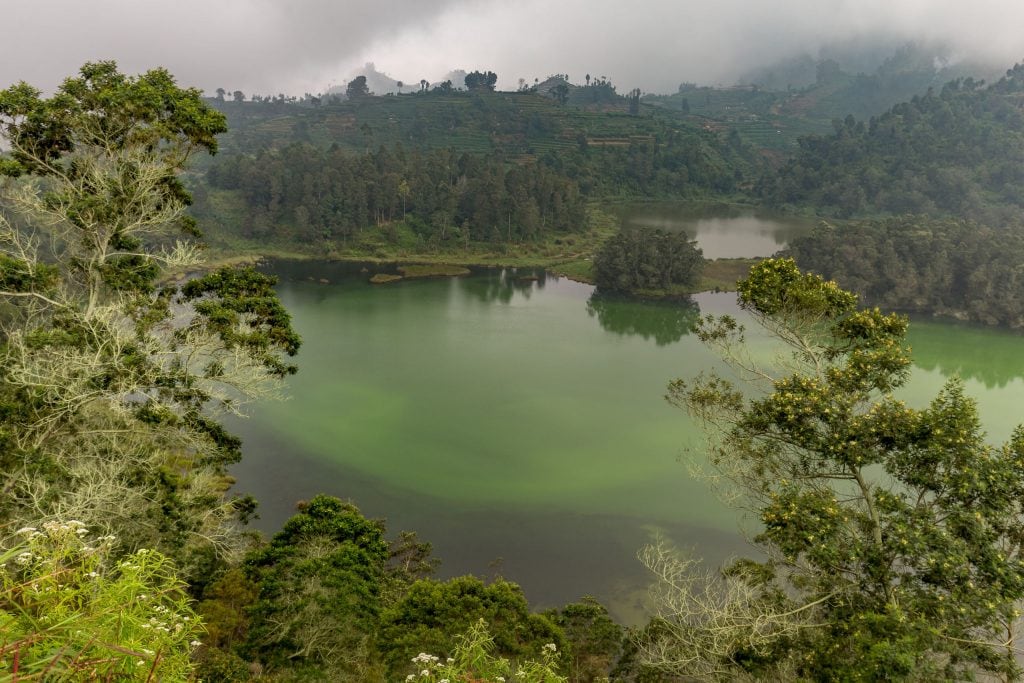 When you finished exploring the Dieng Plateau make sure to visit the spring just outside of town. It's a small place and you just need a few minutes to take some water. I had a long drive back ahead and I ran into some traffic jams. It was already dinner time when I arrived back at the Villa Borobudur. The next day I would transfer to Yogyakarta to see the city and Prambanan. I already visited Phuket, Kuala Lumpur and other places in Java with my daughter during this 3.5-week trip. We would continue to Bali shortly after to finish the trip. Read all about my Indonesian adventures in several other articles.
Stay tuned for more stories and subscribe to the newsletter or follow CTB on social media (Facebook, Twitter, Instagram including Instagram stories; on all social media you can find CTB @christravelblog) to get updated information.
Did you visit the Dieng Plateau too or do you have questions? Please leave a comment at the bottom of the page. Love to hear from you!
Gallery Dieng Plateau
Click an image for a full screen gallery of more photos taken during this trip. If you like to use any photo for commercial, private or editorial use please contact first for permission and/or pricing.