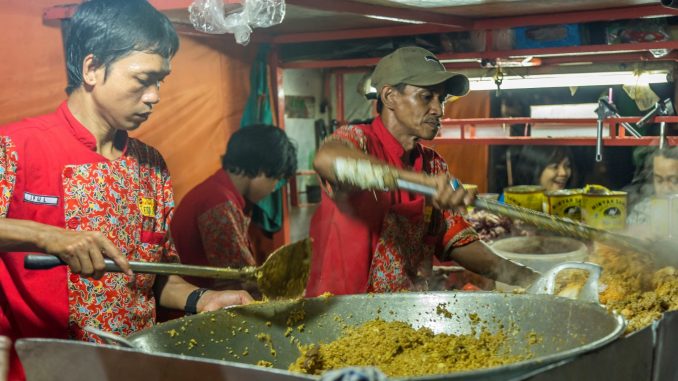 My motto is to travel efficient; this includes tasting local delicacies in a smart way. That's why I often look for a local food tour, especially in Asia, to taste as much different dishes as possible during a night. During my trip through Indonesia together with my daughter I wanted to do a food tour in Jakarta. I booked a Jakarta food tour with Jakarta Walking Tours which is managed by Vera. This was a great choice as she knew the places to go eat very well and explained each dish into detail. Hungry yet? Join me on a Jakarta food tour!
Jakarta Food Tour meeting and first stop
Before you start with your Jakarta Food Tour make sure you don't eat too much during the day. You will be eating four hours and you do want to taste as much as possible. If you worry about getting sick of street food: please don't. Everything is fresh and cooked on the spot so the risk is very low. I met with Vera from Jakarta Walking Tours at a central location in Jakarta near the Metropole Cinema.
We started at a food outlet there to have Pempek (fish cake), Siomay (steamed fish snack with peanut sauce) and Es Teler to drink. Es Teler is a mixture of ice, avocado, jackfruit and coconut which gives it an interesting taste. Difficult to describe but you do taste the coconut with the sweetness of the jackfruit and fatty texture of the avocado. My daughter doesn't like coconut so she skipped this one. The fish cake goes very good with a spicy cause and fresh cucumber and the steamed fish with a spicy peanut sauce. If you don't like spicy then just tell that before ordering. You will get less spicy food then. A good start of the evening and to get to know the guide, Vera, for the evening.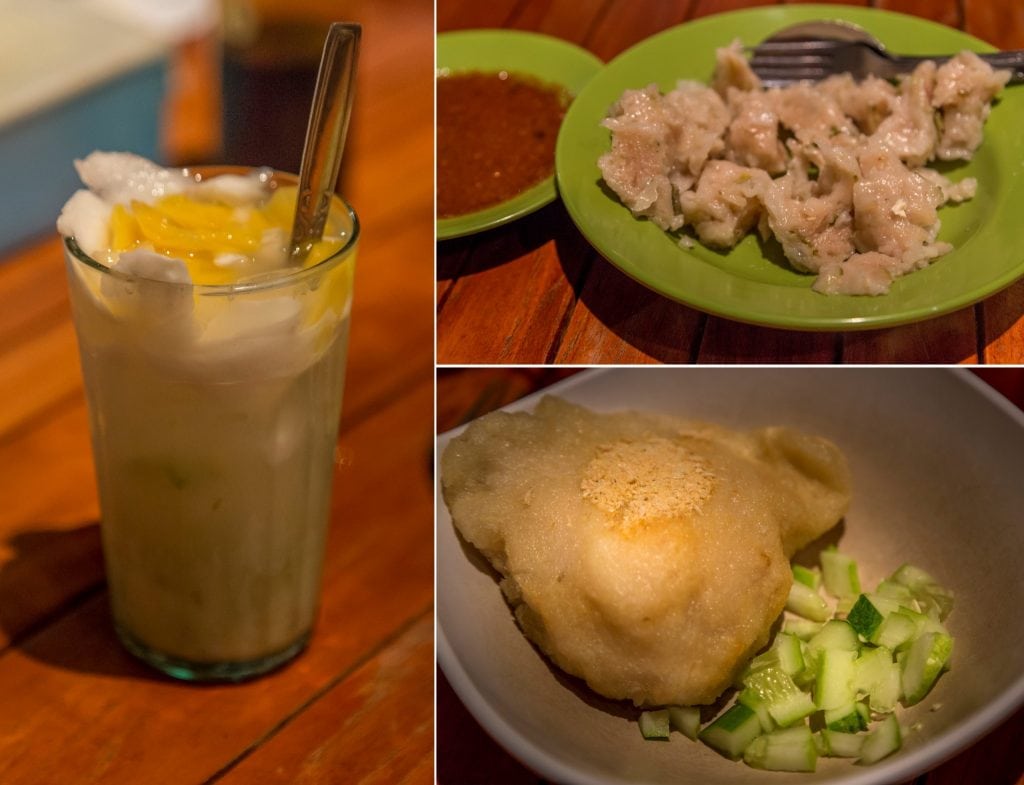 Jakarta Food Tour continued on foot
After the first dishes were finished it was time to continue to the real street food stalls of Jakarta. Vera showed the way through the busy streets of Jakarta. Motorbikes pass from all sides. Food stalls are everywhere. The smell of food made me hungry (again). Next up was Kue Putu which is a steamed coconut cake. The food seller prepared them fresh; rolling the coconut and topping it with fresh coconut meat and sugar serving all on a banana leaf. Sweat but also not sweat.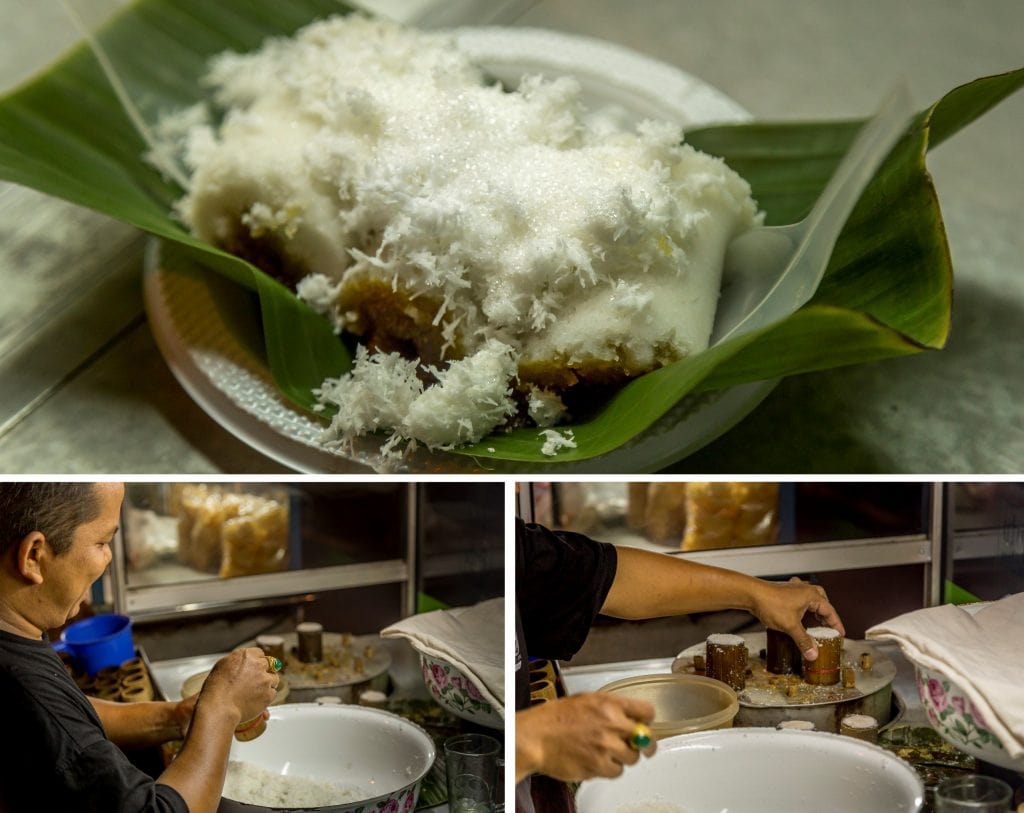 One dish famous in Jakarta is Martabak. It's a kind of omelet packed inside fried dough. The best are the ones made of duck eggs and that's what I got served. First the dough is fried like a huge thin pancake. The egg with vegetables and meat is added and the pancake is folded. It's then fried until it's perfect and cut into pieces. Dip it in one of the sauces, I preferred the spicy sauce. Just order one Martabak; it's enough for 2 or 3 people to taste or for one person as a full evening meal!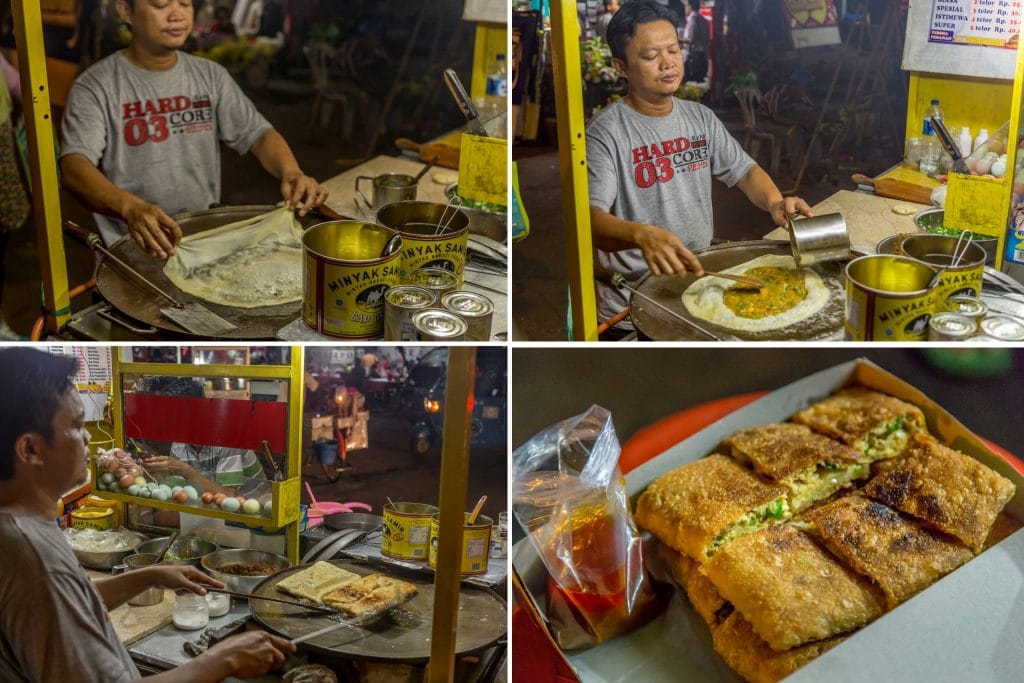 The last stop before continuing to another part of Jakarta was a busy restaurant that served spicy fish soup, tempeh, salted eggs and various other meat & fish dishes. I tried here tempeh and a salted egg. These were both not my favorites of the evening to be honest BUT one has to try to develop ones taste. The salted egg is normally consumed together with a salad or along soup. So I cannot share a full experience as I tried it just as the egg: salty!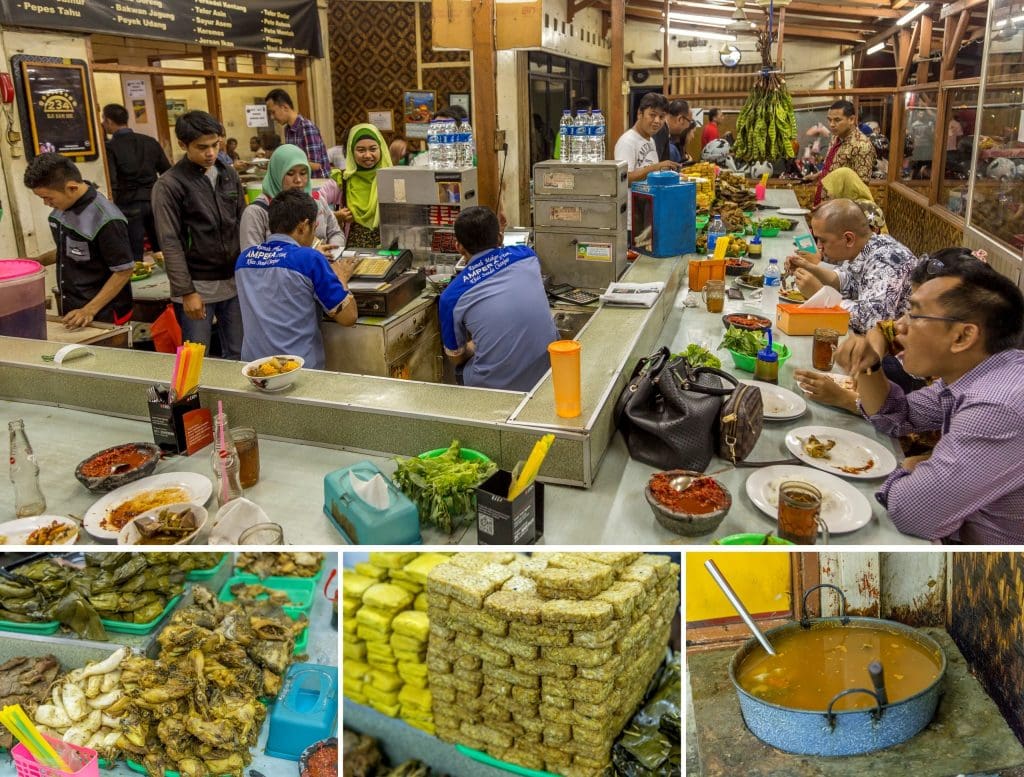 After about one and a half hour it was time to continue to another part of Jakarta where the best satay is served. Of course Vera took my daughter and me there by local transport. Fun!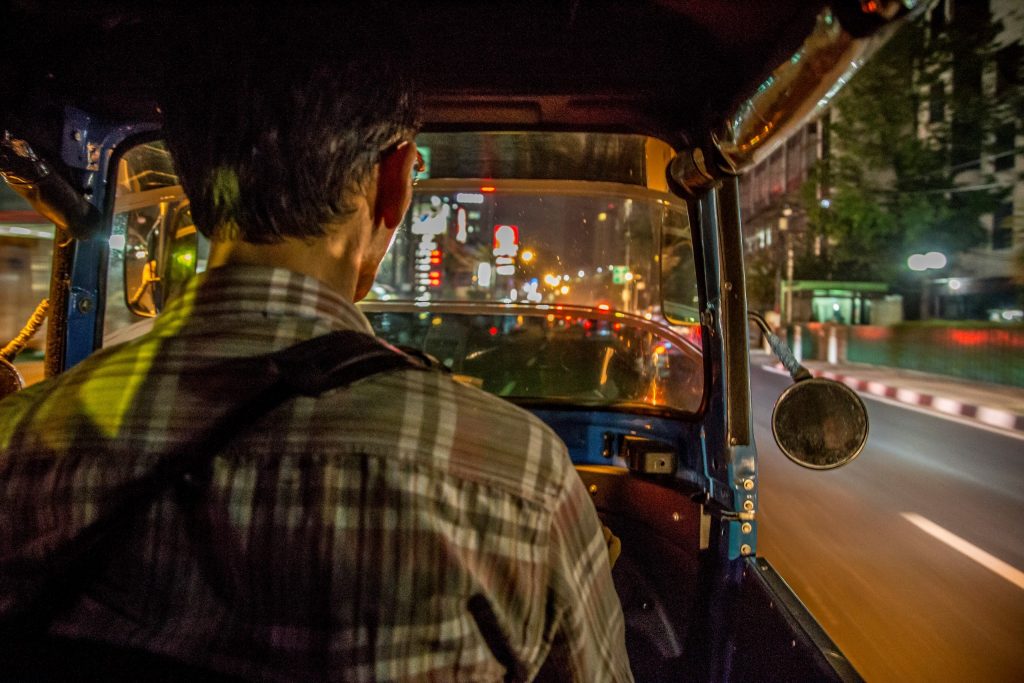 Jakarta Food Tour part 2: satay & fruit
After a 20 minute drive we got dropped in one of the best food streets in Jakarta. The first stop was at the best satay street food seller in Jakarta. I choose the chicken and mutton satay. Satay is meat skewered and then grilled to perfection. The chicken goes best with a sweat and sour sauce and the mutton with a bit spicy peanut sauce. While enjoying the satay different people will walk by to entertain you. Mainly music but also some that sing or sellers to sell books and other things. They are not annoying at all and just part of the street life. After finishing the satay I had some fun with the chefs as you can see in the picture below.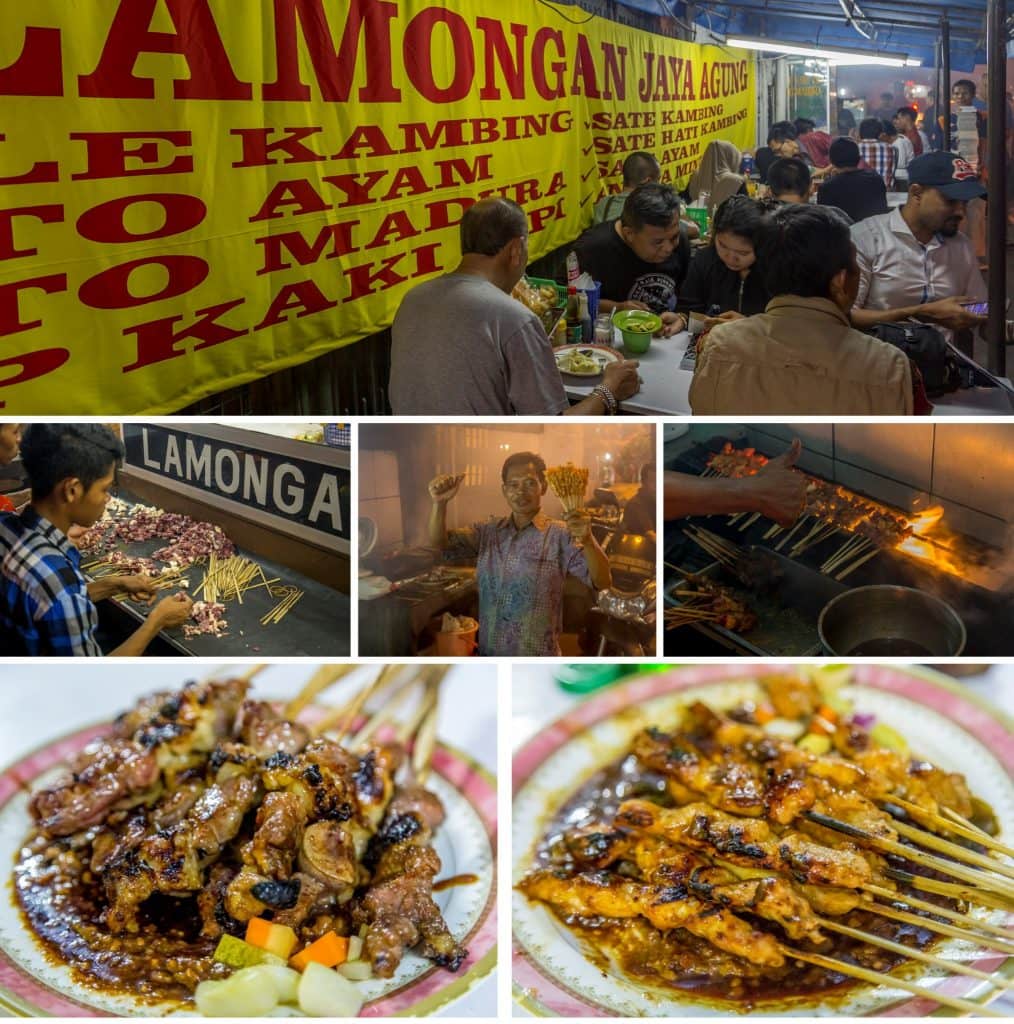 As the first outlet didn't serve satay Padang Vera took me to another stall that specialized in this. This satay is made of cow or buffalo tongue and served with a special sauce originating from Padang on West Sumatra. The meat is a bit harder but it has a great taste with the sauce made of special herbs and spices. After the Padang satay we tried another dish from Padang: beef rending served with green chili. Long cooked beef with a green chili sauce on the side. It was already getting late evening and the restaurant kind of re-opened to serve this dish to me.


Now it was time for dessert. First a dish called Rujak which is fresh fruit with a spicy sauce. Yes you read it correct a spicy sauce. The sauce is made of brown sugar with chili. It's a very interesting combination those sweat fruits with a spicy sauce. I also tried a Soda Susu which is a local beverage. Condensed milk with soda water and a bit of sugar. Interesting to try but for me personally not something I would drink every day. In the Netherlands, my home country, we have something similar and it wasn't my favorite either when I was young.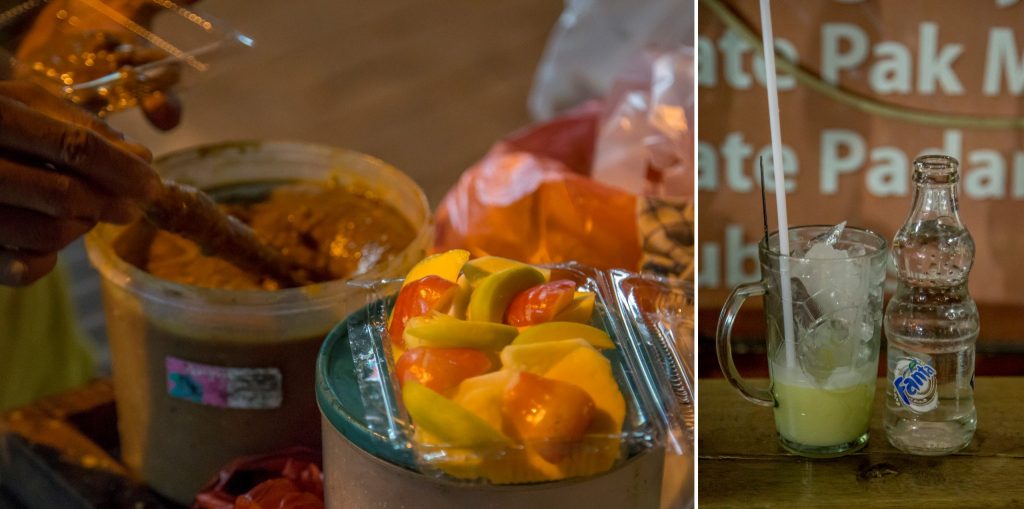 Jakarta Food Tour: the last stop
I was actually full and couldn't eat more but a Jakarta food tour is not complete without a stop at the Nasi Goreng Kambing Kebon Sirih. What a difficult name! It's an outlet at Kebon Sirih (location) serving Nasi Goreng (fried rice) mixed with Kambing (mutton/goat). This food outlet takes up almost a whole back street and is known throughout Jakarta. I saw lots of people eating and many that take away. It's interesting to see how the Nasi Goreng is prepared in huge quantities. The taste is simply amazing but I couldn't finish my plate. I was full.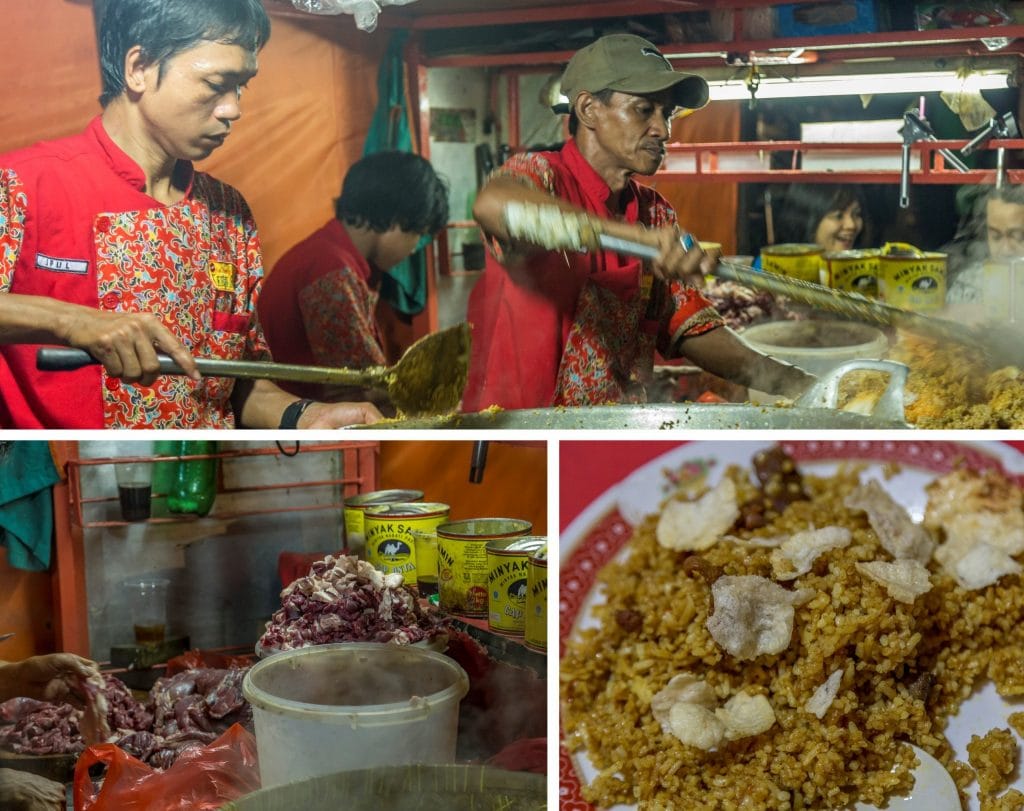 After four hours of tasting food I was full and tired. To join a Jakarta food tour is a great way to experience the various dishes and tastes. I can highly recommend Jakarta Walking Tours to arrange this for you. Vera who was my guide really took care of me and my daughter. Explaining the dishes and tastes. In between she's in for a nice chat about anything you want to know. Highly recommended!
The next day my journey continued to Bandung through Bogor to see the botanical gardens. I would then continue to Yogyakarta to see the Borobudur at Sunrise and onwards to Bali leaving Java behind. Indonesia is a great place and I invite you to read my wonderful Indonesia itinerary for 2 or 3 weeks to see what you can do more in this lovely country.
Stay tuned for more stories and subscribe to the newsletter or follow CTB on social media (Facebook, Twitter, Instagram including Instagram stories; on all social media you can find CTB @christravelblog) to get updated information.
Did you visit Jakarta too or do you have questions? Please leave a comment at the bottom of the page. Love to hear from you!