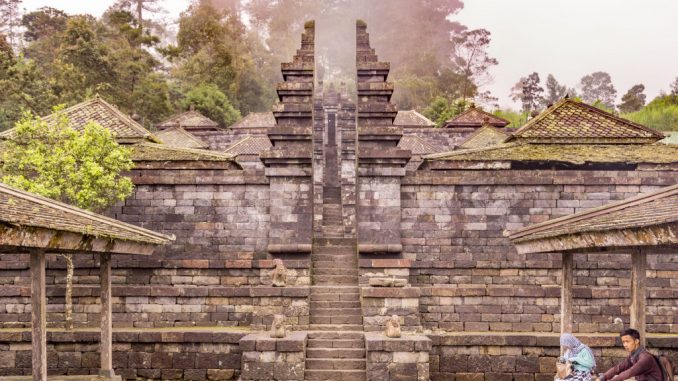 About halfway of my two and a half week Indonesia trip I made a day trip out of Yogyakarta to the Ceto Temple and Sukuh Temple. Both are century old Hindu temples which are worth a long day trip. I also wanted to visit the Sangiran Early Man Site where the Java Man was found. The latter didn't work out quite well but dinner made everything good as I had porcupine for dinner which I didn't have before. Let me take you to these rather remote temples but keep in mind it's a long day from 7AM to 9PM. My daughter who was travelling with me fell asleep on the way back, but it was well worth the trip; she agreed too.
Sangiran Early Man Site
There are a few places in the world that are of great significance for humankind. There we can see how our ancestors lived over a million years ago in pre-historic times. The Sangiran Early Man Site is the place where the Java Man was found in the late 19th century and at that time thought to be the oldest ancestor. Now the Java Man is classified as Home Erectus. After I had visited the Peking Early Man Site (Zhoukoudian) in China I wanted to see also the Sangiran Early Man Site in Indonesia. The Sangiran Early Man Site is also a UNESCO World Heritage Site so I simply had to go and this is best combined with a visit to Sukuh Temple and Ceto Temple which are not far away. So, I went on a Monday morning from Yogyakarta as it's a long drive; for nothing. The site is closed on Mondays! I tried to bribe the guards to at least walk around the outdoor paths but that didn't work out. Well, one day I must return to see the museum and the excavations; a good reason to return to Indonesia.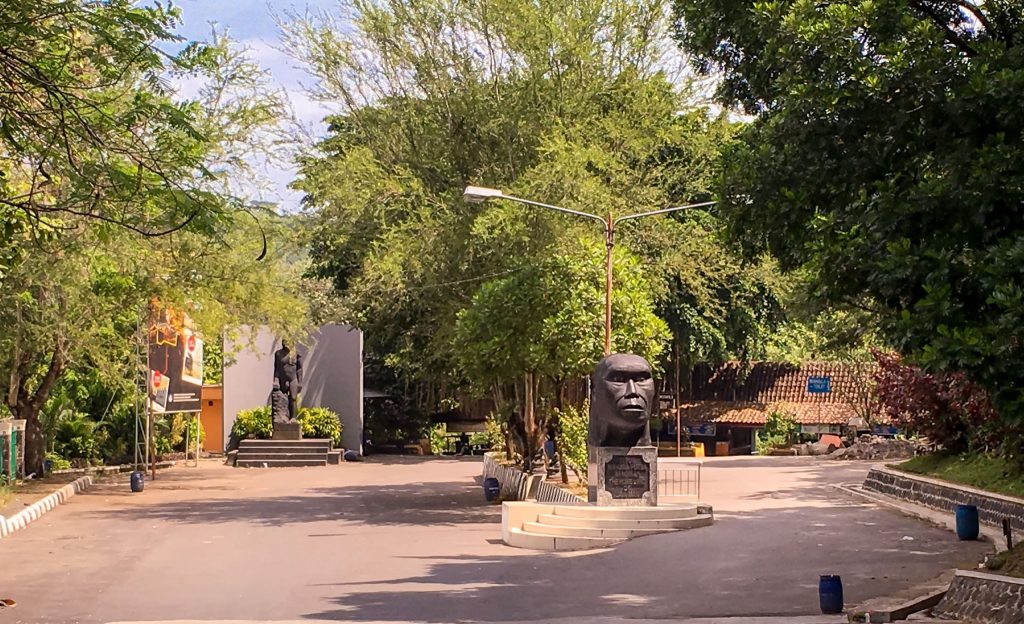 Ceto Temple
The Ceto Temple (also Candi Cetho) is a Hinduist temple that dates to the 15th century. It was one of the latest temples built before Indonesia turned into a Muslim society. At that time the kings of the Majapahit Kingdom where Buddhist followers but still a Hindu temple was built. When I arrived at the Ceto Temple I had to pay a small entrance fee and I was handed a skirt to wear as Hindu temples have a dress code. At the top of the 11 terraces you'll see a small pyramid which was the holiest place of the Ceto Temple.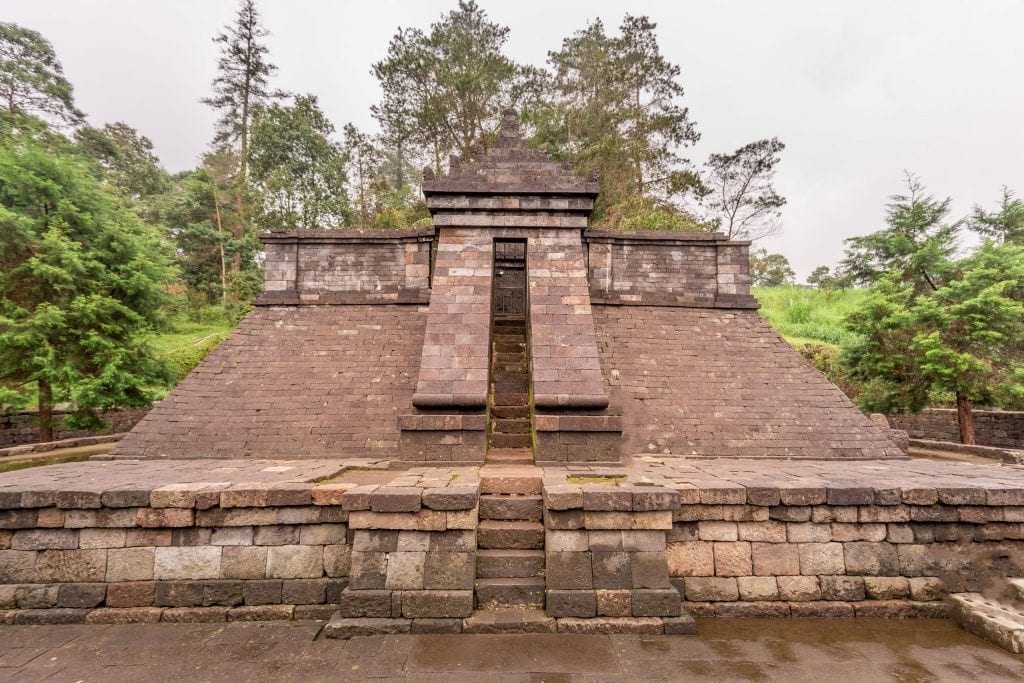 The Ceto Temple is located at almost 1500 meters' altitude on the slopes of Mount Lawu. From the top of the temple you can look down through the various arches down to the green valleys below. At least if it's sunny weather the area is beautiful with green tea plantations all around you. At one of the terraces you'll see a Linga laid out in rocks. The stones are decorated with carvings of elephants and Hindu religious scenes. It's not a huge place to visit and you'll probably spend about 90 minutes at the site. When I finished exploring it started to rain which made much of the scenery hide in clouds.
Sukuh Temple
Sukuh Temple is also located on the slopes of Mount Lawu and has at the top a truncated pyramid as its most important building. It was undergoing a big renovation when I visited so not much could be seen as it was covered. The temple also dates to the 15th century and is amongst other things dedicated to sexual education and pre-birth life. The site is smaller as the Ceto Temple and the main items of interest are the various sculptures.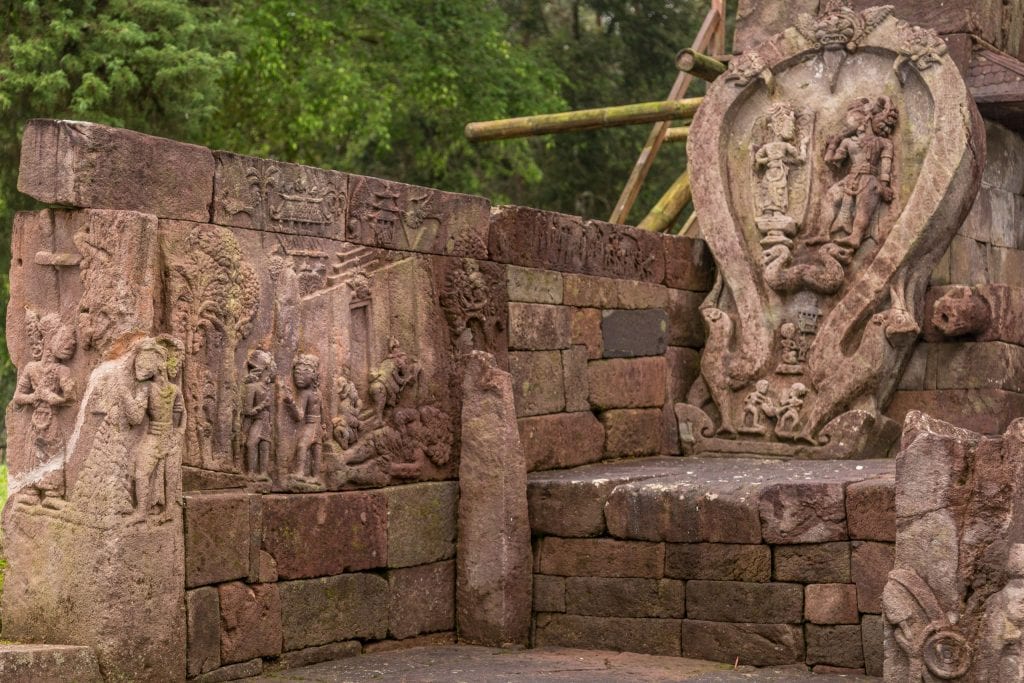 I was impressed by the amount of sculpture at the Sukuh Temple. The guide told me that they represent the life before birth and various sexual activities. You'll see various yoni-linga and man holding their own penis. Other sculptures depict various other stories of the Hindu religion. It was pouring rain but the beauty of Sukuh Temple made me return to Yogyakarta full of positive feelings.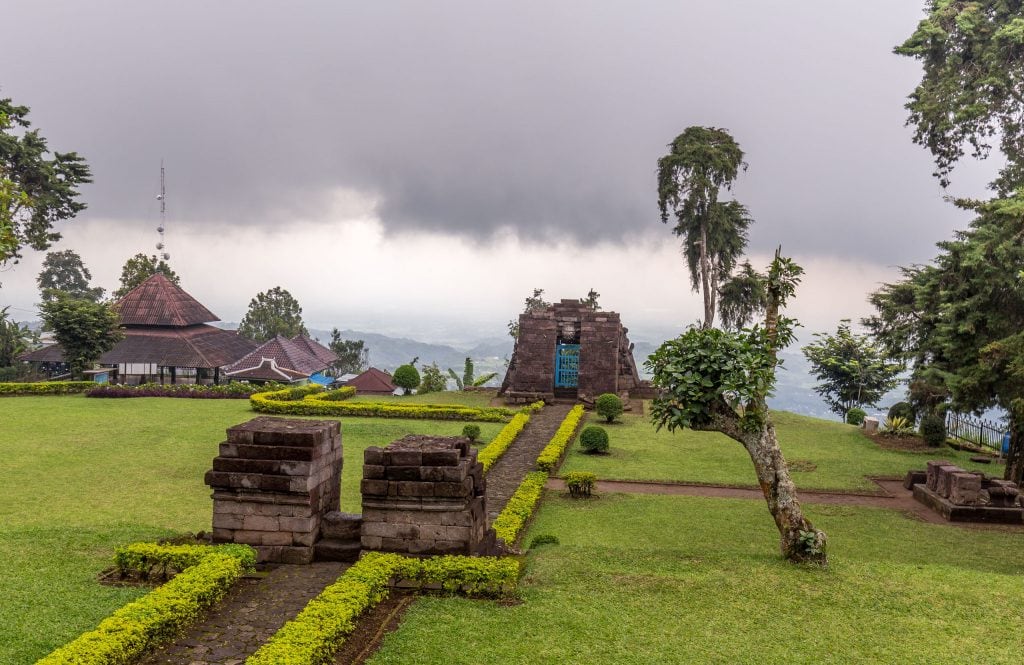 As it was already around 5PM when I left the Sukuh Temple so it was time to find a local dinner. I asked the driver what people locally eat and he mentioned a few animals of which the porcupine caught my attention as I didn't have that before. My daughter also likes to try new things so we'll went to find porcupine; and we found it! It's delicious meat, strong and dark, with a great taste in the mouth together with a salad and some rice. Bon appetite!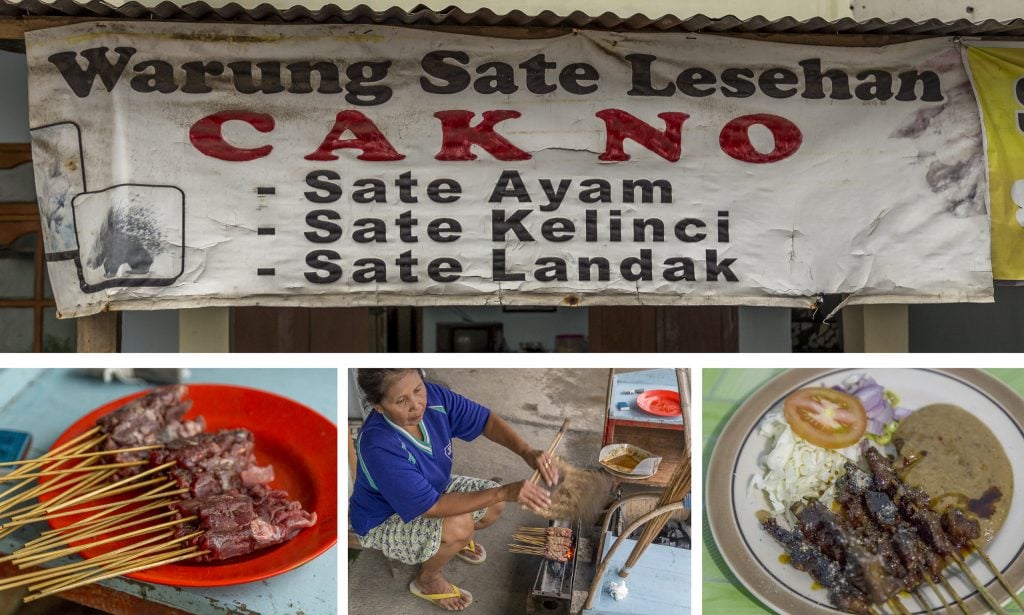 It was 9PM or even 10PM when I arrived back in Yogyakarta. A very long day but well worth it as all places tell so many stories of the past. Pre-historic humans at the Sangiran Early Man Site and 15th century Hinduist tales at the Sukuh & Ceto Temples. The fact that I could try new food made my day complete. It was the last day in Yogyakarta after which I continued to Bali for the last part of this trip. I returned to Java for two days to visit the Ijen Volcano where I almost died; that's another story. Make sure to read all about my Indonesia trip in the various other articles about Indonesia.
Stay tuned for more stories and subscribe to the newsletter or follow CTB on social media (Facebook, Twitter, Instagram including Instagram stories; on all social media you can find CTB @christravelblog) to get updated information.
Did you visit Yogyakarta too or do you have questions? Please leave a comment at the bottom of the page. Love to hear from you!
Gallery Ceto & Sukuh Temple and Sangiran
Click an image for a full screen gallery of more photos taken during this trip. If you like to use any photo for commercial, private or editorial use please contact first for permission and/or pricing.