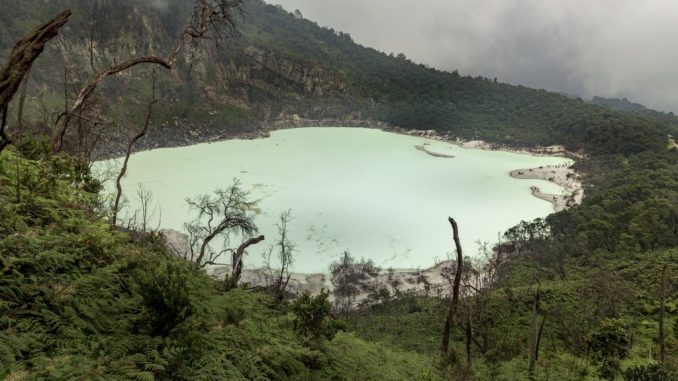 Bandung, also called the Paris of Java, is a city located in the central part of West Java. It's a beautiful city with a pleasant climate which is why in colonial times the people liked to live there. Bandung should be on any Indonesia itinerary! I'll cover the city of Bandung in another article and take you now to the south of Bandung. One main place of interest there is the Kawah Putih or White Crater which has a kind of alien look. I will also take you to a leisure lake, tea terraces and hot springs. The West Java Tour Guide Association showed me around, email Mr. Budi Assor if you require a guide and/or car. It's a great day trip from Bandung and the crater is a must see as it's unique in the world.
Kawah Putih / White Crater
Kawah Putih is located just 50 kilometers south of Bandung but as I stayed at the Intercontinental Bandung in the north the drive took 3 hours. Entrance tickets to Kawah Putih are ten times more for foreigners as for local people but still below 10 euro per person. In my opinion there can be a difference but this shouldn't be this big. There is a small fee to drive to Kawah Putih over the 5-kilometer access road. Alternatively, you can take the shuttle bus which is available at a much lower fee. As I didn't want to wait and it seemed it would be raining that day I just paid the small fee and drove with my private driver there. At the volcano crater it's a small walk up to the rim and I must admit that the first sight was above my expectations. The landscape was simply surreal giving the whole area an alien look.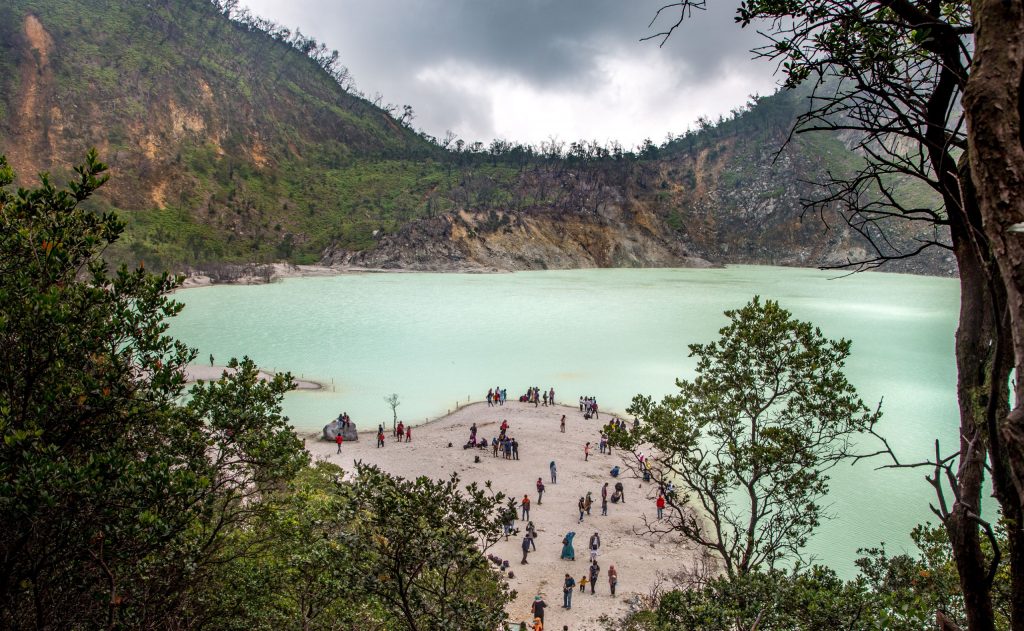 Kawah Putih is part of Mount Patuha together with another crater which is not visited by tourists. The main attraction is the White Crater which is located at 2430 meters above sea level. The area is stable and no volcanic activity has been felt in the past 400 years thus making it a safe place to go. At times the crater can be filled with sulfuric gasses but a visit can be done without any masks which for example at the Ijen Volcano are a must have. Kawah Putih was first discovered by a German botanist in the early 19th century. Local people told the westerns about a mysterious area where no birds fly (due to the sulfuric gasses). During the Dutch colonial time and later the Japanese occupation sulfur was mined at the site but these mines are not in operation anymore. Now it is a protected natural park and tourist area but the remains of those mines can be seen around the crater.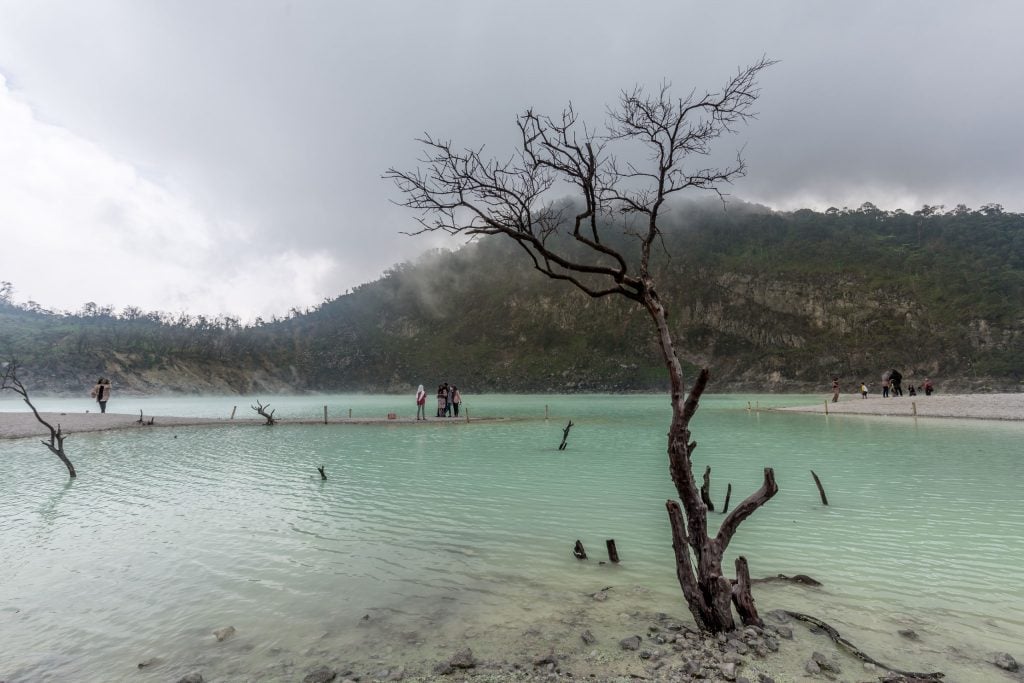 Kawah Putih is surrounded by dense forest where it's possible to make hikes including one to the other crater. I did go to the view point at the top of the rim but I cheated by going there at the back of a motorbike. For a small fee they take you up the rim which is well worth the view. The alien landscape is a perfect place to experiment with photography for example black and white. Once you finished exploring the Kawah Putih you can take lunch at Situ Patenggang, a beautiful lake between tea terraces and pristine forest.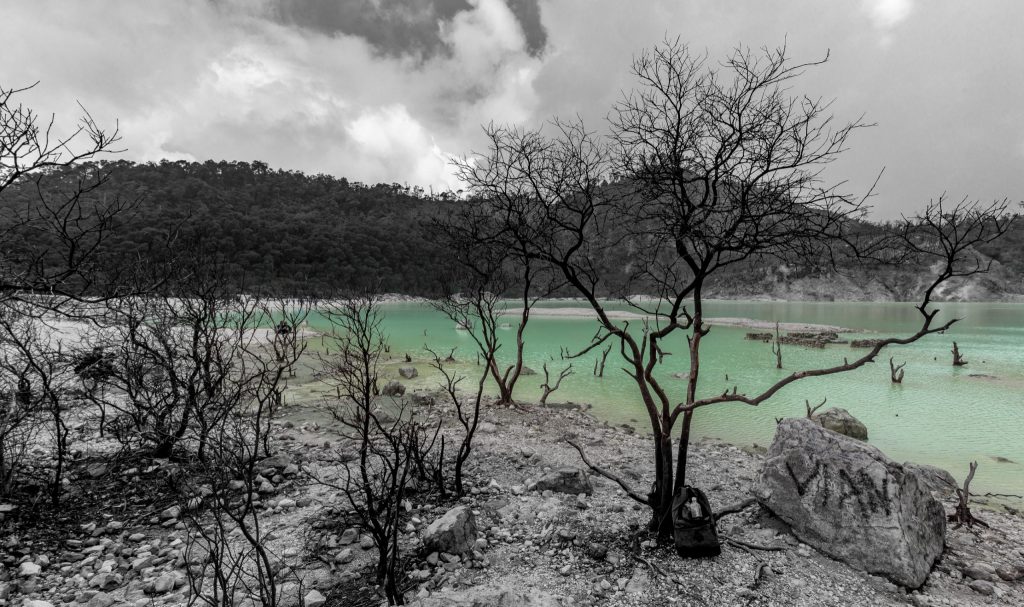 Situ Patenggang & Tea Terraces
At Situ Patenggang you can have lunch in one of the local restaurants but I suggest to make a picknick. Situ Patenggang is a huge lake between pristine forest and tea plantations. The entrance fee for a Wisman, or foreigner, is pretty steep but the site is well maintained. I was surprise by the fees for Western people at most places in Indonesia. There are various places to pick nick (bring your own food!), take a boat ride (at a small fee) or just relax and admire the view.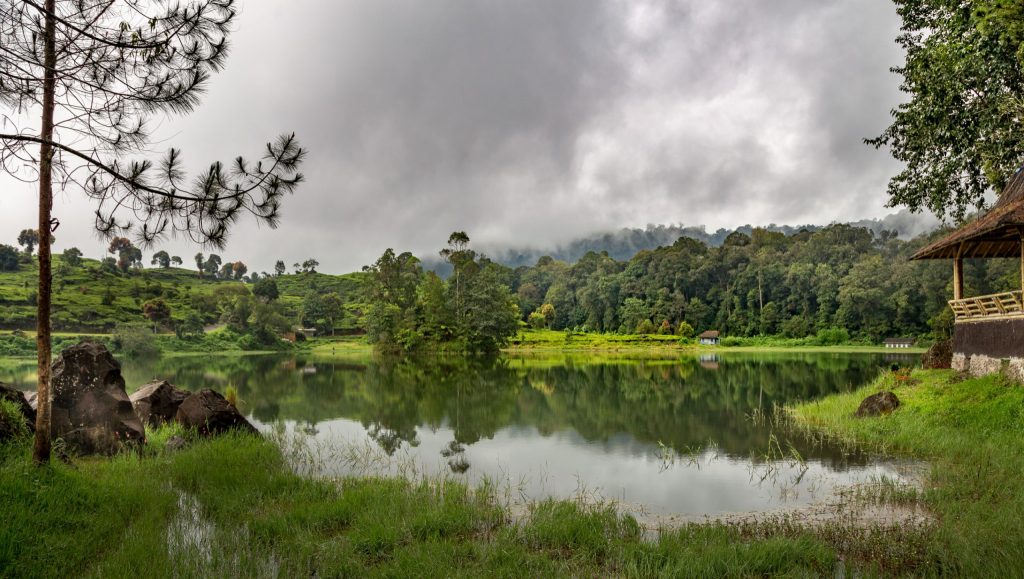 There are various tea plantations in the area which are possible to visit but you require an appointment. I recommend visiting a tea plantation in the north of Bandung which I did the next day (more in another article). Do make sure that you walk into some small side roads for the views as personally I found the views of the tea terraces much better here in the south of Bandung than the north. After lunch I recommend you to visit Kawah Rengganis which is a hot spring. Bring swimming clothes if you plan to bathe.
Kawah Rengganis
Kawah Rengganis is another crater but you won't see much of a traditional round crater. It's a 15-minute walk to the hot springs from the main road. You can see the hot water coming from the various springs and how it's being channeled to the various baths. The place is under heavy development to make it attractive for tourists and I think it has great potential. The sky was getting pretty dark and at the time I wanted to return to the main road hell broke loose. Thunder and heavy rain. I found shelter at a local family whose great grandmother invited me for tea. She didn't know how old she was but I asked her for her oldest memories. If I have my history right she must be over 110 years old. Rain doesn't last long in Indonesia and after half an hour it cleared up and I continued my way back to the main road, I had a 3-hour drive back ahead of me.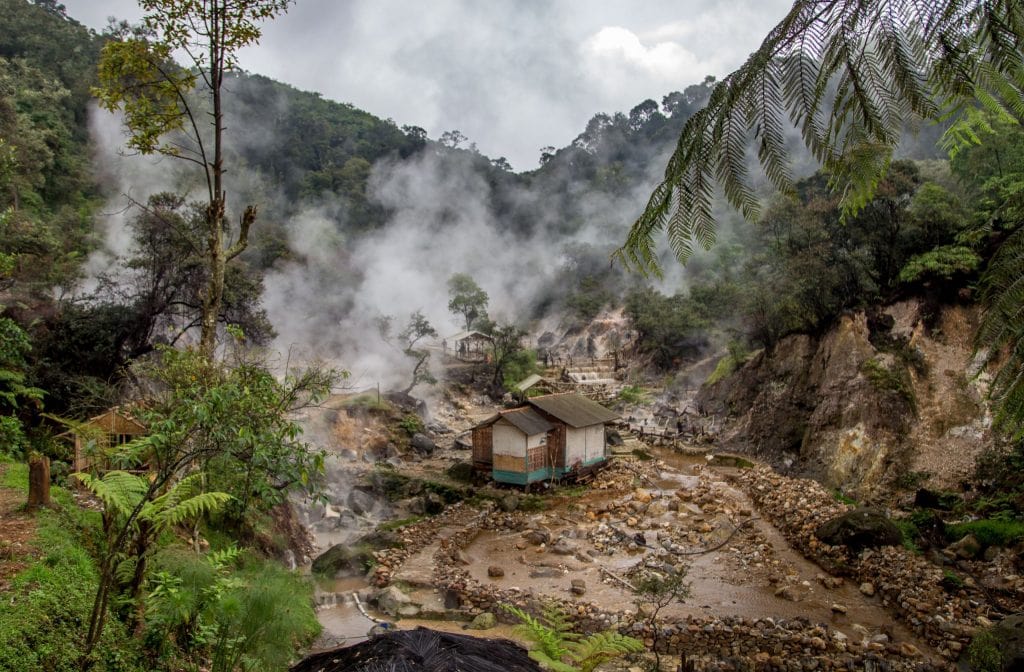 It was a long day trip from Bandung to visit Kawah Putih, the lake and hot springs especially from the Intercontinental Hotel in the north of Bandung. The long trip was however well worth it. On the way back I stopped a local candy store to buy local sweets (see photo below). I took those home but I kind of packed them airtight which didn't make them survive the trip. Just eat them while you are in Indonesia, that's much better.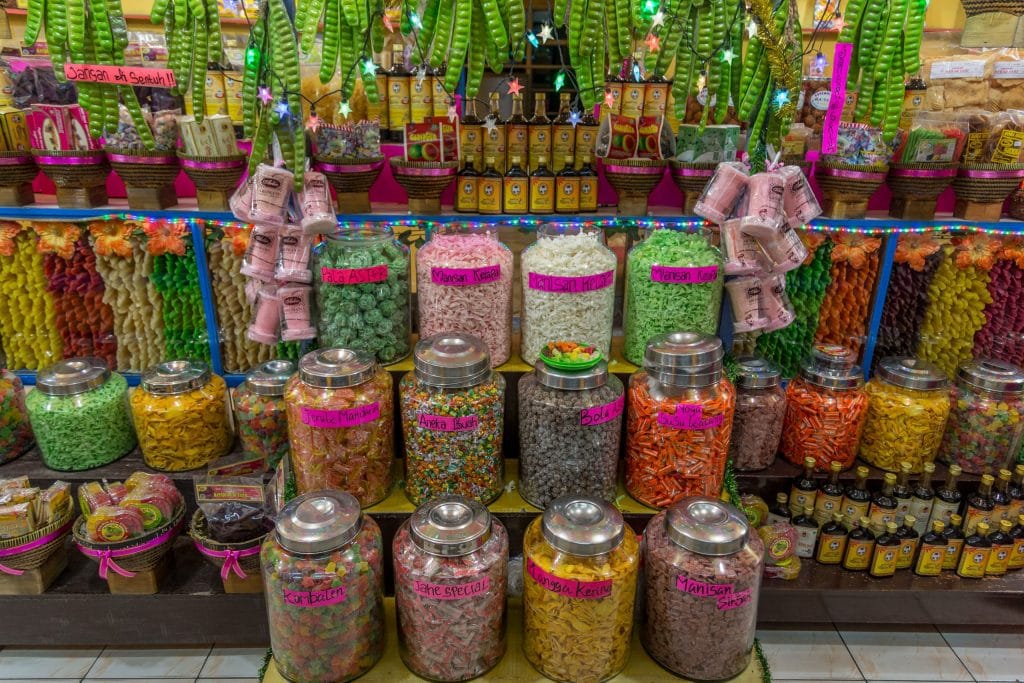 I stayed 4 nights in Bandung giving me three full day trips. One to the south (this trip) one to the north and one to the city itself. I will cover those other two trips in other stories about Bandung. and other places in Indonesia in my wonderful Indonesia itinerary for 2 or 3 weeks.
Stay tuned for more stories and subscribe to the newsletter or follow CTB on social media (Facebook, Twitter, Instagram including Instagram stories; on all social media you can find CTB @christravelblog) to get updated information.
Did you visit Kawah Putih / White Crater too or do you have questions? Please leave a comment at the bottom of the page. Love to hear from you!
Gallery Kawah Putih
Click an image for a full screen gallery of more photos taken during this trip. If you like to use any photo for commercial, private or editorial use please contact first for permission and/or pricing.