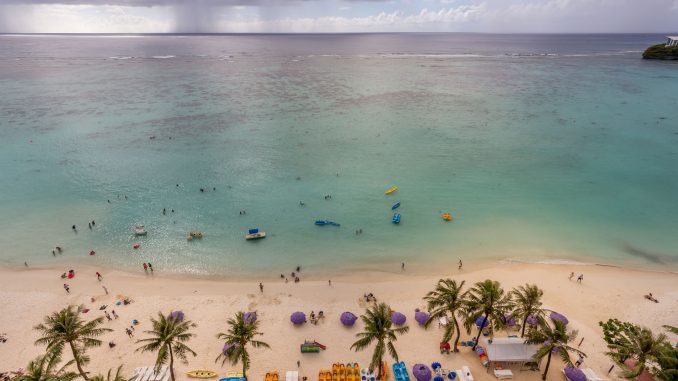 Outrigger Guam Beach Resort is a 5-star hotel located at Guam's best beach called Tumon Beach. I stayed several nights at the Outrigger Guam Beach Resort while hopping islands in the Pacific for 2 weeks. It was my first stay at an Outrigger Hotel and my expectations were very high. When I left I knew my expectations were too low as the stay was just awesome! I'll share my experiences with you but let's start with a short video impression.
The hotel
When I arrived at the airport of Guam their shuttle bus driver was waiting for me. I stayed twice while hopping Pacific Islands and one time I arrived at 3AM which is a time a smooth transfer really helps settle in quicker. The driver made sure that my luggage was sent to my room while I checked in to the Outrigger Guam Beach Resort. I love it when everything is taken care off by the staff; it makes a stay much more pleasant. A nice touch is the local Calamansi Lemonade, a local lime kind of fruit lemonade. I didn't have it before and it's delicious!
The Outrigger Guam Beach Resort is in the central part of Tamuning at the Tumon Beach and is just a 15-minute drive from the airport. It's a tall building with direct beach access and lots of entertainment around it. Do book a room on the higher floors for amazing views of Tumon Bay. The lobby of the Outrigger Guam Beach Resort is a spacious lobby connected to shopping areas and the Hard Rock Café. I like the latter as my daughter collects their shirts so I could buy one without having to get into a taxi. In the lobby once a week there is a performance with local music which I recommended to watch! It's a beautiful hotel and the location and service made my stay a memorable one.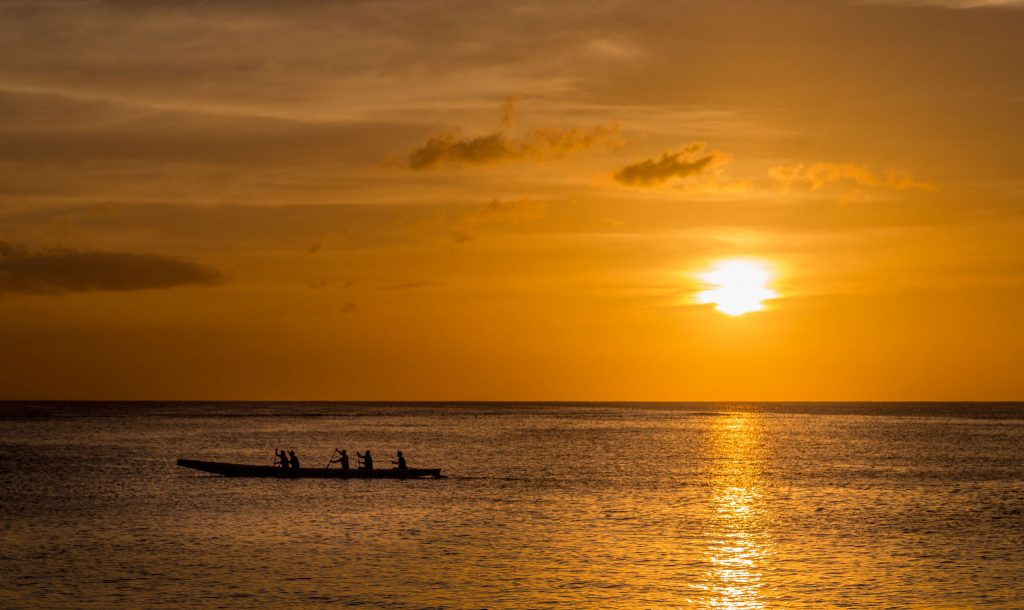 The rooms at Outrigger Guam Beach Resort
As I mentioned you should book a room at the higher floors, or better with club access, to have magnificent views of Tumon Bay. I normally book rooms with club lounge access as the club lounge gives me the option to have breakfast in a private area, get some work done while having a coffee and sip on a few cocktails in the afternoon. The rooms of Outrigger Guam Beach Resort are large and comfortable with amazing beds. They have an espresso machine, plenty of complimentary water and a balcony to watch sunset. I never carry any shower gel or shampoo as I expect 5-star hotels to have quality amenities in the bathroom. Outrigger Guam Beach Resort has quality amenities in the large bathroom. I really enjoyed the room for my leisure time on Guam with the possibility to get some work done at the same time. It's the way I like to travel.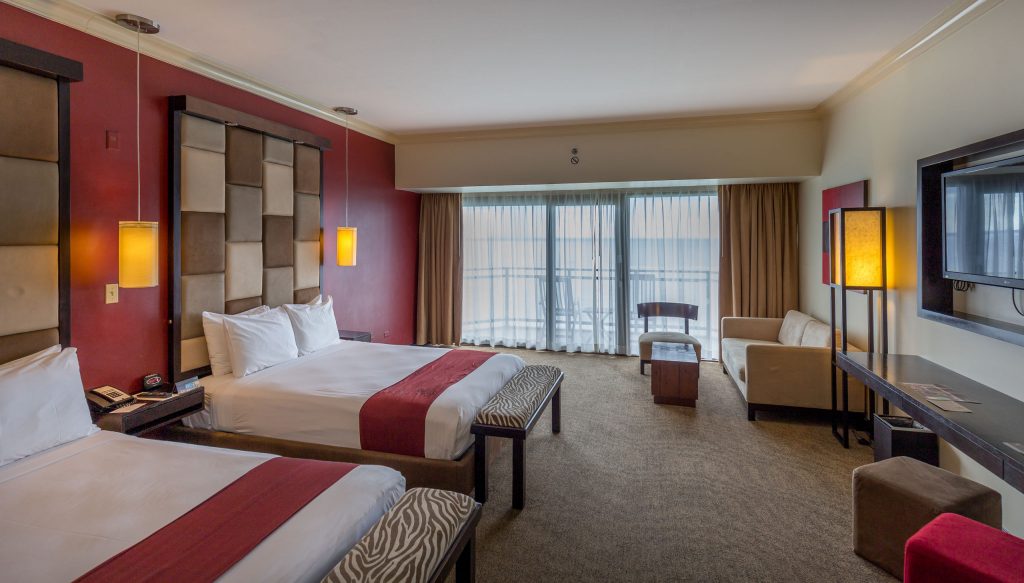 Facilities at Outrigger Guam Beach Resort
In my opinion the direct beach access to Tumon Beach, Guam's best beach, is the most important at Outrigger Guam Beach Resort. At the beach, it's a must to watch sunset and if you're lucky you'll see an outrigger boat pass by (see video). There are lots of activities on offer (by third parties) at the beach including jet-ski, snorkeling, boat rides and much more. Although the beach access is private the beach itself isn't but Outrigger Guam Beach Resort has private pools if you prefer privacy. I didn't travel with my kids this time but the resort IS child friendly for sure and I hope to bring mine next time.
The spa at Outrigger Guam Beach Resort is another must go to. I had a 90-minute treatment to get ready for a long flight back to Europe. Their staff is very professional and uses only quality products. Another reason I needed a treatment is due to the fact the evening before I had way too much craft beer. More on that later. If you're looking for a day tour of Guam ask the concierge as he can set you up in no time. Make sure to visit the WWII remains, learn about the war history but also check out the Chamorro & Spanish remains on the island. There is enough to do if you're tired of the beach.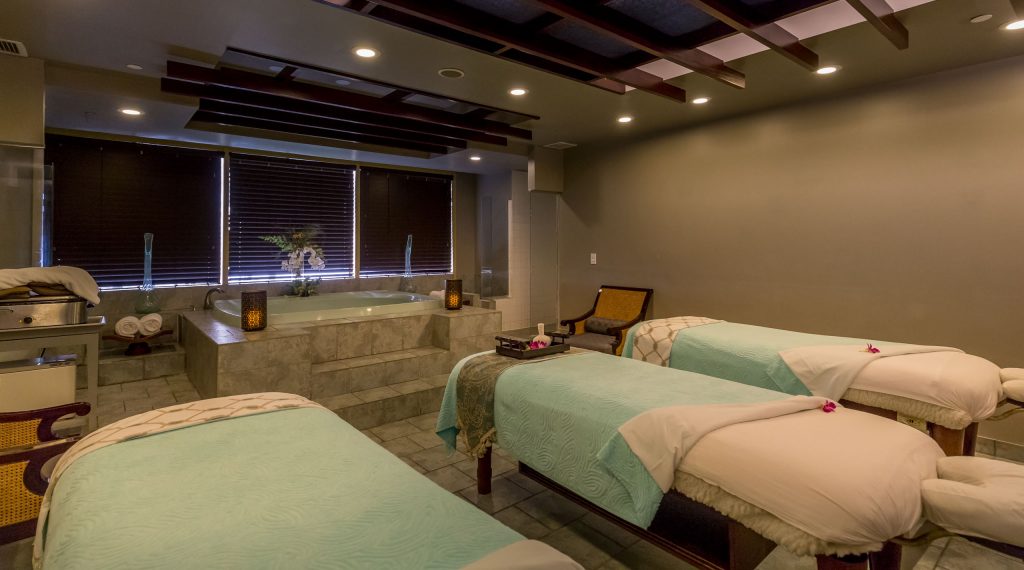 Dining & Drinking at Outrigger Guam Beach Resort
At the Outrigger Guam Beach Resort breakfast (as is lunch and dinner) is served at the all-day dining called Palm Cafe OR in the club lounge. I tried both to test them of course. The club lounge naturally has less choice as its smaller but has enough to suit everyone's taste. At the all-day dining restaurant the choice is too large to taste everything. So much delicious dishes including pork meat cut from a wholly grilled little pig. During the day, make sure to have a pastry at the Grind which serves 24h delicious delicacies.
A BBQ isn't fun if you're alone but I would go for a beach BBQ if I would have been travelling with friends. That's just amazing. In and around the Outrigger Guam Beach Resort there are plenty of options to dine including Vitales Italian Ristorante, Hard Rock Café Guam, Sea Grill and more. The beach bar of the Outrigger Guam Beach Resort is a great place to get a beer and watch sunset. I didn't stay long enough to try each outlet but I'm sure you'll find a restaurant of your liking!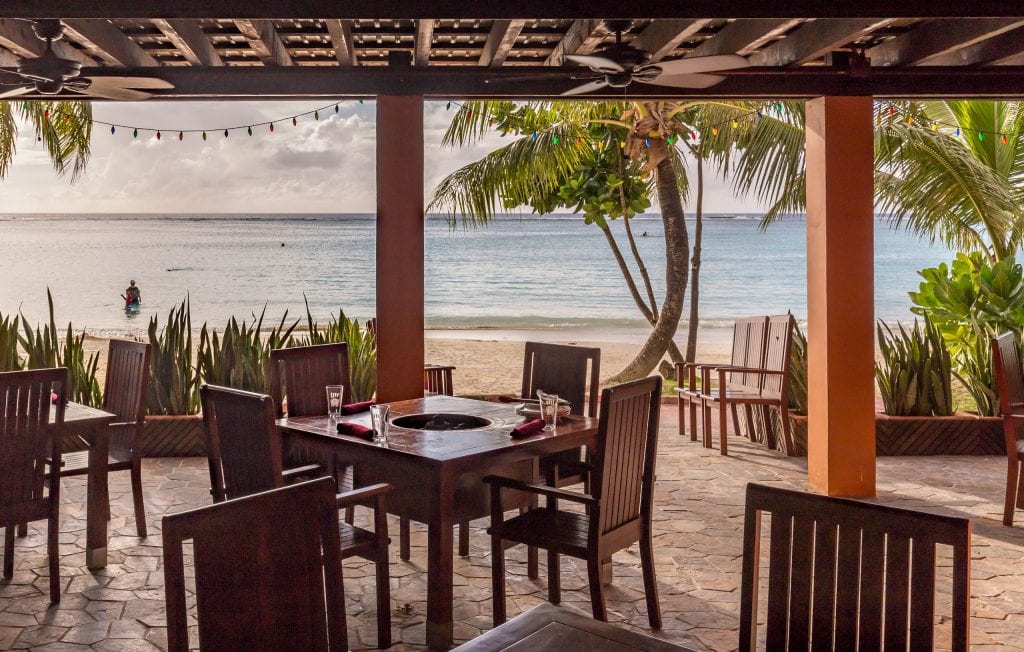 Conclusion
Outrigger Guam Beach Resort should be your choice if visiting Guam for a longer leisure or business trip or a short stay as I did while hopping Pacific Islands for 2 weeks. The resort is located just perfect in the middle of the entertainment district, 15 minutes from the airport and next to the beach. At the Outrigger Guam Beach Resort, there are so many dining options you won't be able to test them all even if you stay a week. The rooms are large and comfortable with magnificent views on Tumon Bay. I had a great stay and I hope to return one day as I still want to fly the island hopper, which starts at Guam, and hops towards the USA mainland!
If you would like to know what you can do in and around Guam then see one of these options: all my travel stories on Guam. I will add more destination information over time.
For more hotel information and booking options please visit the website of Outrigger Guam Beach Resort or subscribe to the Facebook page of Outrigger Guam Beach Resort to receive the latest hotel news.
Stay tuned for more stories and subscribe to the newsletter or follow CTB on social media (Facebook, Twitter, Instagram including Instagram stories; on all social media you can find CTB @christravelblog) to get updated information.
Gallery of Outrigger Guam Beach Resort













** All opinions are based on a genuine stay, flight or experience. I'm not affiliated with the hotel, airline or tour operator but I might be (partially) sponsored – or paid. **