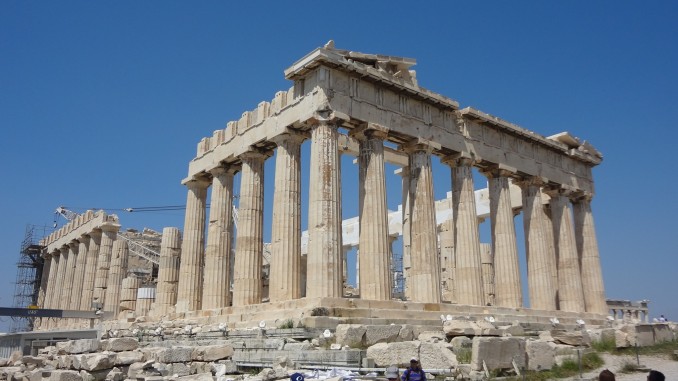 A week holiday with the family to Athens, capital of Greece. So much history in this city you cannot imagine. We explored Athens in detail (the amount of days is enough, get a map at the tourist office and just walk the whole city, below it was split up in days which ended up for us the most efficient way to explore) and had a two day rental car to explore a bit outside of the city. We for sure want to go back to Greece to explore other parts of the country where there are very important historical sites.
Day 1 – Arrival
Arrival to Athens and the hotel, Radisson Blue in the evening.
Day 2 – Acropolis & Ancient Agora
Today we started our walk at the "back" of the high city, where you can enter the Acropolis. The best buildings of the Greek Classical age can be found here like Parthenon, Erectheion and the Temple of Athena Nike. After exploring every possible part of the high city, we descended to the Ancient Agora. Here you find the best preserved temple of the ancient Greek Era: Attalos Stoa, and also the Temple of Hephaestus. Further there are several other ruins and a replica of an ancient Forum. The afternoon we spend relaxing on a sunny terrace with some great Greek food.
Day 3 – Exploring the city
Today's highlights were Panathinaiko stadium and the temple of Zeus. Two impressive sights. Beside we strolled around that neighborhood to check out a few other things too. After lunch we went to go up the Lycabettus Hill with the funicular. A great church on top and a superb view over Athens. From there we walked back to Syntagma Square.
Day 4 – Beach time
Today we hired a car and went out of the hot city of Athens to the western coast bit more south to a nice clear quiet beach. At the way back we drove more south to see some temple and rocks. See photos.
Day 5 – Beach time
Today again some beach time but now we went to the east coast. Also very nice beaches!
Day 6 – Kerameikos & Filopappou Hill
Today we started the day at the Kerameikos after which we walked towards the Filopappou Hill and walked to the top. Exploring everything in between.
Day 7 – Roman Agora & Departure
Today we explored the old town a bit more and checked out two major sights we did not enter before of which the Roman Agora was the best. After lunch we went back to the hotel and a taxi to the airport to get back home on KLM flight to Amsterdam.
Stay tuned for more stories and subscribe to the newsletter or follow CTB on social media (Facebook, Twitter, Instagram including Instagram stories; on all social media you can find CTB @christravelblog) to get updated information.
Did you visit Athens too or do you have questions? Please leave a comment at the bottom of the page. Love to hear from you!