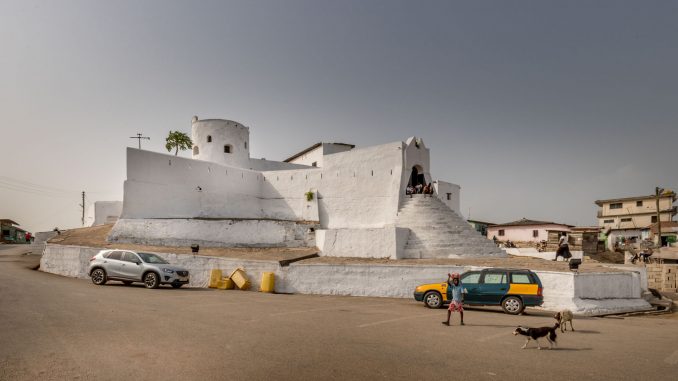 The gold coast of Ghana is famous for its slave forts of colonial Europe and beaches. Five lesser known forts can be visited around Takoradi in western Ghana. My one-week Ghana itinerary included several nights in Takoradi and this slave fort day trip is one that you must do. This Takoradi itinerary includes 3 forts west of Takoradi and 2 on the east side. If it's too much forts you can visit the 3 best ones on the east and then spend the rest of the day on Butre beach. Ghana's best beach. I won't go into any slavery discussions in this article as in my opinion that's the past and this is world heritage. It doesn't matter if heritage is good or bad, we simply must preserve it. Use this Takoradi travel guide to plan your day trip to the points of interest you like.
Takoradi day trip
I recommend driving to Fort Saint Anthony in Axim (1.5 hours) first unless you can combine it with a Stilt village Nzulezo day trip. That would be more efficient. I started my day trip from Takoradi at 7AM which gave me enough time to visit all the slave forts in the various towns which are the best of the Forts and Castles, Volta, Greater Accra, Central and Western Regions UNESCO inscription. Most towns don't have much other points of interest except fishing harbors which are the same in most towns.
Fort Saint Anthony in Axim
The Portuguese built Fort Saint Anthony in 1515 to control the gold trade in the area. During Portuguese rule the controlled territory was expanded into the interior but this was all lost when the Dutch took over in 1642. It was the most important slave fort for the Dutch because it was the first ships would encounter along the West Africa Gold Coast to resupply food and water. Fort Saint Anthony was never abandoned until it was handed over the British including all other possession of the Dutch on the Gold Coast.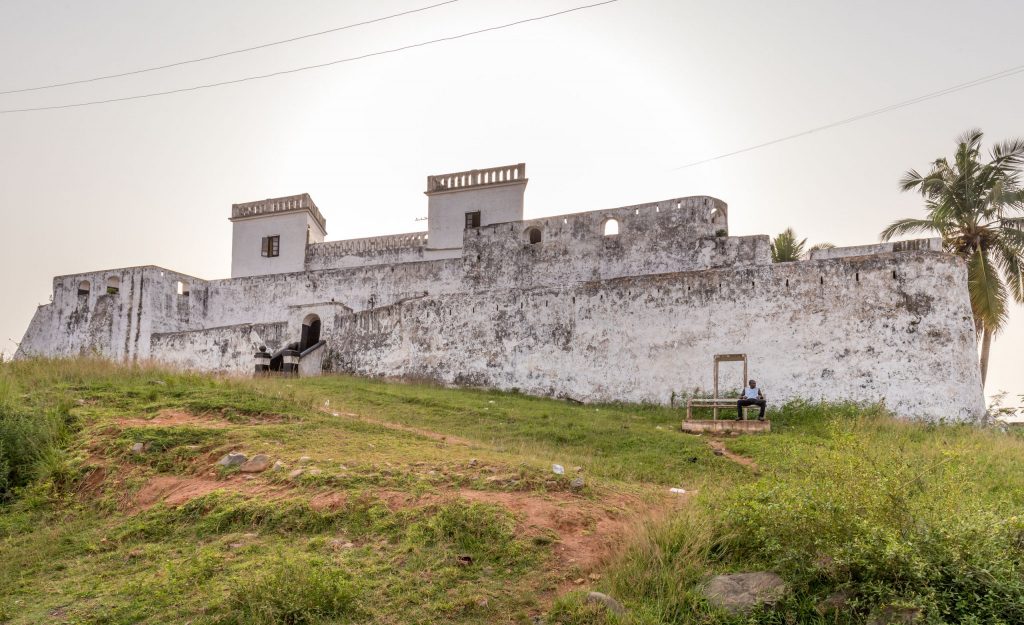 Fort Saint Anthony visit
In front of Fort Saint Anthony is a field, now used by kids to play soccer, where you can park your car. There is a small entrance fee to be paid to the guide (resident) of the fort. The tour last about an hour during which the guide will explain the salve history of Ghana. If you visit more forts, ask only the specific history of that fort as otherwise you'll get more of the same story all over again. One particular story is about the grave in the courtyard. Under Portuguese colonial rule the commandant of the fort was looking over the ocean for his wife's ship to arrive. When it did, he was so excited and wanted to reach out but fell off the balcony above the place his grave is. The fort has various items on display which isn't the case in every other slave fort. Make sure to visit the bastion from where you have a beautiful view over the ocean. Now continue to Dixcove which is an hour away.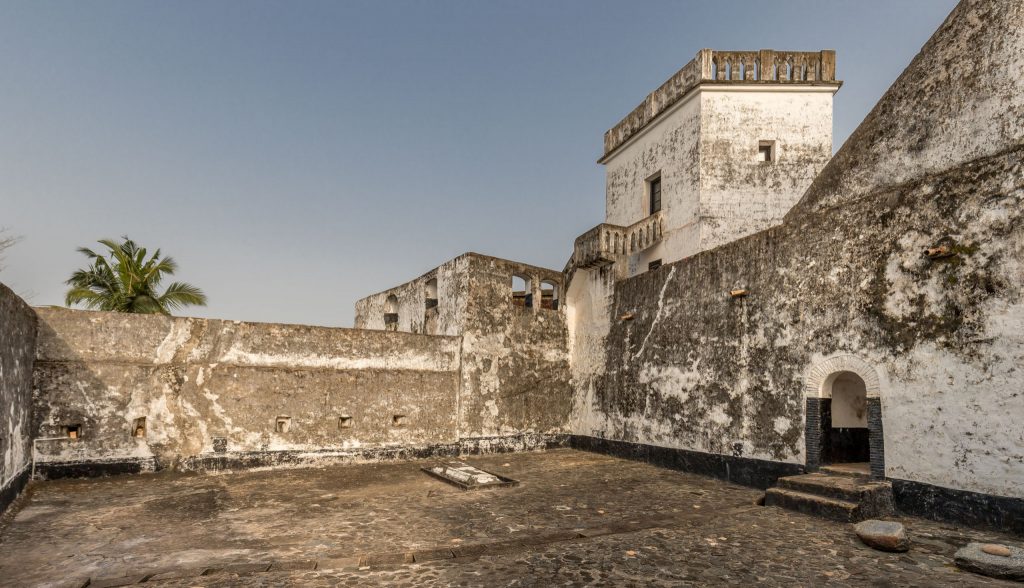 Fort Metal Cross in Dixcove
Next up is Fort Metal Cross in Dixcove. Fort Metal Cross was constructed in the late 17th century by a German expedition and finished in 1683. It's first name was Fort Fredericksburg under German rule. As you visit the various slave forts along the Ghanaian coast, you'll learn that almost all seafaring European nations of the 16th century landed at the West Africa Gold Coast in search of precious gold. German presence wasn't huge as Fort Fredericksburg was the only fort the Germans ever built in Ghana.
How to visit Fort Metal Cross
Fort Metal Cross is relatively small with a square layout, towers in each corner, a large bastion pointing towards the sea and a bell tower above the main entrance. Maybe it's so small as the Germans brought all the stones from Germany is just three years? In 1868 the fort was transferred to the Dutch and just 4 years later it became British and was renamed Fort Metal Cross. Over 3000.000 slaves were traded at Fort Metal Cross. Today it's part of the Forts and Castles, Volta, Greater Accra, Central and Western Regions UNESCO World Heritage Site.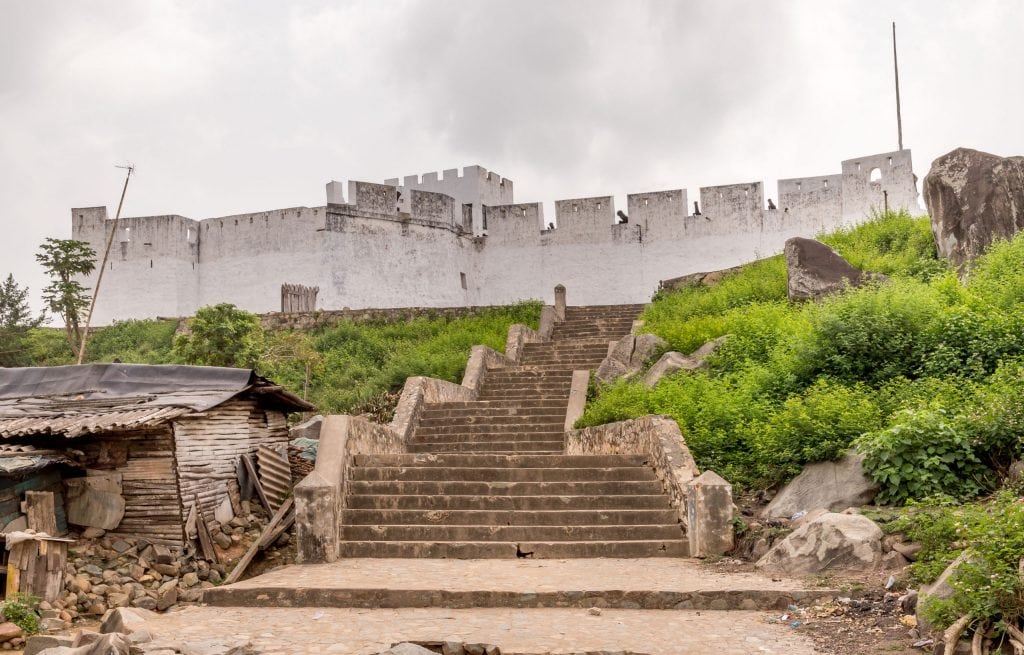 As with most of the lesser known slave forts on this Takoradi day trip you'll have to wander around the fort, knock on doors, and then someone will come to you to show you around. In Dixcove the fishing harbor is just in front of the fort and it's nice to wander around and get in touch with locals. You'll have time for this especially if you decide to go to the next fort and relax the rest of the day on Butre beach.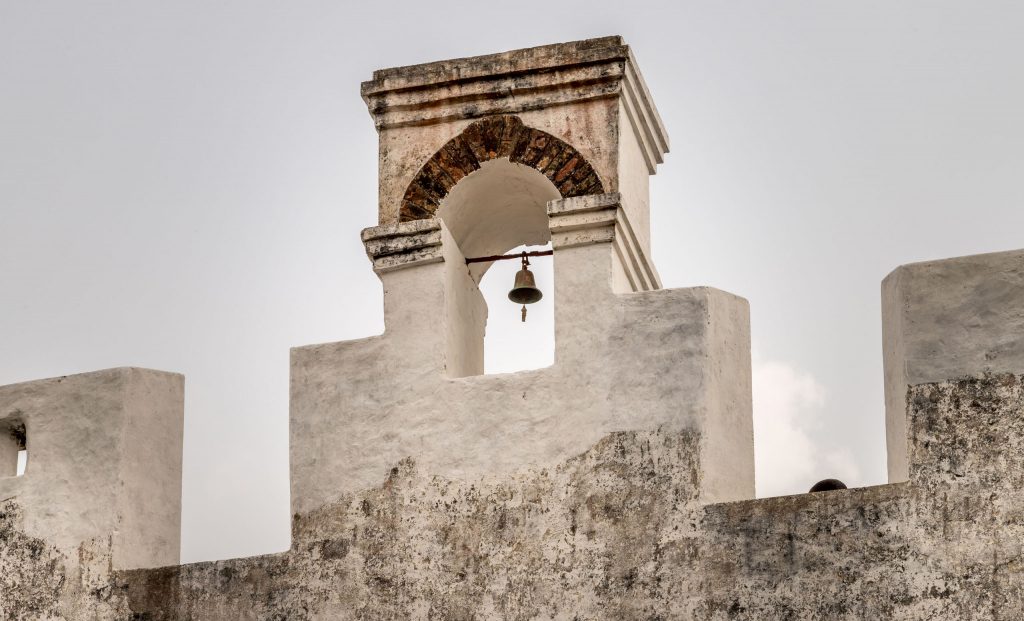 Fort Batenstein at Butre beach
Getting to Fort Batenstein is most easy from Butre beach. Point Google maps to the Hideout at Butre beach which is where you can park your car safely. The last part of the road is a bit bumpy, but the place can be reached in a sedan. The Hideout is also the perfect spot for lunch. Once you arrive, you'll understand why you can spend the rest of the day at Butre beach. It's long and beautiful and Ghana's best beach. Although Fort San Sebastian in Shama and Fort Vredenburg in Komenda are interesting slave forts it can be to much for a day. Decide how you want to end your Takoradi day trip: on the beach or visiting two more forts.
Hideout Butre Beach
Once at the Hideout it's a short walk to Fort Batenstein. You'll have to cross the bay over a bridge and then just walk towards the hill. At some point someone will ask you if you want to visit the fort and after paying a fee to an old man you can go up. As it's in ruins a visit won't take much of your time. If you plan to stay, then you'll have time to wander around Butre and even take a canoe trip up the river. It's a beautiful area to spend the rest of the day trip from Takoradi!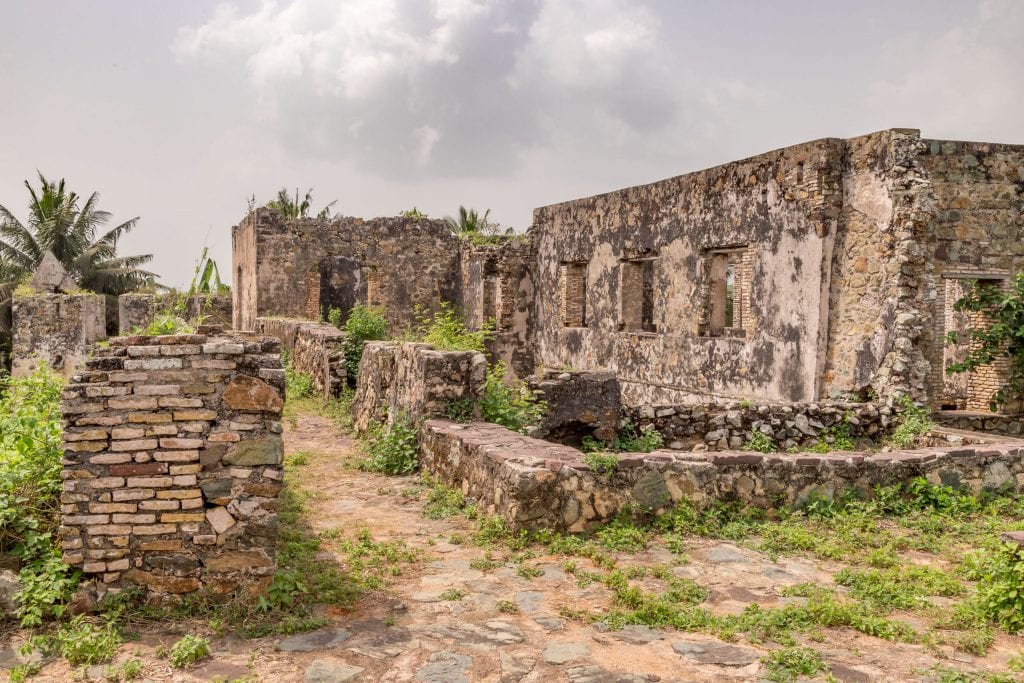 Fort Batenstein tour
Fort Batenstein, literally meaning 'profit fort', was founded by the Dutch in 1656 to, as the name says, make profit. Another reason was to protect Butre bay from the Swedes who were also eager to settle there. Fort Batenstein stands on a hill at Butre bay and did keep the Swedes out. It never made profit though as the gold mine nearby never produced any gold. Directly after the construction of Fort Batenstein the Treaty of Butre was signed which regulated that all the Ahanta people would be subject to the Dutch West Indies Company. This lasted over two centuries. The fort got abandoned after it was taken over by the British like all other Dutch possessions in 1872. Today only the stone constructions are left as ruins because all wood has gone over time.
I enjoyed visiting Fort Batenstein for its magnificent views over Butre, the bay and beach. Walking through Butre was also a great experience as it's a very small town and you really can see the local life. After lunch you can either stay and enjoy the beach or continue your day trip from Takoradi to visit two other slave forts.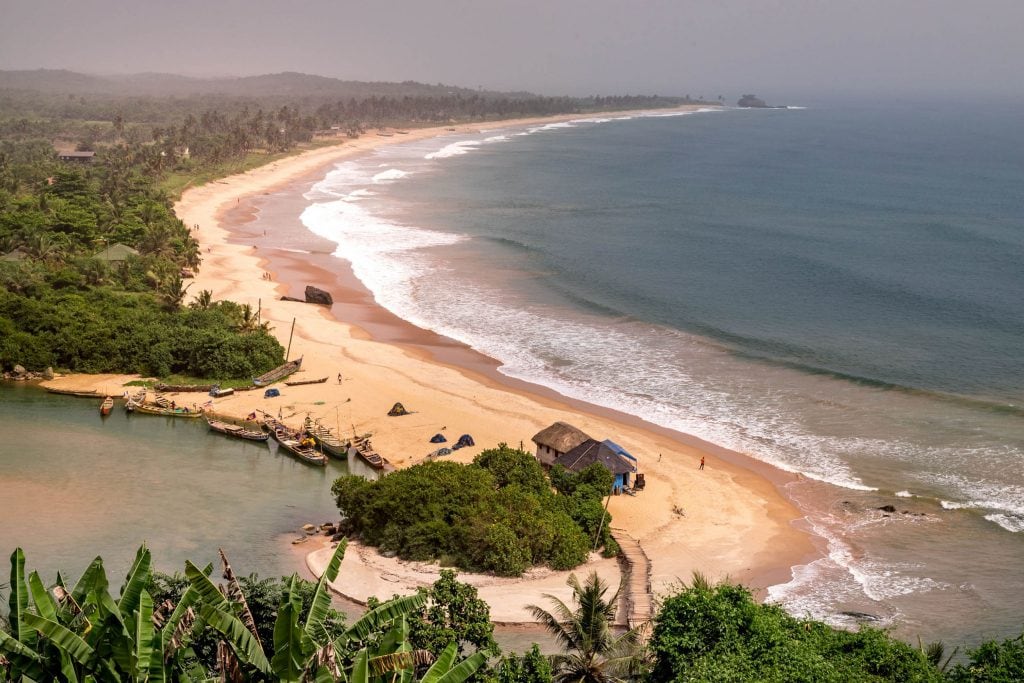 Fort San Sebastian in Shama
Fort San Sebastian is over an hour drive from Fort Batenstein and it makes only sense to visit if you're not staying at Butre beach. It's a beautiful restored fort and thus worth visiting. You can also stop by if you're driving to Takoradi from Accra or on your way back.
Slave fort tour San Sebastian
Fort San Sebastian started as a Portuguese fort in 1526 but was captured by the Dutch in 1642 and in 1872 it became part of colonial Britain like all other forts. Fort San Sebastian is of particular interest for the grave of Anton Wilhelm Amo who was the first African that attended a European university in the 18th century. He was given as a (slave) gift to Anthony Ulrich, Duke of Brunswick-Wolfenbüttel who treated him as family and not as a slave. Fort San Sebastian is one of the better resorted forts on the Ghanaian coast and one I recommend visiting. Either on your day trip from Takoradi or on a day to pass by anyway.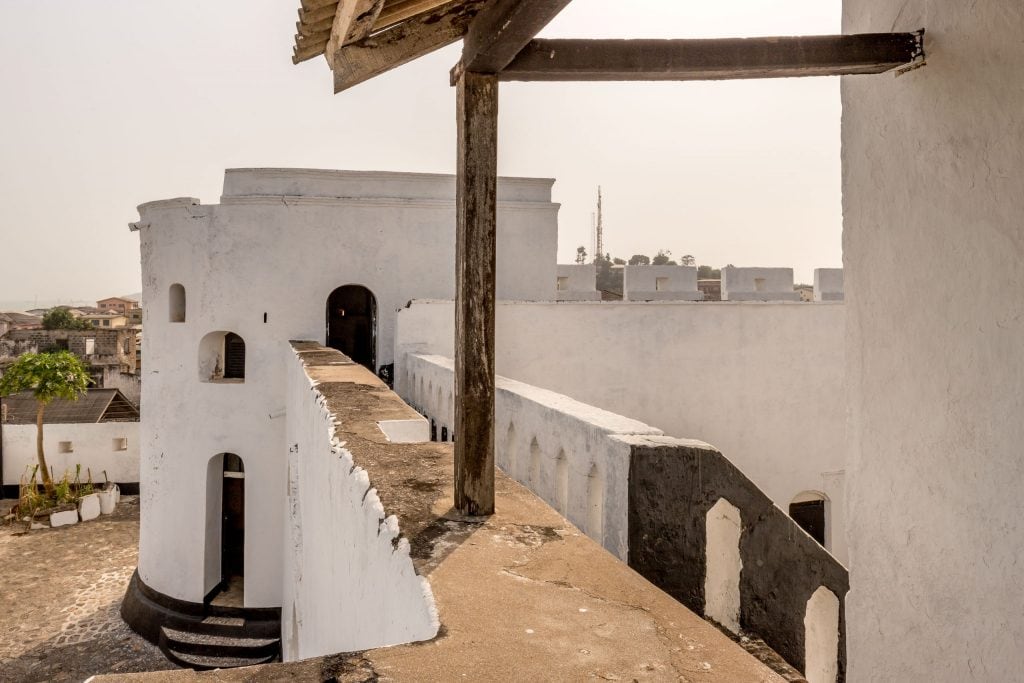 Fort English Fort Vredenburg in Komenda
In Komenda there are two forts namely the British Fort Komenda and the Dutch Fort Vredenburg. They could even shoot at each other. Both are part of the UNESCO World Heritage Site. They are in ruins and are not well preserved with local people using them even for housing. If you need to skip a fort, then skip this one. The British Fort Komenda is of most interest here as it's a four bastioned fort build around an earlier four bastioned fort. I visited Komenda only for its interesting architecture. It was the last stop of my day trip from Takoradi and to be honest the ruins were a bit disappointing. I'm happy I visited but decide for yourself if you find it worthwhile to go.
If you plan a Ghana itinerary this Takoradi day trip to the lesser known slave forts and Butre beach is one you must do. Do make a day trip to Nzulezo stilt village too as that's so unique. I had a great time exploring the West African Gold Coast around Takoradi. The forts explain a lot about the slavery of the 16th century and it was interesting to learn about that.
I'm Dutch and the Dutch West Indies Company had a large presence there and therefore the trip was of particular interest. I already explored the Dutch East Indies Company when I did a two-week Indonesia trip. You'll also find a lot of Portuguese history which is so different as that what I saw during my Sao Tomé trip and my Minas Gerais trip in Brazil. I hope this Takoradi guide helps you plan your trip in the region and gets you to the points of interest that you like to visit.
Stay tuned for more stories and subscribe to the newsletter or follow CTB on social media (Facebook, Twitter, Instagram including Instagram stories; on all social media you can find CTB @christravelblog) to get updated information.
Did you visit Takoradi and surrounding slave forts too or do you have questions? Please leave a comment at the bottom of the page. Love to hear from you!
Gallery Slave Forts Takoradi
Click an image for a full screen gallery of more photos taken during this trip. If you like to use any photo for commercial, private or editorial use please contact first for permission and/or pricing.