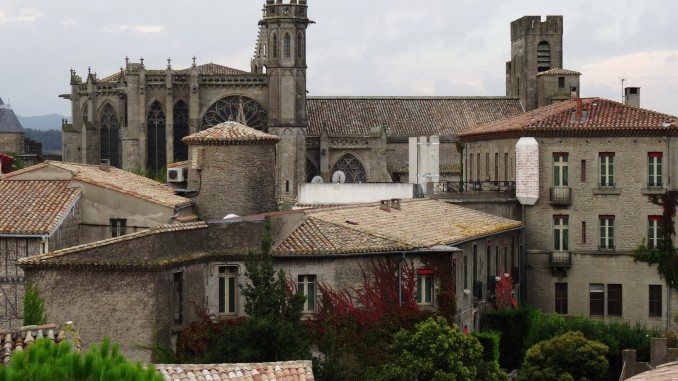 We, my family, didn't have big plans back in September 2013 for the autumn school holiday of the kids, but we knew some trip would come up sooner or later. Finally we ended up doing a road trip through the south of France for 10 days! In this first post I will explain why we did the South France road trip like this and how we kind of would end up traveling for free. The first day we spend in Carcassonne which I will cover in this first post too. Enjoy this road trip through south France with me!
Why a South France road trip should not cost anything
We like to fly and stay in a way that we have luxury on a small budget 🙂 The flights from Amsterdam – Toulouse and Nice – Lyon – Amsterdam we booked through the loyalty program of KLM (Flying Blue) costing us in total about 30.000 miles for the 4 tickets. This was very affordable looking at what the ticket on short notice would cost us otherwise. We did have a little on fuel surcharges to pay but these were in total approximate 200 euro.
During the last 4 months of 2013 the IHG Rewards Club (Intercontinental, Crowne Plaza, Holiday Inn etc.) had a promotion running that if you managed to fulfill the challenges you would earn a lot of points. As we travel with a family of four we need to book always two rooms so both me and my wife could complete this promotion. My own promotion could not be completed by this trip alone but as I had other trips planned this additional trip would complete it and earning me over 100k points additional and my wife would earn approximate 125k points.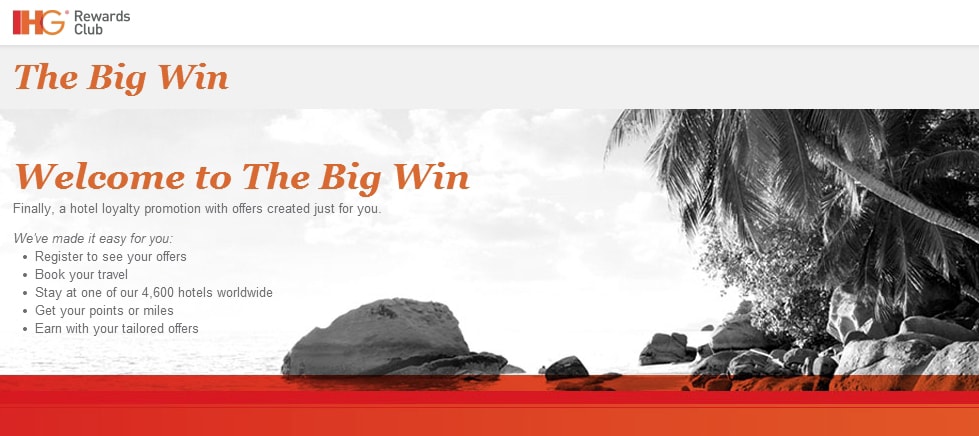 So why all the hassle for these points? That's the trick and I try to explain in a short way. For a deeper understanding feel free to contact me. These points, if used wisely, would earn back later at least 40-45 hotel nights for free! As we always need two rooms that would mean 2x 3 weeks! IHG Rewards Club has a special promotion each 2-3 months with hotels having rooms as low as only 5000 points including TOP hotels. We do not mind where we go so these promotions are great for us. For example end of 2013 we had a 4 night stay * 2 rooms at 5000 points a night costing us 40k points at the Crowne Plaza Muscat (Oman) over the new year with a revenue value of over 1400 euro! And that's just a fifth of the points we earned during this trip. If booked correctly these 40-45 free nights would have a revenue value of at least 6000-7000 euro. Great deal isn't it?
How much this road trip has costs us I will explain below in the actual route but I must note that the amounts are approximate as I not have all bills at hand anymore. Of course you must keep in mind that you have to spend first to earn later! The travel is not free, but the amount spend can be minimized over several trips.
The actual route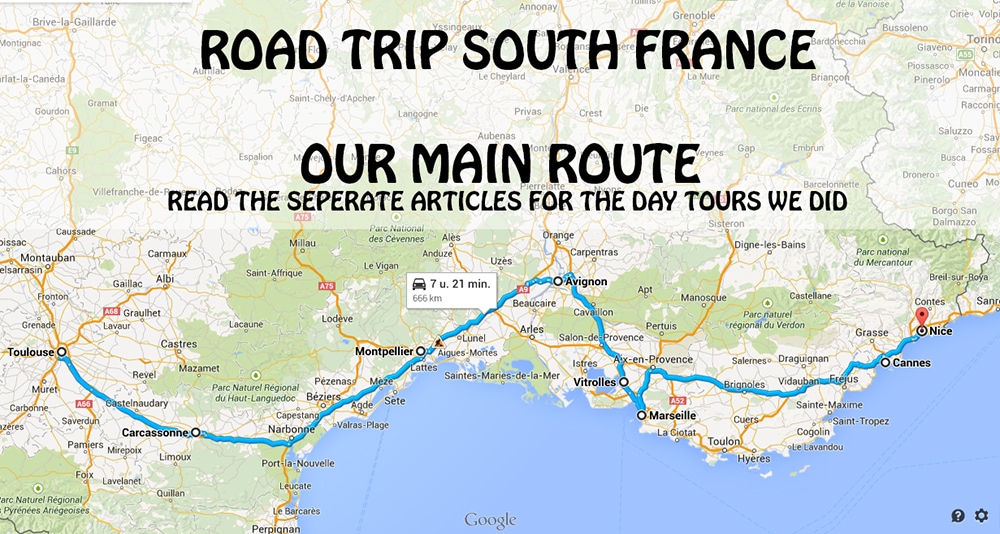 We flew in the afternoon on Fridays to Toulouse and had a stay at the Holiday Inn Toulouse airport (approx. 2x 125 euro = 500 euro). The next day we drove to Carcassonne for a day (see below our story) and ended for the night in Montpellier where we booked the Holiday Inn Express for 2 nights (approx. 2x 2x 90 euro = 360 euro). We had one full day to explore sights around Montpellier and after two nights we drove through several places we wanted to see to Marseille where we did our first night cheap at the Holiday Inn Express airport (approx. 2x 75 euro = 150 euro) to avoid driving into the city. The next day we did a local tour to various interesting places about which I will write later. In the evening we arrived at our next hotel where we would stay for two nights: Intercontinental Marseille – Hotel Dieu. This is a top hotel at a top location in Marseille. Here we booked one of the rooms on points we got from earlier promotion and ended up paying only one room (approx 2x 175 euro = 350 euro). After a day in Marseille we drove to Cannes where we stayed at the most famous hotel Intercontinental Carlton Cannes where we booked one paid stay and one on points (approx. 2x 225 euro = 450 euro). The two nights in this luxury hotel passed very quick and we had to go to our last hotel in Nice, the Holiday Inn St. Laurent du Var. We had to stay there three nights but we were not so happy with it and checked out after one night and went downtown to the Holiday Inn Nice centre (approx. 2x 3x 125 = 750 euro) which was much better. From Nice we had a flight with a layover in Lyon back to Amsterdam.
As you can see the hotels cost us approximate 2500 euro in total. This investment would earn us back much much more later on. We could have done this even cheaper by changing the two Intercontinental hotels to Holiday Inn hotels but we wanted also some luxury. If you want to know more about how to optimize such programs? Contact me and I will point you in the right direction.
First stop: Carcassonne
Arriving late at an airport, getting to a hotel, and knowing the next day you simply must get up early because of planning is sometimes hard. With an hour delay we were on our way to Carcassonne which was about an hour drive. We arrived at the city approximate 11 AM and parked our car almost at the entrance so that we could start exploring directly. Carcassonne has been on our list to visit for many years so we wanted to make sure we had all the time we needed.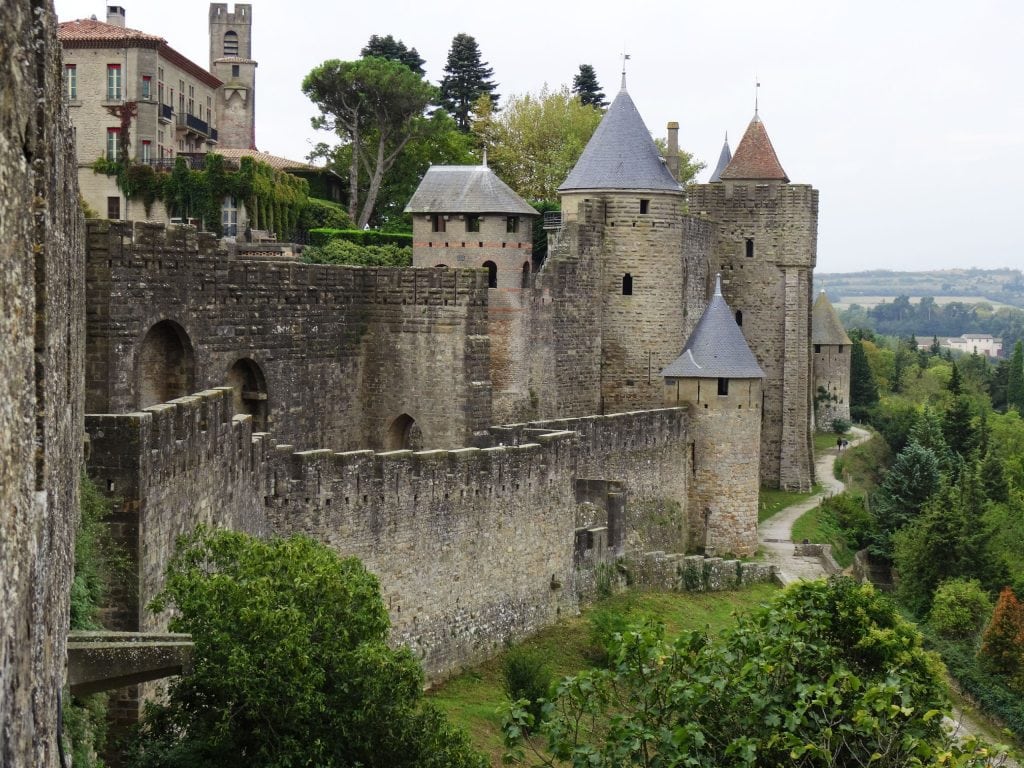 Carcassonne is a medieval city in the south of France between Toulouse and the coast of the Balearic Sea. Located on a hilltop it has been of great strategic importance throughout centuries. The old city on the hilltop called Cité de Carcassonne is the main sight but also in the newer lower city there are several interesting places to visit. Various churches and bridges and some other remains are of interest there.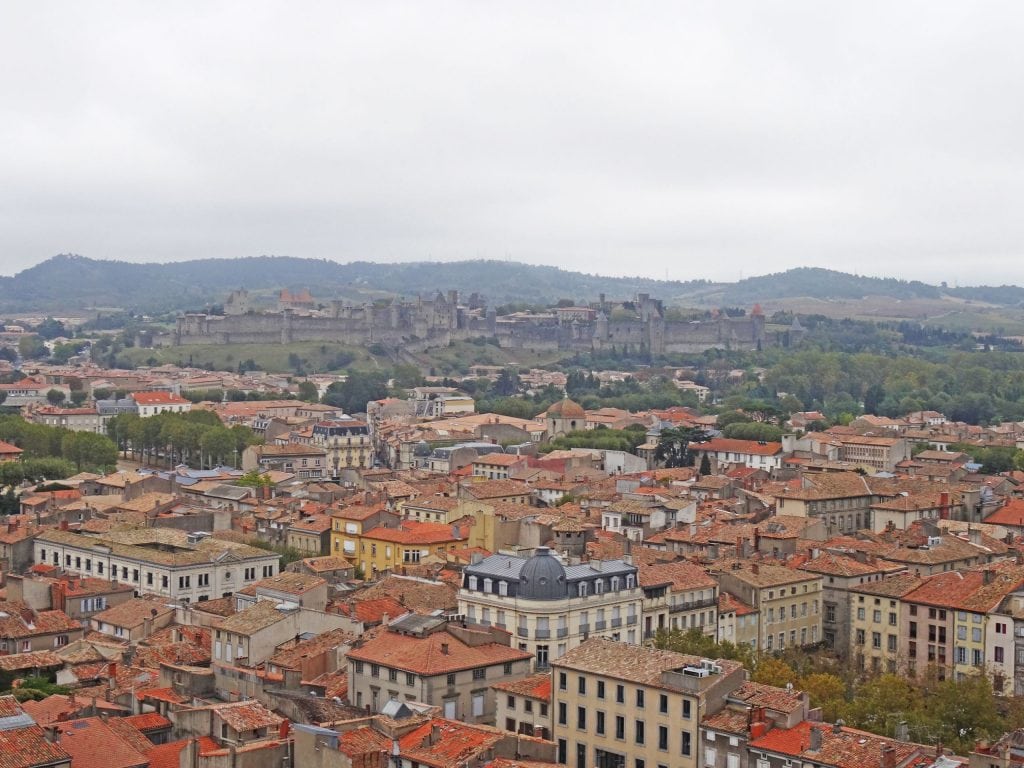 Start early morning at the Cité de Carcassonne and wander through the narrow streets of past times. There are various museums which are worth a visit depending on your interest. When your feet start to hurt and your stomach starts to make sound then have a great lunch at one of the many restaurants.
During our visit in Carcassonne there was a medieval spectacle which was, especially for kids, very interesting with many activities. After lunch we finished exploring the Cité and headed down to the newer lower city to see the various churches and other old remains. A nice coffee on a terasse of a French café is a must-do and should not be missed. In the afternoon, we continued our journey to Montpellier where we would stay the next two days.
Stay tuned for more stories and subscribe to the newsletter or follow CTB on social media (Facebook, Twitter, Instagram including Instagram stories; on all social media you can find CTB @christravelblog) to get updated information.
Did you visit South France too or do you have questions? Please leave a comment at the bottom of the page. Love to hear from you!
Gallery south France road trip
Click an image for a full screen gallery of more photos taken during this trip. If you like to use any photo for commercial, private or editorial use please contact first for permission and/or pricing.