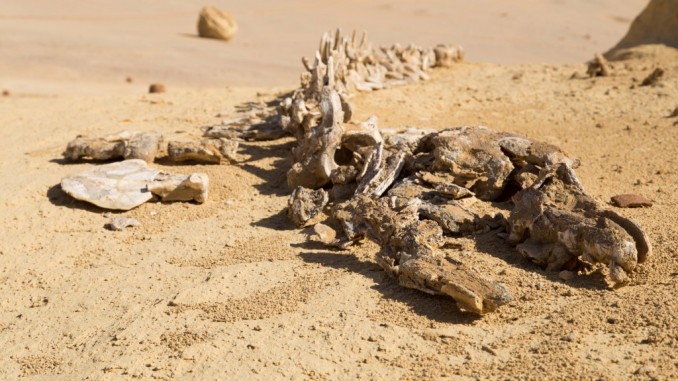 Wadi Al-Hitan, also called the Whale Valley, is a desert area where a lot of fossils are found. Wadi Al-Hitan Whale Valley is a UNESCO World Heritage Site and just over 1000 tourists make it to the site every year from Cairo. Read here my experience and why you should visit this site when you are in Egypt. I did a day trip from Cairo with my family and it's worth the trip thousand times also with children. We drove with our Egyptian Sidekicks who got us there in a convenient affordable way.
Wadi Al-Hitan Whale Valley trip from Cairo
Make sure you get up early to be able to see some of the rural Egypt on the way back. We had not that much time left and could only drive through rural Egypt without having time to get out of the car. The trip takes about three hours from Cairo, both ways! If you want it is possible to camp at the site. You drive towards Faiyun and along Lake Qaroun. There are stories told that in Lake Qaroun a treasure is hidden giving you all the luck you desire if you find it.
After the lake the road gets unpaved and you will enter Wadi El-Rayan of which Wadi Al-Hitan is a part. Here you pay the entrance fee for both places together. It is about an hour drive more over unpaved roads to the Whale Valley. When you arrive make sure you buy enough water before walking the park as it gets very hot and you will need it. Use also plenty of sunblock to not get burned by the scorching sun.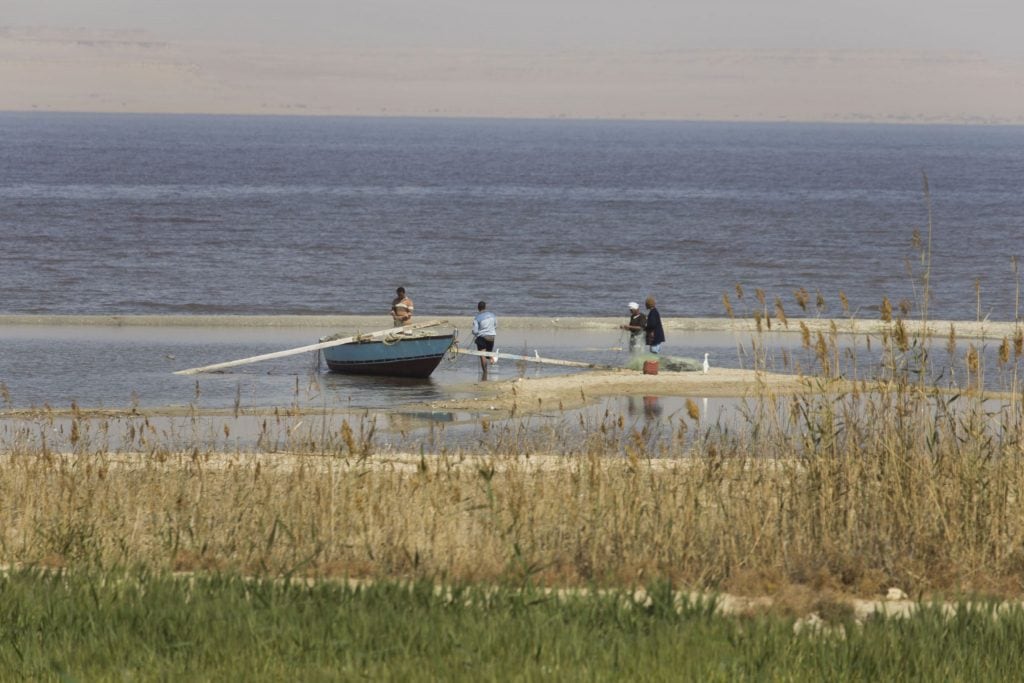 Two hour walk in Wadi Al-Hitan Whale Valley
In the valley there is a path laid out for tourist which takes you around in two hours. There are a total of 12 major fossils on display including whales, sea turtle and petrified mangrove woods. The fossils at Wadi Al-Hitan are over 40 million years old. They are not the oldest in the world but the site is of great importance because of the quantity of fossils. A million years ago it was the floor of an ocean which transformed to a lagoon after which it finally dried up. During millions of years wind and rain formed the rocks as you find them today revealing the fossils. In the rocks you see various layers in various colors which represent different eras in time. You find small fossils in every rock and on the ground everywhere.
Make sure you bring enough water for the hike (you can buy it at the start) and sunblock for the sun!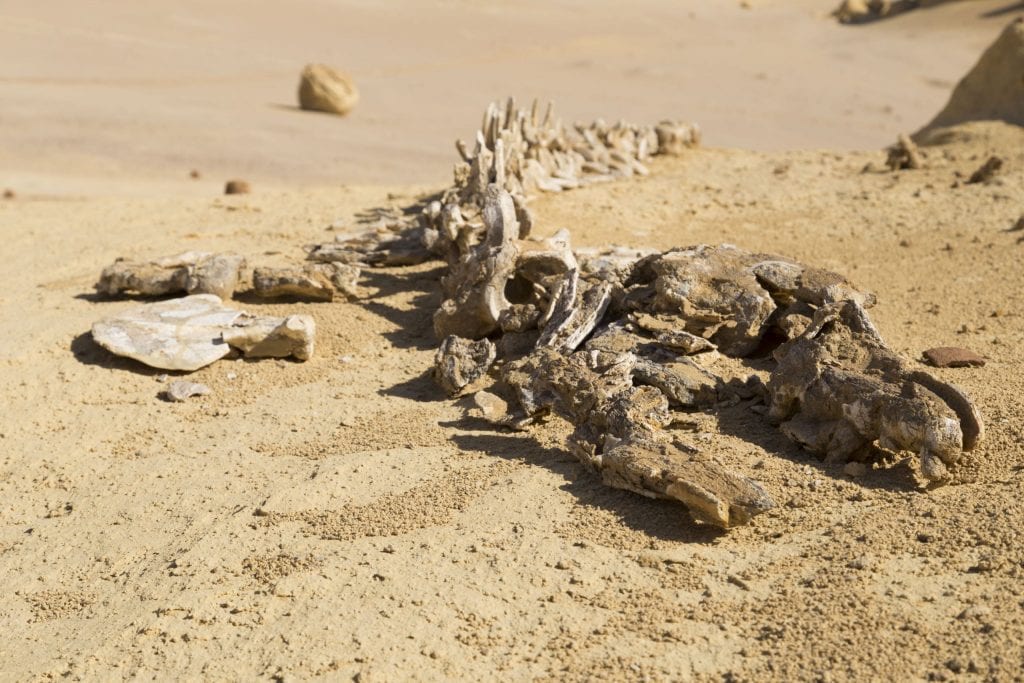 The scenery is magnificent and the fossils make it a great destination for people of any age. Make sure you visit Wadi Al-Hitan Whale Valley from Cairo, as it's the most important fossil site on earth. I visited the place with my children, they loved the fossils and exploring/discovering the site.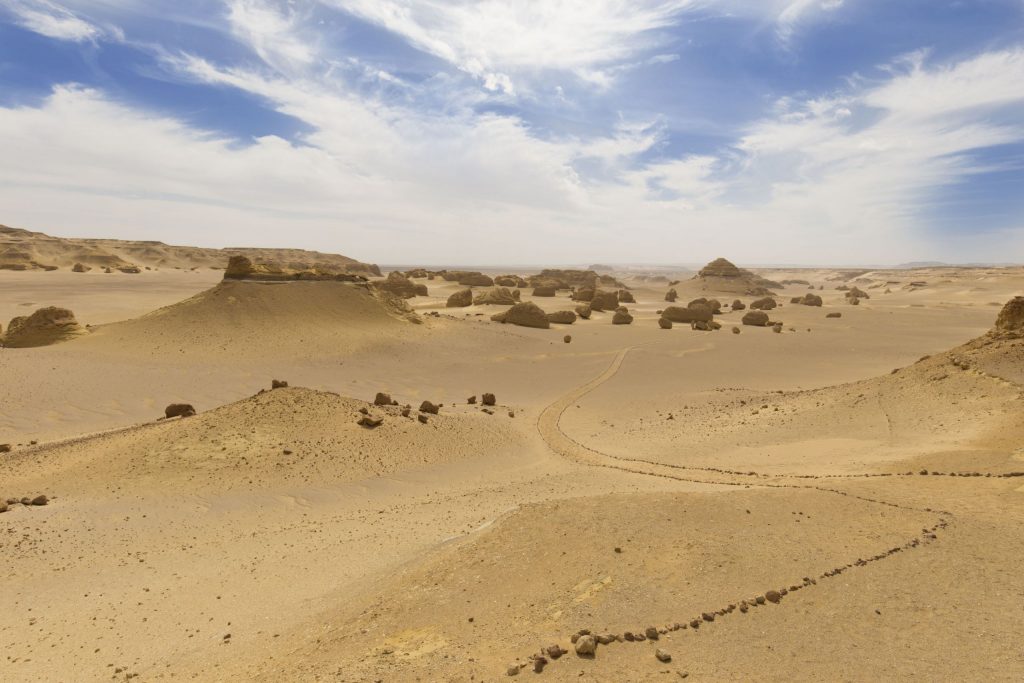 Back to Cairo from Wadi Al-Hitan Whale Valley
When you return through Wadi El-Rayan make sure to stop at the waterfalls. A stream that flows between two big lakes which has a drop of about 6-8 meters twice. An interesting view in the middle of the desert. You can even take a short swim if you want or take a canoe on the lake but make sure time allows as the drive back to Cairo is about 3 hours from Wadi Al-Hitan Whale Valley.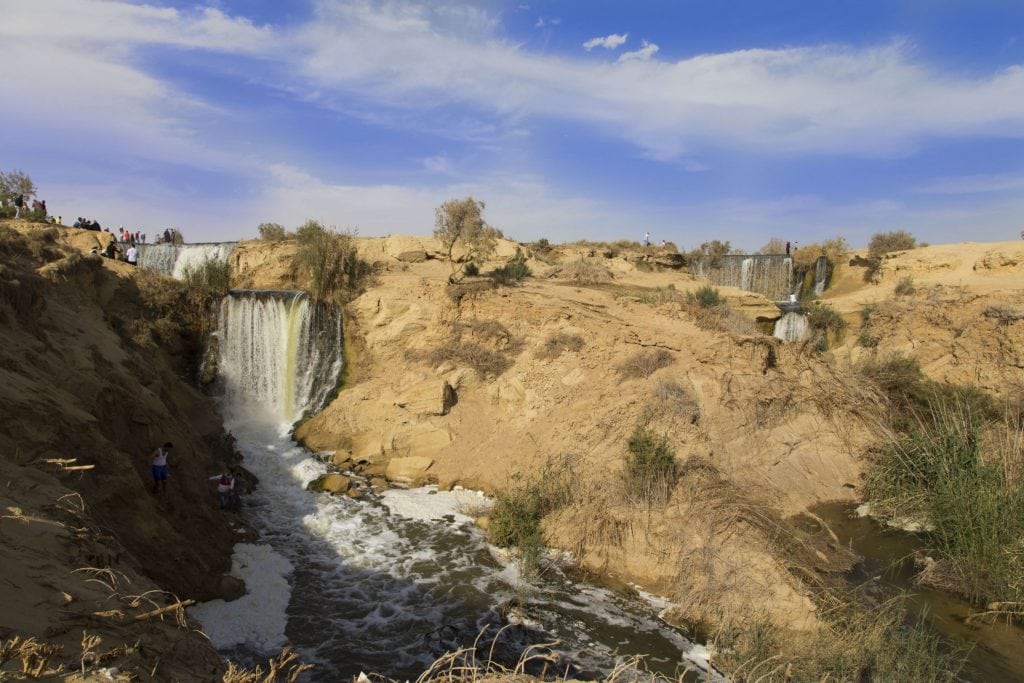 On the way back to Cairo do drive into the farmlands around Faiyun to see the rural life of Egypt. Watch the farmers, fishermen, a local market or just the kids playing in the streets. We started too late in the morning so we had only a short time. I had hoped to have more time to check out the rural life in Egypt but my kids were tired to get back to the hotel. The people are so friendly in Egypt and would have loved to talk to them more! After a long ride back to Cairo we had a great dinner in a local restaurant in Cairo. Make sure to check out my Egypt itinerary to see what I did the other days.
Stay tuned for more stories and subscribe to the newsletter or follow CTB on social media (Facebook, Twitter, Instagram including Instagram stories; on all social media you can find CTB @christravelblog) to get updated information.
Did you visit Wadi Al-Hitan Whale Valley too or do you have questions? Please leave a comment at the bottom of the page. Love to hear from you!
Further reading
Sometimes it's impossible to cover every single place of interest, activities, food, and others that might be relevant. In the below list you find a list of relevant links with further information about Wadi Al-Hitan Whale Valley which I have carefully curated. These will help plan your trip even better.
Wadi Al-Hitan is a dry ocean bed but Egypt has also access to the Red Sea where there are plenty of options to snorkel and dive and see the underwater world. Check out the various liveaboard in Egypt options and go explore the Red Sea as well.
Gallery Wadi Al-Hitan Whale Valley
Click an image for a full screen gallery of more photos taken during this trip. If you like to use any photo for commercial, private or editorial use please contact first for permission and/or pricing.