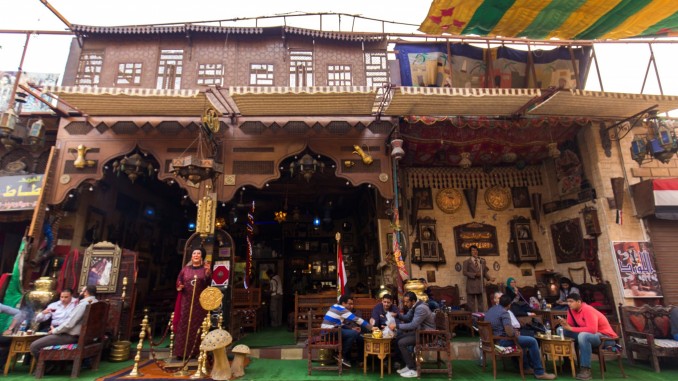 I spend 10 days in Cairo with my wife and two kids (9, 12 years) last year. Before the trip we were warned about food quality or better the water quality. You would be cursed by the Egyptian Pharaoh's we were told. Eat and you shall sit on the toilet for a few days. I never got sick because of food nor did my family. We did take a bit of care but after the first two days we didn't feel anything so we just went to the local restaurants in Cairo, including those on the street. We survived 🙂 and I will show you which Cairo restaurants to go to if you want to eat at the places the locals of Cairo go.
Cairo Restaurant #1 – Om Hassan
Om Hassan restaurant in Cairo is located at 46 Abbas El Akkad Street in Nasr City (coordinates for Google Maps: 30°03'41.3″N 31°20'15.3″E). It's located on the 2nd floor and it was very busy when we arrived. It took about 20 minutes waiting before a table was ready for us. A few local people joined us and ordered the food for us so that we got the best dishes. One very interesting juice (the red juice in the photo below) was the liquid that drips out of the salads. I have no name for it but it's spicy and full of herbs. After two glasses I realized it had also water in it and for that we were warned. Nothing happened; no Pharaoh's Curse came over us. We also had various stuffed vegetables and vine leaves with rice. A bit of meat too but I forgot to photograph it. Try the mixed meat platter; it's the best. The local restaurants don't serve any alcohol in general so we had tea, soda's and juices at dinner. Om Hassan is one restaurant I can recommend for the first days in Cairo.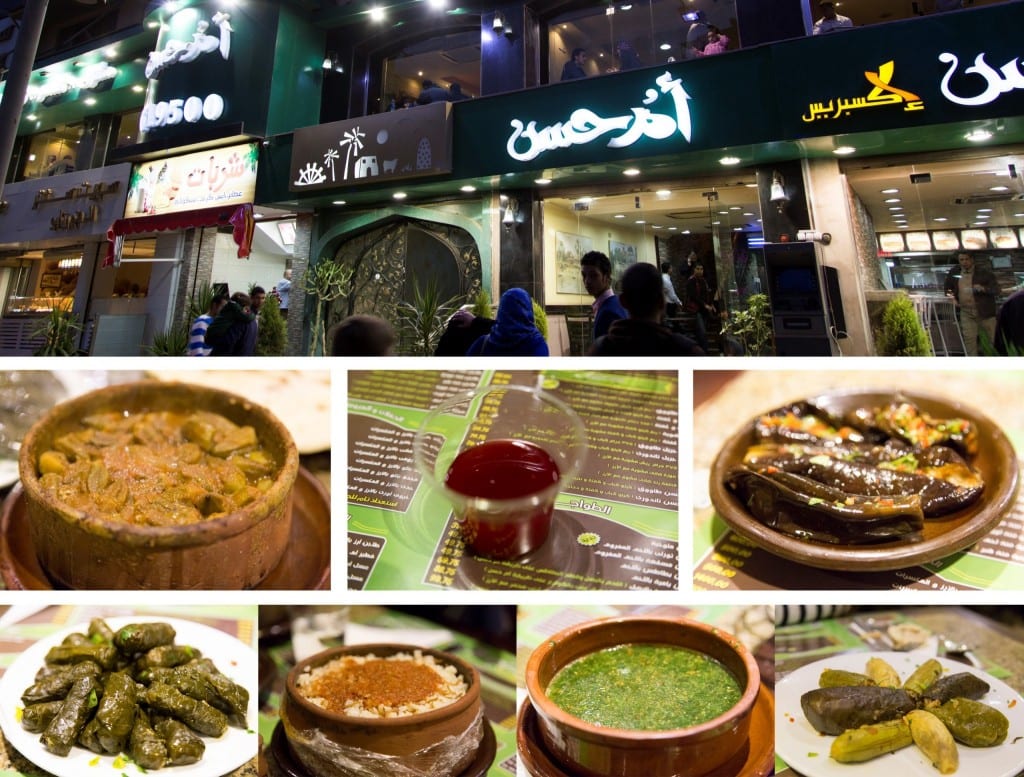 Cairo Restaurant #2 – Abou Tarek
One legendary restaurant in Cairo is Abou Tarek. It's located at the crossing of Champollion Road and Marouf (coordinates for Google maps: 30°03'00.8″N 31°14'16.5″E). You can have a full meal for just a few euros, it's almost nothing. The dish I can recommend for which this restaurant in Cairo is famous since 1950 is koshary. It's a typical traditional kind of Egyptian street food. So what is koshary? It made with boiled macaroni, rice and lentils with on top tomato sauce and fried unions. That's it and it's all that's served at Abou Tarek. You can spice it up with some spicy sauce if you want. It was a bit strange that the waiters took money before you even have your dish, but all goes fast. Within no time you get the food, pay and you finish the dish. Ideal for a quick but delicious meal. I recommend Abou Tarek if you are in Cairo to taste the koshary, they have the best in town.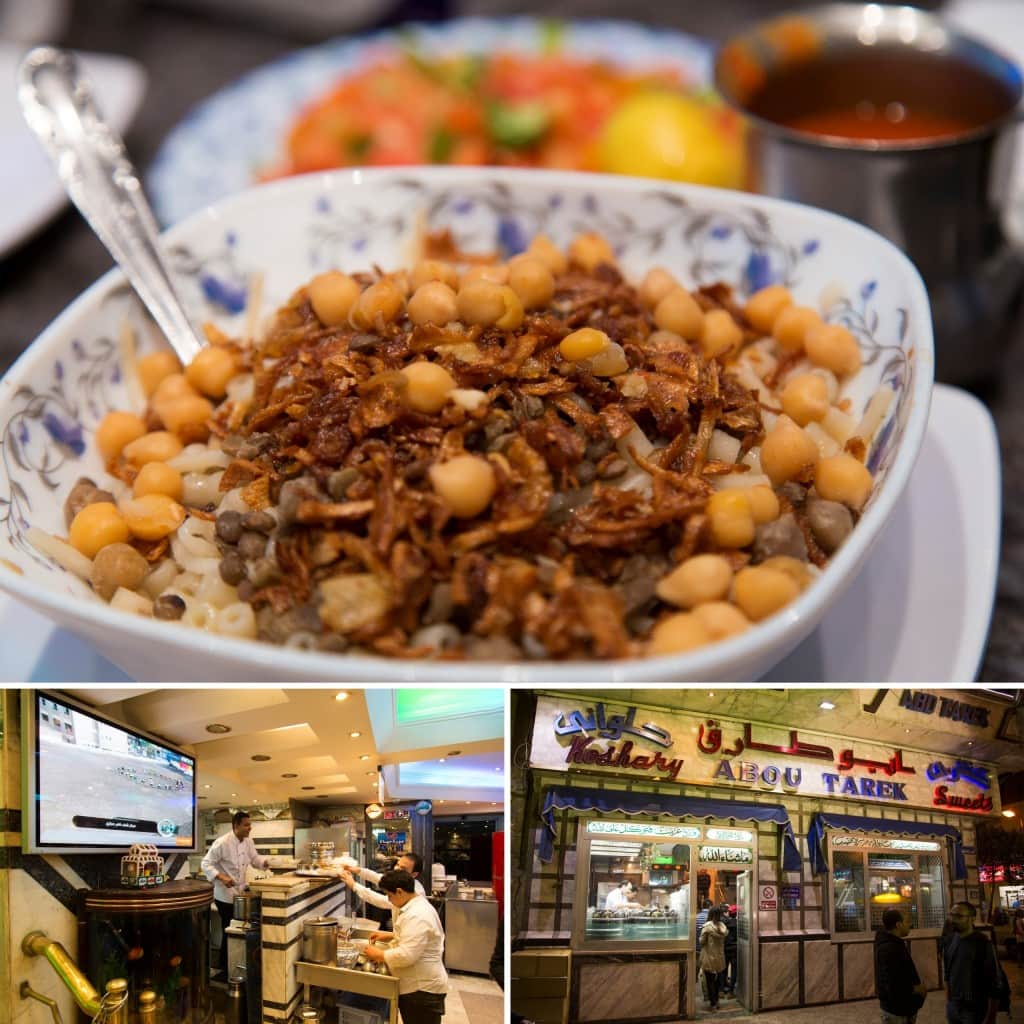 Cairo Restaurant #3 – Kababgi El Azhar, Farahat
We (the kids and me, my wife not so) like to try new food including strange things. In Cairo we wanted to try sheep balls and sheep soup. The best restaurant in Cairo to go to is Kababgi El Azhar Farahat. It means the kebab maker of El Azhar and his name is Farahat. The restaurant located in an alley just off the Al Azhar main road not far from the Al-Hussein Mosque at coordinates 30°02'47.8″N 31°15'40.5″E (put it in google maps). The sheep balls are delicious! If you don't like to try new things don't think what it is, just eat it. It's a bit spongy but firm. Other dishes I can recommend are of course the kebab but also ewzy and liver. After dinner you can go shopping for souvenirs in the narrow shopping streets all around the area.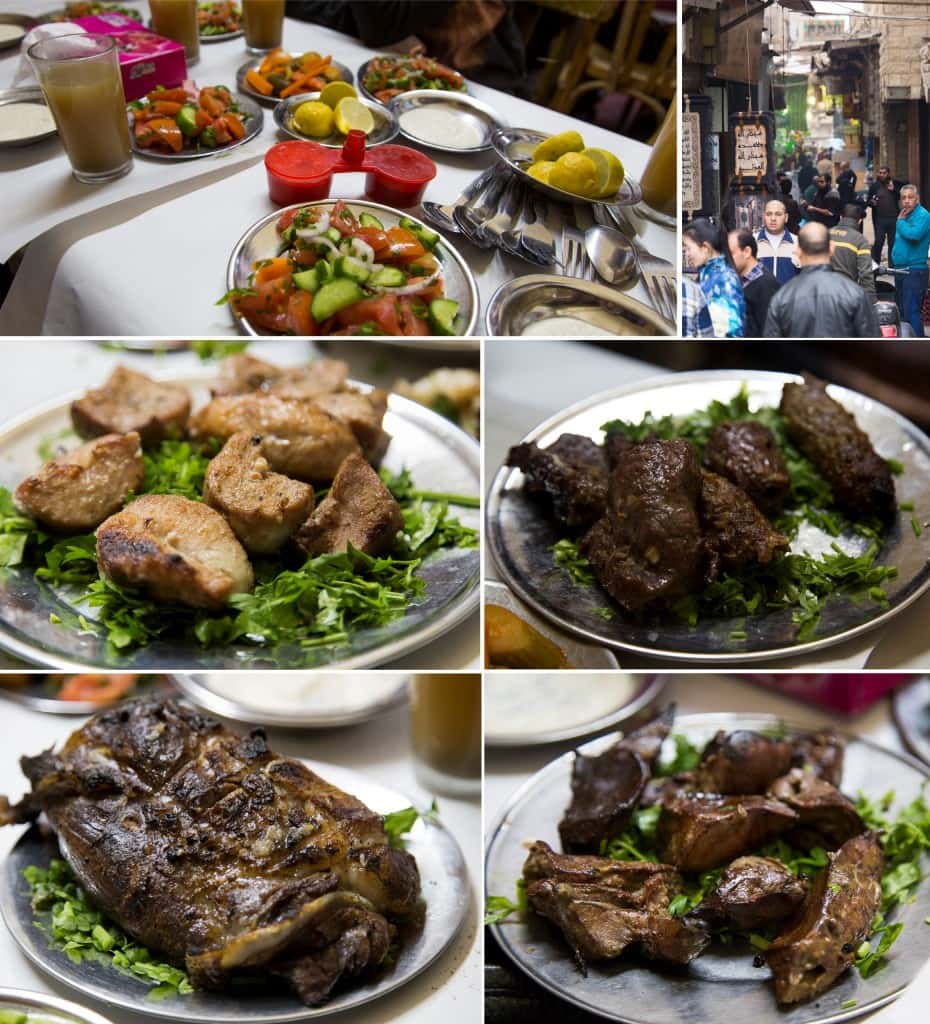 Cairo Restaurant #4 –
This restaurant is a bit like the first above. It serves traditional Egyptian dishes at a very affordable price and top quality. It's located also more close to Nasr City and the Cairo Citystars Shopping Mall. The second floor is very nice but the ceiling is a bit low for a long Westerner like me.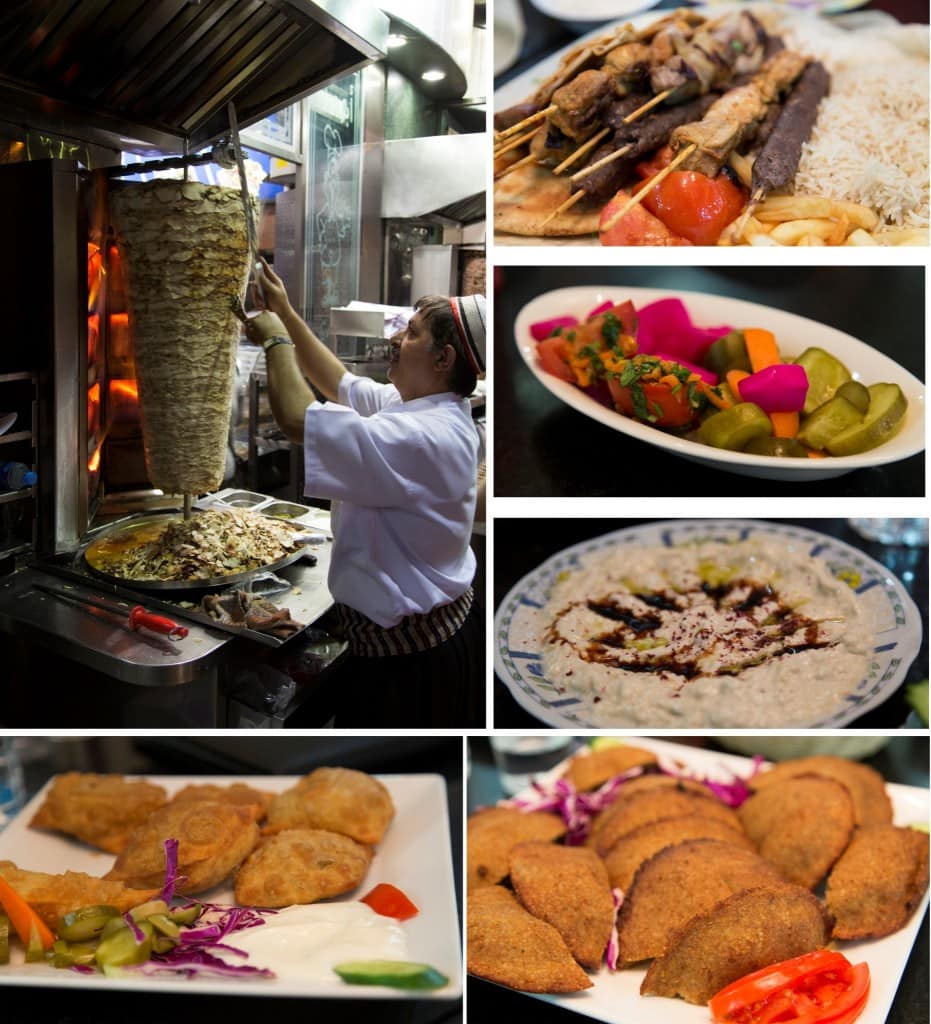 Cairo Restaurant #5 – somewhere on the street in downtown Cairo
One thing I tried was the sheep balls but I and the kids wanted to eat sheep eyes too. To get them we had to go to even smaller alleys within walking distance of the Tahir Square. In the heart of the Old Islamic Cairo. I do not know the name of the restaurant, but the street restaurant is located at coordinates (for Google maps) 30°02'13.0″N 31°14'36.9″E. Look the picture below for the man preparing the food. We got some broth, fresh bread, fried meat, rice stuffed intestines and of course sheep eyes. Everything tasted great but we were disappointed as we thought we would get a whole eye on a plate. They were cut and cooked. During the 40 minute dinner I think I got asked by about 4 men if they could marry my blonde daughter. She already had a boyfriend at home so no chance. Sorry guys! Even after eating here we did not get any Pharaoh's Curse and our stomachs processed the food normally. It was fun, and we enjoyed being around the local people.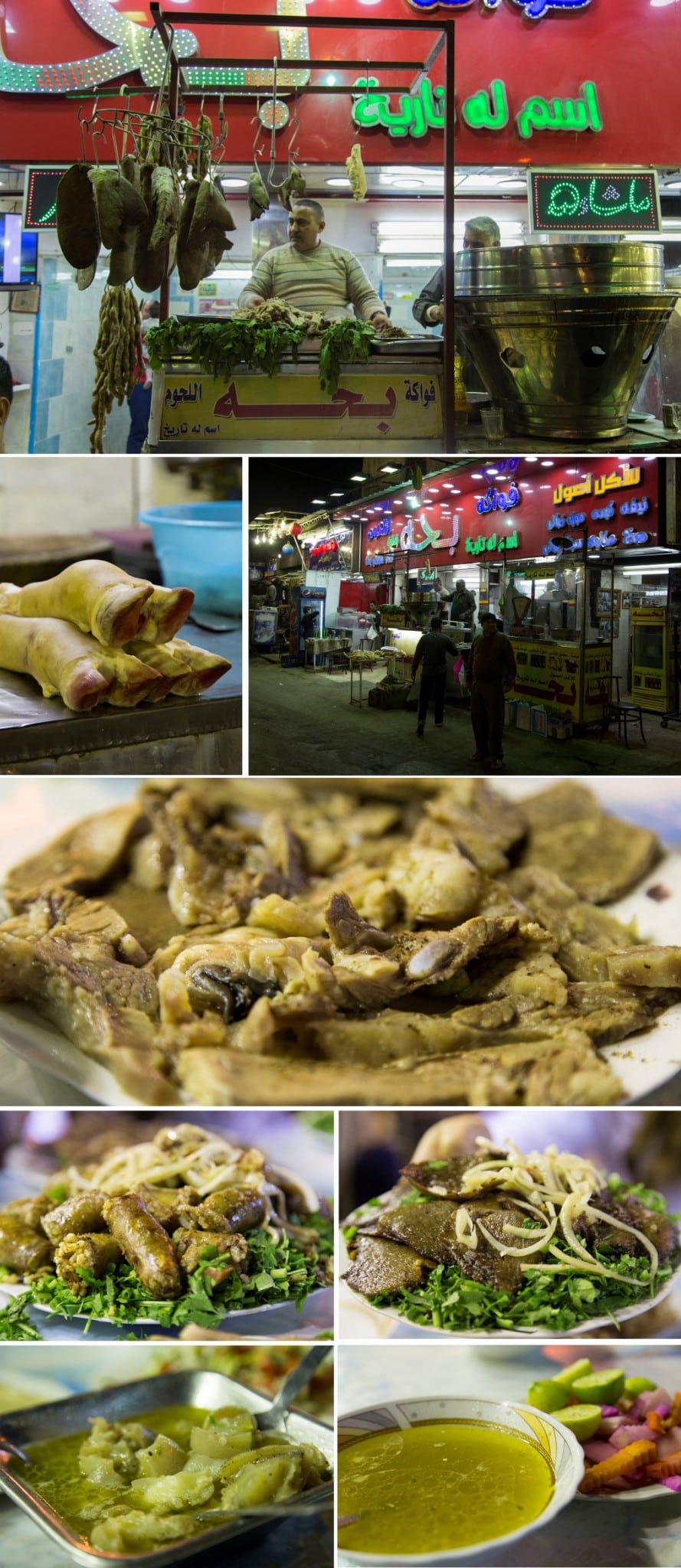 Cairo Restaurant #6 – Om Kalthoum Cafe or El Lord Cafe
This restaurant in Cairo is not really a restaurant but more a café and a must go to when you are in Cairo. It's located in the main street of Islamic Cairo. The Om Kalthoum Cafe or El Lord Café is like a museum dedicated to the singer Kalthoum. It's located in Old Cairo at the crossing of Al Moez Ldin Allah Al Fatmi and Al Dabeeba street (coordinates for Google maps: 30°03'11.8″N 31°15'44.5″E). It's a bit touristic maybe but if you go with locals you will get normal prices. You can have a great tea or shisha at the terrace outside on street. Inside it's like a museum with all kinds of Om Kalthoum memorabilia.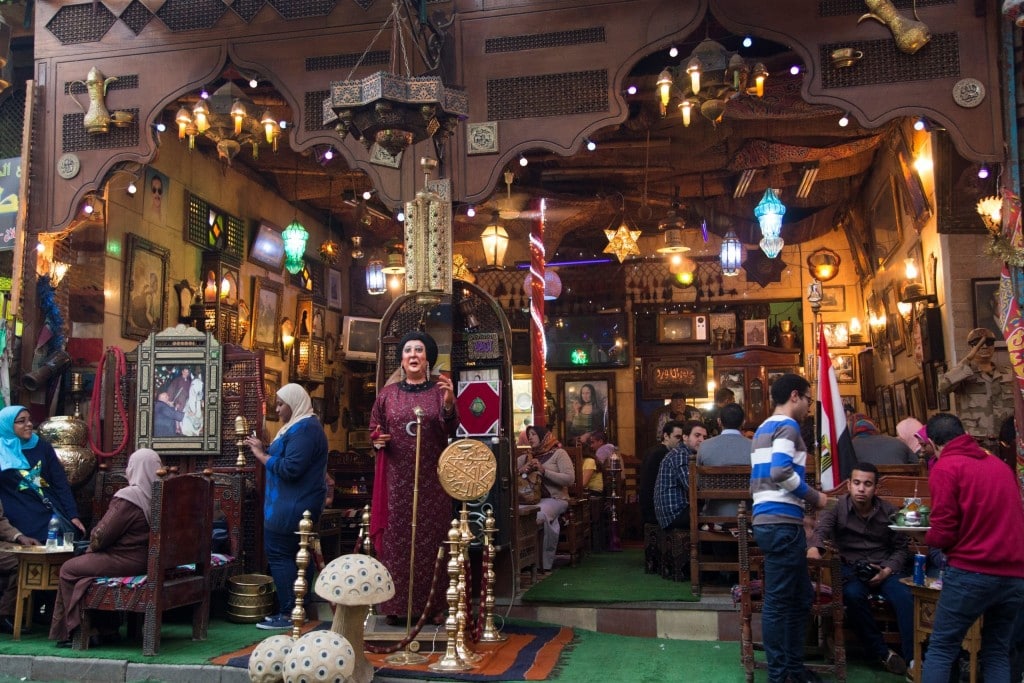 I hope you will enjoy these places like I did. A last option: walk through old Islamic Cairo at night and get food at one of the many food stands you will find in the streets. Check out my 9 day Egypt itienrary to see what you can do in Cairo and the surrounding area. Enjoy Egypt and enjoy Cairo!
Stay tuned for more stories and subscribe to the newsletter or follow CTB on social media (Facebook, Twitter, Instagram including Instagram stories; on all social media you can find CTB @christravelblog) to get updated information.
Did you visit Cairo too or do you have questions? Please leave a comment at the bottom of the page. Love to hear from you!