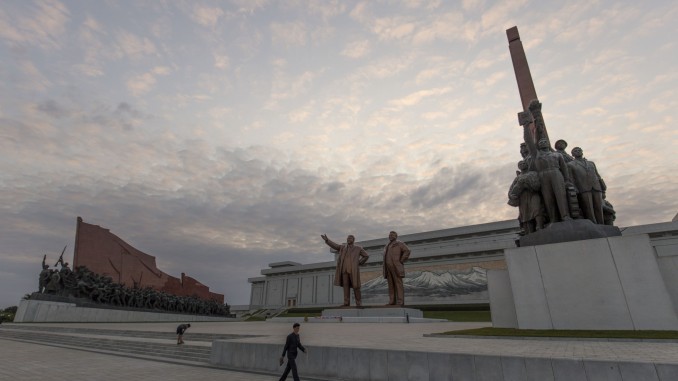 I Bow in North Korea
to the great leader and eternal president Kim Il-sung as I would respect anywhere any local customs.
The Democratic People's Republic of Korea (North Korea) for many brings up the thought "do I survive?". From many friends I got questions like "Are you sure?", "Let's make a goodbye party we won't see you again",  "Are you not afraid of getting imprisoned?" etc. etc. It's not the first travel destination for many.
So why in the hell would I go there? It started long ago but got itchy some years back with a documentary on television in the Netherlands about the DPR North Korea. My goal is to travel the world and not miss any country and due to the political situation I put DPR North Korea at the top of my bucket list as anything can change any day; so better now than never. But there was one problem: I prefer to have control over my travels and plan them myself: NOT POSSIBLE. After searching the internet and finding the tour operators that offer the trips (there are not that many) I came in contact with Your Planet Travel which was even located in my own country and met with them at a conference about special travel. They offered me kind of what I normally do myself and the option to (semi) plan the trip myself. All professional and very personal; I can really recommend to book your trip to the DPR North Korea through them!
I arrived to Pyongyang airport from Beijing on the 4th October in the year 103; yes the year 103! The years in DPR North Korea are counted from the birth year of Kim Il-Sung which was 103 years ago at the time of my visit. At Beijing Capital Airport I upgraded my flight for a few USD to business class: who doesn't want to fly business on Air Koryo? This gave me direct access to the VIP lounge but before going there I had to pickup chocolate, liquor and cigarettes as gifts for the guides and others. As for cigarettes it was the first time I ever bought those in my life. After a relaxing two hours in the VIP lounge I headed towards the gate and boarded smoothly to seat 2A with Korean officials sitting on the other seats. They did not like to have photo's taken in the plane, so only a few in the following gallery.
During the flight I made my first bow to the eternal president Kim Il-Sung as over the Taedong river the plane will make a rolling maneuver as a bow to the great leader after which it's a few more minutes to land at Pyongyang airport. The airport during my trip was under construction for a new terminal and runway. Lot's of labour being done by hand by a lot of people with loud music and tunes to make them work harder. A new terminal is being build so the immigration was in a small building next to the new one. Immigration was a matter of giving passport, getting a stamp and to the next hurdle: customs. Customs was actually also easy to go through. They check your camera shortly, check your phone and x-ray your luggage to check for illegal books and other electronics not allowed in the country. I always carry a MiFi device in which I put a local sim data card, but it was not allowed to enter the country. It was registered, sealed and with the receipt I would be able to pick it up when I would exit the country.
During a trip two guides will join you (or your party) and a third person will drive you and your guides around. So basically I was with three people all the time when I was not in my hotel room. What I did and saw in Pyongyang you will read in the next post, so keep tuned in to the blog or subscribe to the newsletter. In the map below already a preview of what I saw.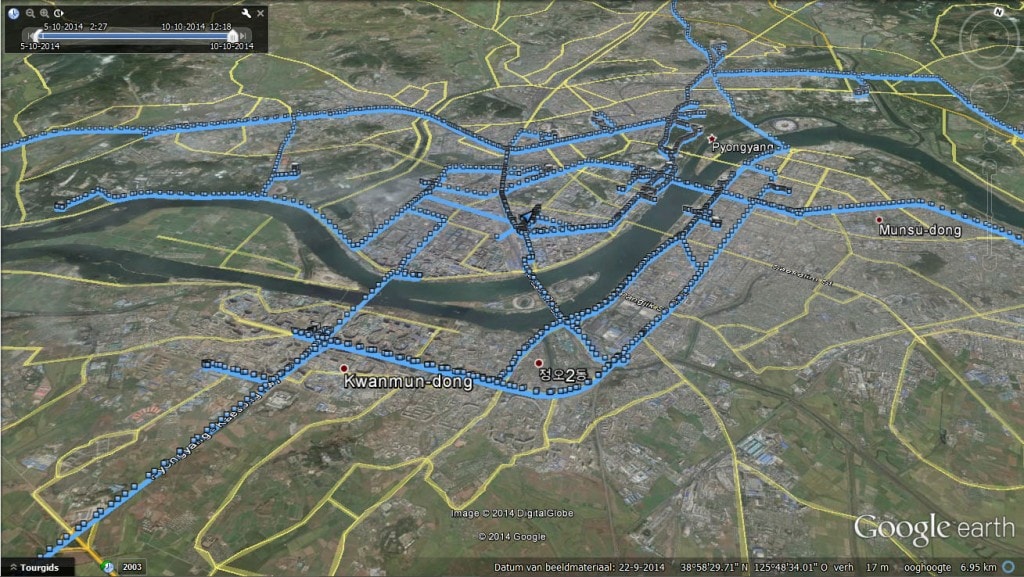 Background information on this trip
Beside the above this trip might have been to more places. In the table below the full facts & statistics about this trip with links to related posts.
Dates of travel
2014.09.30 – 2014.10.12
Itinerary
Overnight arrival to China with a relax day. Day 2 visited Pekingman site; Day 3 Mint Tombs; Day 4 – 11 to North Korea; Day 12 Back in Beijing with on Day 13 a flight back to Amsterdam.
Related posts
CHINA – Going back to Chinese roots at Pekingman site & Ming tombs during Chinese National Day
DPR NORTH KOREA – To bow or not to bow; Pyongyang explored [part 1]
DPR NORTH KOREA – Spying on the Southern neighbours and the old Koryo dynasty [subscribe to the newsletter to know when this goes live!]
DPR NORTH KOREA – Spa, hot springs and other waterworks in Nampo [subscribe to the newsletter to know when this goes live!]
DPR NORTH KOREA – National day in the DPR Korea – happy faces! [subscribe to the newsletter to know when this goes live!]
Hotel Reviews Quarter 4 – 2014
Facts & Statistics
Visited a new country and capital: North Korea / Pyongyang. Four new UNESCO sites visited. First time flew a Tupolev 204 airplane and first time flew with Air Koryo. Gathered 25.000 bonus points in IHG program by changing hotels daily. Four new UNESCO sites visited: DPR Korea Koguryo Tombs (Kaesong Area) & Historic Monuments and Sites in Kaesong (Kaesong)
China Peking Man Site at Zhoukoudian (1h from Beijing) & Imperial Tombs of the Ming and Qing Dynasties (1h from Beijing, Ming Tombs location)
Tour Operator, Hotels and Airlines used
China part and flight: KLM direct flight to Beijing (in Business 😉 and stayed at various IHG hotels to collect additional bonus points. DPR Korea part: arranged through Your Planet Travel, based in the Netherlands but they will arrange tours for everyone. A very good tour operator with direct personal contact and everything arranged in detail.
GPS Map for your reference