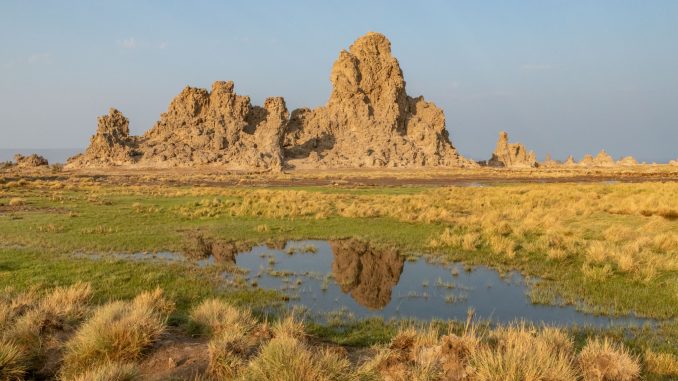 Djibouti is a tiny country located at the horn of Africa and is probably not the first country you think of going to as a tourist. You should though, and I'll show you why. In this magical and perfect one-week Djibouti itinerary I will take you to all the best places. From the colonial capital to the best prehistoric rock art, I have ever seen. The Djibouti road trip also includes barren alien landscapes and tropical islands with an abundance of fish. Djibouti, although mostly vast wasteland, has indeed much to offer! Join me on a Djibouti road trip and I hope this Djibouti itinerary inspires you to go as well.
Planning a Djibouti road trip itinerary
A Djibouti itinerary is not that difficult to plan as I have done the work for you. All places if interest are included and putting these into a one week Djibouti road trip was the most work. Although not the first tourist destination it's quite straightforward but also expensive. You easily spend 300-400USD a day if you want an efficient and smooth trip.
How to get to Djibouti
The easiest way is to simply fly to Djibouti. There are various flights to neighbouring countries but for long-haul your best bet is Air France, Turkish Airways or Ethiopian Airways. Keep in mind that most airlines do not fly daily. I had a great deal on Air France. I redeemed just 110k miles and 225 euro for a business class flight. Overland arrivals are also possible but make only sense if you are already in eastern Africa and have the time to do so.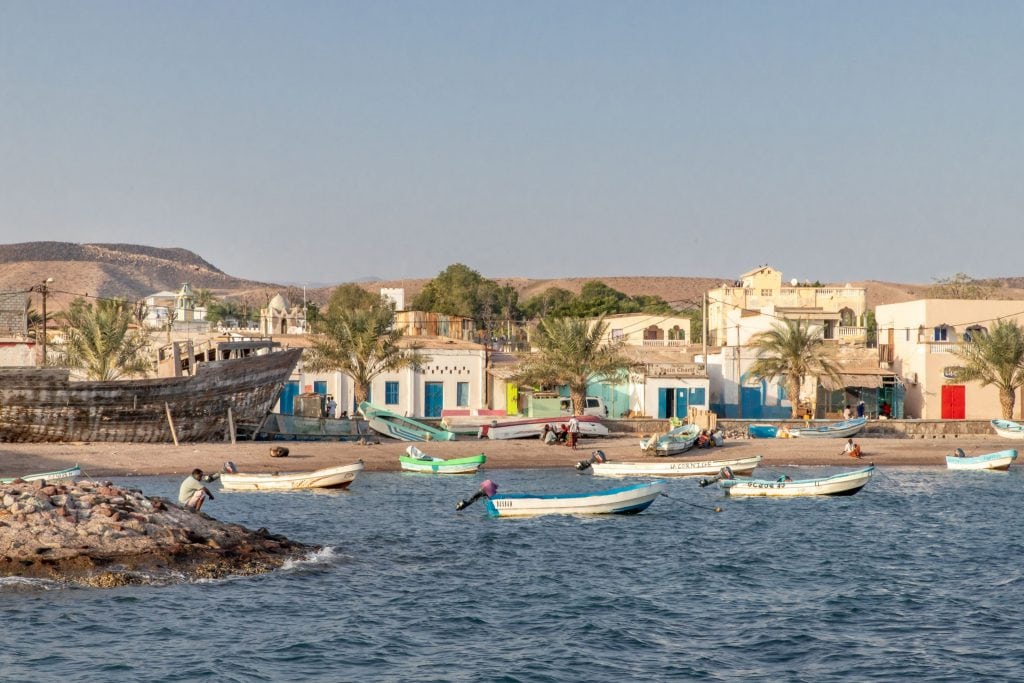 How to get a Djibouti visa
For many countries you can apply for an e-visa online which, in my case, was granted already the next day. It's very easy and straightforward. If you cannot apply for an e-visa it the only option is to visit an embassy near you. Please note that the visa on arrival isn't working anymore and is replaced by the e-visa.
Hotels in Djibouti
There are luxury and upscale properties in the capital Djibouti. They are expensive as is everything in Djibouti. If you are by any chance a Marriott Bonvoy member, then the Sheraton is a great hotel (new refurbished rooms in 2022) to redeem points. I paid 25k points a night and not the few hundred USD a night they otherwise charge. A perfect redemption. There are cheaper options as well. Outside of Djibouti city there are auberges (small hotels) or encampments. You don't have many options and I recommend to just have the car rental with driver fix these for you. Booking them online, especially the encampments, isn't easy either.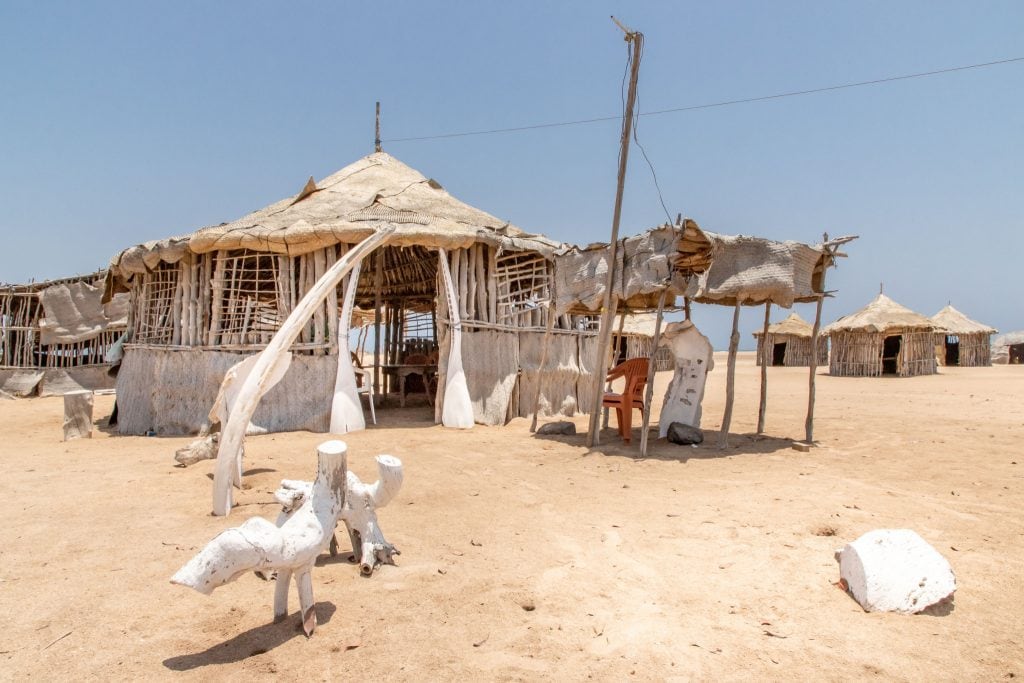 Djibouti road trip: How to get around
Within the capital there are plenty of taxis which are cheap. The old town can easily be walked around. Getting around the country is another story and the only (efficient) way to get anywhere is in a 4×4 and for most places even required. Some parts are tough off-road. I recommend getting in touch with Moussa from Massigo Djibouti Travel to rent a 4×4 with guide (and driver). You only require this for the days outside of the capital which are just a few on this Djibouti itinerary. They are reliable and I had lots of fun with them.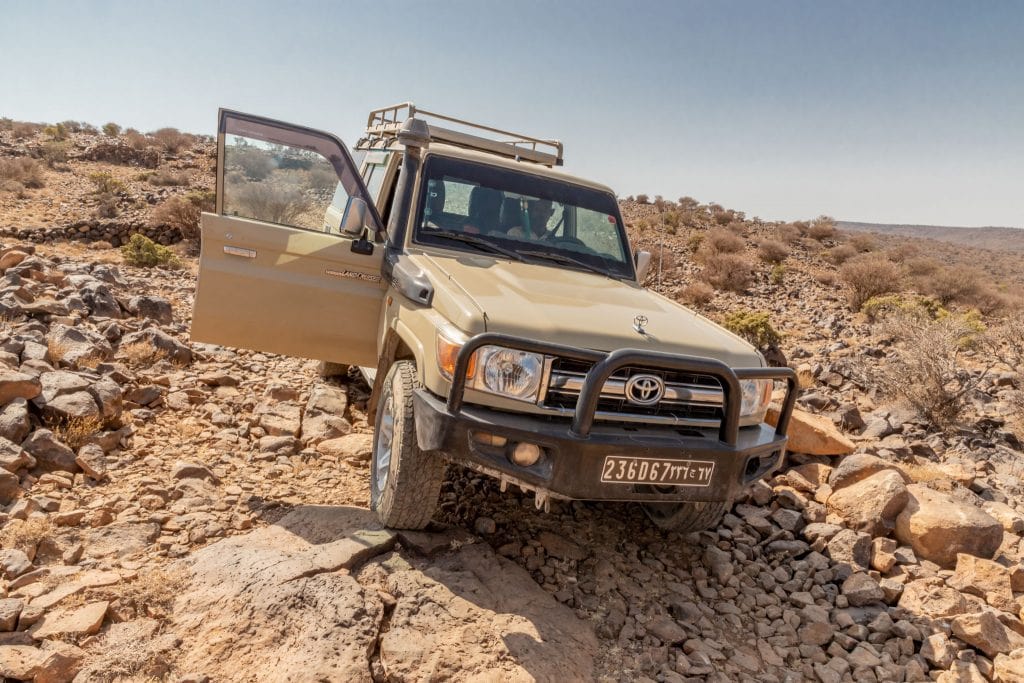 Is Djibouti safe?
Just two words: extremely safe. There is a big presence of French, American and other military in the country. They protect the ships that go through the straight and keep peace in the border regions with Eritrea and Somalia. At no point did I feel unsafe during my Djibouti road trip.
Djibouti itinerary day 1 & 2: Arrival
In most cases getting to Djibouti probably takes more as a day. I departed Amsterdam in the afternoon and arrived next day in the early morning in Djibouti. Immigration was smooth and luggage claim, although chaotic, fast. After a short taxi ride, I was at the Sheraton Djibouti where I arrange an early check-in (advantage of being a Bonvoy Ambassador member) so I could have a powernap. I would be well rested to start my Djibouti road trip.
After lunch I recommend seeing a few places in the capital. These include the Ethiopian Church, the Palais du Peuple building, old train station and the Turkish mosque. These Djibouti highlights are all a bit out of the actual old colonial center and easily visited by taxi in an hour.
Get a Djibouti sim card & exchange money
A few other things to arrange on this day are a local sim card (take your passport) and exchange money. Exchange with one of the ladies on the street in the old town to get the best rate. I just relaxed the rest of the day at the Sheraton Djibouti pool to acclimatize.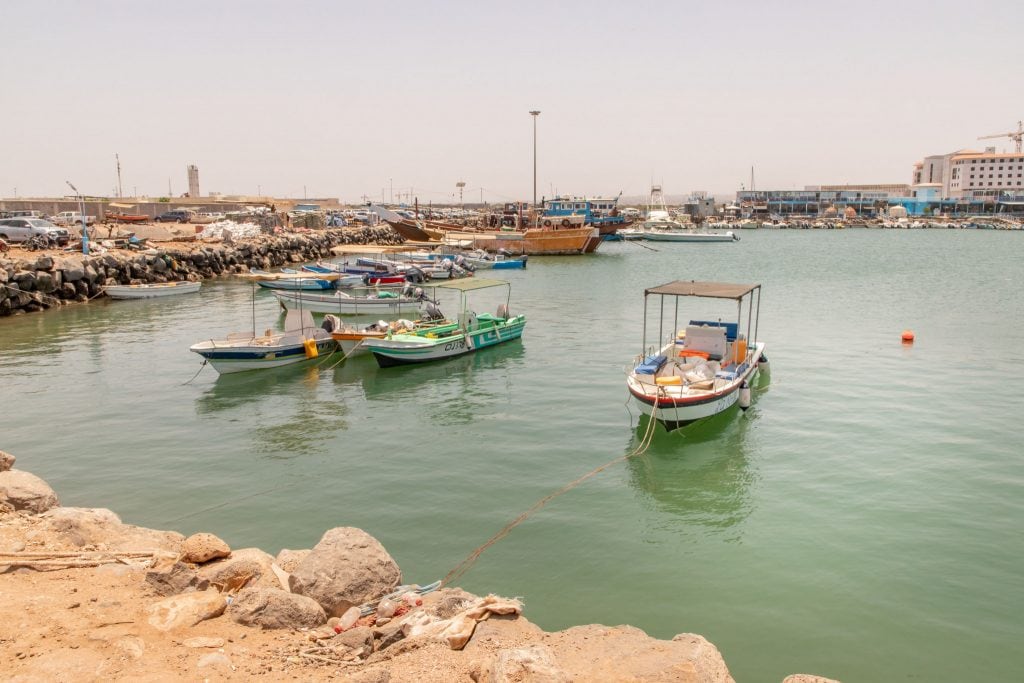 Day 3: Beautiful Moucha Island day trip
Moucha island is a small island of the coast of Djibouti in the bay of Aden. It's worldwide famous for diving as there are whale sharks in abundance in January through March. I didn't go diving but did snorkel in the crystal-clear waters.
I took an expensive private Moucha Island day tour which started at 10AM. You can also join one of the many group tours which is of course much cheaper (35USD). First, I explored the mangroves before going around the island to the beach. There are some facilities, options for drinks and lunch. You can also rent snorkel gear or go diving from there. After lunch I went back to the mainland. Keep in mind that group tours take the whole day which is the reason I didn't want to do that. I wanted to finish some work in the afternoon before starting the actual Djibouti road trip where internet connection would be sloppy.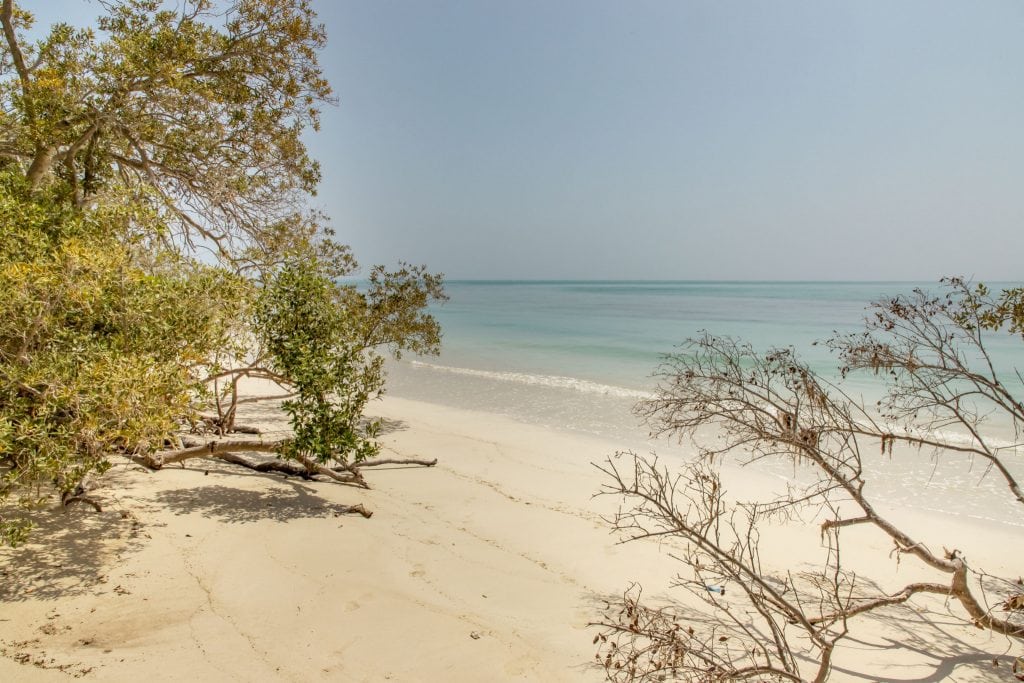 Djibouti road trip day 4: Lake Abbe
Lake Abbe is a salt lake at the Djibouti-Ethiopian border and truly is a unique place. It's like being on an alien world on earth. The location is unique at the Afar Triple Junction where three continental plates are pulling apart. The lake is fed by the Awash River but there is no outflow of water just evaporation. This make the lake hypersaline and if the water level is low salt flats form around it. The area is full of chimney's rising to 50 meters that were formed under water due to volcanic activity. Still today steam comes from these chimney's which is visible especially early morning.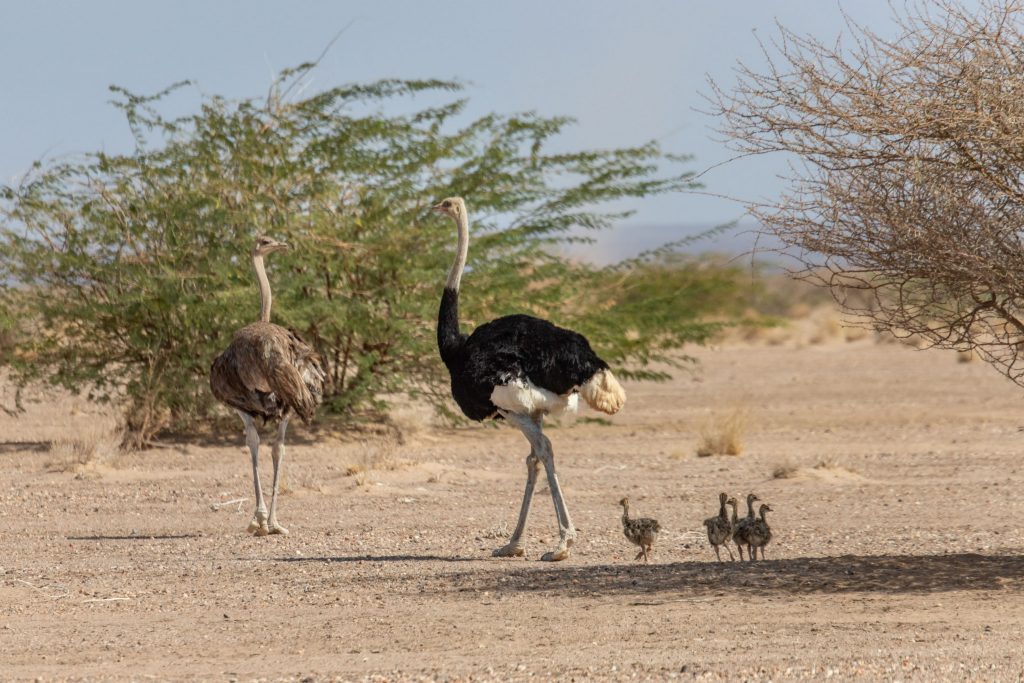 Assamo National Park day trip
It's almost a day drive from Djibouti city so I left very early morning as I also wanted to see rural Djibouti. First stop was at Assamo National Park which is located at the Ethiopian border. It's a 2-hour detour at least but worth it. You will get to see some off the beaten track Djibouti.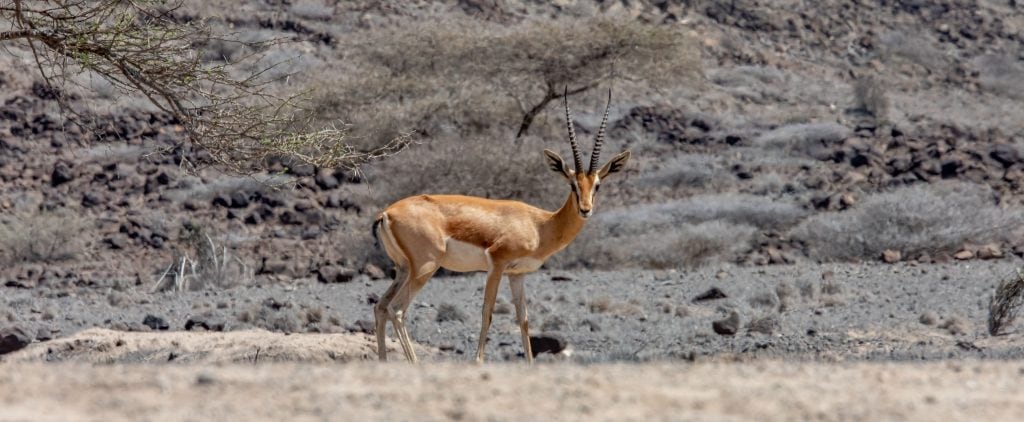 From Assamo National Park it was time for Lake Abbe which, in my opinion, is the highlight of this Djibouti itinerary. To get there I choose the scenic, not direct, route. This way you can see old cemeteries and wildlife. The ostriches with their babies were fun. For a good photo we chased them but then two babies got separated and ran towards another couple. This is bad for them, so we caught them, put them in the car, and drove back to their parents and released them.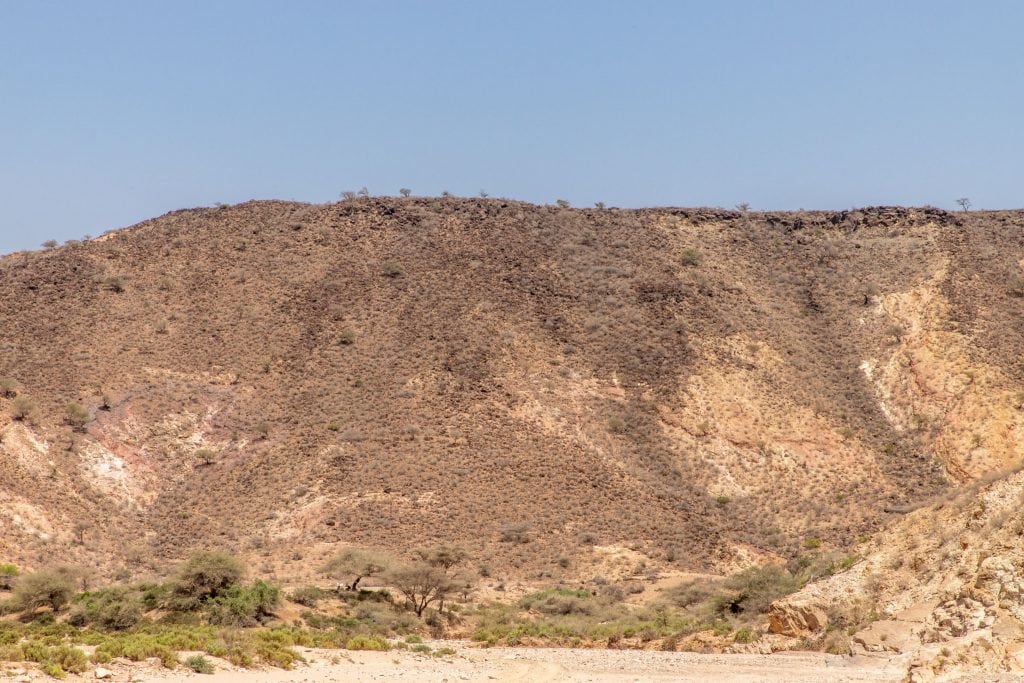 Lake Abbe
It was late afternoon when I arrived at the encampment at Lake Abbe. Basic but good, clean and all facilities where there. After dinner I went to bed early as sunrise around 5AM is the time to explore the area. It truly was unique to walk around these chimney's, water flows, flamingo's and occasional jackal and coyotes. Lake Abbe is an alien landscape on earth.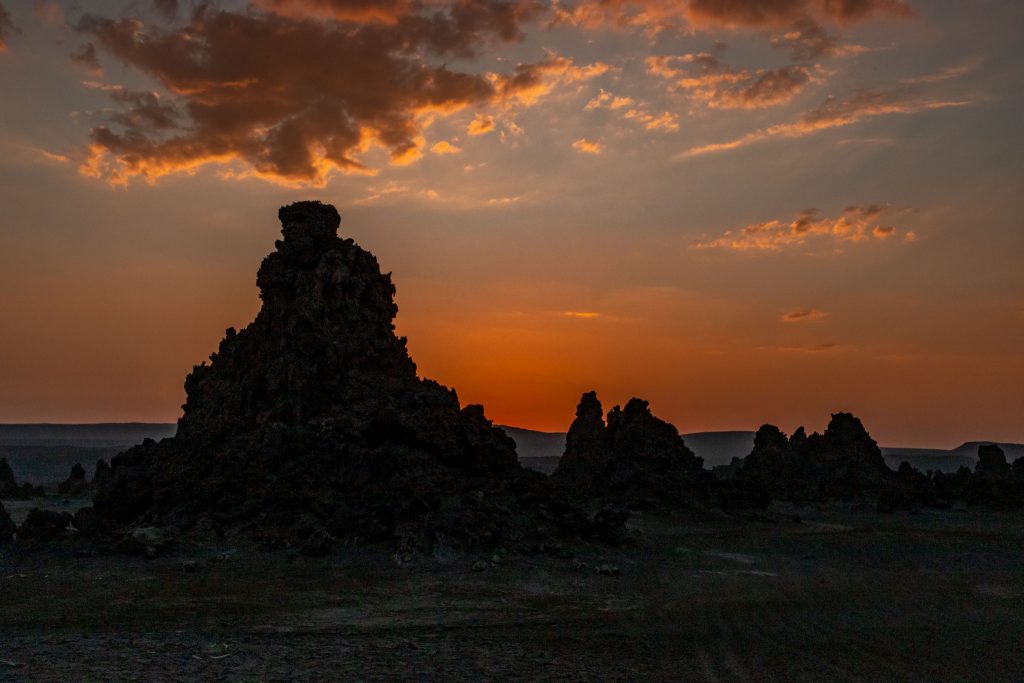 Djibouti itinerary day 5: Lake Assal day trip
After the sunrise walk at Lake Abbe it was time for breakfast and driving another day towards the Foret du Day (Day Forest) with a stop at Lake Assal, the lowest point of Africa.
After Dikhel town I recommend not following the RN1 road but take the road through the desert. You will pass a (manmade) well in the middle which supplies water to the local Afar nomads and their animals. It was still 90 minutes more to Lake Assal from there.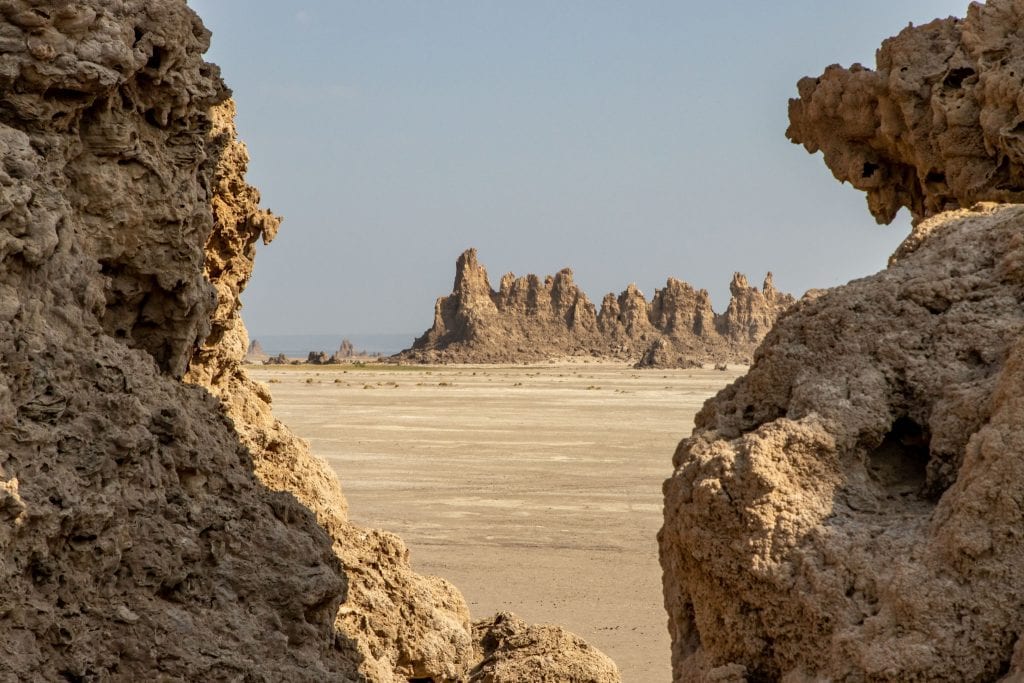 Lake Assal
Lake Assal is 155 meters below sea level and 10 times as salt as the ocean. Water flows in through a small crack in the earth crust but then just evaporates. I visited the Dead Sea in Israel some years back which is the lowest point on earth. Lake Assal is truly unique with salt flats towards the north-western end and volcanic activity at the other end. White, blue, brown, and black colours make the lake very picturesque.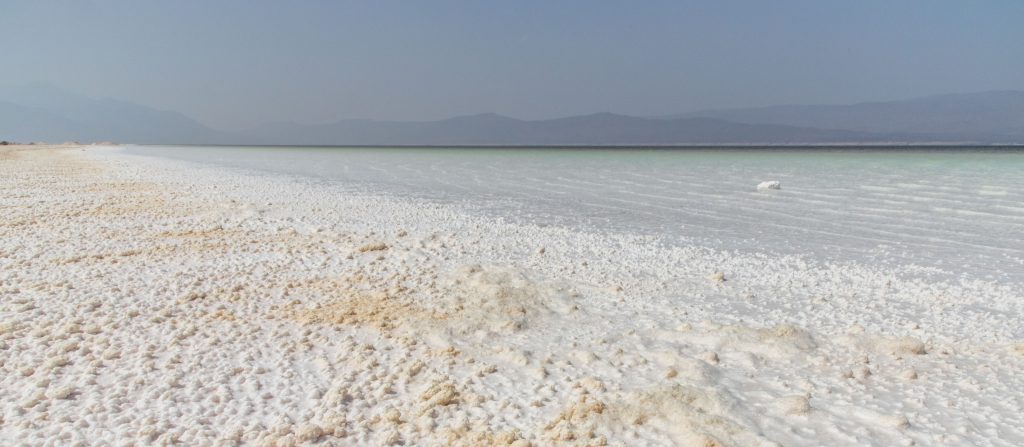 You can swim or float there but make sure to bring sturdy water shoes as you cannot go barefoot. Its all salt and very sharp which would cut your feet open. I just touched the water and before heading back bought some salt from the Afar people who mine it. I then continued about 2 hours off road to Foret du Day for the night. There is a small encampment there with huts, shared shower, and toilets. At night it gets cold there as the altitude is 1500+ meters. So do not worry about the weather and I even needed blankets at night. It's basic but clean and food served delicious. I arrived in the afternoon and just enjoyed the views from the mountain till dinner. The next morning it would be an early morning heading to the Abourma rock art site.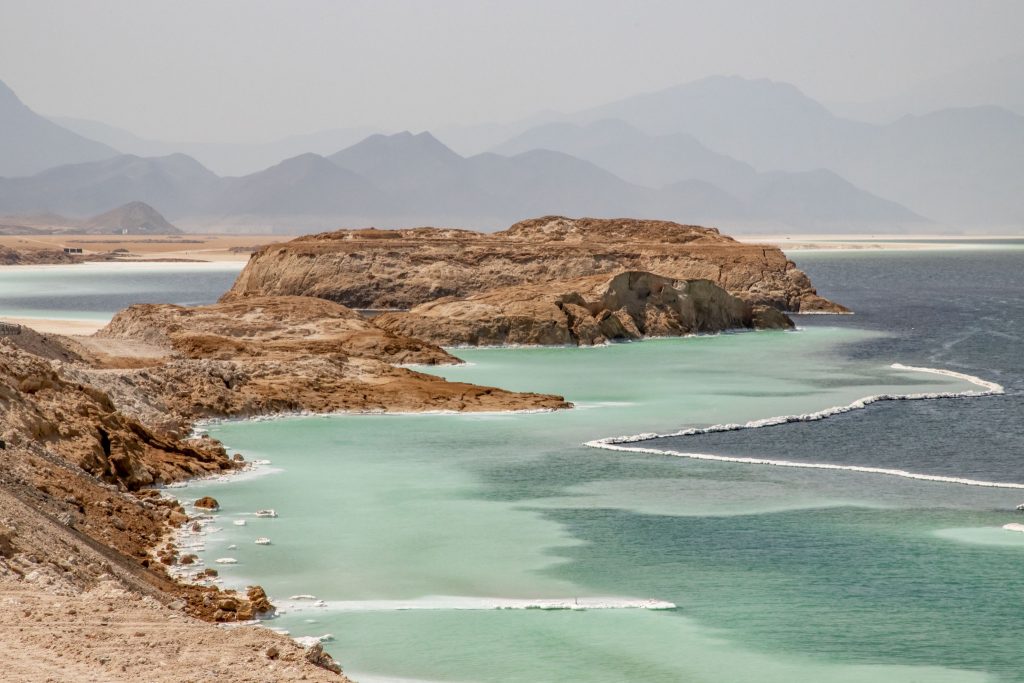 Djibouti itinerary day 6: Abourma rock art site & Foret du Day forest
The Foret du Day, also known as Day Forest, is a national park in the Goda Mountains and Tadjourah Region of Djibouti. The small town with the same name is the base to explore the Abourma rock art site and the forest.
Visit to the Abourma rock art
The Abourma rock art site is truly a hidden gem on Djibouti itinerary and is one of the best rock art sites I have ever seen. If you do a Djibouti road trip you must visit it. Getting there is an adventure! It involves a 2-hour heavy offroad drive from Foret du Day which is already 2.5 hours from Djibouti city. A day trip to the Abourma rock art site from Djibouti city is impossible. The French army built this road years ago and it is not maintained so it is rough, but I enjoyed driving it myself. The driver and guide were sleeping in the back.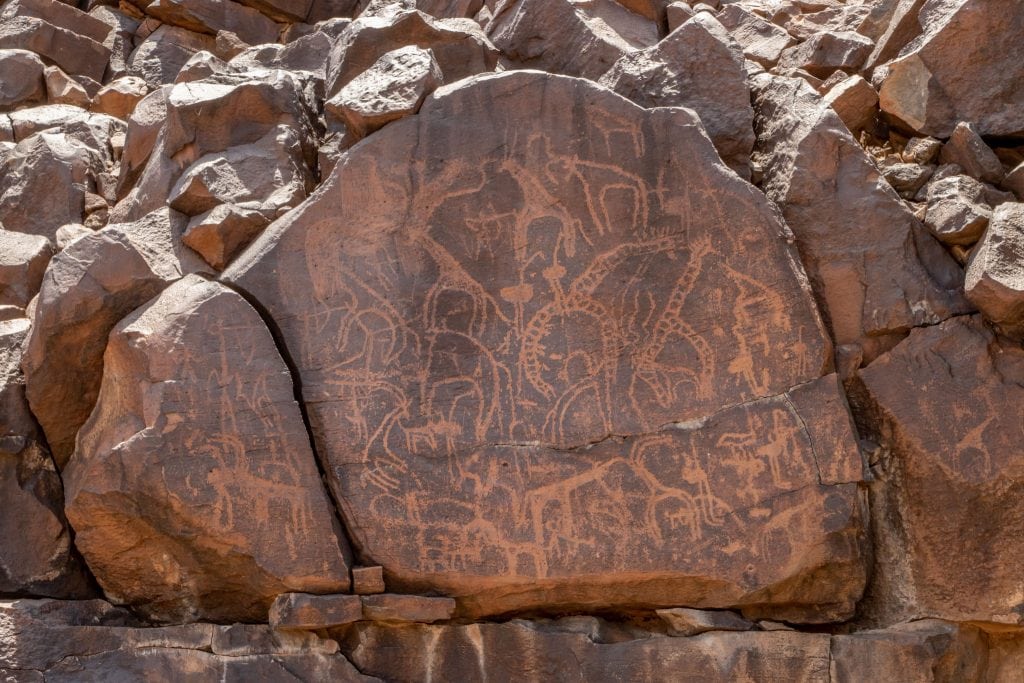 Once at the end of the road there is nothing except an occasional tree and some nomadic people. The rock art is another 90-minute hike away over rocks and barren wasteland. Make sure to have a guide and do not go alone. Take liters of water as it is dry as hell without shade in the full scorching sun. When I arrived at the rocky hill, I was amazed by the abundance of rock art. It is everywhere along a 3-kilometer stretch. After about 90 minutes exploring it was time to go back to the car and drive the same rocky road back to the Foret du Day.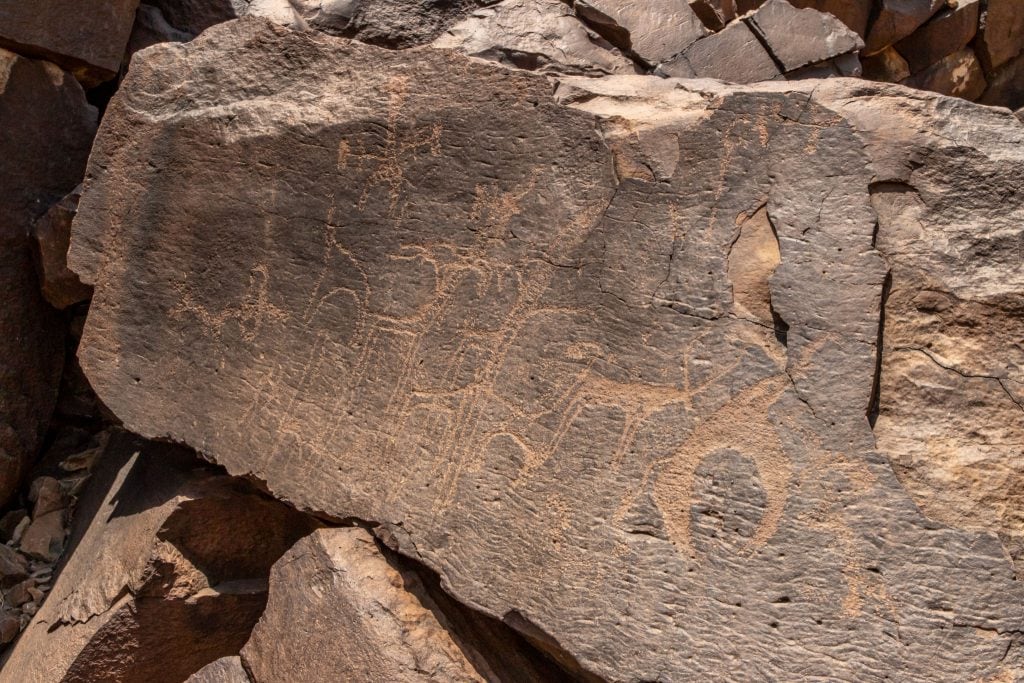 Foret du Day visit
I drove into Foret du Day towards the viewpoint and the old French governor house. The forest is unique at an altitude of over 1500 meters and consist of mostly juniper trees. But many are dead or close to dead. Irrigation plans are underway, and I hope the forest can be saved. After 45 minutes I had "seen" it and time was up as well. After picking up the luggage I continued to Tadjourah for the next two nights.
After a great dinner at a local restaurant, I checked in at Le Golfe hotel which is the place to stay in Tadjourah.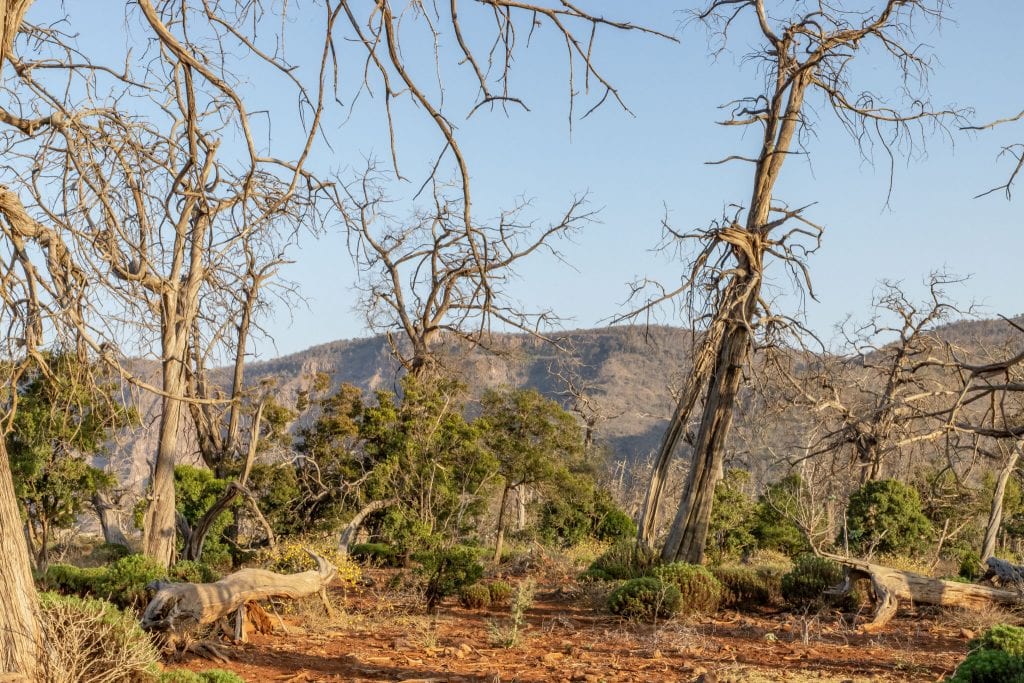 Djibouti road trip day 7: Northern desert mangroves
The seventh day of my Djibouti road trip went north, far north in Djibouti. The northern desert mangroves in Djibouti are a hidden gem. Not many travelers have heard of these, and they are really off the beaten track 2-3 hours north towards the Eritrean border. A visit to Obock is also worth the afternoon.

Djibouti mangroves visit
There are three areas with mangroves of which I visited two as the third made a day trip to long. You can stay at both as there is an encampment for tourist which is mostly visited by locals. The first stop was at Godoria Mangrove for a boat tour into the mangroves. There are dozens of bird species and even more fish.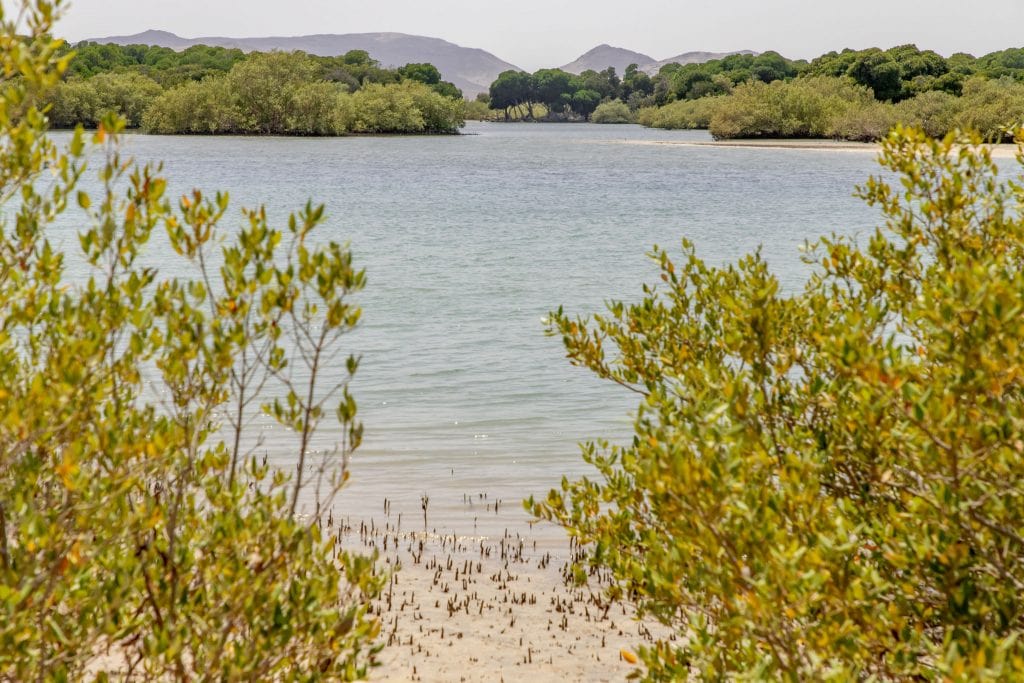 Another hour north I visited the Khor Angar mangrove. From here you have also a beautiful view on the seven small islands off the coast. At this mangrove there are two genuinely nice huts, almost western standard. Dive, snorkel, and island trips can be arranged as well. I did not have the time unfortunately mainly due to the once-a-week flight with Air France at the time.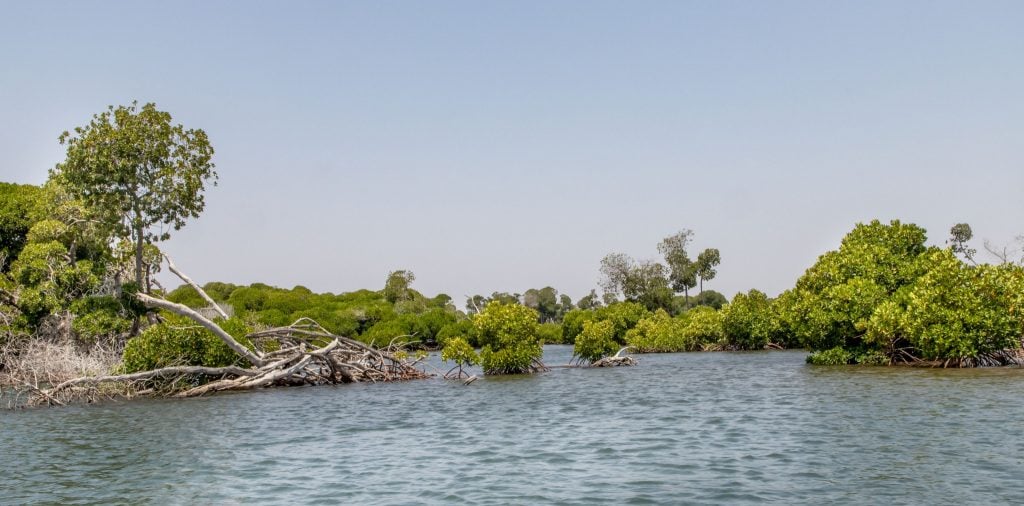 Visit Obock
Early afternoon I drove the desert road back first to Obock lighthouse, the French cemetery, and the local docks. In the desert you will find some abandoned tanks and bomb shells from a past conflict. There are camels and ostriches and where there are some bushes, you will find antelopes as well. You can just chase them in the car off road but make sure you have a good four-by-four.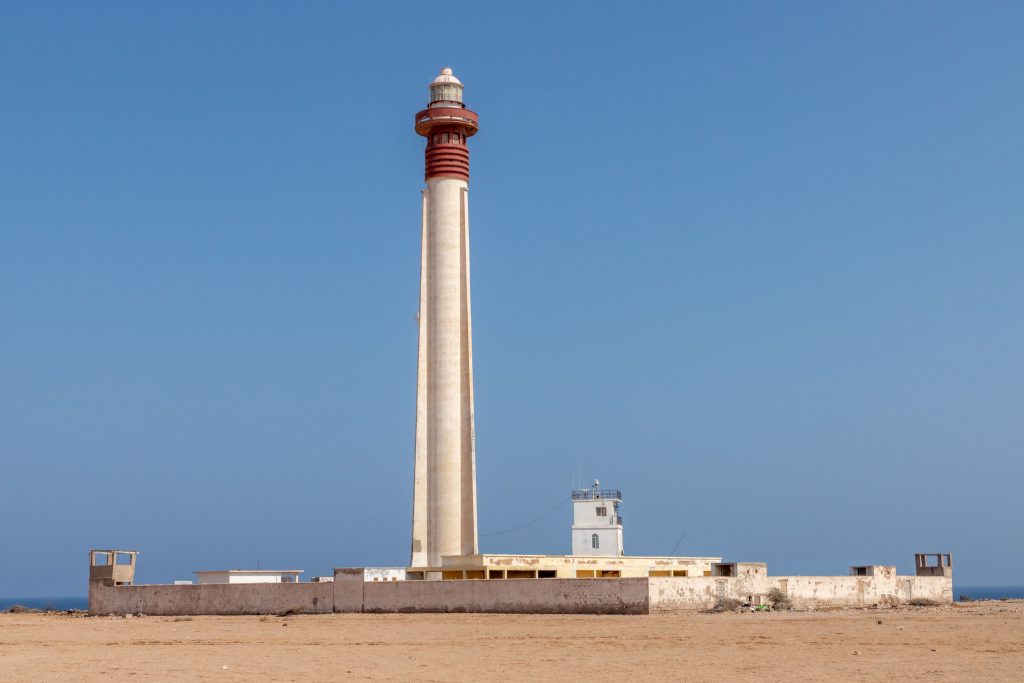 From Obock I continued back to Tadjourah for the night. There is a good hotel in Obock as well, but I do not like changing hotels daily. I had a delicious Ethiopian dinner at a local place. A day well spend as these mangroves are truly an oasis on the desert coast.
Djibouti road trip day 8: Continental rift & Djalelo National Park
The second to last day of this Djibouti itinerary completes all the hightlights of Djiobouti. A visit to the continental rift, aka the Great Rift and a visit to Djalelo National Park. Most fun is standing on two continental plates at the same time.
Continental Asal Rift
The continental Asal Rift in Djibouti is part of the great rift which runs through mostly Ethiopia. Here, the African and Arabian continental plate pull apart about two centimeters per year. Over time a big part of Djibouti will be an island in the sea. The Asal Rift is the part in Djibouti which is worldwide known as the Great African Rift Valley. In Djibouti, the rift is small, and you can stand with one foot on the Arabian plate and the other on the African plate. There are also cavities which you can even enter, to stand inside the rift. The earth's crust is not thick here and you will see steam coming from beneath the surface. Volcanoes form easily with the most recently Ardoukoba volcano formed in the seventies. Quite a unique experience and one of the unique geological highlights of Djibouti.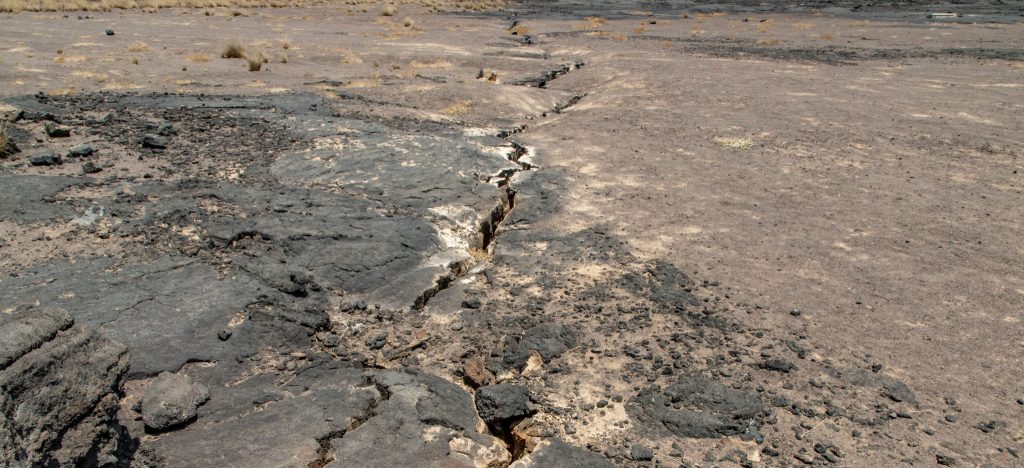 Djalelo National Park
Djalelo National Park in Djibouti was the last stop before arriving back in Djibouti. I drove into the park towards the end which took about 90 minutes with the many photo stops. The park is home to various time of gazelle of which the endemic Waller's gazelle (Gerenuk). You can also find other types of gazelles and dik-dik's. The park is a large valley with a dry river through the middle. After rare rain this would flood. Driving the road throught he park you'll also see plenty of Afar nomads with their animals and I even saw a small caravan passing by.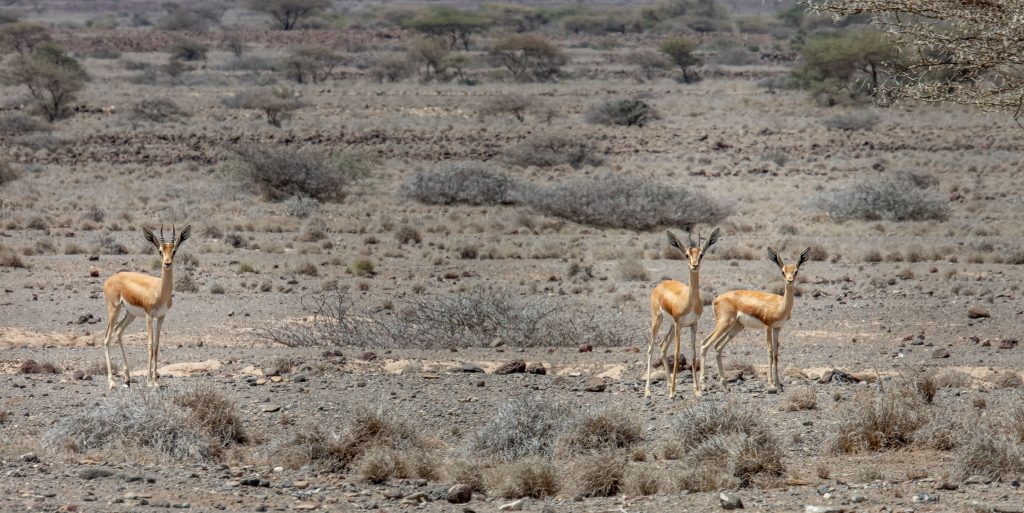 In the late afternoon I visited a market in the suburbs of Djibouti city after which my final destinatio was again the Sheraton Djibouti. For dinner I wanted something else and went to the Melting Pot for a good steak and they even had some important Belgium craft beer. A good place to finish the Djibouti road trip.
Djibouti itinerary day 9: Djibouti city tour and Departure
The final day of the Djibouti road trip was still full of Djibouti sights. A morning Djibouti city tour completed my visit to Djibouti. My flight was in the evening, so I had time the full morning to stroll around. The only disadvantage was it was a Saturday and not much was going on in the city. If you can try to plan the visit during a weekday.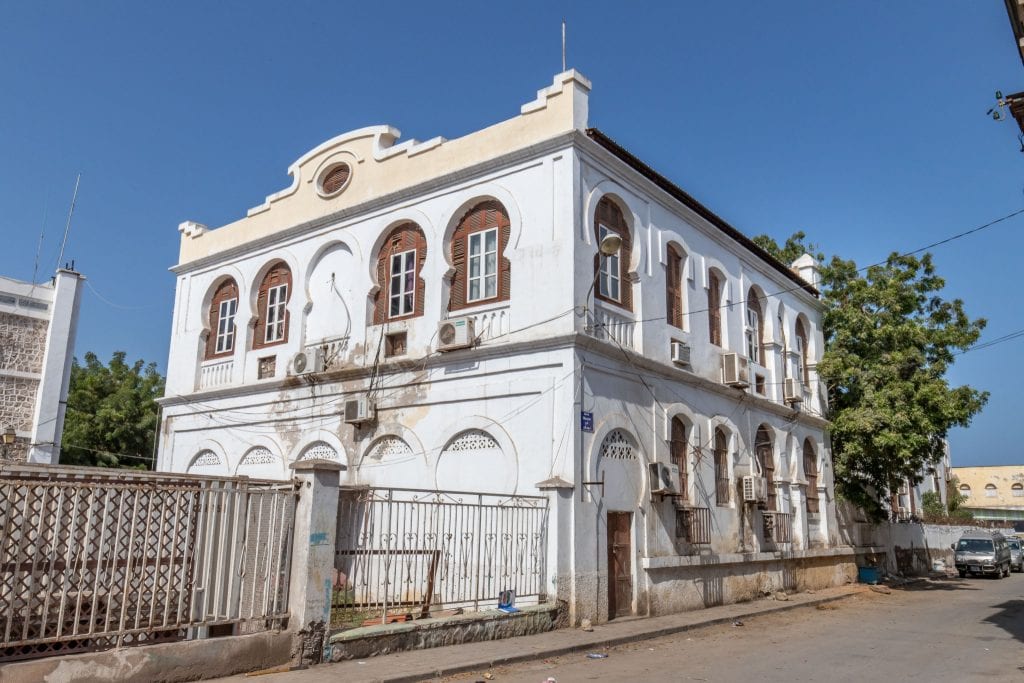 Djibouti city tour
Djibouti city is not large but has some interesting French colonial heritage. A Djibouti city tour should not take more as an hour or two. I recommend doing this either on the day of arrival or departure or like I did a bit on both. My flight was in the evening so after a late breakfast I visited the various old mosques, strolled the colonial streets, visited the market, and had a good coffee at the main square. The rest of the day I relaxed at the Sheraton Djibouti pool before my transfer to the airport.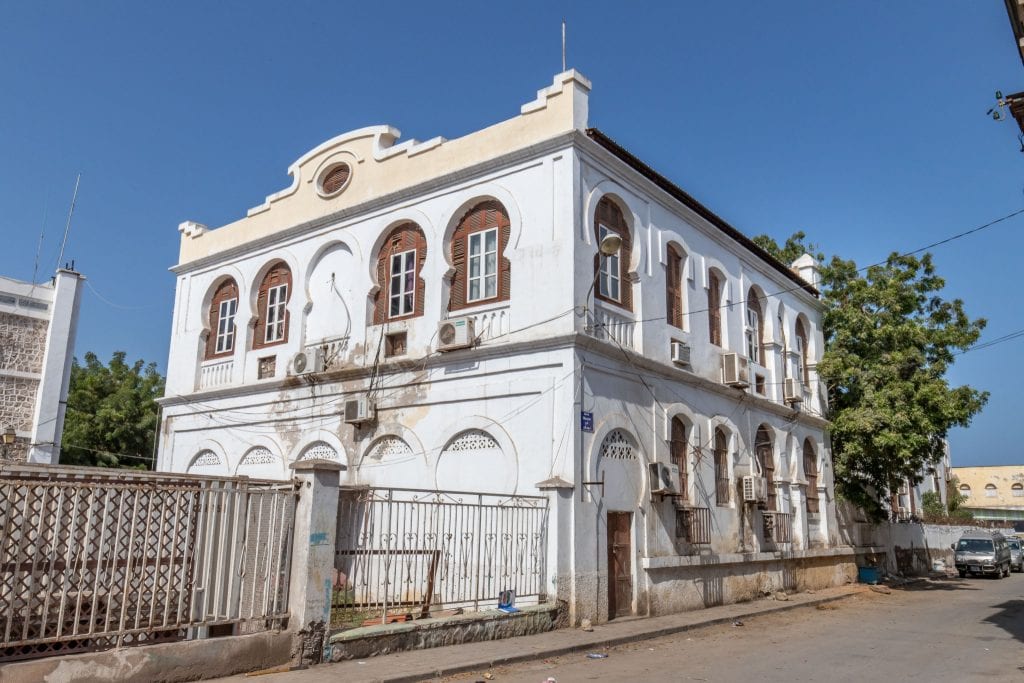 Having travelled to over 100 countries now it is logical one has less real wow moments during travel. With wow moments I mean the real wow with goosebumps. I had this four times in Djibouti. So, do I recommend going to Djibouti? Definitely! It is an adventurous destination but as described if planned well not difficult to visit. If you Aare looking for alien landscapes, prehistoric art, off-roading, crystal clear waters, friendly people and good food then go and follow this Djibouti itinerary, so you do not miss any highlights in Djibouti.
Stay tuned for more stories and subscribe to the newsletter or follow CTB on social media (Facebook, Twitter, Instagram including Instagram stories; on all social media you can find CTB @christravelblog) to get updated information.
Did you visit Djibouti too or do you have questions? Please leave a comment at the bottom of the page. Love to hear from you!