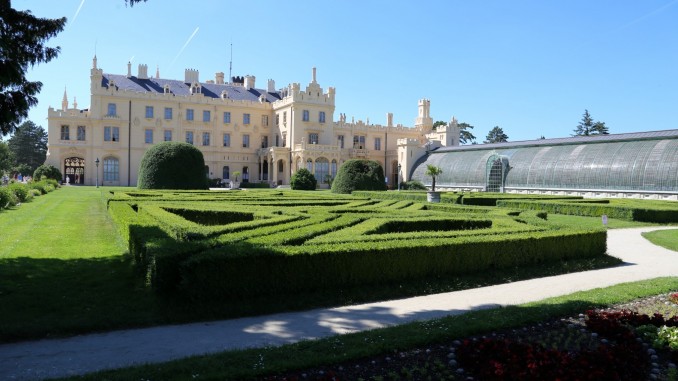 Summary: A family trip to Bratislava. To tick off a new capital (at least for the rest of the family) and a new country (for them). A nice small city with a small old town; good food for very affordable prices. From here we also took a day trip to Czech Republic, to the Lednice-Valtice Cultural Landscape which is an UNESCO World Heritage site. This is a great day trip from Bratislava an hour away.
UNESCO World Heritage Sites visited: Lednice-Valtice Cultural Landscape (1h from Bratislava, Slovakia) (see all UNESCO sites here)
Day 1 & 2, 4,5 & 6 – Bratislava
See this post: SLOVAKIA – Bratislava (2014.06.06 – 2014.06.11)
Day 3 – Lednice-Valtice Cultural Landscape
We visited this UNESCO World Heritage Site in a day trip from Bratislava. We started at the Valtice castle and we were there like 10:15 AM, tours started each full hour so we had 45 minutes to check around the castle and have a drink. It would have been better to catch the 10 AM tour as we later found at we got into a small hurry. What we liked (on all things in this area) is that you can pay a few euro to be able to make photo's inside. We did this of course and it was funny that people who did not pay got warnings for making photo's and we could openly photograph all without problem 🙂 All the small sights we kind of just drove too; this was not really the intention of the roads as most people explore all on bicycles; but at the end of the day we got into shortage of time so we just drove over the small (sometimes unpaved) roads – this was after 5PM and there was not many people but we did get looked at a few times.
The whole area is a landscape made during the 17th century throughout the 19th century by the Liechtenstein Royal Family. The two main parts are Valtice Castle and Lednice castle plus around some smaller buildings. Our first stop was the Valtice castle; this was a good choice as most other things are more close to Lednice. Valtice castle started in the 12th century as a medieval castle. It was rebuild several times and in the second half of the 16th century turned into a Renaissance castle which was partly destroyed by the Swedes and after renovated in a Baroque style. The original gardens were turned into a natural landscape in the 19th century. Inside the castle beautiful rooms and decorations remain – do not miss the tour inside! From this castle it's about a 5 minute drive to the Kolonada which gives you a great view over the city; it was used as a viewpoint.
From here we drove to Lednice for a lunch and after we went to the castle. Here, there is several tours, which will take around 3 hours of your time! We didn't know this and the only way to see the insides is WITH the tour. We saw the children rooms (1 tour) which are on level 2 and two tours, ground level and level 1. Also this castle was first a medieval castle and turned into a castle like it's now in the 17th century by the Royals of the Liechtenstein Family which owned the places will the end of WWII. It was build as a summer mansion for the family and modernized during time and even central heating (on hot airflow) was added; also the church was added at a later stadium. See the gallery for an impression.
Then there are some buildings which are actually smaller; we drove to all. See also the map below the gallery what we drove (zoom on the top part as the bottom is the drive from Bratislava). We checked out the Kolonada (see under Valtice) from Lednice the Minaret and Obelisk (Obelisk only from far distance), Temple of Apollo, Three Graces, Chapel of St Hubert, Rendez-Vous (Temple of Diana). There are a few others which we saw from a distance because they are privately owned or under construction and no direct visit possible.
Stay tuned for more stories and subscribe to the newsletter or follow CTB on social media (Facebook, Twitter, Instagram including Instagram stories; on all social media you can find CTB @christravelblog) to get updated information.
Did you visit Lednice & Valtice Cultural Landscape too or do you have questions? Please leave a comment at the bottom of the page. Love to hear from you!
Tourist Map of the Area