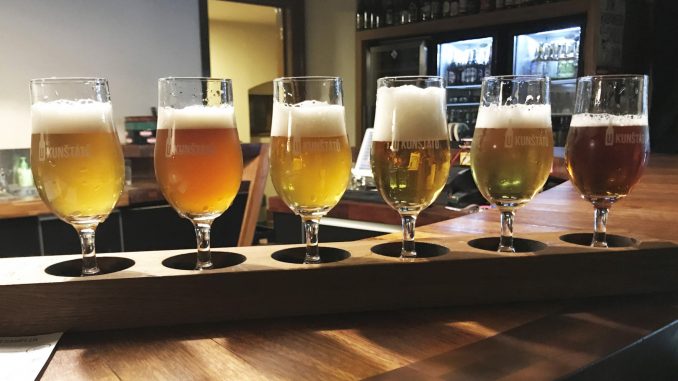 Finally! After a dozen or more visits to Prague I was finally able to check out the craft beer scene. The Czech Republic is the birthplace of Pilsner and that's what I have been drinking there the past several years. Time for a difference. Craft beer is evolving quick in Czech and the quality of the beers is very good. It's cheap too! Beer taste is personal so I won't go into too much details on the quality and taste of individual beers. In this Prague craft beer hotspot guide I'll take you to the best bars to drink craft beer. If you are looking for a place to dine make sure to read my Prague restaurants hotspot guide. For now, one word: cheers!
Prague craft beer guide: U Kunstatu
U Kunstatu is a craft beer bar located in downtown Prague just a short walk from old town square. Is it my favorite? It depends as there isn't much draft beer but they have a 60+ bottle selection. So how did I taste 12 beers in less than 2 hours without getting drunk? They do tasters from bottles! That's the first time ever I visited a craft beer bar where that was possible. It's not the cheapest taster (6 glasses) costing about 340 Czech crowns but the glasses contained like 200ml each! I tasted all 12 IPAs and DIPAs of the menu.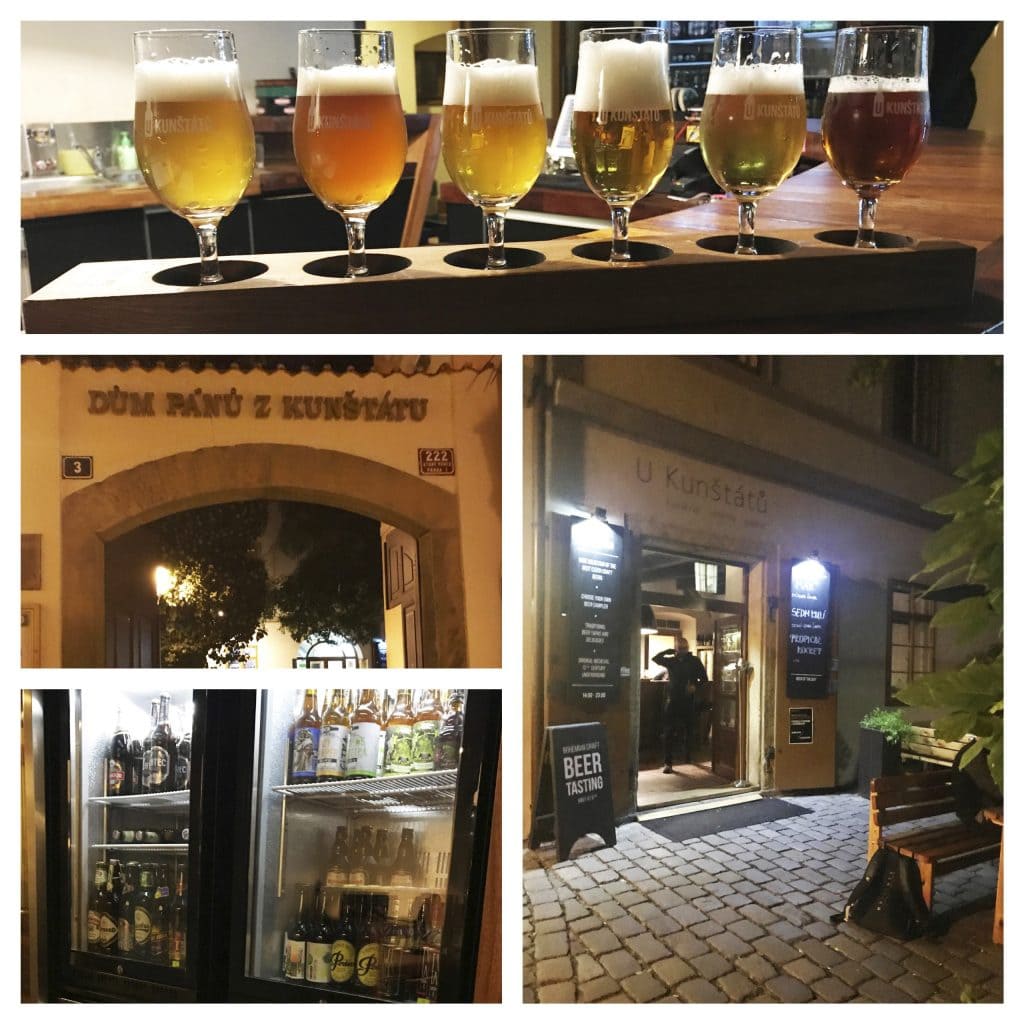 The location is very nice in a 13th century building with crypts beneath it. U Kunstatu has a nice atmosphere both inside as outside. They also organize craft beer tasting sessions but I didn't participate myself, maybe another time. If you want to go drink craft beer in Old Town Prague then U Kunstatu is the place to go! Guaranteed fun and lots of choice.
Prague craft beer guide: ART & FOOD Had
ART & FOOD Had is not a traditional bar to go just drink craft beer; it's more a restaurant with a huge selection of Czech craft beer. This Prague craft beer guide wouldn't be complete without ART & FOOD Had. The restaurant is in Prague's castle quarter and makes a perfect place to go for lunch or dinner while you explore the castle quarter of Prague.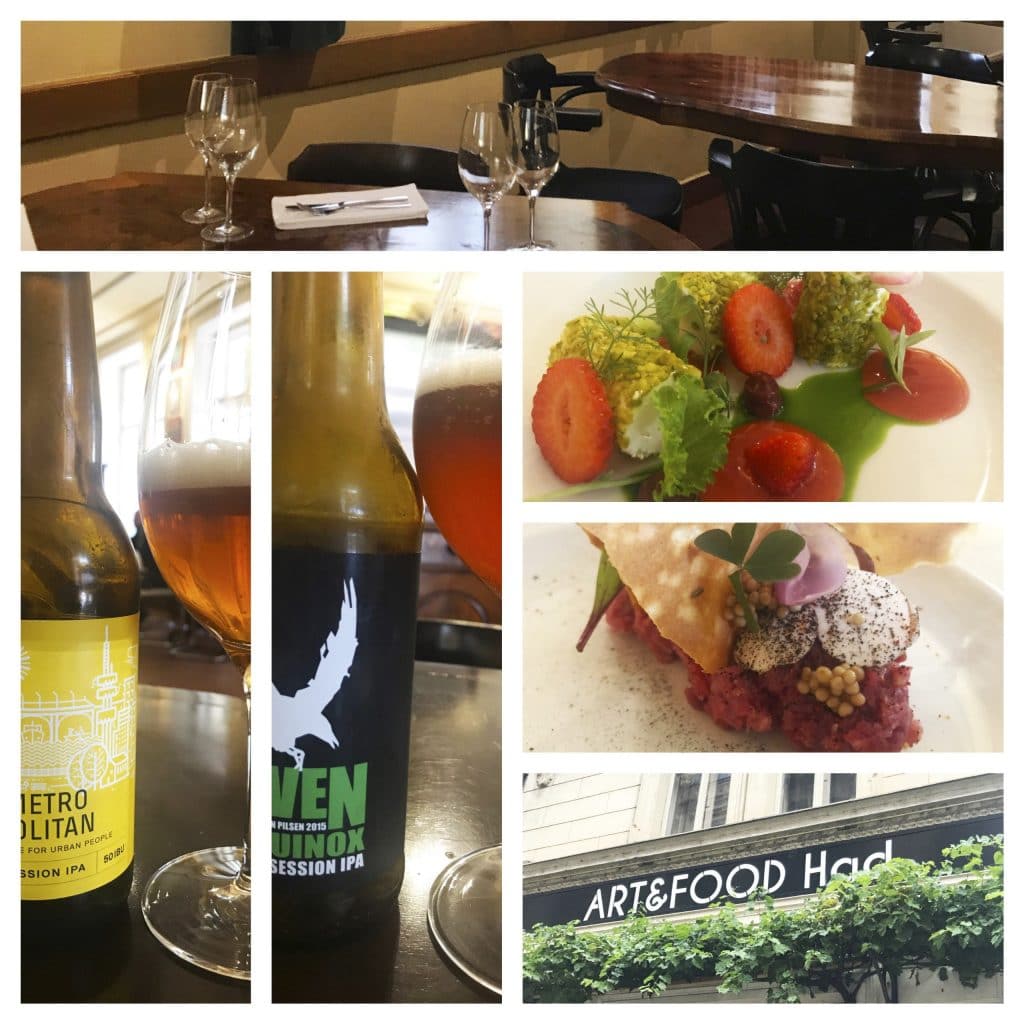 They serve delicious dishes of which I can highly recommend the goat cheese and beef tartare starters. Their food is inspired on traditional Czech dishes but prepared in a modern fusion art style. As I had a dinner later that evening elsewhere I only had two starters with a beer paired with each one. I have included ART & FOOD Had also in my Prague restaurant guide I wrote earlier as it's a place I can recommend.
Prague craft beer guide: NUBEERBAR
NUBEERBAR I located in Prague 3/4 which is on the edge of downtown Prague and still easily reached on foot. They do serve pub style food but I was there for their 23 taps pouring only local Czech craft beer. Tasters with 6 beers of choice of 120ml pours are just 144 crowns. Their beers rotate so it's a great place to return to if there are new beers on tap. I tasted 12 of the craft beers and most were of outstanding quality and just 2 were below average. That's the idea of tasting, isn't it? Not everything is good and you only know after you tasted a craft beer if its good or not. I will try NUBEERBAR again if there are new beers on tap and maybe try out their burgers.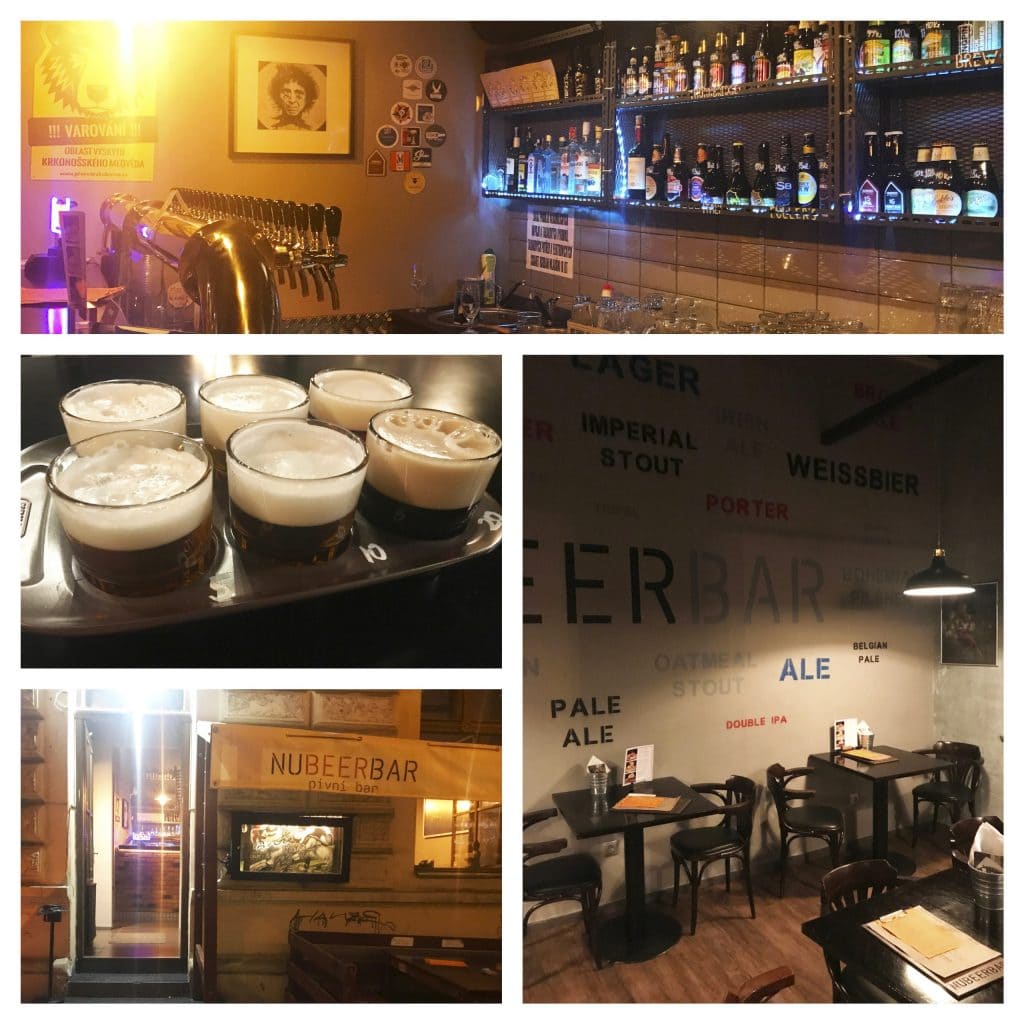 Prague craft beer guide: Bad Flash Bar
Bad Flash Bar is in Prague 3/4 and easily combined with a visit to NUBEERBAR. Bad Flash Bar however is a neighborhood bar and when I visited the crowd was mainly locals. That isn't a bad thing of course but worth mentioning. The main reason I went is because they brew their own craft beer and you can only get it there. I was told their Bikini IPA was epic so I had to try it out. Now I can confirm it's an awesome IPA.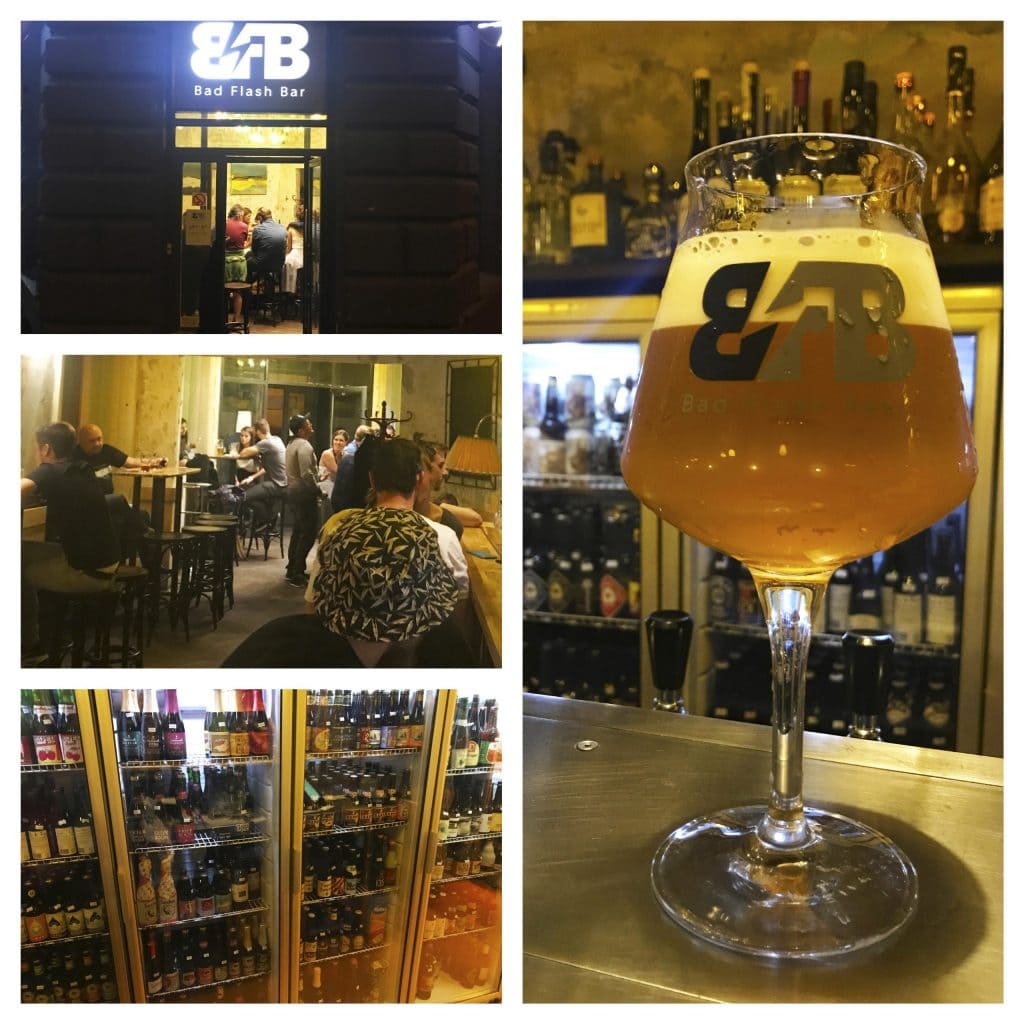 Bad Flash Bar has, if I remember correctly after all that beer, about 12 taps and for sure a huge selection of bottles. They don't do tasters which, especially for their own beers, is a bit odd. A small pour of 300ml costs just 50 crowns on average which is close to nothing anyway so I just tasted from small pours. As I said I had their Bikini IPA which is really good and I also tried their Double IPA and one other IPA on tap of another brewery. Some of their taps rotate and some are fixed. I probably will return to at least check out the rest of their own brews. A place I recommend going especially with a group; the atmosphere is great too!
Prague craft beer guide: Craft House Prague
Craft House Prague was a bit of a disappointment not because the beers weren't good but due to their wrong advertising on their website. On their website, it said they have 21 regular taps and 6 separate taps with strong double and imperial beers. When I arrived, and was told they didn't have that anymore because "people didn't want too strong beer because they got drunk to quick" I was disappointed. I did take a taster of 4 beers as it was close to midnight and most Prague craft beer bars would close by that time. Craft House Prague is indeed a house, with two rooms that are more like a house than a bar. Craft beer is served in a very cramped area at the entrance. I personally will not return here I guess. Maybe I will if they have something special on tap again.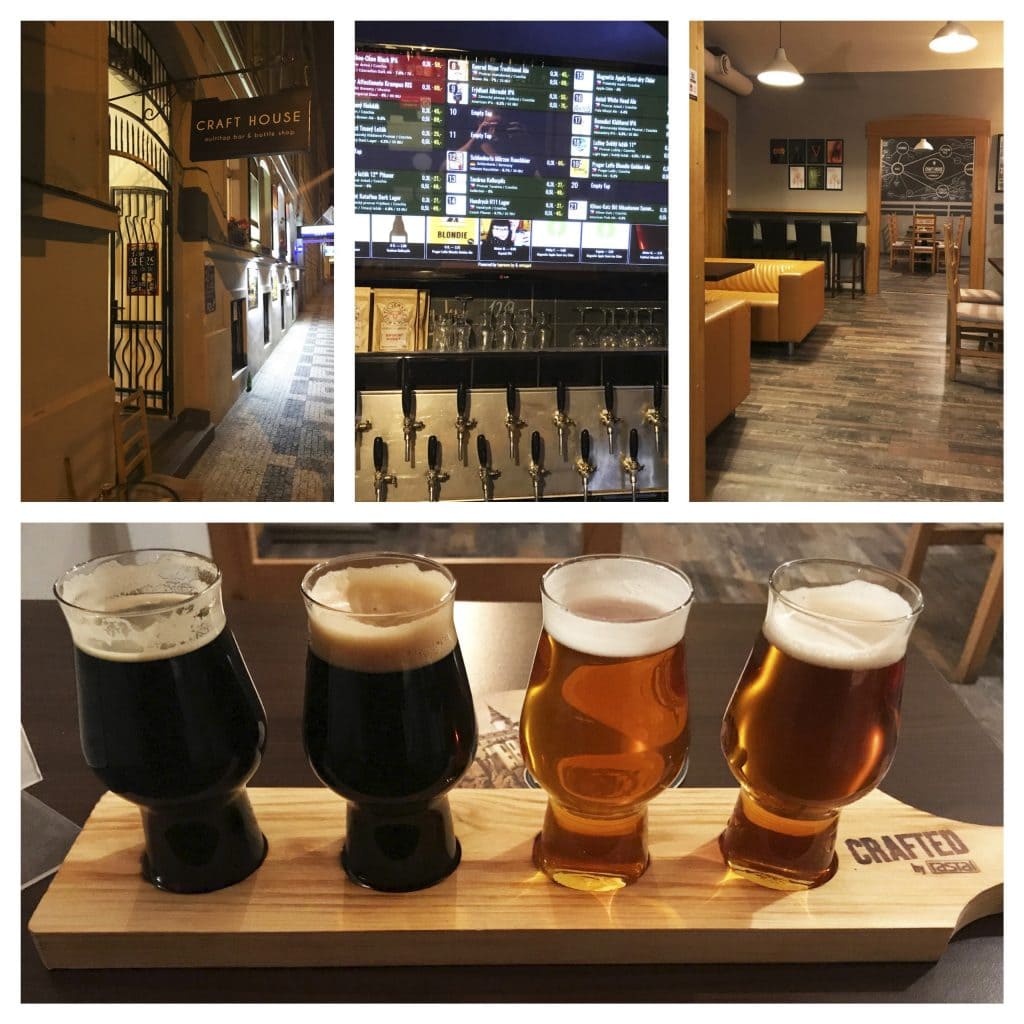 Prague and the Czech Republic in general is famous for its beer; often cheaper as water. The Prague craft beer scene shows there is more than just Pilsner and that craft beer lovers have a wide choice. I hope this Prague craft beer guide helps you find the hotspot you like. The craft beer bars in Prague covered here are those I visited personally and it's not a final list of bars in Prague. I will return to Prague, that's sure, and will try out more bars and craft beers! If you know of a great place I must try out please leave a comment and I might go during my next visit to Prague.
Stay tuned for more stories and subscribe to the newsletter or follow CTB on social media (Facebook, Twitter, Instagram including Instagram stories; on all social media you can find CTB @christravelblog) to get updated information.
Did you visit Prague too or do you have questions? Please leave a comment at the bottom of the page. Love to hear from you!