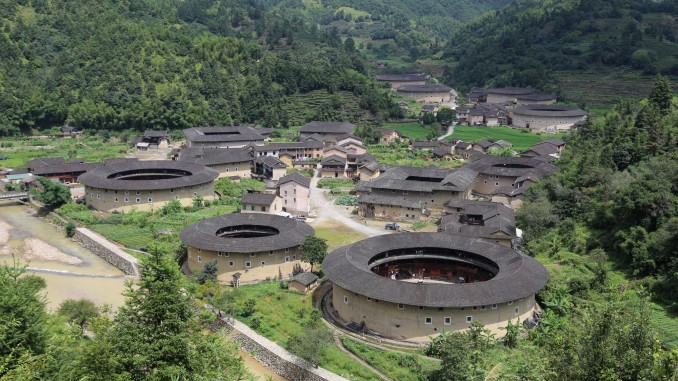 Summary: Part of a 24 day China tour. Start in Hangzhou, followed by Shanghai and Suzhou. From there to Tunxi (Huangshan) by plane continued by train to Wuyishan. From here by plane to Xiamen with a three day trip to the Tulou Clusters and back to Xiamen. Everywhere spend around 2-4 days to see all UNESCO Sights and all other most important sights.
UNESCO World Heritage Sites visited: Fujian Tulou (2.5h from Xiamen) (see all UNESCO sites here)
For transportation and some in depth information we hired through Discover Fujian a car with driver and a guide for day 20 – 22 below. In China it is NOT possible to driver yourself unless you have a Chinese drivers license. The advantage to have a local person with you is that they know the way and it will make you see all in a more efficient way – our way of travel. We recommend Discover Fujian as they have done a great job assisting us to see all what we wanted to see and a very affordable price.
Day 1 trough 18 – Hangzhou, Shanghai, Suzhou & Tongli, Huangshan, Wuyishan
See previous posts about the visit to those cities:
CHINA – Hangzhou (2014.07.07 – 2014.07.30 China Tour)
CHINA – Shanghai (2014.07.07 – 2014.07.30 China Tour)
CHINA – Suzhou & Tongli (2014.07.07 – 2014.07.30 China Tour)
CHINA – Huangshan Tunxi (2014.07.07 – 2014.07.30 China Tour)
CHINA – Wuyishan (2014.07.07 – 2014.07.30 China Tour)
We arrived in the afternoon to Xiamen and went for a quick easy dinner and early to bed in the Indigo hotel which a SUPER view over the harbor and Gulangyu Island.
Day 19 – Xiamen Gulangyu
Gulangyu is an island near Xiamen. The island is the old port where the western countries had their territory after the loss of the first opium war. You will find a lot of Victorian style houses, churches and other buildings throughout the island. On the island there are no cars, it can be easily walked and seen in a day fully. It's a very nice atmosphere on the island.
Day 20 – Tulou
First a travel tip to the Tulou: From Xiamen it's about a 2.5 hour drive, go early and you will have even the touristic Tulou for yourself (arrive around 9 AM!). Stay overnight in a Tulou Hotel to experience the life there and next day go first to the touristic sites in the morning. You will experience all without the noisy tour groups. Try to visit different buildings with different unique parts.
Tulou means "Building from Earth". The building wall are made of compacted earth, stone, bamboo, wood and stones and can be up to 2 to 3 meters in width making them very strong. The walls isolate both in winter and summer very well and are windproof and can withstand earthquakes. The shapes are mainly round and square but also fan shaped, oval, big and small exist. Inside there are structures from wood where up to 100 families can live. Normally there are four staircases up to the levels which can be over 4 levels which are for common use. A family normally has a slice from bottom to top with the kitchen at the bottom level and living quarters to the top. Inside the building are in many cases additional buildings like ancestral hall, school buildings and others for common use. The whole is a kind of fortified city. Although they all look a bit the same they have all unique details. We visited various buildings to see the difference.
We started at Changjiao village with Heguilou and Huaiyuanlou. Heguilou is located in Pushan Village, Meilin Town. This large square building is 21.5 meters and five stories high. It is the highest of all the earth buildings and most interesting of all,it was constructed on a swampland and has been impregnable for more than 200 years. Changjiao Ancient Village is a beautiful ancient village is named after the Changjiao Brook that connects Heguilou and Huaiyuanlou. Along the banks of the brook are ancient banyan trees, ancient building and patches of farm land. A walk through the village will bring you back in time to Chinese traditional rural life. This village has been a popular place for film making. Huaiyuanlou is a four-story round building in Changjiao village, Meilin town was constructed in 1907. The foundation of the wall was rammed from large cobblestones from the river and a mixture of lime, clay and sand. The surface of wall remains clean and smooth in spite of the pass of time. The ancestral hall of the building also
serves as a private school. The beans, ridgepoles, doors, and windows in the entire ancestral hall are decorated with beautiful carvings and painting in the ancient style.
We continued to Tianluokeng but on the way had a stop at another cluster where we climbed an opposite hill to have a magnificent view of the cluster.
Tianluokeng Tulou is located in Shangban Village, Shuyang Town. The castle, composed primarily of four round and one rectangular earthen house, is one of the most magnificent and well-preserved Hakka Castles in the area. The village is also listed in the Famous Historic Cultural Village in China for its typical cultural regional system. From here we drove to Yuchanglou which is located in Xiaban Village, Yuchanglou was built in 1308 and is one of the oldest existing Tulou. This five-story earth building is most famous for its tilted pillars. The most extreme is slanted at15-degree angle. Yuchanglou has been like this for more than 600 years and remains intact today. From here to Taxia Village where our Tulou hotel is located (Weiqunlou Inn). Taxia Village is a exquisite Hakka village is located in a valley in Shuyang Town. There are more than 20 earthen building of different shapes built along the bank of a clear brook that flows through the entire village. Another major attraction is Zhang's Clan Ancestral Hall, Next to a pond, 20 stone flagpoles rise like a stone forest in front of it. As one of the most well-reserved ancient clan house in China, Zhang is Clan Ancestral Hall is listed among the key culture relics protected under national level.
Day 21 – Tulou
We got up early so that we arrive before the crowds to Chengqilou and Hongkeng, where the first we would be able to go up the stairs as its not allowed one can ask the villagers to take you up but only before guards and crowds arrive. Chengqilou which is located in Gaobei Village, about 5 km. away from Hongkeng Tulou, Chengqilou is the largest of the earth buildings. It is almost three hundred years old and is made up of four concentric circular buildings. This King of Round Earth Building has altogether 400 rooms and used to house 80 families, totaling more than 600 people in its prosperous days.
We continued (also before crowds) to Hongkeng Tulou located in Hukeng town. It is the most concentrated of all earthen house clusters. There are about 100 Tulou of various sizes in the long village lying along both banks of a river. Some of the house designs are unique, including the Zhenchenglou, Fuyulu ("Five-Phoenix House"), Kuijulou, and Rushenglou.
We continued to Huanjilou where we did not see any tourist, so we could better see how the people actually live there. Huanjilou was built in 1693, the 32nd year of Emperor Kangxi's reign during the Qing Dynasty. In 1918 it withstood an earthquake measuring 6.2 on the Richter scale and was used as the base by the Red Army of China. Due to its connections with the Red Army, the Earth House bombed during attacks by the Kuomintang. However, water from the moat near the gate extinguished the fire. A unique feature of this Earth House is the echo effect that reverberates around the building.
Continued trough a rough road to Yanxianglou. Built during the Qing Dynasty and located in Nanxi. It is referred to as Fengzhi Dafu after an ancestor was bestowed with the honorary title of "honest man". The interior has a luxurious layout and scholarly atmosphere, and the gate and fence were designed to imitate a dragon's head and body. There is also another square Tulou in ruins there.
We continued to the last part of today: Chuxi Tulou Cluster, the Chuxi Tulou cluster includes five large circular buildings and ten rectangular buildings. Jiqinglou is the oldest and most special round earth buildings in this area. It is almost 600 years old and covers a total area of 2826 m2 with 206 rooms. Unlike normal round earth building that usually got only four public stairways, Jiqinglou is equipped with 72 stairways, which divide the whole building into 72 independent units. All rooms, stairways and interior walls are constructed with wood and rabbet structure. Not even a single nail is used for the construction and the earth building remains intact after 600 years. Jiqinglou also houses more than 10,000 exhibits about the unique life, history and culture of the Hakka people. We had a nice rest in the Hakka Hot Sprint Resort hotel.
Day 22 – Zhixi & Peitian Villages
Today we visited two last villages, was it worth it? Not direct (as it was a 2.5h drive to Peitian and from there about 4h back to Xiamen) to be honest but as it was quite near it would be stupid not to go as to go there later to see them would make no sense. Zhixi Village is just a lively small town where you can get really an insight into the local life as its not for tourist! It's located at the southern part of Liancheng County, is one of the major residence's for the Hakka people in Western Fujian, about 200km away from Xiamen. Zhixi Village was the business center during the Ming and Qing Dynasty, and at present, many of the relics from the ancient times still can be found over there.
Peitian is located on the foot of Guanzhai Mountain of Longyan's Liancheng, West of Fujian Province. Peitian Village is surrounded by mountains and parted by a river, which made beautiful natural sceneries. Since the Ming and the Qing Dynasties, the village has served as a key interchange station connecting official roads to Changting and Liancheng. The history of the village could be dated back to the Southern Song Dynasty, some 800 years ago. Local architecture features rich ornaments. Peitian families like growing orchid. Moreover, Peitian Village is famous for its academies of classical learning, with Southern Mountain Academy as its main school. The village not only owns traditional Confucian schools, but also had schools of agriculture and crop cultivation. There are boy and girl schools and schools of martial arts, learning martial arts has been a local tradition.
Day 23 – Xiamen
Today we did some shopping, relaxation at the hotel, a great buffet and went to bed! Nothing more 🙂 For sure need to return to Xiamen to see some downtown things and the Kinmen Island.
Day 24 – Departure to Amsterdam
After a nice rest, not to early breakfast we headed to the airport to catch KLM flight directly back to Amsterdam. A LONG flight of almost 13 hours non stop. So lucky to be in business class. Perfect service of KLM 🙂 The END of a 3.5 weeks tour trough China.
Stay tuned for more stories and subscribe to the newsletter or follow CTB on social media (Facebook, Twitter, Instagram including Instagram stories; on all social media you can find CTB @christravelblog) to get updated information.
Did you visit Xiamen too or do you have questions? Please leave a comment at the bottom of the page. Love to hear from you!