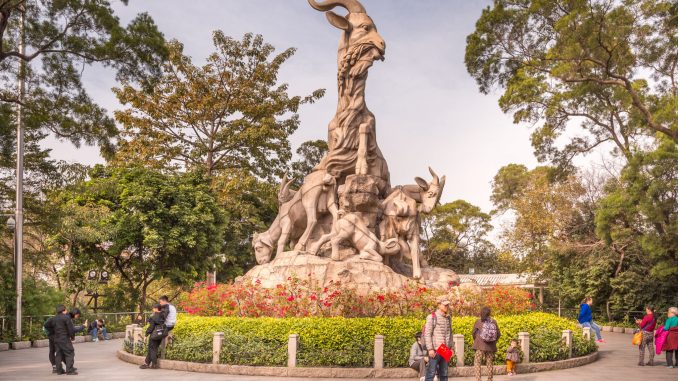 Guangzhou is a large city in southern China's Guangdong province and has a huge airport hub connecting international flights to domestic or further international flights. Cheap business class flights connecting in Guangzhou were the reason for my layover. With the new 24/72/144-hour visa free option to visit Guangzhou a short city trip is a great way to spend the time.
I had a layover of two days (I have Chinese multi visa), but I'll show what you can do if you have 4 to 12 hours of free time. This doesn't include the time to disembark and be back at the airport which can vary a lot. If you have a long layover during the night I suggest spending the night at the Crowne Plaza Guangzhou to continue your onward journey rested.
Do keep in mind that to get a 24/72/144-hour visa you'll need to have an onward journey to a DIFFERENT country as from where you came. The follow options are the best picks for a first-time layover in Guangzhou.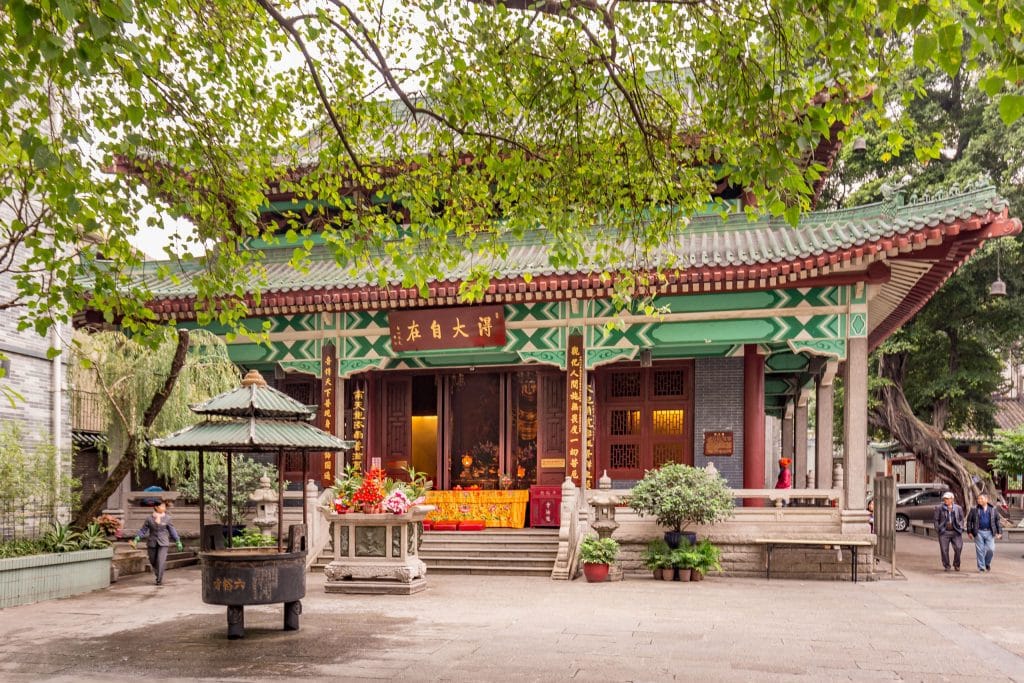 Layover in Guangzhou : 4-5 hours in Yuexiu Park
Yuexiu Park is a huge park in central Guangzhou and a perfect place to spend 4-5 hours between flights. There are several cultural relics as well as beautiful nature. There are plenty of restaurants, an amusement park and more to keep you busy for a day. I recommend doing an electric boat ride over the three lakes first. Just take in the tranquility in the middle of a layover in Guangzhou. Must-see places in the park include the Five Rams Statue, Zhenhai Tower, old city walls and if you have time the Guangzhou Museum.
The Five Rams Statue is about the legend of five immortals who visited the hard-working country side people and blessed them. The rams turned into stone and Guangzhou flourished. Today it's the emblem of Guangzhou. From the Five Rams Statue it's a beautiful walk along the other cultural places. If it's your first layover in Guangzhou I recommend Yuexiu Park as a first choice if it's during the morning or early afternoon. In the afternoon I recommend Shamian Island.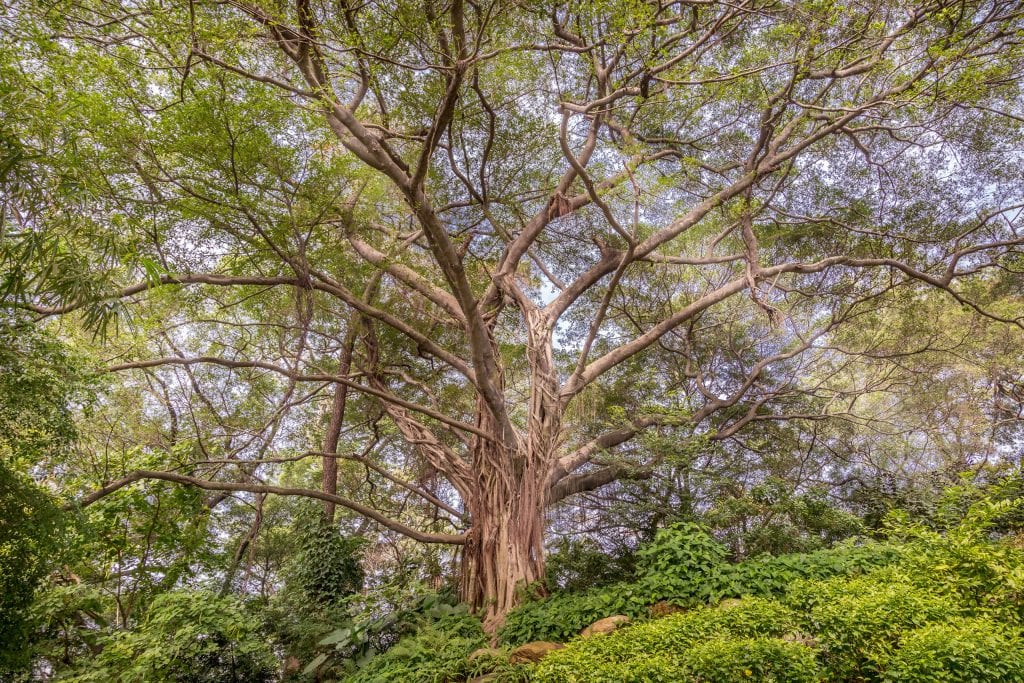 Layover in Guangzhou : 2-3 hours street food & Sacred Heart Cathedral
Religious or not a visit to the Sacred Heart (of Jesus) Cathedral, or also called the Notre Dame of East Asia is a must see. A visit doesn't take long, probably an hour. The area is nice to wander around too so best seen if you have 2-3 hours. The cathedral is over 100 years old and build in a traditional cross shape as you would see in most European counterparts. I especially liked the stained-glass windows which are very well designed. Seeing such a cathedral in Asia is a bit weird and especially in China where religion is very well controlled.
Around the cathedral there are various small alleys to buy street food. You won't starve during your layover in Guangzhou! Combine a visit to the Sacred Heart Cathedral with a visit to the Temple of the Six Banyan Trees to extend the time to 4-5 hours including lunch.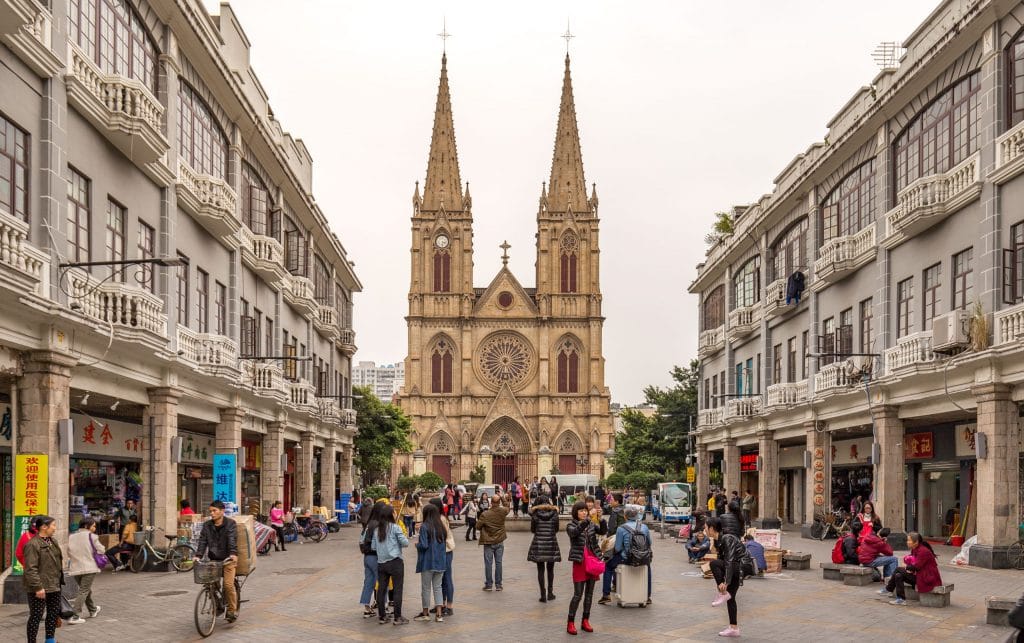 Layover in Guangzhou : 2-3 hours shopping & Temple of the Six Banyan Trees
The Temple of the Six Banyan Trees has a history of almost 1500 years and is one of the main temples in Guangzhou to visit. The Flower (Hua) Pagoda is the most iconic structure of the temple grounds. During my visit however it was covered for reconstruction works. There are further two halls of interest of which the main hall, Daxiong Baodian Hall, contains the oldest Buddha image of the Guangdong province. Visiting the Temple of the Six Banyan Trees takes about an hour which leaves two more hours to wander around the area and have lunch or dinner. You can also go shopping of course! It for sure is one of the highlights in Guangzhou.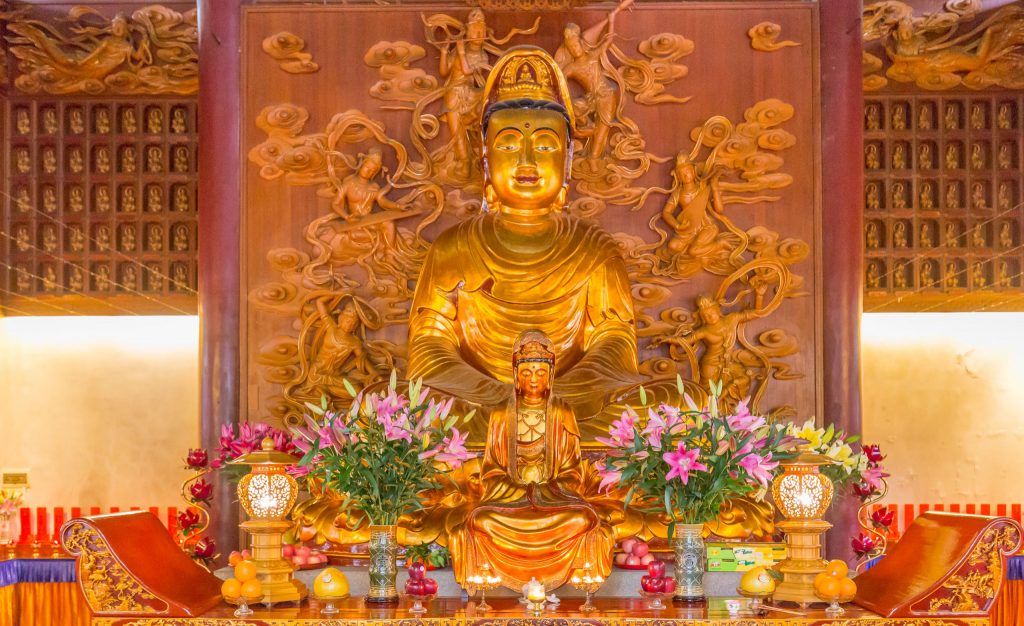 Layover in Guangzhou : 4-5 hours on Shamian Island
Several years ago, I visited Gulangyu Island which is a colonial island near Xiamen. It has beautiful European architecture and I loved walking around. I was eager to visit Shamian Island in Guangzhou as it also has beautiful European architecture. It's a perfect spot to spend 4 or 5 hours if you're in Guangzhou for business or if you have a long layover in Guangzhou.
Shamian Island is a sandbank in Guangzhou and served as an important trading post during the Song and Qing dynasties. It was given to both France and the United Kingdom and all buildings were built like those back in Europe. Now, there are over 150 buildings left which include the old banks, churches, schools, and other buildings some now housing hotels too. It's interesting to wander around these Gothic, Baroque, and Neoclassical buildings in China.
If you have a layover in Guangzhou, then Shamian Island is a first or for sure second choice to visit. It's just 900 by 300 meters and cars aren't allowed in many of its streets. Make sure to have lunch in one of the restaurants overlooking the Pearl River. I really enjoyed sniffing some of that European heritage in China.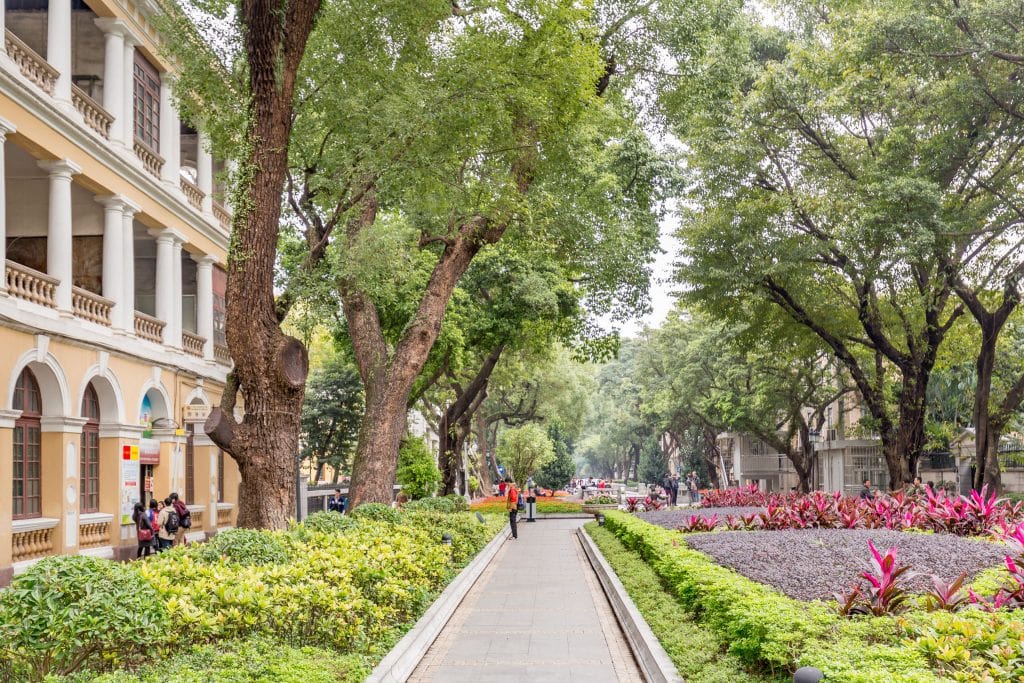 The above four suggestions make up some interesting layover trips in Guangzhou. I however visited them during a much longer layover, but I do recommend going into the city if you have time! You might want to check if the airline allows a longer stopover of up to 24 hours. Just keep in mind you cannot stay longer as you would require getting a visa to enter China. Do double check with your local Chinese embassy for possible exceptions but many nationalities can enter Guangzhou up to 24 hours visa-free. Other cities allow longer layovers.
I hope these tips will make your layover in Guangzhou a bit more comfortable. Of course, you can also sleep which I recommend doing at Crowne Plaza Guangzhou. Guangzhou in Southern China is also a great place to try out some strange food; if you're into that of course. If you visit the area for a longer time I suggest going to Foshan and the Kaiping area too. I just love getting the most out of my layovers, what about you?
Stay tuned for more stories and subscribe to the newsletter or follow CTB on social media (Facebook, Twitter, Instagram including Instagram stories; on all social media you can find CTB @christravelblog) to get updated information.
Did you visit Guangzhou too or do you have questions? Please leave a comment at the bottom of the page. Love to hear from you!
Further reading
Sometimes it's impossible to cover every single place of interest, activities, food, and others that might be relevant. In the below list you find a list of relevant links with further information about Guangzhou which I have carefully curated. These will help plan your trip even better.
If you're heading to Guangzhou and you have more time as just a layover there is must more to do and see of course. Check this handy article on accommodations and much more places to see in Guangzhou.
Gallery Layover in Guangzhou
Click an image for a full screen gallery of more photos taken during this trip. If you like to use any photo for commercial, private or editorial use please contact first for permission and/or pricing.