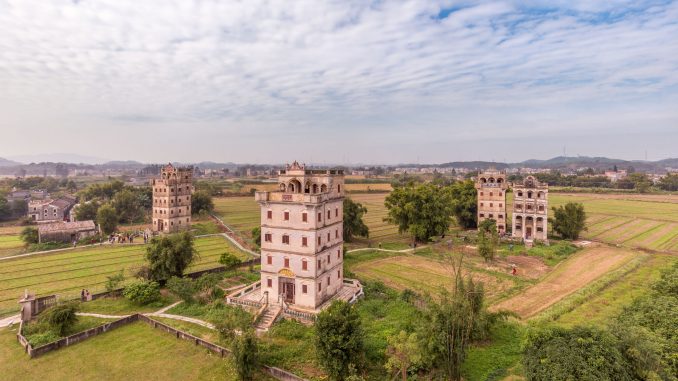 The Kaiping Diaolous and Villages are a UNESCO World Heritage Site and a must see in China for anyone visiting the Guangdong province. They are easily reached from Guangzhou or Macau (keep in mind you need a China visa if coming from Macau) or, as I did, from Foshan. It's a unique site and something you won't find anywhere else in the world. I'll take you to the four places that are part of the UNESCO site. This is best done with private transport as there is no good public transportation to efficiently travel the area. Enjoy these fortified towers with me!
What are the Diaolou in Kaiping?
The Diaolou in Kaiping are fortified towers mainly used for protection but also for living. They date back to the 19th century Ming Dynasty but some (for example in the Li Garden) date to the early 20th century. Many Chinese from the Kaiping area immigrated overseas and brought back ideas and designs when they returned. All these ideas and architectural designs are incorporated into the Diaolou which makes them a blend between Chinese and Western design. Especially if you're a Westerner you'll notice the Western design in structure and decorations.
Now, close to 2000 Diaolou remain which is about half of those ever built. To get a good understanding and see the different types four places are of great importance; these are inscribed in the UNESCO World Heritage Site. If that's too much then I recommend visiting Zili Village in the morning, then Li's Garden and last Jinjiangli Village skipping the other two.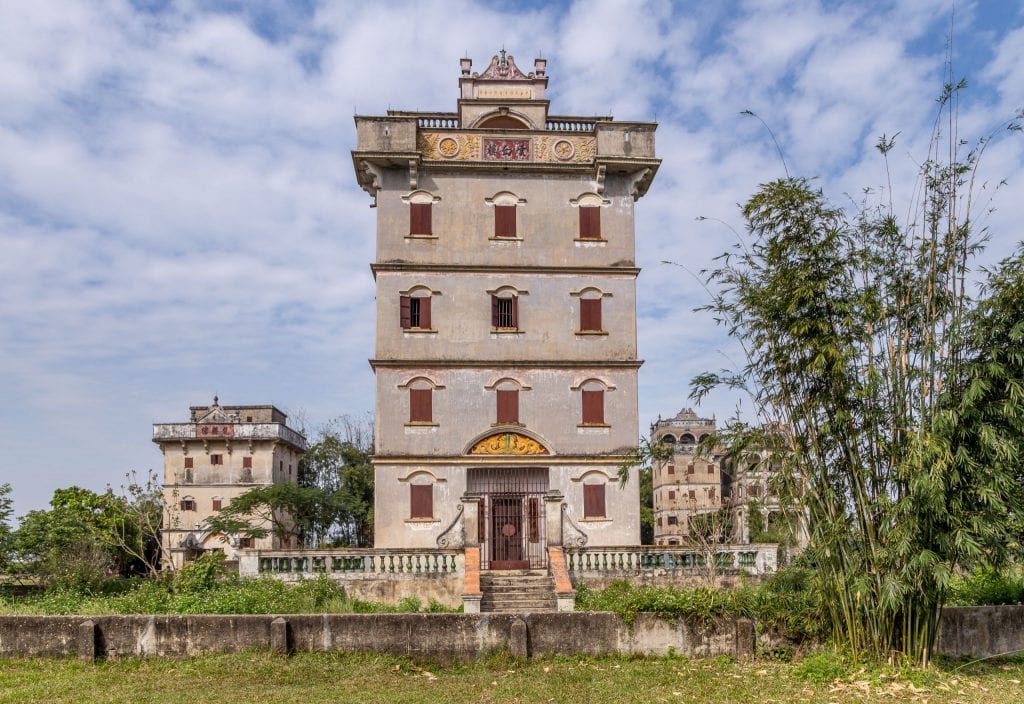 Zili Village & Fang Clan Watch Tower
Zili Village is the most famous cluster of Diaolou which are scattered around the village. Most Diaolou were abandoned in the mid-20th century and many still are but there are also those that are restored. Zili Village is located next to the Zhenhai river which loops around half of the village. Flooding was also a problem at times and the towers also protected against that. The lower part of the building could be under water with the top floors being completely self-sufficient. Around the village there are endless rice fields with Diaolou in between. It's a tranquil area even though the big tour busses do know Zili Village too. I loved exploring Zili Village because it's so unique.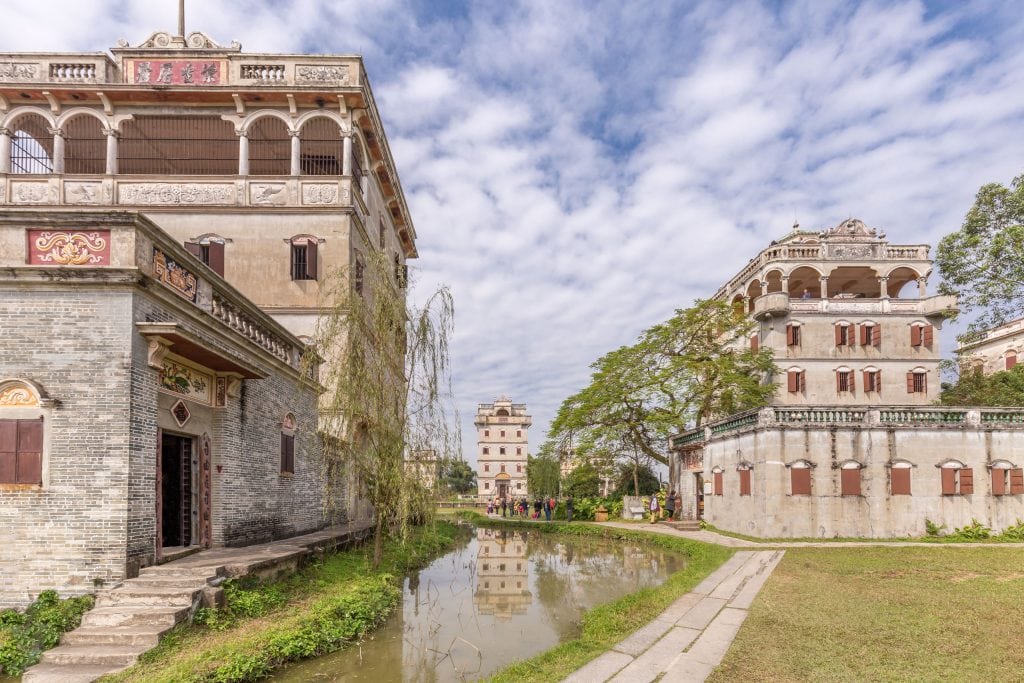 After visiting Zili Village make a short stop at the Fang Clan Watch Tower located just down the road. It's a fine example of a Diaolou that was purely used for protection. You'll see the smaller base and a wider top for even better protection. Depending on the schedule continue now first to Jinjiangli Village, then the garden and then the two other villages. If you plan to skip the other two villages then go to the garden first and then to Jinjiangli Village. Zili Village takes about 2 hours to explore.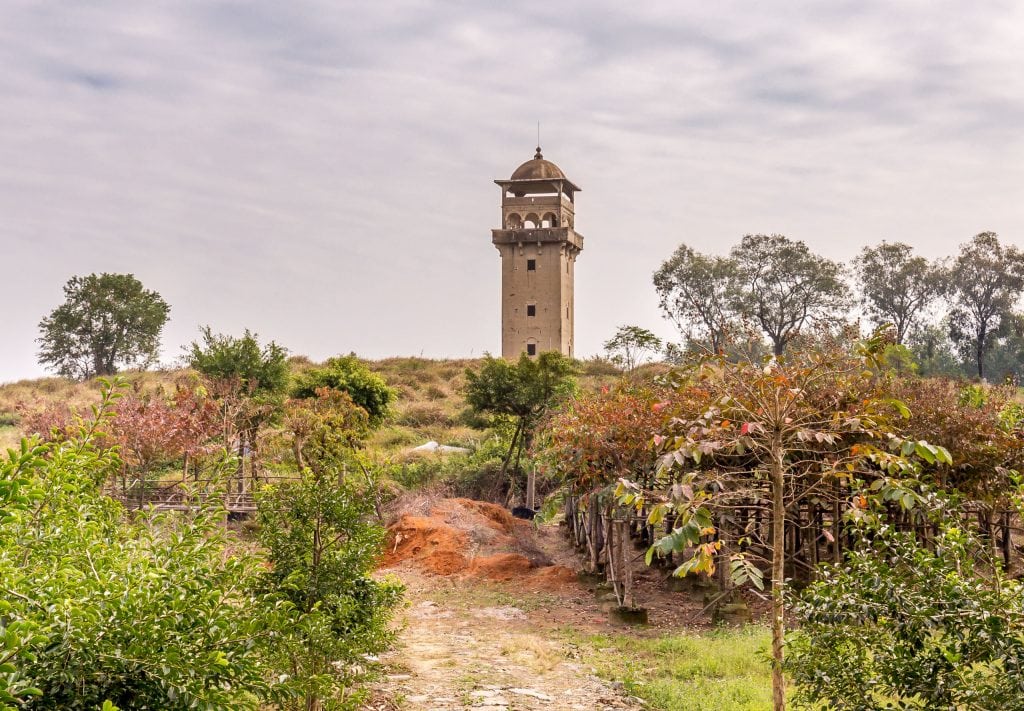 Kaiping Diaolou in Jinjiangli Village
Jinjiangli Village is about the same size as Zili Village but has much less Diaolou. The three of interest are however much more decorated and nicer as those in Zili Village. That's why Zili Village (many Diaolou and rice field) and Jinjiangli Village (most beautiful Diaolou) should be on your itinerary. The three Diaolou that you can enter and explore are located at the back of the village. They are called Shengfeng Lou, Jinjiang Lou and Ruishi Lui. Inside you can see the way of living which (of course) include bedrooms, kitchen, living quarters and at the top the ancestral hall. At the top, you'll also have a great view over Jinjiangli Village and it's Diaolou. It takes about 90 minutes to explore Jinjiangli Village.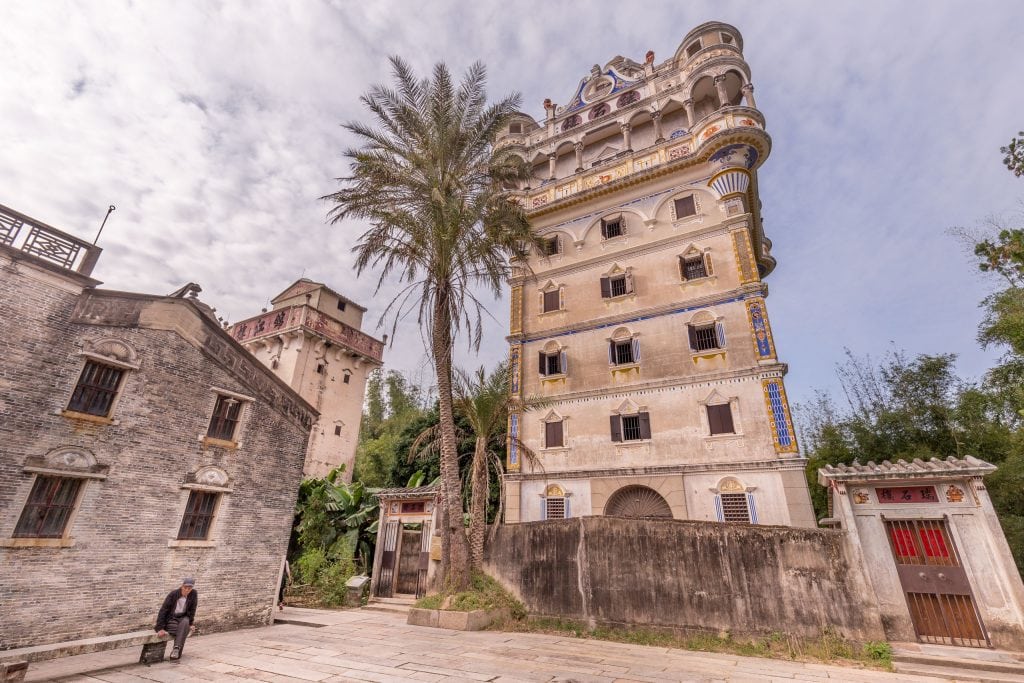 Majianlong Village Cluster of Diaolou
Majianlong Village is a small village surrounded by bamboo forest. The Diaolou here are located also within this forest and if you climb to the top you'll have a great view with Diaolou peeking out above the trees. There are several houses and Diaolou you can visit of which the Junlu Villa, Linlu Villa and Tianlu Tower are the most important I would say. Some are included in the ticket; some need a small additional fee. Those with an additional fee are those where families still live; it gives a great view on how they live so make sure to visit these houses too. I did rush through the village in just over an hour as I wanted to visit all the five places in a day. The views were worth it however!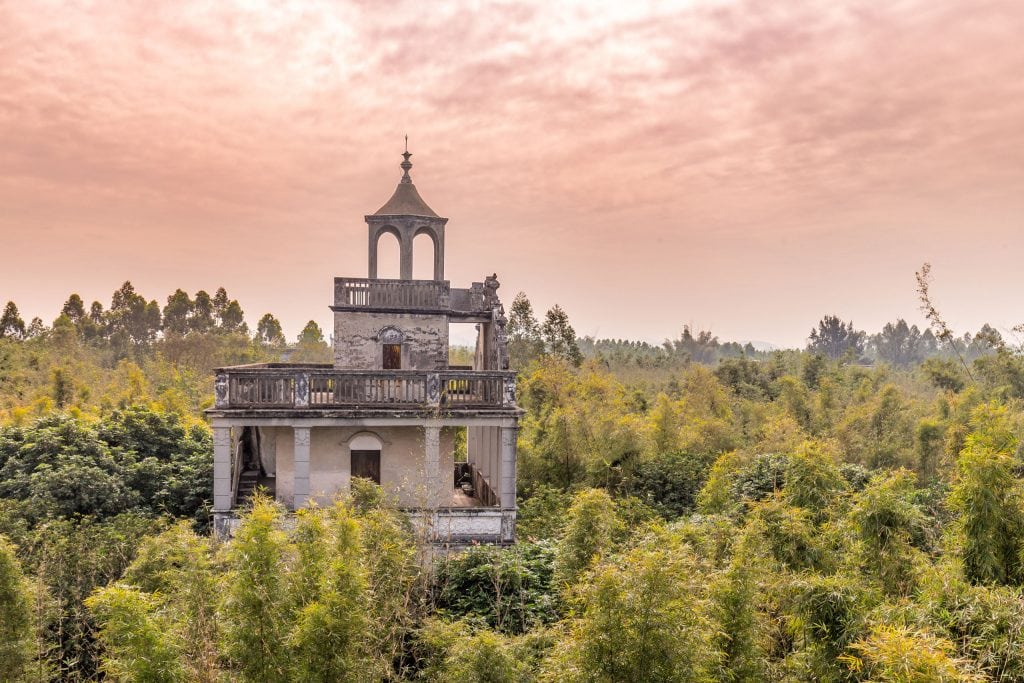 Kaiping Diaolou in Sanmenli Village
Sanmenli Village is probably the most authentic village of all but doesn't have that many Diaolou. You'll see here elders doing laundry, cooking and all kinds of daily life stuff. The younger generation left the village to go to the big cities. In the middle of town, you'll find the Yinglong Lou which is said to be the oldest Diaolou. It looks different as most others I had seen earlier, probably because it dates to the 17th century. The two stories are old, the third story was added in the early 20th-centry during the time of most other Diaolou. All the houses are original traditional Chinese houses which are in perfect shape. It's a beautiful town to wander around for 45-60 minutes.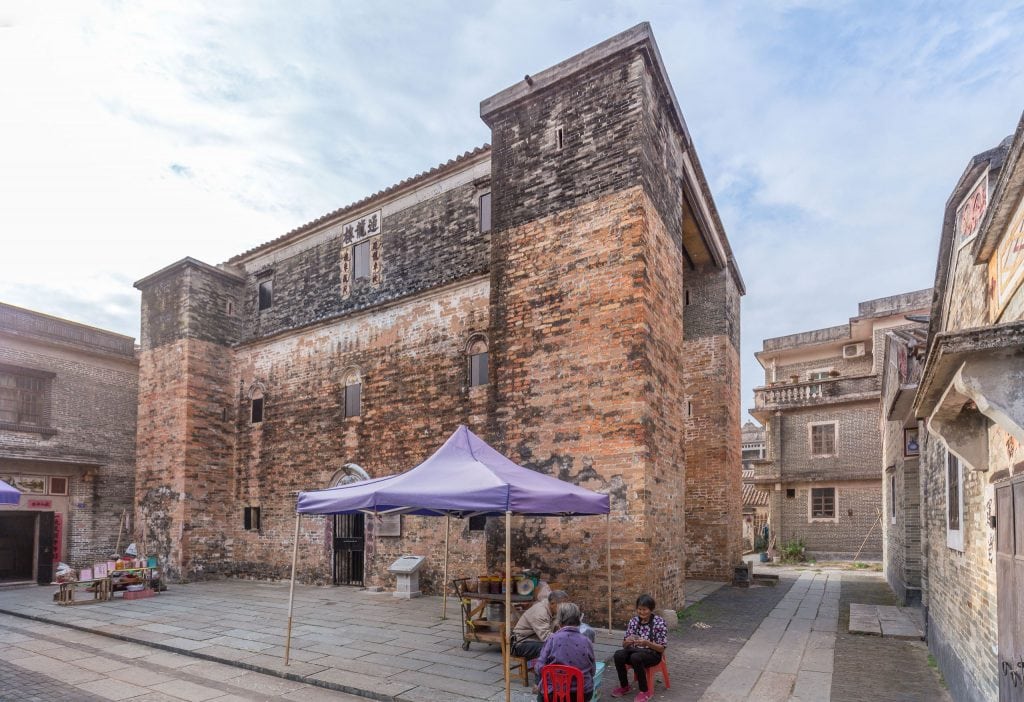 Li Yuan (Li's Garden)
Li Yuan (Li's Garden) isn't part of the UNESCO World Heritage Site (only the above 4 are) and I didn't plan to visit at first but I had an hour left so a quick visit was possible. It's a lovely place and for sure worth a visit as the Diaolou here are a bit never and resemble even more European, especially French, style. They are beautiful decorated on the outside but also the inside is magnificent. You see wealth and power which was brought back by Mr. Li from the USA where he made his fortune. It's also a nice place to do a pick nick if you visit only two of the places I mentioned. This is the place to go for lunch then!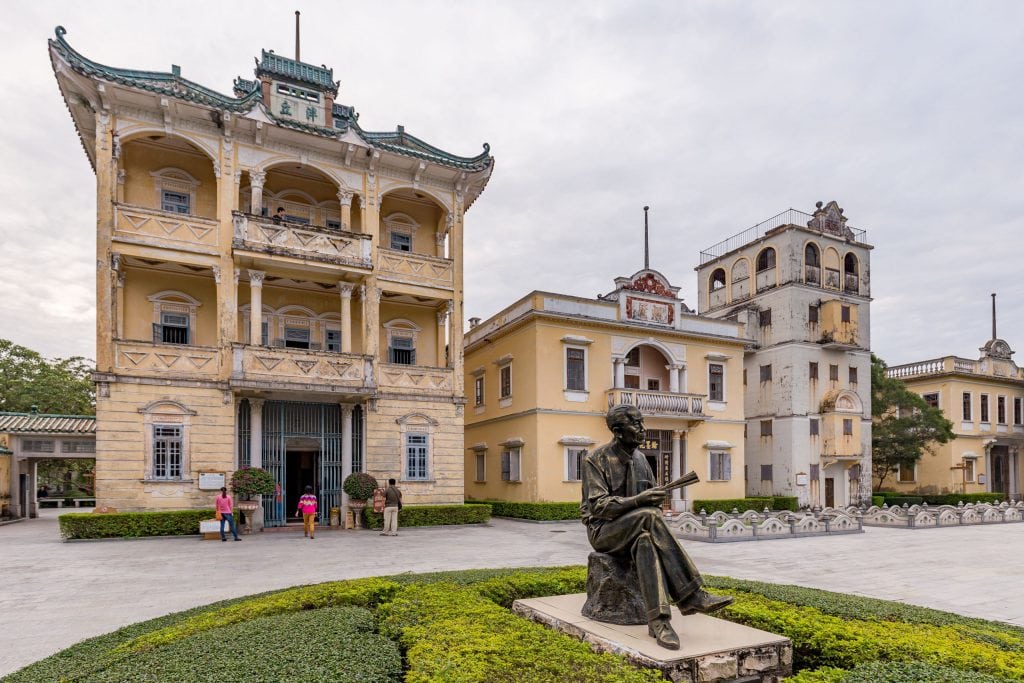 The Kaiping Diaolou and Villages are amongst my favorite spots in China! They are unique in the world and the views are amazing. I visited them from Foshan where I stayed for two nights to explore the city which is more as just an industrial city. The Kaiping Diaolou and Villages are quite far into the country side so go with a private driver or arranged tour to not get lost. I continued to Xiamen after where my China trip ended. I did visit Xiamen earlier as there are also interesting buildings nearby called Tulou.
Stay tuned for more stories and subscribe to the newsletter or follow CTB on social media (Facebook, Twitter, Instagram including Instagram stories; on all social media you can find CTB @christravelblog) to get updated information.
Did you visit Kaiping Diaolou too or do you have questions? Please leave a comment at the bottom of the page. Love to hear from you!
Gallery Kaiping Diaolou
Click an image for a full screen gallery of more photos taken during this trip. If you like to use any photo for commercial, private or editorial use please contact first for permission and/or pricing.