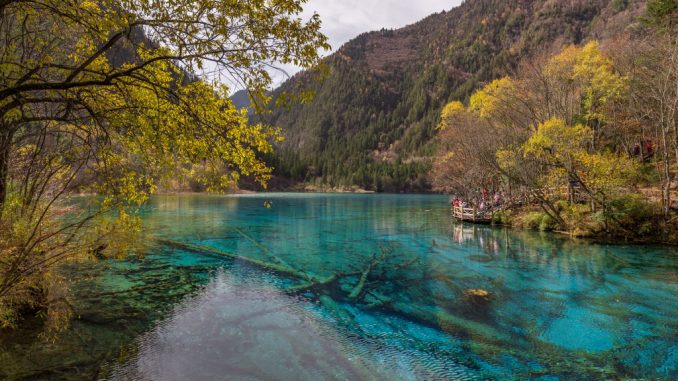 Jiuzhaigou is a fairy tale scenic sight in the north-western part of the Sichuan province in China. It's a must-see together with Huanglong national park and thus a perfect short get-away before or after a business trip. Of course, a visit should be including on any Sichuan itinerary too. I visited after my yearly conference in China. I stayed 3 nights at the Intercontinental Jiuzhaigou and explored both Huanglong (read about Huanglong surreal fairy tale landscape) and Jiuzhaigou Nature Park scenic area. Jiuzhaigou is large and to see all the best spots you'll have to take the shuttle bus combined with a bit of hiking. I show you how to see all places in a day but first a bit of background information of this UNESCO World Heritage site and how to get to it.
Getting to Jiuzhaigou Nature Park
Jiuzhaigou can be reached most easily and efficient by flight from Chengdu. It's a short flight to Jiuzhaigou Huanglong airport (JZH) with a spectacular approach. When I arrived I directly felt I was at about 3000 meters altitude as I was a bit short of breath. Jiuzhaigou Nature Park is at an altitude of about 2000-2500 meters at most of the places of interest which is pleasant. Huanglong is much higher so I recommend everyone to visit this park the second day. The rest of the day I just relaxed at the Intercontinental Jiuzhaigou resort which also arranged my transfer from the airport. It's a luxury indoor resort with a small Tibetan style village and huge swimming pool.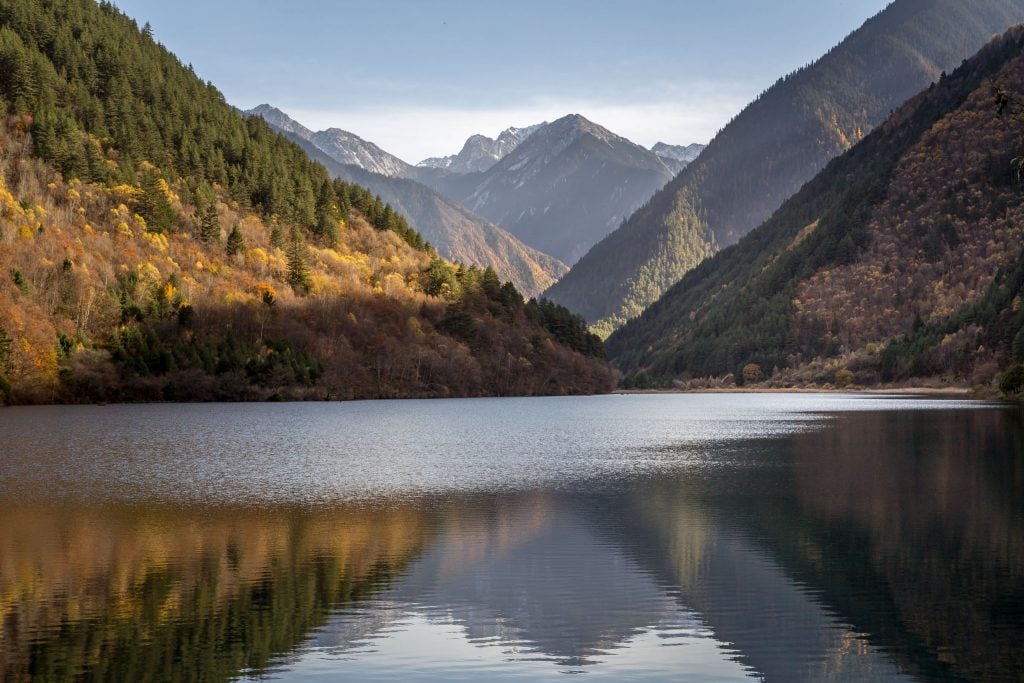 The next day the Intercontinental Jiuzhaigou arranged a shuttle to the park entrance where I bought tickets with access to the shuttle busses. It was approximate 300 RMB which is quite steep but with an average of 7000 daily visitors they can ask any price they want. The shuttle is necessary if you want to see all the best spots of the park in a day. This Jiuzhaigou guide can't be done without hopping bus stops as hiking the full length of the valleys takes more as a day. There are two-day tickets available too if you plan to go hiking all the way.
Jiuzhaigou Nature Park
Jiuzhaigou translates to Nine Village Valley which refers to the nine Tibetan villages in the area of which seven are still inhabited. These villages now sell handy crafts to the thousands of visitors exploring the park daily. To get the real Tibetan feeling you need to visit Lhasa in Tibet of course. It's a remote area and first explored by the Chinese half a century ago when lots of logging took place. Luckily the government quickly intervened and made Jiuzhaigou a national park and a tourist destination.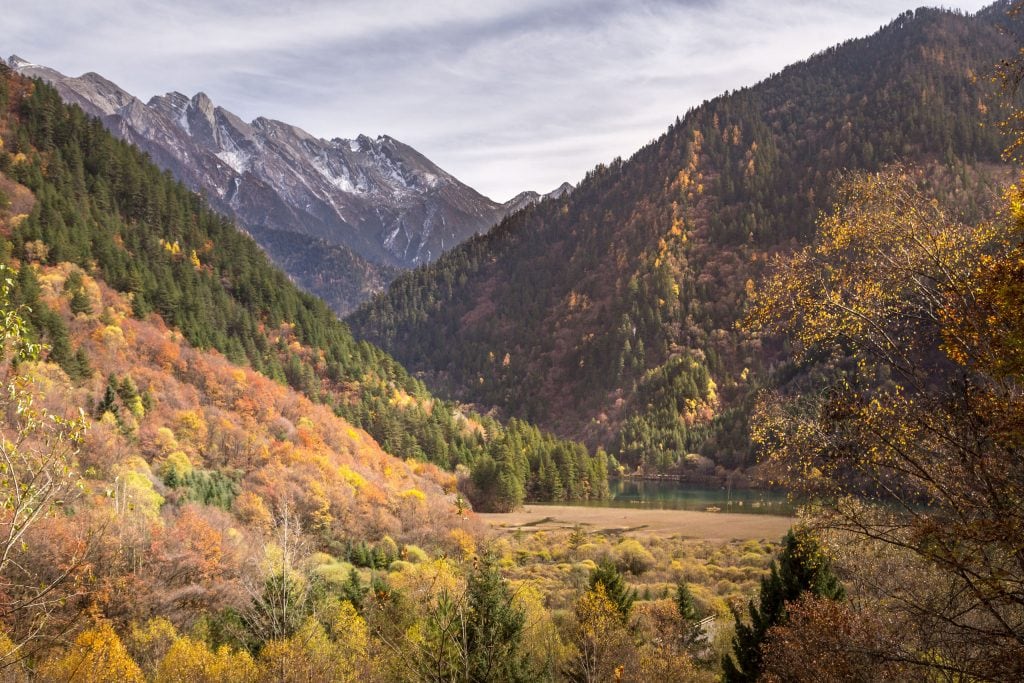 The park including buffer zones is huge covering over 1300 sq. kilometers in the southern area of the Mingshan mountain range. Altitudes range from 2000 meter to peaks of almost 5000 meters high. Jiuzhaigou Valley is between 2000-3000 meters but Huanglong is well over 3000 meters. Mixed forest covers the park of which big areas are primeval forests. These trees have been standing for ages and during seasons they change color. I visited in autumn with green-yellow-brown colors but in summer they are full green. In winter Jiuzhaigou is covered in snow. If you are lucky you can see a wild panda, but you would be one of the first!
The must see places in Jiuzhaigou Nature Park
Now let's explore the Y-shaped Jiuzhaigou Nature Park by taking the shuttle all the way to the last stop of the Rize Valley. This is the fork on the right of the Y-shaped valley. Hiking all the way is possible but I suggest to take two days OR just visit the Rize Valley.
Jiuzhaigou stop #1: Primeval forest
Primeval forest is as the name says an old forest. There is a short hike uphill which is very pleasant with fresh air and, in autumn, already some snowfall. The views of the mountains and cliffs are beautiful. I didn't walk the full hike up but circled the shorter path so that I would not run out of time. In autumn daylight is shorter as in summer and I wanted to make perfect photos! Back at the trailhaid I took the shuttle to the next stop.
Jiuzhaigou stop #2: Swan Lake & Grass Lake
The next stop is at Swan Lake passing Grass Lake, but this lake can be backtracked by a short walk. Grass Lake is more vegetation than lake and quite special. Swan Lake is, as the name says, famous for the swans but you'll have to be in the right time of the year to see them (not autumn). The 250-meter Swan Lake is one of the more beautiful lakes in Jiuzhaigou Nature Park. From Swan Lake it's another shuttle stop down the road to Panda Lake & Waterfalls.
Jiuzhaigou stop #3: Panda Lake & Waterfalls
I didn't stop at Arrow Bamboo Lake which is another similar lake and a bit out of the way without shuttle stop. Panda Lake got its name from the Panda's that use the lake as a water source. They haven't been seen in many years though. If you want to see and hold a panda you have to go to Chengdu and visit the Panda center. The water from the lake flows in multiple streams 70 meters downhill forming the Panda Waterfalls. I recommend doing a short hike here down hill which ends at the Multi Color Lake.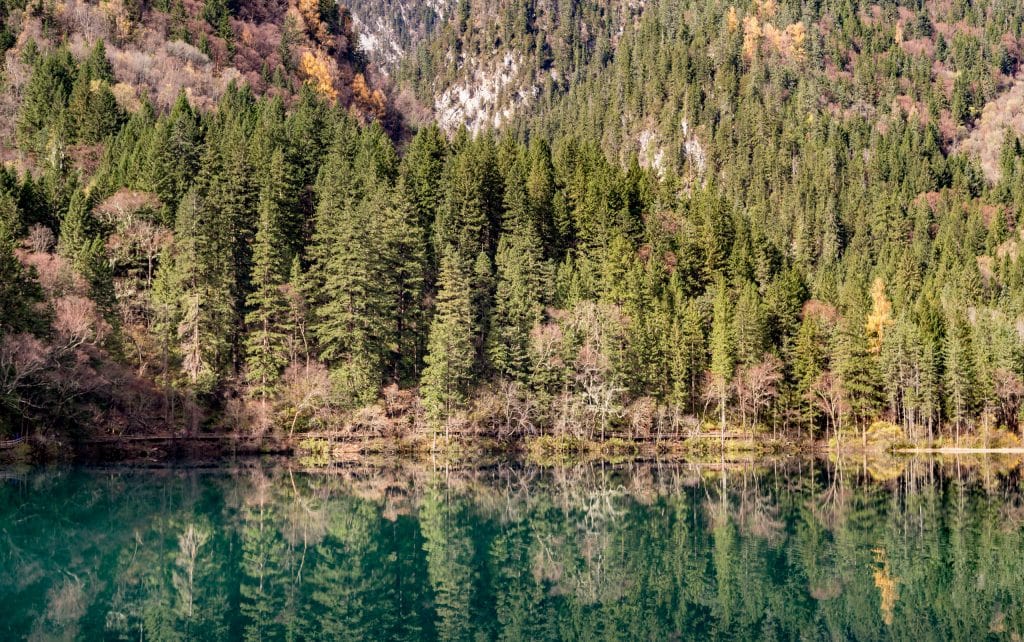 Jiuzhaigou stop #4: Multi Color Lake
The Multi Color Lake or Five Flower Lake is one of the most beautiful spots in Jiuzhaigou Nature Park. It's a lake which colors range from green, yellow and turquoise blue. The bottom of the lake is scattered by fallen trees giving the whole lake an alien look. If you hike down from Panda Lake, you'll arrive at the far end of the Multi Color Lake. That's why the hike is better as otherwise you'll have to hike up and down. After taking a lot of photos I took the shuttle to the next stop at the Pearl Shoal & Waterfalls.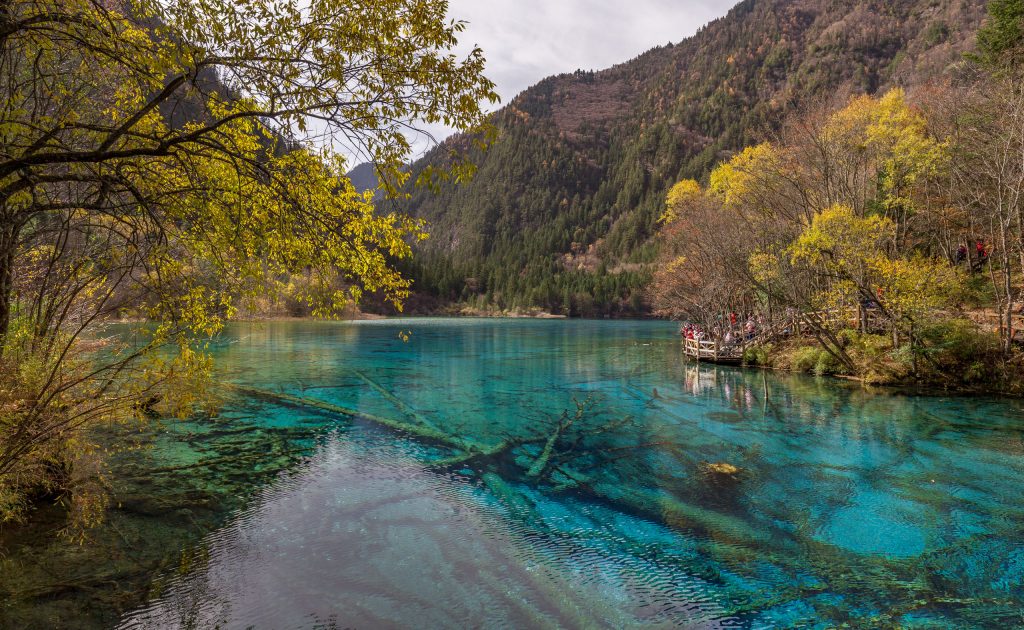 Jiuzhaigou stop #5: Pearl Shoal & Waterfalls
The Pearl Shoal is a limestone area over which a thin layer of water streams over it because of a small slope. These streams come together at the Pearl Waterfalls which are over 300 meters wide. It's the most beautiful waterfall system in Jiuzhaigou Nature Park. It cannot be compared with the Iguazu Falls in South America which are over 2 kilometers wide but still a must-see place. On a crowded day it will be difficult get make a good photo of the falls as it tends to get very crowded. I was lucky to visit on a day it was quiet.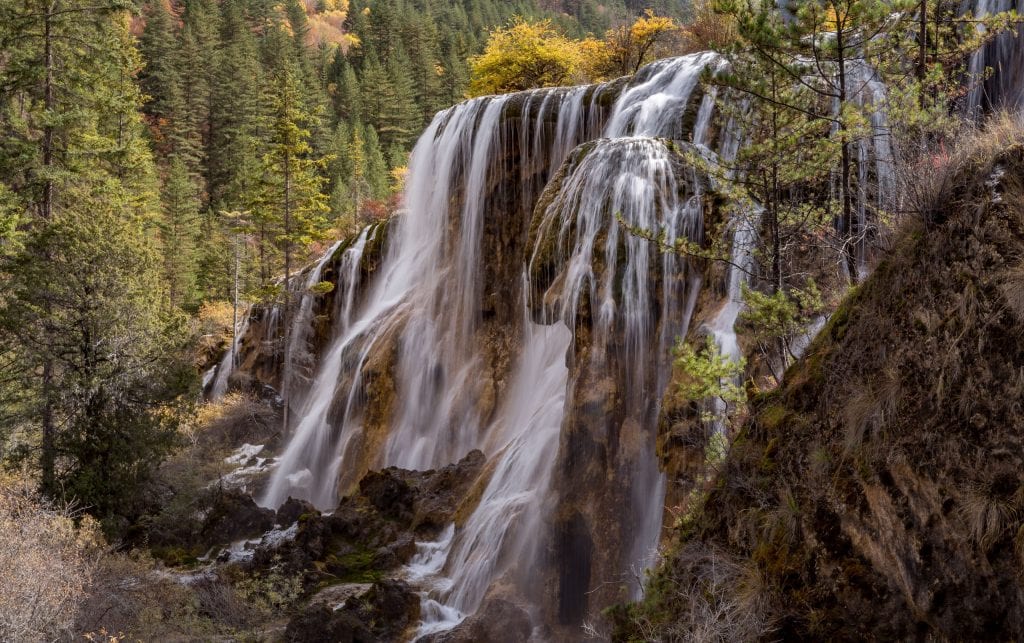 Jiuzhaigou stop #6: Mirror Lake
There are two ways to continue from the waterfalls which depends on how you want to see Mirror Lake. I wanted the perfect reflection photo, so I walked back to the road and over the road (not actually allowed) to the shuttle stop at Mirror Lake. The other option is to hike further along the other side of the lake to the shuttle stop. Mirror Lake was very calm but it had some ripples which didn't make my photos perfect. I was told later that in the morning the water is normally more calm. So, if you go for the perfect mirror shot make a short stop at Mirror Lake before heading to Primeval Forest. Now continue back to the rest area and switch shuttles to go all the way up the Zechawa Valley.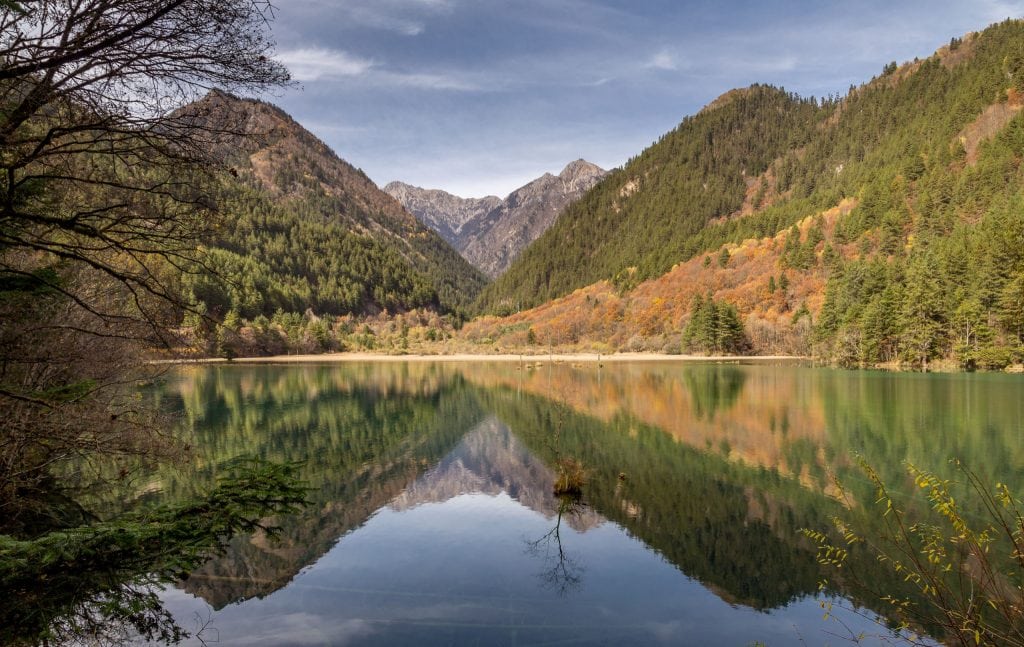 Jiuzhaigou stop #7: Long Lake & Five Color Lake
At the end of the Zechawa Valley there are two places of interest: Long Lake and Five Color Lake. It's best to get out of the shuttle at Long Lake and walk down the path to Five Color Lake. Five Color Lake looks even more alien as Multi Colored Lake. It has an amazing turquoise color at the bottom and because of the crystal-clear water all structures can be seen. Five Color Lake for sure was the most crowded place of the day with hundreds Chinese tourists making selfies. I finally saw ONE other "western" tourist there too! Down the Zechawa Valley are three seasonal lakes but the hike down the valley is a long one. I don't recommend doing this hike if you have just a day. I took the shuttle from Five Color Lake back to the rest area.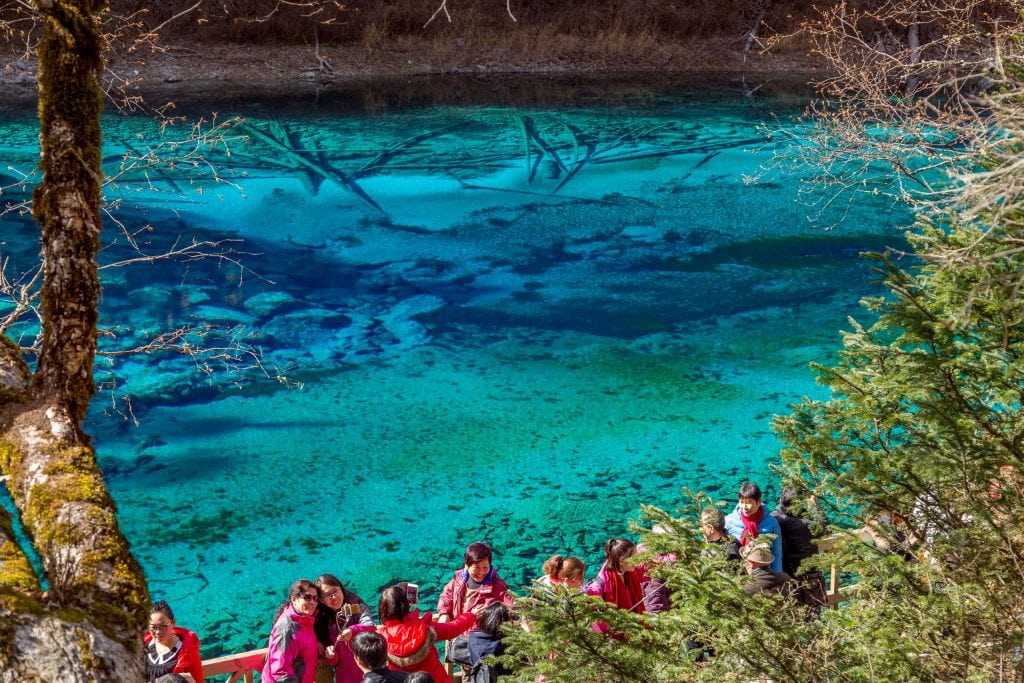 Jiuzhaigou stop #8: Nuorilang Waterfalls & Lakes
Back at the rest area I decided to walk back to the entrance through the Shuzheng Valley as long as daylight would allow me. There where still a few places of interest along the way. I stopped first at the Nuorilang Waterfalls which are as beautiful as the Pearl Waterfalls. The sun however was shining directly into the camera so not the best timing to take a photo. Across the road is Rhinoceros Lake which has similar reflections as Mirror Lake. A must stop too in Jiuzhaigou. A shuttle was just arriving here, so I jumped on it and exited one stop later to safe time.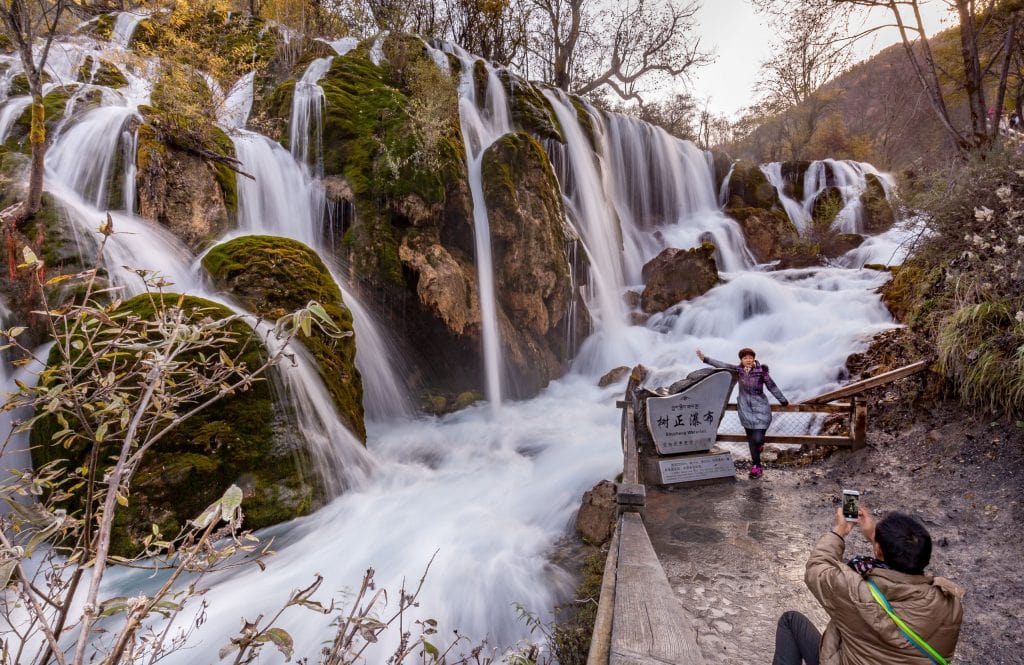 Jiuzhaigou stop #9: Shuzheng Waterfalls & Lakes
The Shuzheng Waterfalls are a series of waterfalls and streams between two lakes. These lakes are all formed by glaciers and dammed separating them. It was a pleasant walk with these falls and streams just next to me. I ended at the Shuzheng Lakes at sunset which gave a beautiful autumn color glow. Just opposite the street is Shuzheng Village which is one of the seven remaining Tibetan villages. I took the shuttle back to the entrance from here enjoying the view of several other lakes.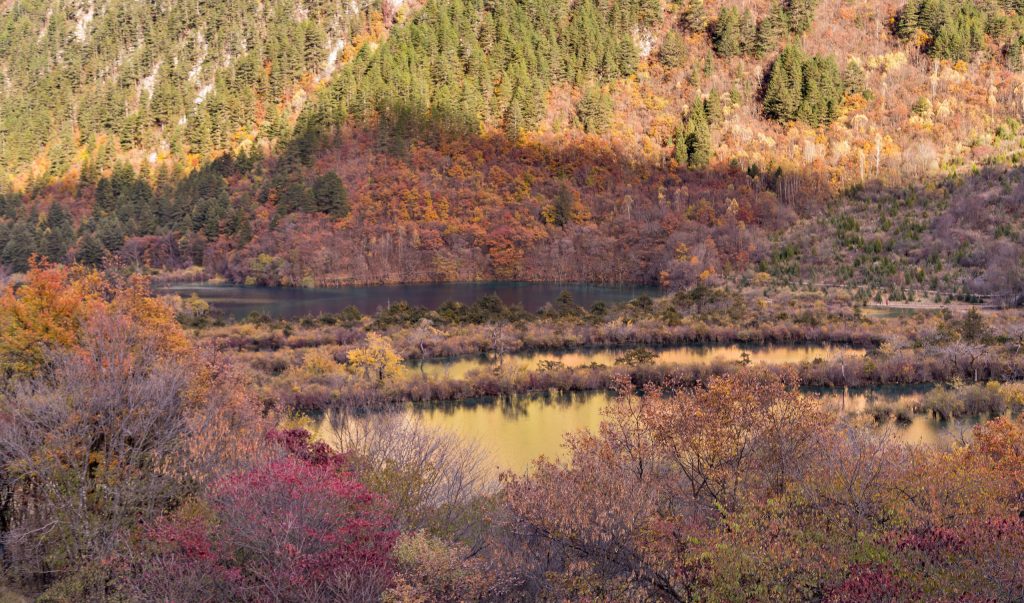 The chauffeur of the Intercontinental Jiuzhaigou was already waiting for me at the entrance. It was just a short 30-minute ride back to the hotel where I had a great spicy Sichuan dinner. In the evening I spoiled myself with a relaxing spa treatment. It was a long day. The next day I visited Huanglong National Park which is a surrealistic fairy tale paradise.
If you visit China, the Sichuan Province I highly recommend going to Jiuzhaigou. It's a place not visited by many Western tourists and a bit off the beaten track even though it's less then an hour flight from Chengdu. The place is surrealistic, magical and a wonder on earth. I had a great time in this remote area of Sichuan and hope to visit Jiuzhaigou Nature Park another time during another season.
Stay tuned for more stories and subscribe to the newsletter or follow CTB on social media (Facebook, Twitter, Instagram including Instagram stories; on all social media you can find CTB @christravelblog) to get updated information.
Did you visit Jiuzhaigou Nature Park too or do you have questions? Please leave a comment at the bottom of the page. Love to hear from you!
Gallery Jiuzahigou Nature Park
Click an image for a full screen gallery of more photos taken during this trip. If you like to use any photo for commercial, private or editorial use please contact first for permission and/or pricing.