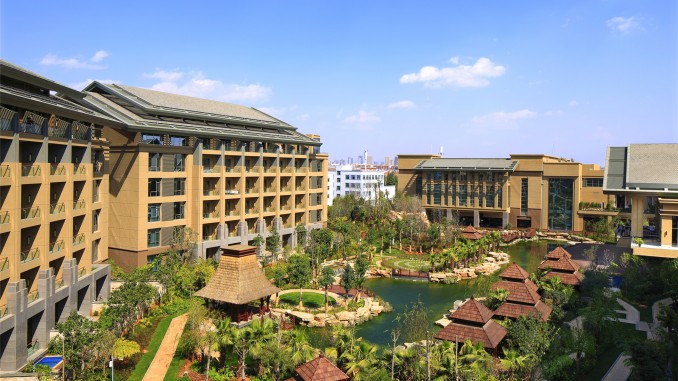 My annual 3 week trip with my son (12yr) brought me this year to the Yunnan province, China. I came up with a 2 week Yunnan itinerary from Kunming to Shangri-La. The Intercontinental Kunming, part of the IHG group, was our residence for the first 3 nights. We used the hotel to acclimatize after our 24 hour journey. It was our base to explore the Chengjian fossil site near Fuxian Lake and the Shilin Stone Forest area.
The hotel
The Intercontinental Kunming is located near Dianchi Lake in a quiet area full of green and fresh air. The location is very central with just a short taxi ride from the train station or about a 40 minute drive from the airport. A long driveway takes you from the main street to the hotel. The lobby is a huge open space build in traditional local way. You feel if you are not in a big city anymore but on the country side in a luxury resort. The six-story blocks with hotel rooms are built around a main garden with a small pond. The hotel is full of luxury but has a contemporary feeling which is very pleasant.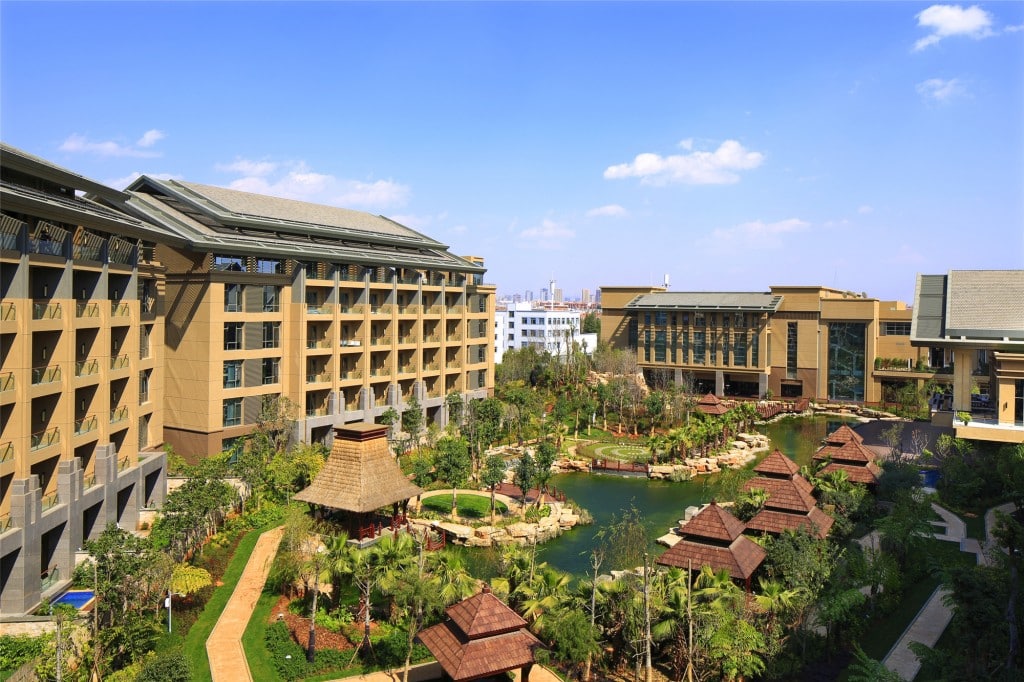 The rooms at Intercontinental Kunming
The rooms are big compared to many other hotels I have stayed at. We had a garden view room with balcony which is great in the city of eternal spring as you can sit outside. Beds at Intercontinental Kunming are very comfortable for a great night sleep. The bathroom is large with single standing large bath and separate rainforest shower. I like those! The glass wall can be closed but when open gives a very spacious feeling. The modern rooms have all the amenities you would expect like a big TV, minibar, safe, sitting area and more. It's a comfortable place to be if you're not exploring Kunming.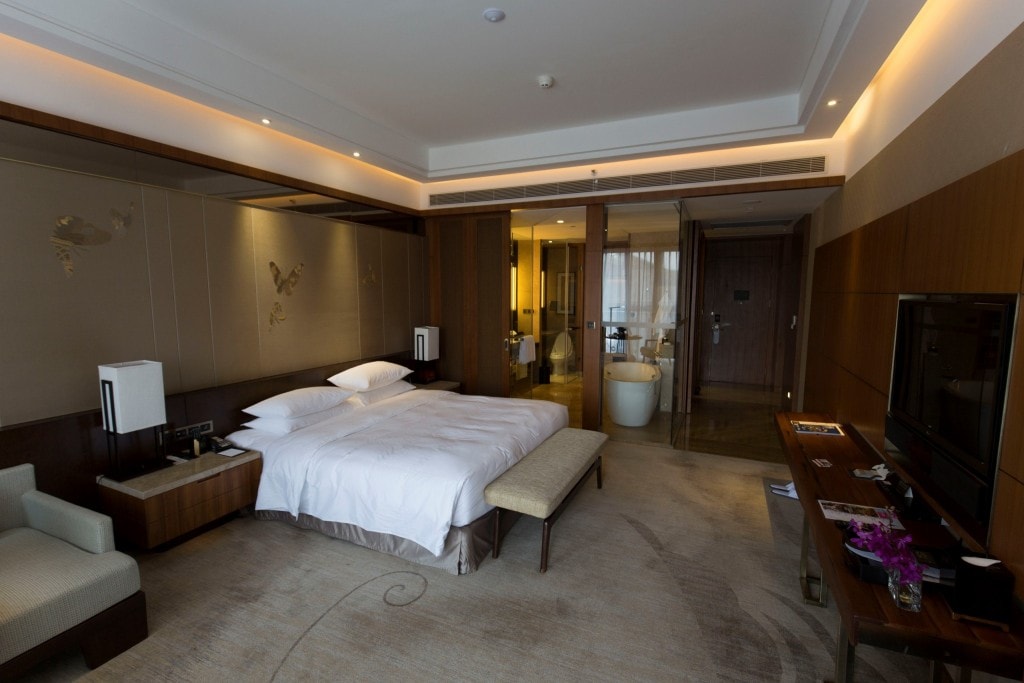 Facilities at Intercontinental Kunming
The Intercontinental Kunming offers a large indoor swimming pool with a modern and professional gym. The garden area is accessible from the pool to relax in the sunshine. With various patios in the garden you can have a private retreat without anyone disturbing you. A SPA is also available at the hotel and various shops throughout the hotel. It has all the facilities you can expect from a luxury hotel. Even if I do not use them in every stay I do like the facilities are there just in case I want to use them.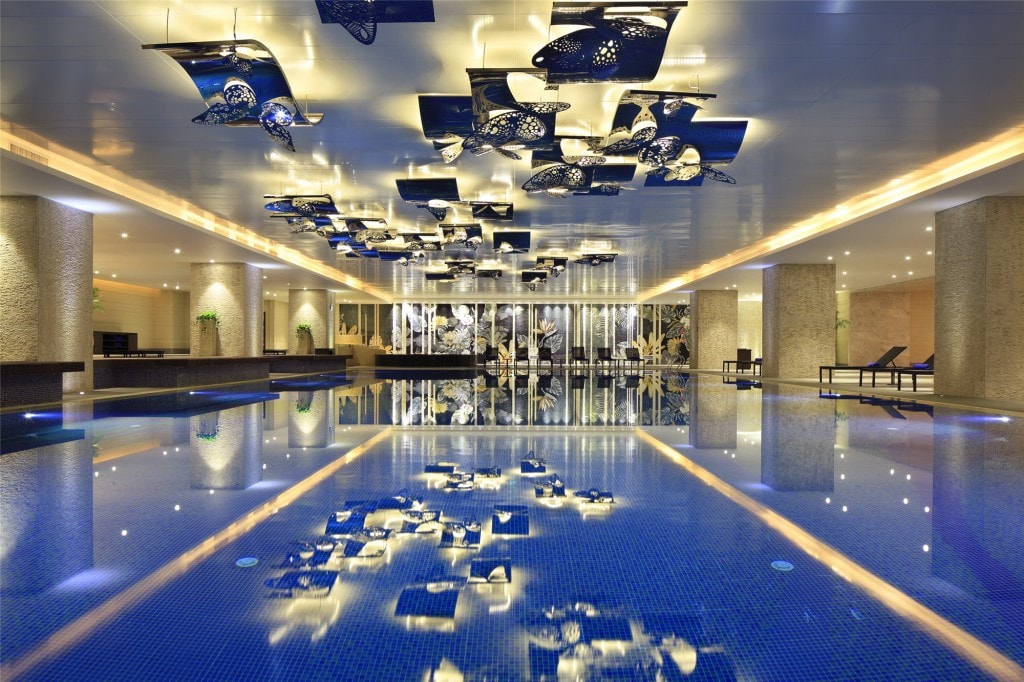 Dining & Drinking at Intercontinental Kunming
The dining facilities at Intercontinental Kunming are excellent with a Chinese and a Western restaurant. We only tried the Chinese restaurant which was perfect. The taste and the variety of dishes were just superb. We did also try the Japanese/Chinese restaurant in the same building not managed by the hotel but we felt the quality was a bit less. Then there is the Market Place an all-day dining restaurant where breakfast is also served. We only had breakfast once there with so many choices you cannot imagine. The other days we had breakfast in the club lounge which also offers afternoon tea, evening cocktails and snacks. I always recommend adding club lounge access to your stays at Intercontinental hotels. The lobby bar offers you a wide range of cocktails with a focus on vodka and small snacks or you can use it for just a place to relax a bit.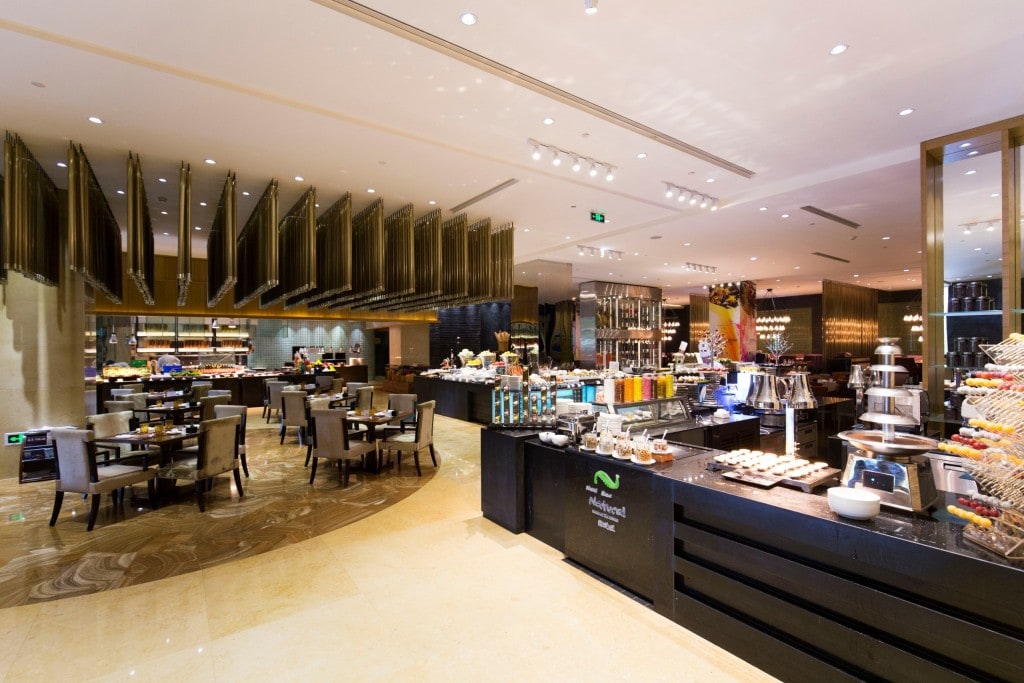 Conclusion
We enjoyed our stay a lot at the Intercontinental Kunming. The service was outstanding; the quality of the food & beverage was perfect and the staff very helpful in every way. Our large room with balcony and garden view was a big plus so that we could really rest well. The location in the green area close to the lake made it a great base for exploration of sites outside of Kunming, which most of them are. I can definitely recommend the Intercontinental Kunming to everyone when staying in Kunming for business, leisure or both. It's a quiet urban paradise resort you will enjoy!
If you would like to know what you can do in and around Kunming then see one of these options: Two-week Yunnan itinerary, a day in Kunming, Shilin Stone Forest day trip. I will add more destination information over time.
Stay tuned for more stories and subscribe to the newsletter or follow CTB on social media (Facebook, Twitter, Instagram including Instagram stories; on all social media you can find CTB @christravelblog) to get updated information.
For more hotel information and booking options please visit:
Website: http://www.intercontinental.com
微博/Weibo: http://e.weibo.com/ickunming
Gallery of Intercontinental Kunming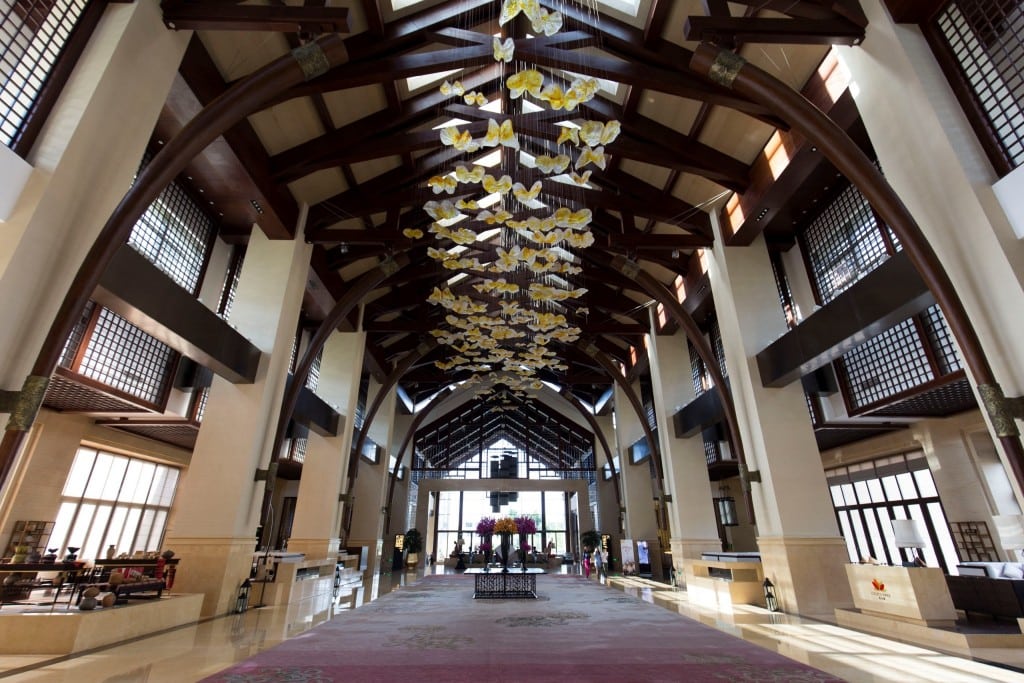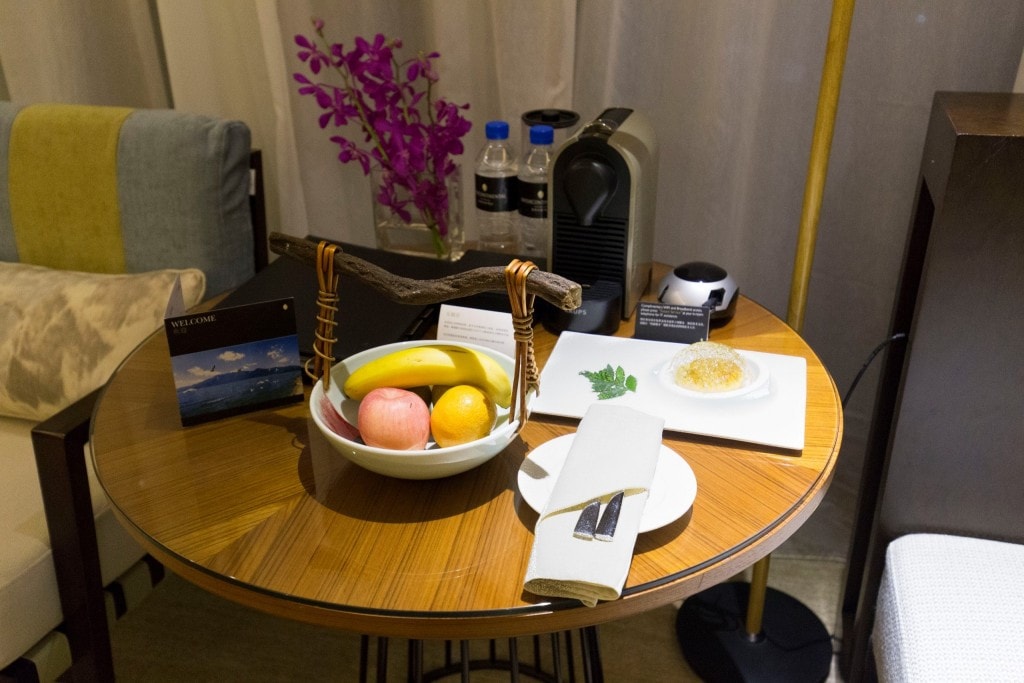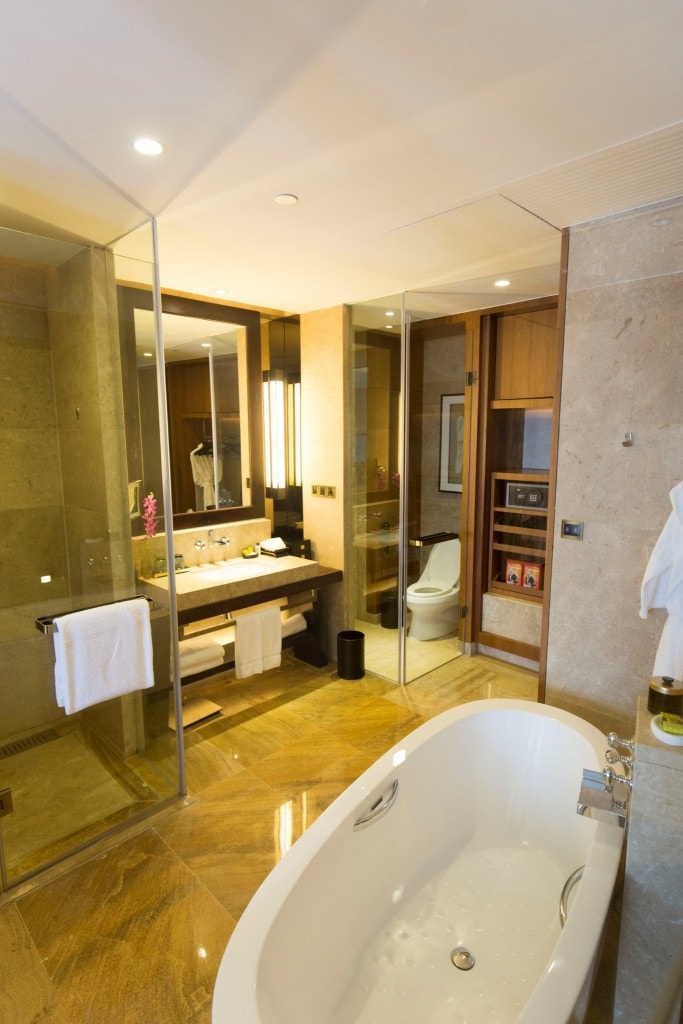 ** All opinions are based on a genuine stay, flight or experience. I'm not affiliated with the hotel, airline or tour operator but I might be (partially) sponsored – or paid. **