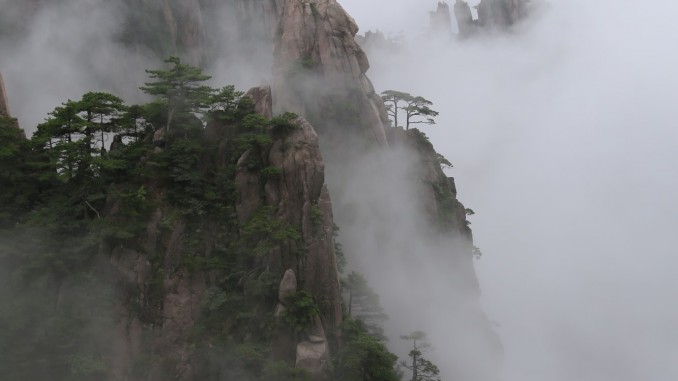 Summary: Part of a 24 day China tour. Start in Hangzhou, followed by Shanghai and Suzhou. From there to Tunxi (Huangshan) by plane continued by train to Wuyishan. From here by plane to Xiamen with a three day trip to the Tulou Clusters and back to Xiamen. Everywhere spend around 2-4 days to see all UNESCO Sights and all other most important sights.
UNESCO World Heritage Sites visited: Huangshan / Yellow Mountain (1h from Tunxi), Ancient Villages in Southern Anhui – Xidi and Hongcun (1h from Tunxi) (see all UNESCO sites here)
In the Huangshan region we hired a driver and car through Huangshan Tour agency. During this trip we did not opt for a guide as the places we wanted to visit where quite straight forward and for the history part we already read about it before. We told the agency before that we like to blend in with locals and this was very well respected and special (wild) food was arranged. Especially on Huangshan mountain tickets were arranged to safe us lots of waiting time, also train tickets for our onward journey were arrange for us. For foreigners it's not possible to buy online train tickets. We recommend this agency with five stars, very flexible and understanding.
Day 1 trough 10 – Hangzhou, Shanghai, Suzhou & Tongli
See previous posts about the visit to those cities:
CHINA – Hangzhou (2014.07.07 – 2014.07.30 China Tour)
CHINA – Shanghai (2014.07.07 – 2014.07.30 China Tour)
CHINA – Suzhou & Tongli (2014.07.07 – 2014.07.30 China Tour)
Day 11 – Arrival
After arrival which didn't go totally as planned back in Suzhou (see post here) and a delay of almost two hours in flight we arrived late to our hotel and just decided to stay there for the evening.
Day 12 – Huangshan
Huangshan also called the Yellow mountain is a range of mountains in the Anhui province. It's famous for its granite peaks and beautiful views. It's formed over 100 million years ago. Lots of different vegetation like pines and ferns make it very green up to the tree line at 1800 meters. The highest peak is at 1864 meters. All area is UNESCO world heritage site and we accessed it from Huangshan City (Tunxi).
Day 13 – Xidi, Hongcun, Mukeng, Tangyue villages
Xidi not far from Huangshan city is an ancient village in Southern Anhui province. It's like Hongcan (see below) part of the UNESCO World Heritage Sites. The village was first founded in the 11th century and got rich due to the Hu family. They build big wooden structures as houses with beautiful carvings in wood. The village has two main roads and further connected by very small alleys and two streams flowing through it. The city gives you a great look into how living was in the Ming and Qing dynasties. After one and a half hour we finished exploring the village in the soaring heat.
Hongcun was our next stop and more close to the mountain Huangshan. Compared to Xidi the architecture is a bit different (see photos of both). The structures one can see here from the Qing and Ming dynasties are of superb quality, especially the so called Chenzhi Hall. The wood carvings here (see photos) are of such quality that it really amazed us, we haven't seen it before in China; one of the best! In the middle there is a small pond to which and from which streams run through the city and where you can see people washing their clothes, cleaning fish and other food. Also in this village we spend one and a half hour before we went for lunch.
After lunch we drove to Mukeng village, which is about 10 minutes drive from Hongcun. This village itself it not direct of interest but it's the located: on the hill side in a bamboo forest. From the parking lot it's a circular walk of just over an hour. A small steep climb to the top of the mountain through a staircase surrounded by bamboo forest gives a great view of the surroundings. From there one passes to the village and down along the farmlands back into the valley where the parking lot is. A great hike!
From Mukeng we drove to Tangyue, almost 30 minutes drive but worth to see the Tangyue Memorial Archways. Tangyue Memorial Archways are composed of seven arches, arranged in the order of fealty, filial piety, morals and righteousness. The two ancestral temples have fine carvings in stone and wood. It was a nice addition to see the archways which are one of the finest in China. Around this area there are several other ancient sites to see like Chengkung, Tangmo which we did not pass by as it was evening and time to go to sleep to catch the train next day.
Day 14 trough 24 – Departure, Wuyishan, Xiamen, Tulou
Early morning we took the K45 train from Huangshan to Shaowu from where we had a short two hour drive to Wuyishan. See here:
CHINA – Wuyishan (2014.07.07 – 2014.07.30 China Tour)
CHINA – Xiamen & Tulou (2014.07.07 – 2014.07.30 China Tour)
Stay tuned for more stories and subscribe to the newsletter or follow CTB on social media (Facebook, Twitter, Instagram including Instagram stories; on all social media you can find CTB @christravelblog) to get updated information.
Did you visit Huangshan Tunxi too or do you have questions? Please leave a comment at the bottom of the page. Love to hear from you!