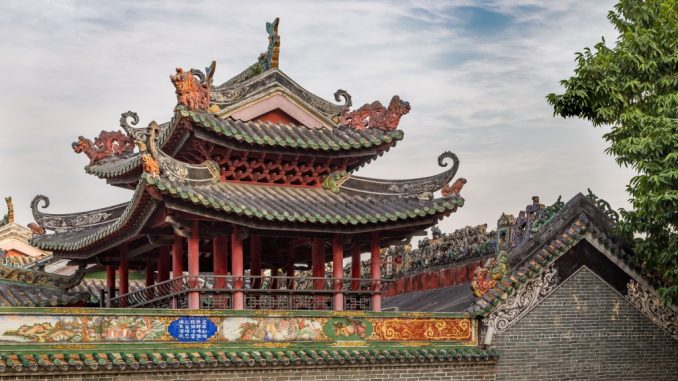 Most people probably don't know Foshan and those two do probably think it's one big industrial city near Guangzhou in the Guangdong provice. It's located in the middle of the Pearl River Delta. This Foshan itinerary contains all the places of interest of which the Nanfeng Kiln is of particular interest. Ceramics were the region's most important product for a long time. Foshan is also the perfect base to explore the Kaiping area with its multistory fortified houses of overseas Chinese who returned to China early 20th century. More on that later in another day trip story. Now I'll show you what you can do in Foshan if you have a day before or after a business trip or if add it for some reason in your China itinerary.  
Foshan itinerary stop 1: Nanfeng Kiln Foshan
I recommend to add the Nanfeng Kiln as stop one on a Foshan itinerary. It is the oldest kiln of China and dates to the Ming Dynasty (14th-17th century). It's located in Shiwan Town which was famous for its ceramics already from the Tang (7th-10th century) and Song Dynasties (10th-13th century). It's one of the few surviving kilns which are called dragon kilns because they were built against a slope and resemble a dragon. Over time Shiwan Town became the most famous place in China for ceramics and still is today. The Nanfeng Kiln never stopped working and pottery is still made today the same was as it was done 500 years ago.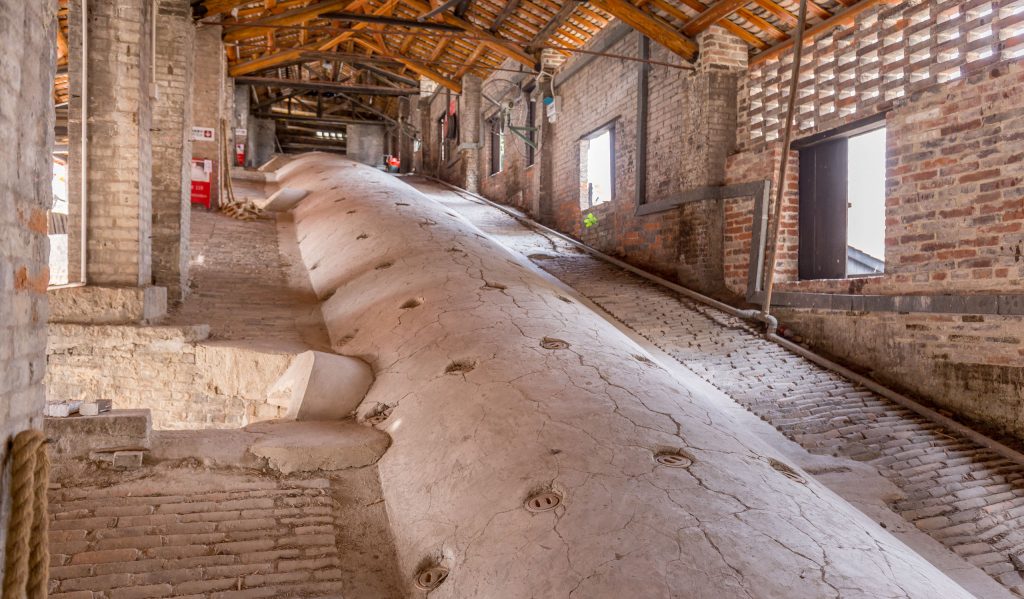 At the entrance, there is a huge ceramic screen made at the Nanfeng Kiln (see gallery below) which shows the old kiln with lots of details. This kind of pottery / ceramics you'll also see at the Foshan Ancestral Temple or Zumiao Temple which I'll describe below. You can visit the old kiln and if you are lucky you can see it working but when I visited it wasn't fired up unfortunately. At the top of the kiln stands a huge 400-year old Banyan tree which is a miracle, as per local legend, that it survived. It takes about two hours to explore the kiln and the small temple within the complex. Make sure to visit the ceramics museum with some interesting pieces of art. You can even make your own pottery but this takes time, of course, and won't be ready in a day. If you Foshan itinerary covers more days this would be something you can do. If you are looking for souvenirs I recommend to buy them here as they are traditional items and not bulk made for tourists.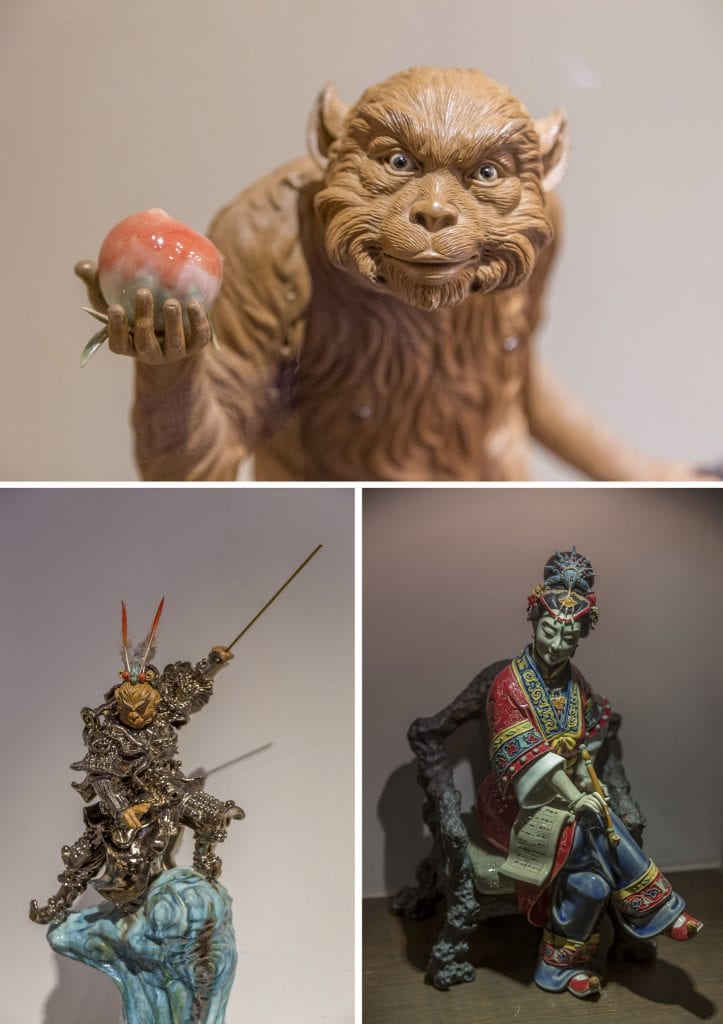 Renshou Temple Foshan
The Renshou Temple isn't very old, just a century, but is an active temple in Foshan. Don't miss it on your Foshan itinerary. The octagonal Ruyi Pagoda houses a ceramic statue of a female Buddha which is made at one of the local kilns. A visit to the Renshou Temple is recommend as it's always full of locals and Buddhist monks. This will give you a great view into the daily life and a better understanding of temple habits. It's not a huge place and when you finish it's probably lunch time (if you visited the Nanfeng Kiln in the morning). The Foshan Ancestral Temple is within walking distance and you'll pass plenty of restaurants to go for lunch on your way there.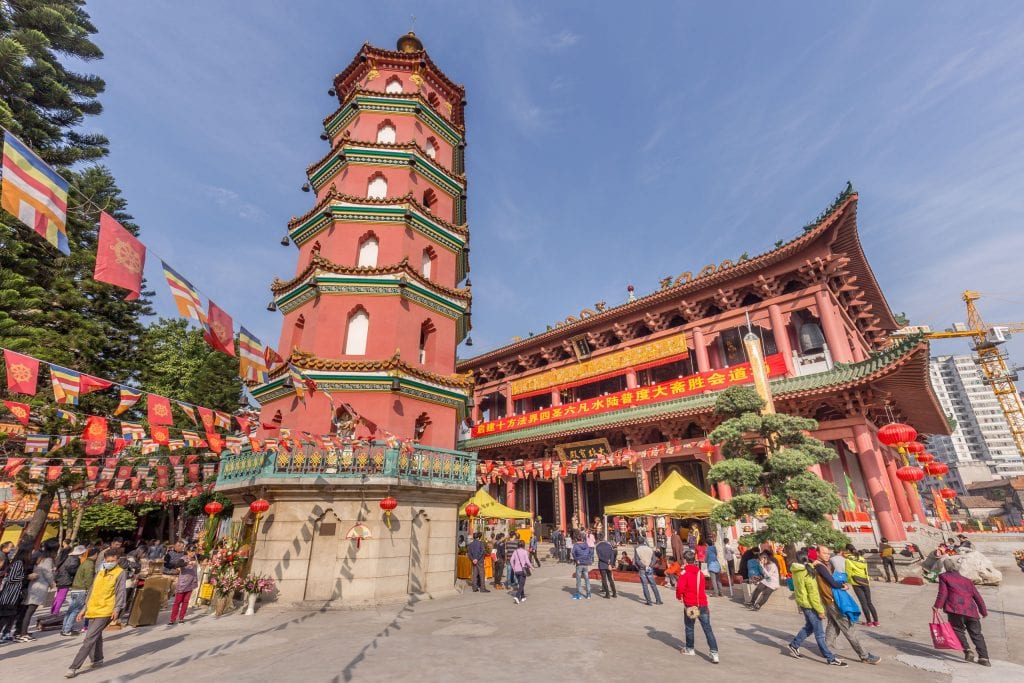 Foshan Ancenstral Temple or Zumiao Temple
The Foshan Ancestral Temple or sometimes called Zumiao Temple dates to the end of the 11th century. It was however destroyed a century later and rebuilt at the end of the 14th century. The temple is dedicated to the northern God call Beidi which is the protector of the waters of Guangdong province. The temple complex consists of several buildings which include a terrace, pond and three halls. Although it's still a temple and functions as one it was converted half a century ago to the Foshan Municipal Museum. It does take away some of the authenticity but still worth a visit.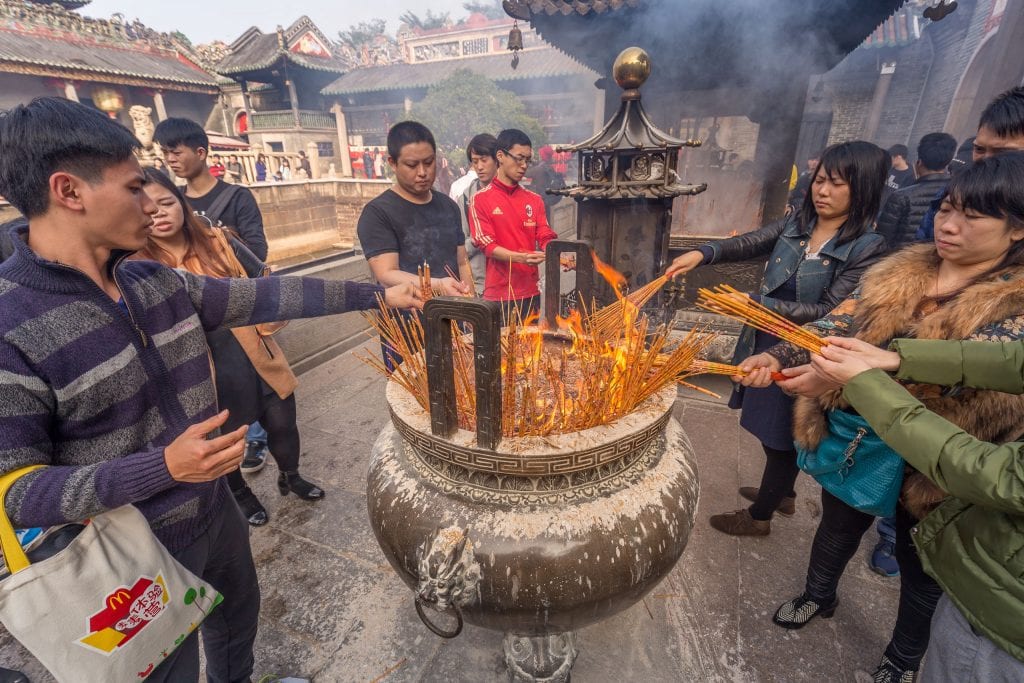 When I visited early January, it was very crowded due to festivities but this also had its charm. People worshipping their ancestors, attending performances of lion dances and swordsmen fighting. As said the Foshan Ancestral Temple has been turned into a museum including a martial arts museum dedicated to the master Wing Chun. If you look beyond that and forget about the crowd you'll see the original temple with beautiful ceramics made in local kilns like the Nanfeng Kiln which is also included on this Foshan itienrary. These ceramics depict scenes from daily life and religious rites. It's quite a large complex and especially when it's crowded a visit takes a few hours. The Foshan Ancestral Temple is one of three places in Foshan I recommend to visit if you have a day in Foshan.
I would not recommend a visit to Foshan during a first trip to China unless you must be in Foshan for business. If you are in Foshan for business these cultural places are a perfect day trip to learn about local life and history. I stayed in Foshan mainly to explore the Kaiping area but due to planning and my stay at the Crowne Plaza Hotel Foshan I had two half days to explore the three most important cultural sites in Foshan. Both the Nanfeng Kiln and the two temples together take up about half a day each. I continued my journey to Xiamen which was the last city I would visit during this China trip.
Stay tuned for more stories and subscribe to the newsletter or follow CTB on social media (Facebook, Twitter, Instagram including Instagram stories; on all social media you can find CTB @christravelblog) to get updated information.
Did you visit Foshan too or do you have questions? Please leave a comment at the bottom of the page. Love to hear from you!
Gallery Foshan itinerary
Click an image for a full screen gallery of more photos taken during this trip. If you like to use any photo for commercial, private or editorial use please contact first for permission and/or pricing.