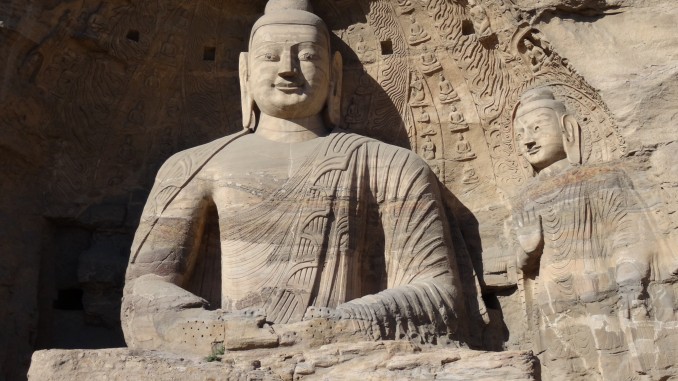 A business and leisure trip to Seoul and also to Beijing and Datong. First time to Republic Korea and fourth time to China. As Beijing was covered decided to go to Datong. Everything squeezed into ten days only.
UNESCO World Heritage Sites visited: Grottoes of Yungang (see all UNESCO sites here)
Day 1 through 8 – Korea Seoul & Business
First sightseeing in Seoul for 2.5 days, see here: KOREA REPUBLIC – Seoul (2013.10.06 – 2013.10.16)
after that conference in Seoul for two days and two days in Beijing.
Day 9 – Datong
Left my Luggage at the hotel; just a check out for one night to return tomorrow. Took only some small items in the morning and into the private taxi to Datong. First stop, most important, the Yungang Grottoes, a UNESCO World Heritage Site. Dating back to the 5th and 6th century they are a great example of rock cut art in Buddhism. The site contains of several grottoes and over 50000 statues, big and small. There are some wooden structure in front to protect and also trees are planted around so that sandstorms cannot destroy the statues more. The caves have also very nice painting in various color. All-in a unique place to spend 3-4 hours. In the same park is also a temple on the lake which is very nice to visit too.
After the long drive here the taxi dropped me off at the Holiday Inn Hotel in Datong city; a coal mine city. In the late afternoon had a bit of time to check out a few sights in the center. They are quite common except the nine dragon screen which is similar to the one in the Forbidden City and not many exist of those. The glazed tile screen in Datong is the oldest existing one in China. Further checked out the drum tower, Chungyang Taoist temple. Went for a nice dinner where I had also Dolphin Sashimi.
Day 10 – Datong
Today three important and interesting things on the agenda. We started the day at 9AM and went first to the wooden Pagoda of Fogong Temple in Ying County. It's the oldest fully wooden pagoda in China in these days build in the 11th century. It was build by Emperor Daozong of Liao at the grounds of his families house. Total height of almost 70 meters and dedicated to the Sakyamuni Buddha.
From the pagoda we travelled further to an odd place. The hanging monastery or so called Xuankong Temple. This temple has a combination of all three major Chinese religions: Buddhism, Taoism and Confucianism. It hangs about 75 meters above ground in the middle of a cliff wall, supported by wooden beams inside the mountain. It is said that the original temple was build by only one man, a monk called Liao Ran. From that time till today more additions were made and it became what it is today. It's very well preserved and a unique place to visit.
Last part of this trip brought me to the Heng Shan in Shanxi Province. It's the northern Heng Shan and one of the five great Taoist mountains. It's a sacred mountain since the Zhou Dynasty with a total of 2061.1 meters height. The mountain is full of temples, inscriptions and history. We drove up till the cable car station, due to lack of time I took the cable car up. From there explored all the buildings (really all!) and walked to the top of the mountain at 2061.1 meter, which was still about 3 hours to go up and down. In total was at the mount around 5 hours in total.
Day 11 – Departure
Never go back by car to Beijing around 9-10PM! You will get into traffic jam with trucks, even lanes going out of Beijing are used to get into Beijing! We had a 4 hour delay, but a great experience. Dinner from the back of a scooter; "fresh" made 🙂 Late at night back to Intercontinental Hotel Beijing, and the morning after at 10 AM flight back to Amsterdam.
Stay tuned for more stories and subscribe to the newsletter or follow CTB on social media (Facebook, Twitter, Instagram including Instagram stories; on all social media you can find CTB @christravelblog) to get updated information.
Did you visit Datong too or do you have questions? Please leave a comment at the bottom of the page. Love to hear from you!