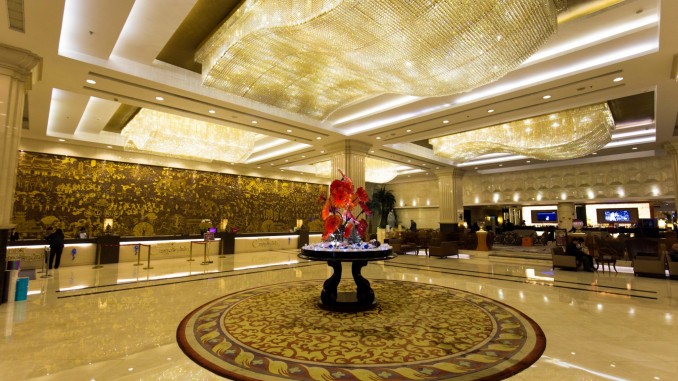 Foshan is mainly and industry city but opened its centuries of history not so long ago to tourists. The Foshan Hotel has been for a long time the only hotel catering to Western visitors and rebranded to Crowne Plaza Foshan in 2008. I had to check out this historical hotel and so I booked it for 3 nights. I enjoyed my stay and I will show you why the Crowne Plaza Foshan Hotel should be your choice when visiting the city.
The hotel
The location of the Crowne Plaza Foshan Hotel cannot be better. It's located within walking distance of the major sites in Foshan. Its best reached by Uber taxi from Guangzhou train station; very cheap. It takes about a 30-40 minutes drive. The same applies to the airport. Although the hotel is built in 1981 you won't be disappointed. It's beautiful! The lobby is huge with very big chandeliers on the ceiling like a kind of waves. All floors and walls are decorated with warm colored marble and golden details. Behind the reception desks there is a huge painting with scenes of the area. A masterpiece. Speaking about masterpieces the hotel is full of it. There are ceramic statues scattered around the hotel all made by local masters. A great location and the decoration made it a pleasant stay.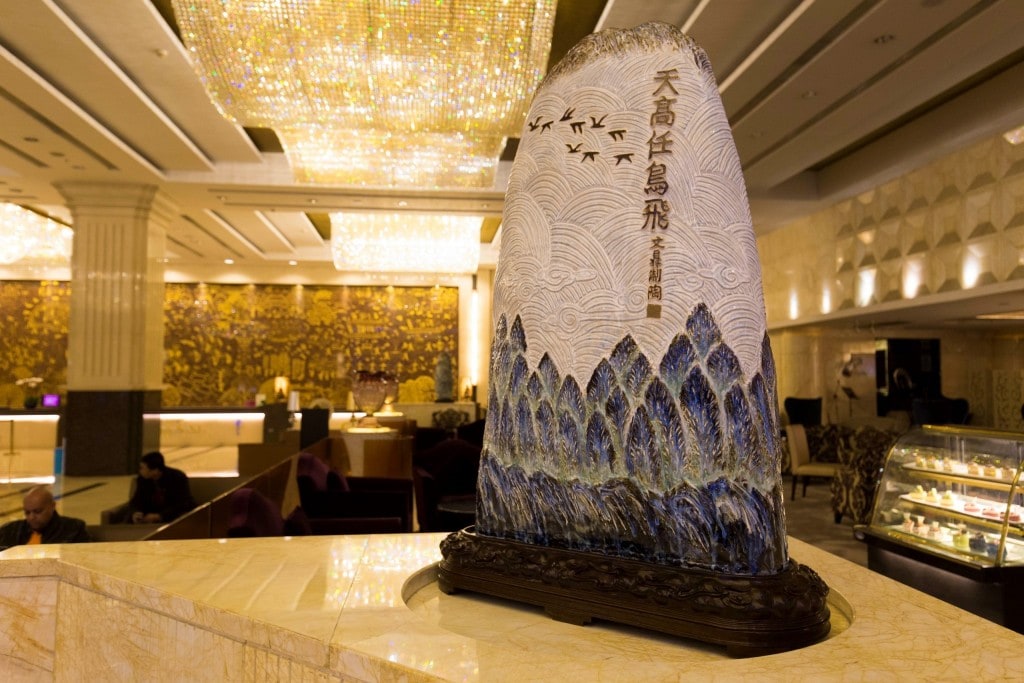 The rooms at Crowne Plaza Foshan Hotel
I booked two rooms at the Crowne Plaza Foshan to get my family all a bed. I got two rooms at the 18th executive club floor. This meant the rooms also had club lounge access. Both rooms were exactly the same. A huge bathroom with separate shower and bath. All the standard amenities were present and I loved the scent of the shower gel! Not just standard boring hotel soap. Each room had a large walk-in closet which fitted all of our luggage. I like rooms where I can put luggage out of sight. The desk was large enough to put but my laptop and that of my son. We didn't really use the minibar but I just had to try the seaweed taste chips. Delicious! The beds are large and very comfortable. From the room I had a view over the city which was nice as I could see it wake up early morning. My three nights were pleasant and my family had also some good nights of rest.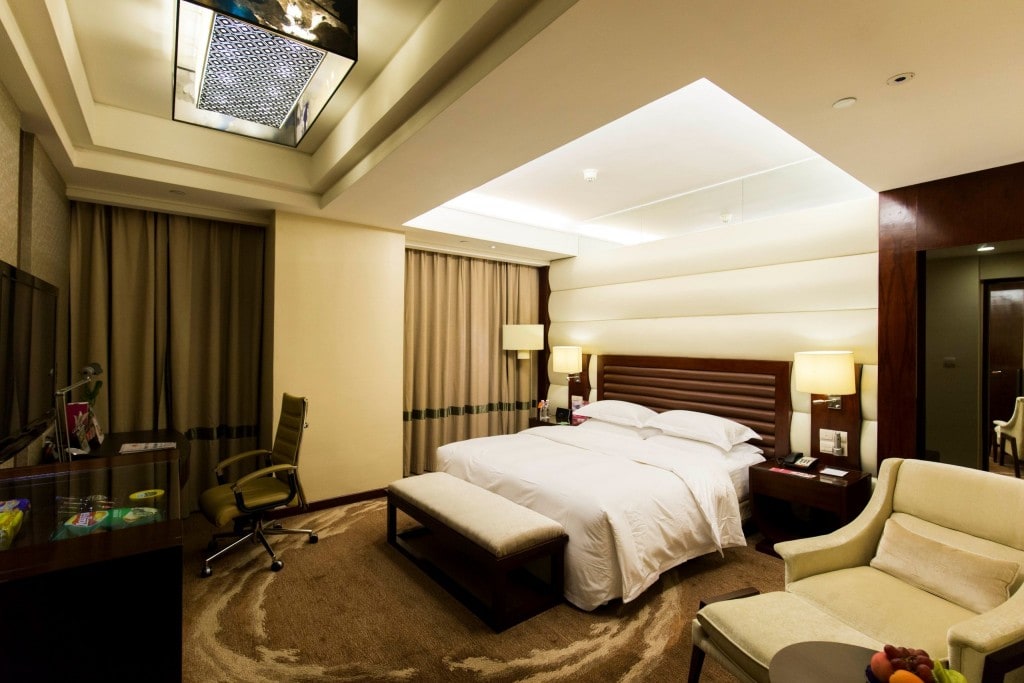 Facilities at Crowne Plaza Foshan Hotel
The Crowne Plaza Foshan Hotel has a heated outdoor pool open year round. Even in winter it's pleasant to go swimming. The gym is medium sized but had all the equipment one would expect. There are various rooms for a foot massage, table tennis, snooker and a yoga room. If your muscles hurt from a day sightseeing you can relax in the SPA. Equipment with bubble baths, showers, sauna and of course great masseuses. The Crowne Plaza Foshan Hotel has also various business facilities so I could do my work easily. The internet is quick and stable. During my stay I used most of the facilities and I can tell you they are great!

Dining & Drinking at Crowne Plaza Foshan Hotel
The Crowne Plaza Foshan Hotel has a wide range of dining facilities and if it's not enough there are many restaurants around the hotel. I had a sneak peak in their private dining rooms. What about a private dinner in their Las Vegas style room? Pretty awesome decoration. The Chinese restaurant is well known in town and packed every day. I agree with their reputation: it's simply delicious. At the lobby bar I had a great time too. Live music in the evening with a nice ice cold beer. They serve also small snacks. The all-day dining restaurant serves breakfast, lunch and dinner. We just had one of the days breakfast there as the other days we used the club lounge. I always prefer to add club lounge to my stay as it serves breakfast in a more private environment. In the evening I can do some work there while enjoying some dinner and drinks. Altogether a huge variety of options to dine.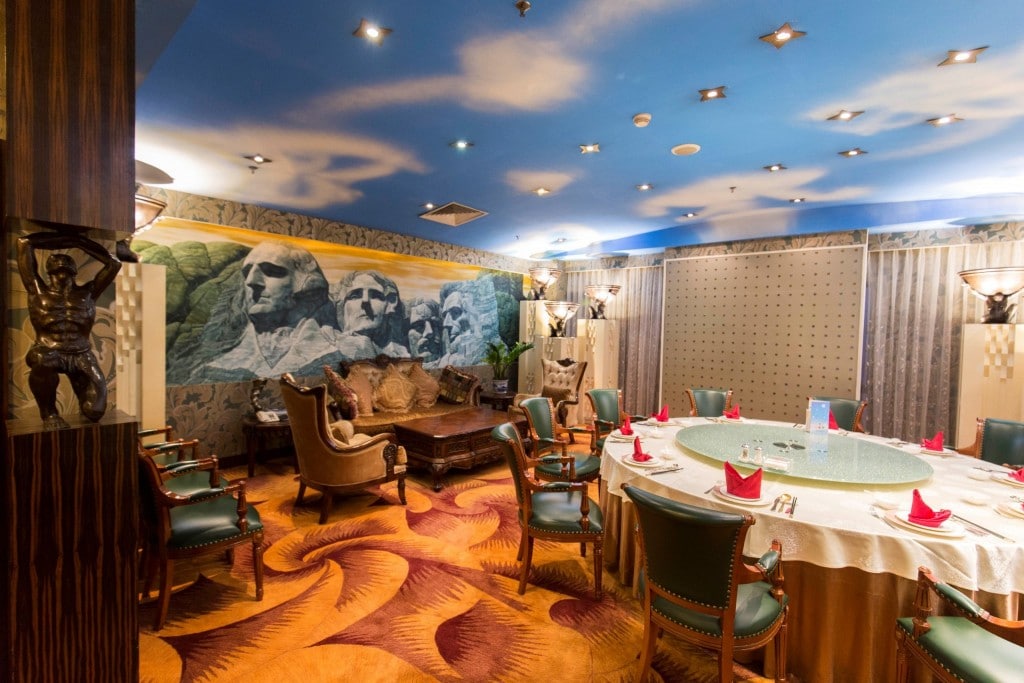 Conclusion
Foshan is a nice city for a 3 night leisure stay. If you plan to stay I can recommend staying at the Crowne Plaza Foshan Hotel. It's located in the center and has comfortable rooms. All the facilities and dining options will make it a pleasant stay for you for sure. I loved it; my family did too.
If you would like to know what you can do in and around Foshan then see one of these options: Foshan, Kaiping, Guangdong Province. I will add more destination information over time.
Stay tuned for more stories and subscribe to the newsletter or follow CTB on social media (Facebook, Twitter, Instagram including Instagram stories; on all social media you can find CTB @christravelblog) to get updated information.
For more hotel information and booking options please visit the website of Crowne Plaza Foshan Hotel.
Website: http://www.ihg.com
Video of Crowne Plaza Foshan Hotel
Gallery of Crowne Plaza Foshan Hotel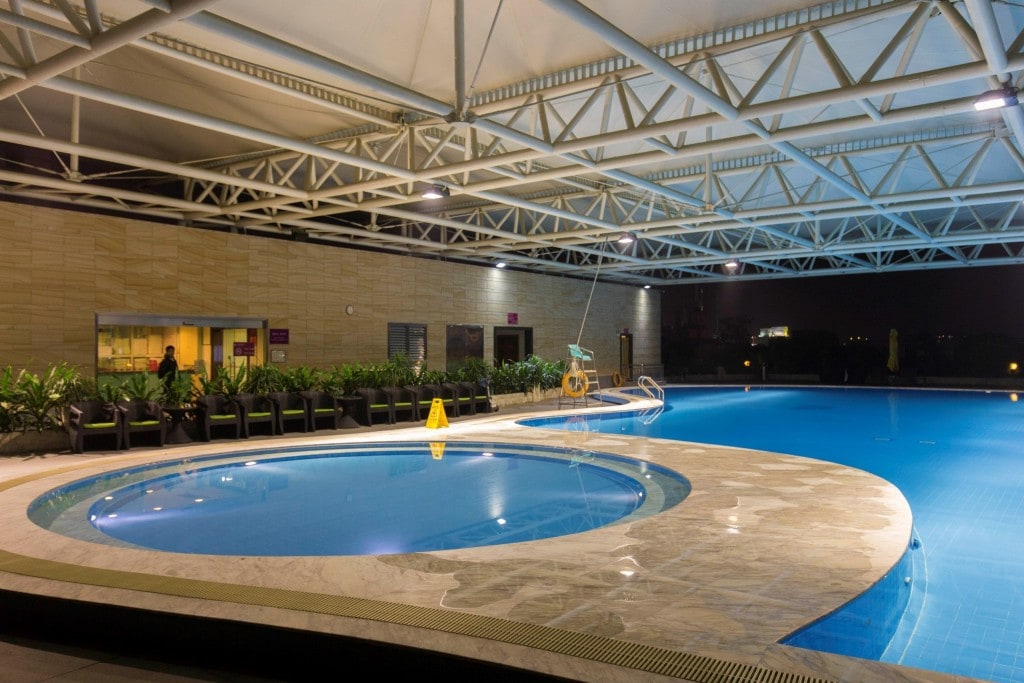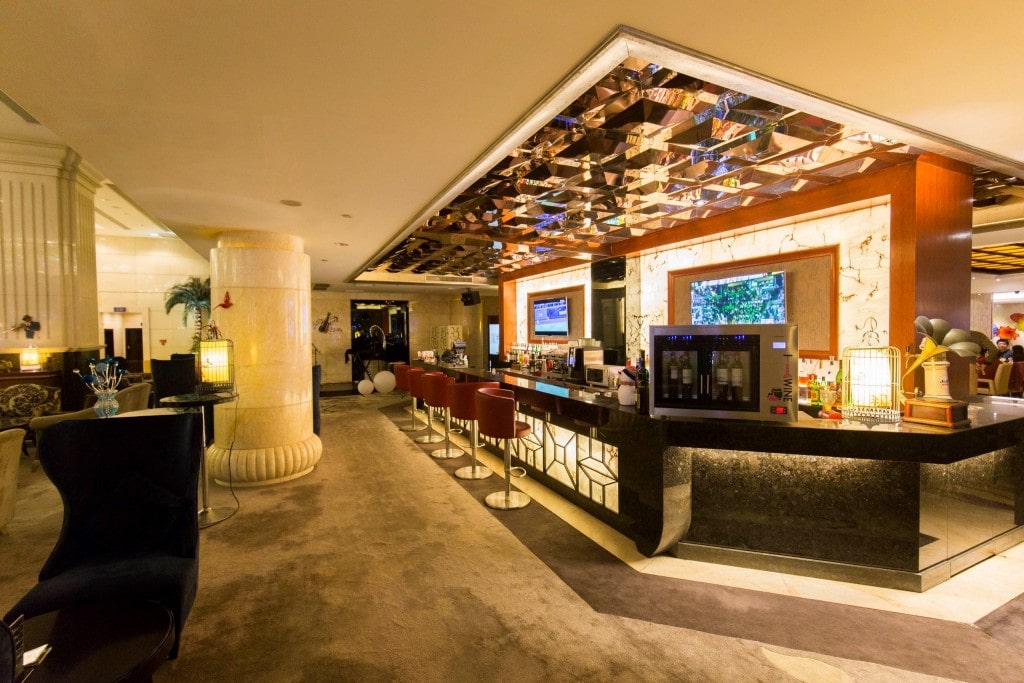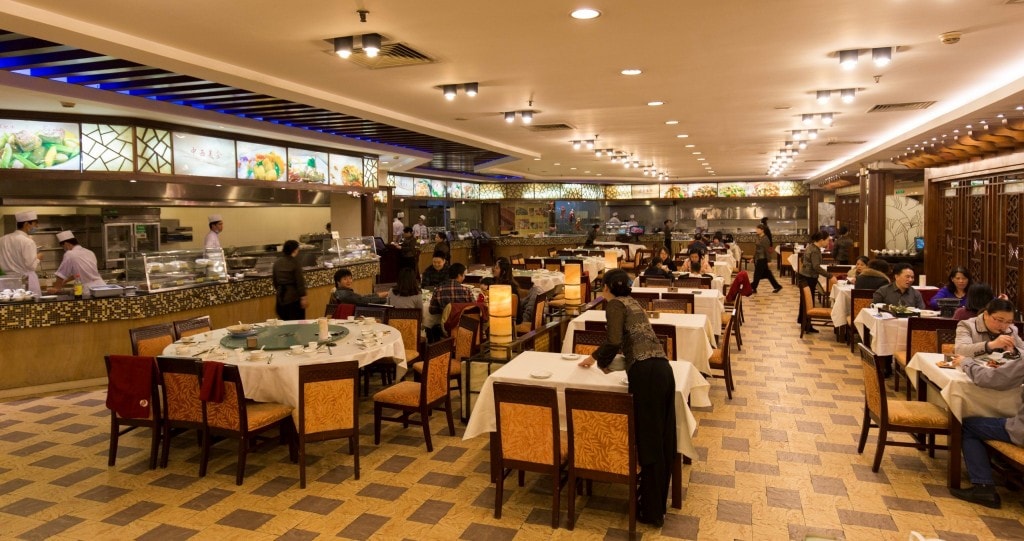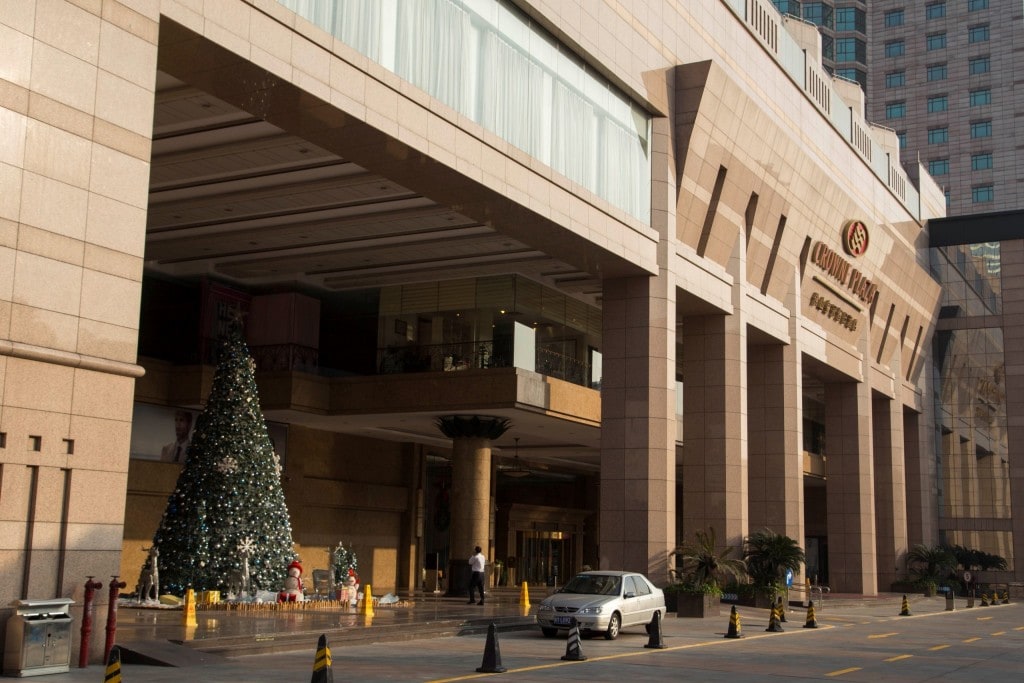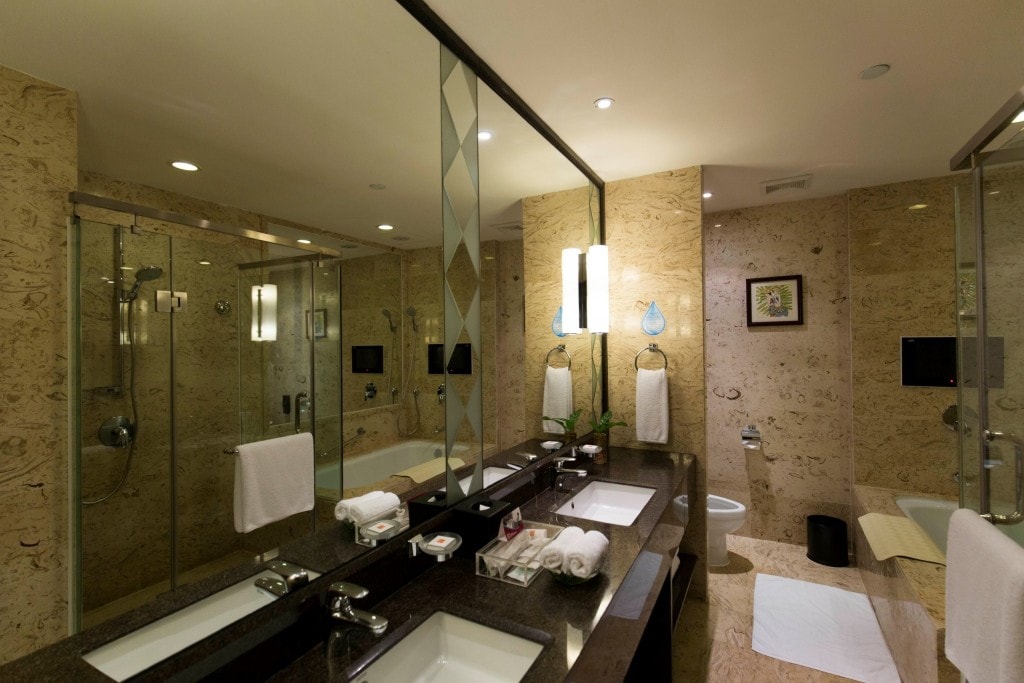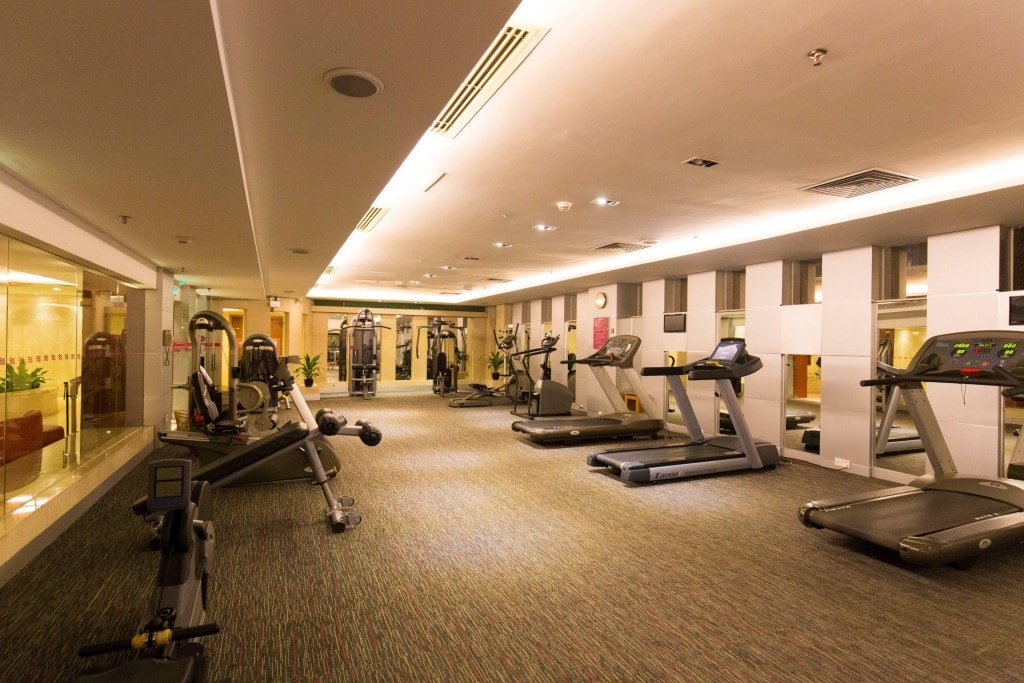 ** All opinions are based on a genuine stay, flight or experience. I'm not affiliated with the hotel, airline or tour operator but I might be (partially) sponsored – or paid. **