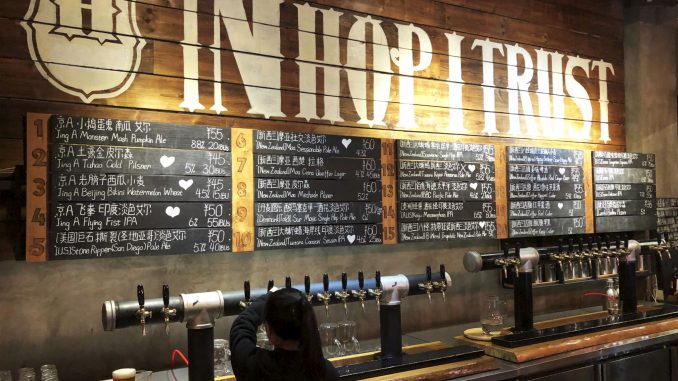 The craft beer scene in China is rapidly evolving since a few years. When I last visited Chengdu several years ago there wasn't much going on but now bars are popping up around the city. Recently I stayed several nights in Chengdu after a business trip and had two nights to check out some Chengdu craft beer bars. The listing order is my personal list. Each bar is different, and it totally depend on your own personal liking. I'll share my experience at each one so you can decide where to go. One thing is sure: they all serve good craft beer.
Chengdu craft beer: Honey and Malt
Honey and Malt (No. 20-8 Tongzilin East Road) is my favorite of the Chengdu craft beer bars I visited. This is because they have 30 taps which mainly pour Chinese craft beer. If I travel I want to taste local crafts; not those I can drink anywhere in the world. Honey and Malt is a small bar with some bar seats and several tables. I arrived quite early around 6PM when it wasn't that crowded but at 8PM it was packed. I recommend having the flights which come with 6 beers. The pours are 150ml and the price just 108 RMB which is a great way to taste more beers. The staff knows about the brews and can advise you if you're not sure what to have. A bar I recommend, and I hope to return as the taps rotate.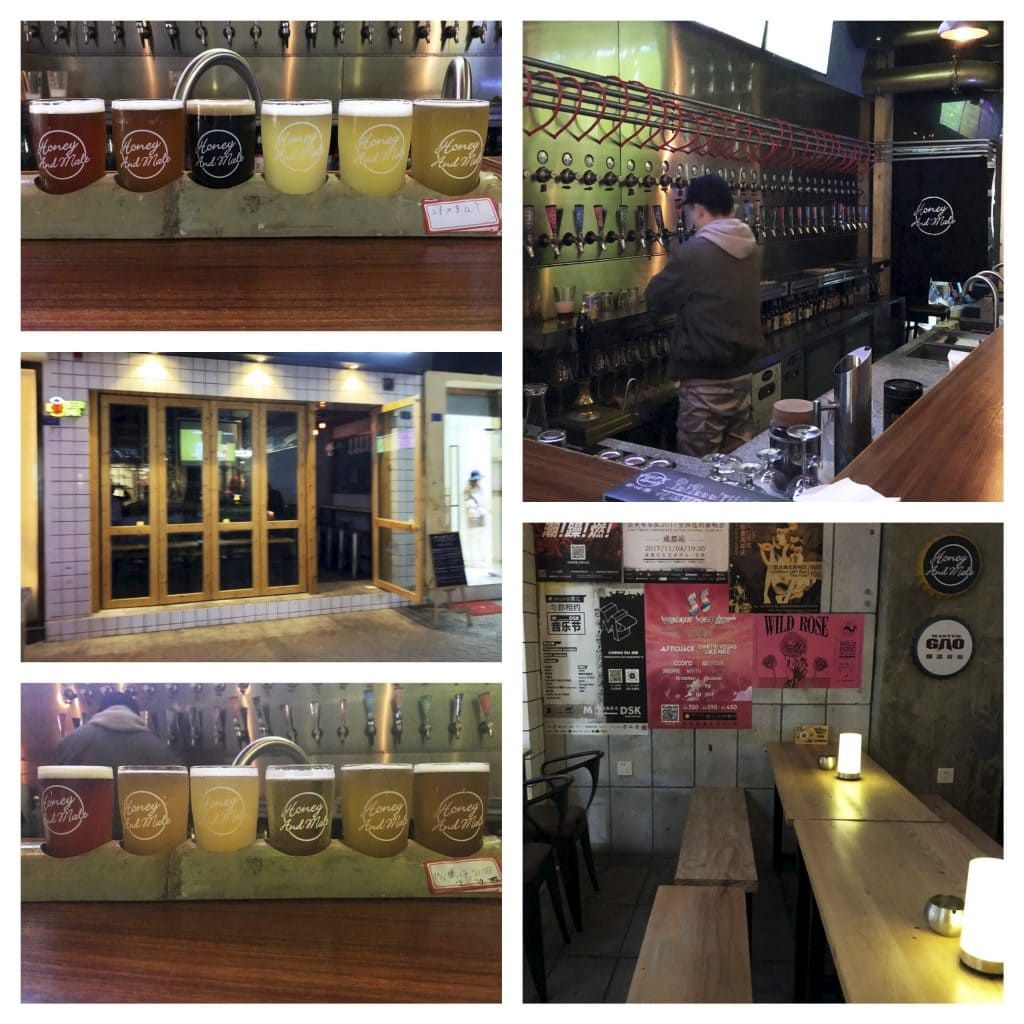 Chengdu craft beer: Hugo
Hugo (Gaoxin District, Zishan Road No. 22) is a bit like Honey and Malt but pours just a few Chinese craft beers. They are from Jing-A brewery Beijing with the other 20 taps pouring mainly Australian and New Zealand brews. Good beers but I prefer local brews and taster flights weren't possible. They do have a large selection of bottles too including a few Chinese ones. I asked why they don't have more local brews and they told me they "upgraded" to international brews. This is something you see everywhere in China as international imported products give status. Hugo is a great craft beer bar in Chengdu and with the huge choice of beers also amongst my favorites.
Chengdu craft beer: The Beer Nest #1
The Beer Nest #1 (Jinxiu Road 34 – 7) is, as I was told, the oldest Chengdu craft beer bar in town. They brew beers themselves and had 4 on tap. I did a taster flight of all 4 and ordered a burger from The Beer Nest #2 menu which is about 3KM away. They do make deliveries. I wanted to go to the one with kitchen, but my taxi driver dropped me at the wrong one. I hope to visit The Beer Nest #2 next time as they have more taps too. The Beer Nest #1 is like a typical brown cafe and a great place to spend the evening with friends. A place recommended if you want to taste craft beers that are brewed locally and have a great evening.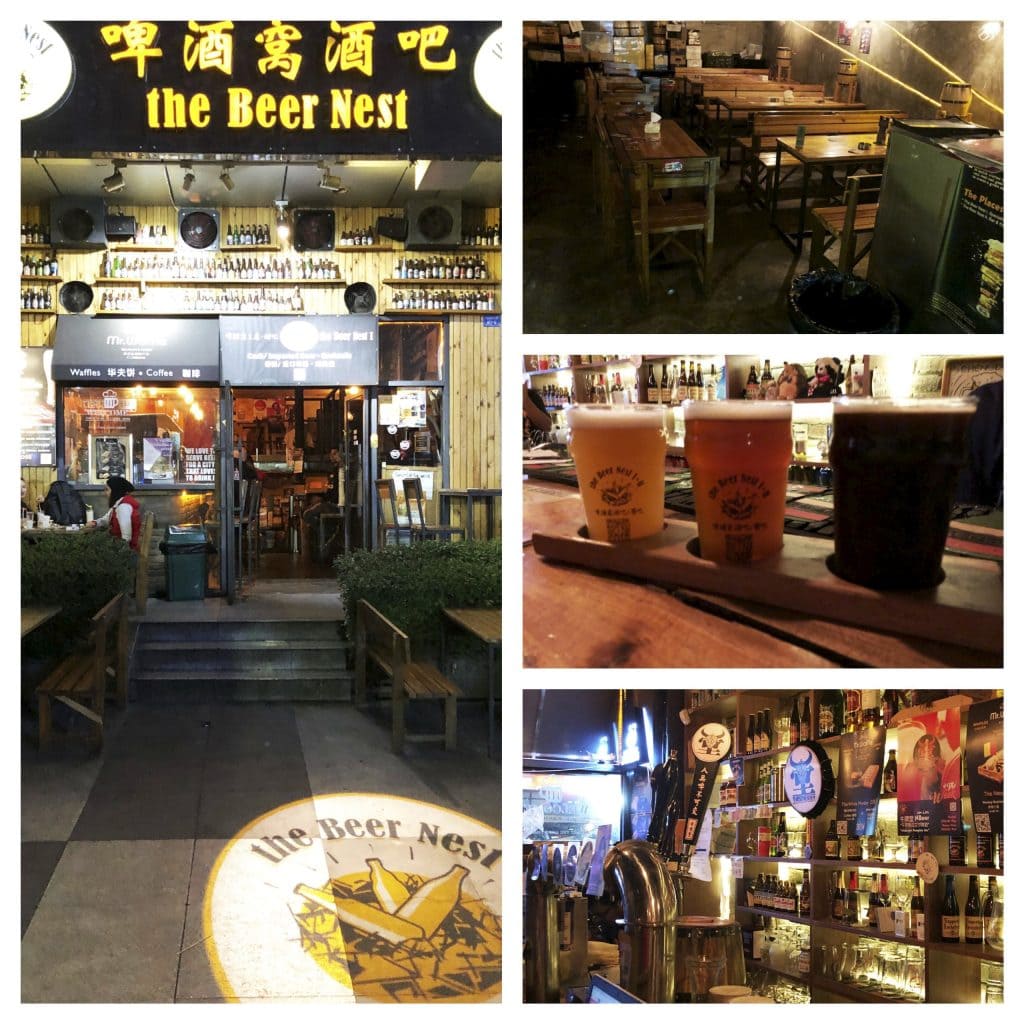 Chengdu craft beer: Lazy Guys Brewpub
Lazy Guys Brewpub (Yulin West road & Fangcao street) is an interesting place for sure. I had a great conversation with the brew master and one of their, I think, regular guests. They brew their own Chengdu craft beer brews at the same place and you can see the fermentation tanks. I asked for a taster flight which at first wasn't available but then suddenly it was with 4 beers and just 40RMB. The brews are above average and worth trying out. They had 6 taps, so I asked also the other two which I was offered complimentary. The cucumber blonde ale was very interesting and fresh. They have two floors with cozy sofas upstairs and tables downstairs. The stage wasn't used but some days there is live music. I recommend going at least once to try the beers!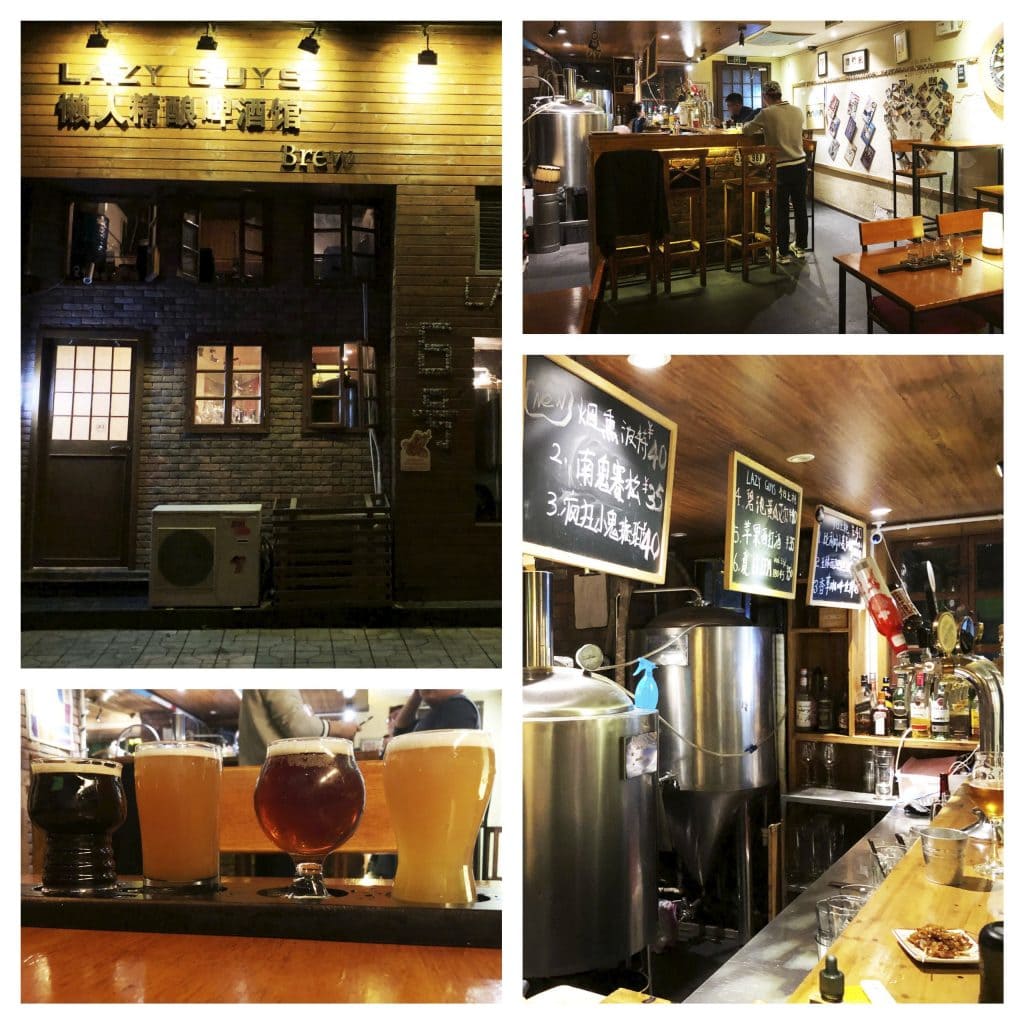 Chengdu craft beer: Shangri-La Taproom
Shangri-La Taproom (Wuhou district, HongMen Road No. 36-16) was the last craft beer bar I visited in Chengdu. Let me start with noting that the staff is great and the beers above average. The atmosphere isn't my taste though; this doesn't mean it's bad! They have live music, a bar area and in the front some pool tables. The area around the bar is nice too along the water. It's a taproom and they only serve their own brews from Shangri-La. I did a taster flight of all the taps and two that weren't on tap I ordered a bottle. The beers are all brewed with local produce from Shangri-La and Yunnan province. Brewed at a high altitude. It's a Chengdu craft beer bar worth checking out! Isn't that Tibetan women holding a craft beer bottle lovely?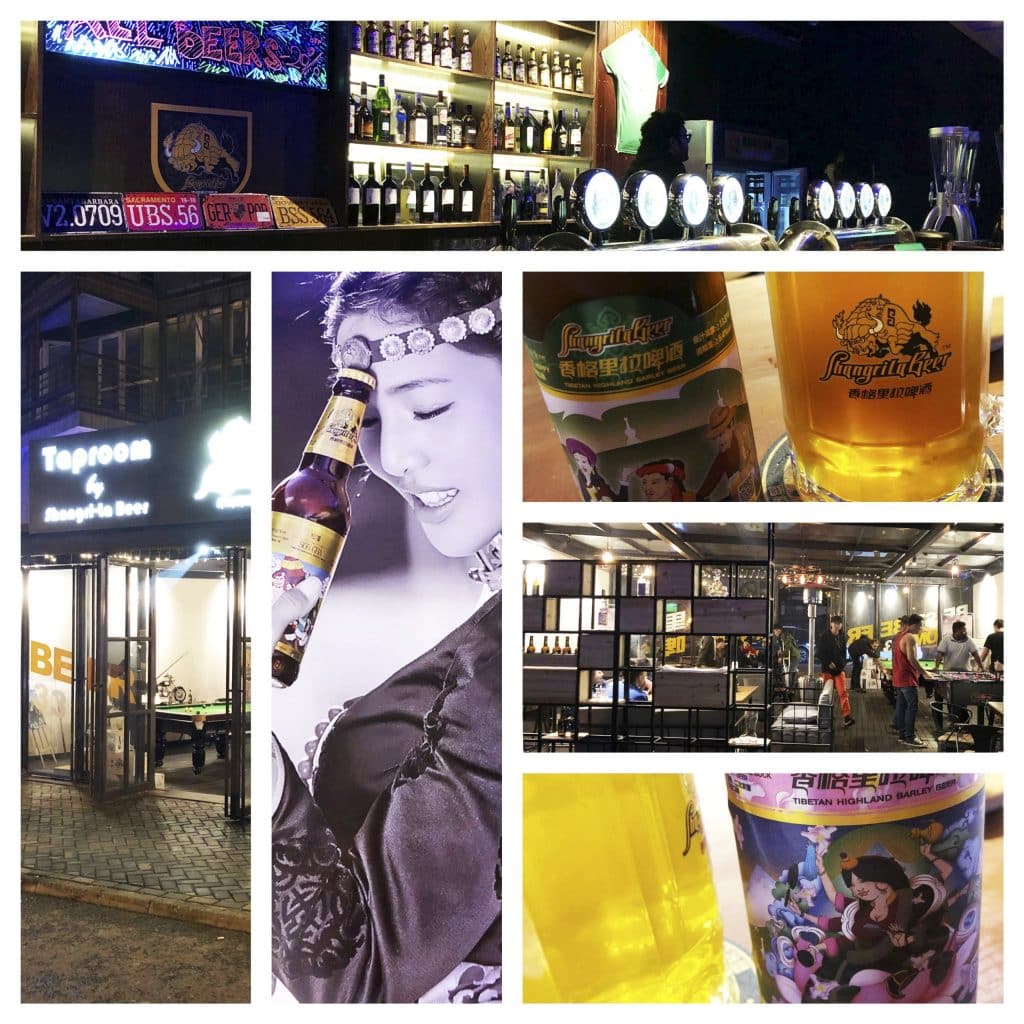 The Chengdu craft beer scene is booming, and I couldn't check out all the places. This list I came up with by researching and information from friends. I must return to Chengdu to try out other craft beer bars for sure. If you look for a place to stay in Chengdu I recommend the awesome Intercontinental Global Center or otherwise the Century City next door. Downtown the Crowne Plaza is a great choice. Make sure to check out how I was able to hold a panda in Chengdu and what you can do more around Chengdu.
Stay tuned for more stories and subscribe to the newsletter or follow CTB on social media (Facebook, Twitter, Instagram including Instagram stories; on all social media you can find CTB @christravelblog) to get updated information.
Did you visit Chengdu too or do you have questions? Please leave a comment at the bottom of the page. Love to hear from you!