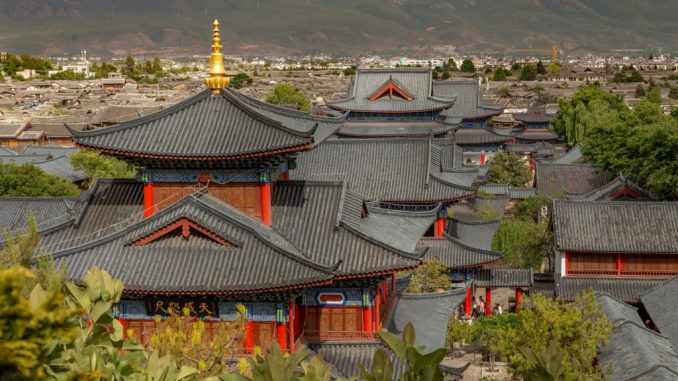 Yunnan is one of China's most diverse provinces and this two-week Yunnan itinerary will take you to all the highlights. I have been to China plenty of times and this travel guide describes my trip from Kunming to Shangri-La. It's suitable for a first time visit to China but best recommended for a second visit unless you do not care about China's big five sights. I'll give you some ideas on how to combine this China itinerary together with other area's at the end too. Yunnan is so large that it's impossible to cover every single point of interest but those I did cover are all the must-see places. I'll give a few ideas on how to extend the trip too. When you read my day trip reports please note that I have re-scheduled this itinerary for better planning after my own experiences. Now join me by car, train and plane on this Yunnan travel adventure.
Planning a Yunnan itinerary
Planning a Yunnan trip is a lot of fun and there are many varieties. This Yunnan itinerary however does contain all the highlights along the Kunming to Shangri-La route. Keep in mind Shangri-La is sometimes called Zhongdian or Diqing. The latter is also the name of the airport.
This itinerary can be done in both ways but unless you're already in China you probably arrive in Kunming. Kunming Changshui International Airport has several international flights worldwide and if that doesn't suit you, you might want to check Chengdu. From Chengdu it's a 1:30 hour flight to Kunming or you can combine the trip with a Sichuan itinerary from Chengdu. Diqing Shangri-La Airport doesn't offer international routes but only to a few airports in China including Lhasa, Tibet. If you want to visit Tibet too that's easily combined with my 7 days in Lhasa Tibet itinerary. If you don't combine further trips in China, you can return to Kunming with a direct flight from Shangri-La and return home from there.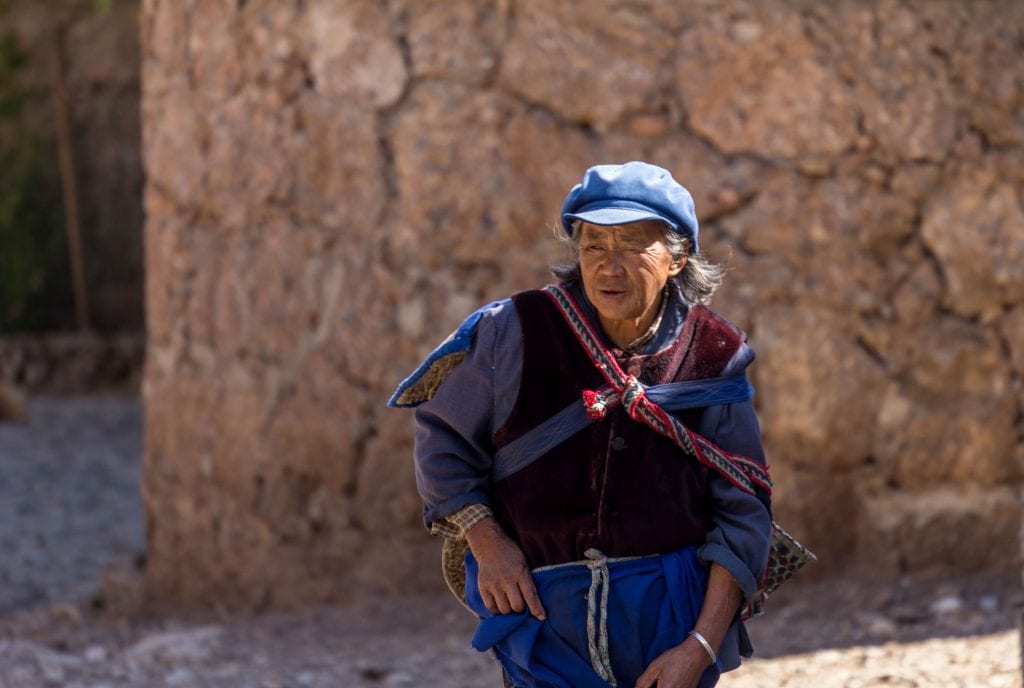 For the rest of the trip you must book the following:
Kunming hotel: In Kunming I recommend staying at the Intercontinental Kunming or Crowne Plaza Kunming.
Kunming to Dali: Book the train in advance and have the tickets delivered to your hotel. At the time of my travel there wasn't a highspeed option yet but there will be in the future. My trip took about 6-7 hours.
Dali hotel: In Dali make sure to stay in a hotel in one of the old houses that are hotels now.
Dali to Lijiang to Shangri-La: If you want to visit Shaxi on the way from Dali to Shangri-La as a half day trip you must hire a car with driver for this part. You can keep the driver also for the day trips in Lijiang and the transport to Shangri-La.
Lijiang & Shangri-La hotels: In Lijiang the Intercontinental Lijiang or the Indigo Lijiang are great choices located in the old city. In Shangri-La try a homestay!
That's all! In all the cities you can use local taxi's as they are very cheap. Now let's look at a day by day description of this perfect Yunnan itinerary.
Chinese visa
Several cities in China have the option for 24-144 hours visa on arrival but if you do a road trip they won't be of any use. You can't leave that city and you must continue to another country and not return to the same. I'm from the Netherlands and getting a Chinese tourist visa is straightforward and usually takes just a few days to approve. This should also be the case for other European Union countries. I recommend checking with the Chinese Embassy in your country for specific information as they know the best.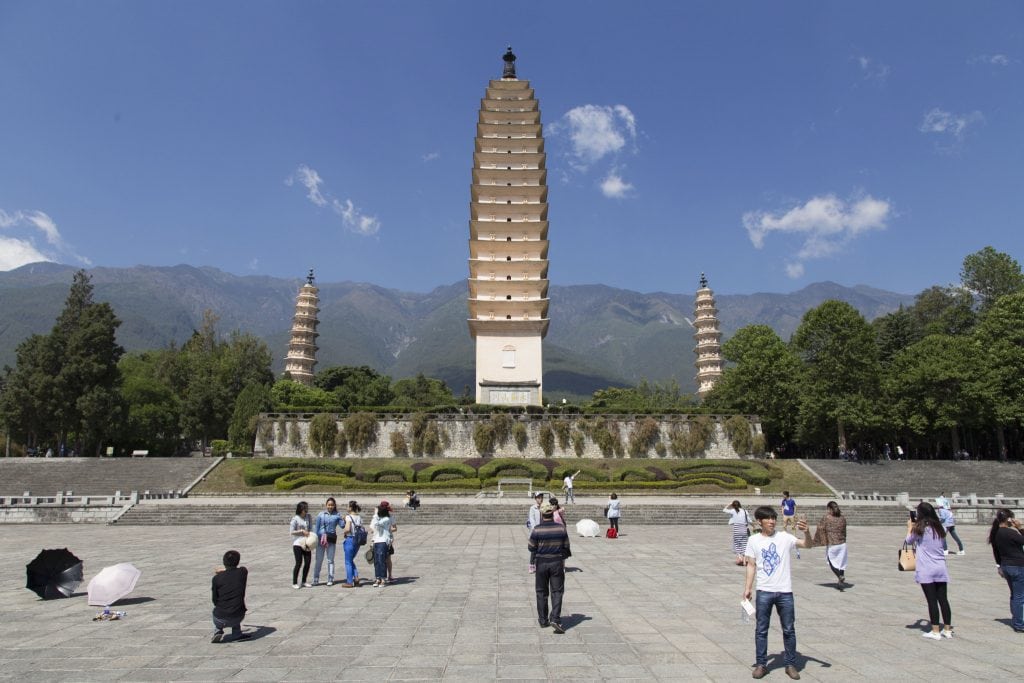 A summary of this Yunnan travel guide for your private use to copy paste!
Yunnan itinerary day 1 & 2: Kunming, Yunnan itinerary day 3: Shiling Stone Forest, Yunnan itinerary day 4 & 5: to Dali & city trip, Yunnan itinerary day 6: to Lijiang via Shaxi, Yunnan itinerary day 7: Jade Dragon Snow Mountain hike, Yunnan itinerary day 8: Tiger Leaping Gorge hike, Yunnan itinerary day 9: Lijiang & small towns, Yunnan itinerary day 10 & 11: Lijiang town and to Shangri-La, Yunnan itinerary day 12: Shangri-La, Yunnan itinerary day 13: Potatso National Park hike, Yunnan itinerary day 14: departure
Yunnan itinerary day 1 & 2: Arrival & Kunming
Kunming is the logical place to start a Yunnan itinerary as the city can be reached by international flights. I never like to do much on the day of arrival and normally just go to a spa for a massage, sleep early and be fit the next day without jetlag.
Kunming is also called the City of Eternal Spring because weather is nice year-round. Spending a day in Kunming should be enough to explore the places of interest. In the morning I recommend going to Guandu Old Town which is a well restored old town. There are two Buddhist temples, pagoda's, and many shops in the old streets. You can take lunch there in one of the many outlets that serve street food.
In the afternoon go first to Yuangtong Temple in downtown Kunming. It's a temple that's famous throughout South East Asia as it has a unique layout. You'll probably spend an hour there. After that it's time to explore modern Kunming. Go shopping or just relax. I spend the remainder of the day at the pools of the Intercontinental Kunming.
Read all about my Kunming day trip in my trip report:
CHINA – A day in Kunming, the City of Eternal Spring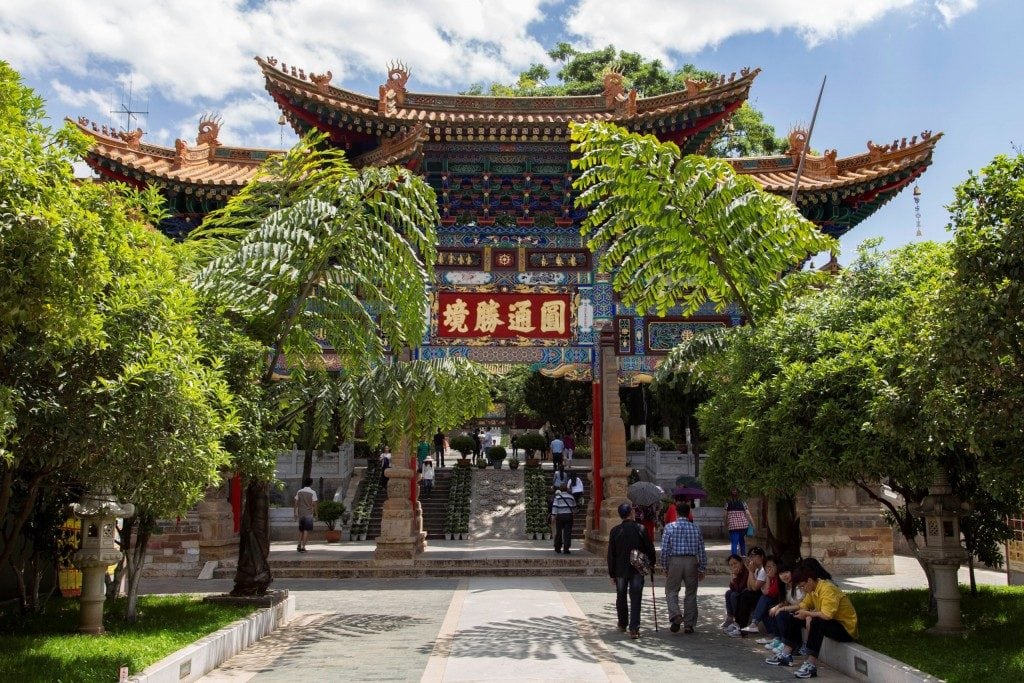 Yunnan itinerary day 3: Shilin Stone Forest
The Shilin Stone Forest UNESCO World Heritage Site day trip from Kunming is one that you must include on your Yunnan itinerary. It's not a real forest of course but has stones that look like they "grow" from the earth. Getting there takes 2-3 hours by car/taxi so make sure to depart early and arrive around 9-10AM if possible. The area is large and expect to walk around for 3-4 hours to get a good impression.
The formations at the Shilin Stone Forest were formed millions of years ago when and old sea evaporated, and the surface lifted. Soft stone has eroded leaving the hard ones behind. This formed arches, caves, and all kinds of sculptures. One looks just like an elephant!
After the visit you can either return to Kunming or explore a bit more of the area. There are more caves, lakes, and interesting small rural towns. Suogeyi town is part of the UNESCO inscription and a nice non-touristic rural town. From there continue to Changhu Lake before heading back to Kunming. Alternatively go to one of the other places of interest; directions are easy.
Want to know more about the Shilin Stone Forest UNESCO site? Check my complete day trip report:
Shilin Stone Forest UNESCO World Heritage Site day trip from Kunming
EXTEND YOUR TRIP: Are you a history buff? Or a UNESCO site collector? Then check my 520 million years of history at Cambrian Chengjiang Fossil Site day trip report. This site can be reached as a day trip from Kunming, but I only recommend doing this if it interests you. Decide yourself if you want to extend your trip by a day.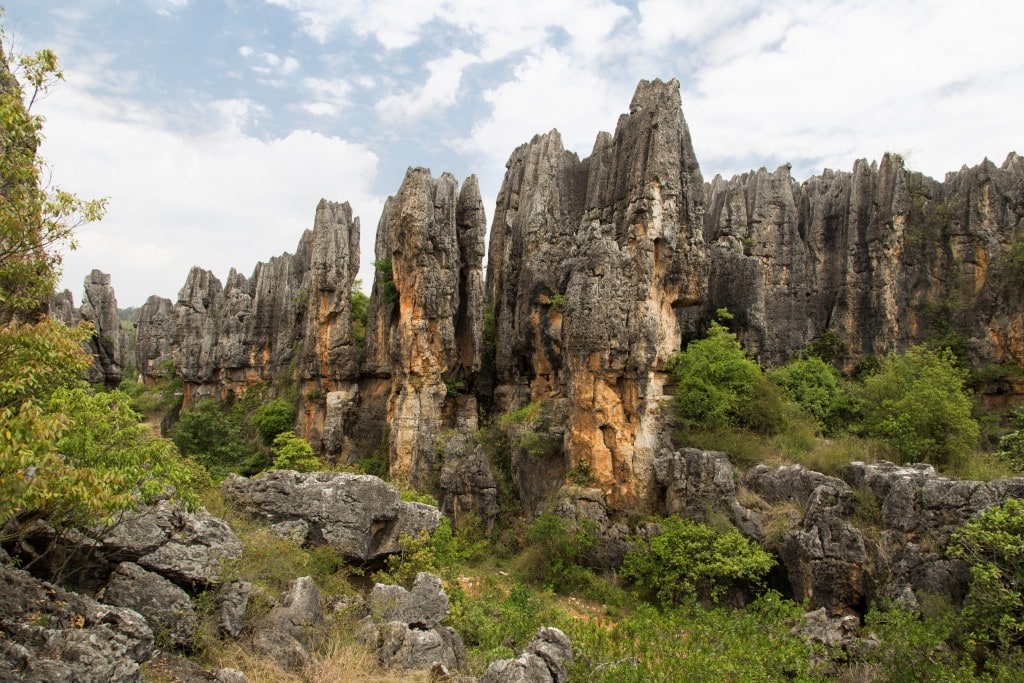 Yunnan itinerary day 4 & 5: to Dali & city trip
The trip from Kunming to Dali takes 7 hours by soft sleeper train. There will be a highspeed connection some day in the future too reducing time to just 2 hours. I'll update this article once it's finished. I recommend spending 2 nights in Dali so that you have a full day to explore town. To be honest I rushed my Yunnan itinerary with just a night stay, and I can't recommend that. On the day of arrival, you won't have much time left to explore town. Just go out for street food but I can't directly recommend one place as places change so often and thus, I don't cover them in this Yunnan blog.
Dali is a beautiful "new" old town. This means that most houses are restored and rebuild in traditional way. That doesn't matter much as the atmosphere is great. If you want real old towns then Xidi and Hongcun (in east China) are two worth checking out. Before exploring Dali go first in the morning to the Chongsheng Temple 3-pagoda temple. It's a must see just outside of Dali. Then go for lunch back to Dali and check out the gates, temples, the narrow streets, and other Yunnan highlights. If you go during Chinese holidays you can walk over the people as you can see in the photo below. Try to avoid that as it ruined my visit a bit as I could not enjoy this lovely town to the fullest.
Want to know more about the Dali day trip and Shaxi day trip then check my complete in depth trip report:
CHINA – Exploring beautiful Dali & Shaxi on the way from Kunming to Lijiang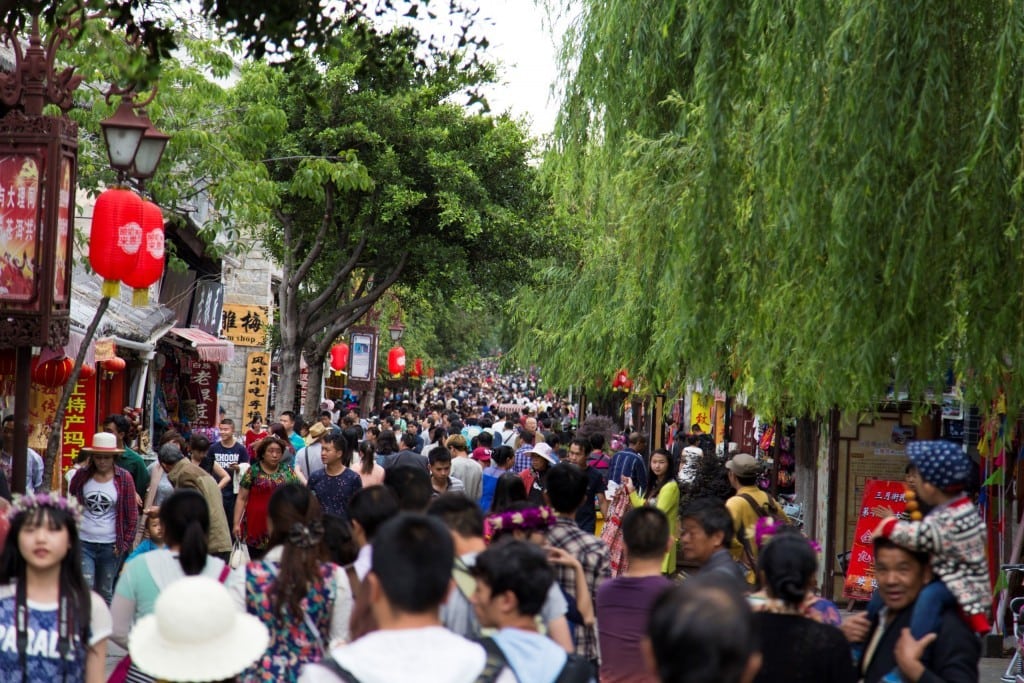 Yunnan itinerary day 6: to Lijiang via Shaxi
The best way from Dali to Shaxi (2 hours), and further to Lijiang (1.5 hours) is by car. This allows you to visit Shaxi on the way to Lijiang for a few hours and if you go early even have an early morning stop at Erhai Lake too. I recommend to hire the car for the next days too until arrival in Shangri-La. It will make your trip much more convenient then looking for transport each day again.
Shaxi is a beautiful authentic town and one of the oldest surviving horse Caravan towns in China. The streets are lined with shops and restaurants where you can see what locals do. It's not over touristic. Make sure to visit the Bai Buddhist Xingjiao Temple and the arch bridge. Two iconic sights in Shaxi. I wandered around Shaxi for several hours after which I continued to Lijiang where I would stay at the Intercontinental Lijiang which is located inside the old town.
Want to know more about the Dali day trip and Shaxi day trip then check my complete in depth trip report:
CHINA – Exploring beautiful Dali & Shaxi on the way from Kunming to Lijiang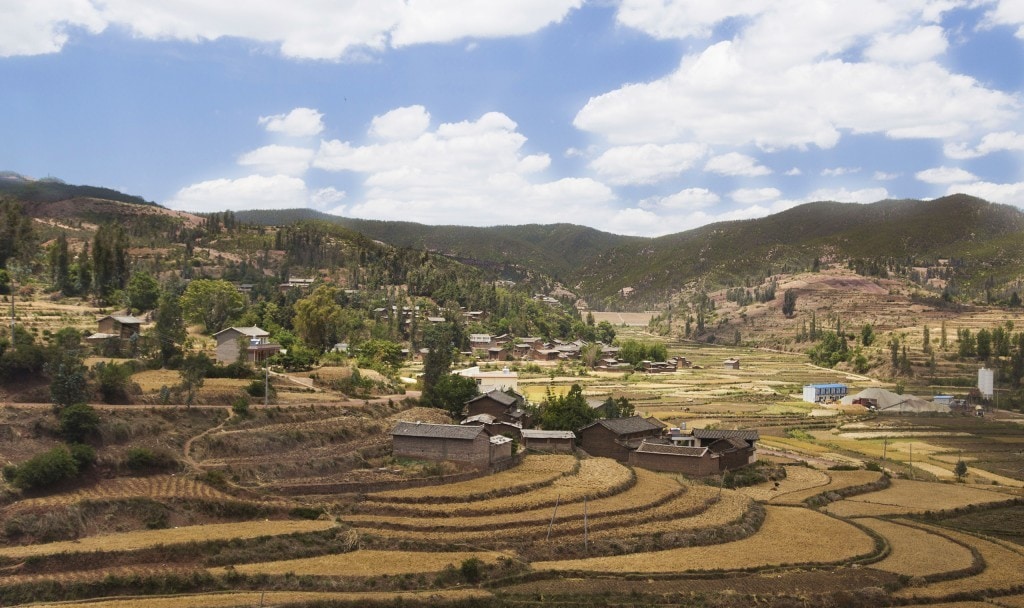 Yunnan itinerary day 7: Jade Dragon Snow Mountain hike
I love to make a hike now and then and that's why I added some great Yunnan trekking in this itinerary too. The Jade Dragon Snow Mountain hike is the first just 30 minutes outside of Lijiang. With an altitude up to 4800 meters it's a long hike but the first part is by cable car as otherwise it wouldn't be possible to go up and down in a day. A tough hike the last 1000 meters as oxygen is low. If you're not used to altitude you can buy oxygen at the entrance which will help you get there.
The Jade Dragon Snow Mountain gets its name from the 13 peaks resembling a jade dragon. At the top the altitude is almost 6000 meters, but you can't go there unless you are an experience mountain climber. Once you reach the top make sure to buy a medal engraved with your name. You did well! Just a few stairs down you can make a slide in the snow but keep in mind it's not actually allowed. Be carefully of rocks below the snow. It's on your own risk. If you have energy left, you can go hiking in the country side. The scenery is amazing there. I went back to Lijiang where I changed hotels to Indigo Lijiang where I had a private BBQ in my villa.
Check my day trip report about Jade Dragon Snow Mountain for more information:
CHINA – A Jade Dragon Snow Mountain day trip from Lijiang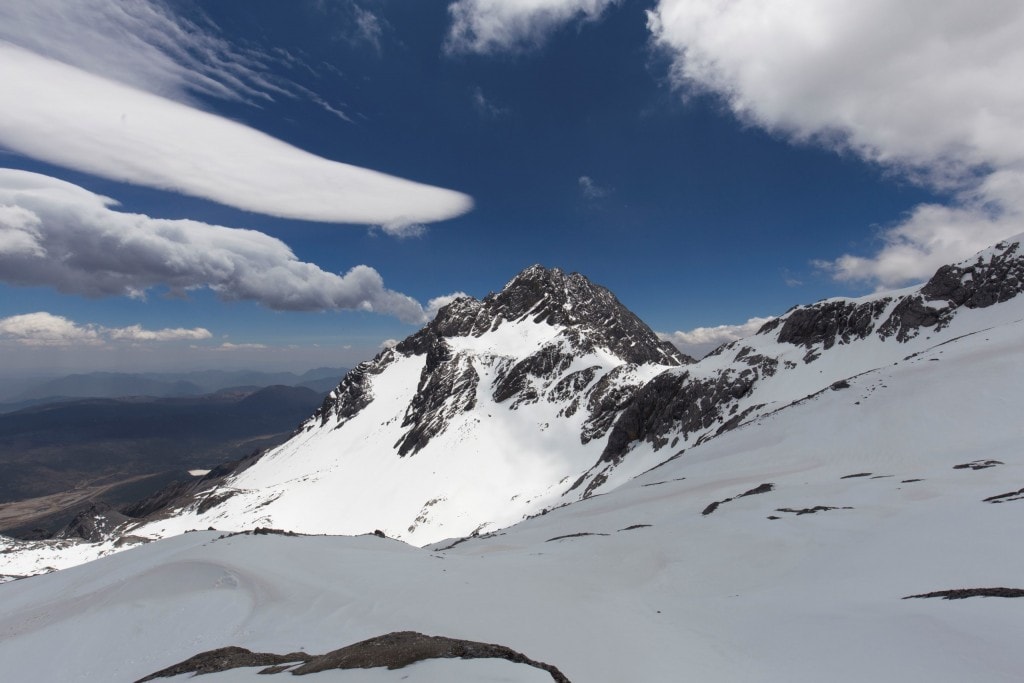 Yunnan itinerary day 8: Lijiang
With a history of over 1000 years Lijiang wasn't known to the outside world until after the earthquake of 1996. The old town was mostly destroyed but reconstructed quickly. In 1997 it got the UNESCO World Heritage Site status together with the small towns Yuhu, Baisha and Shuhe. These events made Lijiang a Yunnan highlight and known to the world and within China. Lijiang has a beautiful old town where I stayed in luxury at both the Intercontinental Lijiang and the Indigo Lijiang.
Lijiang was once part of the Old Tea Horse Caravan Trail and ruled for five centuries by the Mu family. The Mu family complex is the main attraction in Lijiang old town. All streets are lined with beautiful typical Naxi houses. Walking through the narrow streets will get you "lost" at some point but that's the beauty of exploring. A day is easily spent in Lijiang old town which is one of Yunnan's highlights.
Read all about Lijiang Old Town including all highlights in my day trip report:
CHINA – Two days in Lijiang old town and outlying small villages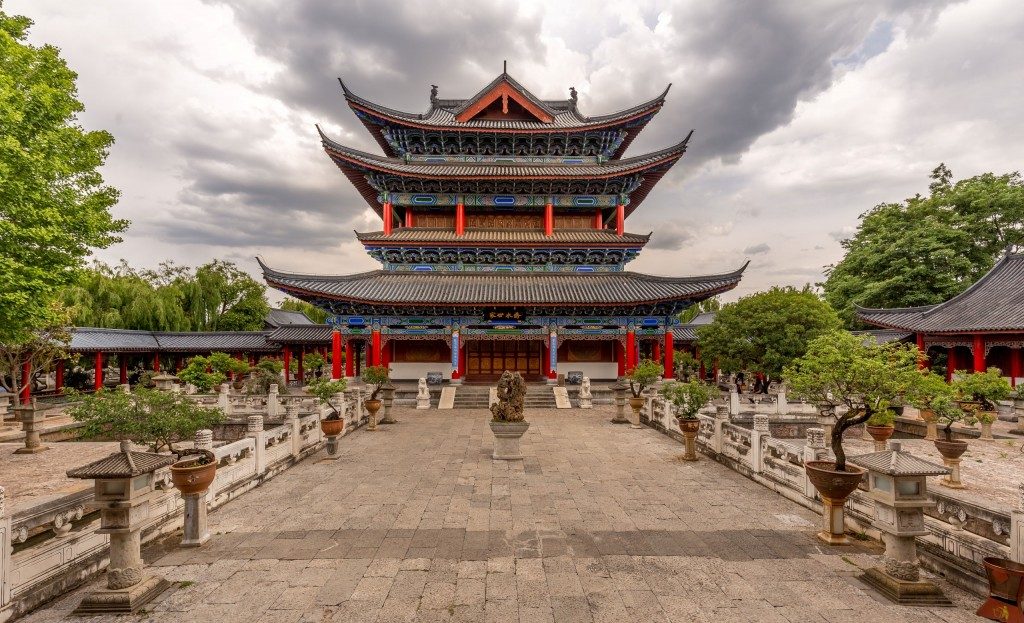 Yunnan itinerary day 9: Tiger Leaping Gorge hike
Tiger Leaping Gorge is located between two snowcapped mountains called Jade Dragon Snow Mountain and Haba Snow Mountain. Each of them are holy mountains and Haba Snow Mountain area is part of the Three Parallel Rivers of Yunnan Protected Areas UNESCO World Heritage Site. The gorge is one of the deepest in the world with a length of 15 kilometers. A true Yunnan highlight. To reach Tiger Leaping Gorge it takes just over an hour by car from Lijiang. A taxi is not a good option as it can't cross into the Shangri-La county so make sure to have a private driver.
This Tiger Leaping Gorge hike is amongst the best Yunnan trekking you can get. First make a short stop at the start of the gorge and see the spot where legend says a tiger jumped across the river escaping a hunter. The full hike is difficult to do in a day, so I went with car all the way up to Halfway Guesthouse. I had a very early lunch there and hiked from there to the end at Tina's Guesthouse. The 2nd half of the full trail is the most beautiful part and takes up to 4 hours. I went back to Lijiang for the night.
Read all about my Tiger Leaping Gorge hike in my day trip report:
CHINA – A day trip from Lijiang: the Tiger Leaping Gorge Hike
EXTEND YOUR TRIP: It's possible to hike the full gorge too. You can extend this Yunnan itinerary by going to the Tiger Leaping Gorge before the day you go to Shangri-La. Do the first part of the trek the first day. Stay overnight in the gorge and finish the second part (the part I did) the next day and go to Shangri-La. If you want to go trekking in Yunnan the Tiger Leaping Gorge hike is the most famous to do.
Yunnan itinerary day 10: Yuhu, Baisha and Shuhe old towns
On day 10 of this Yunnan itinerary you will explore Naxi minority villages and see rural China. There are 3 small old towns inscribed together with Lijiang as the UNESCO World Heritage Site. I visited Yuhu, Baisha and Shuhe on a day trip from Lijiang by car. Yuhu is famous for its Naxi houses made of stones and mud. It doesn't see many visitors and kept its authentic look. Baisha Old Town was once the center of the Naxi people before they moved to Lijiang. It's about 10 kilometers away. It's not yet fully commercialized but Shuhe Old Town is. Shuhe is just 2 kilometers from Lijiang. Each town has family houses, temples, and workshops you can visit. Expect to spend 2-3 hours in each. You won't have time to explore each single street but the core area you can see. If you want more time, I recommend skipping Baisha even though Shuhe is more commercialized. I always enjoy going away from the tourist and therefore Yuhu is my favorite.
Read all about Yuhu, Baisha and Shuhe in my day trip report:
CHINA – Two days in Lijiang old town and outlying small villages
SHORTEN YOUR TRIP: If you want to shorten your trip by a day, I recommend visiting one of the small towns after your trip to Jade Dragon Snow Mountain. Do go early to the mountain preferable before opening time to be in the front of the queue. You won't be able to visit more as one in this case.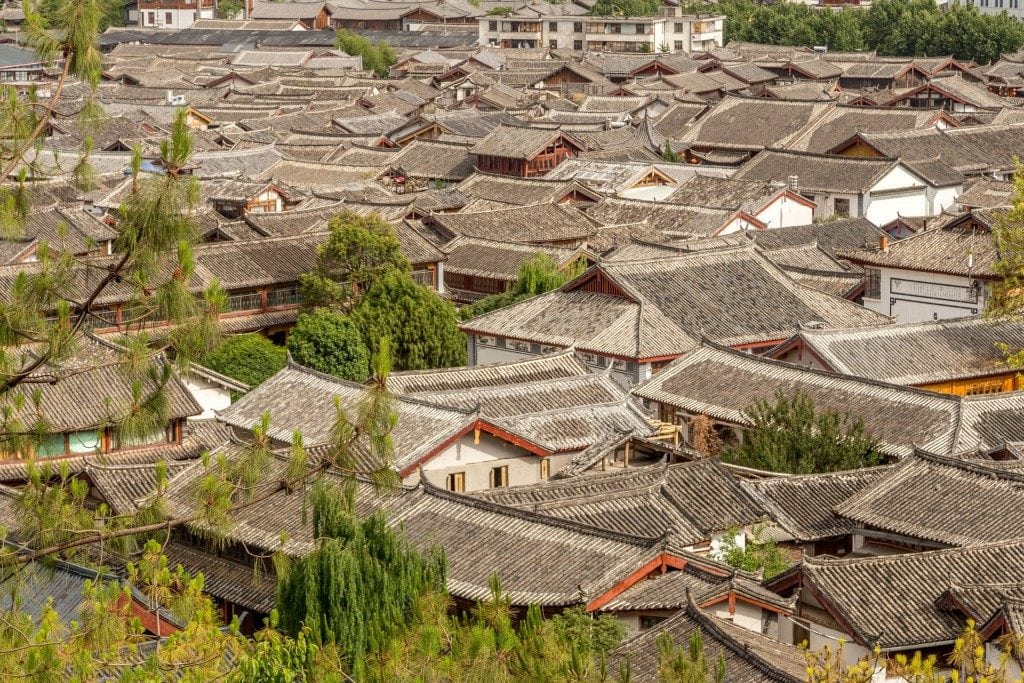 Yunnan itinerary day 11: to Shangri-La
I started the day with relaxing in the morning at the pool of the Intercontinental Lijiang. After lunch the driver picked me up for my transfer to Shangri-La. The drive from Lijiang to Shangri-La takes probably 4-5 hours which can be faster as this totally depends traffic. During the drive you'll pass various food stalls along the road selling dried Yak meat. Make sure to buy some. It's delicious. The altitude increases throughout this Yunnan itinerary so that altitude sickness won't be a problem. One more reason to start in Kunming. I arrived late evening at my hotel in Shangri-La. Traffic was bad.
Check also my Lashi Lake day trip report if you extend your trip:
CHINA – Lashi Lake from Lijiang: horseback riding & canoeing
EXTEND YOUR TRIP: You for sure have time to make a stop at Lashi Lake if you go in the morning to Shangri-La but to fully experience the area you won't. My original Yunnan itinerary was longer as I planned a full day leisure at Lashi Lake. The area is famous for horseback riding which I did in the morning. After lunch I enjoyed various water activities including canoeing at the lake. A completely different day compared to most other days of this Yunnan itinerary.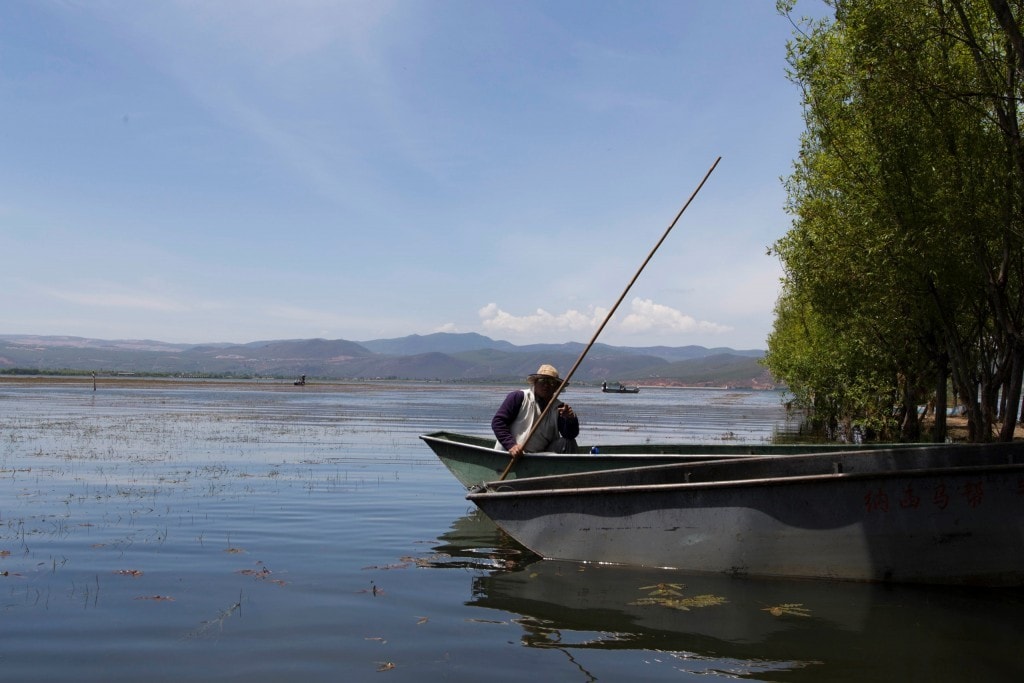 Yunnan itinerary day 12: Shangri-La
Day 12 was a day off for me. I did check out a bit of old Shangri-La including the Golden Temple. The rest of the day I used to catch up with work emails. I did that because I combined this Yunnan itinerary with a Tibet itinerary which totaled over 3 weeks. This day was in the middle. I have plans to return to the area anyway but if you don't make sure to go to Songzanlin Monastery. It's a Tibetan monastery just 30 kilometers away. I will visit another time when I'll go deeper into the mountainous Tibetan area. In the evening I went with the driver to a local place for Yak meat. That was the spiciest yet delicious dish I ever had. I don't know where it was exactly but just ask around and you'll find a great place too.
Yunnan itinerary day 13: Potatso National Park hike
If you arrive at Potatso National Park (also called Pudacuo National Park) you might think I have added a weird street food place on this Yunnan itinerary. The entrance is a kind of alley with many food stands. A good place to buy some local yak dishes to have new energy for the walk ahead. The altitude is 3600 meters so you might want to buy some chocolate too. It will help with the lack of oxygen.
The Potatso National Park was the first national park in China and for sure a Yunnan highlight. It is home to both the Bita and the Shudu lakes of which the first is a UNESCO World Heritage Site. The hike goes along the two lakes over a wooden walkway so that you really get close to the nature without having to climb over trees or walk through mud. The area is magnificent with crystal clear water, smelling pine trees and fields full of yaks.
Read all about the short hikes in Potatso National Park in my day trip report:
CHINA – A hike through the Potatso national park near Shangri-La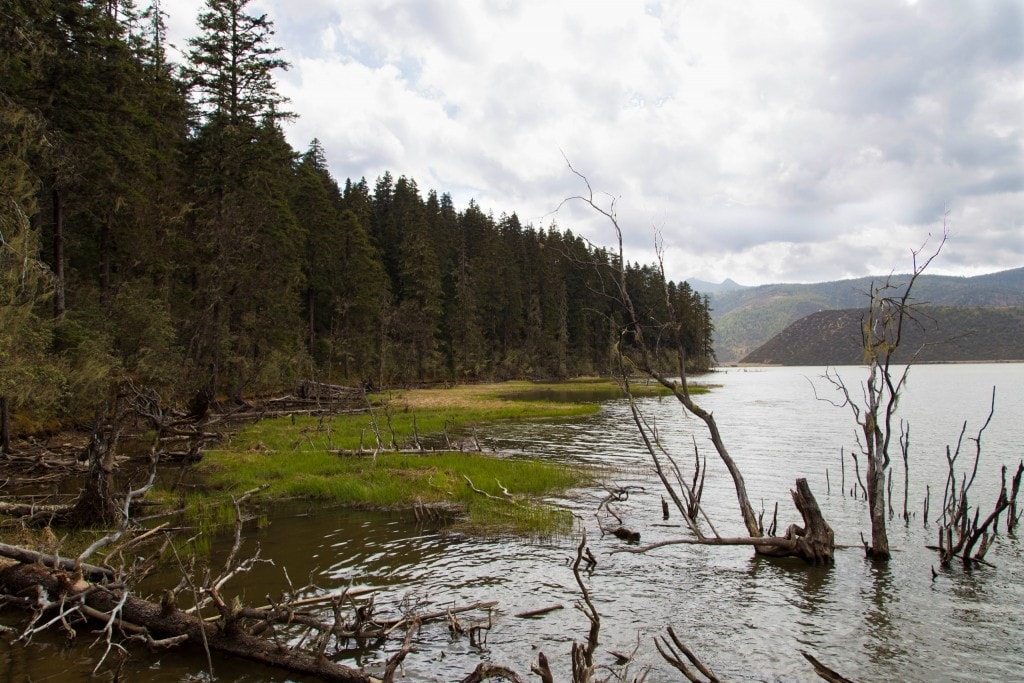 Yunnan itinerary day 14: departure
Everything comes to an end and so does this Yunnan itinerary. I hope my selection of Yunnan highlights, Yunnan trekking and everything else Yunnan will make you want to go to. This Yunnan travel guide for sure covers all the main places of interest. I continued to make a 7 days trip in Tibet but if you must return home you can catch a flight back to Kunming. You can also fly elsewhere in China as it's a huge country. I'll add more China itineraries over time!
If you don't want more China, I recommend checking my 2 weeks Vietnam itinerary, 2 weeks Thailand itinerary, 2 weeks Japan itinerary or my 3 weeks in Indonesia itinerary. Completely different cultures but just a few hours away. Do let me know how you travelled in Yunnan after you have visited in the comments below!
Stay tuned for more stories and subscribe to the newsletter or follow CTB on social media (Facebook, Twitter, Instagram including Instagram stories; on all social media you can find CTB @christravelblog) to get updated information.
Did you visit Yunnan province in China too or do you have questions? Please leave a comment at the bottom of the page. Love to hear from you!