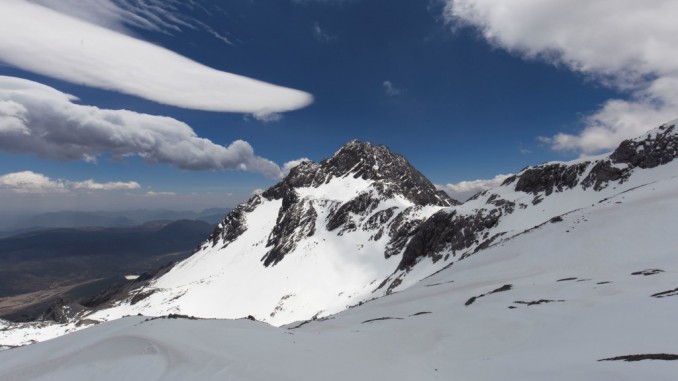 My Yunnan & Tibet China tour with my son brought me to Lijiang from where we did a day trip to the Jade Dragon Snow Mountain. From Lijiang you have a beautiful view on the mountain, one of China's best views. We wanted to go to the top, which you can reach up to 4800 meters high. I show you in many photo's why this is something you must do!
Jade Dragon Snow Mountain
The Jade Dragon Snow Mountain is called this way because the (13) peaks in the clouds are like a jade dragon. The tallest peak is at 5600 meters, which you can see from the viewing platform. The glacier on the mountain is the most southern glacier in the northern hemisphere. The area is rich of unique plants and wildlife with over a quarter of the species living in China to be found here too.
The Jade Dragon Snow Mountain is located a 30-40 minute drive out of Lijiang. The visitors' center asks a pretty high price to enter this national park but it's worth the money for sure. Beside this mountain which you can go up on two places there is a lot of nature to explore. We went only up to the highest point as we wanted to relax a bit at our Indigo Lijiang Hotel later on the day with a private BBQ at our terrace.
At the visitors center there was a small queue as per Chinese standards and 30 minutes later we were in the bus to the cable car station. From Lijiang which is at about 2600 meters, you are then at 3800 meters already. The cable car takes you up to approximate 4300 meters and the last 300-400 meters you have to climb on stairs. Walking at that altitude the next day after arriving is not easy, I managed without oxygen but my son needed it because of his astma. The views at the top are amazing! Enjoy the gallery below with some more great views.
TIP! Buy oxygen bottles for breathing to not end up exhausted like many Chinese tourists in case you are not used to the altitude yet.
Did you visit this place or do you have questions? Please leave a comment at the bottom of the page. Love to hear from you!
Gallery Jade Dragon Snow Mountain
Check the gallery for more photos taken during this trip. If you like to use any photo for commercial, private or editorial use please contact first for permission and/or pricing.