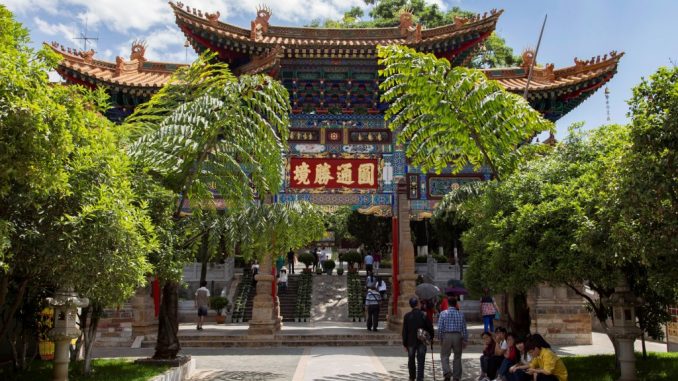 Kunming is a pleasant city in China compared to other big cities. The air is clean and the weather is nice year round. That's why it's also called the City of Eternal Spring. The city was my starting point for a 3 and a half week trip through the Yunnan Province (2 week Yunnan itinerary) and Tibet (one week Lhasa itinerary) together with my son. We stayed five nights in Kunming. We had just two and a half day to explore Kunming. The other days we went to the Chengjiang Fossil Site and the Shilin Stone Forest. Join me on a tour through Kunming.
Guandu Old Town in Kunming
Guandu Old Town in Kunming is a well restored old town. I arrived with my son early afternoon from our nearby Intercontinental Hotel. There are several temples and pagoda's connected by pavilions. The remainder of the new traditional buildings are shops; many shops. I have seen various old towns across China, including new old towns. Guandu Old Town in Kunming has a bit of both.
Two pagodas
The two pagoda's at the main square date back to the second half of the 15th century. Just behind it you can see the Miaozhan Temple which is even 200 years older. It's not a big temple, but it's a very nice Buddhist temple. A small pond with a traditional Chinese bridge make up the courtyard. The halls show various Buddha's and related statues. In front of the temple is a Tibetan style stupa. It's built after the influence from Tibet. The square and temple won't take you more than an hour to explore.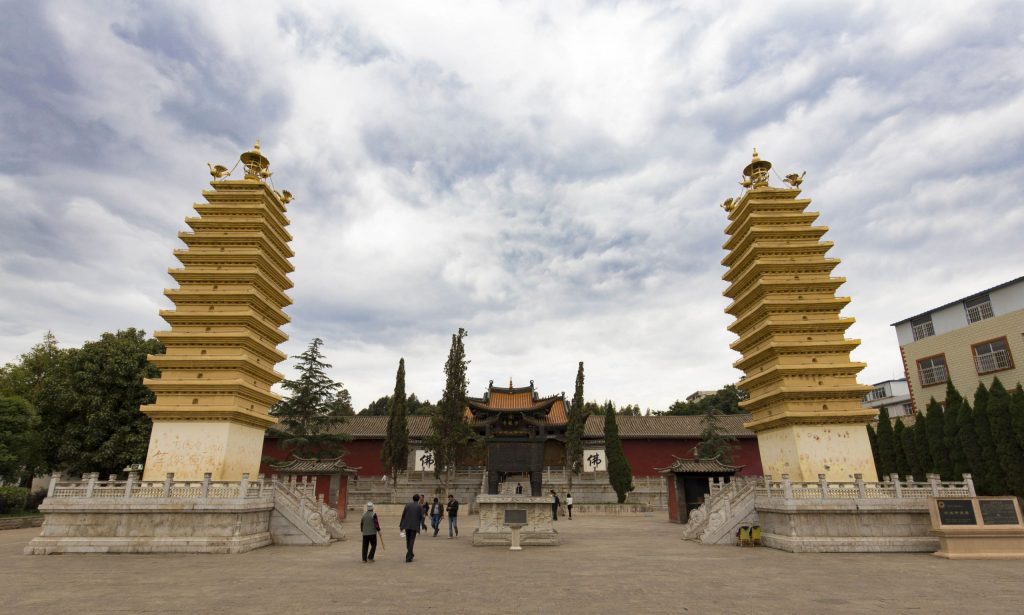 Fading Temple
From the main square we walked towards the Fading Temple. A small temple but a lovely one. From there its a few hundred meters walk towards the entrance gate of Guandu Old Town. Along the street are houses built in traditional old style. If you want to buy souvenirs you are in the right place. Normally these streets get crowded and are very annoying but here it was pleasant to walk. My son got hungry so we bought some local snacks and continued walking to the entrance gate. You will pass various small pavilions, shrines and temples if you take the side streets.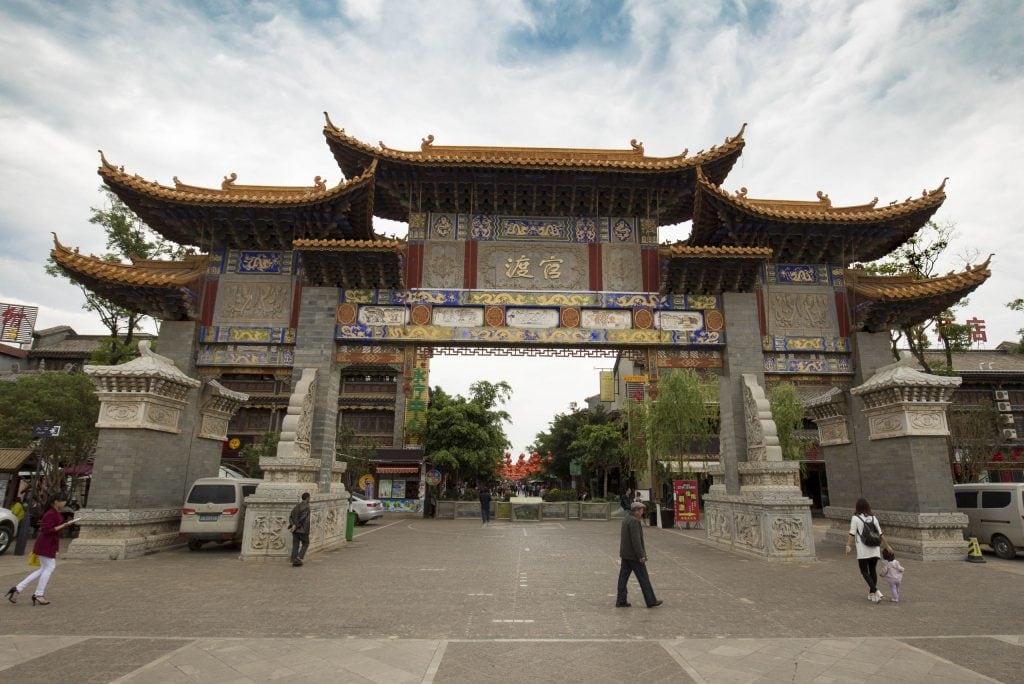 After we finished our snacks at the gate we walked back towards the main square to find a telecom shop to buy a local sim-card. A must have to put into a MiFi device to avoid roaming costs. We couldn't really find any shop; later on the airport it worked. At the square my son got a bit tired and we sat down just watching people for a while.
You will see many locals there playing games, talking and just relaxing in the sun. The city has a pleasant temperature year round. It was already late afternoon when we took a taxi back to our hotel. Just a small advice: make sure you have your hotels address with you in Chinese characters for taxi drivers if you do not speak Chinese. I do speak a bit of Chinese but even I had problems communicating due to different dialects.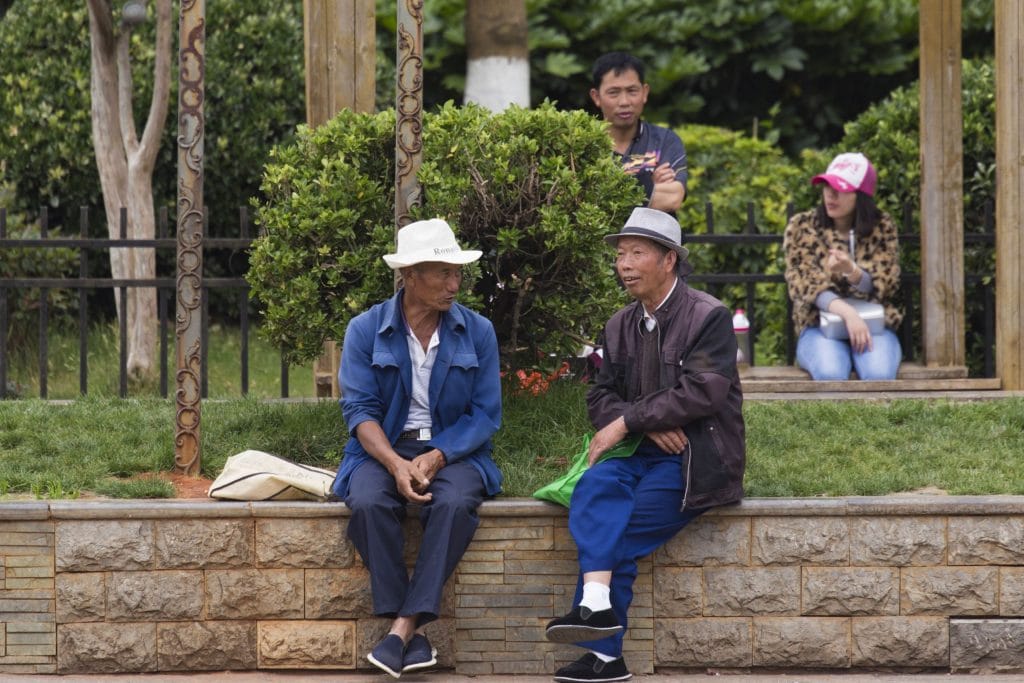 Yuangtong Temple in Kunming
The next day we would visit the Shilin Stone Forest after which we would change to a hotel downtown. There we would stay at the Crowne Plaza Kunming so that from there we could explore downtown Kunming and catch our train to Dali the day after. Downtown Kunming has one major temple which is important throughout South East Asia. We started our day at the Yuantong Temple during the May holidays; a busy day! The good thing was that our hotel was downtown and everything within walking distance.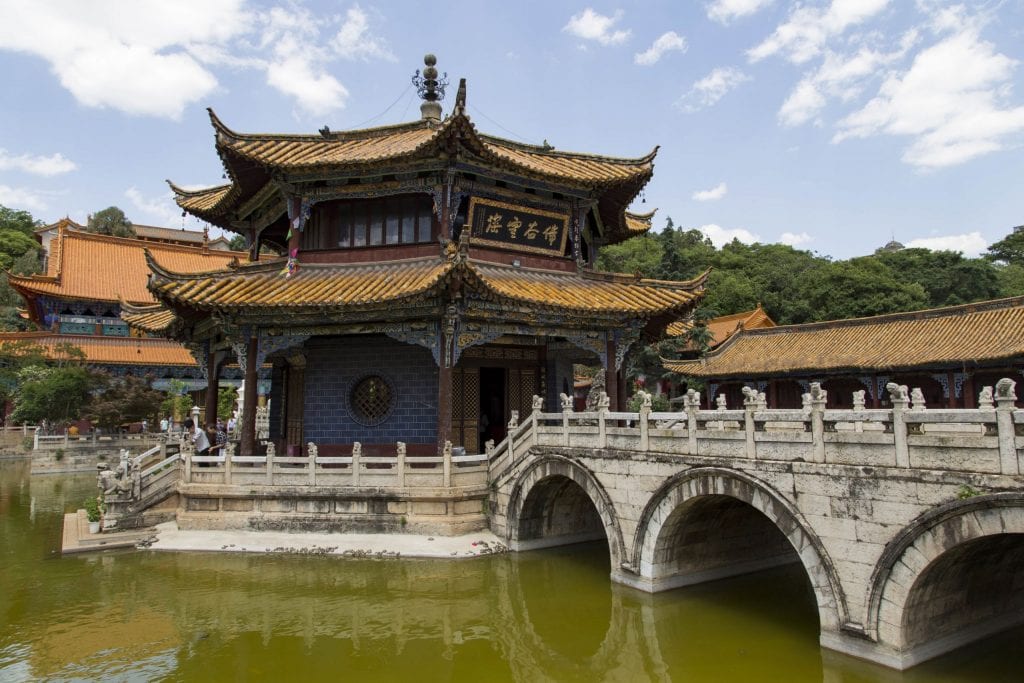 I can speak for my son too as he only travelled in China with me: the Yuantong Temple is unique in its layout and different from any temple we have seen before. It's a unique temple on this Yunnan itinerary. The entrance is at a busy street in Kunming and I thought it would be a small complex. I was wrong. Once entered the full ground is visible as the entrance is at a higher point than the temple. Uniqueness one. Then, the main hall in the back of the complex is surrounded by water. Uniqueness two. In the middle of the water is a small hall with a Buddha. The water has, as usual in China, lots of fish and turtles. The third uniqueness is the air quality. Not just in the temple but in all of Kunming. It's fresh compared to most big cities in China.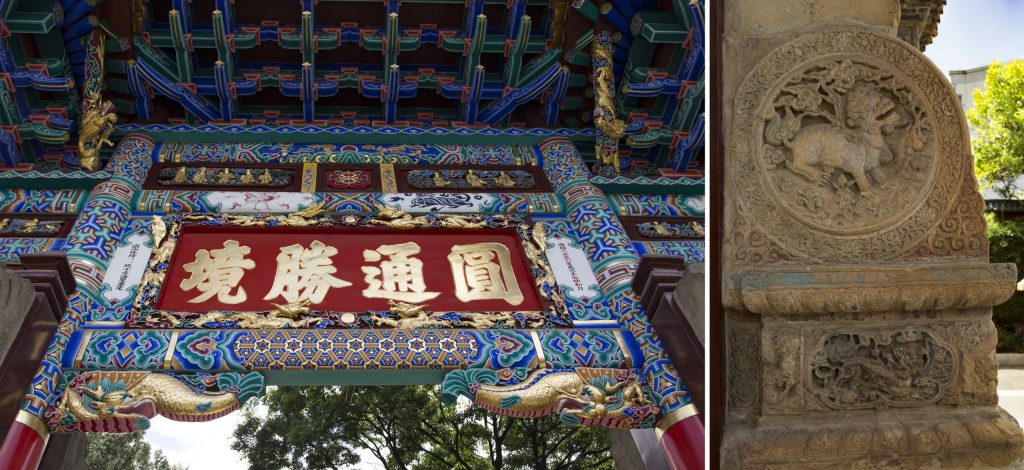 The Yuantong Temple was found in the 8th century and enlarged several times after. Its oldest parts are just next to the main hall and a bit behind it. Century old inscriptions tell stories about dragons that lived in the caves of the mountain. Today the temple is an active temple and plays an important role in Buddhism. It took around two hours to carefully explore this beautiful decorated temple complex. It's well worth it. After the visit I walked with my son to modern Kunming. On the way we dropped in at one of the many restaurants in the area for some delicious spicy food.
Modern Kunming
Of course modern Kunming is like any other big city in China but the weather and air is so nice in Kunming. A good itinerary is to start at the central square and walk towards the old pagodas. From there you can circle around back towards where Wuyi Road crosses Dongfeng West Road. Here you will find the Kunming Bird's Market. Sellers sell all kinds of animals like rabbits, puppies, birds, turtles, mice and more. It's interesting to see and the area has a lot of small streets to wander around.
Has Kunming more to offer? Inside the city center there are a few museums which for me were not so interesting. Dianchi (Kunming) Lake is a nice area to wander around. Our previous hotel, the Intercontinental Kunming, was located close to it. There are two more temples a bit outside the city center which could make up a nice day trip. Maybe I will do that another time when I'm in Kunming as I didn't have any days left for this Yunnan two week trip.
It already started to get dark when we returned to the main square. We had a late lunch so we went just back to our hotel, the Crowne Plaza Kunming City Center to have some late afternoon cocktails and snacks in the club lounge. The next day we would take an early train to Dali & Shaxi and continue to Lijiang. My yearly trip with one of my kids just started and there was so much more to come! Check my full Yunnan itinerary and Tibet itinerary to see what I did more during this trip.
Stay tuned for more stories and subscribe to the newsletter or follow CTB on social media (Facebook, Twitter, Instagram including Instagram stories; on all social media you can find CTB @christravelblog) to get updated information.
Did you visit Kunming too or do you have questions? Please leave a comment at the bottom of the page. Love to hear from you!
Gallery Kunming
Click an image for a full screen gallery of more photos taken during this trip. If you like to use any photo for commercial, private or editorial use please contact first for permission and/or pricing.