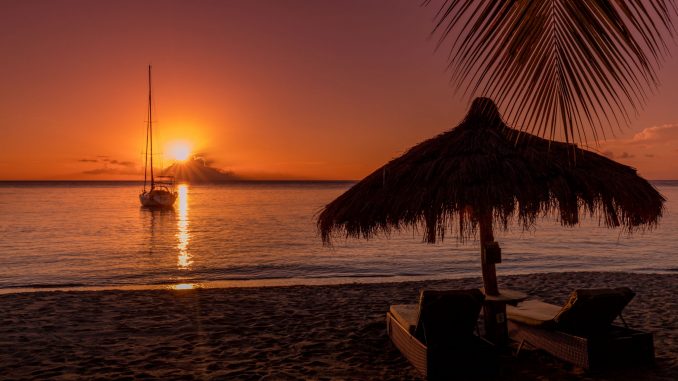 I visit around 35 countries every year of which, on average, 10 are new and the others re-visits. The Caribbean never crossed my path until recently when I had the opportunity to go there of a business trip in Philadelphia. I had two weeks and came up with the following Caribbean island-hopping itinerary. It includes Antigua, St. Lucia, and Barbados. Yes, in 2 weeks you can squeeze in a 4th or even a 5th island but that won't do these islands justice. You need at least 3 full days (4 nights) on each to explore and have time to relax at those amazing Caribbean beaches. Hop with me to these beautiful islands and I'm sure you will want to follow this Caribbean itinerary too!
Planning a Caribbean island hopping trip
With quite a bunch of countries and territories consisting of hundreds of islands to choose from, planning a Caribbean island-hopping trip isn't as straightforward as a road trip on the west coast of the USA. After changing my itinerary dozens of times, I came up with this perfect trip to Antigua, St. Lucia, and Barbados. I'll summarize a few general tips to keep in mind for planning an island-hopping trip. I learned them the hard way when I made a Pacific island-hopping itinerary two years ago.
Caribbean itinerary pro-tips
What do you want to do? Just beaches and sunshine? Then you might as well just book a trip to one island. Or, do you want to explore cultural and natural sights too? I want both. I always start looking how many days I need on an island to see all it's unique culture and nature first. Then, I add per 2-3 days sightseeing 1 day to relax. I do this for each island I would like to visit starting with places I really want to go to like the Pitons in St. Lucia. They are amazing as you can see in the photo below.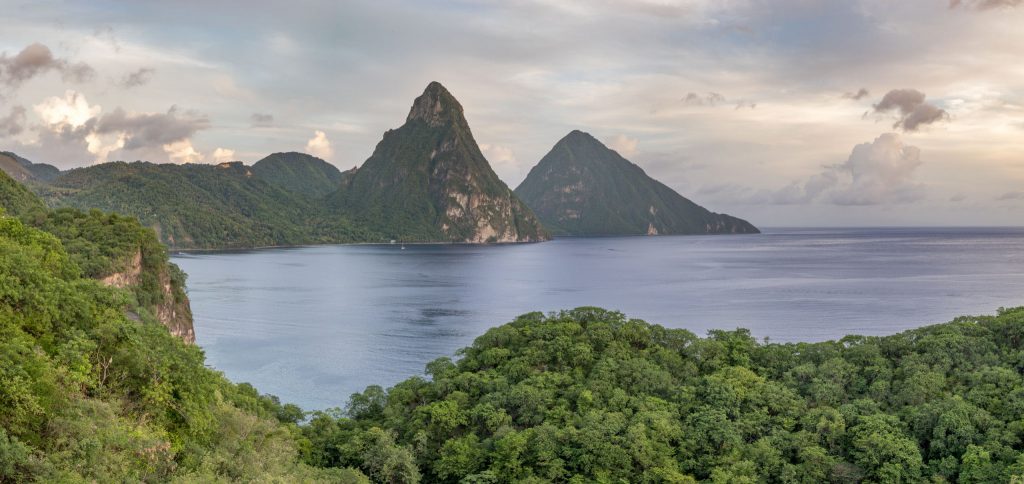 The most important thing to keep in mind is that not all islands are connected by air or sea and probably not each day. My pro-tip here: look up the airport(s) of the island on Wikipedia and look which airlines serve which destinations. Even then, there might be private charters that aren't listed and could get you from one to another. It gives however a good overview of what connections are possible. Avoid flights with a stop if possible. If there are only flights with a stop (probably on another island) you might as well add that island too.
Now you know which connections there are it's time to make some order in the list of islands you want to visit. Order the islands in such a way that you can hop from north to south or the other way around. It saves time flying in just one direction. For example, you don't want to visit the Bahamas first, then Trinidad & Tobago, and go all the way back to Turks & Caicos Islands.
Make sure to check how you can get to the Caribbean in the first place. If you go island hopping the easiest is to fly to one island and fly back from the last one. So, don't end on an island with just local flights to avoid making extra hops before going home. Such an open jaw ticket is also a way to buy cheaper business class tickets as you can read in my guide.
When I started planning this Caribbean itinerary I first opened my UNESCO bible. That's how I call it. It's the official UNESCO World Heritage book. Yes printed! I checked which islands have UNESCO sites in the Caribbean and which are also a country and not just an overseas territory of another country. I came up with Antigua & Barbuda, St. Kitts, St. Lucia, Barbados, and possible Dominica. They are all more or less in a straight line too.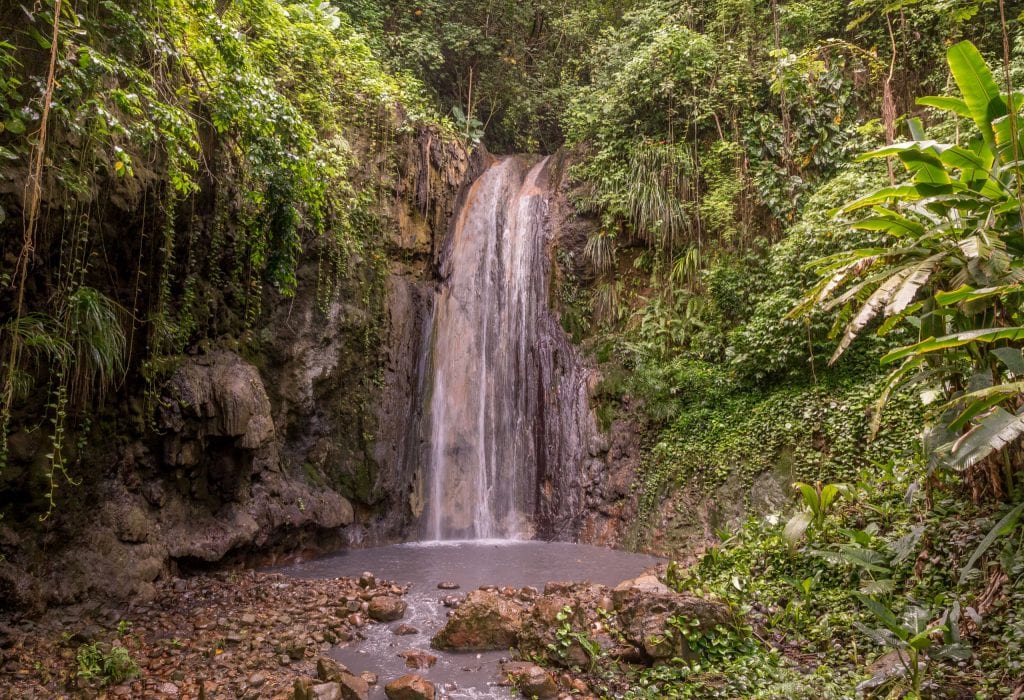 I followed my own tips above and finally came up with Antigua & Barbuda, St. Lucia, and Barbados. I did have St. Kitts in it too but I could not go 4×4 nights as my Caribbean itinerary would get to long. My trip started in the US from where plenty of flights go to Antigua. From Barbados it's possible to fly to Europe which was my next destination. Between each island there were (affordable) direct flights too. I estimated it would cost me 2 full days to see all places of interest on each island. Thus, I booked 4 nights on each island which left me plenty of time to relax. I hired a car on each of the island so that I could freely explore the islands at leisure and be flexible. It worked out perfectly as you can read in this Caribbean island-hopping itinerary.
Caribbean island hopping itinerary: 4 nights Antigua
Antigua and Barbuda was the first country I visited in the Caribbean. It consists of two islands named Antigua, the main island, and Barbuda the smaller and unspoiled island. I only visited Antigua but if you want to visit Barbuda too I recommend adding 2 days to your Caribbean itinerary. I arrived on a flight from Miami late morning which was great as I still had allmost a day at leisure. I stayed at the Blue Waters Resort on the northern tip of Antigua. It was convenient located not far from the airport and offered all-inclusive, yet a-la carte, inclusions. I had a great stay! On Antigua I recommend doing two day trips. If you go in the morning around 8AM you should be back around 2-3PM at your hotel.
EXTEND YOUR TRIP: Add two days, an overnight, on Barbuda to this Caribbean island-hopping itinerary. It has pristine beaches and isn't developed yet for tourism. You can also add a 1-week south Florida road trip before going to Antigua.
Antigua day trip: English Harbor
The first trip I recommend is to the English Harbor located in the southern part of Antigua. It's most famous for Nelson's Dockyard, which was a British Royal Navy base during Englands colonial time, and now a UNESCO World Heritage Site. Start at Sherley Heights Historical Park where you will have the iconic Antigua photo opportunity as you can see in the photo below. At the dockyard there are places for lunch or go to the yacht club and sample some local Antigua craft beer.
After lunch I drove back to my hotel with a short detour along the Fig Tree Drive loop which ends in Jolly Harbor. It's a 45-minute drive and has some great views. If you want to do more this day, then before driving the Fig Tree Drive go up to Fort George Monk's Hill National Park. I did not make it up there as I wanted to go snorkeling in the afternoon. I was told by locals however it's great (short) hike up and has some amazing views.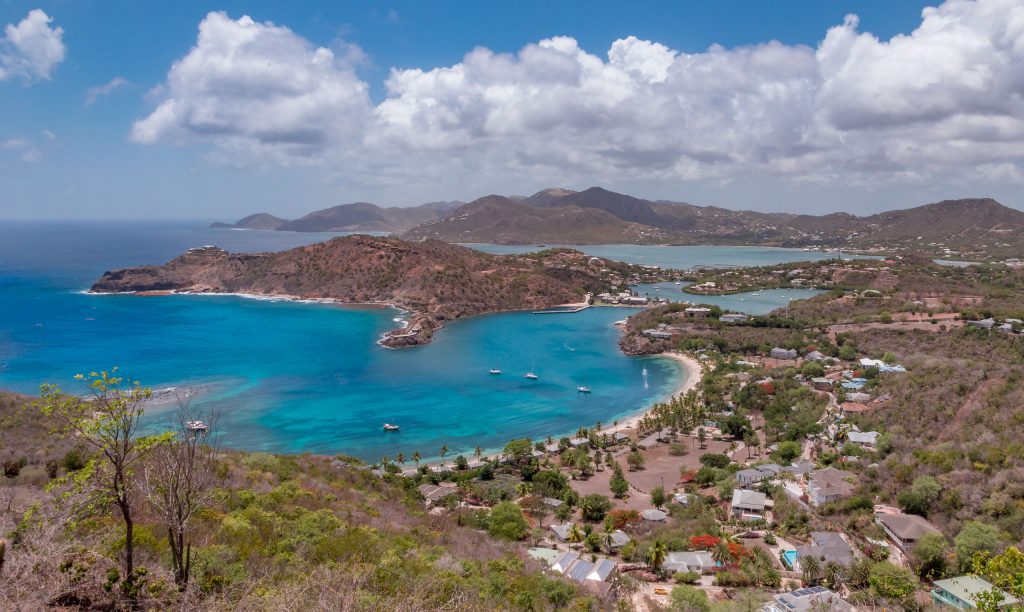 Antigua day trip: Nature, beachs and more
The other day trip on Antigua I recommend includes historical forts, the capital St. John's, sugar mills and some natural beauty. Make sure to end in St. John's around lunch time meaning: if you stay in the north do the loop as written, if you stay in the south do it in opposite direction.
Start at Betty's Hope which was one of the bigger sugar plantations on Antigua. There is a small museum, foundations of buildings and two beautiful restored sugar windmills. Continue east towards Devil's Bridge which is a natural bridge that forms a blowhole. It's a great coastline where water is blown meters high. You must drive back just a bit now to go south towards half-moon beach. A beautiful beach if you visit the right time of the year. When I was there in August there was to much seaweed on the sand unfortunately. Something that all Caribbean islands must deal with due to climate change. At Willoughby Bay Overview you have a beautiful view on the bay and along that same road there are some ruins of sugar windmills too.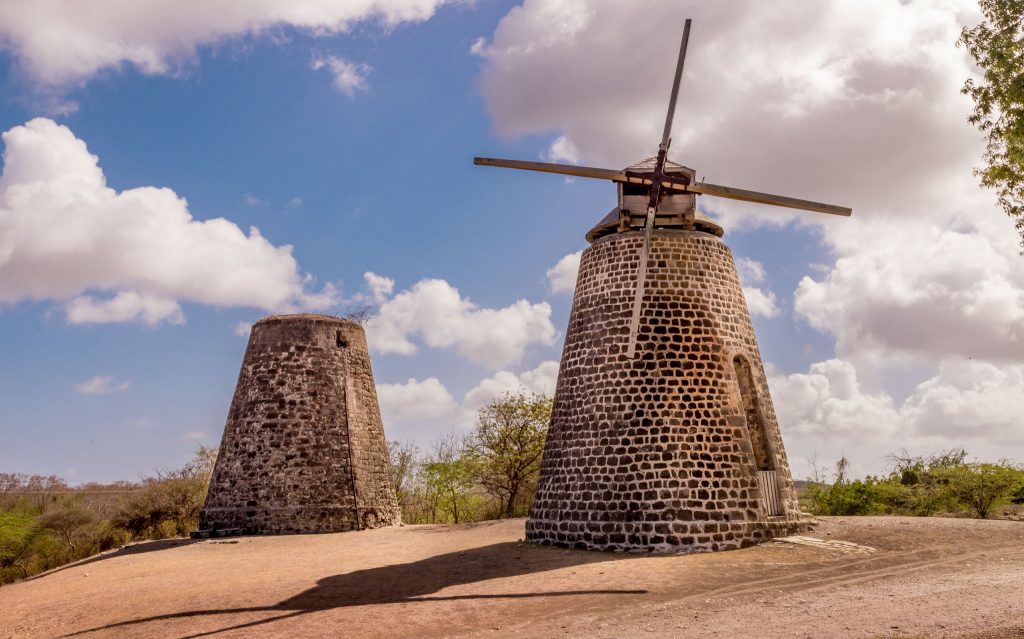 Now, drive to St. John's for lunch or have it at half moon beach if you decide to go swimming. If you don't want to go to the beach, then drive direct to St. John's from Devil's Bridge. In case it's not yet lunch time visit Fort Barrington or Fort James first. Both are beautiful forts worth stopping by. Parking is most easy around St. John's Cathedral which is also worth a look at. The town is small but make sure to stop at the Museum of Antigua & Barbuda, Heritage Quay, and the VC Bird Monument. Antigua is small so if you start at 8AM you should make it back to your hotel around 3-4PM easily again.
With 4 nights I had 3 full days so one day I just relaxed at Blue Waters Resort which wasn't difficult with all the activities on offer. I booked the afternoon flight to St. Lucia so that I still had a full morning on Antigua to go through my work emails.
Caribbean itinerary: 4 nights St. Lucia
I regret that I included just 4 nights at Jade Mountain Resort in St. Lucia on this Caribbean itinerary. I could have stayed forever. It's such a unique place overlooking the Pitons that a few days more would be no problem at all. The resort is an adult only resort but their sister property Anse Chastanet is for families too. St. Lucia is largely covered in tropical forest and very mountainous. I arrived with an hour delay at the small airport in Castries, which is quite normal if you hop Caribbean islands. That delay wasn't nice as it got dark and therefore made my trip to Jade Mountain Resort longer. Driving curvy mountain roads isn't easy in the dark if you're tired.
I did two day trips on St. Lucia which cover the area's around Castries and around Soufriere. If you stay in Castries it's a long drive to Soufriere but if you stay there it's a long way to Castries. So at least one of the days will be a long day!
EXTEND YOUR TRIP: Add a day and hike up the Gros Piton, St. Lucia's icon. An alternative is going on a long day hike into the pristine tropical forests of St. Lucia.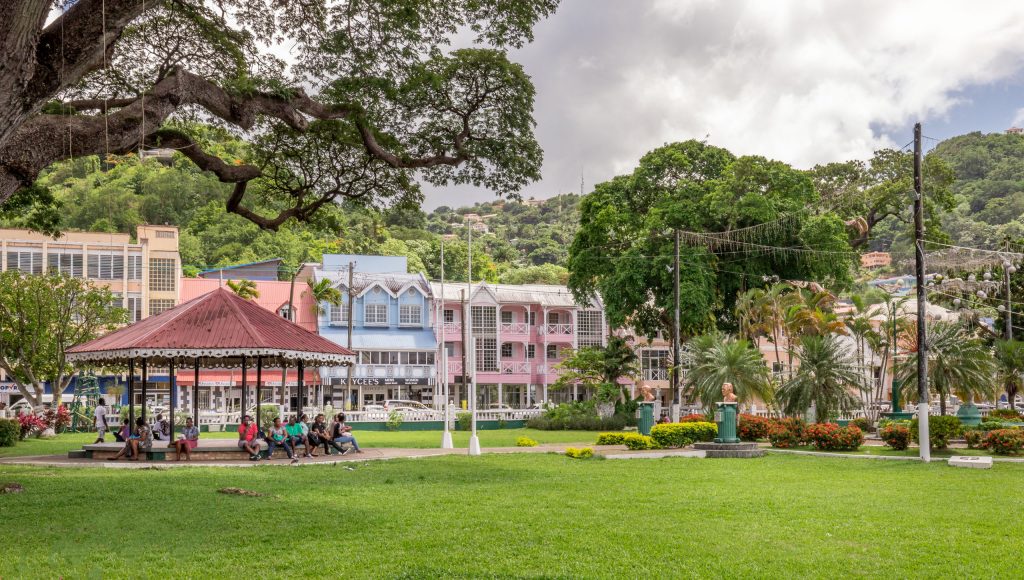 St. Lucia day trip: Castries
Castries is the capital of St. Lucia and located on the north western side of the island. It's where the cruise ships arrive too. I started with a 2-hour drive from Jade Mountain Resort all the way up north to Pigeon Island National Park. Pigeon Island has a beautiful fort and amazing views on Rodney Bay. If you climb both the fort and signal peak, you'll probably spend there up to 3 hours. Make sure to go early morning. Then, when finished, drive to Castries for lunch and a city walk.
In Castries there are several places of interest located between the Central Market and Derek Walcott house. The old French colonial center isn't big, so a city walk should take not more as 1-2 hours. As you might know I love craft beer, so I went to Antillia brewing located on Point Seraphine where the cruise ships dock. I drove up Mount Fortune on the way back to Jade Mountain Resort as around Sir Arthur Lewis College there are some cannons and a few historical buildings left. I made it back before nightfall to Soufriere and Jade Mountain Resort.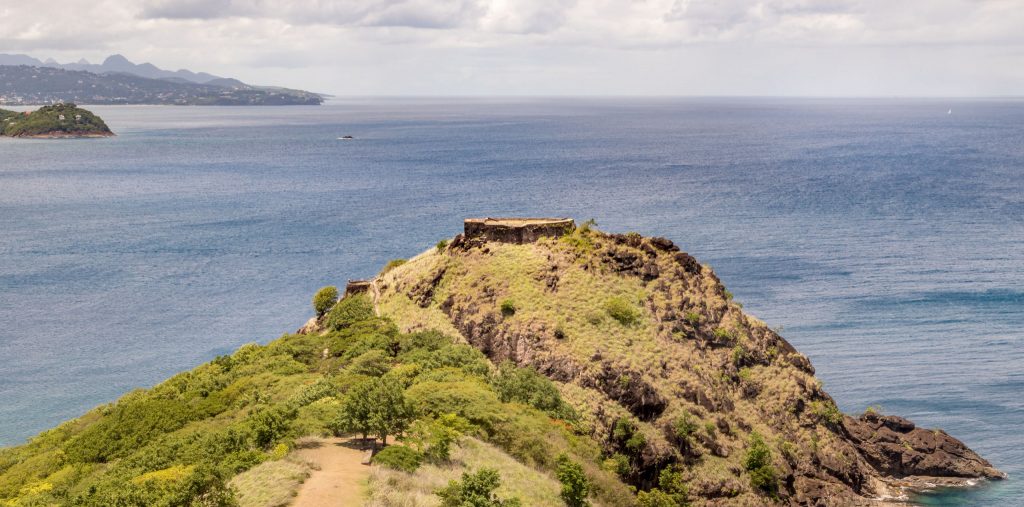 St. Lucia day trip: Soufriere
Soufriere is home to St. Lucia's icons: The Pitons. I had a magnificient view from my sanctuary with private pool at the Jade Mountain Resort. You can even climb them but then you must add a day to your itinerary. I started with a visit to the eco-farm of Jade Mountain Resort near Soufriere. They grow (almost) everything themselves and if they don't have it they buy local. The Diamond Botanica Gardens and waterfall are nearby and a logical place to visit next. If you want to photograph a hummingbird make sure to take a tele lens as the photo I made was with just a 105mm. It came out acceptable though as you can see in the photo below.
Next up were the Sulphur springs or also called the Soufriere Drive in Volcano. It's an open volcano where sulfur springs are abundant. You can even take a mud bath if you want but that wasn't my thing. They claim to be the only drive in volcano in the world which might be so but honestly Ijen Volcano (Java, Indonesia) or Mt. Yasur Volcano (Tanna, Vanuatu) are more impressive. It started to drizzle a bit, so I made a quick 30-minute hike at the Tet Paul Nature Trail which has magnificent views on the Pitons. If it's a clear day of course. On the way back to the resort I made a final stop in Soufriere. It was early afternoon when I was back at the resort to go diving.
More details about this Soufriere day trip you can read in my day trip report:
ST. LUCIA – Soufriere day trip: must see places including drive-in volcano

St. Lucia is my favorite of the 3 islands on this Caribbean island-hopping itinerary. It has unspoiled nature with amazing views but also places of cultural interest. A perfect combination. My flight to Barbados was around 5PM so I still had a morning to take in the magnificent view of the Pitons. The flight to Barbados was just 35 minutes; a short one.
Caribbean island hopping itinerary: 4 nights Barbados
Barbados is much more developed for tourism as St. Lucia and even Antigua. Except the north east it's full of towns and densely populated. There is not that much nature to see but it does have much more cultural places of interest. Most can be seen again in two full days but a third day on Barbados will make it easier. As I overslept most days I did need all my three days on the island to go out exploring. I didn't have time left to go snorkeling with turtles in Carlisle Bay. I have put the most interesting places in 2 day trips but also give an options to make it 3 day trips. The west coast has the most beautiful beaches so make sure to stay there.
EXTEND YOUR TRIP: Extend your trip by a day or even two especially if you go see all the places of interest. Make sure to go out on the water and swim with turtles. An additional day on the beach is also easily spend.

Barbados day trip: Bridgetown and nearby places of interest
Bridgetown old city center and the nearby Garrison area will take up half a day to explore. Together they form the Historic Bridgetown and its Garrison UNESCO World Heritage Site. In Bridgetown start at the clock tower in the Garrison area and walk towards the George Washington House. This house is closed during the weekend so plan accordingly. Further up is the Barbados Museum which shows the history of Barbados.
Now go to downtown Bridgetown where I recommend parking on Bay Street near Independence Square if you have your own car. From there walk across the Independence Bridge to the parliament buildings. From there it's 300 meters straight to the synagogue and 300 meters to the right to the cathedral. If you go also 300 meters to the right and walk all the streets you have seen all of Bridgetown. The senate and congress halls are closed during the weekend so make sure to visit on a week day. The museum is open however. Have lunch in Bridgetown before going north along the coast.
If you like rum make sure to stop at Mount Gay Rum Distilleries visitors center just before leaving Bridgetown. Continue north to the St. James Parish Church which is a beautiful church from colonial England. Now drive north along the coast to the final destination: Arlington House Museum. This museum is also very interesting for kids as it's very interactive. Up north I can recommend Fish Pot restaurant for dinner before heading back to Bridgetown.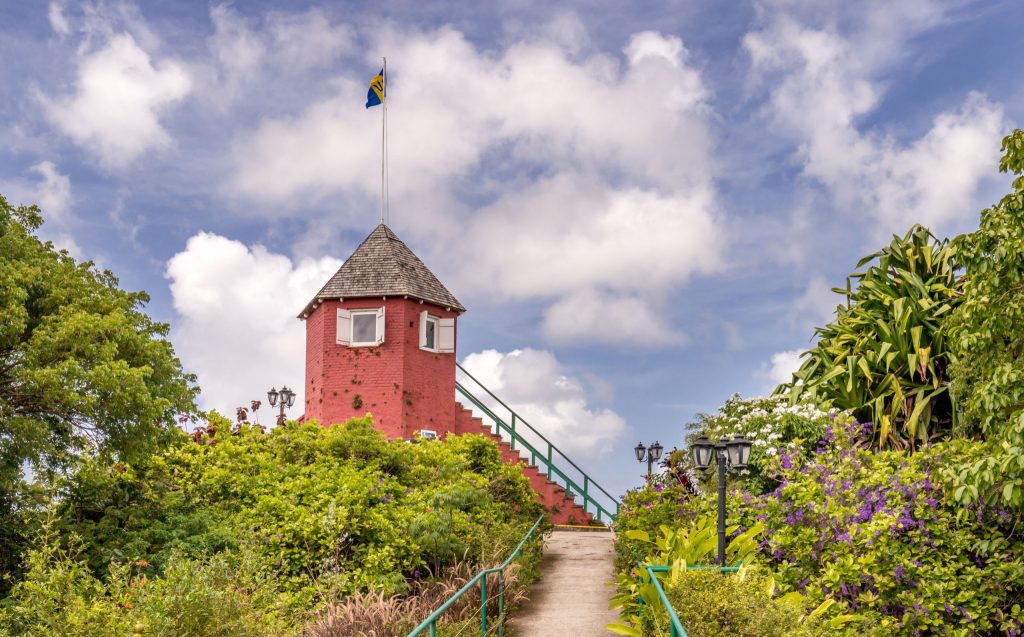 Barbados day trip: Sugar & rum history
The second day trip is about the rum and sugar history of Barbados. There are five places nominated for a UNESCO World Heritage Site of which 4 are included in this day trip. I have also included other places of interest which are on the same route.
Start at Gun Hill Signal Station which is one of the five old signal stations of Barbados and has a beautiful view over Barbados. A visit takes around 45 minutes. Now drive to St. John and visit the St. John's Parish Church which is one of the oldest on the island. Next up is Codrington College which was part of the Codrington Plantations. It's a theological college. From there take highway 3 towards Bathsheba Beach but first stop at the Andromeda Botanic Gardens. It should be around 12:00 when you reach Bathsheba Beach for lunch.

After lunch keep driving along the coast over Ermy Bourne Highway to the Morgan Lewis Windmill. It's the only remaining sugar windmill that is restored AND working in the Caribbean. From the windmill it's just a 5-minute drive over Cherry Tree Hill towards St. Nicholas Abbey. This abbey is a must-see on Barbados as it's one of the oldest rum distilleries. It's possible to have lunch there too if you were to early at Bathsheba Beach. If you're into rum history then tell your GPS to go to these coordinates (13.288799, -59.611745). That's the original location of Mount Gay distilleries where you can't visit but you can see beautiful sugar cane fields there.
If you have time left, you can stop at Welchman Hall Gully which is a gorge with lush green vegetation. It's a kilometer hike towards the end and back. In my opinion this route makes up the best day trip in Barbados.
Barbados day trip: If you have more time….
If you have more time you can split the previous day trip in two and change it to the following day itineraries by adding more places of interest. Especially if you can add a day on your Caribbean itinerary I recommend splitting the days in two day trips that are a little shorter.
Option 1: Do the first half of the previous day and after Codrington College go south east to Ragged Point and Deebles Point for some great photo opportunities. Then drive to Foursquare Rum Distillery which is also an old distillery. Several colonial buildings are still standing, and they have a small museum too. Now drive to the Concorde Experience at the airport BUT do check if it's open again as it was closed when I visited (August 2018). Finish the day by visiting the 5th location of the Sugar & Rum tentative UNESCO site located at these coordinates (13.086857, -59.533560). It's an old slave burial ground, but "it's just a hill" and located behind some industrial buildings. In Barbados the locals are very closed if it comes to slavery unlike when I did a Ghana Gold Coast road trip where the slavery history is very well documented. Now, continue to your hotel or the beach!
Option 2: The other half of the previous day is best done after lunch time. In the morning you can start at Harrison's Cave which is a huge cave system and explored by a small train. It does take some time so go early. I didn't go in as I found it overpriced and looking at the photos in the small exposition not as good as the Furong Cave I visited just a few months earlier. Now go to Welchman Hall Gully and then to Farley Hill National Park and the Barbados Wildlife Reserve on the other side of the road. The St. Nicholas Abbey is just 10 minutes by car from there. Then follow the route described above in opposite direction and back to your hotel.
Looking back at my first trip to the Caribbean makes me want to go back. I really started to enjoy hopping islands after my 2-weeks in the Pacific two years ago. Earlier this year I did a 1-week Solomon trip and a 1-week Vanuatu trip. I'm already booked for 2019 to go to Niue and either Tonga or Cook Islands after my Singapore business trip. That's a lot of islands and if you look for a remote island in Africa I can recommend going to Sao Tomé & Principe for a week.
I'm sure going to return to the Caribbean as I really enjoyed the above Caribbean island-hopping itinerary. Which ones will be next? I'm not sure but I think St. Kitts and Dominica will be amongst them as I selected these already for this trip too. Maybe St. Vincent & the Grenadines to make it again 3 islands? We'll see next year.
Stay tuned for more stories and subscribe to the newsletter or follow CTB on social media (Facebook, Twitter, Instagram including Instagram stories; on all social media you can find CTB @christravelblog) to get updated information.
Did you visit Caribbean and island hopped to Antigua, St. Lucia and Barbados too or do you have questions? Please leave a comment at the bottom of the page. Love to hear from you!