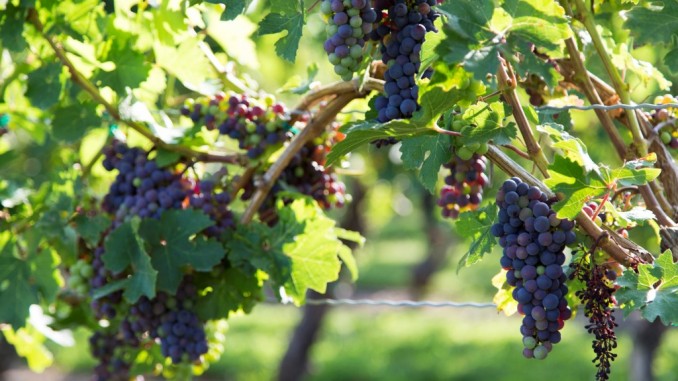 In Toronto I did some reading on what to do during my drive back to Buffalo (NY, US) and found that around the Niagara on the Lake there is a complete wine culture specialized in ice wines (icewine in Canada). After some research I came up with a list of the best wineries in the region and sent them late evening an email that I would stop by next day. All answered the next morning that they would be happy to host me. I told the valet parking of the Intercontinental Yorkville Hotel to get my Alamo car ready in front of the hotel at 08:30. So off I went early morning to go taste the gems of the ice wine industry! Enjoy tasting together with me.
What is ice wine (icewine)?
Ice wine can be best compared to a dessert wine. An ice wine is produced from grapes while they are frozen by nature to at least minus 8 degrees Celsius. This freezing makes the water freeze while the sugars and minerals concentrate. The grapes are left on the vines until weather gets cold enough and the grapes are frozen. This normally happens in Canada in late November but in rare cases it can be even in January. Leaving the grapes on the vines comes with great risk as birds can eat them, molds can destroy them or it doesn't get cold enough at all so the full harvest is gone. Once temperature hits the minus 8 degrees the grapes must be harvested at once and directly pressed after the harvest while they are still frozen. The sugar and other substances then come out leaving the ice behind. Ice wine originates from Austria & Germany but in the current climate Canada is more suitable. Here production started end 70's and early 80's. Because the delicacy of the harvest and production of the wines are not cheap, they require up to ten times more vines to produce the same amount as regular wine. Ice wines have a nice sweetness with a high acidity and are particularly nice to pair with cheese, fois gras or not to sweet desserts.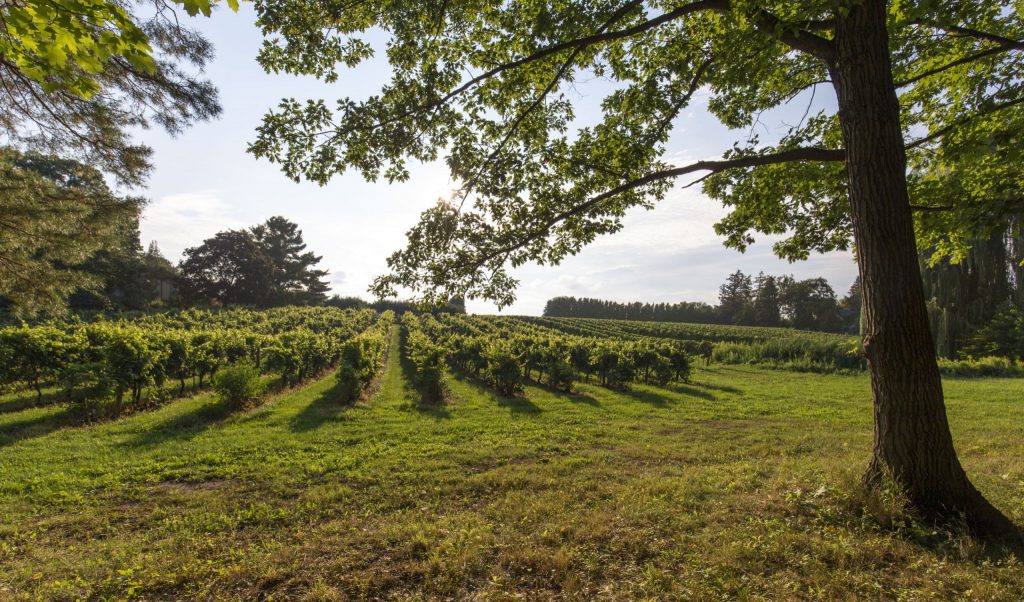 Royal DeMaria – Icewine Specialists
My first stop was at the Royal DeMaria Winery. They call themselves the ice wine specialists of Canada so I just had to visit them knowing they sold one of their 2000 Chardonnay ice wines at 250.000 Canadian dollars a bottle. Wow! It was in 1998 when Joseph DeMaria made his first ice wine with no background on making wines at all. In the process he made an "error" which is still today his secret in making one of the best ice wines in the world. With clients like Her Majesty Queen Elizabeth and the G20 Summit they for sure may call themselves world leaders in ice wines. If you want to do a tasting do contact them in advance to make sure they are open. It's well worth to taste their variety of wines as each of them is unique in taste. At the time of my visit they had 13 bottles left of their 2000 Chardonnay but unfortunately none was open for tasting 🙂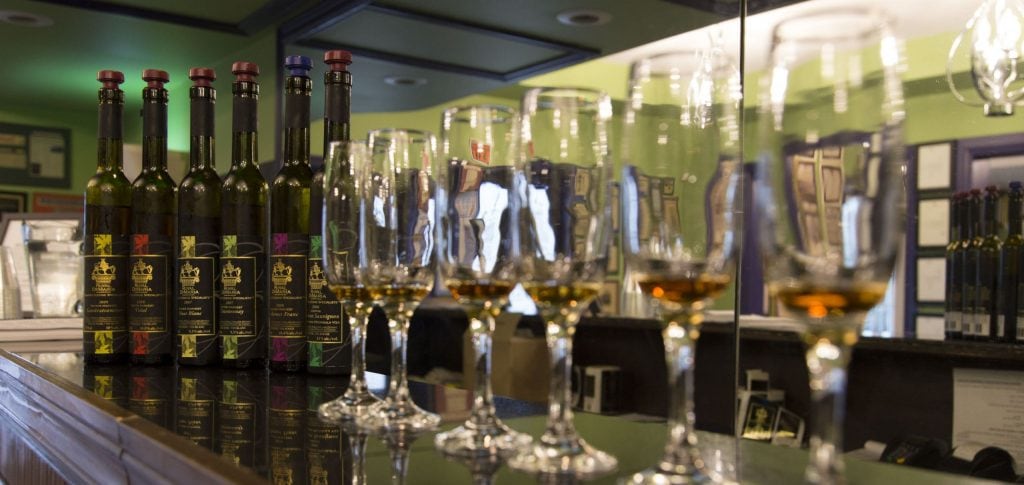 Ravine Winery – Wines & restaurant
My next stop would be a winery that is not into making ice wines but regular wines. I had chosen the Ravine Winery because of its unique location and organic winemaking process plus the fact they have a great restaurant on the ground. The location is much warmer compared to the surroundings and the ground is lighter with a more constant airflow and drainage. This makes their wines unique compared to other vineyards. The family owned winery makes their wines in a complete organic way. I tasted about 7 of their best wines and just loved the quality they produce. Oak hints from the barrels are tastes I like in a wine. Top!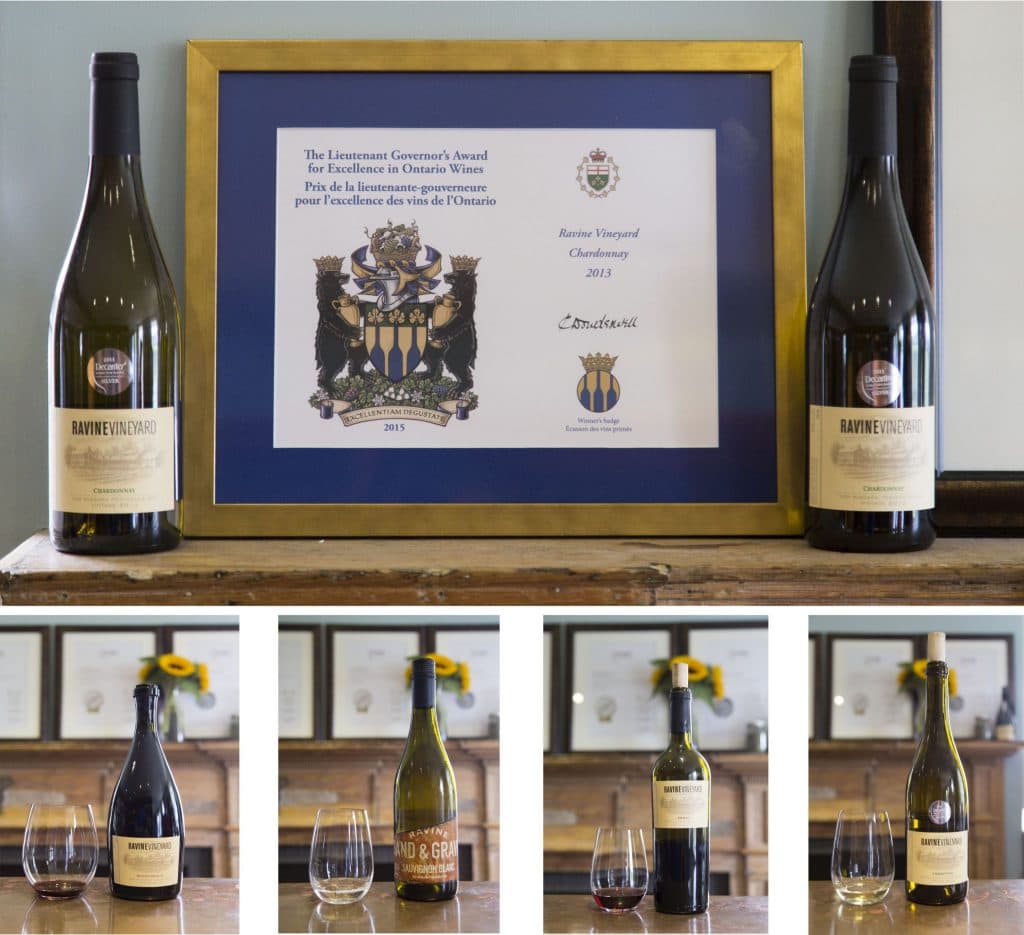 After the taste I went to the restaurant next door which serves high quality food for people who enjoy dining. As I had to drive I could not take any wine with the courses unfortunately. Take the colt cuts & cheese platter as a started, it's lovely! During my lunch it started to pour rain, which was good for my Alamo car which got cleaned and was shiny again after some dusty roads I had driven before. You will see that if you drive the Niagara on the Lake region you see everywhere vineyards. There are hundreds!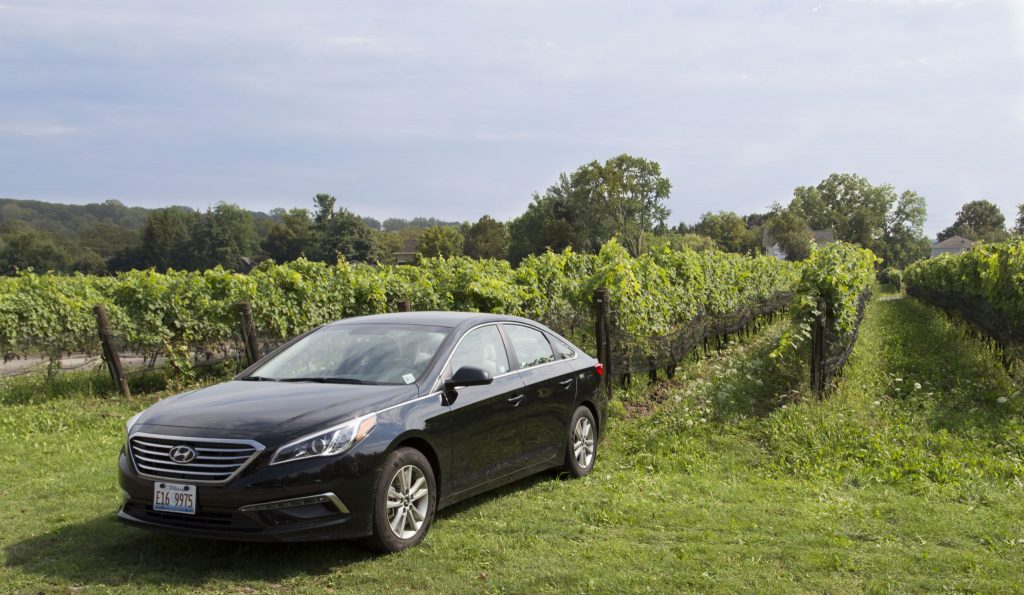 Niagara on the Lake
After lunch I went to see a bit of the historical town Niagara on the Lake. It is a small town home to Fort George which is a reconstructed British fort like it was in the war of 1812. Niagara on the Lake is located on the mount of the Niagara River and Lake Ontario and has some great views over the river and the lake. It is home to several festivals throughout the year, none when I visited unfortunately. If you visit in winter time be sure to enjoy the ice wine harvest festivals. Many wine tours start from Niagara on the Lake as well but my recommendation is to hire a car and just drive yourself from winery to winery. I probably spend an hour or two around the town before I got ice-wine-thirsty again and went onwards to the next winery.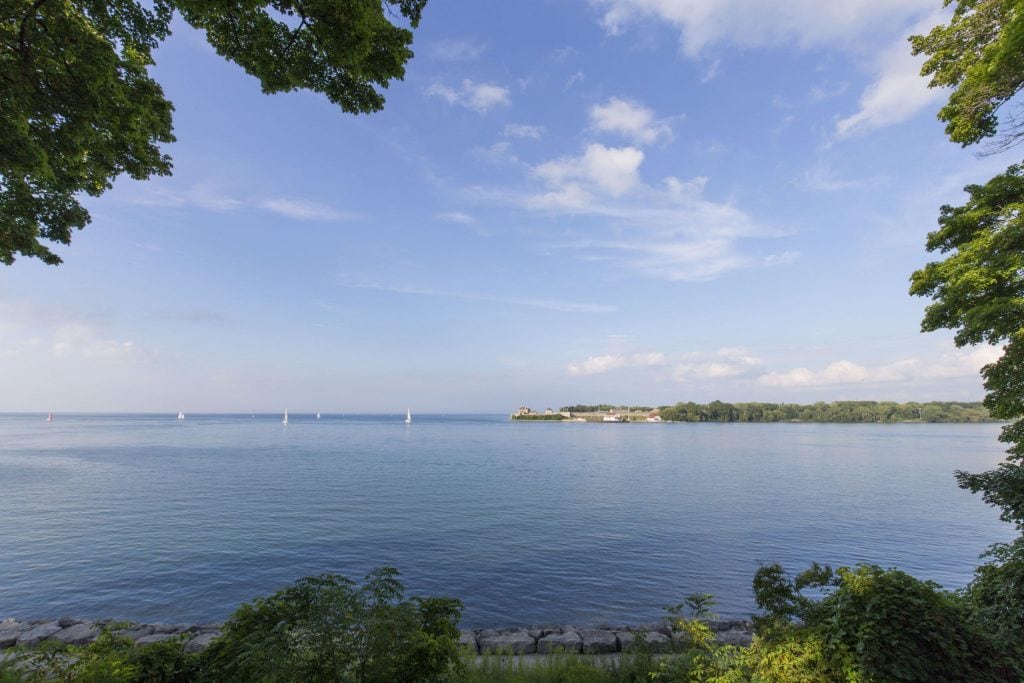 Inniskillin Winery – Icewine Pioneers
The next winery I had chosen was Inniskillin as they were the first in the region to produce icewine and because they have a sparkling icewine. Founded in 1975 and moved to its current location in 1978, Inniskillin is located between vineyards on all sides. Inniskillin produces both regular wines and icewines. I tasted only their selection of icewines. Inniskillin produced special icewine glasses so that the taste of the wine gets the attention it needs. I can confirm that the taste from a regular glass and an icewine glass is different and better in an icewine glass. I was very surprised by the sparkling icewines which are a bit less sweet because of the bubbles and open a whole new world as it comes to icewines. A very interesting development I must say. As I knew by now what an icewine was I kept it by tasting the different variations. They have of the same vintage an oaked and unoaked version which is very interesting to compare the different hints of fruits and oak in them. A winery you should not miss during your trip around the Niagara Peninsula.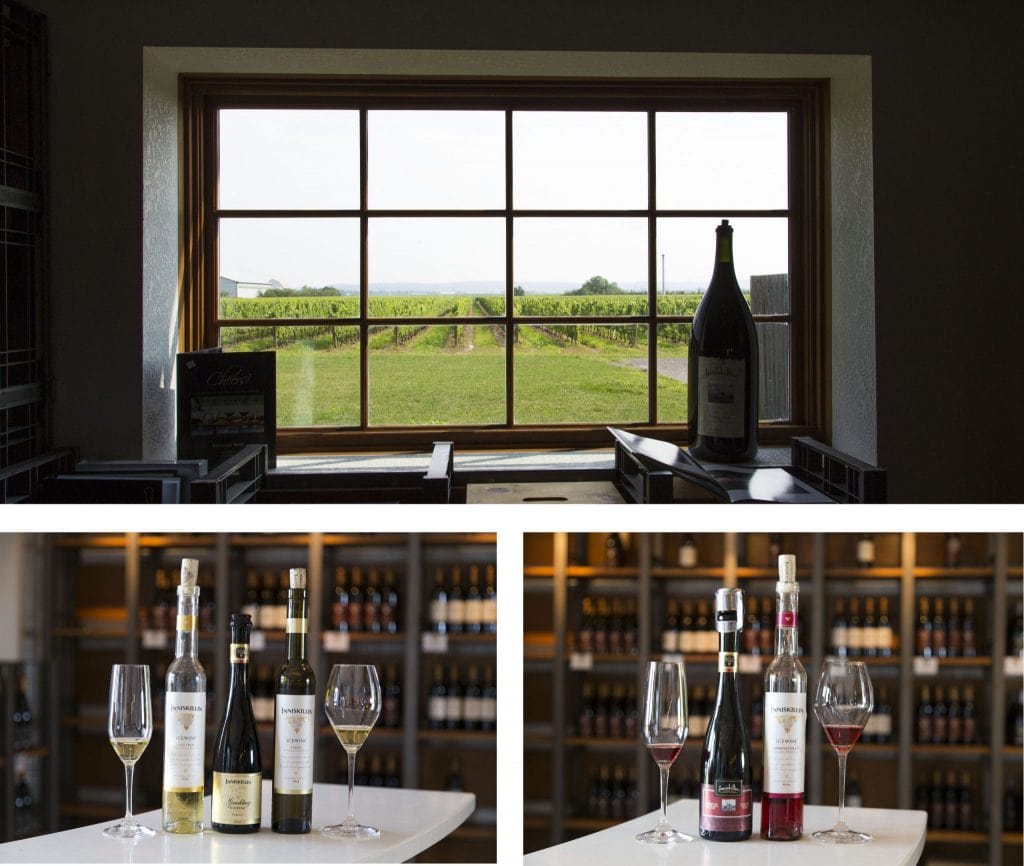 Pillitteri Winery – A family owned winery
When you enter the Pillitteri Winery you enter in their awards room which blows your mind away. So many! Here you find also their Carretto, a cart to be pulled by hand or ox, which is the symbol of the winery and is almost a century old. The family from Sicily came to Canada in 1948 and started a fruit market. In 1992 the winery was a fact and now the third generation is ready to take over. Over the years their assortment of icewines expanded to over 12 varieties today. After a tour through the winery I tasted their top-tier wines, two white and one red, which had a very nice silk sweet taste. Various fruit tones but the white had a really nice apple after taste. A perfect icewine and this winery must be on your list to visit as it has a unique history!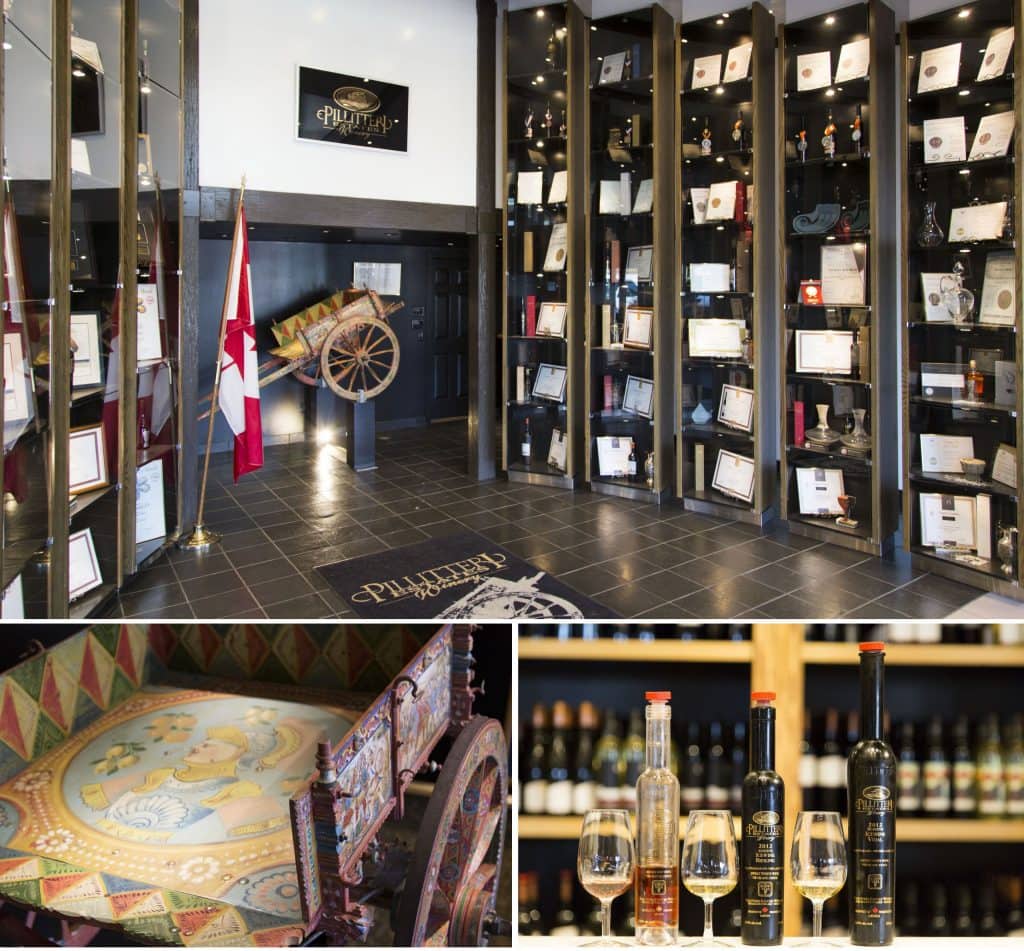 Tasting wine does not necessary mean drinking it, you normally spit it out. So you can easily drive yourself from winery to winery without being afraid to cause an accident. You can buy them to drink at home like I did with my GWK Travelex Cash passport, a perfect prepaid credit card which I use overseas for better exchange rates. After I filled up my suitcase, which I bought at the koffer store before I left, with icewine it was time to drive to Buffalo to catch my flight the next morning. Ice wines do come with a price tag of 50-80 dollars a bottle of 200-300 ml but it's worth it for sure! Just make sure you have enough money on your GWK Travelex Cash passport to buy these wines 🙂
If you visit the Niagara region and you like wines then I recommend visiting the wineries! You will be blown away by the taste of these unique icewines. A heaven for wine fanatics the Niagara Peninsula!
Stay tuned for more stories and subscribe to the newsletter or follow CTB on social media (Facebook, Twitter, Instagram including Instagram stories; on all social media you can find CTB @christravelblog) to get updated information.
Did you visit Niagara region too or do you have questions? Please leave a comment at the bottom of the page. Love to hear from you!
Gallery Icewine tasting & Niagara on the Lake
Click an image for a full screen gallery of more photos taken during this trip. If you like to use any photo for commercial, private or editorial use please contact first for permission and/or pricing.