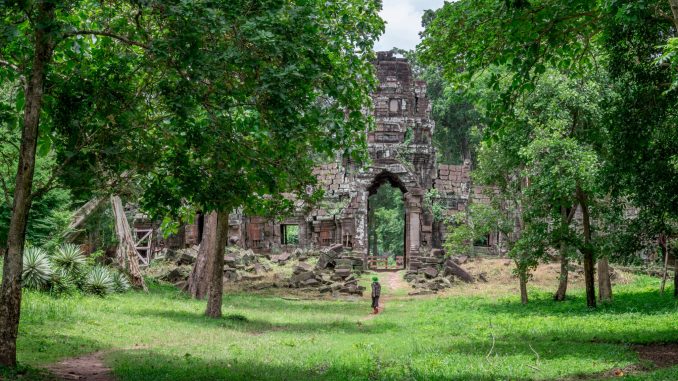 Want to play an Indiana Jones or Lara Croft adventure in a real jungle temple? Then a Preah Khan de Kompong Svay day trip from Siem Reap is your best bet. This temple is a huge complex in Preah Vihear province 100 kilometers from Siem Reap. It's actually the largest Khmer Empire temple complex ever build. Few tourists venture out that far and during the 4 hours I was there I saw just one other tourist. I made this day trip as part of my 3-week Ho Chi Minh City to Siem Reap road trip. My daughter and wife joined but my son stayed at the Park Hyatt Siem Reap to relax. Join me on an adventure to this lesser known Angkorian Era temple. I'm sure you love it!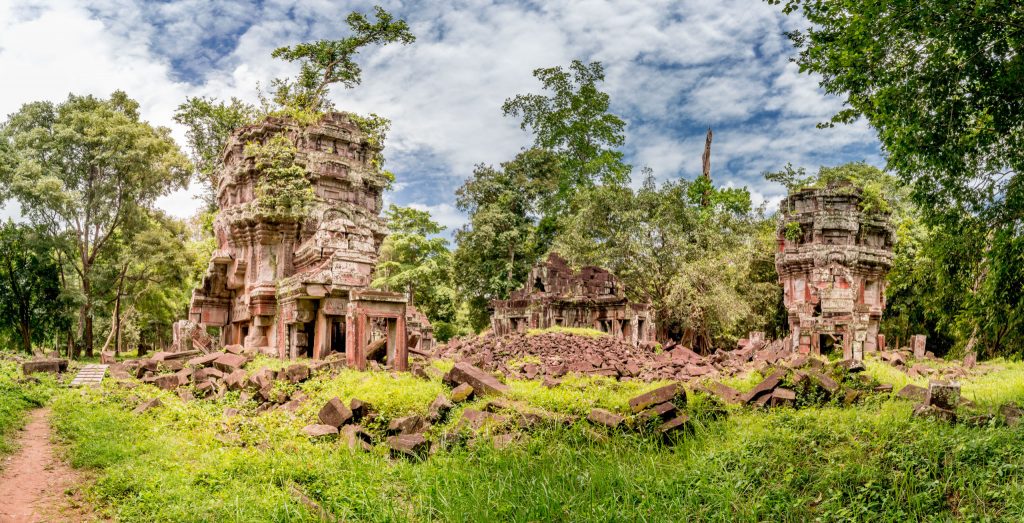 How to get to Preah Khan de Kompong Svay
When I travelled to Preah Khan de Kompong Svay I saw many road constructions taking place so more tourist might go there in the near future. It is possible to reach the complex in a regular for sure when this is finished. A 4×4 is recommended because if you want to get off the main road, especially in the rainy season, you'll need it. You can see that in the 2nd photo below. If you want a real jungle temple experience, I do recommend going off road and explore the jungle at Preah Khan de Kompong Svay. There are various smaller structures there to explore as well.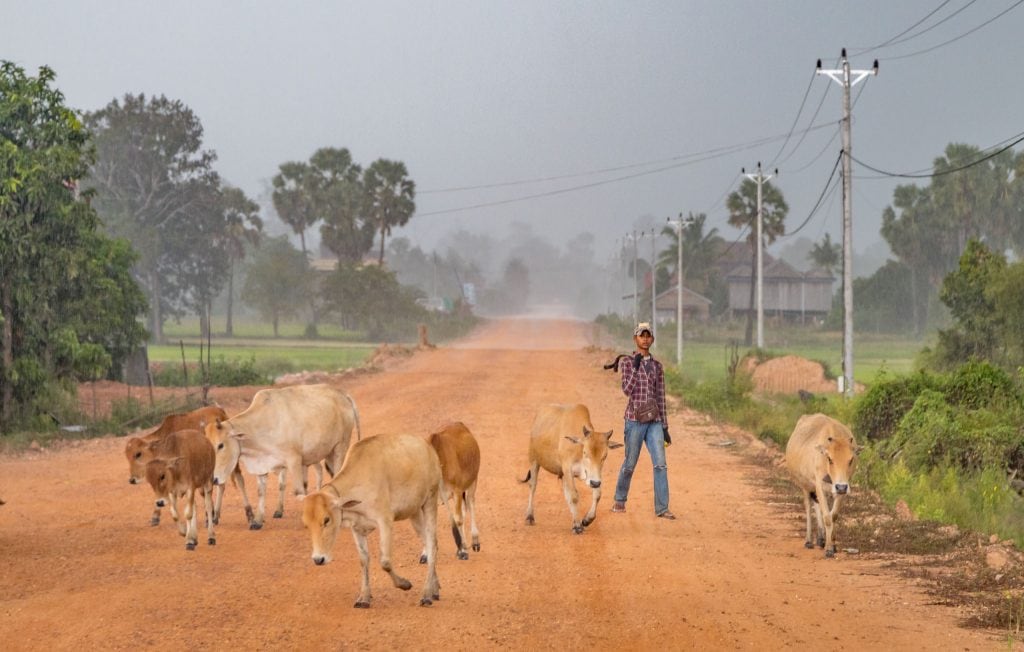 I started this day trip from Siem Reap early morning at 07:00 because it's a 3-4 hour drive. The first part from Siem Reap to Stoung is easy over the highway that continues to Phnom Phen. At Stoung you'll turn left towards Ta Sêng. You can just use Google Maps to navigate if you drive yourself. Don't take the northern route or the route through Kampong Svay as you'll easily add 1-2 hours to the drive. As a foreigner you require a local driver license, so I opted to rent a car with driver as I didn't have time to get that license. Once you arrive you require to buy an entrance ticket which is just 5 dollars. Make sure to drive to each recommended stopping point (see below) as you won't have enough time to walk everything.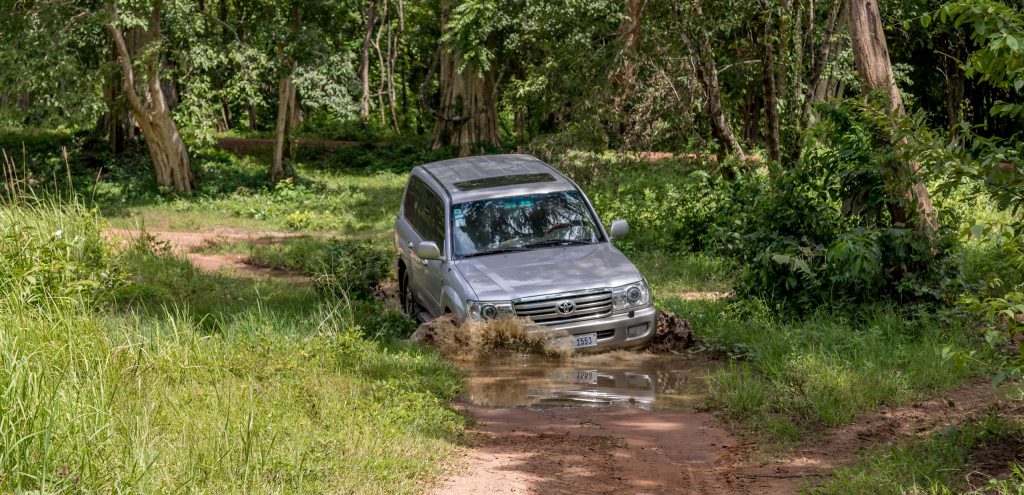 Preah Khan de Kompong Svay history and layout
Preah Khan Kompong Svay is the largest temple complex (5 square kilometers) from the Khmer Empire but little is known about it. The main groups of temples were founded in the 11th century and used by King Suryavarman II up to King Jayavarman VII as a residence. In 1181 when Angkor was recaptured the capital was moved back there. One satellite temple called Prasat Damrei dates even to the 9th century.
A large baray of 3 kilometers long and 600 meters wide is located between Prasat Damrei and the main complex. In the middle of the baray it was custom to build a Mebon temple. This had a special symbolic meaning with the water surrounding it representing the cosmic waters in Hinduism. This is also the case at Preah Khan Kompong Svay. Today the baray dried up from the main complex towards the Mebon so it can be visited easily.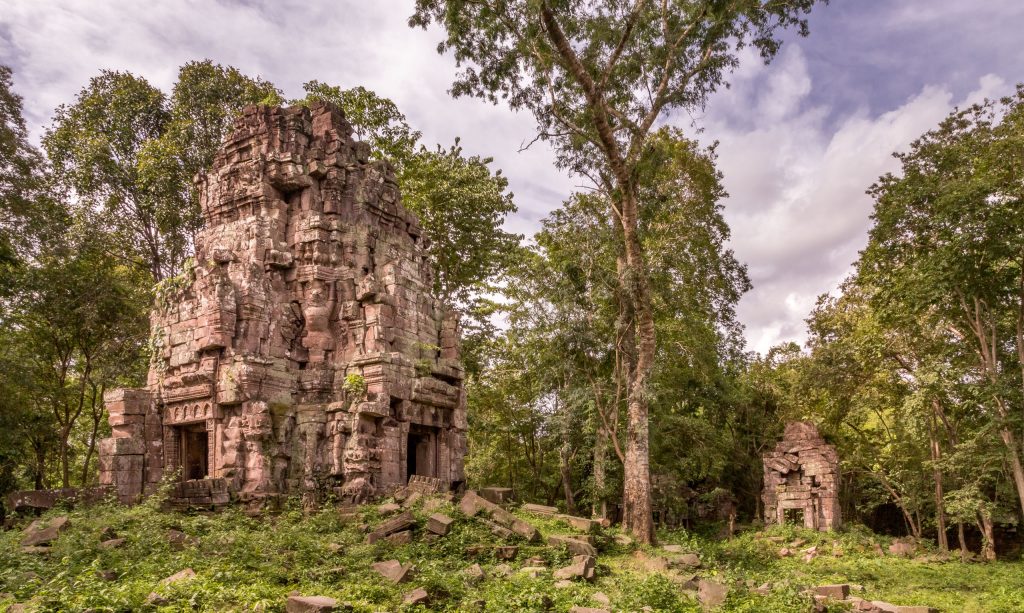 A lot must still be uncovered at the complex as it was just rediscovered in 1870. A lot of looting has taken place and many sculptures are in museums, but even more are going into private collections. I hope more historical data of Preah Khan Kompong Svay can be uncovered and that it can be restored. For now, a visit is a great way to experience the discoverer feeling as it's still a real jungle temple!
Preah Khan de Kompong Svay tour
There are 6 places of interest at Preah Khan Kompong Svay which I recommend visiting in the following order. You can visit each one on a day trip from Siem Reap easily. If you're in a regular car then don't try to drive towards Boeng Sre Temple as the road is very bumpy and narrow and full of mud. Walking is an option but read on first.
Stop 1: Prasat Damrei
The first temple you come across is Prasat Damrei which is probably the oldest part of the whole complex. It translate to Elephant Temple and dates to the 9th century. It's a stepped pyramid. Isn't it interesting that so many religious places are built as pyramids? Like the Giza Pyramids and Chichén Itza which I had visited years earlier.
In the 13th century many Buddhist sculptures were destroyed but at Prasat Damrei you'll still find beautiful Buddha carvings amongst much more other carvings. At the top 2 of 4 elephant statues remain. The others looted by French discoverers were brought to museums. There is now a Hindu temple at the top which is still in use today. Maybe this was construted because of the elephants which play a big role in Hinduism. When you have made your way to the top you can also see the extend of the baray which is 3 kilometers long and 700 meters wide. This side is still full of water today.
Spend 30-40 minutes here and then continue by car to the entrance of the main complex and buy your entrance ticket. Don't stop yet at the other temples you pass.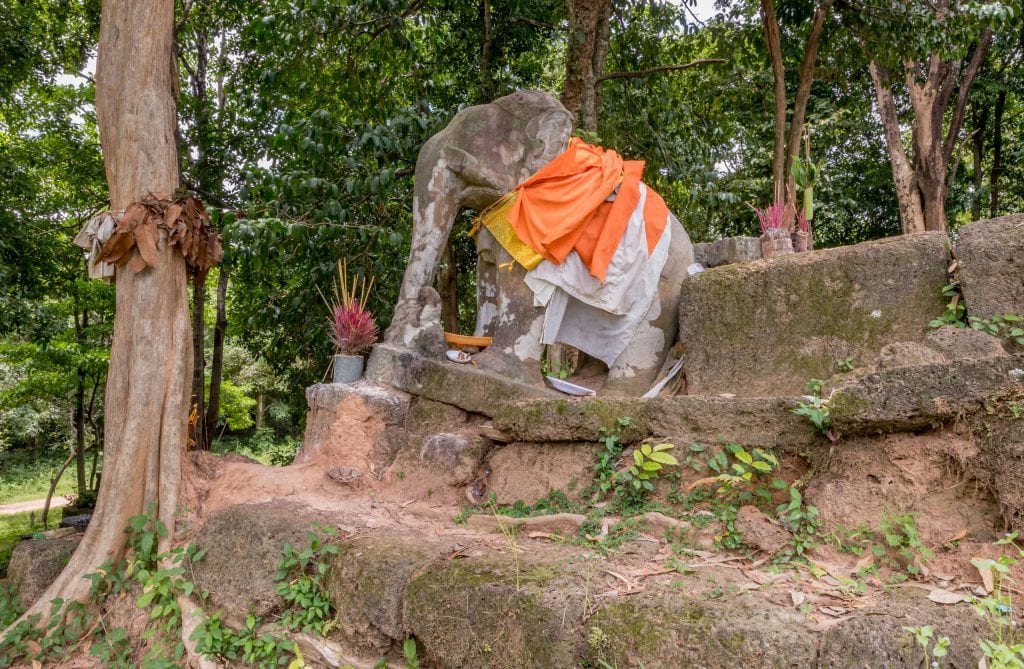 Stop 2: Prasat Preah Khan of Kampong Svay
The main temple of Preah Khan of Kampong Svay is also called Prasat Bakan. This part of the complex is 5 square kilometers. Everything else you have seen is 30 square kilometers of outer complexes. I did an Angkor Wat helicopter tour earlier and was amazed by it's size. This place is much larger and I'm curious how it looked like in ancient days.
Before I entered through the middle of the 3 gates, I already made plenty of photos. The entry gate is amazing (see first photo at the top of the article). Surrounding the complex is a wide moat which still holds water today. After the entrance it's quite a walk to the central temple. You'll see locals with cows there and kids playing games. On both sides of the road are various buildings which are mostly in ruins. If you want you can wander towards all directions (there are entrances on each axis) to explore more but expect dense vegetation and just ruins.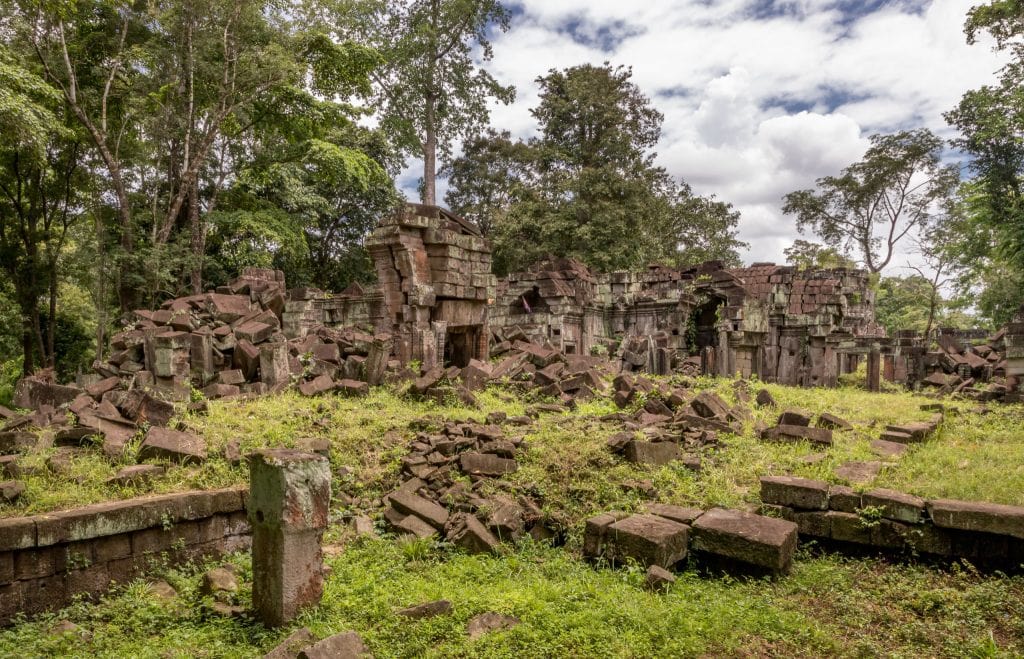 Once at the central temple I entered through another arch. Inside, I saw piles and piles of rocks. There are however some structures standing as well. I really hope it gets restored. Tall grass and even trees are growing on top of the ruins. It's a real jungle temple. Although many treasures are taken there are some left as well. It's interesting that this temple is dedicated to Buddhism from origin and not at a later stage as most places in Angkor. A pathway takes you around the inner temple, but I couldn't help to go explore the ruins itself. Be carefull of loose stones if you do this and never ever damage anything. I walked around for about 90 minutes before heading back to the main entrance as I had a few more stops in the planning.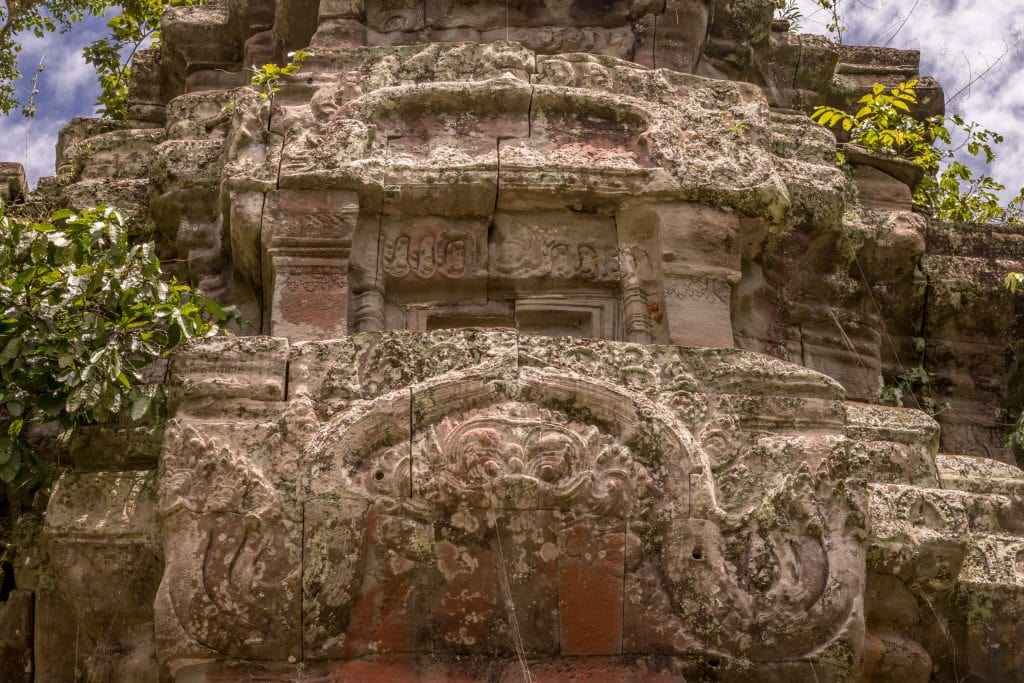 Stop 3: Preah Stung Temple
Now drive a few hundred meters to the Preah Stung Temple or Prasat Stoeng. This temple is small, and it takes maybe 15 minutes to wander around. Noticeable here is the 4-sided tower with heads on each side. This is typical for Jayavarman VII buildings which I saw earlier in Bayon and Angkor Thom. From here you have 2 options: walk into the bush or drive into the bush. I drove but as you can see above had to pass deep muddy water.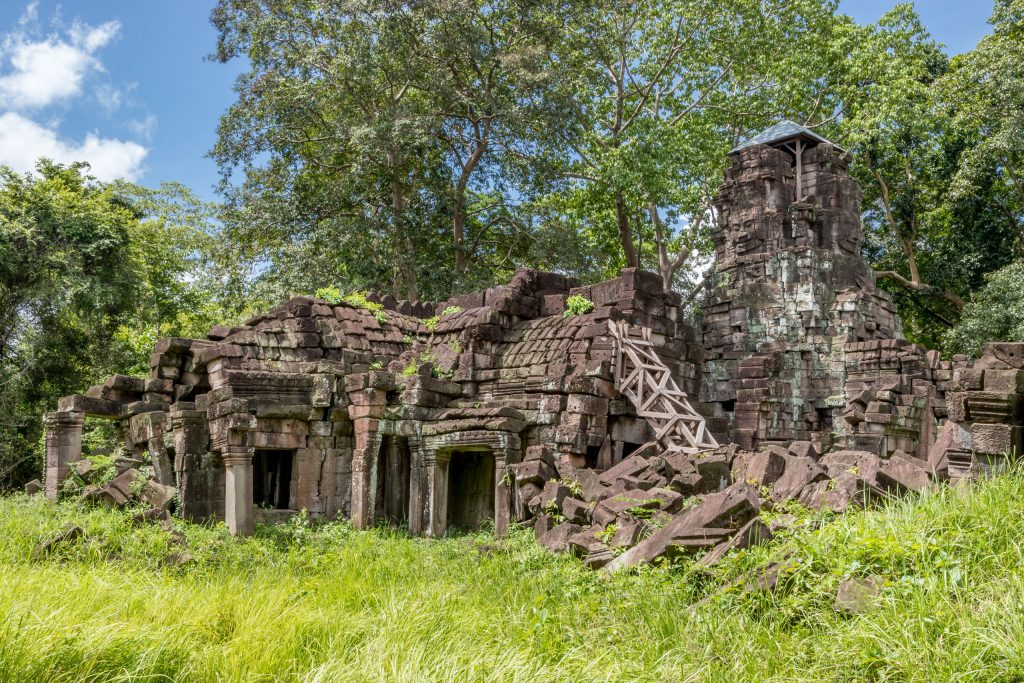 Stop 4: Try to find the Boeng Sre Temple; real jungle temple
I drove about 500-600 meters into the small road passing the Preah Stung. Then the road turned so bad I had to stop the car and walk further trying to find Boeng Sre Temple. I didn't succeed. I did see another small baray which meant I was close, but the temple probably was under thick forest. It started to rain, I was muddy, and I gave up. I went back to the car after 30 minutes to continue my way to see the rest of Preah Khan de Kompong Svay.
Stop 5: Prasat Chatumuk
Before heading to the Mebon Temple in the middle of the baray make a stop at Prasat Chatumuk. This is a small tower with 4 statues. It was recently renovated and one of the better ones I have seen in Cambodia. A stop shouldn't take more as 5-10 minutes.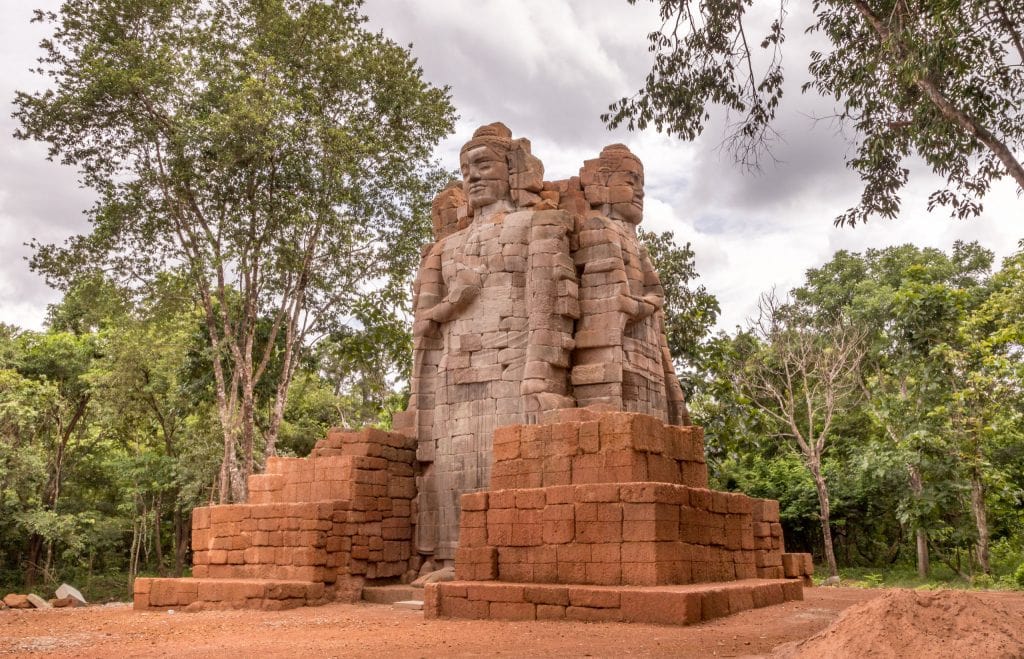 Stop 6: Mebon Temple Prasat Thkol
The Prasat Thkol or the Mebon temple was a big surprise! First the driver tried to get there by car over a small road but that seemed impossible, so we drove back to the main road. A bit further down the road back towards Prasat Damrei was the middle of the baray. I was checking Google maps until we reached the middle. It simply had to be there! So, I started walking towards the middle through thick bush. I passed a small hill, whenI thought this must be the on the original island in the middle. I must be close. I was right when I saw various structures behind trees. Nobody else was there!
The complex was once surrounded by a wall of which parts are still standing but other parts are collapsed. I started to explore the various buildings. Most impressive was the large building with beautiful Garuda eagles on top of 3 headed elephants. The carvings weren't looted and very well preserved. I hope one day the collapsed parts will be restored in its original glory. After playing Indiana Jones for an hour I went back to the car where my driver was patiently waiting.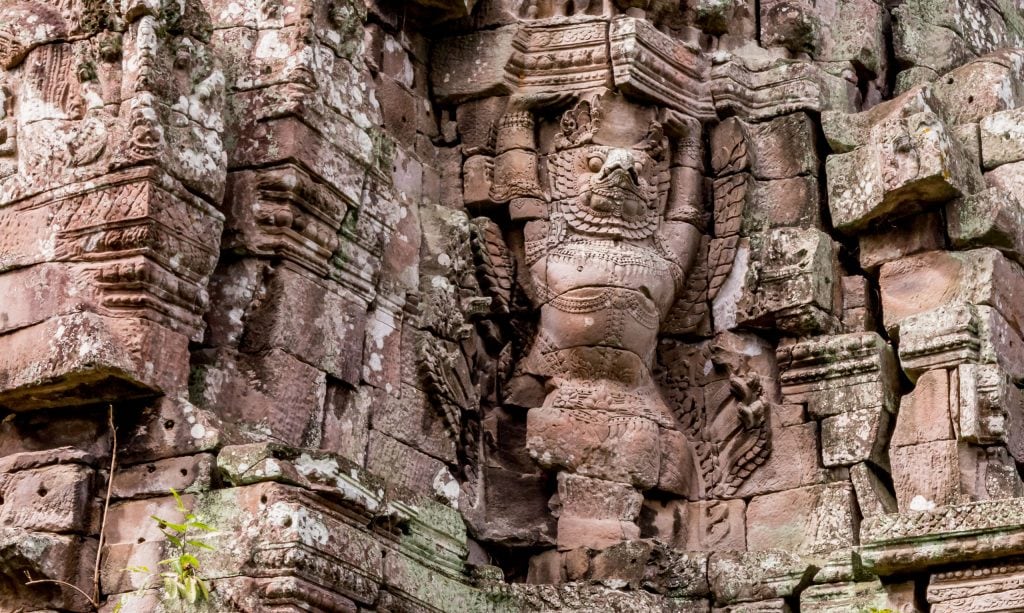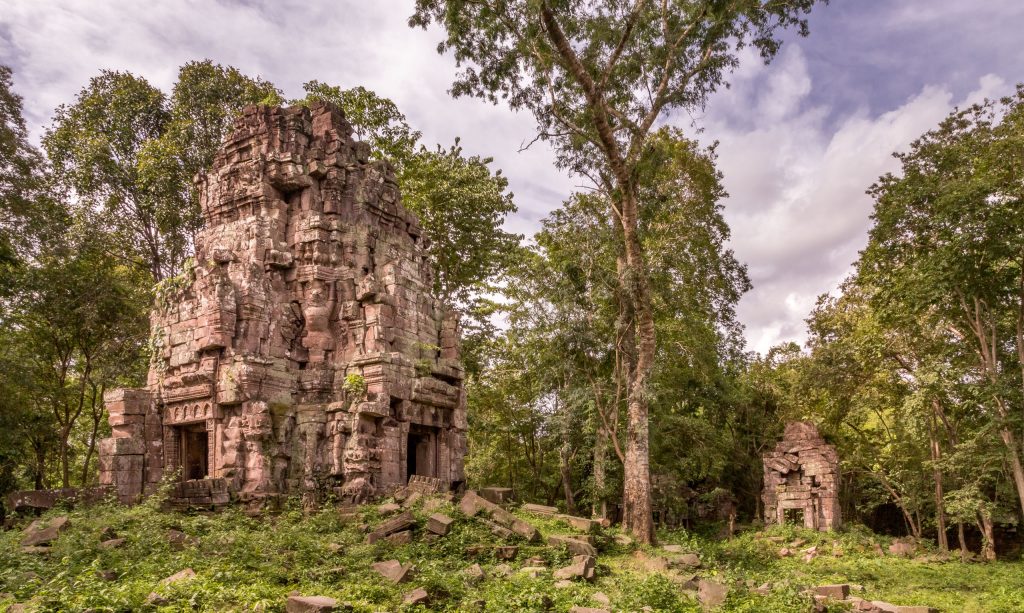 I was just in time exploring all the structures around Preah Khan de Kompong Svay when it started to pour rain. Just an hour luckily and I still arrived back at Park Hyatt Siem Reap around dinner time. I had a great day trip from Siem Reap to a real jungle temple. If you want to know what you can do more in and around Siem Reap, then check out my 9 Siem Reap day trip suggestions. If you're travelling through Cambodia and want to visit Prasat Preah Vihear in the north, you can best drive up north first and overnight somewhere. It will save time.
Check also my 2-week Thailand itinerary and 2-week Vietnam itinerary if you're looking to extend your Cambodia trip.
Stay tuned for more stories and subscribe to the newsletter or follow CTB on social media (Facebook, Twitter, Instagram including Instagram stories; on all social media you can find CTB @christravelblog) to get updated information.
Did you visit Preah Khan de Kompong Svay too or do you have questions? Please leave a comment at the bottom of the page. Love to hear from you!
Gallery Preah Khan de Kompong Svay
Click an image for a full screen gallery of more photos taken during this trip. If you like to use any photo for commercial, private or editorial use please contact first for permission and/or pricing.