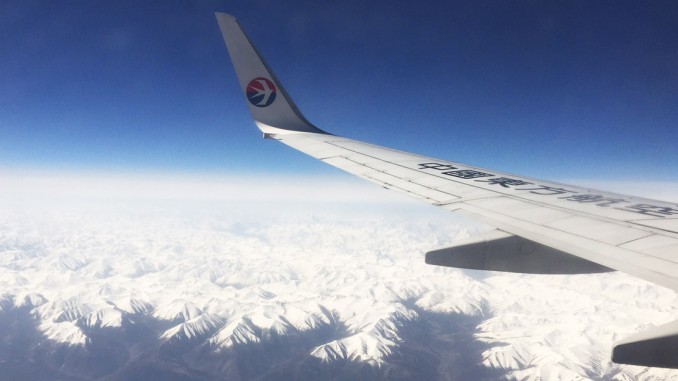 Do you like to fly cheap business class? I guess so. There are many tricks out there of which some need a great understanding of how fares are calculated. In this article I show you a few basic principles which will safe you already hundreds of euro's on cheap business class tickets. It does work, on economy too, but as I will travel business class only on long haul I do not cover the tricks for that. Further I must note that I'm not flexible on dates so some tickets might be even cheaper in case you are flexible by changing dates. Enjoy saving euros on your next business class flight and if you have a great tip or airfare please share it in the comments below.
The basic principles for cheap business class flights
Air fares are maybe one of the strangest things in respect to how stuff is priced. It makes sense to look around to get the same flight much cheaper. I'm based myself in the Netherlands so the following examples are from there, but the principle applies for any other place. I must say there might be cheaper fares normally called error fares which are not covered in this article. It might be possible to tweak things even more if your time allows; I'm always short of time so tweaking a price a few euro more down is not my thing. How to do that is a totally different game beyond the scope of this article. The points in this article work best for non-flexible travel and non ad-hoc travel. The search tools I use are ITA Matrix and Google Flights and I only look for Air France, KLM and possible other Sky Team partners and all long haul legs as non stop.
Notes upfront, but if you travel regular (3-4x) in business you probably do have these advantages too.
– My company is BlueBizz member in the KLM program and this returns (at the moment) 30 euro per European return flight and 150 euro on long-haul return flights (one way is half).
– I'm platinum member at Flying Blue, I earn 100% bonus miles based on the base mileage earning, if you are not this the mileage calculation might be different; but if flying business you should be platinum easily each year. More on how to reach that quick in another article later.
– Most of my flights are company expense saving of course on taxes on profit.
Look for nearby airports OR train stations to start OR end your flight
Let us take a sample flight to show why it's important to scan a few nearby airports. This works sometimes very good, sometimes not. Just do trial and error and you will get a feeling over time! Let us take the flight Amsterdam (AMS) to New York (JFK) on KLM. A quick search gives the following pricing of 2985 euro booked in Z class (cheapest) business class. This flight would give me back 150 euro through BlueBizz and earns me 9098 level miles and because of platinum status 16376 award miles. Let us cut down on the price, and increase the rewards!

Just across the border in Germany we find Düsseldorf airport. Let's see if we start our flight there and fly to Amsterdam and onwards to New York basically taking the same long-haul flight but with an additional small flight before and after. Guess what happens? The price drops to 1690 euro! Also the rewards increase, as I would get 180 euro back on Bluebizz and earn 12838 level miles or 21626 award miles. A great saving but a small disadvantage, the travel time is much longer and maybe you require a night around Düsseldorf airport. If you would count the costs of a cheap night in (50 euro) this doesn't really matter. You can relax 6 hours at Amsterdam airport in the lounge having something to eat and drinking champagne for free!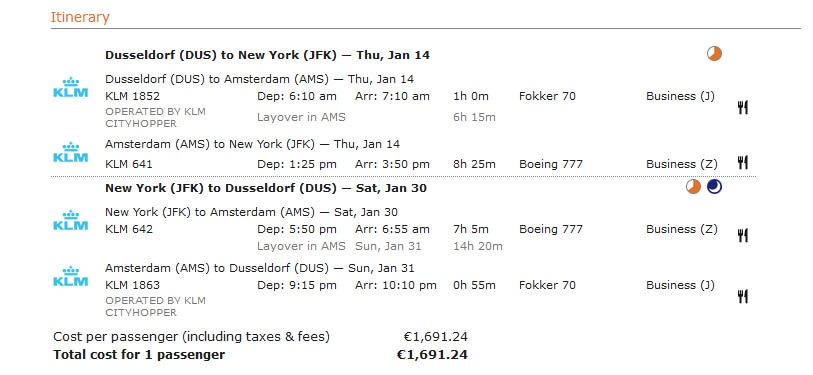 Now let us check from Antwerp train station. The same applies as we can see in the itinerary except the saving is not that much. We get to 2470 euro which is still over 15% savings and we earn more miles too. It seems tempting to skip the train and board directly in Amsterdam but this is NOT possible. You MUST take the train ride and get your boarding pass scanned to be allowed on the plane. Do not think you are clever by skipping the first leg, you won't board the plane. On the return, well, that's up to you what you do.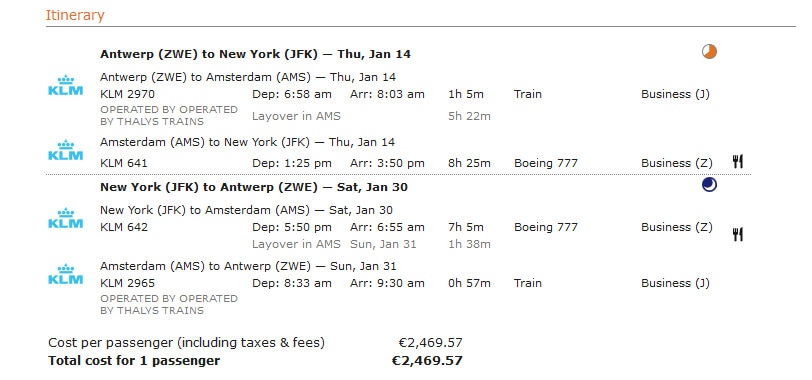 Look or wait for a promotion fare of the airline
If you are not flexible on dates than it might be that you end up with high prices. You do not want this; you want a cheap business class flight. Waiting for a good moment, during a promotion, is then a good option. This is exactly what I did with my trip to Buenos Aires as fares kept being in the range of 3500 euro from Amsterdam directly. Even the trick above didn't really work out, a bit, but still close to 3000 euro. My goal is always to fly never above 2000 euro, but preferred around 1300-1500 euro or less. That's a cheap business class flight! The waiting resulted in a fare coming up from Amsterdam to South America in the range of 1300-2500 euro depending on the location you would fly to. The cheapest fare at 1300 euro was Bogotá, Colombia or to Rio, Brazil. Buenos Aires came up for around 2100 euro which was the place I had to go.

As I combine leisure and business I would buy anyway a ticket locally to get somewhere so I would go for Bogotá or Rio. The first had very expensive tickets to get to Buenos Aires so I opted for Rio. I booked it in a way that I would fly in the evening to Paris and the next day onward to Rio so I could have a nice sleep at the Holiday Inn CDG Airport hotel. This did increase my cost of the ticket by about 50 euro. With a free shuttle its worth to spend a night there to safe big euro's on the flight!

From Rio I booked an Aerolineas Argentina flight to Buenos Aires AEP (downtown) airport and after my business onwards to Cordoba, continued to Mendoza and then back through Buenos Aires to Rio. This would set me back 450 euro which still was less as the difference of the long haul ticket difference to Rio and Buenos Aires (1300 compared to 2100) plus the fact I would buy a local ticket anyway from Buenos Aires which probably was more expensive as Brazil does not allow fuel surcharges on tickets. In total it will earn me 16444 level miles and due to status 28849 award miles plus a 215 euro return on Bluebizz. All this for sure qualifies as a cheap business class ticket. A good deal to me!
Nest possible tickets
Next up my list to book were several tickets to China. The above tricks did work till a certain point but didn't get me the real cheap deal. I found that KLM had a promotion running, and while writing this article still is, on flights originating in Madrid, Barcelona, Lisbon, Milan but also Tel Aviv at only 999 euro base fare to China. A cheap business class fare. In China you could fly to Chengdu, Wuhan (on Air France), Hangzhou and Xiamen. With some tricks it was possible to play around and get routing to Hong Kong or even Beijing at just a plus of about 100 euro. For me I just had to be in Shanghai so Hangzhou would do and the other flights where the family would join we did not really care. For the family I booked a total of 4 tickets as open jaw to Hangzhou and back from Xiamen. We will do a road trip in between. Let us look at a flight Amsterdam to Hangzhou which prices out at 1770 euro on the sample date which is already a pretty good deal of course as the flight Amsterdam to Shanghai prices around 2500 euro on the same dates. It's just a 30 minute train ride away in China. This direct flight would earn 13830 level miles and due to status 24894 award miles plus 150 euro return on Bluebizz.

Now let us see what the same flight costs starting from Madrid, WoW it comes down to 998 euro! That's almost half the price. Plus the advantage is that I would earn almost 7000 miles more PLUS additional 30 euro on Bluebizz. But, of course I must go to Madrid. A ticket, also on KLM, would cost me 99 euro (this part in economy of course) only making the total ticket pricing at only 1097 euro with earning more miles and more Bluebizz points. It would however require a night in Madrid, but…..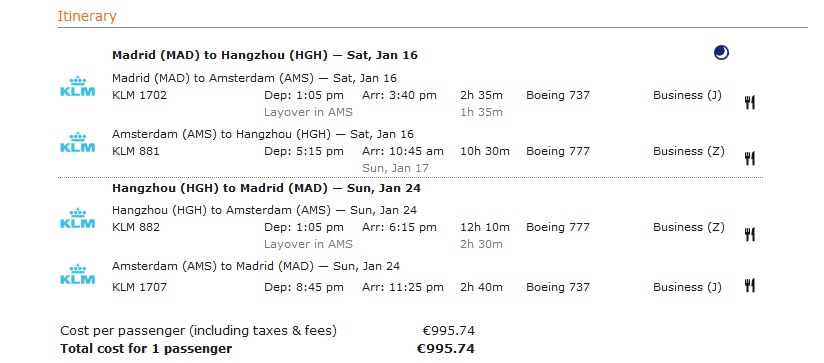 It was, unfortunately the sale changed, possible to add a stopover on the way back in Amsterdam of several months. Knowing this I actually booked my Amsterdam – Madrid ticket also with a several months stay in Madrid. Like this I use my last leg of the first ticket and the last leg of the second ticket actually as a return flight to Madrid several months in the future. The additional cost in this case was not lost but just a second trip to Madrid for a week a few months later. The nesting of positioning flights can be very interesting and they do not always have to be only for positioning. As for mileage you can get even more if you do this promotion out of Tel Aviv but it would cost a bit more of positioning; for me this was too much time-consuming. So, 2 tickets for me and 1 for each 3 household members to China saving us around 4000 euro and having a nice week in Spain later as a bonus!
Use an OTA for booking even cheaper
I prefer to book direct with an airline especially if tickets are several hundreds of euro's but I do check always a few OTA's (Online Travel Agencies). Many give reductions of 20-30 euro to pay with a specific payment method which for a cheap ticket is a lot but then you deal with the OTA. This for me is not worth the hassle for 20 euro on a ticket of 1000-1500 euro. But if you book a ticket (economy) of 99 euro for only 65 euro; it makes sense. However, I did book my Düsseldorf – Amsterdam – Chicago return ticket through an OTA at only 1600 euro while the regular price was 1900 euro. The same flight, same conditions, same miles and all. So do check OTA's to just be sure you do not miss out on a few hundreds!
Conclusion
If you fly business and want a cheap business class ticket, than before you book at least try:
Check nearby airports or train stations as a starting point
Check for special promotions or routing on the airline which might drop the price.
If you need to do a positioning flight, check if you can use it as another flight later by nesting the tickets.
Check on OTA's just to be sure you do not miss out a deal.
Last but not least, it would make sense to book another airline or alliance in case there is no option to get the price down on your preferred airline!
Do not forget about the miles. The above example which are actually 4 flights (not counting the family) will earn me back a 5th flight "for free". More on that later.
My examples are all from the Netherlands, as I'm based there but this goes in general of course. Happy hunting cheap fares and please share any thoughts or fares especially from KLM Air France below in the comments.
Stay tuned for more stories and subscribe to the newsletter or follow CTB on social media (Facebook, Twitter, Instagram including Instagram stories; on all social media you can find CTB @christravelblog) to get updated information.
Did you visit around the world too or do you have questions? Please leave a comment at the bottom of the page. Love to hear from you!