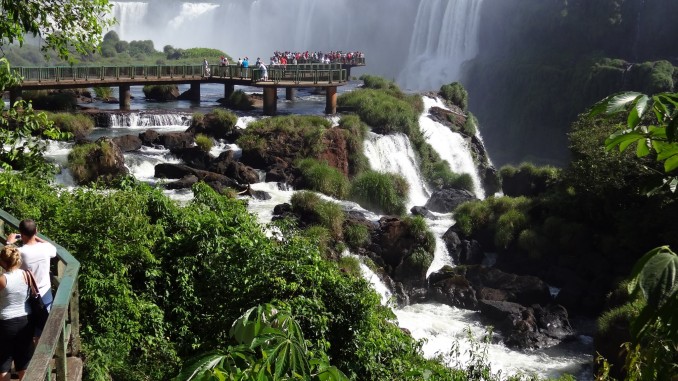 A business trip to South America, Brazil, Sao Paulo. Also planned a few days additional to see the Iguazu Falls and check Sao Paulo by helicopter flight. One day left to go on a country side tour to a coffee farm and some horseback riding.
UNESCO World Heritage Sites visited: Iguacu Falls in Argentina & Brazil (see all UNESCO sites here)
Day 1 through 7 – Sao Paulo
See here: BRAZIL – Sao Paulo (2012.11.25 – 2012.12.05)
Day 8 – Brazilian side Iguacu Falls
Arrived around noon to the (small) airport from Sao Paulo and checked in to the Hotel das Cataratas, part of the Belmond hotels and located IN the Iguaçu Park at the Brazilian side! So cool, sleeping with the noise of the waterfalls through the open windows. It's how luxury feels. Anyhow, did this basically because had only one night and wanted to see both sides. On the day of arrival checked out the Brazilian side (takes up to 2 hours max) and after went to the pool and spa.
The Iguaçu Falls are one of the most beautiful waterfalls in the world and therefore at the world heritage list. The area also has lots of endangered fauna and flora. It has over 170k HM of land and spans 2700 meters and up to a height of 80 meters.
Day 9 – Argentina side Iguaçu Falls
See here: ARGENTINA – Iguacu Falls (2012.11.25 – 2012.12.05)
Day 10 through 12 – Sao Paulo & Departure
See here: BRAZIL – Sao Paulo (2012.11.25 – 2012.12.05)
Stay tuned for more stories and subscribe to the newsletter or follow CTB on social media (Facebook, Twitter, Instagram including Instagram stories; on all social media you can find CTB @christravelblog) to get updated information.
Did you visit Iguaçu Falls too or do you have questions? Please leave a comment at the bottom of the page. Love to hear from you!