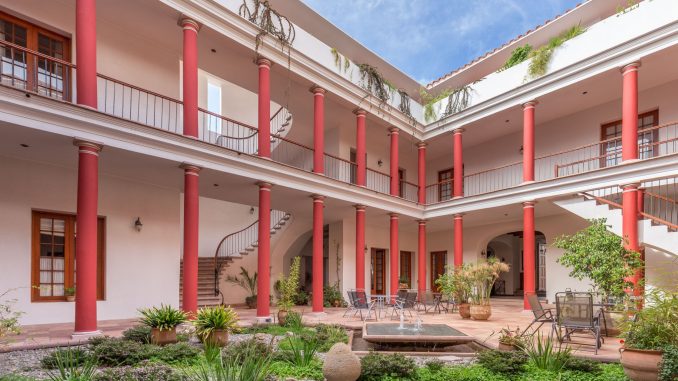 Sucre is an old colonial town in Bolivia and called the White City. I visited Bolivia recently including three nights in Sucre where I stayed at Hotel Villa Antigua, a true boutique hotel. Hotel Villa Antigua is situated in a 150-year-old mansion and offers luxury of modern times. A hotel that perfectly fits my way of travel and I'll share with you my experience at Villa Antigua. Before I give an in-depth review of Hotel Villa Antigua let's start with a short video impression.
The hotel
Hotel Villa Antigua is situated in an authentic mansion from 1860 when Sucre was one of the most important cities in South America. It's upgraded with modern facilities but kept its original charm with a huge patio in the middle. The patio with original stone floor is surrounded by pillars and a gallery giving access to the rooms on three floors. I arrived by taxi at the narrow streets of Sucre and was checked in quickly at Hotel Villa Antigua by the friendly staff. The lobby is spacious with many authentic details and handicrafts.
At Hotel Villa Antigua, there is a beautiful garden to relax, read and unwind; or you can do the same at the top floor with a magnificent view over Sucre. I love to stay at authentic places that offer modern luxury (including good Wi-Fi) because I want to experience local life but I also love the luxury of modern times. If you do too then Hotel Villa Antigua is the place to stay! The location is perfect too with just 100 meters from the main square in the old center of Sucre.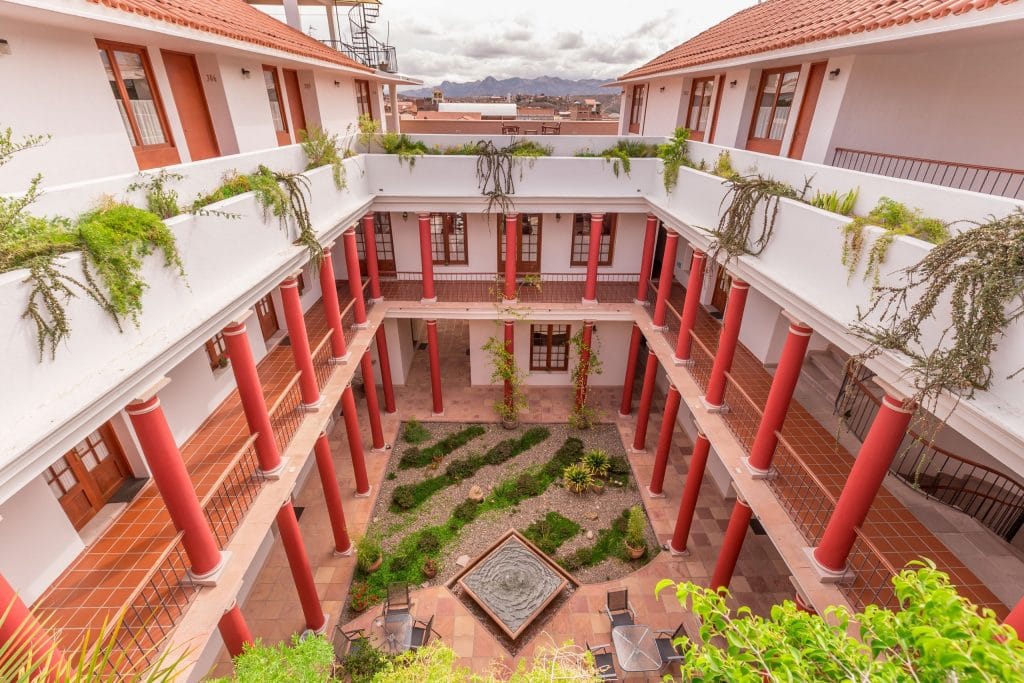 The rooms at Villa Antigua
My room was situated on the top floor with a balcony towards the street which gave a nice view on the church and monastery on the other side of the road. It's a spacious room with minimalistic decoration which has a great story behind it. All the furniture is made by local rural boys and girls at a cooperative artisanal workshop managed by Familia Don Bosco. They all receive free regular education but specialize in the manufacture of furniture over a seven-year period. If you look closely at the furniture you will discover lots of local details and because it's made local it fits perfect in this authentic villa. Warm decorations with wood and earth red colors make it cozy in the sometimes cold winter months. The three nights I slept like a rose but make sure to drink some coca tea before you go to bed if you just arrived. Sucre is located at a high altitude and coca tea will make your night more comfortable.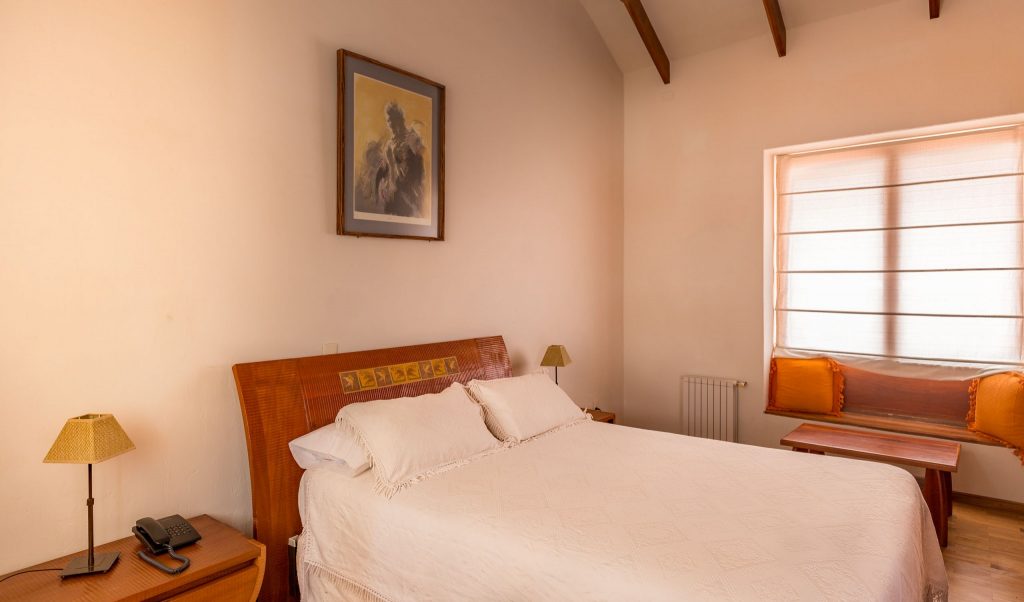 Facilities & Restaurant at Villa Antigua
Hotel Villa Antigua has a sauna which is available to all guests on requests and if you want to do a work out there is a gym. I however didn't use the gym as I just arrived at this altitude making exercise way to difficult. The restaurant serves breakfast including fresh pastries, fruits, and juices. Eggs are prepared a la carte; I guess you know what my order was? Yes, fried eggs sunny side up and breakfast is always included in the rate so you know what you pay when booking.
Throughout the day, you can have coca tea or coffee and for evening dinner the staff knows where to go. I'll share with you the top hotspots in Sucre for lunch and dinner later in another restaurant article. There are plenty within walking distance from Hotel Villa Antigua. I visited in wintertime which was a bit to cold to really enjoy the beautiful garden. One day, I have to return in summer!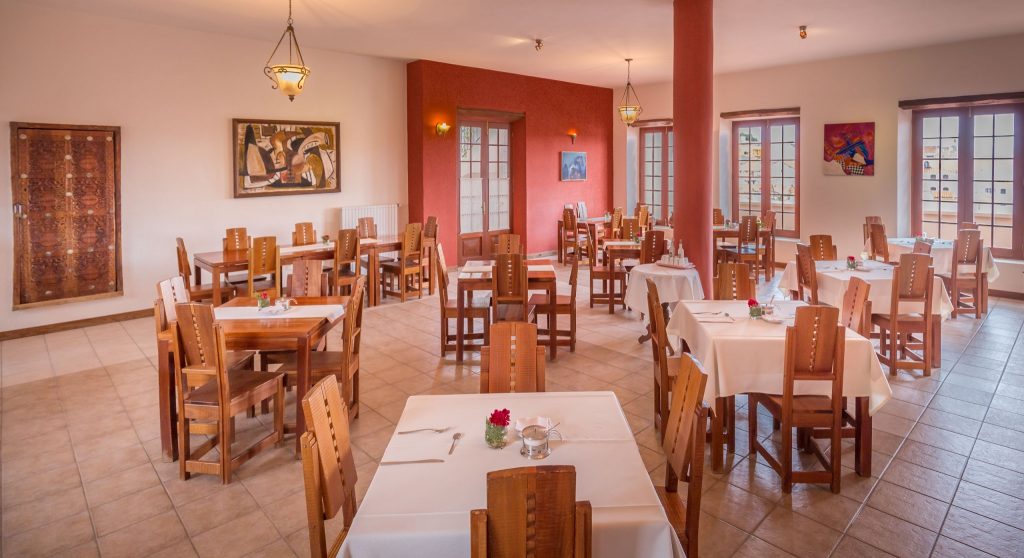 Conclusion
If you visit Sucre, the White City, and like to experience authenticity like I do then I recommend to stay at Hotel Villa Antigua. The century old villa in combination with the local furniture and decorations really make you experience colonial Bolivia. This combined with luxury and modern facilities made my stay a memorable one. I highly recommend staying at Hotel Villa Antigua if you visit Sucre.
If you would like to know what you can do in and around Sucre then read my stories on Sucre or what I did 10 days in Bolivia. I will add more destination information over time.
For more hotel information and booking options please visit the website of Hotel Villa Antigua:Website: http://www.villaantiguahotel.com/
or visit the Facebook page of Hotel Villa Antigua.
Gallery of Villa Antigua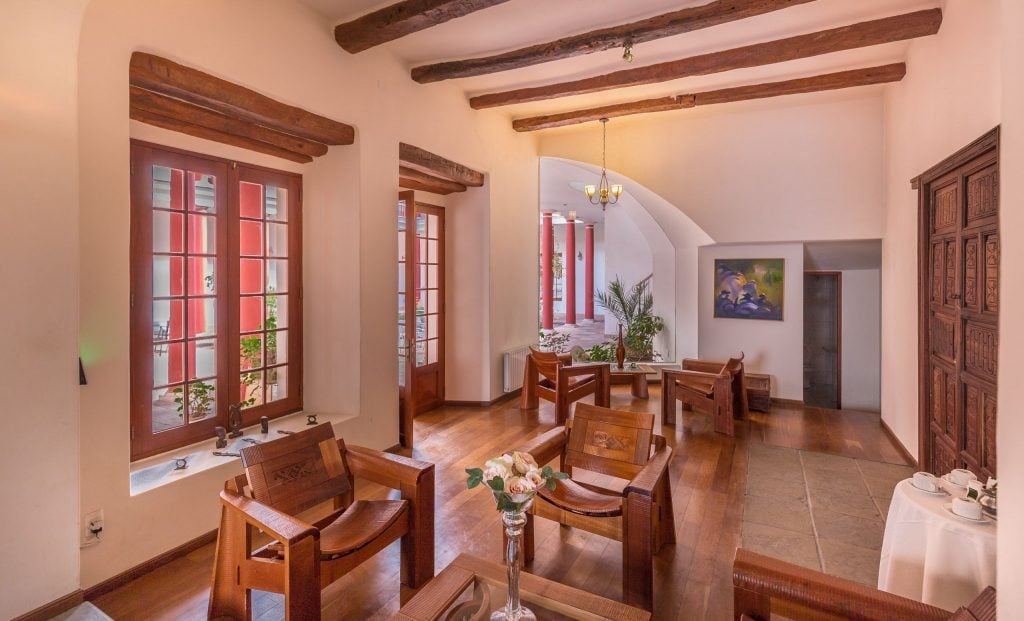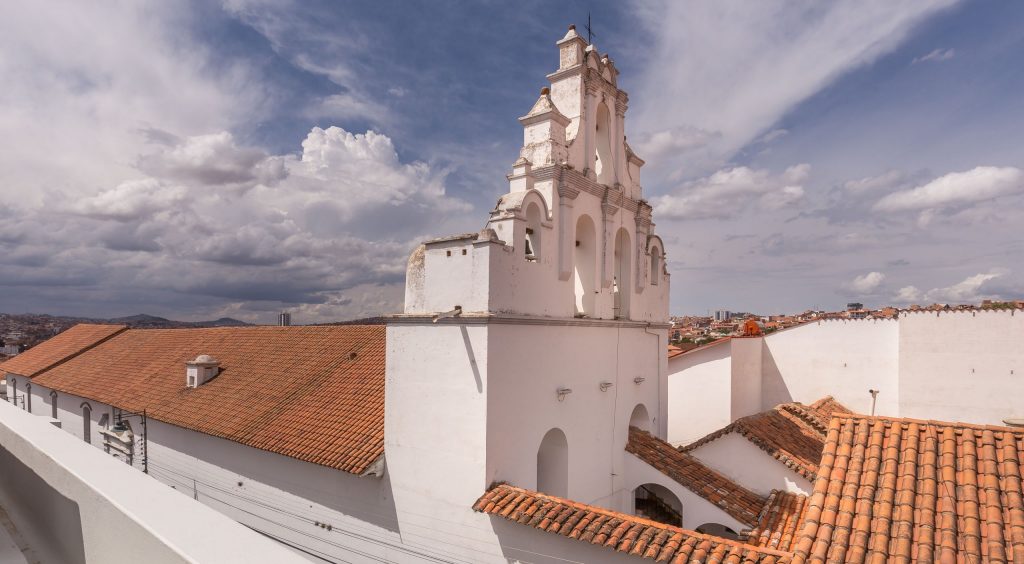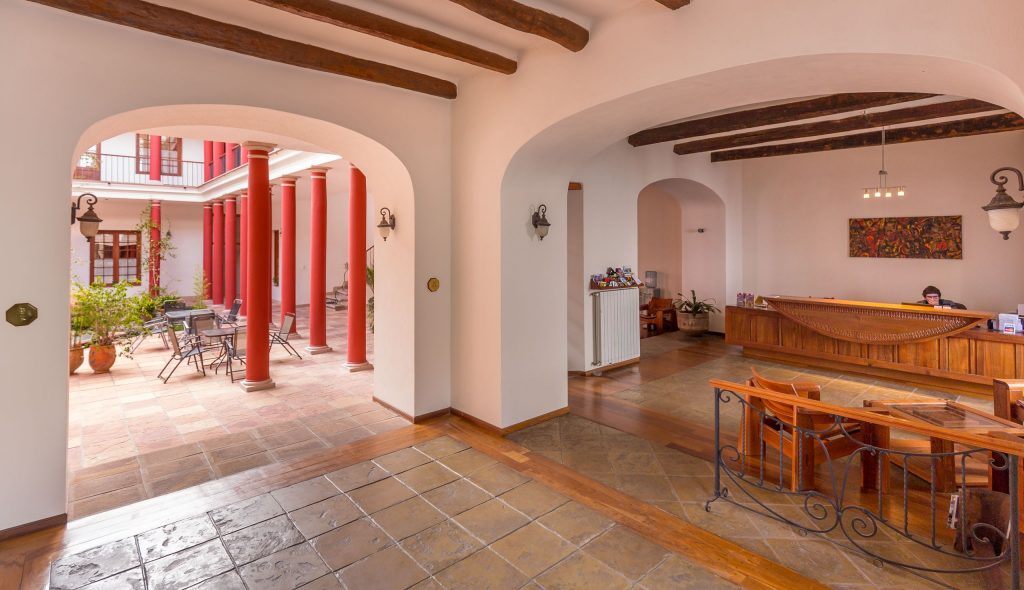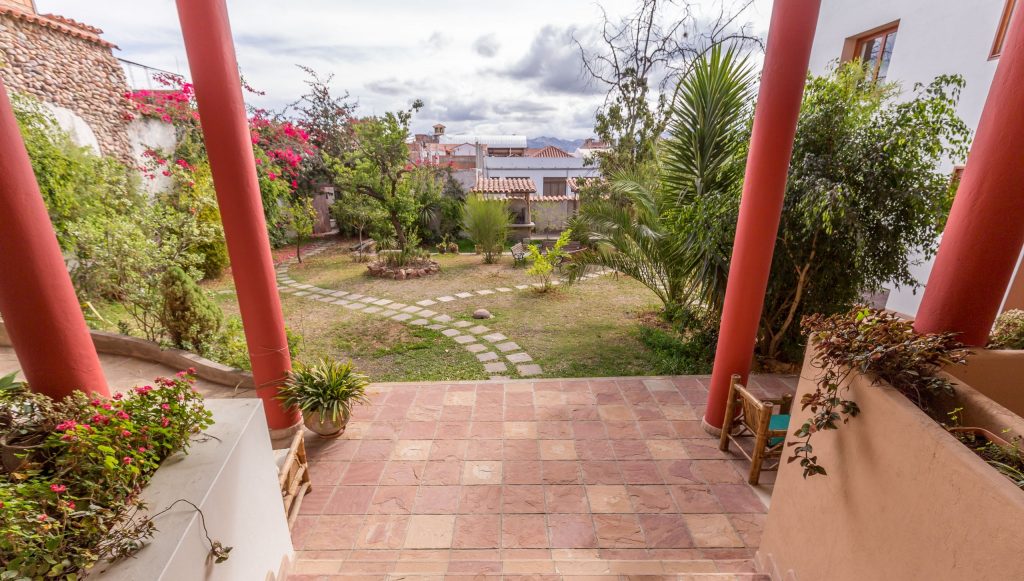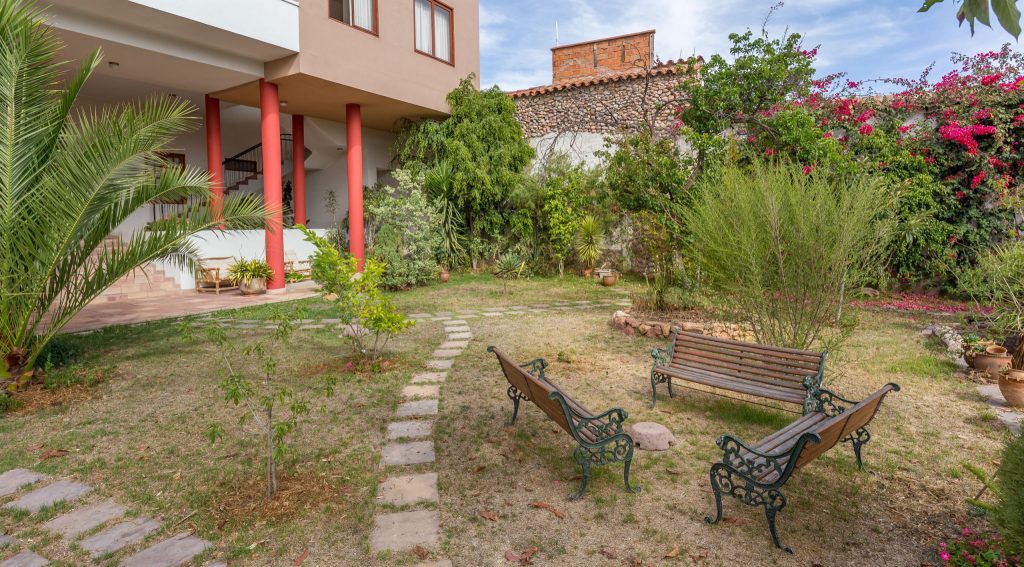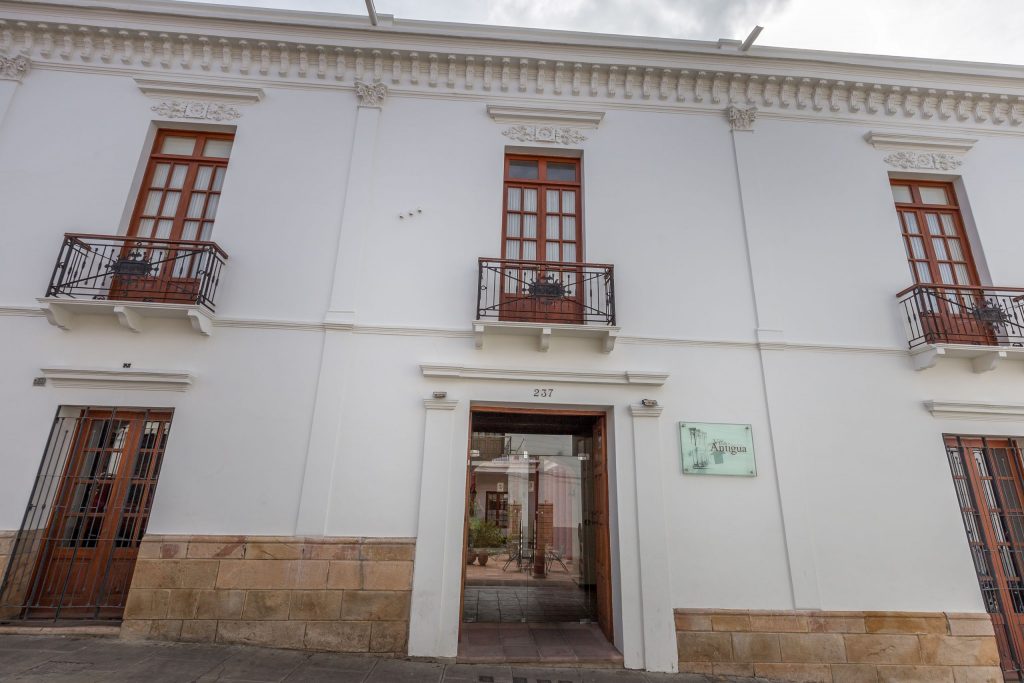 ** All opinions are based on a genuine stay, flight or experience. I'm not affiliated with the hotel, airline or tour operator but I might be (partially) sponsored – or paid. **