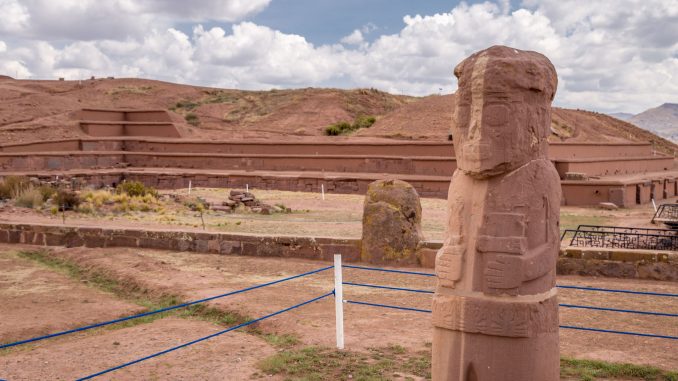 The Tiwanaku site near La Paz in western Bolivia was the capital of the Tiwanaku Empire and now a UNESCO World Heritage Site. Recently I did a 10-day road trip through Bolivia and in the end, I spend 2 nights in La Paz. I had the choice to either explore La Paz for a day or go to Tiwanaku. I decided to go to Tiwanaku as I had the feeling I would be back in La Paz another time for a stopover and be able to explore the city at that time. Tiwanaku is a UNESCO site and as I want to see all of them the choice was easily made. Tiwanaku is a day trip from La Paz I can recommend everyone to do and I'll show you why and what to expect.
Tiwanaku Empire
The Tiwanaku Empire was once one of the most important civilization in South America before the rise of the Inca Empire. Tiwanaku, the capital, was located between Lake Titicaca and current La Paz in western Bolivia. The empire controlled most of the area around Lake Titicaca including parts of current Peru, Bolivia and even influenced areas more south to Chile and north-western Argentina. Tiwanaku flourished from the 3th to the mid-12th century by expanding the empire with colonies rather than direct military attack up to 300 KM from its capital.

It's believed that the Tiwanaku worshipped many gods of the which the main god probably was related to agriculture. Agriculture was important for the Tiwanaku Empire expansion which was possible due to an abundance of food. When weather patterns changed food became scarce and this probably caused the end of the Tiwanaku Empire. Today the remains of the Tiwanaku capital can be seen close to Lake Titicaca just 75 KM from La Paz.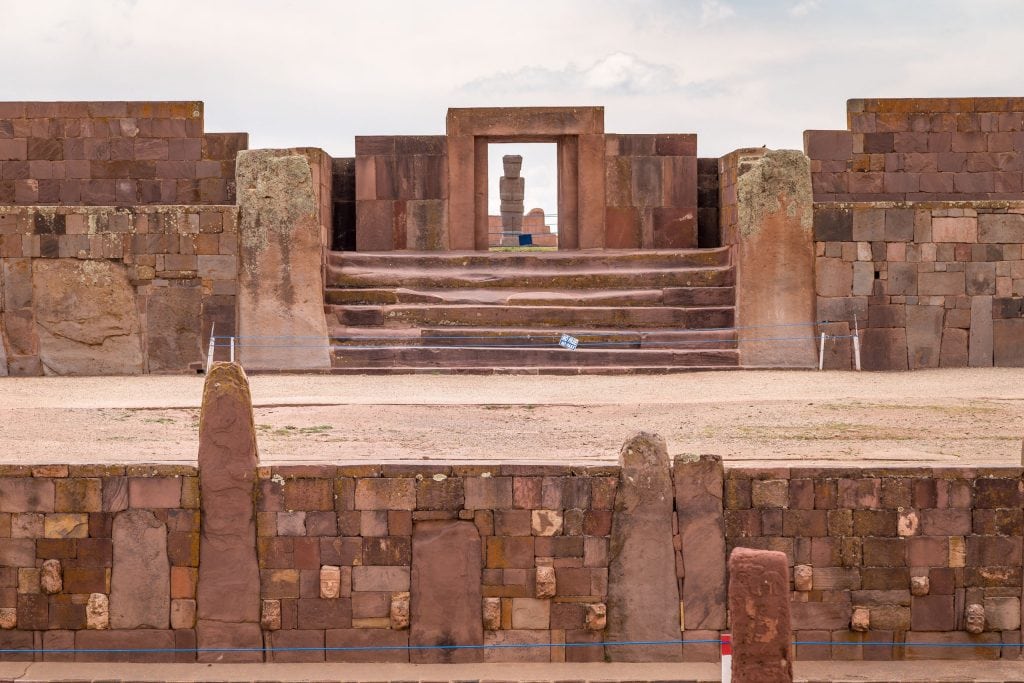 Tiwanaku day trip
It takes approximate 2 hours by car from La Paz to Tiwanaku. I highly recommend to either hire a car yourself drive or take other private transport. A car with driver should not cost more as 80 USD for the day. Personally, I prefer to go private as I have more flexibility to stop at places where I want to make a photo or just look around. For example, this amazing view over La Paz. It's a gigapixel photo and in the gallery below you'll see a close-up of the buildings.

It takes approximate 2-3 hours to explore the archeological remains of Tiwanaku, an hour for the two museums and another hour for the nearby Pumapunku excavations. There are various souvenir stalls at the site including some that sell snacks for lunch. I left my hotel in La Paz at 9:30AM and was back well before dinner time, which is late in Bolivia.
What is left at the Tiwanaku site
The Tiwanaku ticket gives access to two separate entrances; the largest site is Tiwanaku and the smaller is Pumapunku just a kilometer away. The museums are located at the Tiwanaku site which I advise to visit first to learn about the Tiwanaku Empire. There are some interesting statues, steles, pottery, and other artifacts on display. The Bolivian government is expanding the museums collecting more artifacts from the empire in one place which is a good thing to see them together. After exploring the museums I entered the site and first climbed the stepped pyramid called Akapana on the right.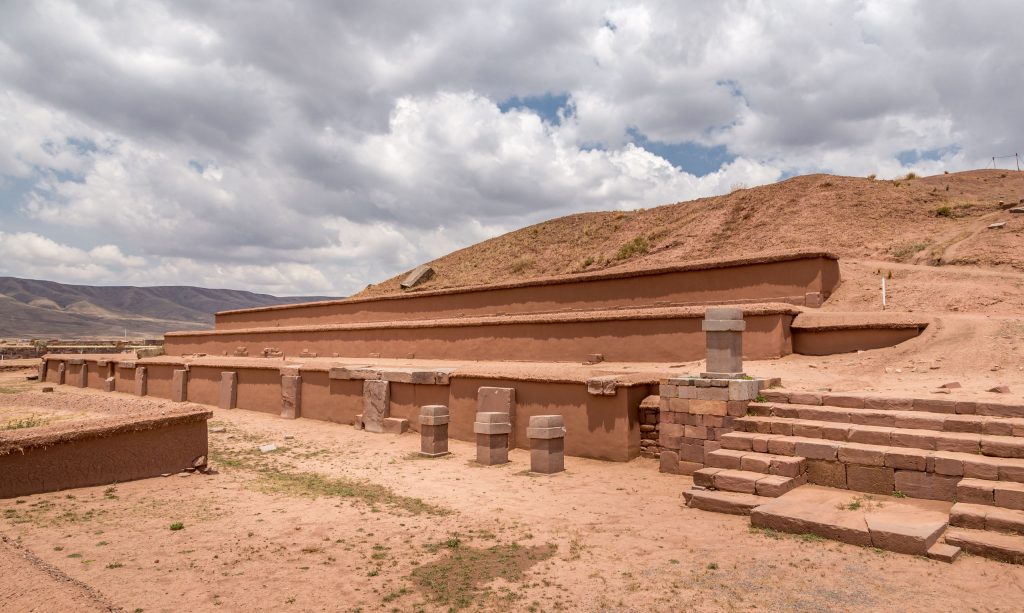 The Akapana is one of the larger complexes in Tiwanaku measuring approximate 250 by 200 meters and is almost 20 meters tall. It's made from the dirt taken from the moat around the complex. Walk over it towards the other end where you'll see some foundation stones, building stones and one very nice sculptured stone (see photo below). From there it's best to walk back towards the semi-subterranean temple and the main courtyard called Kalasasaya.

The semi-subterranean temple is an impressive structure with walls decorated with tenon heads. In the middle there is a large sculpture and if you look through the entrance towards the Kalasasaya it all lines up beautiful. It's a great place to make some interesting photos. I continued around and up the Kalasasaya courtyard which measures almost 500 meters. Two, in my opinion, of the best preserved items are displayed there: The statue called the Monk and the Gate of the Sun. The Gate of the Sun is beautiful decorated with inscriptions and a magnificent example of the Staff God; a god seen in many Andean civilizations.
It's just a short walk around some other smaller structure and the Moon Gate to the exit. I then continued by car to Pumapunku which is about a kilometer away.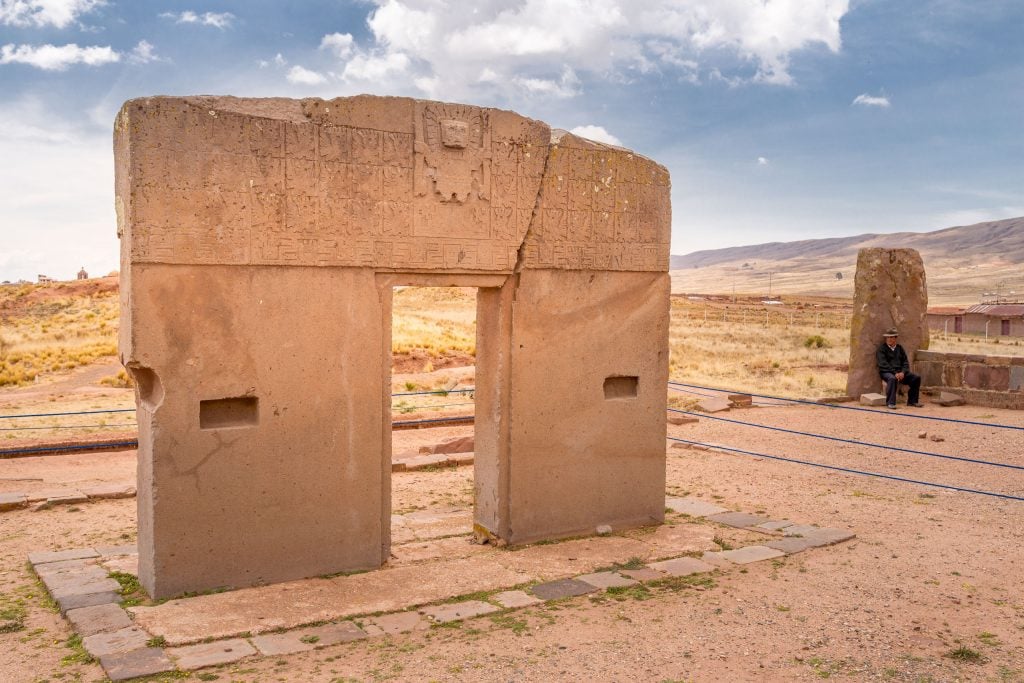 Pumapunku near Tiwanaku
Pumapunku means the door of the puma which is an animal used by many sculptors of the Tiwanaku Empire. In the museums there are a few beautiful examples of puma sculptures. At Pumapunku there are various remains of gates and lots of building blocks. These blocks have holes of various shapes that used to connect the stones. I found the large platform called Plataforma Lítica of particular interest. It's difficult to understand how everything exactly looked like as there isn't much left and almost no written texts exist from that time. One thing is sure, after research by radar a lot of smaller remains where found between Pumapunku and Tiwanaku. It must have been a busy and thriving place!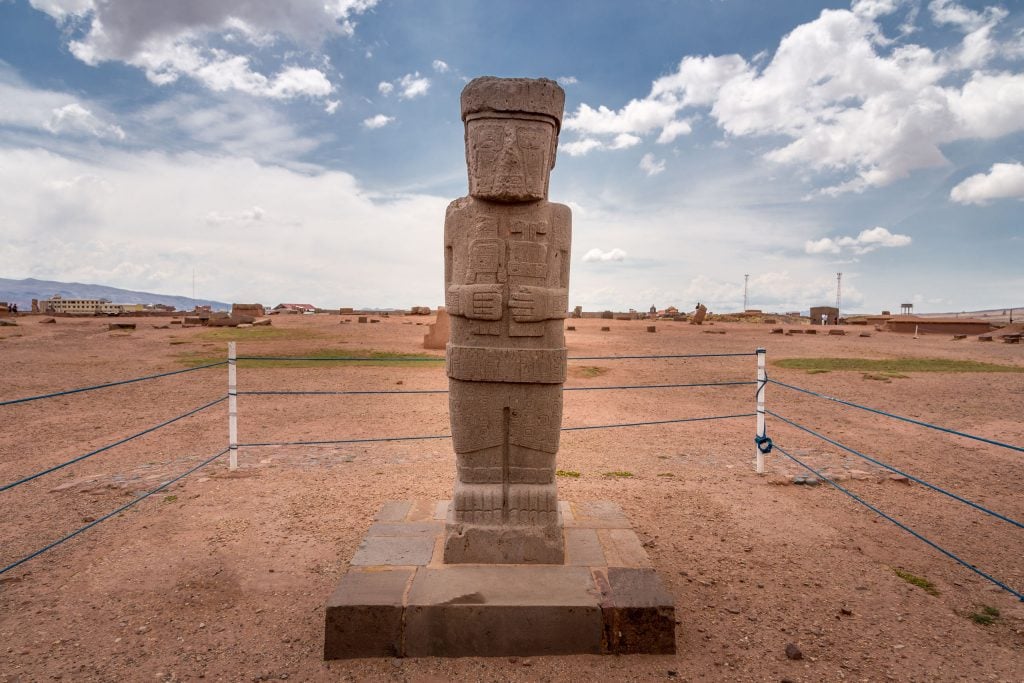 I love visiting archeological sites especially if there is enough left to let your imagination go wild. How did it look like? How did people live? It was one of the first centuries old archeological sites I visited in South America and I was impressed. In the meantime I did a road trip in Yucatan, Mexico, where I saw plenty of Mayan ruins which are actually better preserved. The Tiwanaku archeological site was the last stop of my 10 days Bolivia road trip and I'm happy I included it in my itinerary. I hope to return to Bolivia soon to explore the lowlands where there are beautiful colonial remains and beautiful national parks. I want to spot a puma! High on my list are also the Inca ruins in Peru which I hope to visit next year when I'm back in Sao Paulo or Buenos Aires for business.
Stay tuned for more stories and subscribe to the newsletter or follow CTB on social media (Facebook, Twitter, Instagram including Instagram stories; on all social media you can find CTB @christravelblog) to get updated information.
Did you visit Tiwanaku too or do you have questions? Please leave a comment at the bottom of the page. Love to hear from you!
Gallery Tiwanaku Empire
Click an image for a full screen gallery of more photos taken during this trip. If you like to use any photo for commercial, private or editorial use please contact first for permission and/or pricing.