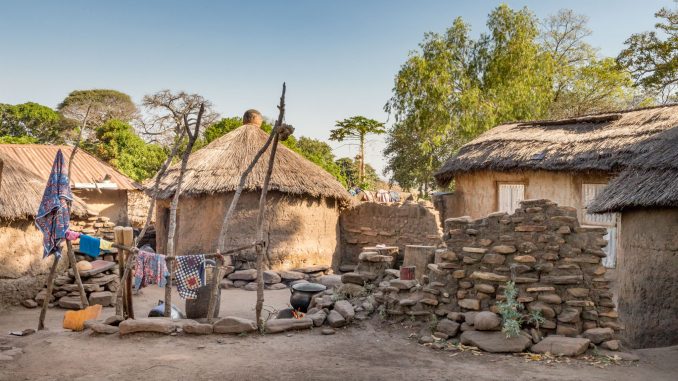 I do not know why but Benin has intrigued me for a long time and I finally visited with my son. Benin is the third country south of the Sahara that I travelled to. I really enjoyed the below Benin itinerary which includes all major places of interest in Benin. It's full of culture, history, nature safari, voodoo, and local life. My Benin road trip was just 12 days but this is easily extended to a full two weeks especially if you add more days at Ouidah beach.
Why Benin now? Each Christmas holiday I travel with my family and we travelled a lot to Asia and the Middle East. I have seen so much there that I wanted a change. Since my São Tomé trip and Ghana road trip two years ago I finally convinced the rest of the family to go back to this part of the world. I had a great time and will share my experience of this Benin road trip with you. First, I give some Benin travel tips and then will take you around the country in 14 days. If you're a bit adventurous I'm sure you will want to go as well.
Planning a Benin road trip
A Benin tour takes a bit more planning compared to more well-travelled countries. There isn't so much tourism and if you're on a tight schedule you need to plan in advance to have it all work out. Planning a Benin trip on the spot with little time is not recommended. I used Papillon Reizen (Travel) whose owner I had met several times on a travel trade show. Do note that this is NOT a sponsored article but just a mention as they delivered outstanding service.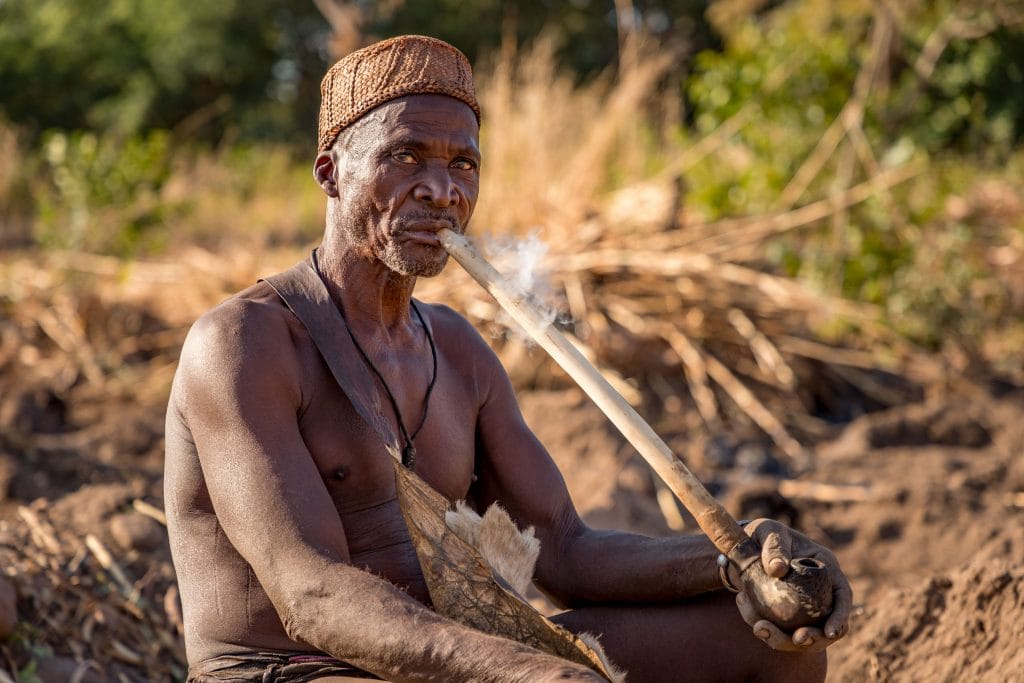 Getting to Benin
There are several options to get to Benin but unless you're in a neighboring country flying is the only option. Flights aren't abundant so options are slim but not that bad. Just don't choose the Tunis Air option as they have delays of 2+ hours on majority of flights. I know from experience. Royal Air Maroc is good as I flew them back home. These two options only make sense if you can connect with a one stop in Casablanca or Tunis though. Other options include Air France from Paris, Brussels Air from Brussel, Ethiopian from Addis Ababa, and Turkish Airlines from Istanbul. Those hubs easily connect around the world. There are also various flights from other African countries but those go beyond the scope of this article as they don't connect well worldwide.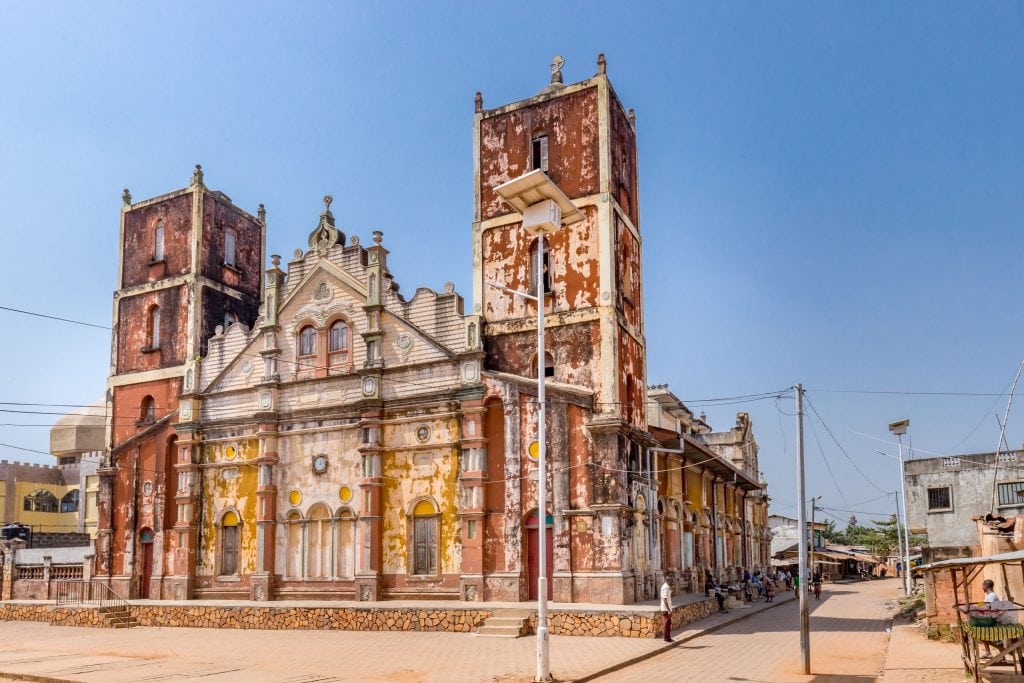 Benin hotels
Hotels in Benin aren't the most luxurious in the world but travelling to Benin is a luxury on its own. There are no major hotel chains except a Novotel in Cotonou. Booking hotels with loyalty points won't work. In Cotonou you'll find some luxury places but if you only need a place to sleep it makes not much sense to pay so much. In smaller cities rooms are basic but for sure are clean. Good hotel prices are around 35-45 euro a night with breakfast, air conditioning and private bathroom. Good rooms with just a ventilator start around 20 euro.
In Pendjari National Park the hotel is the cheaper option but the lodge at about 125 euro is recommended. I also stayed in a local village which was a great experience and I recommend doing this. Of course, you can stay cheaper everywhere but I prefer air conditioning for a good night sleep. I must say that in the north it gets quite cold in the night. In Pendjari I left my lodge open to get cool air in but at 2AM in the night I had to get under the blanket as it was cold.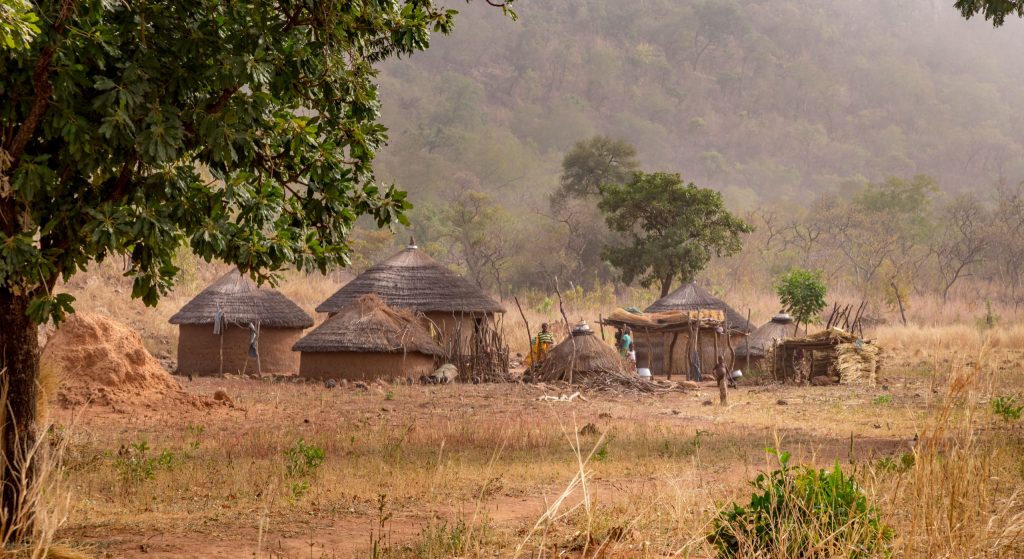 Transport in Benin
The only efficient way to see Benin in the timeframe of this itinerary is by car. In some places you need to know where to go so it's best to have a local drive you around. I hired a private car with driver/guide from Papillon Travel. It's not so expensive and most importantly you get from place to place quick and easily. The guide and local guides at certain spots can also make things happen. In Porto-Novo they arranged for me to see the inside of the old mosque for example. On your own this is just hassle and probably you'll overpay a local to get you inside. So, go with a car and driver! It just saves time.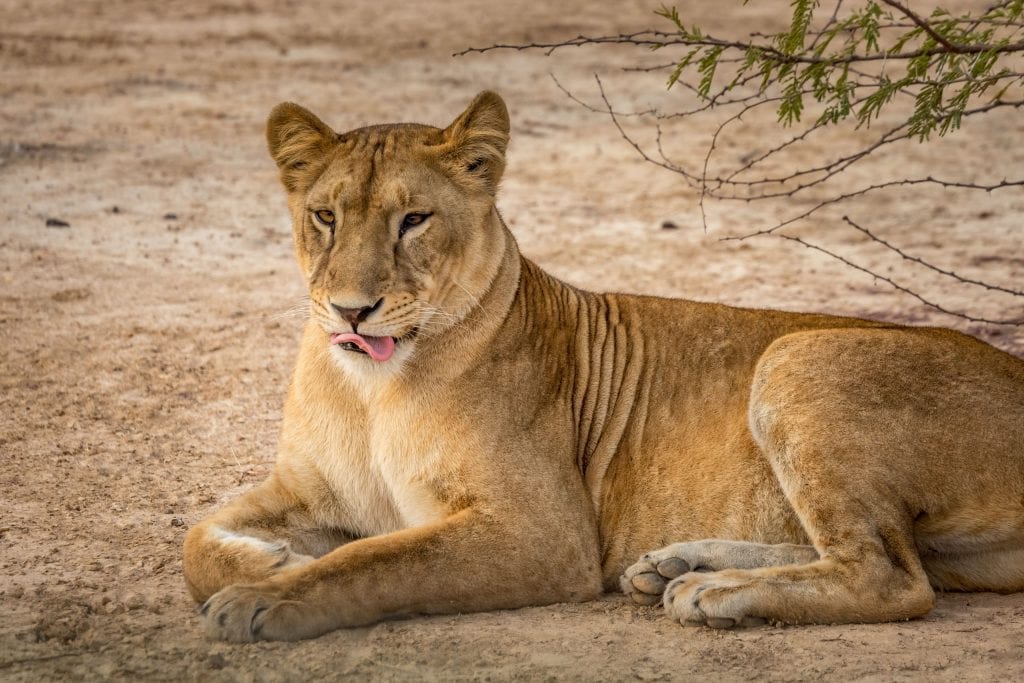 Benin travel tips
There are a few things to keep in mind when travelling to Benin. These include:
Benin vaccinations: Yellow fever is mandatory so get it and make sure to bring your vaccination passport. Malaria tablets are also needed as malaria is present. Protect against mosquito in all cases as Dengue also exists. My wife had it when we did a Mekong cruise from Vietnam to Cambodia and it's really annoying for a longer period. Hepatitis A&B vaccinations I recommend anyone even if you don't travel for lifetime protection. For the rest it's standard but do check with your doctor.
Benin visa: You probably need a Benin visa. Check with the embassy. Most countries can easily apply for Benin visa online and confirmation for me was instant after paying the 50 USD fee.
Medicines: Take standard items including anti traveler's diarrhea pills and OSR. During all years I have been travelling I got sick just once, but you never know. Even the Pharaohs curse in Egypt didn't catch me when I visited Cairo for 10 days. Do take a roll of toilet paper, wet towels and hand sanitzier for when you're out exploring. Toilet paper and soap isn't always available on the road.
Travel insurance: Of course I recommend his. I pay about 28 euro per month for the family and it's worth it for sure.
These are the most important Benin travel tips. Keep those in mind if you plan a trip to Benin but always check if anything else applies to you! Now let's look at the Benin itinerary I followed.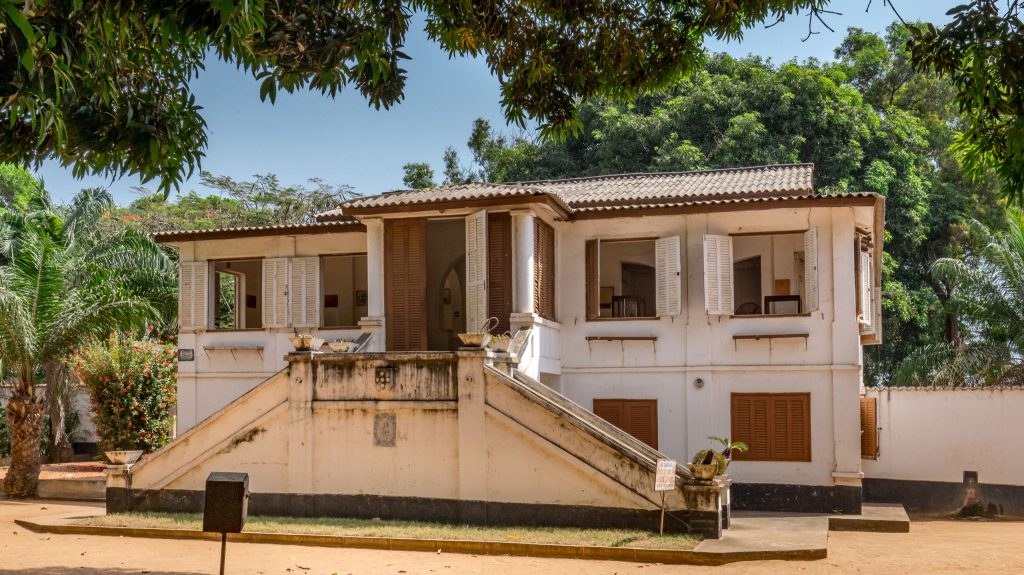 Benin itinerary day 1: Arrival
As most flights arrive in the afternoon or late evening (especially Tunis Air with 3 hours delay) you probably won't have time to do anything this day. I do recommend picking up a Benin simcard at the airport before heading to your hotel. At the time of writing 5 GB (3G/4G) costs about 9 euro which should be enough for a week or two. It for sure is the most reliable way for internet access throughout the country as hotels in smaller cities do not always offer Wi-Fi. If they do it's often a shared 3G/4G connection so having your own is best. Make a hotspot on your phone if you also want to use your laptop.
Just half an hour after clearing immigration I was in bed as I stayed at the airport hotel 500 meters away. It isn't the best location in Cotonou, but I only needed to sleep so I didn't care much about the location. The next day my Benin road trip would start at 10:00 which is a great time for a first day.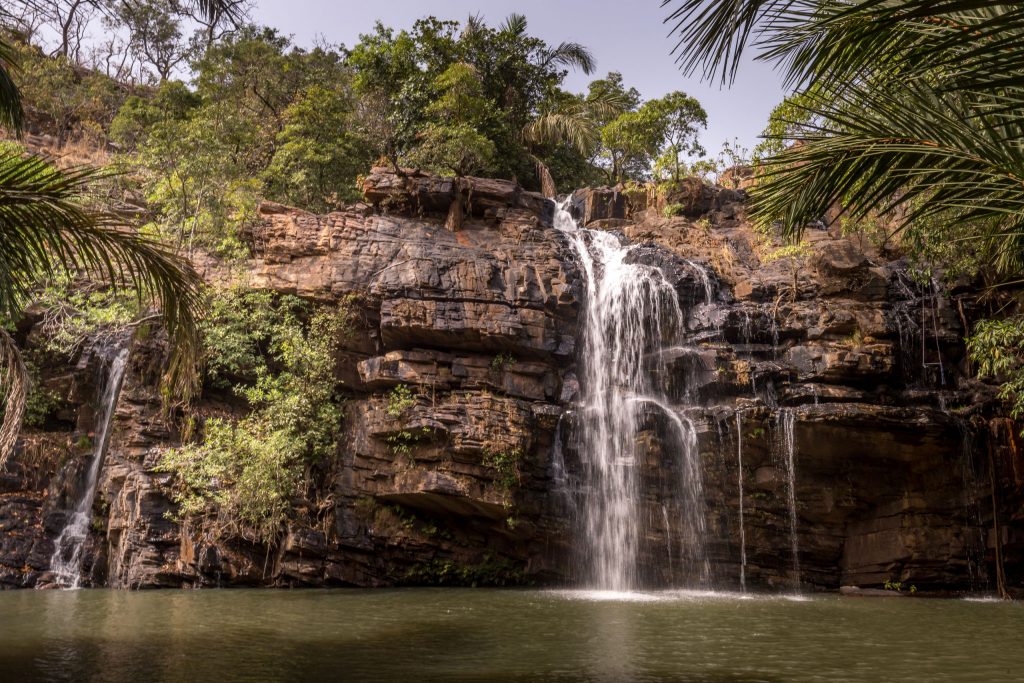 Benin itinerary day 2: Ganvie stilt village & Cotonou
A visit to Ganvie stilt village is a great first day trip from Cotonou. It just takes a morning or late morning with lunch which is great so that in the afternoon there is time to do a Cotonou city trip.
Ganvie stilt village tour
My Tunis Air flight arrived with a 3-hour delay at midnight, so I delayed my Ganvie day trip until 10:30 AM. At 11:00 my private driver dropped me in Calavi. The boat ride to Ganvie stilt village is about 20-25 minutes. Make sure to put on sunscreen and maybe a hat as the sun is strong. When I arrived in Ganvie I noticed one big difference with Nzulezo in Ghana: All houses are separate and no "roads" connect them. The tour in Ganvie takes just over an hour if you don't take lunch. I highly recommend going to see how the local life is on the water. After the visit make sure the boat drops you in Cotonou at the central Dentokpa market to start the Cotonou day tour. It saves time.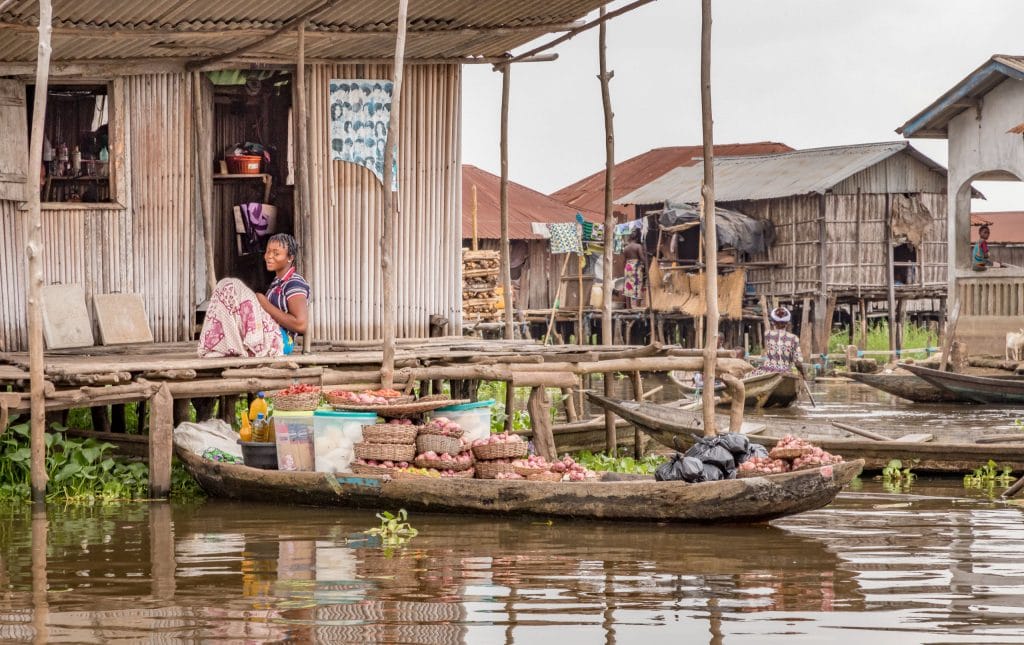 Cotonou city trip
In Cotonou there are a few places of interest of which the Dentokpa market is one. Stroll for an hour and be amazed how busy this market is. You can then visit the cathedral, craft market or go check out the beaches with fishermen. In case you haven't done yet it's also a good time to change money and buy a local simcard. Cotonou is the economic and political center of Benin but doesn't have that much places of interest. It isn't the capital, that is Porto-Novo which has more history. I was back at the hotel around 18:00 for dinner and some evening beers in the bar. It was a great first day in Benin.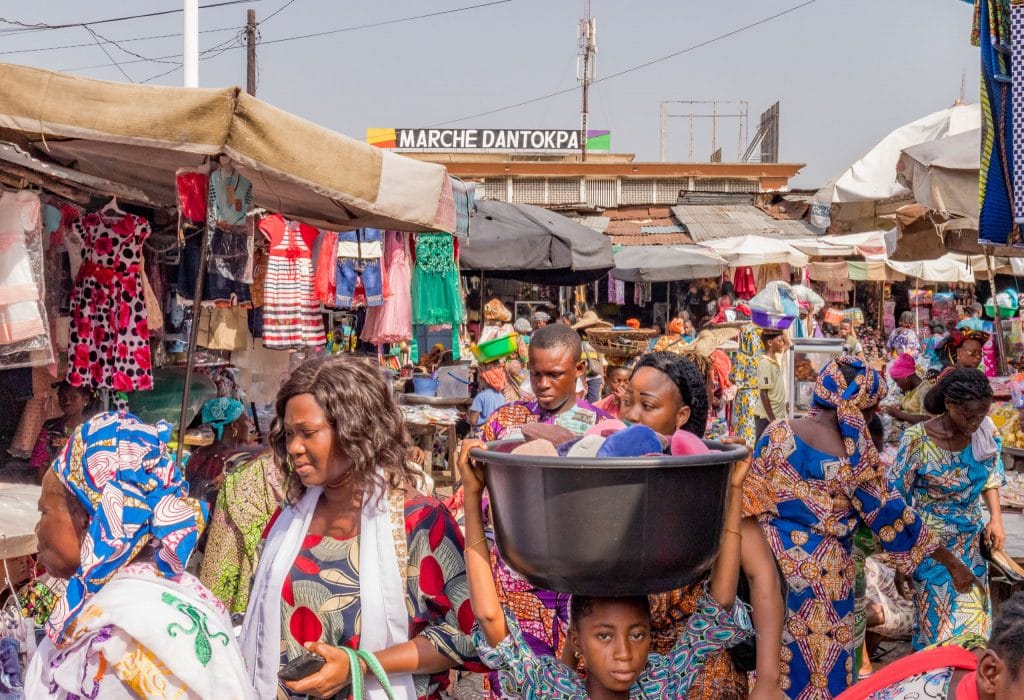 Benin itinerary day 3: Capital Porto-Novo and to Ketou
It's time to leave Cotonou and make a (day) trip to Porto-Novo about an hour away by car. This is the capital of Benin and a must see as it has much colonial heritage. From there you can either go back to Cotonou, stay in Porto-Novo, or continue to Ketou for the night (see next day). I recommend going to Ketou as it's interesting and the other options have you drive more on day 3. Sakété on the way there is a nice bonus.
Porto-Novo city tour
Porto-Novo is the capital of Benin, but all government and trade is in Cotonou. A Porto-Novo day trip is all about colonial heritage. Both from the French Colonial Empire and Colonial Portugal. I recommend having your private driver drop you at the botanical gardens and make your way from there, passing all places of interest, and finish at the house of the Nine-head monster.
After exploring the Botanical Gardens first go to the central square with the statue of King Toffa I. Continue to the cathedral and make your way towards the old mosque. You'll pass some other churches, markets, and colonial buildings. You can also visit the inside of the old mosque, but you need someone to open it. That's why I highly recommend getting a local guide who can show you all and more places of interest. I saw more as I expected. From the old mosque it's a short walk to the Nine Headed Monster house. Make sure your driver is there to pick you up, so you don't need to walk back and thus save time. Have lunch in Porto-Novo before going up north to Ketou.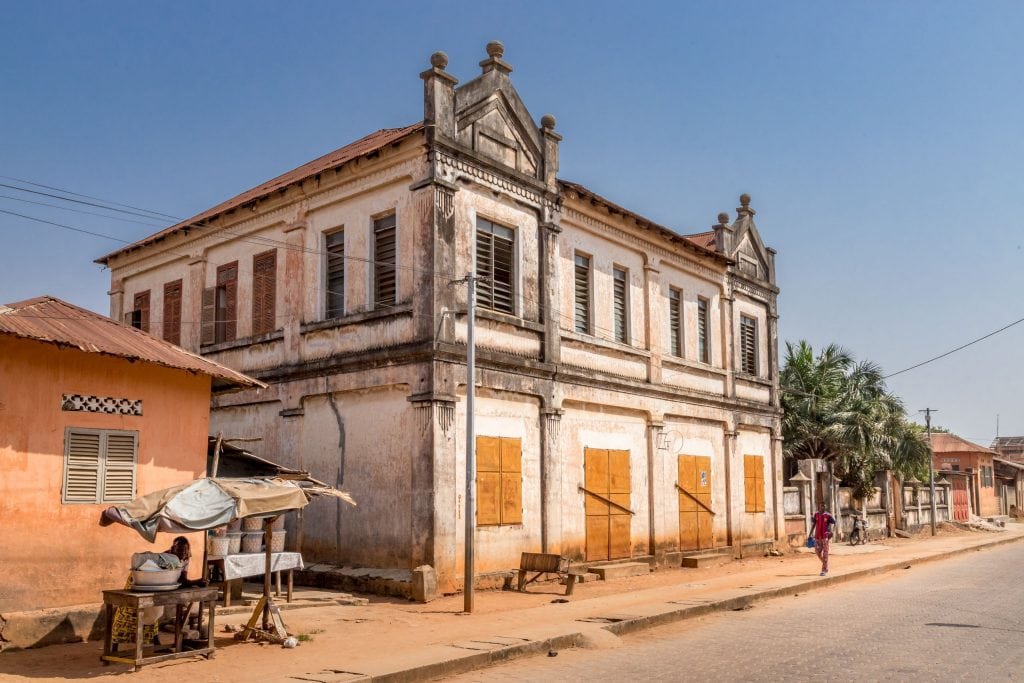 Sakété town visit
Sakété is halfway between Porto-Novo and Ketou and worth stopping for half an hour. The facade of the old mosque in Sakété was once listed as a tentative UNESCO site. It was removed from the list but having a look at the mosque for 10-15 minutes is a nice stop on the way to Ketou. The locals are very friendly and will greet you with a smile and if you ask show you the interior of the mosque. Ketou is the end destination of the third day. I stayed at residence Celine, a basic but clean hotel.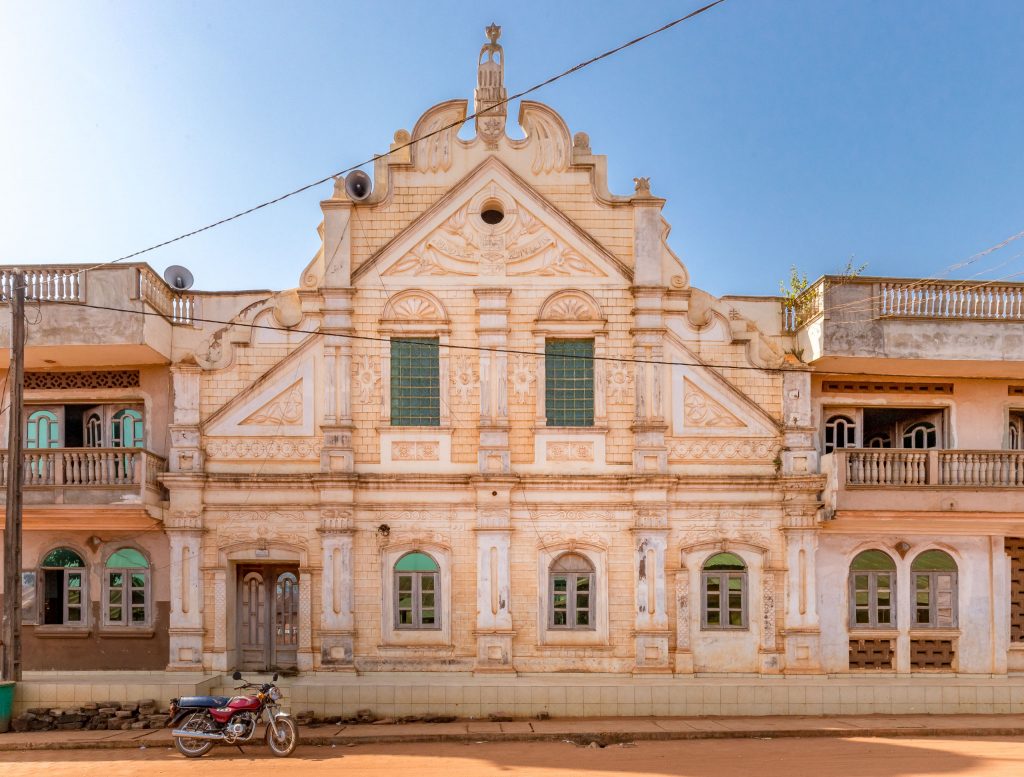 Benin itinerary day 4: Ketou and a long drive to Taneka
As I said a night in Ketou is worth it as in Ketou there are two places that I recommend including on a Benin itinerary. They're the Palace of Ketou where you can meet the king and the other place is the Magic door of Ketou. Visit them early morning before continuing your Benin road trip to Taneka land (a long drive).
Ketou city trip
The Magic door of Ketou is in an old fort. There is a telling that when the fort was attacked the enemy took the door that protected the fort. They didn't succeed as a strong wind blew the door back in its place protecting the fort once again. Today the door is a holy place.
The Palace of Ketou is located at the edge of town. A guide showed me the various rooms and he normally also introduces you to the king. The king unfortunately was out of town. Kings in Benin are plentiful but do not have political power. They do have strong social power in the community though.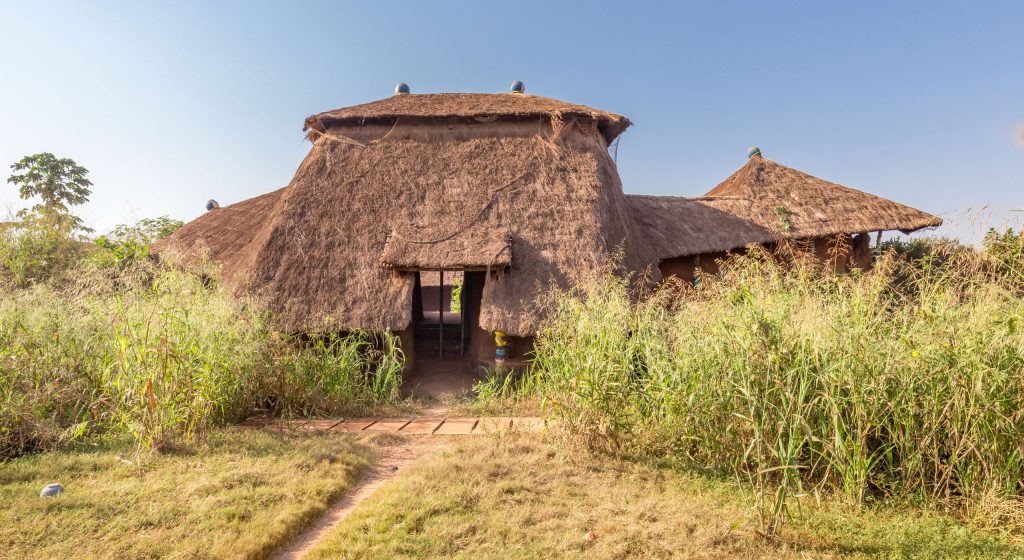 Driving in Benin
Driving in Benin takes time as some roads aren't in the best condition and some roads are full of trucks. The drive to Taneka is 7-8 hours but this might shorten 2-3 hours once the road from Dassa to Natitingou is fully paved. In Dassa you can stop for lunch at Auberge de Dassa which just next to the road. Driving wasn't boring as daily life is concentrated a lot around the roads. I saw sellers selling all kinds of items including gasoline from Nigeria (see photo below). I arrived in Taneka at the eco lodge around 7PM. The locals prepared a nice dinner and after some beers I went to bed.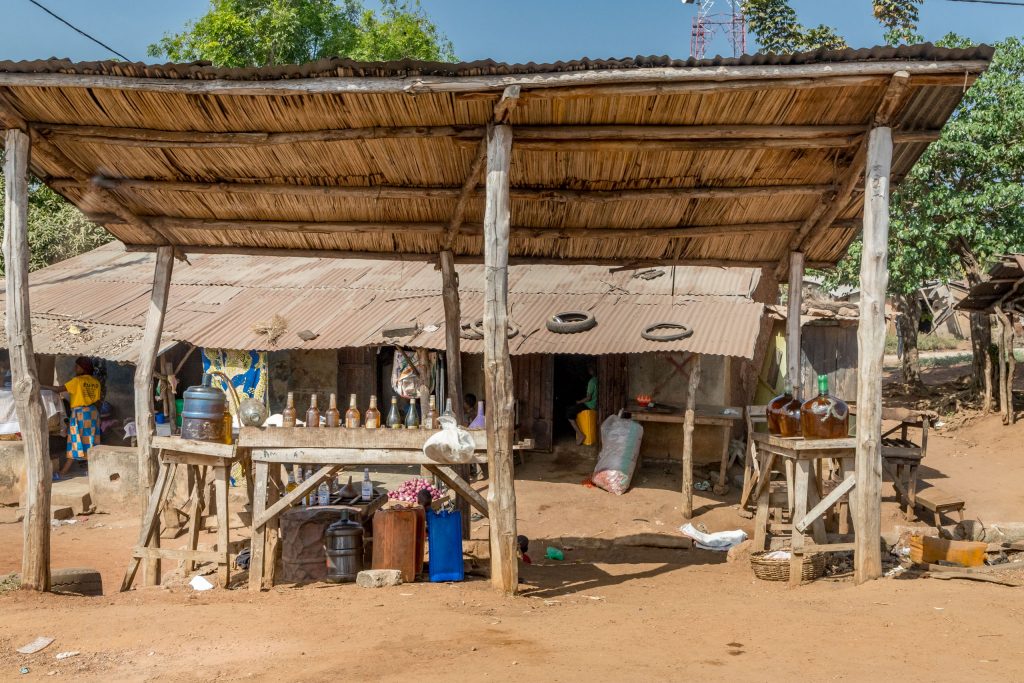 Benin itinerary day 5: Taneka village and Somba land
Taneka land and Somba land are two distinct communities and a must visit in Benin. Taneka village I found personally one of the highlights of this Benin itinerary. Somba land is special as they have unique two story castle like houses.
Taneka village tour
After breakfast a local guide showed me the traditions of the Taneka. The village has 9 dignities of which you for sure will meet one. I met with the one in charge of child health and medicine. He was at a farm field watching over the kids harvesting yam. The guide then accompanied me for a 2-hour stroll through the village explaining the daily life. The houses are typical round thatched roof mud houses although some are upgraded to square houses with metal roofs. He also explained to me about the various deities living in the village. The Taneka are proud of their local customs. After the visit I continued north in about an hour to Natitingou for lunch at Le Belier.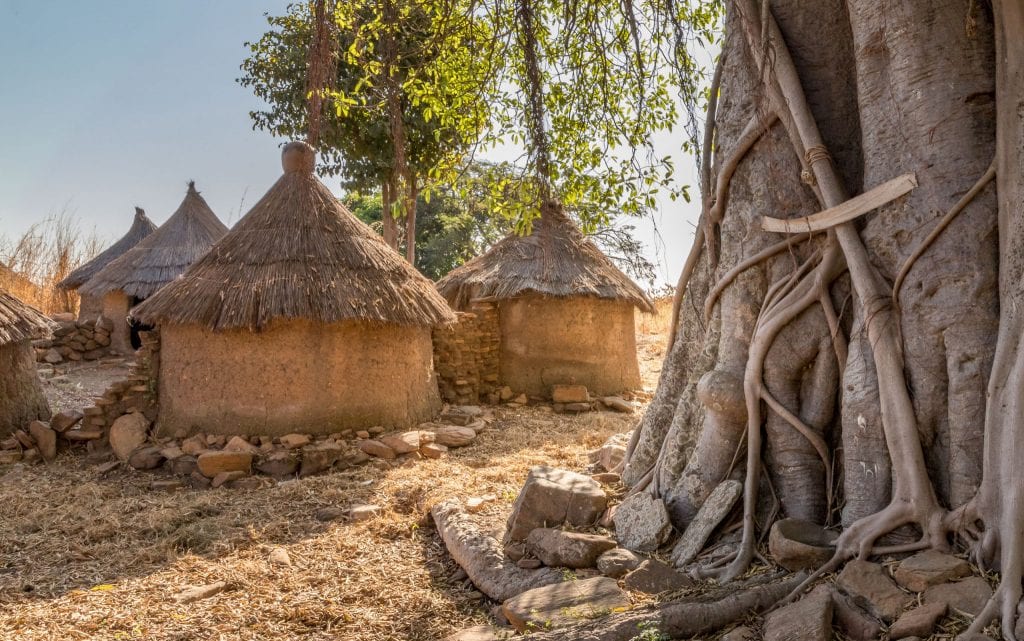 Somba land tour with local family visit
After lunch and a few cold beers, it was time to visit Somba land which is a 45-minute ride away from Natitingou. Somba land stretches all the way cross border into Togo. They are famous for their two-story castle like houses called Tata Somba which are listed as a tentative UNESCO World Heritage Site (in Togo it is a UNESCO site already). I visited a local family in Kossoucoingou to see how they live inside a Tata Somba. A Benin road trip isn't complete without a visit as this is something unique in the world like the round Chinese Tolou near Xiamen. In the evening I stayed at Totora Hotel Natitingou which has magnificent views.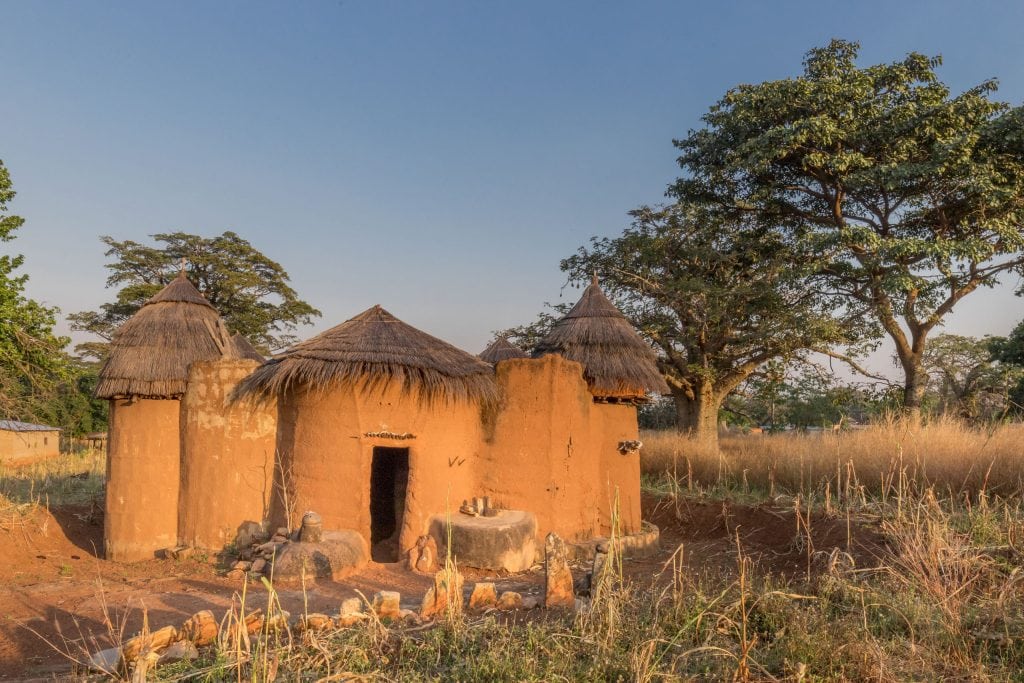 Benin itinerary day 6-7: Pendjari National Park safari
The safari in the Pendjari National Park for sure is the natural highlight of this Benin itinerary. It's the only park in West Africa now that is suitable for a great game safari. The park is located about 50-60 kilometers north of Natitingou and borders Burkina Faso. It's inscribed as a transborder UNESCO World Heritage Site together with Arly National Park (Burkina Faso) and W National Park (Niger) as the W-Arly-Pendjari Complex. Its total area is 2755 square kilometers and is home to a lot of wildlife.
Don't expect the big five but it is home to the West African lion, elephants, hippos, 12 species of antelopes, some smaller game, and an abundance of birds for which the park is most famous. If you're lucky you can also spot cheetah and leopard but just a dozen are left in the whole park though.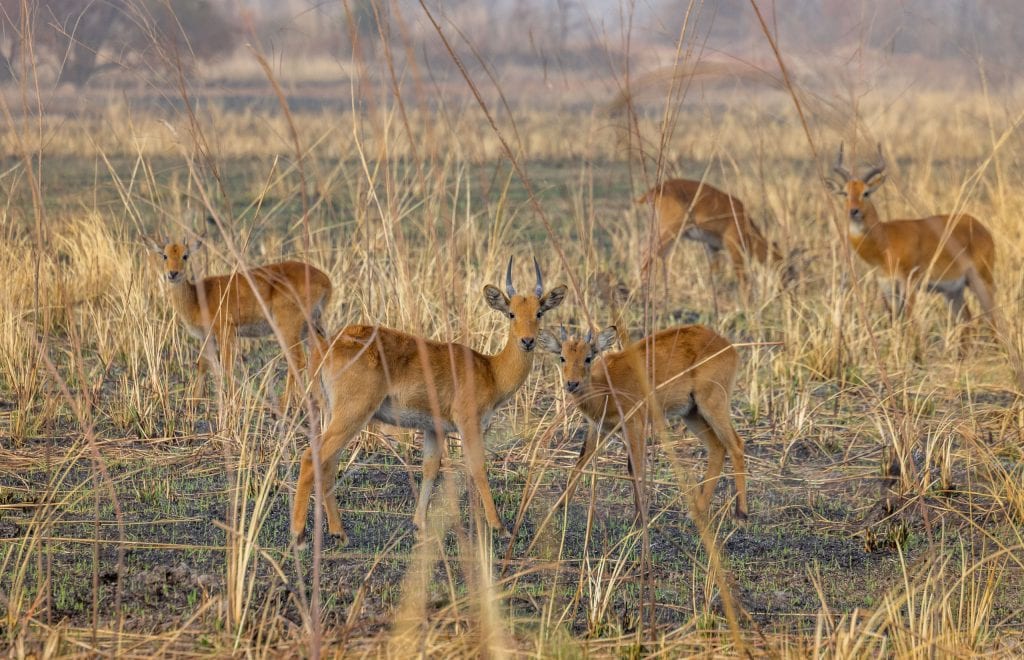 Tanougou waterfalls
I departed Natitingou at 08:30AM and drove to the Tanougou waterfalls first. If you have seen the Iguacu Falls in Argentina any other falls are small, but it was however interesting to see some falls in the otherwise dry northern parts of Benin. A dip in the cold water is nice before lunch at the eco lodge near the falls.
Pendjari National Park safari
After lunch it was time to enter Pendjari National Park for an afternoon game drive. I was only able to spot various antelopes, crocodiles, boar and some birds. Nothing else in the afternoon. I must say that during my visit areas of the park close to the border of Burkina Faso were closed due to turmoil just across the border. In the park I stayed at the Pendjari Lodge which is very comfortable and pretty luxury including a pool. Dinner was lovely and delicious. Make sure to try the Pendjari cocktail; it's very nice. Sunset can be seen from the lodge and is magnificent.
The next day it was time for an early morning game drive which the guide told me normally is the best time to spot wildlife. So, I set my alarm at 06:00AM to have a very early breakfast. My son didn't like that, but he would cheer up soon. After a drive of just 30 minutes into Pendjari National Park I was face to face with a West African Lion just 5-10 meters from the car (see photo at top of article). This was a magnificent moment as it's critical endangered and just 100 are left in the park. A thrilling experience! We spend about 30 minutes watching the king of the park. The remainder of the morning safari was more of the same: Antelopes, boar, buffalo, and birds. No elephants as they were probably in the restricted area and no hippos as the Pendjari River was also off limits.
After lunch at the Pendjari Lodge we drove back to Natitingou where I booked the Totora Hotel again for its pool. This time for 2 nights. For dinner I went back to Le Belier as it is much better as the restaurant of the hotel. This time a roasted leg of lamb. Delicious!
Benin itinerary day 8: Kouandé kingdom day trip
Kouandé kingdom is a city an hour drive from Natitingou. It's not a long day trip from Natitingou so it's not needed to depart early, but I started at 08:00AM. I wanted time in the afternoon for the hotel pool. Once arrived in Kouandé a local guide introduced me to the King of Kouandé. Kings in Benin do not have political power as said before, but they do have social power. The Kouandé Kingdom is made up of 4 families (communities) of which each takes turn. If a king dies the oldest man of the next family will succeed. You cannot reject this as this is socially not accepted. Once, the eldest son was living in France and never experience the local life. He had to return to become king and rule the kingdom. If you visit Benin, make sure to add at least one visit to a king to your Benin itinerary. It's very interesting!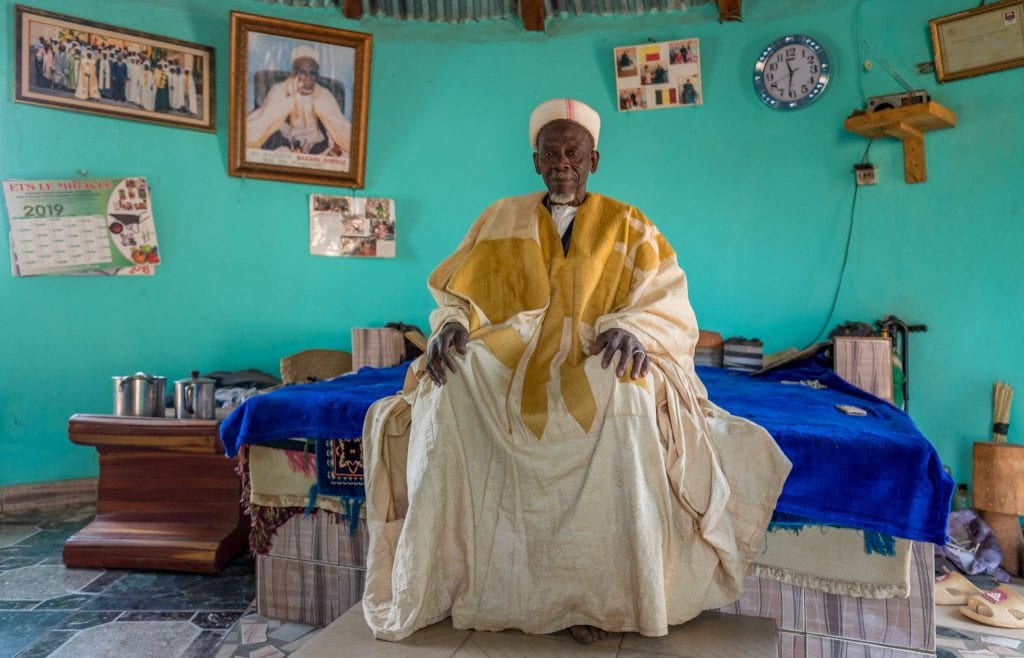 Next up was a visit to a local family. Houses are built around a courtyard where the family lives. If I talk about my family, I normally mean my wife and two kids. This isn't the case in Benin where family means brothers, sisters, cousins, kids all living together. Each couple has a house in the courtyard where they live with their kids. They don't eat together but cook their own meals. Each one must give a part of the food to the family elders as they do not cook themselves.
I continued my way to a cooperative shea butter production facility. In Benin there are many African shea nut trees from which the locals make shea butter (fat). This is exported for use in cosmetics around the world as lotion or moisturizer. Interesting to see how this manual labor is done! So make sure to add it on your itinerary if you're planning a Benin road trip.
It was already lunch time, but I decided to not have lunch in Kouandé but drive back to Natitingou. Before reaching Natitingou a short visit to the Kota waterfalls is recommend. Small falls as well but worth stopping. In Natitingou I made a short stop at the museum before relaxing the rest of the day in the hotel pool. If you want to go out in the evening then make sure to try choukachou which is a local beer made from sorghum. I love to try new craft-beer. Don't have to much as day 9 of this Benin itinerary is the second day with a very long drive!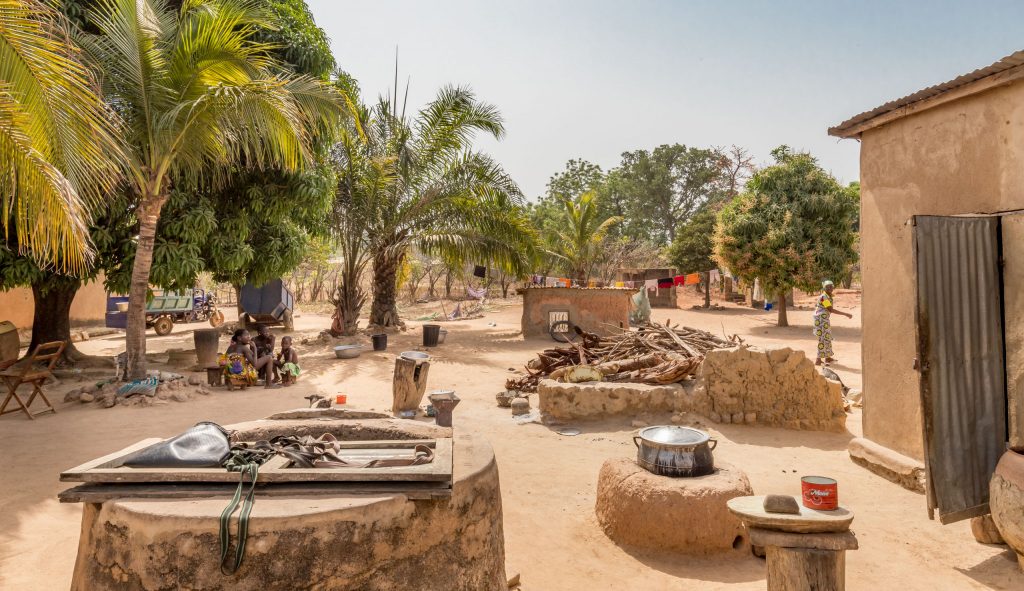 Benin itinerary day 9: Holy hills of Dassa
From Natitingou the drive south to Dassa is the same bumpy road of day 4. The drive takes 6-7 hours, but I decided to only depart at 9AM as in Dassa the only place I would visit was one of the holy hills. The holy hills of Dassa are a must add-on for any Benin itinerary as they give some better understanding of Voodoo. A religion practiced mainly by the Fon people in Benin. Voodoo consists of a hierarchy of major deities that govern all earth to spirits of small things.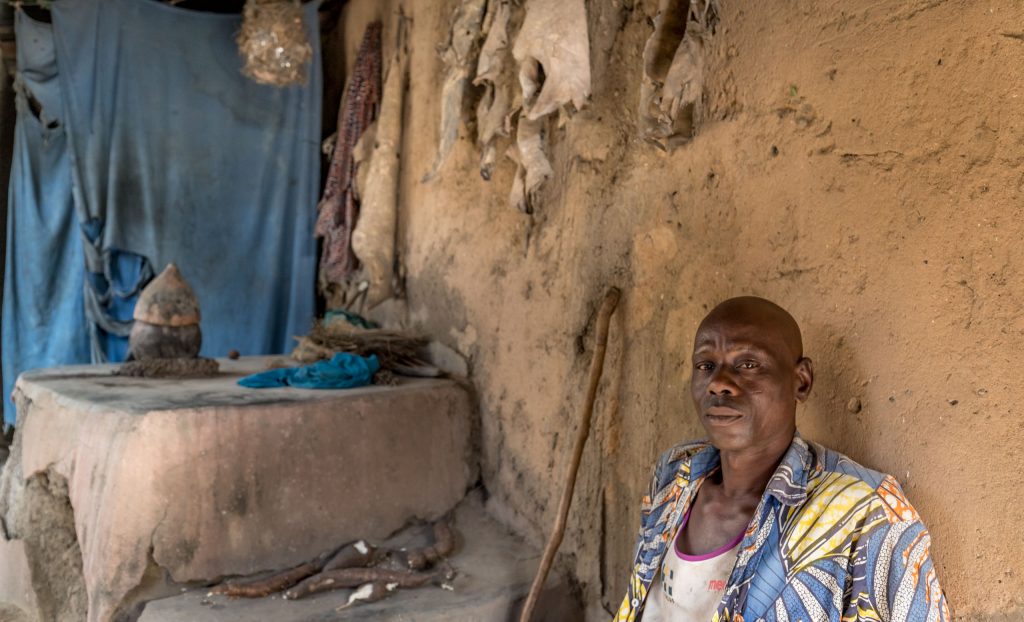 The holy hill in Dassa cannot be visited alone. It's not allowed for outsiders to climb so you need a local guide as he/she is the only one allowed to take outsiders up. The climb takes 30 minutes as the hill isn't that high. It is said that in ancient time and old king retreated on the hill and one day disappeared. Only a snake trail was found from the top of the hill towards the forest below. It's believed he turned into a snake and now both the top of the hill and the forest are sacred. Today, if someone of the community dies the same path is followed before the burial in the forest. At the top of the hill various spirits are present.
Dassa was also the starting point of the slave trade in Benin. From there slaves were brought to Abomey and onwards to Ouidah. Make sure to stop at the central square, once home to the slave market, before continuing to your accommodation. In Dassa the best place to stay is at the eco farm Maktub by Armand. The lodges are clean and comfortable. Dinner and breakfast was delicious but on a farm that should be so!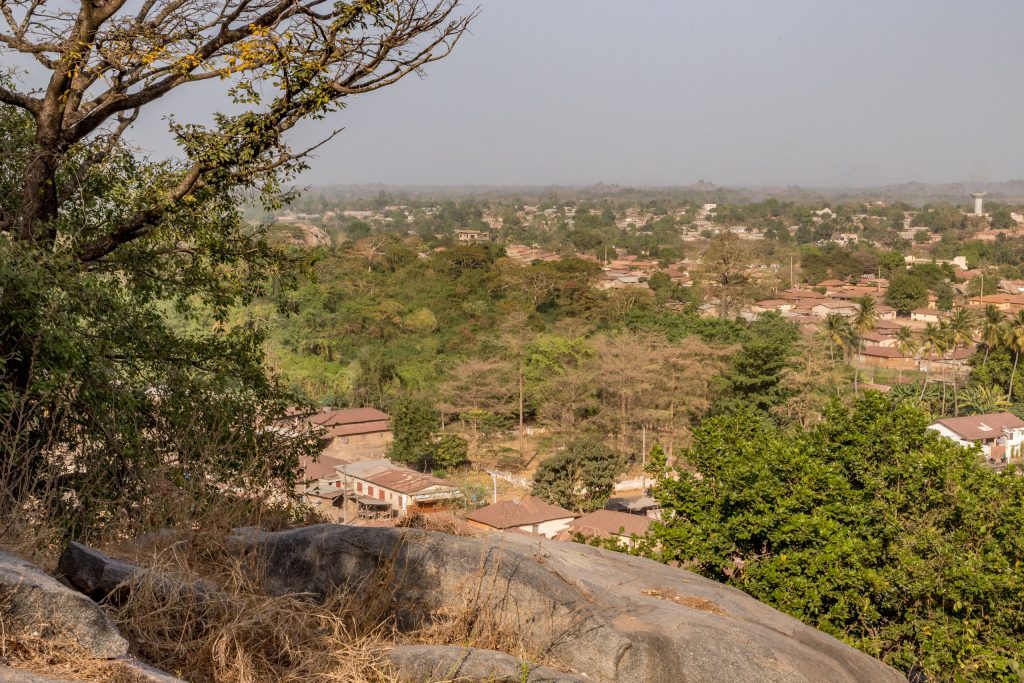 Benin itinerary day 10: Abomey and Bohicon
Abomey and Bohicon are two cities in Benin about 100 kilometers north of Ouidah/Cotonou. They are connected and if you drive from one to another you don't even notice you arrived in the other. Abomey is famous for its UNESCO World Heritage Listed royal palaces of the Dahomey Kingdom. Actually, 2 of 12 palaces are in Bohicon (just ruins now). In Bohicon just a decade ago and underground town was found. A bit more touristy as the places in north Benin but a visit must be included on a Benin itinerary.
Agongointo-Zoungoudo Underground Town visit
It's best to start at the Agongointo-Zoungoudo Underground Town in Bohicon late morning so that you have time for Abomey after lunch. This underground site with various dwellings was discovered just a decade ago when a new road was built. Not much is known but it's likely they date to the 16th century at the time of the reign of the second king of Abomey. They were probably used as dwelling as it gave good protection. A small opening in the ground opens to a 10-meter-deep cave. From this cave smaller caves can be reached in various directions. The various dwellings are NOT connected by underground corridors as some say.
It was interesting to see this so make sure to not miss it. Just make sure when you go do not wear any red clothes as the forest is also home to a spirit that doesn't like red clothes. You're not allowed to enter even with any red in your clothes. A visit takes about 90 minutes after which I went for lunch in Abomey.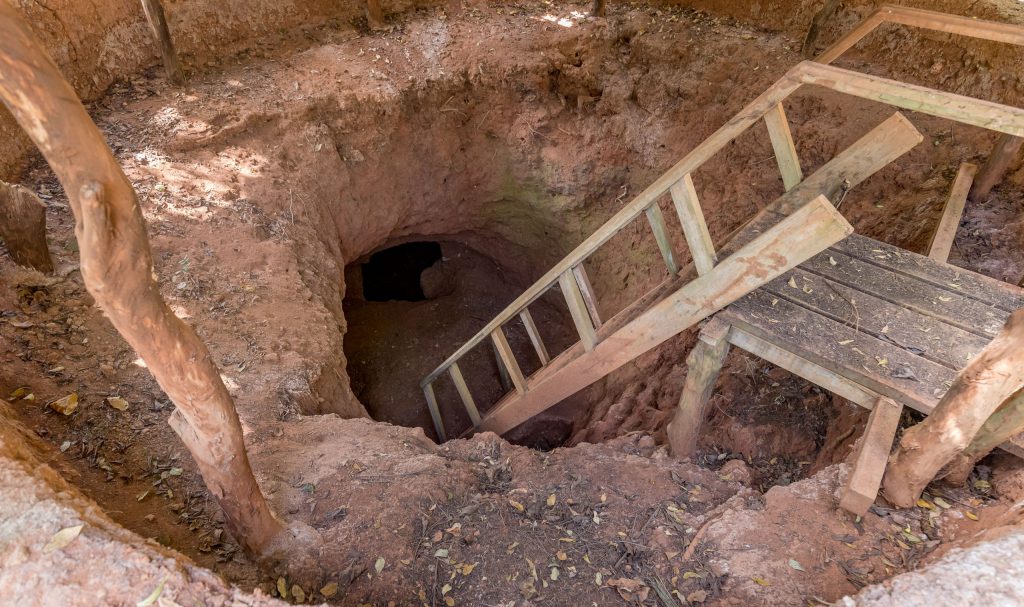 Abomey royal palaces visit
Abomey was once the capital of the Kingdom of Dahomey which existed from the early 17th century until it was added to the French Colonial Empire in the late 19th century. The Kingdom of Dahomey was once the most important kingdom in the area reaching from Ouidah to Abomey and another 100 kilometers more north. It became so large as it conquered smaller kingdoms all the time.
Each king had to build a new palace so you can imagine that Abomey is filled with palaces. There are 12 in total of which 2 are in current Bohicon. Most are in ruins but two are restored and one of them also houses the museum. One exhibit is a king's throne on top of human skulls. A bit creepy though! In the kingdom human sacrifice was practiced, voodoo the main religion and war prisoners were traded as slaves with the Europeans. Today the palaces are a UNESCO World Heritage Site because they played an important role in West African history.
A visit to the royal palaces of Abomey takes about 2 hours. The city itself is just a regular city so I don't recommend spending too much time there before continuing to Ouidah. I stayed at Casa del Papa hotel at the beach for the remainder of my Benin road trip.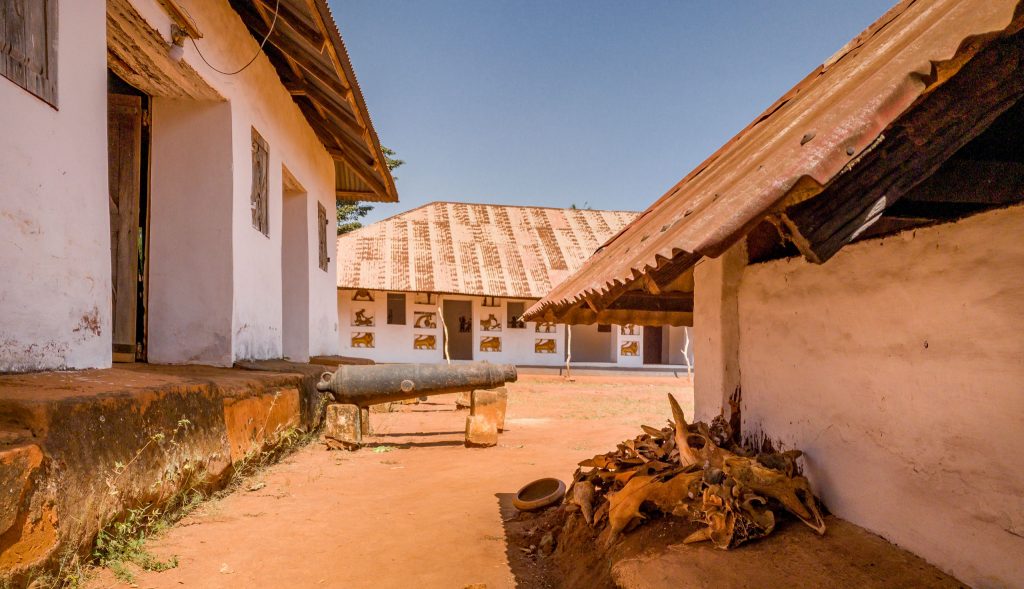 Benin itinerary day 11-13: Ouidah
Ouidah can be explored in a day so you can easily do that on day 11 as I did and depart Benin on day 12. I have written this Benin itinerary as a 2-week itinerary which includes 2 full relax days on Ouidah beach. Not everyone travels as I do. You can of course mix those relax days also between any of the other days. In Ouidah the slave trade history and voodoo religion are the most important places of interest. The city is listed as a tentative UNESCO World Heritage Site. It's also the most touristic city in Benin as most places of interest in the south can be reached from there as day trips.
Walking the Ouidah slave trade route
The slave trade route from the main square in Ouidah to the Door of No Return at the coast is a must visit. It's a 4-kilometer hike passing various places related to slave trade. There are sculptures, memorials but also a restored old house and a slave cemetery on the way. Although there isn't that much left to see (compared to the slave forts in Ghana) the walk is a must do to understand how the slaves walked. Keep in mind that some walked all the way from Dassa! From the Door of No Return they were brought by ships to the America's.
I did the walk in opposite direction and started at 10AM and reached town just before 12PM. Passing the mangroves, you can see women that work in the salt production as well. Make sure to bring enough water as the sun is scorching. In town I visited the cathedral and had lunch before exploring rest of the city.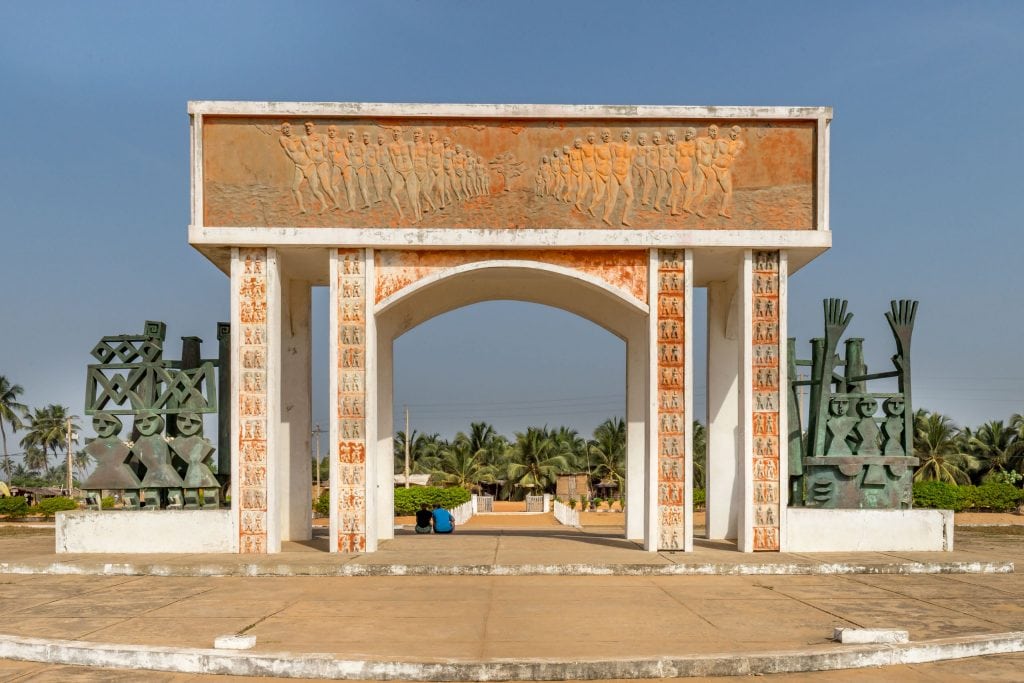 Voodoo religion in Ouidah
Ouidah is the spiritual capital of Voodoo religion. I started at the Phyton temple just opposite the cathedral. This was the only place I was underwhelmed as I expected more. It's a very small place with two deities and a small house with many phytons inside. You can take pictures with them and after that visit the many handicraft stalls. I continued to the sacred forest passing the local market. At the sacred forest the local guide explained me more about Voodoo religion as I didn't know that much about it. I recommend having a local guide as he can explain Voodoo as this is NOT about dolls & needles.
I finished the day at the Portuguese colonial fort which now houses the Ouidah museum. It's a small place but worth stopping. It was early afternoon when I returned at Papa del Casa Hotel which is far out of town. I celebrated New Year's Eve there with my son.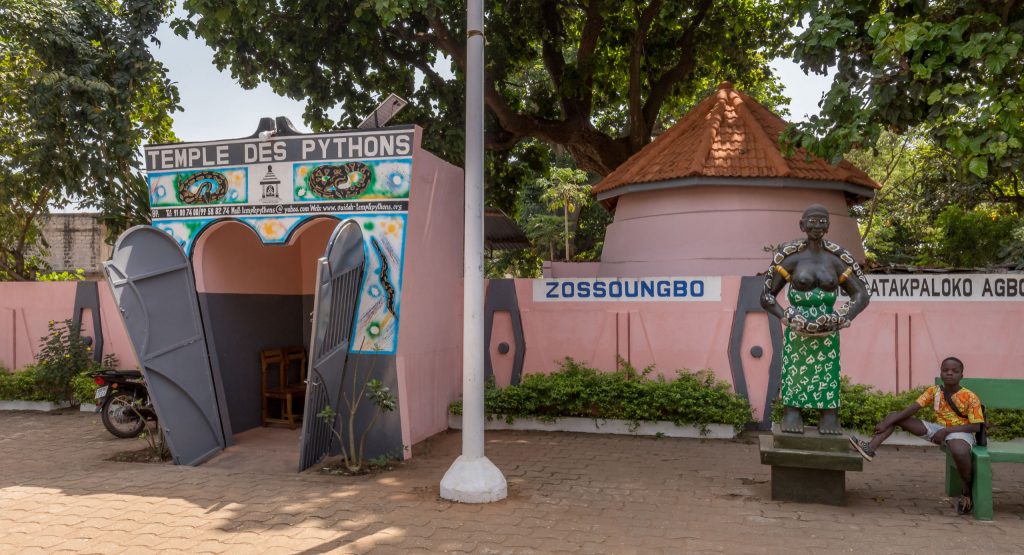 Benin itinerary day 14: Departure
On day 12 I departed but this Benin road trip has two more days in Ouidah to relax. I hope this Benin itinerary helps you plan your trip to Benin. It's a beautiful diverse country in West Africa and not known to many in the world. Pendjari National Park was for sure the natural highlight for me and the visit to Taneka land the best local experience. It was also great to understand more about Voodoo religion and learn even more about the slave trade.
You must be a bit adventurous to travel in Benin but with a private car and driver this is pretty easy. Hotels are clean and comfortable. Food is good and delicious. So, if you want to learn more about Benin culture and history then go! It's so differnt as northern Africa where I did a Tunisia road trip a year earlier. I had a great time in Benin and I hope this Benin road trip report helps you plan your trip.
Stay tuned for more stories and subscribe to the newsletter or follow CTB on social media (Facebook, Twitter, Instagram including Instagram stories; on all social media you can find CTB @christravelblog) to get updated information.
Did you visit Benin too or do you have questions? Please leave a comment at the bottom of the page. Love to hear from you!