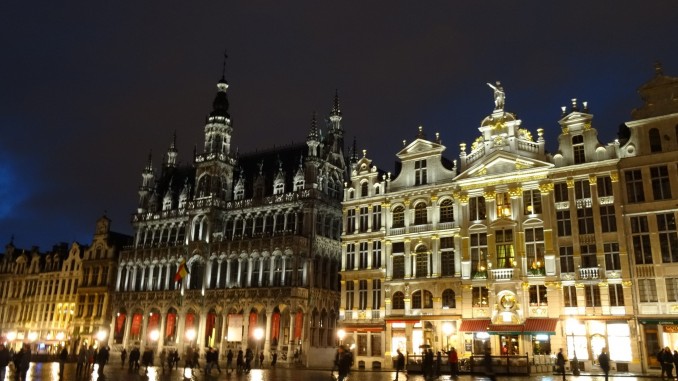 A short trip to three places. Balduinstein, Dusseldorf and Brussel.
UNESCO World Heritage Sites visited: Grand Place Brussel, Major Town Houses Brussel (see all UNESCO sites here)
Day 1 – Daytrip to Balduinstein Germany
please see post about Balduinstein.
Day 2 – Dusseldorf
please see the post about Dusseldorf.
In afternoon we arrived to the Crown Plaza hotel (also part of the IHG Rewards Club we participate in). We explored the Old Town Square and Mannekenpis. Both a short straight walk from our hotel.
Day 3 – Exploring Brussels Center
Today we basically strolled through the city center all day exploring the various sights including some beautiful wall artwork from famous strips. Things we explored where a lot but the most important: St. Nicholas Church, the Mint, Court of Law, Cathedral, Palace and others. Some impression on the photo
Please check out the interactive Google Map to see the full walk; you can download the GPS file by clicking the download button.
Day 4 – Koekelberg, Atomium & Begijnhoven
Today we have to change hotel from the Crowne Plaza to Holiday Inn due to the fact we participate in the Big Win of the IHG Rewards Club and we need a Saturday stay at a Holiday Inn to get huge amount of free points for later to spend on several free nights. As we are here with car we did a small walk into the center to get breakfast and buy some Belgium delicatessens. After checkout we took the car to: Koekelberg (Basilica de Sacre Coeur), Atomium and Begijnhoven.
Day 5 – European Quarter & Departure
Today in the morning we did a two hour walk through the European Quarter (see map) to see Leopoldspark, European Parliament Buildings, Jubelspark and after which we drove home to Holland but first visited Abbaye de la Cambre; a very nice abbey located out of the center in one of the suburbs.
Please see the Google Map for the walk we did. The bottom part is the Abbey (we got there by car!), and the top part is the European Quarter walk. You can download the file to put into your GPS system.
Stay tuned for more stories and subscribe to the newsletter or follow CTB on social media (Facebook, Twitter, Instagram including Instagram stories; on all social media you can find CTB @christravelblog) to get updated information.
Did you visit Belgium too or do you have questions? Please leave a comment at the bottom of the page. Love to hear from you!