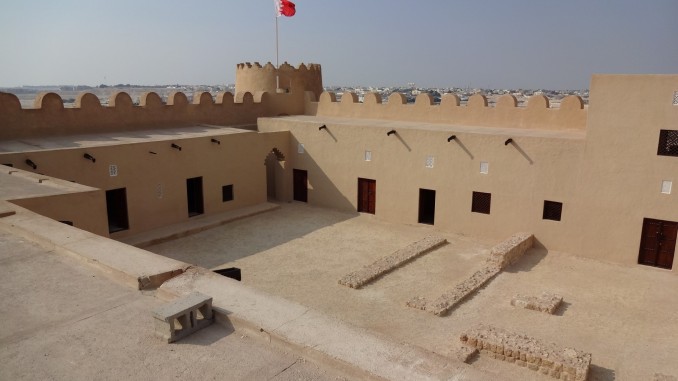 Summary: A family holiday during Christmas time to first Dubai for some days to explore this region, from there to Bahrain for a few days to explore that small country, and last to Qatar for a few days to see this country in detail. We ended again for a few days in Dubai.
UNESCO World Heritage Sites visited: Qal'at al-Bahrain (Ancient Harbour and Capital of Dilmun), Pearling and testimony of an island economy (Oyster Beds, Bu Mahir Fort, Muharraq City with buildigns) (see all UNESCO sites here)
Day 1 through 5 – Dubai
See here: UNITED ARAB EMIRATES – Dubai (2012.12.23 – 2013.01.07)
Day 6 – Bahrain arrival & mosque
We had an emirates flight at 8:30 AM from Dubai to Bahrain, arriving only 15 minutes later at 8:45 with a 1 hour time difference. We picked up our 4×4 (which is really needed in a dessert country) and went to our hotel in Manamah city, the Intercontinental hotel. We had a great suite with two bedrooms upgrade.
NOTE: The roads, names and other things in Bahrain have different spelling on various navigation system and google maps for example. The locations written below worked at the TomTom navigation for iPhone at the time of visit to find all places in an easy way. A total of almost 3 full days in Bahrain is enough to see all the sights you want to see! We visited just after the big protests in November 2012, but did not feel unsafe. We could see the remains on the streets of fires, road blocks and more. The people are very very friendly!
We visited today the Al-Fateh Grand Mosque in Manamah. At the time of visit it had the biggest fiberglass dome in the world weighting more as 60 tons. There is place for up to 7000 people inside and is one of the largest mosques in the world. We checked the cornice and the pearl monument.
Day 7 – Bahrain trip part 1
Today we stop at the first UNESCO Site Bahrain has: Qal'at al-Bahrain (Ancient Harbour and Capital of Dilmun). It's also called the Portugese fort or Bahrain Fort (located in Karbabad on the junction of Karbabad Ave. & Qalat Al Bahrain Ave). From around 2400-2300 B.C. this place has been inhabited by humans and served first as the Dilmun capital. The Portuguese fort is the last remains of the 16th century.
Next stop the Barbar Temple (location: Barbar, Barbar Ave. & Road 1803) which is a temple from the Dilmun era dating back to 3000 B.C. Actually there are 3 temples build on top of each other the last one finished in 2300 B.C. Build from limestone which is said to come from Jidda Island. From here we drove along the Budaiya Fort (location at end of Budaiya highway) to the Saar Temple and Dilmun Burial mounts (location: Al Janabiya, road 7151 & 7735). The Saar Temple is also from the Dilmun era and is said to have played a big role in the summer solstice. These burial mounts contain chambers where in most cases one person was buried. The problem in current time is that people say that they are unislamic and therefore not to be protected. There are several place in Bahrain where they can be found, in Saar where we visited first, we later visited also Al Ali Burial mounts (location: Jary al Shaikh, 38 Ave & Road 2419) (images included in gallery below already). At lunch time we drove up the causeway to Saudi Arabia to at least see Saudi Arabia, we did not have any chance to get a visa.
After lunch at the causeway we drove to the Al Jasra House (located Al Jasra, Mazarea Ave & Road 323) which they just wanted to close (some days it closes at 2PM); but everything was re-opened for us – great job! It's a traditional house first build begin of 20th century for Shaikh Hamad bin Abdullah Al-Khalifa. Here you can have a look into the traditional living of the people of Bahrain. From there we drove into the oil fields to go to the tree of life, a tree about 400 years old in the middle of the dessert. No other trees in the area and standing on the place where 500 years ago a fort stood (location: 25°59'39.5″N 50°34'59.3″E). From there we wanted to drive to the most southern point of the island but this was at some point closed for construction; we drove back along the military airport for some sneaky photo (not allowed). 🙂 We then thought we saw enough for the day and got back to the hotel for some relaxing.
Day 8 – Bahrain
Today we started early to make sure we see all remaining of the island; even though Bahrain is small it has a lot of jewels to see. First stop the Khamis Mosque (location: Tashan, Road 539 & Tashan Ave). This is believed to be the oldest mosque in Bahrain and was founded in the 7th century and constructed in the 11th century. The site is very unique and you can see the columns, arches and the minarets. We climbed one of them (not sure if it was allowed) and gave a good top view of the site. From here we drove to the F1 track where we wanted to drive it but we where not allowed. Underway all road where with Bahrain flags. We filled the car with new gas, dirt cheap like water in Holland. We then continued to check out the oil museum (closed) and the first oil well of Bahrain and just further the road the so called dinosaur rocks (nice place for the kids). Then we found out that you can (can you?) freely walk over the pipelines, check out the oil wells, see how all works. We did some good oil industry exploring. In other middle east countries later visited this was not possible (closed). We also did some nice photo's although this was also not really allowed.
Last part of the day we visited the Al-Fateh fort, Arad Fort, Abu Mahir Fort and the Siyadi House. Most things we quickly had an overview as the forts are a bit the same and we got bored of to many forts. In the evening we drove back to see the skyline and the great building with windmills in the middle. Evening we walked the souk in Manamah and this ended our trip to Bahrain. Of to the next middle east country.
Day 9 through 16 – Qatar and Dubai
We took off early on Day 9 to Qatar; a short flight away on Qatar Airways.
QATAR – Doha and rest of country (2012.12.23 – 2013.01.07)
UNITED ARAB EMIRATES – Dubai (2012.12.23 – 2013.01.07)
Stay tuned for more stories and subscribe to the newsletter or follow CTB on social media (Facebook, Twitter, Instagram including Instagram stories; on all social media you can find CTB @christravelblog) to get updated information.
Did you visit Bahrain too or do you have questions? Please leave a comment at the bottom of the page. Love to hear from you!
Bahrain Tourist Maps