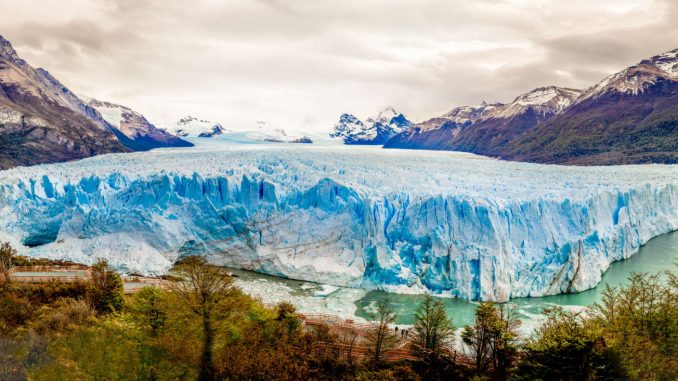 The Perito Moreno Glacier is one of the most famous glaciers in the world and for sure of the Glacier National Park. It's a UNESCO World Heritage site and a beautiful natural phenomenon. I did various day trips from El Calafate when I was 6 days travelling through Patagonia after a business trip in Buenos Aires. One day I did a glacier hike on the Perito Moreno Glacier and visited the viewing platform. This natural wonder is amongst the most beautiful things I have seen in my life! I'm sure after reading this article and seeing the photos you want to go to and admire it yourself.
Perito Moreno Glacier information
The Perito Moreno Glacier is in the Glacier National Park in Argentina. I covered the national park already in a previous article about sailing Patagonian glacier lakes while having a five-star lunch. The interesting fact about the Perito Moreno Glacier is that it doesn't really retreat as is the case with many glaciers around the world due to climate change. It's one of Argentina's most beautiful destinations and, in my opinion, on par with Iguazu Falls in the north.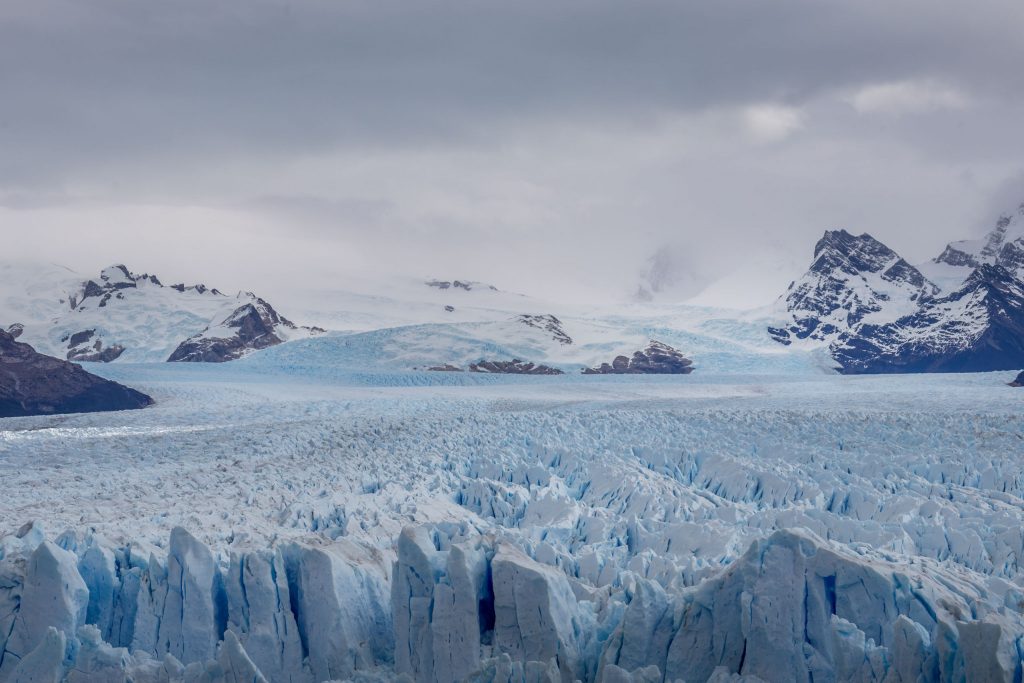 The Perito Moreno Glacier starts high in the Andes where the Southern Patagonian Icefield lies. It ends in Lake Argentina where it slowly flows towards a land arm in the lake called Brazo Rico. This divides Lake Argentina in two parts of which one part doesn't have an outlet. Water rises over 30 meters and when pressure is enough the ice breaks and all the water flows towards the other side. This process repeats itself every 2-8 years. When I visited this just happened; it would have been an amazing thing to see. Maybe I will return for it one day.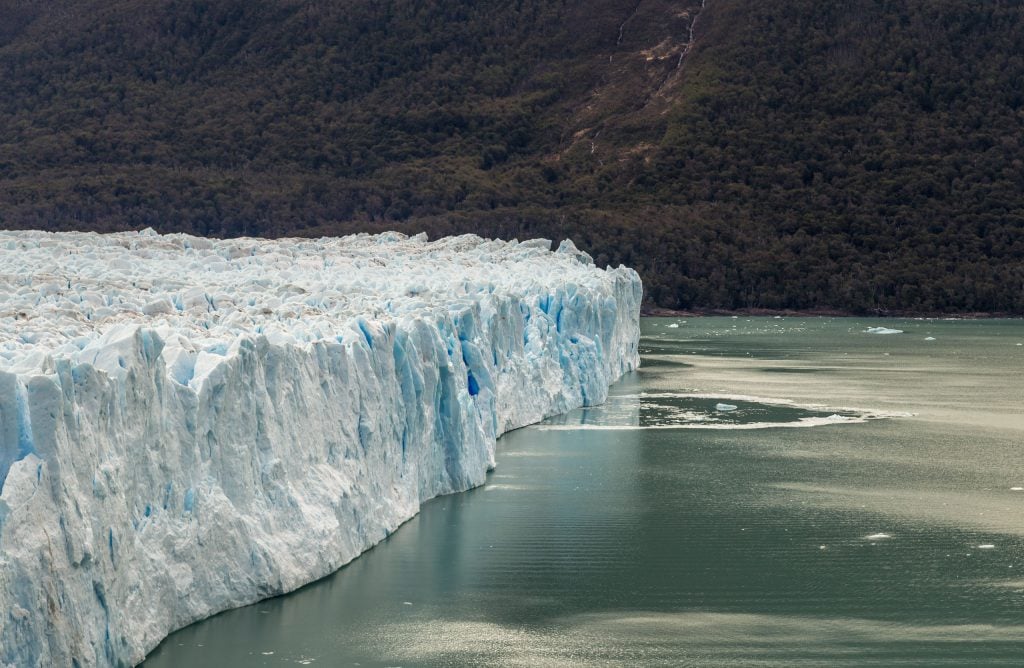 The Perito Moreno Glacier tongue is 5 kilometers wide and over 75 meters high, its surface is over 250 sq. km and has a length of over 30 km. This is best seen from a boat just in front of the wall. The layer of ice can be as thick as 200 meters with pressures causing continuous cracking noises. Now lets inspect the glacier up close!
Perito Moreno Glacier hike
A hike on the Perito Moreno Glacier is a must-do as it really shows the beauty of the glacier. I arranged the tour through my hotel La Cantera Calafate and joined one of the morning excursions. They only arranged the boat trip and hike as I was with my own car and wanted freedom to go to the viewing platform afterwards. The Perito Moreno Glacier hiking tour starts at the small harbor from where boats bring you to the other side of Lake Argentina. There is a small cafeteria and restrooms just before the real glacier hike starts.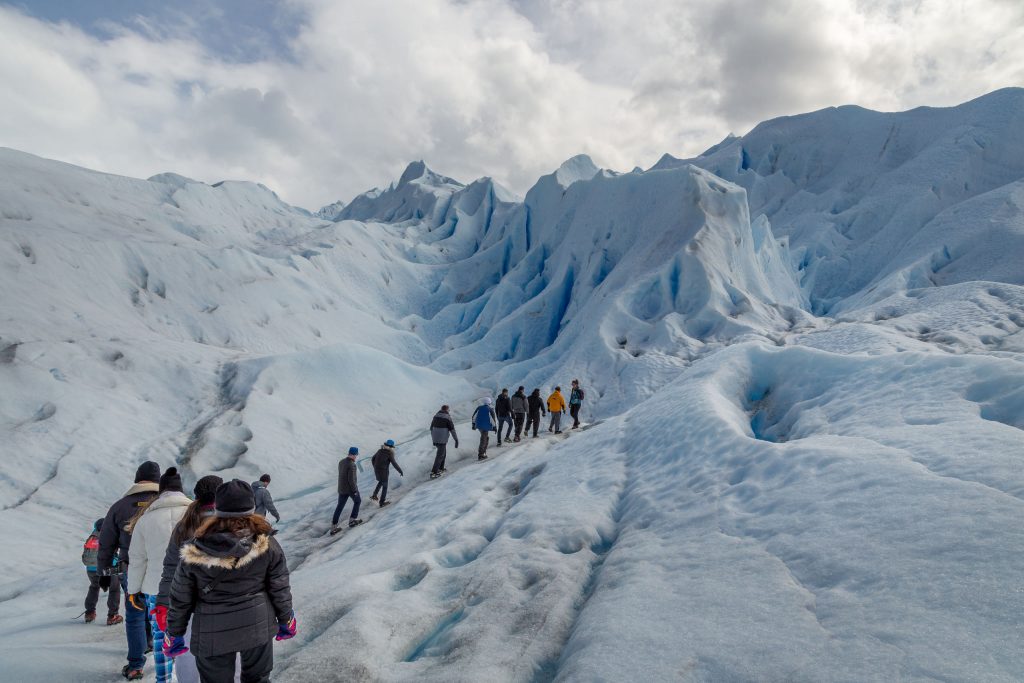 From the landing site it's a short walk towards the Perito Moreno Glacier which passes a small beach just in front of the 75-meter wall. Only then I realized its really huge as from a distance you can't really see the size. Just before the rocks turn ice you will receive crampons to be able to walk the ice. I did the 2-hour hike but there is also a 6-hour version; it depends your schedule if you have time.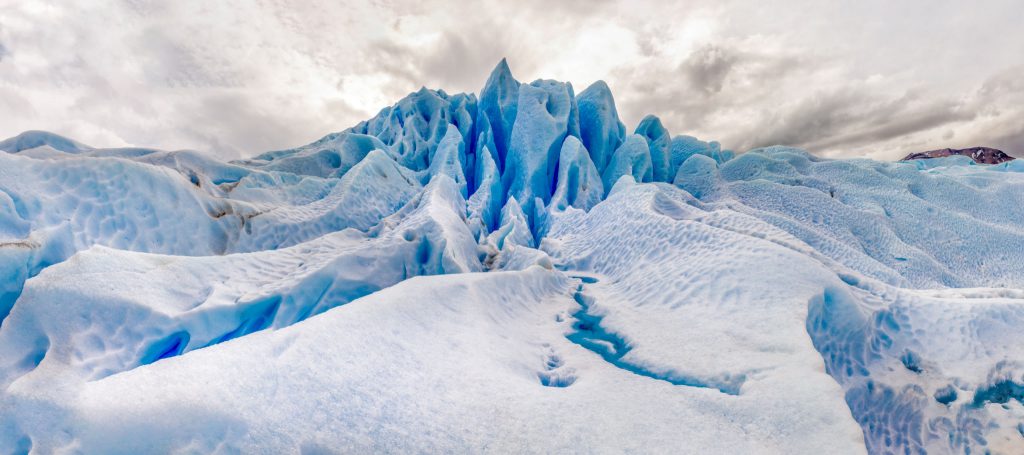 The hike starts with a steep climb which is weird to do first time on crampons. When I reached the top, the glacier landscape amazed me. Small crystal-clear streams and deep openings filled with water. Cracking ice and towering ice bergs. It was something I had never seen before and looking back I regret I didn't have time for the longer hike. The group I was with made its way over the Perito Moreno Glacier exploring various formations including a small cave. Just before heading back to the landing site it was time for whiskey on the glacier rocks. That was so great standing on one of nature's wonders with a glass of whiskey on ice of that same wonder. It was a short walk back to the landing site and an hour later I was back on shore to go to the viewing platform.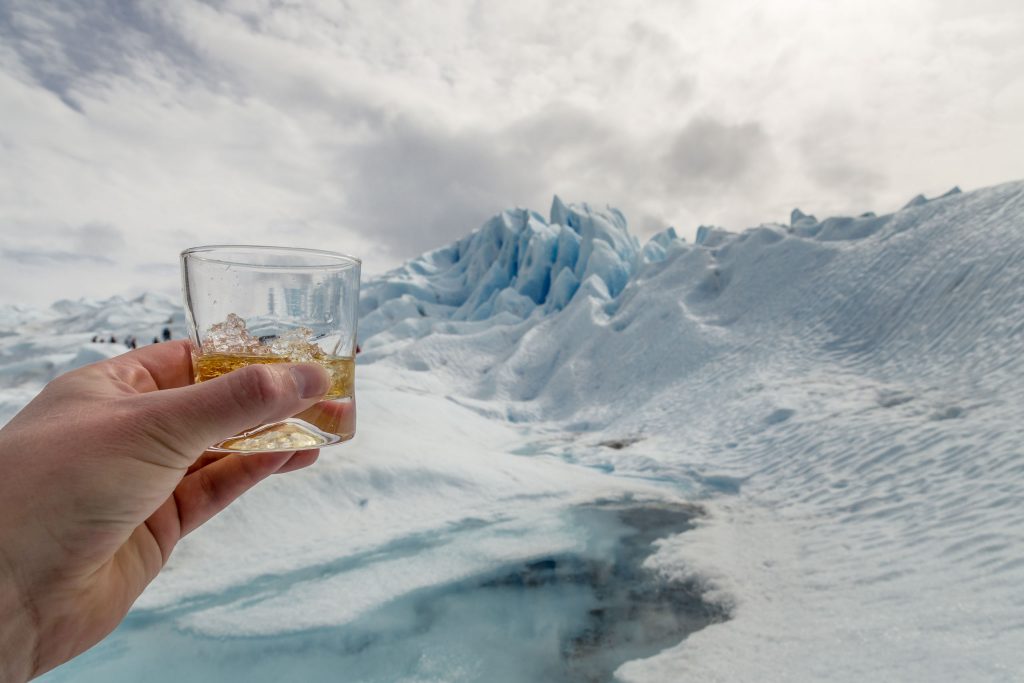 Perito Moreno Glacier viewing platform
Just in front of the Perito Moreno Glacier there is a viewing platform on the land arm in Lake Argentina. It gives awesome views over the glacier and the glacier wall. I arrived in the afternoon and there was nobody there except me. First, I made sure I made all the photos I wanted to make including the following gigapixel photo. Isn't that an awesome sight?

Next, I made one of the benches my home for an hour and just watched and listened. Listened? Yes, listen to the glacier as it slowly flows. It cracks all the time and at times a large part breaks and falls into the water with a thundering sound. These forces of nature are incredible! It's difficult to capture that one a photo but I managed to get one as you can see below. It started to get dark and cold when I left the Perito Moreno Glacier back to El Calafate for a great dinner at La Cantera Calafate where I was staying. The next day I had time to explore El Calafate before my afternoon flight to Buenos Aires.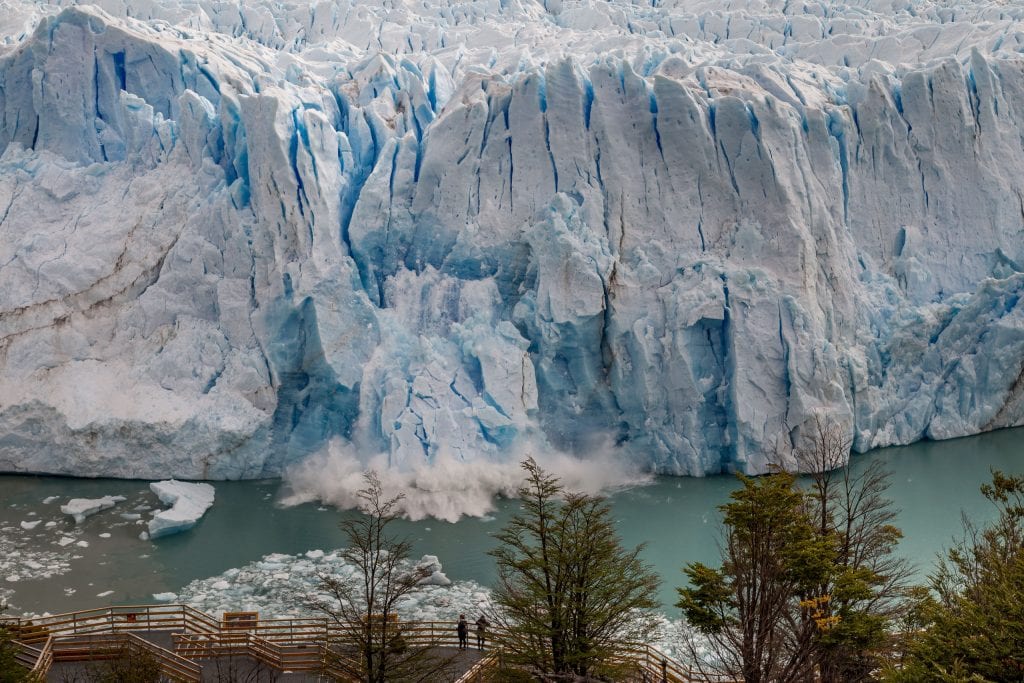 El Calafate
El Calafate is a small town and mainly thrives on tourists. Unlike El Chaltén which completely closes in winter time, El Calafate is open year-round. I found October a great time to visit as it was a bit warmer but still some snow present. The town isn't big and I just wandered around the main street a bit to pick up some souvenirs. After lunch I drove to the Glacier Museum just out of town which explains everything there is to know about glaciers. A must visit I must say but I must also note that the entrance price was quite steep.
The other day when I did the Patagonian glacier lake cruise with five-star lunch I explored more of the country side. I saw horses, birds and much other wildlife enjoying nature.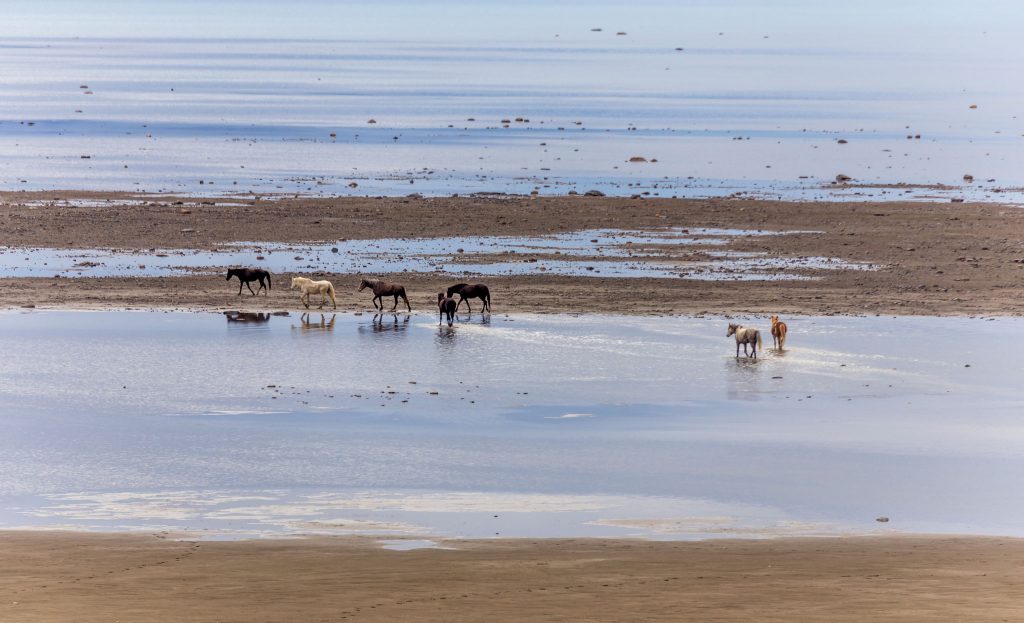 My visit to El Calafate and the nearby Perito Moreno Glacier is probably my most memorable trip in Argentina. Maybe it's on par with the Iguazu Falls though. If you visit El Calafate and you enjoy nature then do visit El Chaltén too and hike the Fitz Roy trail. Plan 2 days / 3 nights in both so that you can see all the important places. My time was memorable and hope to return soon to do a norhtern Argentina road trip from Salta to Cafayate.
Stay tuned for more stories and subscribe to the newsletter or follow CTB on social media (Facebook, Twitter, Instagram including Instagram stories; on all social media you can find CTB @christravelblog) to get updated information.
Did you visit Perito Moreno Glacier too or do you have questions? Please leave a comment at the bottom of the page. Love to hear from you!
Gallery Perito Moreno Glacier
Click an image for a full screen gallery of more photos taken during this trip. If you like to use any photo for commercial, private or editorial use please contact first for permission and/or pricing.