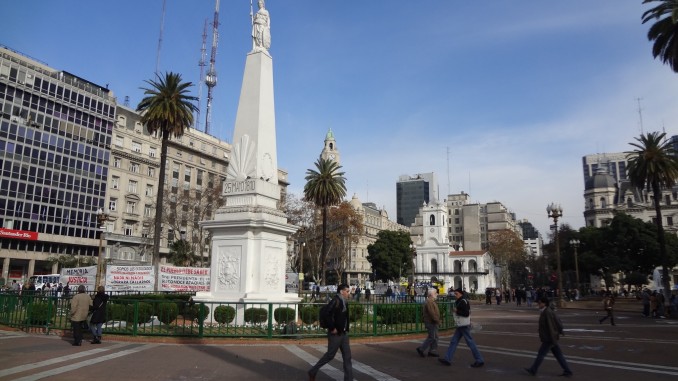 My first time to Argentina! The main purpose was to set up my business in Argentina but at the same time have the opportunity to explore the capital of Argentina, Buenos Aires. I went also two days to Montevideo in Uruguay (read here). During the two days in Buenos Aires I explored most important areas by foot, what I saw I share with you in this article. Enjoy this Buenos Aires city walk with me!
Buenos Aires city walk – part 1
I started my day with a delicious breakfast at the Intercontinental Hotel which is located downtown Buenos Aires. After breakfast I got a map from the concierge with all major sites on it and started to walk towards Plaza de Mayo with the government building called Casa Rosada. The first stop of my Buenos Aires city walk. From there I continued my walk towards the harbor. You find here mainly new buildings that house on the ground floor various restaurants. There are some old seafaring items on display outside. After a lunch I took a taxi towards La Boca; a colorful neighborhood in Buenos Aires. Here you find all kinds of arts and a very laid back atmosphere. In the evening I had dinner in one of the many restaurants there. An impression of all the places you find in the gallery below.
Buenos Aires city walk – part 2
At the end of the morning I arrived back to Buenos Aires from my sidetrip to Montevideo. In the afternoon I went to Recoleta neighborhood to explore the cemetery and surroundings where you can find also the grave of Eva Perron. Next to the cemetery is the Del Pilar Church which is well worth a visit. The rest of the area is mainly upscale and interesting for some expensive shopping. You can take a craft beer in the microbrewery just next to the cemetery. I also went to the Ralph Lauren flag store in Buenos Aires which is located in a beautiful old house. After I got myself some nice shirts I headed back to the Intercontinental Hotel on foot end my Buenos Aires city walk.
As you can see in one of the photos in the gallery there was a huge protest on the day of departure. No taxi was able to get to the hotel and the hotel taxi's did not want to drive out of the hotel. So, two porters escorted me through the crowd's with the luggage to make sure I got 5 blocks further safely to get a taxi there. An interesting experience! I did catch my KLM flight back to Amsterdam.
Stay tuned for more stories and subscribe to the newsletter or follow CTB on social media (Facebook, Twitter, Instagram including Instagram stories; on all social media you can find CTB @christravelblog) to get updated information.
Did you visit Buenos Aires too or do you have questions? Please leave a comment at the bottom of the page. Love to hear from you!
Further reading
Sometimes it's impossible to cover every single place of interest, activities, food, and others that might be relevant. In the below list you find a list of relevant links with further information about Buenos Aires which I have carefully curated. These will help plan your trip even better.