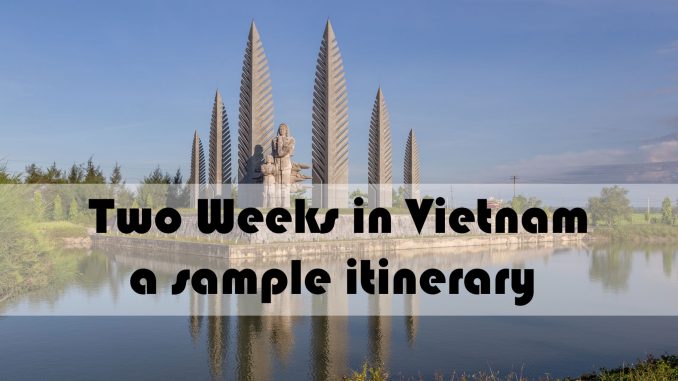 I have visited Vietnam twice; the first time a few years back with my son and recently with the whole family. It's time to wrap up all these days into a sample itinerary for two weeks in Vietnam. This two weeks Vietnam itinerary takes you to the most important places in Vietnam and you will get a very good impression of the country. See the day trip articles (not yet all are online!) for a more detailed description of that day including a large photo gallery. I'm sure you will enjoy Vietnam as I did.
Practical tips for a Vietnam itinerary
Let's start with a few practical tips if you are planning a Vietnam itinerary:
Visa: most nationalities, but do double-check, need an invitation letter arranged ahead to be eligible for visa on arrival. I arranged my letter through Vietnam-Visa.com which was very efficient, affordable and quick. For me the best way to get a Vietnam visa letter.
For efficient transport from the airport to your hotel I highly recommend using Blacklane as your limousine service. They are efficient in every way. For example I had a flight delay, the driver was informed automatically and when I arrived he was waiting with my name sign. The car was a nice Mercedes which is great as I love to travel in luxury. I'll use Blacklane again in the future if I require limousine transport.
Traffic: traffic is very chaotic in Vietnam and if you are not used to it it's better to not drive yourself. A car with driver is not even more expensive as hiring your own car. In the day trip articles, I'll share with you some insights on how to arrange this in an affordable way.
Religious sites: Just behave and dress appropriate.
Weather: Vietnam can be visited year-round. It's always hot (for Westerners mainly) so make sure to drink enough! I always try to drink 2-3 liters a day.
Now let's look at a day by day itinerary. You can do this itinerary also backwards as it starts in Ho Chi Min City and ends in Hanoi. In case you arrive and depart from the same city you'll have to add another flight.
Vietnam Itinerary Day #1 : Arrival & Visa
Ho Chi Min City airport has many international destinations as does Hanoi airport. I arrived from China. At either airport, it's possible to receive a visa on arrival. Make sure to pre-arrange the invitation letter through Vietnam-Visa.com. At the airport, the visa issue is straightforward but chaotic. You must hand in your passport together with the letter after which your name will be announced when it ready. Payment must be made in cash only so make sure to bring enough. Prices are quoted in USD but I gave the equivalent in Euro and that was accepted after a firm "sorry no USD" by me. At the time of my visit I had to pay approximate 25 euro. From the airport to my hotel I used Blacklane limousine service which I already booked in advance to not waste time at the airport. In Ho Chi Min City, I recommend to stay at Le Meridien Saigon (review) or Hotel des Arts Saigon (review). I really enjoyed my stay there.
Vietnam Itinerary Day #2: Exploring Ho Chi Min City
Ho Chi Min City or also called Saigon is the capital of Vietnam. It has several places of interest but I personally found Hanoi more interesting. There are however certain places not to be missed and they can all be visited in a day if you do it efficient. They are: The Reunification Palace, War Remnants Museum, City Hall, the Notre Dame Cathedral, the Mosque, and three pagodas'. There are several other museums which can be visited depending your interest. I used Ho Chi Mint City as a base for several day trips and of course to do a food tour. I recommend to do one with XO Tours as they do a food tour on motorbike.
Read more about this day: soon online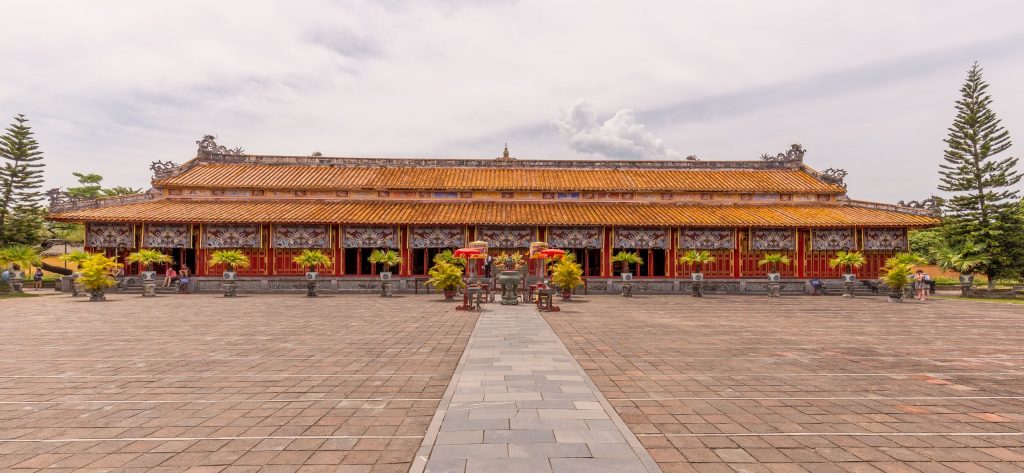 Vietnam Itinerary Day #3: Chu Chi Tunnels & Cao Dai Temple

The Cao Dai Temple is a religious site which religion can't be compared to any other religion in the world. It's a quite modern religion and best described as a combined religion of Christianity, Buddhism and Hinduism with a flavor of Confucianism and where Sun Yat-Sen, Victor Hugo and Nguyen Binh Khiem are the three saints. Make sure to arrive in the morning so that you can attend mass. Most tour groups will leave after half an hour or so but I suggest you to stay till the end. It's very interesting to see and I recommend to go by private car to have more flexibility. After the mass continue to the Chu Chi Tunnels to learn about the history of the Vietnamese war. You can experience here yourself the small tunnels and how the Vietcong lived there and how they operated. This day trip is a traditional trip from Ho Chi Min City but a highly recommended one.
Read more about this day: soon online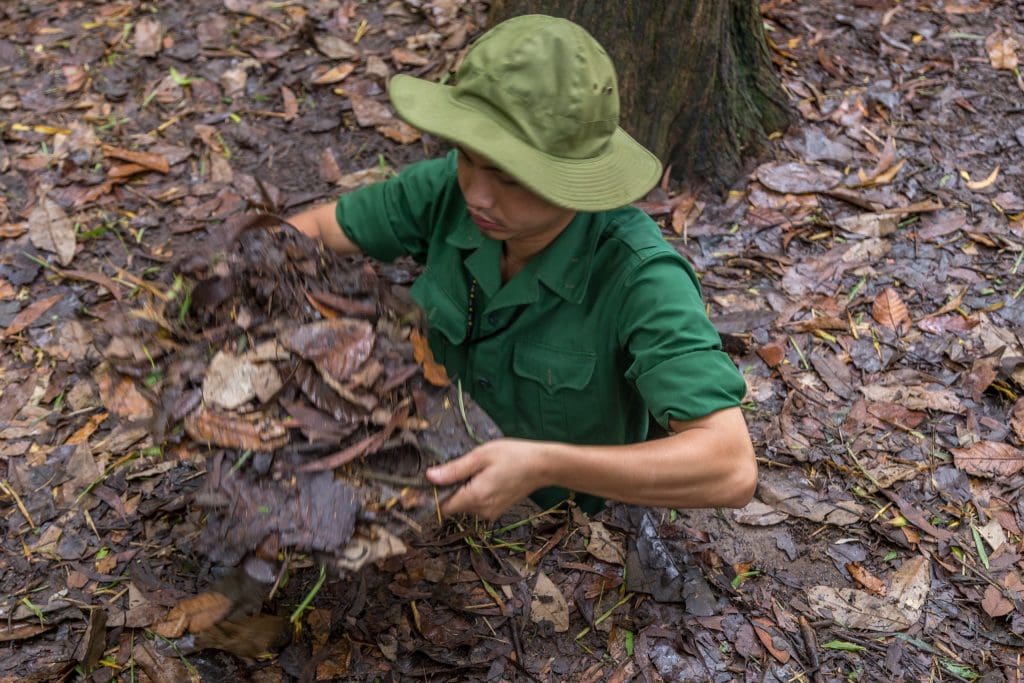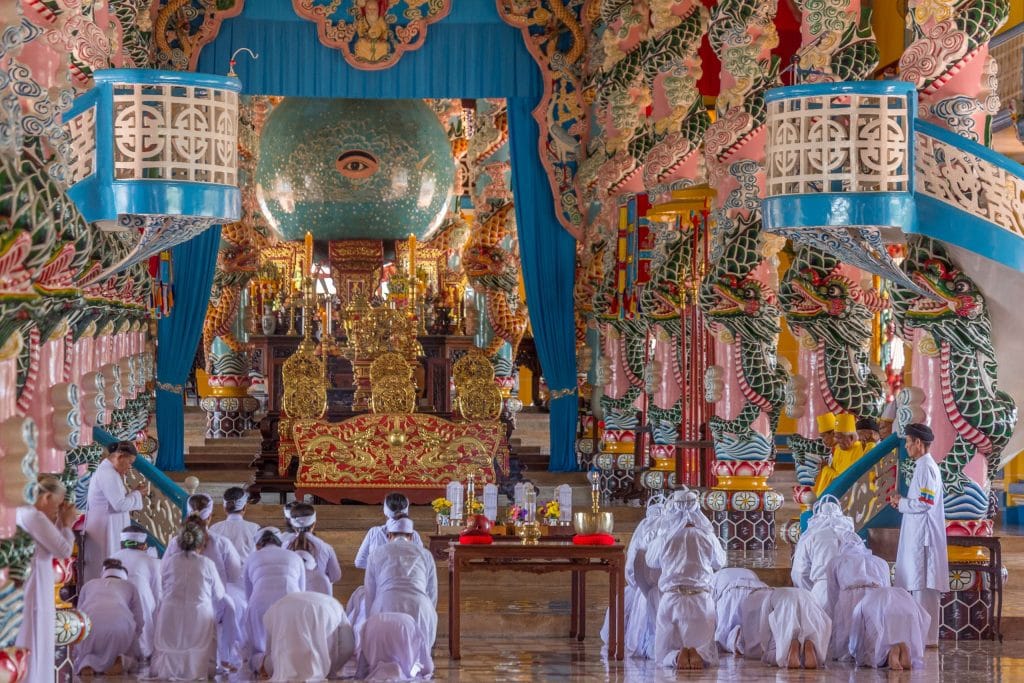 Vietnam Itinerary Day #4: Travel to Hoi An
Today you will travel from Ho Chi Min City to Hoi An. The easiest way is to fly to Da Nang and then take a taxi to Hoi An. If you have an early flight you could do a country side tour on the back of a motor bike but this can be done also one of the next days. In Hoi An I, can recommend to stay at the Palm Garden Beach Resort & Spa (review) which is an awesome luxury resort. They offer a free shuttle to downtown Hoi An.
Read more about this day: soon online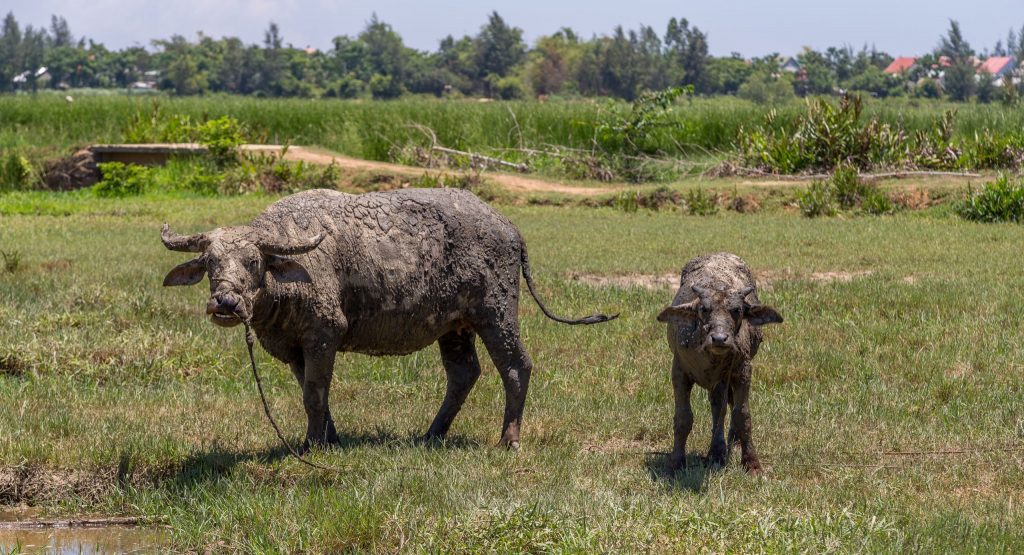 Vietnam Itinerary Day #5: Hoi An city tour
Hoi An is a beautiful town but the ancient core is not so big. It depends on what you will do besides the main sights how much time you need. Just sightseeing takes half a day but if you want to go shopping and relax in one of the many bars you can easily fill a day. I recommend to do a street food walking tour in the evening to taste all the local dishes.
Read more about this day:
VIETNAM – A day exploring the old town of Hoi An; a UNESCO site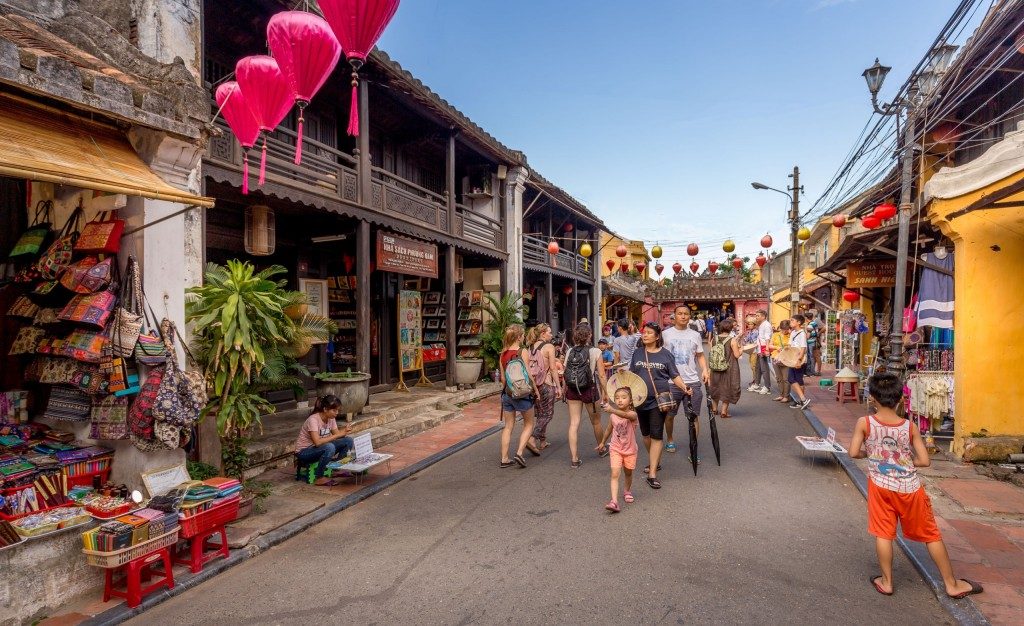 Vietnam Itinerary Day #6: My Son Sanctuary day tour
Today you need to hire a car to make your day trip as it's just over an hour drive from Hoi An. My Son Sanctuary was once the most important religious city in Vietnam during the Champa reign. You will learn there about the old Champa kingdoms and see their unique way of construction. It's a must do trip from Hoi An. Go early to avoid the crowns and arrive back in time for the beach or pool.
Read more about this day:
VIETNAM – My Son Sanctuary day trip from Hoi An; exploring the Champa Kingdom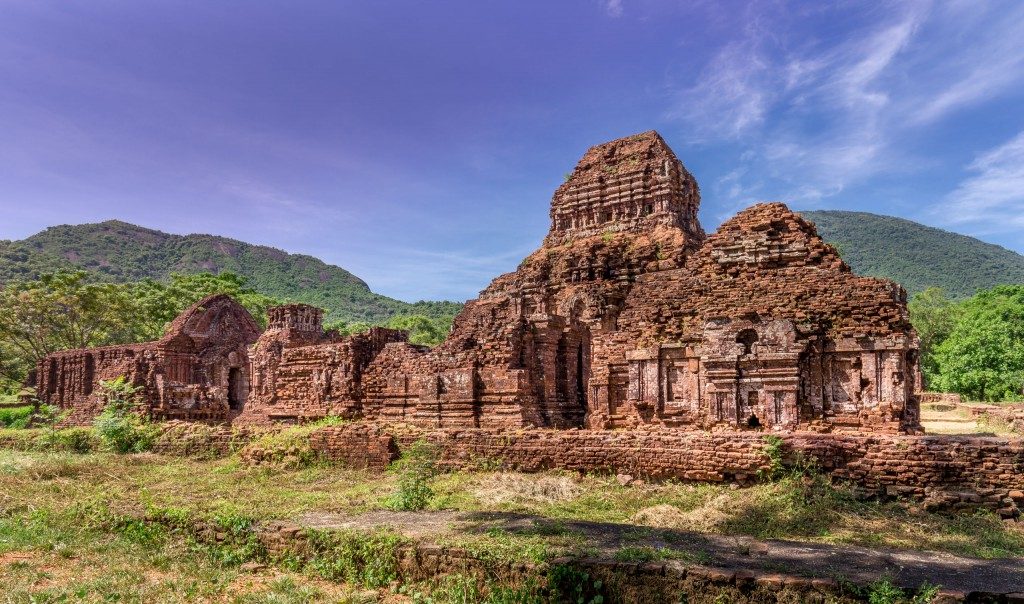 Vietnam Itinerary break: Da Nang resort
Although at least half of the days of this Vietnam itinerary leave enough time to relax at the pool or beach it's always nice to add a bit of resort time. I stayed myself three nights at the Intercontinental DaNang Resort. This is a secluded luxury hotel with a private beach and is surrounded by forest. Who doesn't like that? This makes of course the itinerary longer by the amount of days you would stay there! At the resort, there are enough activities to fill two or three days. They have also a Michelin star restaurant which serves delicious food. Just look at the following picture; I'm sure you want to go too.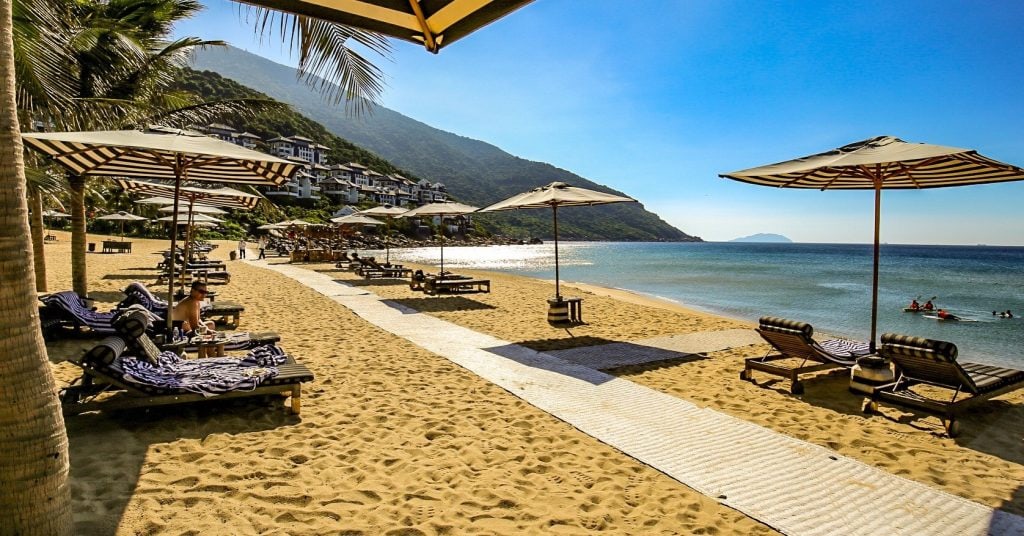 Vietnam Itinerary Day #7: Travel to Hue city
Today you will travel to Hue ancient city. Make sure to go early morning as direct after arrival it's time to explore the old citadel of Hue. It was once the capital of the country and the citadel is a must see. If you want to stay downtown I can recommend to stay at the Hue Indochine Palace Hotel (review) or if you prefer the beach at Ana Mandara Beach Resort & SPA (review).
Read more about this day: soon online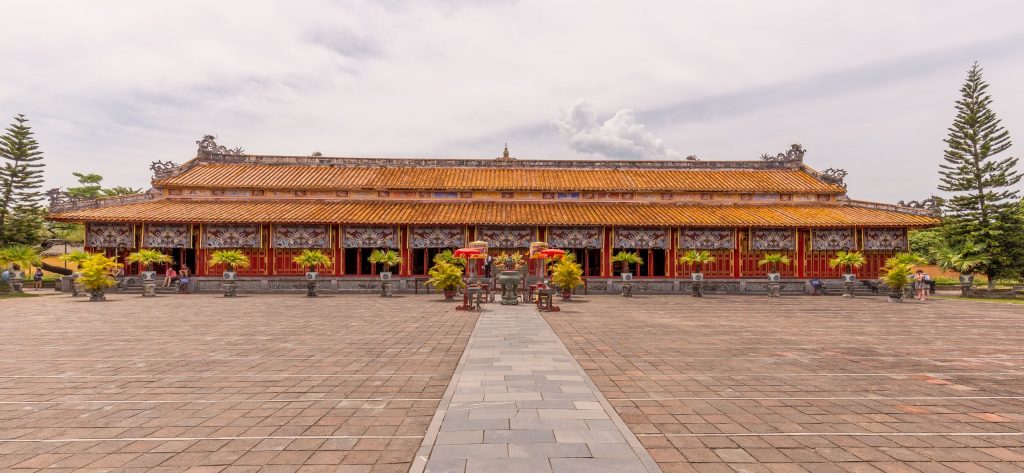 Vietnam Itinerary Day #8: DMZ Tour
The former DMZ in Vietnam just north of Hue is a must go to. Although there aren't that many remains due to the fact the locals removed most of them to forget it, it's still worth a day trip. Hire a private car to see the most as the distances are quite long. Most important places are Khe Sanh Combat Base, the Vinh Moc Tunnels and the Hien Luong Bridge. There are also several cemeteries worth a visit or if you are up to a small adventure a single bunker in the middle of a rubber plantation. It's difficult to find and you will finish exploring it in a minute but it's nice to do especially with kids. Oh, watch out for the immense spiders in the bunker 😉
Read more about this day: soon online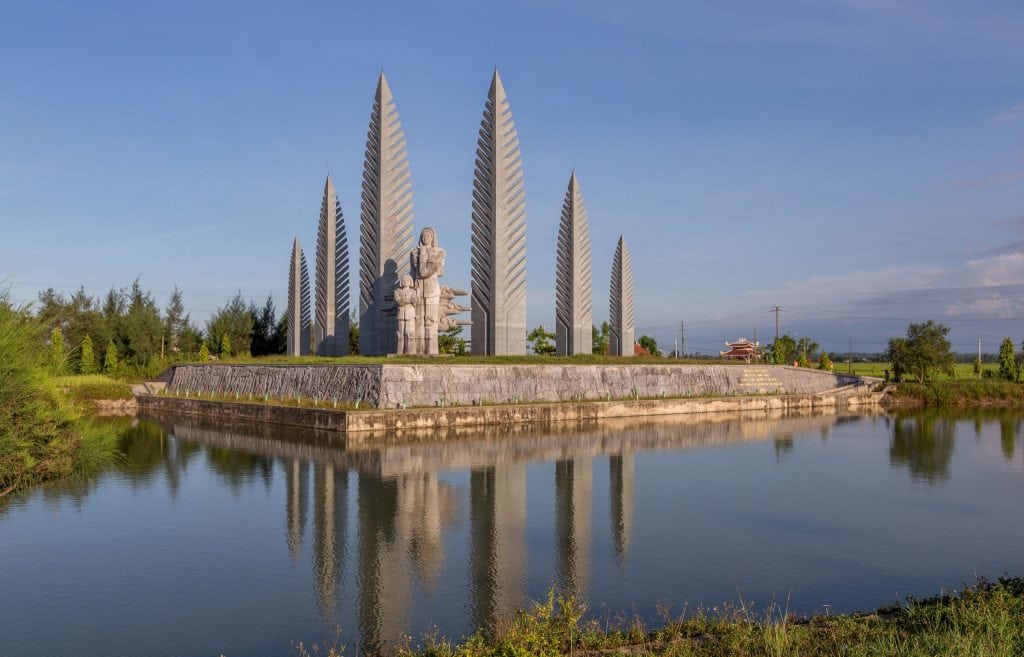 Vietnam Itinerary Day #9: Hue outlying palaces
On the day of arrival you have seen the old imperial city of Hue. Around and in Hue there are several imperial tombs which are included in the UNESCO World Heritage Site as well. Three, namely Ming Mang Tomb, Khai Dinh Tomb and Tu Doc Tomb are the most interesting but as a UNESCO freak I visited each one. This is best done by car as they are quite far apart, but if you visit just the three you can easily reach them by taxi or motorbike. If you don't visit each one you can fill the day by wandering around in Hue or relax at the hotel.
Read more about this day: soon online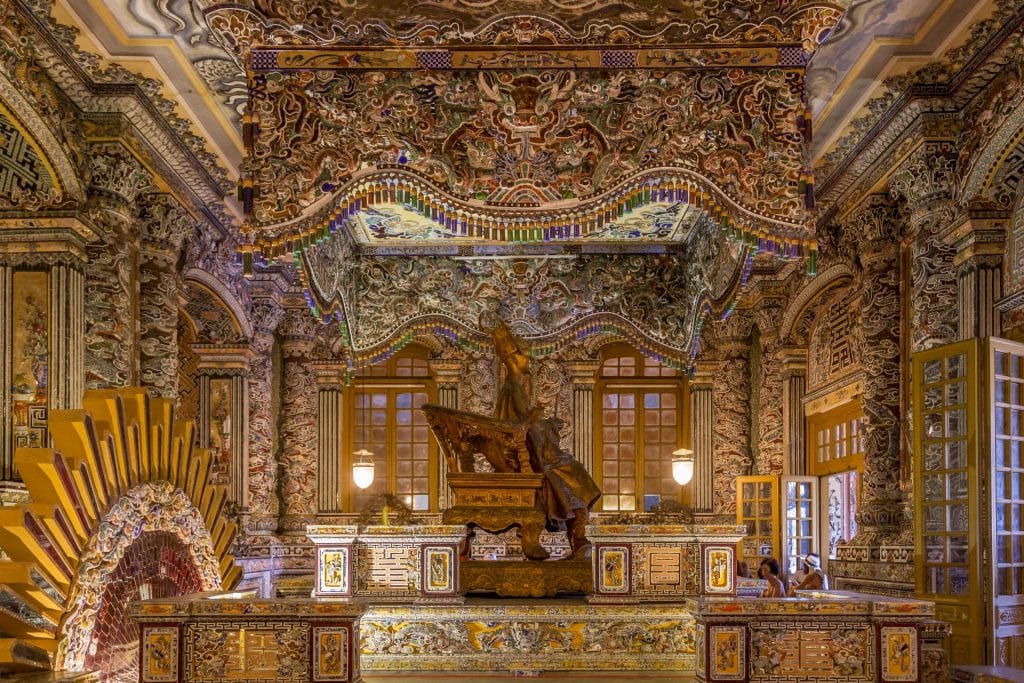 Vietnam Itinerary Day #10: Travel to Hanoi
Today it's time to fly up north from Hue to Hanoi. Make sure that you have a flight in the morning so that you can explore Hanoi already in the afternoon. I suggest to go to the Hoan Kiem Lake lake and the area around it this day. In the evening a street food tour in Hanoi is highly recommend as you will taste balut eggs and if you are up to it also dog meat. It's very delicious strong meat!
Read more about this day:
VIETNAM – Hanoi & Ha Long Bay
Vietnam Itinerary Day #11: Hanoi city tour
In case you didn't arrive early the previous day you won't be able to see everything in Hanoi today. It's a big city with much more places of interest compared to Ho Chi Min City. Make sure to visit the mausoleum of Ho Chi Min and the museum next to it. The old citadel is the latest UNESCO World Heritage Site in Vietnam but to be honest you can skip it if you run out of time. See the day article for more places of interest.
Read more about this day:
VIETNAM – Hanoi & Ha Long Bay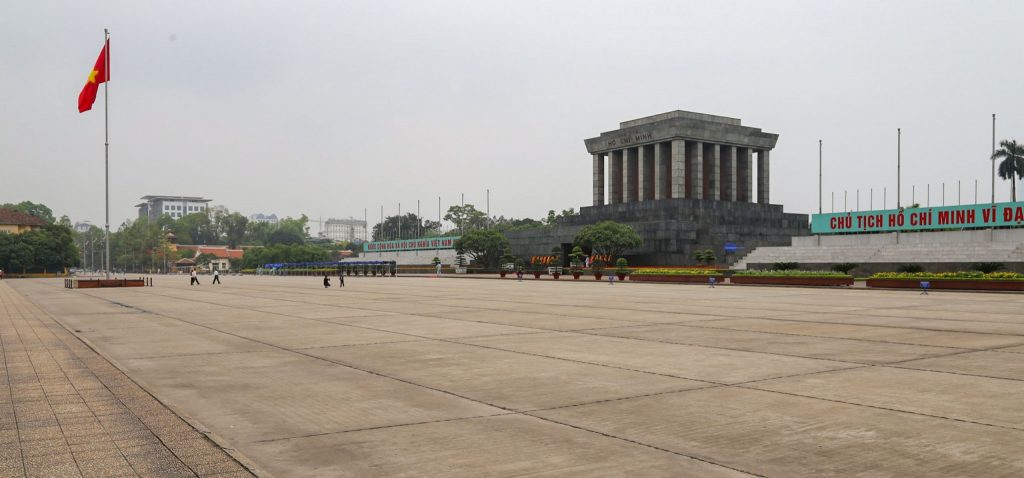 Vietnam Itinerary Day #12 & #13: Halong Bay cruise
Halong Bay is a karst formation in the China South Sea. It's classified as a UNESCO World Heritage Site and a unique place on earth. Its best visited as a two-day cruise from Hanoi which includes a night at a boat. I did a luxury cruise which will sail between the formation and visits a cave a beach and stops in a quiet bay for the night. In the evening, I went squid fishing after which the chef prepared them. The next day I woke up and had breakfast on the deck with amazing views. True luxury! The ships normally set sail to the harbor late morning so that you arrive early afternoon back at your hotel in Hanoi.
Read more about this day:
VIETNAM – Hanoi & Ha Long Bay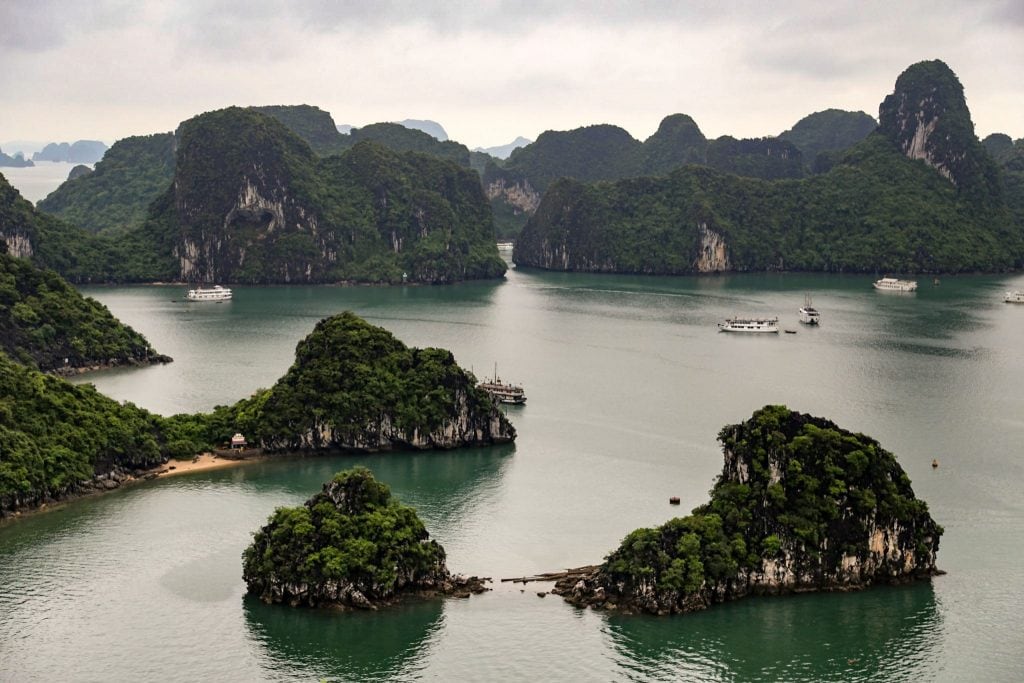 Vietnam Itinerary Day #14: Departure
It's the end of two weeks in Vietnam. I hope that with this sample itinerary you will be able to plan your trip more efficient. It includes most important places in Vietnam but I want to return one day to see Norther Vietnam, do a Mekong River Cruise to Cambodia and to see the famous caves in Central Vietnam.
A trip in Vietnam can easily be extended with a visit to Singapore or Cambodia (read my 9 day Siem Reap itinerary) but also Laos, Thailand, Malaysia and even China is easily reached with a short flight. I cover these countries in various other articles.
Stay tuned for more stories and subscribe to the newsletter or follow CTB on social media (
Facebook
,
Twitter
,
Instagram
including Instagram stories; on all social media you can find CTB @christravelblog) to get updated information.

Did you visit Vietnam too or do you have questions? Please leave a comment at the bottom of the page. Love to hear from you!