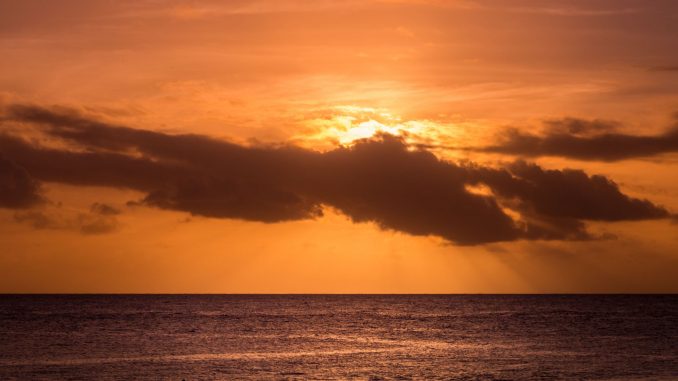 Vanuatu is a beautiful tropical destination in the south Pacific and I had the luxury recently to visit this island nation. In this 7 days Vanuatu itinerary I will share with you the places I visited and I hope it will help you plan your trip. Vanuatu is well known for its easy accessible active volcanos, dive sites, pristine beaches, and indigenous culture. This Vanuatu itinerary includes a bit of everything. As the islands are remote I will summarize various options on how to get there efficiently before going into details of the itinerary. I combined my visit with a Solomon Islands itinerary of the same length. I had a great time in Vanuatu discovering things that matter. I'm sure you will want to go too after reading this Vanuatu itinerary; enjoy!
Planning a Vanuatu itinerary
Getting to Vanuatu is for most of the world a long journey. I'm from the Netherlands and Vanuatu is literarily on the other side of the world. Just going for a week to Vanuatu is something I didn't want to do as I would be flying at least 24 hours not counting layover hours. Vanuatu should be added to a trip in the "area" and that area is still large. I'm going to summarize a few options on how to get to Vanuatu.
If you live in or are visiting Fiji, Papua New Guinea, Sydney, Brisbane (including other parts of Australia) or New Zealand then it's just a short flight and this Vanuatu itinerary can easily be done as a single trip. I highly recommend flying Air Vanuatu as they fly from all these places and offer incredible service onboard.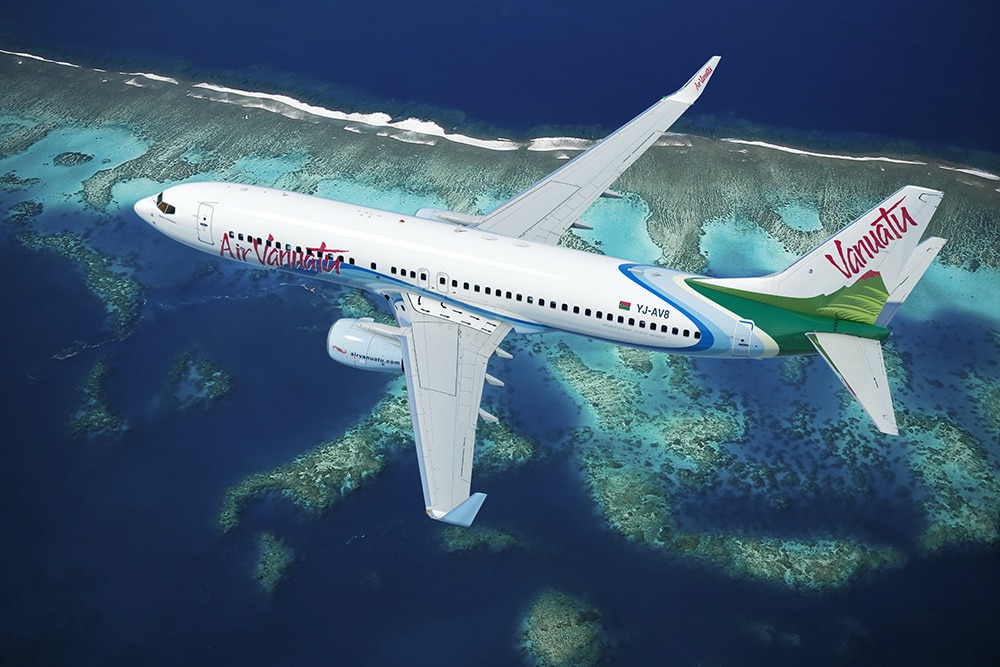 I arrived from Nouméa, New Caledonia on an Air Vanuatu flight. I did this because I was already in Singapore and I could get to Nouméa through Sydney with a SkyTeam award ticket. It was just 70000 miles and 65-euro taxes for a business class ticket and I love cheap business class tickets! I continued from Vanuatu to the Solomon Islands to explore these islands and used the option through Papua New Guinea to get back to Singapore with Air Niugini.
From North America the easiest way to get to Vanuatu is through Fiji. Europeans should fly first to South East Asia and go to Fiji too or Sydney as I did. There is however a faster option and that's through Port Moresby in Papua New Guinea. I did that when I returned. Air Niugini flies from Hong Kong, Manilla, Tokyo, Denpasar, and Singapore. These flights are not daily so plan carefully. Air Niugini also flies to the Federated States of Micronesia and if you decide to fly there make sure to read my suggested itinerary for Micronesia, Palau, and the Mariana Islands. You can also add Vanuatu to a Thailand itinerary, Vietnam itinerary or an Indonesian itinerary.
In Vanuatu you'll need to book domestic flights with Air Vanuatu if you want to get to the other islands. I did just a day trip to Tanna to see the volcano as visiting two other islands can't be done in a week. If you plan various islands make sure to check when flights go. Not every flight is daily and you don't want to get stuck somewhere longer as planned. Make sure to write down your full Vanuatu itinerary before booking any flights. Now, let's look at the Vanuatu itinerary which I followed.
Vanuatu itinerary day 1: arrival
Efate is the main island and the island most if not all visitor arrive. I stayed first three and later two nights on the island. There are two hotels I highly recommend. The Grand Hotel downtown which is a business & leisure hotel but a bit more focusing on business. It has a pool so if that's what you need it's the place to stay. Everything is within walking distance in the evening. The other hotel is the Holiday Inn Resort Port Vila which is a true resort with a private lagoon beach. If you travel for leisure only or with kids stay there. Downtown is a short taxi ride away, but a taxi is cheap. I arrived from Singapore via Sydney on a night flight late morning and just spend the rest of the day at the pool. I always like to do that the first day, so I can avoid a huge jetlag. I was in bed at 9PM.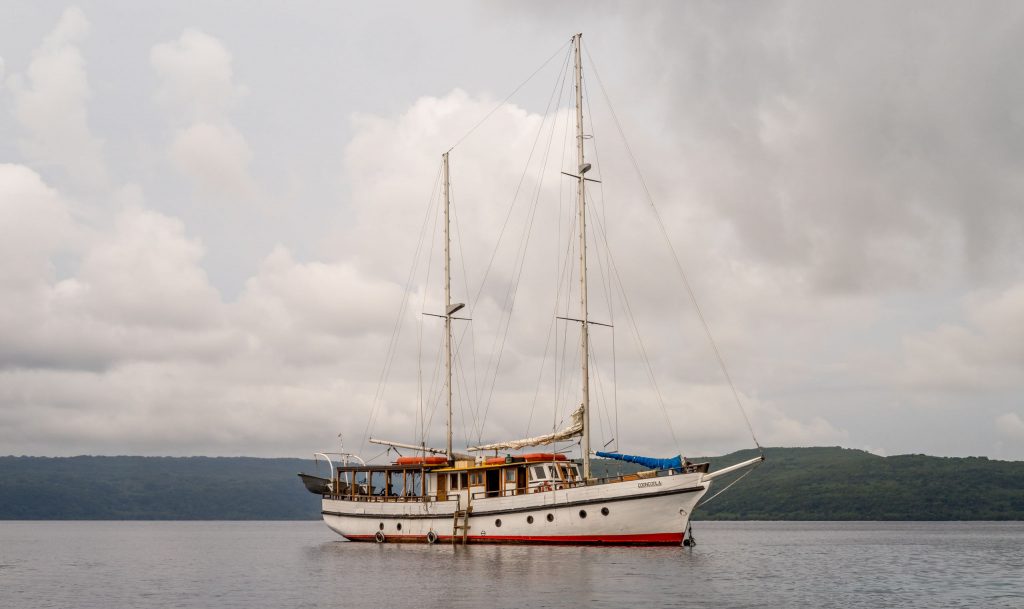 Vanuatu itinerary day 2: Coongoola cruise
A Coongoola day cruise is a must do if you visit Vanuatu. I was picked up from my Holiday Inn Resort Port Vila at 08:30 and taken to the Havannah Harbour where the Coongoola day cruise starts. It was low season and just 5 other guests joined but the ship can take up to 60 passengers. The ship first sets sail to Moso Island and Tranquility Eco Resort which is owned by the same owner. A guide shows the baby turtle sanctuary which was impressive to see. It's possible to go diving on the day tour too but book in advance. Just before lunch the ship anchors for an hour snorkeling. A BBQ is served for lunch on the beach to regain energy.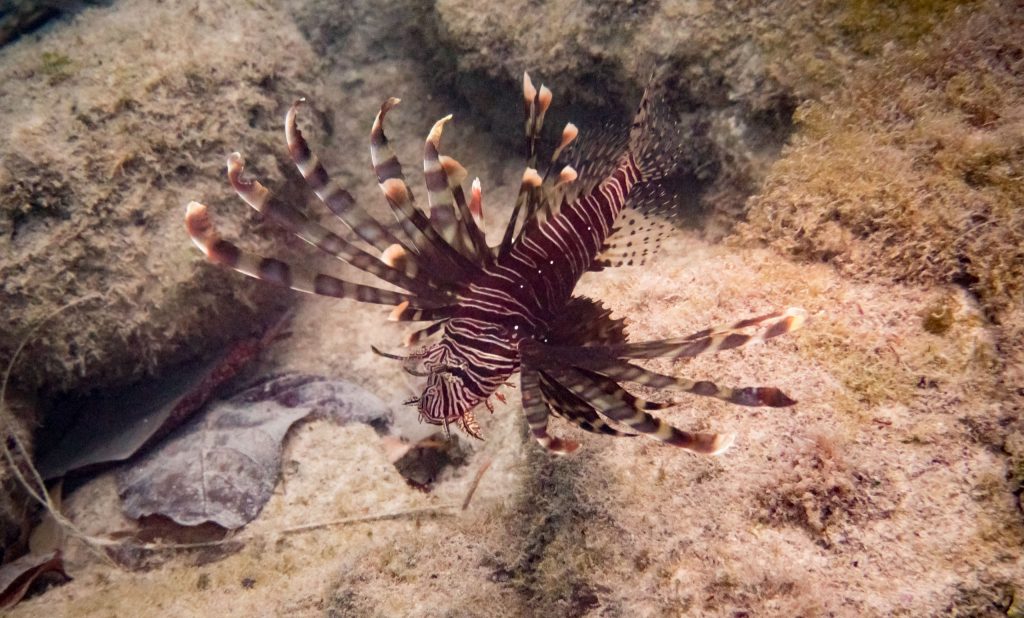 After lunch it's time for another hour snorkeling and a visit to a secluded beach, weather permitting. On the way back to Havannah Harbour the captain will make a few circles to attract dolphins. It's great to see these animals play in the water while enjoying a cold beer on the front deck. The shuttle back to the hotel was already waiting at the harbor when the ship returned. The Coongoola cruise was a very relaxing day in Vanuatu and I highly recommend including it in a Vanuatu itinerary.
Read more Coongoola day cruise travel inspiration in the following day trip article:
VANUATU – Must do day trip: Coongoola cruise from Port Vila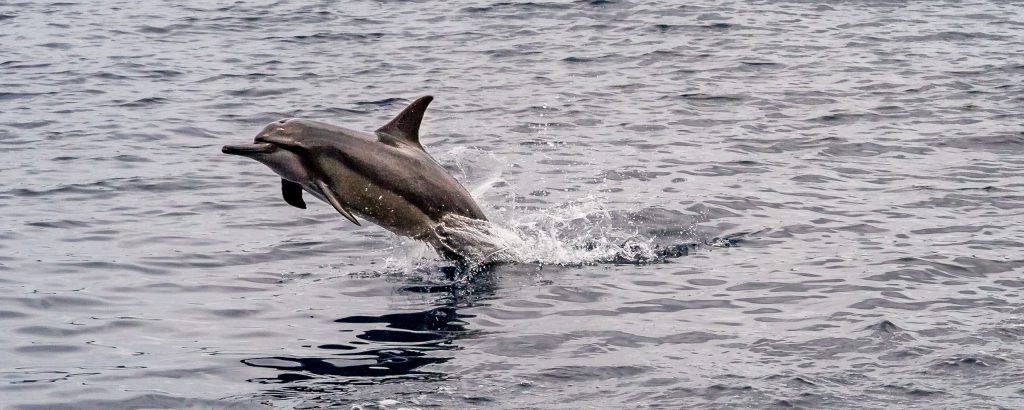 Vanuatu itinerary day 3: Efate day trip
An Efate day trip is a road trip around the island in either direction. I suggest doing it clockwise if you plan to swim in the blue lagoon or counter clockwise if you prefer to relax under waterfalls. I started at the blue lagoon and to be honest when I was there I regret that I didn't take my swimming trunks. Isn't that a great blue lagoon?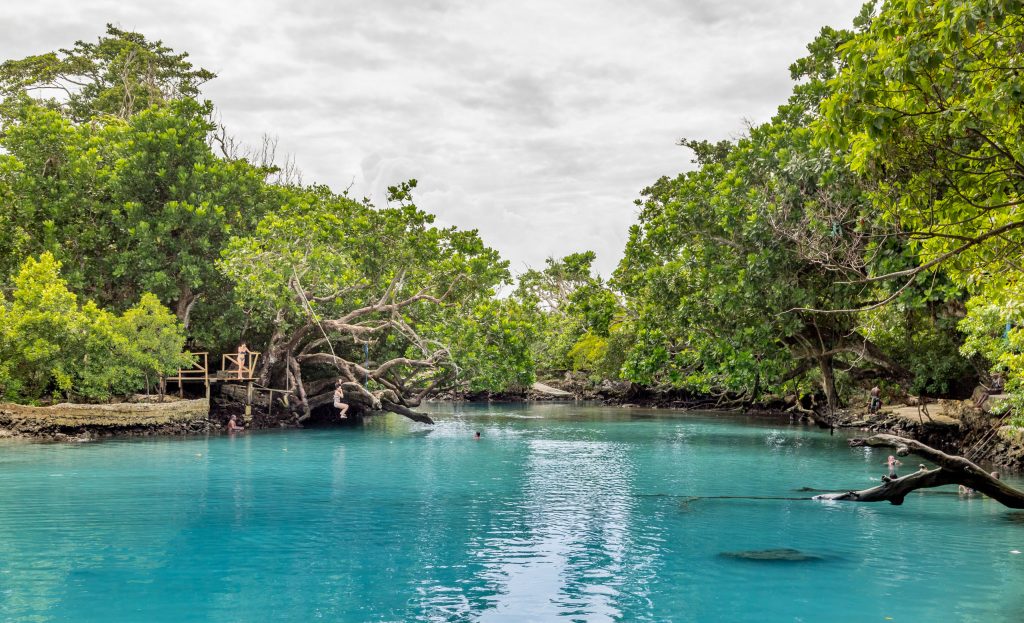 Next up where several beaches and other natural photo stops. At some point you'll pass a big river where it's possible to go for a kayak tour. Further down the road is the WWII museum at the place of an old American military base. If you have time bring your snorkeling gear as there is a plane easily accessible in the ocean. Now continue to Val Eva Cave which is an interesting cave as you can go kayaking inside! Isn't that awesome?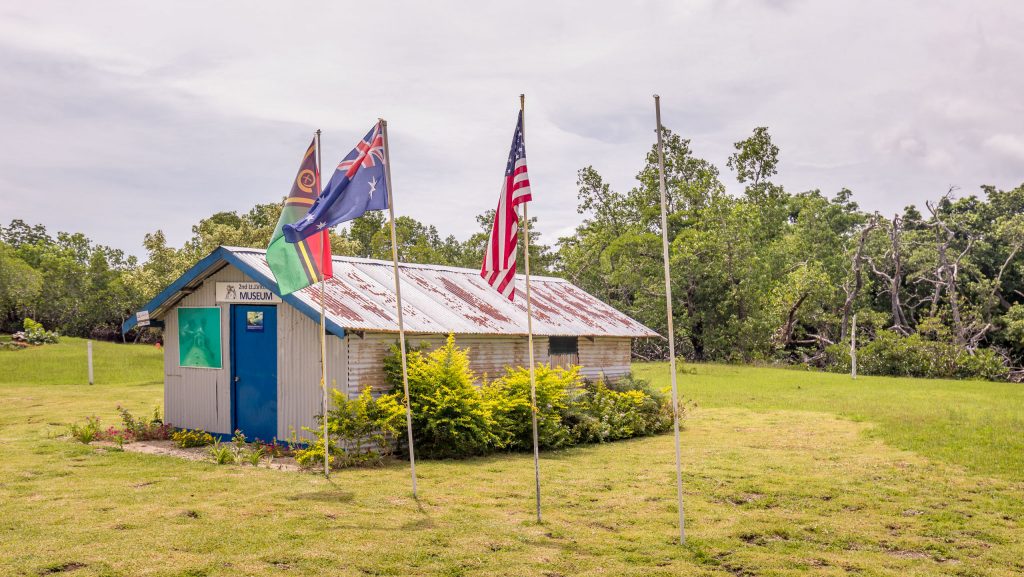 Vanuatu itinerary day 4 + 5: Tanna volcano overnight trip
Vanuatu is well known of its easy accessible active volcano's. Mount Yasur volcano on Tanna island is a stratovolcano and a must-see if you visit Vanuatu. You'll get up close with erupting magma and, especially in the evening, a great light show. I have visited volcanos before like the Ijen volcano on Java (Indonesia) where I almost died but I never saw active magma before. I was excited to go to Tanna where I stayed at the White Grass Ocean Resort, a luxury resort.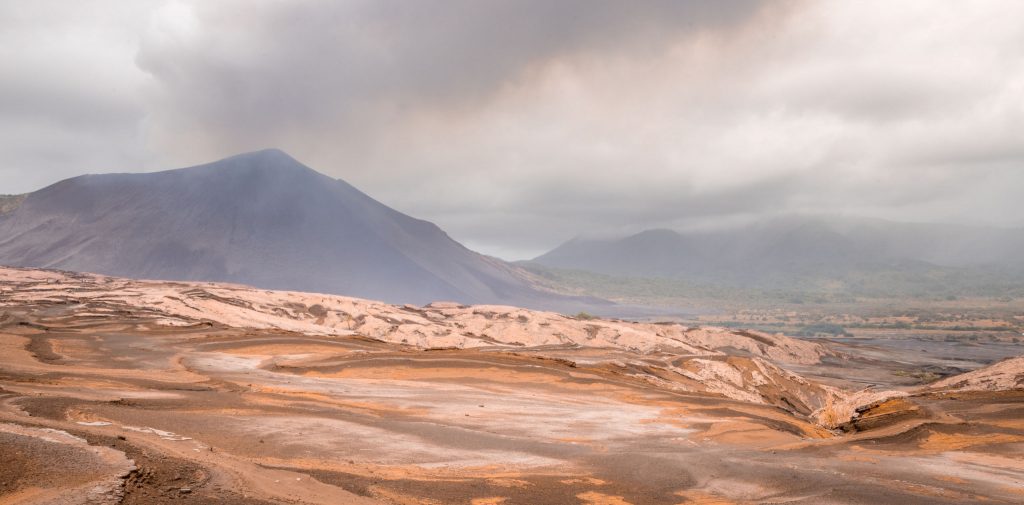 I departed Efate in the morning and other travelers were rumoring at the airport that the day before all tours to Mount Yasur were cancelled due to heavy rain and flooding. Now I don't care getting wet but when visiting a volcano safety goes first. Vanuatu Inbound Travel arranged my tour and the 4×4 car was waiting at the White Grass Resort as my flight was delayed by an hour. Unfortunately, a night visit wasn't possible due to safety, but a day visit was. I had to depart immediate to make the tour and I'm glad I did. As you can see in the photos; it was an amazing tour.
The next morning, I still had a few hours and White Grass Ocean Resort arranged a short snorkeling trip to Turtle Reef and the blue cave. At least I saw a few turtles while snorkeling as the other day when I did the Coongoola cruise I didn't see any. Tannas airport is very small and you just need to be there 45 minutes before the flight. I love those tiny airports! I was back in the afternoon in my hotel on Efate.
Read more Tanna Island travel inspiration in the following day trip article:
VANUATU – Tanna Island day trip: Mt. Yasur active volcano tour
Vanuatu itinerary day 6: Chief Roi Mata's Domain tour
Chief Roi Mata's Domain is currently the only UNESCO World Heritage Site Vanuatu has. It's a must-do day trip if you're visiting Vanuatu and are interested in local history. Roi Mata was a powerful chief in the 13th century and united the tribes in what is now Vanuatu. There are three places of interest. His domain called Mangaas on Efate island, Fels Cave (with cave paintings) on Lelepa and his burial site on Artok (Hat) Island. It's a tour I highly recommend but make sure you arrange it through the official Chief Roi Mata's Domain tour (tel. +678 5440695 / 7102892 or by email roimatadomain@gmail.com).
Read more about Chief Roi Mata's Domain in the following day trip article:
VANUATU – Chief Roi Mata's Domain tour; must do day trip from Port Vila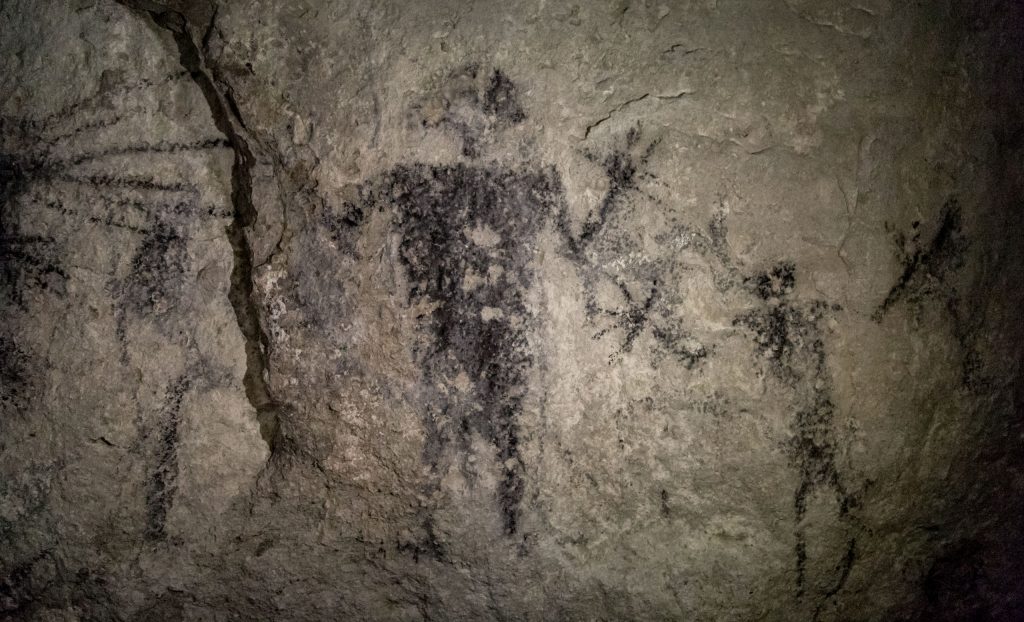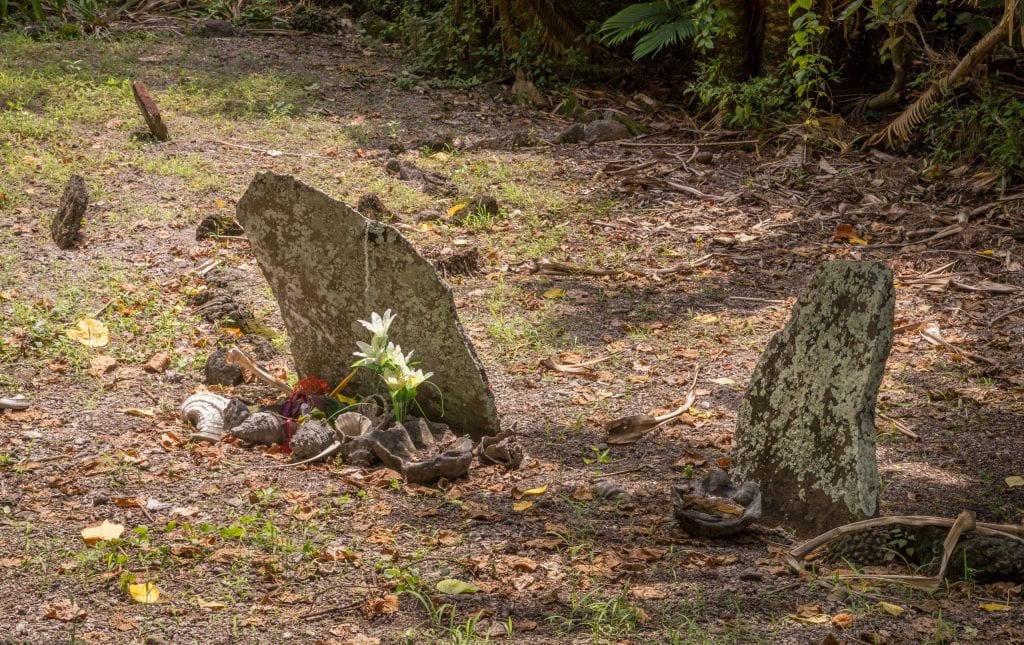 Vanuatu itinerary day 7: departure
The options for arriving to Vanuatu also apply for departing of course. I highly recommend departing to the Solomon Islands and make a trip there. Check my Solomon Islands itinerary to learn what to see and do. These islands are even more remote as Vanuatu. I thought when I was planning my trip it would be stupid not to visit these islands too as from the Netherlands they are so far way. When I look back at my visit to Vanuatu I think I need to return one day as while being there I learned about some other awesome things to do.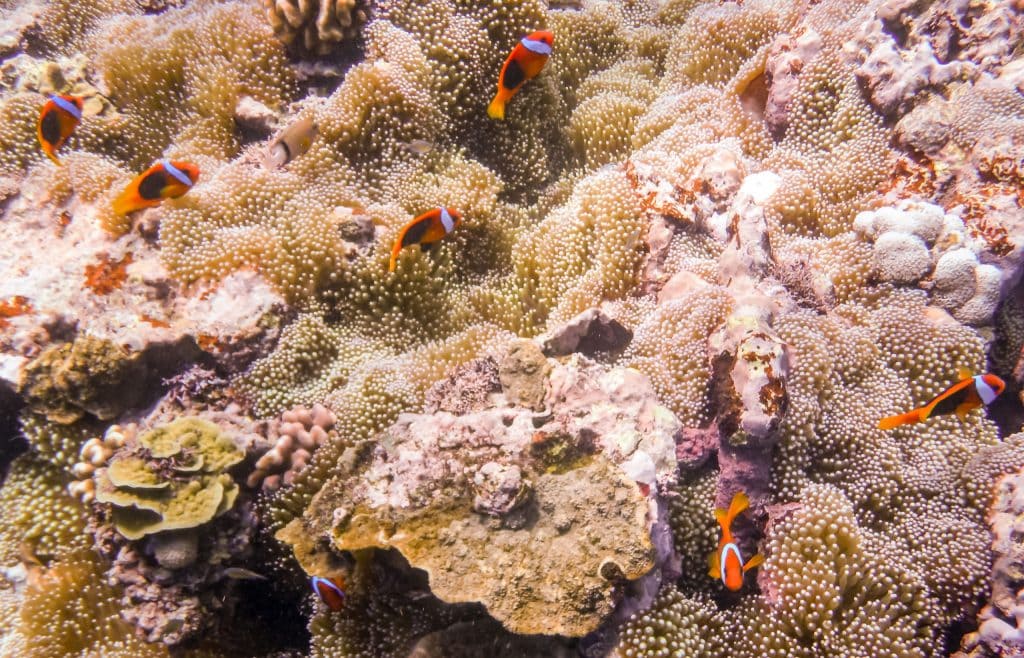 Suggestion to extend this Vanuatu itinerary
Vanuatu has more to offer! There are a few places I still want to see and somethings I still want to do one day in the future. One day I will return to see & do the following:
Pentecost island: One thing I want to see is the land diving on Pentecost. This is a kind of bungee jumping and takes place each Saturday between April and July only.
Santo island: To dive the SS President Coolidge which is a well-preserved wreck. I'm still learning to dive, and this is one thing on my to-do list. I also want to do a land tour of Santa island and see local culture.
That's just two things I want to do myself, but Vanuatu has so much more to offer that matters. Check out the Vanuatu Tourism Office website and see what each of the island has to offer. You can make you trip as long as you want!
I had a great time in Vanuatu and I'm happy I decided to go! It was my 71st country that I visited and it's for sure high on my list of recommendations. I hope to return one day, but for now, I can think back of this great time I had in Vanuatu. I visited the Pacific last year for the first time. I learned while planning an island hopping itinerary to Palau, Yap and the Northern Mariana Islands that this isn't straightforward. This Vanuatu itinerary is how I decided to travel around this year, and I hope it helps you plan your trip in Vanuatu too. If you're like me and want to visit every country than make sure to add a Solomon Islands itinerary as these places are remote. I'm sure you'll have a great time!
Stay tuned for more stories and subscribe to the newsletter or follow CTB on social media (Facebook, Twitter, Instagram including Instagram stories; on all social media you can find CTB @christravelblog) to get updated information.
Did you visit Vanuatu too or do you have questions? Please leave a comment at the bottom of the page. Love to hear from you!